Meridian Brothers: A fake salsa band ignites the rebirth of an old New York record label | Culture
A new album will land on the salsa dance floor by the end of this week; one that fuses rhythms from the 1970s with the technological dystopias of the future. Behind it is Ansonia Records, a label that, after its creation in 1949 among Latino immigrants from New York, would produce several merengue, jibara, bomba, guaracha, mambo, and boogaloo albums, before stopping altogether in 1990. This Friday, after more than 30 years, Ansonia Records will return with a salsa album.
Hermano del futuro, vengo buscando iluminación; brother from the future, I come looking for enlightenment. So says one of the songs from the new album, called Metamorfosis, by the old salsa group Renacimiento. But there is a catch: Renacimiento does not exist. It never did. It is a fake group, and this is a fake cover, explains musician Eblis Álvarez, founder of the Colombian group Meridian Brothers, who had already experimented with various genres, from cumbia to vallenato. A group that practices "tropical cannibalism," says Álvarez. This year, Meridian Brothers decided to launch a group of salseros straight out of fiction: Renacimiento.
"Renacimiento [rebirth] is the typical name that musicians would give a salsa group in the 1970s," Álvarez tells EL PAÍS. "For example, in the Nueva Trova movement there was talk of a political rebirth, but at the same time they combined this with a spiritual factor: when one listens to groups like La Columna de Fuego [from Bogota] or Los Jaivas [from Chile], there was a common pattern: everyone was waiting for a rebirth of the soul, and of society."
Although on stage Renacimiento is made up of five artists — María Valencia, Alejandro Forero, César Quevedo and Mauricio Ramírez, besides Álvarez — when the album was recorded it was the founder who played all the instruments, besides doing the voice of the salsero that accompanies the songs. The album has nine tracks, some similar to the older, slower salsa, and others to the faster, contemporary style. Between the piano, the timbales and the percussion, we find verses with the concerns of the 21st century: love that "communicates by algorithm," or the threats of atomic bombs that "take us to the cemetery." Metamorfosis, the single that has already been released, begins with a man who wakes up turned into a robot and longs for a time "when nightclubs really had an atmosphere, not like now, full of cameras, full of drones."
"I wanted it to sound like salsa from the 1970s," says Álvarez. "There is no originality, or the originality of this lies in being able to replicate the music as best as possible, but in terms of the material there is nothing original, as it is made with the collective unconscious of Latin America, of Colombia, of Latinos. This is an extrapolation from the 1970s to today, and it speaks of transhumanism, like the matter of highest concern that everything, absolutely everything, is now packed inside the damn cell phone."
The rebirth includes both the album and the label, as this is the first recording in more than 30 years to be released by Ansonia Records, a company created in 1949 and later forgotten, despite having been one of the first labels founded by a Latin migrant in the United States. Puerto Rican Rafael Pérez, its founder, brought Dominican, Puerto Rican and Cuban musicians from Latin Harlem or the South Bronx, who had not found a home among American record companies, to several studios. He produced his records before the time of the powerful Fania, which made New York salsa famous.
To Liza Richardson, an American radio host who was also a music supervisor on series like Narcos or the movie Y tu mamá también, Ansonia Records is a gem. In the early 1990s, she found an Ansonia album in the station's archives and, fascinated by the label's production, became close to the heirs of Pérez. In 2020, she bought the record label with the intention of reactivating it. She, with the help of a small team, has begun to digitize more than 5,000 Ansonia-produced songs; an eighth of them can already be found on streaming platforms like Spotify.
Souraya Al-Alaoui, manager of Ansonia Records, explains that most of the artists chosen by the label were focused on the Latin American diaspora. That was their base; they valued the traditional sounds from islands like Cuba or Puerto Rico, and were not looking to become westernized.
"Johnny Pacheco, founder of La Fania, started with Ansonia Records, and Ansonia was an inspiration for what would later become La Fania," says Al-Alaoui. "Ansonia was also a pioneer as a label owned by a Latino, an independent label with a founding message: 'this is from us and for us.' That's why it was an inspiration for what came after."
Over the years, La Fania grew and the seed of Ansonia Records faded away. The label never managed to promote its musicians in concerts like La Fania did, and after the arrival of the digital world, they did not set up a website or try to upload their music to any streaming platforms. Thus, it became a label that was only known by a small group of music lovers, like Liza Richardson and Eblis Álvarez.
"Now, we are hoping to release a new record every year, and we are thrilled to start with this one by Meridian Brothers," says Richardson. "This is an album that looks to the past but tries to move towards the future, and that is exactly what we are trying to do: look to the past to, at some point, be able to grow again, to thrive."
Hollywood: They have it all, and take it on the road, too: These are the luxury RVs of the stars | Culture
RVs have long been considered a fairly modest means of travel, an option that combines transportation and accommodation and that allows you to enjoy a more affordable vacation – bearing in mind that the comforts that they offer have little or nothing to do with those of a five-star hotel. However, this image has evolved in recent years, and the alternative of touring the world with your house in tow is gaining more and more followers, including some movie and music stars. Some use them for tourism and others to move between cities while they promote something or as a dressing room during shootings or tours, but they all have a few things in common: their enormous dimensions, their luxurious amenities and their million-dollar price tags.
At the beginning of July, all the details of Dolly Parton's mansion on wheels were released. More than an RV, this one is a bus. Dubbed Suite 1986, it is 45 feet long and Dolly has traveled more than 300,000 miles and visited more than 60 American cities in it. It houses all kinds of luxuries and personal belongings of the country music star — a display case for her wigs, a wide bed with pink velvet sheets, or a Parisian-inspired dressing table, among other things — and it is available to rent from $10,000, with a two night minimum stay. The Dollybus is part of the hotel complexes offered under the Dollywood label, the universe created in her image and likeness, which also includes a theme park inspired by Disney's Hollywood Studios in Florida, numerous hotels and spas and a water park.
Another celebrity who likes to have a traveling home is Jennifer Lopez. The Bronx Diva owns a 1,200-square-feet trailer that is valued at $2 million and, like Parton's, is also available to rent, for between $400 and $850 a night, when the singer is not using it. Its name is Baby Girl and, judging by the pictures, it has it all: in two spacious floors you can find amenities like a huge leather sofa, furniture made from materials like granite or marble, and all kinds of image and audio technologies, including everything from large TVs to state-of-the-art audio setups. An exclusive design by Anderson Mobile Estates, an American company specializing in this type of high-end vehicle, completely customizable to the customer's taste.
The same company built Will Smith's RV, known as The Heat, which the actor purchased in 2000 to use while filming. It is 55 feet long, has two floors and it is valued at 2.5 million dollars. It includes a projection room with a 100-inch screen and
capacity for thirty people, an ample lounge, a bathroom with sauna, first-rate materials like granite and leather, and technological devices everywhere.
Leonardo DiCaprio's RV does not fall far behind: it is 52 feet long, with four modules that can be extended to further expand the space. Of course, it includes all the necessary amenities, with eccentric details like two fireplaces and a large recycled glass shower valued at more than $40,000.
Justin Bieber's RV also has its fair share of eccentricities. In 2020, the Canadian singer purchased for $2.5 million a bus turned luxurious mansion that he takes on his tours and that he himself showed off in the American edition of GQ Magazine. Equipped to the last detail, it offers wonders such as underfloor heating, ceilings with LED lights, a steam shower, and an infrared sauna.
Other celebrities, after years of traveling with their house in tow, have decided to part with theirs. That is the case of Tom Hanks. The legendary actor auctioned off his RV last year: the trailer that was his home during the shooting of movies like Forrest Gump or Apollo 13 was sold for $235,200, an almost trivial figure when compared to those of his colleagues.
Among so much luxury on wheels, Chris Hemsworth's RV is also surprising for its modest dimensions. It was made by the Australian company Lotus Trooper, and it is equipped for all kinds of terrain. Despite its limited size, it includes things like Italian leather sofas and a designer kitchen; with this vehicle, the actor who brings Thor to life in the Marvel Cinematic Universe likes to enjoy family getaways, as he himself has shown on his social media.
Whether it is to go on road trips or as a place to rest between concerts or shootings, it is clear that the biggest music and movie stars cannot resist the opportunity to take all the comforts of home anywhere they go, preferably in rolling eccentricities that reinvent a concept popularized in the 1960s by the hippie movement – and look more fit for a Transformers movie than for an actual highway.
Writer Salman Rushdie attacked while giving a speech in New York | USA
Indian-born writer Salman Rushdie was attacked on Friday while giving a lecture in Chautauqua County, a town of about 140,000 inhabitants in western New York state. The first images of the event that have been shared on social networks show Rushdie on the floor, being attended by attendees and emergency services.
New York state police announced in a press release that the writer suffered an apparent stab wound to the neck, and was transported by helicopter to an area hospital. His condition is not yet known. An Associated Press reporter witnessed a man storm the stage at the Chautauqua Institution and begin punching or stabbing Rushdie as he was being introduced. The 75-year-old author was pushed or fell to the floor, and the man was restrained. The assailant has been arrested.
Rushdie's book The Satanic Verses has been banned in Iran since 1988, as many Muslims consider it blasphemous. A year later, on February 14, 1989, Iran's late leader, Ayatollah Ruhollah Khomeini, issued a fatwa calling for Rushdie's death. The theocratic Iranian regime also offered a reward of more than $3 million for anyone who killed the writer, who holds dual British and US citizenship.
Iran's government had long since distanced itself from Khomeini's decree, but anti-Rushdie sentiment has persisted. In 2012, a semi-official Iranian religious foundation raised the reward for Rushdie's death from $2.8 million to $3.3 million.
Rushdie, an English-language writer and perennial contender for the Nobel Prize in Literature, downplayed that threat then and said there was "no evidence" that people were interested in the reward. That year, Rushdie published a memoir, Joseph Anton, about the fatwa.
The 75-year-old author achieved international fame with the novel Midnight's Children, which was published in 1980 and won him the Booker Prize, the UK's most prestigious literary prize, the following year. The book sparked controversy in India for allegedly derogatory remarks towards the then prime minister of the country, Indira Gandhi.
With an overflowing imagination, his style has been compared to the magical realism of Gabriel García Márquez and Carlos Fuentes, among others. He himself has recognized on numerous occasions his important links with Latin American literature. His latest book Quixote (2020) adapts Cervantes' classic to the situation that the United States under the Donald Trump administration.
How Issey Miyake's clothing became the uniform of the creative class | Culture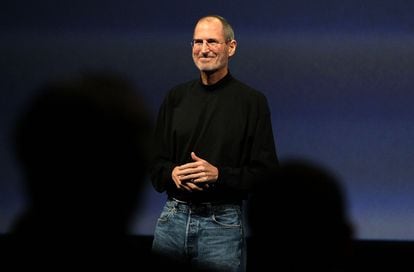 There are designers who have clients, and designers who have devotees. Japanese designer Issey Miyake, who died on August 9 at the age of 84, was the latter. Moreover, his clientele is easy to locate. "Why are his clothes preferred by so many prominent figures in the arts?" art critic Herbert Muschamp wondered in his 1998 review of Miyake's exhibition at the Fondation Cartier in Paris. He had every reason to ask.
For over two decades now, the soundtrack of openings, vernissages, roundtables and other events in the art world has consisted as much of clinking champagne glasses as the airy and technical rustling of Miyake's pleated garments for women (since 1993, when he launched his Pleats Please line) and men (from 2013, when he created his Homme Plissé brand, adapting his bestselling clothes for men to wear). Gallerists, curators, architects, photographers, writers, journalists: few can resist the charms of pieces by the designer who best understood that the future of fashion went through the future of its fabrics. It's fashion without logos, but instantly recognizable, just like Martin Margiela's, another art circuit classic.
One doesn't have to go to the red carpet to find Miyake's garments, just observe everyday cosmopolitan cultural life. Over the decades, architect Zaha Hadid; designers Jonathan Anderson and Samuel Ross; fashion critics Tim Blanks, Suzy Menkes and Angelo Flaccavento; gallery owner Barry Friedman; artists Joana Vasconcelos and Graciela Iturbide, politician Carmen Alborch; and music icons Grace Jones and Joni Mitchell have all been seen wearing Miyake. Steve Jobs was also loyal to Miyake since he commissioned a turtleneck sweater and the
Japanese designer responded with a hundred similar sweaters. In the years that followed, the Apple founder wore nothing else, according to his biographer, Walter Isaacson.
The idea of a uniform is a tantalizing hypothesis for explaining how quickly Miyake's brand—which remains an independent company to this day—spread among certain groups. But there is an explanation—perfectly compatible with the previous one—that appeals to an earthlier reason: practicality. That was American architect and interior designer Rafael de Cárdenas's assertion to Town & Country last April, after telling the magazine that he had discovered Miyake during his years as a designer at Calvin Klein. He said that the first time he wore Miyake, "my partner asked me if I was wearing my mom's clothes. She's big into the elegant sack thing. But it's a good way to look smart when you're actually wearing sweatpants."
Comfort may well be one of the reasons for Miyake's success. In the late 1980s, he began experimenting with a new way of pleating fabrics. That impulse to innovate wasn't new. Since the beginning of his career, Miyake had been exploring the dialogue between technology and the old artisanal techniques of knitting and weaving. But he was more ambitious: instead of pleating the fabric prior to making the garment, he rolled and twisted the finished clothes, putting them into a machine that left the pleats indelibly marked by applying heat to the polyester. The pleating was irregular—it differed from garment to garment—as well as indestructible. As users say, the clothing can be put in the washing machine or haphazardly in a suitcase without fear of ruining the pleating. The result is pants, shirts, sweaters, jackets and dresses that weigh very little and use the shoulders as a hanger—the same logic that Cristóbal Balenciaga developed for
separating clothes from the body by following the example of Japanese clothing—to project their volume outward.
At the same time, the silhouette the clothing generates is wide and light like the paper lamps of Isamu Noguchi, one of Miyake's favorite designers. In an era dominated by sleek, elongated silhouettes, that horizontality could be unflattering, as art curator Antwaun Sargent emphasized in the same Town & Country article. He recalled that he'd associated Miyake with female collectors of a certain age. Then, he decided to buy a pair of pants after seeing Solange Knowles wear them; he has been loyal to the brand ever since. So has historian Roger Cook, who was interviewed for a feature on Miyake customers in The Financial Times when he was in his eighties. "The publicity for Plissé is primarily aimed at the youth or sport end of the market, but I feel it can be successfully and stylishly worn by seniors like myself," he explained of his favorite baggy pants. "The enormous amount of bodily gratification I obtain from my Miyake wonderfully compensates for the depredations of old age."
Miyake's connection with the creative class has even found its way into marketing textbooks. In an article about "expertise marketing," French professor—and Republican member of France's National Assembly—Patrick Hetzel imagined Miyake's prototypical client: her name is Josyane. She is a communications executive who works in the Parisian golden triangle and lives in the Marais; she views luxury fashion designers with skepticism and favors brands with sophisticated tastes, such as Miyake. "Josyane is proud of her ten years of loyalty to the firm, which makes her part of a small tribe of people whose originality has served to create new styles," Hetzel writes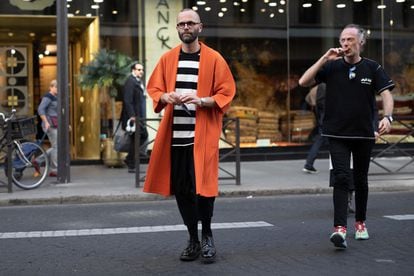 Although the example may be a cliché—after all, that's what sociological textbook categorizations do—the Frenchman's observation underscores another argument in Miyake's favor: the artistic and conceptual pedigree he gained from decades of collaborating with the world of culture. Miyake is the designer of pleated clothing and the name behind two of the world's most famous fragrances (L'Eau d'Issey and L'Eau d'Issey Pour Homme, which set the trend of aquatic fragrances in the 1990s). But he's also a creator who has worked with William Forsythe, Yayoi Kusama and Cai Guo-Qiang; his collections have been featured in memorable photographs by Lord Snowdon, Irving Penn and Nick Knight; and since 1997, when he decided to step back from commercial designs to focus on experimental projects, his work has been featured in exhibits at the world's most prestigious art centers. In some cases, both worlds have coexisted, as in the A-POC (A Piece of Clothing) project. The last commercial brand with which he was actively involved, the collection consisted of tubular fabrics that, thanks to computer technology, allowed each user to cut out their desired garment without worrying about fraying it.
Ultimately, Miyake's work can be as intellectual or direct as one wants. Some of his biggest fans would say the latter. As fashion critic Tim Blanks told The Financial Times, "Don't think about it [Miyake's Homme Plissé]. Just put it on. Then we'll talk.