Los Del Rio: The making of 'Macarena,' the Spanish smash hit that got the world dancing | Culture
In 1996, the whole world got swept up in Macarena madness. The original flamenco hit composed by the Seville duo known as Los del Río – made up of Antonio Romero and Rafael Ruiz – had already rocketed up the charts in Spain in 1993. But the Bayside Boys' dance remix, which incorporated female vocals in English, stayed at the top of the Billboard Hot 100 for 14 weeks that summer and remained on the charts for 66 weeks.
As the most influential music barometer in the world, it was an amazing feat for the middle-aged crooners, trumped only in 2017 by Luis Fonsi and Daddy Yankee who enlisted Justin Bieber to collaborate in a Spanglish version of Despacito, which topped the US charts for a record-breaking 16 weeks. However, no one can argue that what these two friends from the Seville town of Dos Hermanas achieved was phenomenal.
Speaking just a few words of English and with the internet still in its infancy, Los Del Río revolutionized the world's largest and most competitive music market with their danceable ditty. The facts speak for themselves. A quarter of a century ago, Macarena was played at the Democratic National Convention with Hillary Clinton clapping along; it was also used by the US women's gymnastics team at the Atlanta Olympics. Among other surreal achievements, the duo performed it on January 26, 1997, at the Super Bowl before a live audience of more than 70,000 spectators and tens of millions of viewers at home.
Perhaps it all got out of hand? "Not at all," says Romero. "We never panicked because at that point we'd already had a 30-year-long career and had dealt with many, many difficulties. We started out when we were 14 and, being young, played at both singing and bullfighting. It wasn't until our fathers died that we said to ourselves: 'We have no choice but to take this music thing seriously.' Basically because it was the only thing that gave us money that could help our mothers. That was the biggest sacrifice we could make."
The duo had other hits in Spain such as Sevilla tiene un color especial or Se te nota en la mirada, but outside of Spain they are considered one-hit wonders. Not that at the age of 73, this ruffles their feathers. As Romero points out, "becoming number one on five continents is tremendously difficult. It's not the norm. Just as Spain has only won the World Cup once, we have fortunately been able to be the world champions in terms of music. We are always being asked when we are going to compose another Macarena, to which we reply that we have already done it. Let others have a go. What we have to do now is to live and enjoy ourselves."
While it is the anniversary of the song's remix, it is worth remembering that the original was released on the duo's 1993 album A mí me gusta. The catchy lyrics came to Romero when he and Ruiz were invited to a party at the end of 1992 by the businessman Gustavo Cisneros in Caracas, Venezuela, where they rubbed shoulders with the Venezuelan president at the time, Carlos Andrés Pérez, and a local flamenco dancer named Diana Patricia Cubillán Herrera.
"The young woman [Patricia Cubillán] started dancing and I told her: 'Dale a tu cuerpo alegría, Magdalena, que tu cuerpo es pa' darle alegría y cosa buena' – put some joy in your body Magdalena, as your body is made to be given joy and good things.' That's what inspired me to write it," says Romero. "But since I have a daughter named Esperanza Macarena, I decided to change Magdalena to Macarena."
According to Ruiz, "She [Patricia Cubillán] has done very well out of it because, being our muse, she has been able to tell everyone that she is the real Macarena. Far from hiding her identity, we have been very open about it. We think it's great that she has taken advantage of what happened that day to open her own dance school and get a role in a soap opera. It brings back some wonderful memories. We just hope she is doing well in Venezuela because she and her family are a delight."
Another remix was done in the 1990s by the Spanish duo Fangoria, comprised of Alaska and Nacho Canut, before the song's US success. They claimed they were due money and took the matter through the courts as far as Strasbourg. "When Macarena hit the big time, everyone wanted to get on board," says Ruiz. Decades later, the Fangoria issue continues to be one they prefer not to discuss. Meanwhile, Alaska had this to say in a 2013 Vanity Fair interview: "Macarena triumphed in Spain in 1993. As Fangoria, we did a remix and that remix triumphed again in Spain. Then in Miami, suddenly, they used our remix and added some vocals. It's not that it was a whole other remix; it was ours! That went to the European courts, but it was thrown out, so there's nothing to be done."
Los del Río, however, have stressed that there is no animosity towards Fangoria. While talking about the issue in 2017 on the Bertín Osborne talk show, they insisted, "We adore Alaska!"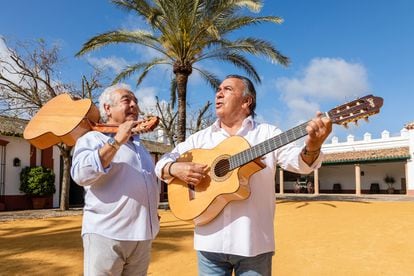 Whatever the truth of the matter, the remix that the Bayside Boys put out as theirs flung the doors wide open to success on the other side of the pond. Producers Mike Triay and Carlos de Yarza recorded the version in 1995 with the help of vocalist Patty Alfaro. Initially, it failed to gain the approval of Los del Riós' record label, BMG/Ariola, which even threatened to sue them. However, since it was played incessantly on radio stations like Power 96 or New York's WKTU, the label came round, realizing it was media coverage that it couldn't afford to forego, though the small print on the contract is completely unknown.
Even more surreal is the fact that Macarena could have become an even bigger hit than it was. Or, at least, it was on the cards when Michael Jackson expressed an interest in recording a new version with Los del Río. "He was crazy about our song and used to play it before starting his shows to warm up his audience," says Romero. "His lawyer contacted us and told us that Miguel, as he called him, really wanted to work with us. He told us that he was on medical treatment and that when he recovered we would take things forward. That was six or eight months before he went into decline and left us. He was very excited about it, but it wasn't to be."
In 2016, Los del Río collaborated with the band Gente de Zona with Más Macarena. And, incredible as it may seem, in 2019 they received a call from the American rapper Tyga asking them to collaborate in the viral Ayy Macarena, which has more than 150 million views on YouTube. Romero believes Michael Jackson might have had a hand in this. "Look, I think that wherever Miguel is, as his lawyer said, he had something to do with it, like 'maybe not with me, but certainly with someone else,'" he says.
Much has been written about whether Los del Río are millionaires thanks to the fact they came up with the flagship version of Macarena. They continue to earn an unknown amount in royalties and songwriter's rights. When questioned about it, they attempt a graceful brush-off. But, eventually, they address the issue. "Why don't you contact the publisher?" says Romero. "As the songwriter, they demanded that I give them 50% to sell it and boost its popularity. What should be on the table is how many people have benefited from Macarena independently of us. I don't mean we are about to cry and feel sorry for ourselves. We have been given what I think we deserve, but that doesn't mean that it reflects the actual reality."
At this point, Ruiz intervenes: "Besides all that, Antonio split the proceeds 50-50 with me," he says. "And for the first two years, we had to pay over half of the profits in taxes."
According to Romero, "what makes us wealthy is not Macarena, it's our families. We have wonderful children and lovely grandchildren who are already starting to come out and sing better than we do. Humility in life is what always triumphs. There is nothing more important or rich than being humble. We have learned that from our parents, who were hard workers. Regardless of how much time has gone by, we continue to have fun singing, and we do it with the same desire we had at the start – to make the world a happier place."
Macarena is still very much alive and kicking. As if further proof were needed, Los del Río have teamed up with Airbnb and, this August, will take on the role of hosts at a rental villa in Utrera, a city in the southern province of Seville. The first four guests, who confirmed their reservation this week, will not only be welcomed by these legendary artists, they will also have access to a private karaoke room full of Spanish guitars and will even get tips from the duo on how to perfect the choreography of the famous song. "We're also going to teach them how to make a good gazpacho," says Romero.
"The house is not our property," he adds. "It belongs to some friends with whom we often do a house exchange. We still don't know who will be coming, but I assure you that they will get a very special welcome. They're going to have a wonderful time!" It goes without saying that Macarena will be part of the experience, though guests will have to wait and see which version is rolled out.
English version by Heather Galloway.
History: El Argar, the great society that mysteriously vanished | Culture
El Argar, an early Bronze Age culture that was based within modern Spain, is one of the great enigmas of Spanish and world archaeology. After emerging in 2200 BC, it disappeared 650 years later. Experts debate that it collapsed in 1550 BC either because of the depletion of the natural resource that sustained it – which resulted in the population fleeing or dying of starvation — or because of a massive popular revolt against the ruling class.
The Argaric culture was "the first society divided into classes in the Iberian Peninsula" – as defined by the Autonomous University of Barcelona (UAB) – and the creator of the world's first Parliament. Following its demise, the civilization vanished from memory… until an archaeologist named Rogelio de Inchaurrandieta came across Argaric artefacts in 1869 and began to ask questions.
Inchaurrandieta exhibited his discovery at the International Archeology Congress in Copenhagen (1866-1912). He spoke of an unknown civilization from the Bronze Age that he had found on a steep hill in the municipality of Totana, in Spain's Region of Murcia. He displayed gold and silver objects and spoke of a large, fortified city that lacked any type of connection with known historical societies. Nobody believed him.
But in 1877, the Belgian brothers Luis and Enrique Siret arrived in Murcia in search of mining prospects. They ended up confirming the existence of the unknown society, including what had been its large urban center, which extended 35,000 square kilometres through the southeast of the Iberian Peninsula. This site was methodically excavated: agricultural tools, precious metals and even the remains of princesses were preserved.
The study El Argar: The Formation of a Class Society, by archaeologists Vicente Lull, Rafael Micó, Roberto Risch and Cristina Rihuete Herrada from UAB, points out that El Argar "is one of the emblematic cultures of the early Bronze Age in Europe. The large settlements on its hills, the abundance of well-preserved [tombs] in the subsoil of the towns, as well as the quantity, variety and uniqueness of the artefacts, have since attracted the attention of numerous researchers."
Vicente Lull, professor of Prehistory at the Autonomous University of Barcelona and one of the world's most recognized experts on this society, admits that the Argaric "is in fashion." "Specialists come from all over the world to take an interest in this unique civilization… it is unparalleled, with first-rate technological development, which left nothing in its wake, but advanced everything. It's like searching for the lost civilization."
Experts agree that the discovery of El Argar marked a break with respect to the preceding Copper Age, regarding technological development, economic relations, urban and territorial organization patterns and funerary rites.
The Sirets, at the end of the 19th century, excavated ten Argaric sites and opened more than a thousand tombs, resulting in the destruction of the human remains. However, they carefully drew everything they found.
"The culture of El Argar is the first [class-based] society in the Iberian Peninsula. The central settlements accumulated an important part of the production surpluses and the work force. The effects of said control are manifested in the normalization of ceramic and metallurgical products and in the restricted circulation and use, above all, of metallic products," assert the experts from UAB.
But not all the inhabitants of these cities accumulated wealth to the same extent, as evidenced by the exhumed goods of the ruling class. In 1984, Vicente Lull and Jordi Estévez distinguished three social groups. The most powerful class – made up of 10 percent of the population – enjoyed "all the privileges and the richest trappings, including weapons such as halberds and swords." 50 percent of individuals, meanwhile, were of modest means and had recognized social-political rights, while 40 percent of residents were condemned to servitude or slavery.
"One of the characteristics of this society is that it was closed in on itself. Its defenses not only served as protection, but also created a cloistered society dominated by an oppressive ruling class," Lull notes. Such aristocratic oppression likely could have triggered the end of the civilization.
The end of El Argar gave way to the late-Bronze Age. The causes of the collapse of Argaric society seem to have been various socio-economic and ecological factors. Possibly, the overexploitation of the environment led to ecological degradation that made economic and social reproduction unfeasible. The end of El Argar is characterized by the depletion of natural resources, work tools and the workforce, the latter in the form of high infant mortality and more diseases. Perhaps this situation led to an unprecedented social explosion and complete disappearance of this civilization, as evidenced by the fact that many of the unearthed buildings show signs of having been burned on all four sides.
Following the destruction, there was complete silence, only broken by the permanence in Alicante and Granada of some small Argaric groups – populated by the fleeing ruling classes – that survived another century.
Of the hundreds of Argaric tombs studied, one stands out that archaeologists call the Princess of La Almoloya, a young woman who died in the year 1635 BC. She was buried at the head of a unique building with her linens, ceramics and thirty valuable objects made of gold, silver, amber and copper. Beneath her grave, the body of a man who had died years before was found.
About 100 kilometres from Pliego, in Antas – the economic and political center of El Argar – a building was found that included a large room, with benches and a podium. It could accommodate 50 people. The researchers assume that it was a kind of parliament, perhaps the first in the world.
"We will never know what was discussed there," says Lull, "because the Argarics, despite their development, did not master writing. It's a mystery about a mystery."
Olivia Newton-John, the 'Grease' star who became a global icon | Culture
She always felt more comfortable as a singer than as an actress, but it was her role as Sandy in the musical Grease (1978) that made her a global icon. Olivia Newton-John died Monday at the age of 73 from breast cancer at her ranch in California. The news was confirmed by her husband.
In a statement posted on social media, her widower John Easterling said: "Dame Olivia Newton-John (73) passed away peacefully at her Ranch in Southern California this morning, surrounded by family and friends. We ask that everyone please respect the family's privacy during this very difficult time."
"Olivia has been a symbol of triumphs and hope for over 30 years sharing her journey with breast cancer. Her healing inspiration and pioneering experience with plant medicine continues with the Olivia Newton-John Foundation Fund, dedicated to researching plant medicine and cancer."
Olivia Newton-John was the granddaughter of Nobel Prize-winning physicist Max Born, a Jew exiled to the United Kingdom from Nazi Germany. She was born in Cambridge, England, in 1948, and when she was only five years old, her family moved to Melbourne in Australia, where her father worked as a German teacher. She started out very young in the world of music, performing first with a group of schoolmates and then as a solo singer. At the age of 17, she won a talent contest on Australian television, which saw her move to the United Kingdom, where at 18 she recorded her first single.
While living in England, the singer was briefly performed with Pat Carroll. After separating (he had to return to Australia when his visa expired), she released her first album in 1971, If Not for You. The title paid tribute to a Bob Dylan song that had also been recorded by George Harrison.
Newton-John represented the United Kingdom at the 1974 Eurovision Song Contest, with the song Long Live Love, chosen by popular vote among six options. She came fourth, while ABBA won the contest with the song Waterloo.
The British-Australian actress is known worldwide for starring in the 1978 musical Grease, alongside John Travolta. Her role as Sandy catapulted her to fame with songs such as You're the One that I Want, Summer Nights and Hopelessly Devoted to You. Newton-John was initially reluctant to accept the role that would make her career. She wasn't sure she wanted to be an actress and also felt that, at 28 years of age, she wasn't the best fit for a high school student.
Finally, after several screen tests and at the insistence of Travolta, who was 23 at the time, but already a star thanks to the movie Saturday Night Fever, she accepted. "I couldn't have done the film if I hadn't met John, because I wasn't sure about doing it. He convinced me," confessed Newton-John in an interview conducted in early 2019. The film script was changed slightly to account for the singer's Australian accent.
The actress maintained a lifelong friendship with Travolta, who posted a message mourning her death on social media on Monday: "My dearest Olivia, you made our lives so much better. Your impact was incredible. I love you so much. We will see you down the road and we will all be together again. Yours from the first moment I saw you and forever! Your Danny, your John!" The two appeared in public for the last time in December 2019, dressed as their characters from Grease.
Grease was the highest-grossing film of the year of its release and its soundtrack, which is also the soundtrack of an entire generation, remained at the top of the charts for weeks. The actress was nominated for a Golden Globe and appeared at the Oscars ceremony the following year singing Hopelessly Devoted to You, which was nominated for Best Song.
Before Grease shot her to worldwide fame, Newton-John released the song Let Me Be There, which won her a Grammy for best female country vocal performance.
After Grease, she starred in films such as Xanadu and topped the charts with songs such as Physical, from 1981. The same-named album was the first to have a music video for each song. As a singer, she won four Grammy Awards, although she was never very popular with critics.
From 1984 to 1995, Newton-John was married to actor Matt Lattanzi, with whom she had a daughter, Chloe Rose. Her next partner, camera operator Patrick McDermott, who disappeared at sea in 2005. In 2008, she married tycoon John Easterling, the founder of Amazon Herb Company.
In 2019, Newton-John was diagnosed again with stage four breast cancer with metastases in the back. The actress, who had battled the disease in 1992 and in 2013, told the television show 60 Minutes Australia that she did not know how long she had left to live. "For me, psychologically, it's better not to have any idea of what they expect or what the last person that has what you have lived, so I don't, I don't tune in," she said.
Newton-John called on Australia to allow the use of marijuana for medicinal and palliative use, in line with California, where she lived. Her daughter has a cannabis farm in Oregon.
Her loved ones also recognize her fundraising work for cancer research. In one of her most famous campaigns, the singer auctioned off some of her personal clothes, including outfits she wore on Grease.
Justified: Generation Z doesn't like Justin Timberlake anymore: the 'new king of pop' apologized too late | Culture
Twenty years ago, Rolling Stone magazine crowned Justin Timberlake (Memphis, Tennessee, 41 years old) "the new king of pop." This summer, a video of the singer dancing at Washington's Something in the Water festival accumulated millions of views on social networks, but not for the reasons he would like. Commenters called the star "creepy," "hilarious" and "embarrassing.". "Justin Timberlake still thinking he has any swag left while wearing those Old Navy khakis on stage," jeered one Twitter user. "This is the height of gentrification," wrote another. When did Justin Timberlake, once the biggest star on the planet, the world's best pop dancer and the coolest man in the entertainment industry, become a pop culture piñata? Timberlake has been irritating public opinion for 20 years. Now, all the backlash is hitting him at once.
Timberlake released his first solo album, Justified, in 2002 at the age of 21. The promotional campaign coincided with his breakup with Britney Spears. He used the "Cry Me A River" music video, which featured a lookalike of the pop singer, to make it clear that she had cheated on him. Timberlake revealed on two different radio shows that he had had sexual relations with Spears, despite the fact that during their courtship both had proclaimed their intention to be virgins at marriage.
Timberlake continued talking about Spears over the years. In 2013, he referred to her in a Saturday Night Live sketch about his ancestors' wishes for their descendents: "He'll date a popular female singer. Publicly they'll claim to be virgins, but privately, he'll hit it." At a 2007 concert, while Spears was in a rehabilitation center for her mental problems and addictions, he alluded to her more indirectly: he ended "Cry Me A River" singing the chorus of Amy Winehouse's "Rehab."
In 2004, Timberlake participated in the Super Bowl halftime show alongside Janet Jackson. At the end of the performance he uncovered her breast for 9/16 of a second before an audience of 143 million viewers. More than 200,000 viewers complained to CBS. In the midst of the Iraq war, the so-called Nipplegate incident occupied ample space in the conservative media, which fueled the controversy to the point of sinking Jackson's career. Radio and television channels stopped broadcasting her, ABC canceled a movie about Lena Horne that she was going to star in and Disney World removed a statue of Mickey Mouse dressed as Jackson.
Timberlake, by contrast, suffered no consequences. The Grammys canceled Jackson's planned appearance, but Timberlake did perform, winning two awards and using his speech to apologize. He didn't mention his stage partner. At no time did Timberlake publicly defend, support or apologize to her. What he did do was criticize the singer's interview with Oprah Winfrey, in which Jackson claimed to have felt betrayed by Timberlake. Many fans believe he insulted her on the song "Give It To Me:" "Could you speak up and stop the mumbling? I don't think you're getting clear. Sitting on the top it's hard to hear you from way up here. I saw you trying to act cute on TV. Just let me clear the air. We missed you on the charts last week. Damn that's right, you wasn't there." "Give It To Me" reached number one on the United States' charts.
Timberlake's album Future Sex/Love Sounds was the third best-selling album of 2006. Three of its songs went on to reach number one: "Sexyback," "My Love" and "What Goes Around Comes Around," which also attacks Spears.
His wedding to actress Jessica Biel in 2012 generated controversy. A video, orchestrated by one of his friends to be projected during the reception, was leaked in which several homeless people from Los Angeles congratulated Timberlake and expressed their regret at not being able to attend the event, which was held in Puglia (Italy) and cost six million euros. The friend in question paid €30 to each homeless person for their participation. That month, Shriners Children's Hospital announced the end of its relationship with Timberlake.
The current of public opinion definitively turned against him until 2016. Grey's Anatomy actor Jesse Williams gave a speech at the BET gala about the need to rebel against cultural appropriation: "we're done watching and waiting while this invention called whiteness uses and abuses us, burying black people out of sight and out of mind while extracting our culture, our dollars, our entertainment." Timberlake reacted by tweeting "#inspired," to which journalist Ernest Owens replied, "Does this mean you are going to stop appropriating our music and culture? And apologize to Janet." "Oh, you sweet soul," replied the singer. "The more you realize that we are the same, the more we can have a conversation. Bye." Given the controversy, Timberlake deleted the tweet but insisted that "we are all one…one human race."
That exchange sparked a media conversation about cultural appropriation and the well-intentioned passivity of white celebrities. Timberlake has built his career drawing on black aesthetics, musicians and culture. His sound has oscillated between R&B, hip hop, funk and soul, but for him, as Candance McDuffy wrote in Glamour, "black culture is a lucrative disguise that he can remove as soon as it ceases to benefit him." Or as Luria Freeman summed it up in Vibe, "Justin owes his voice to the black community, but he remains silent."
In early 2018, Timberlake released his fourth album, Man Of The Woods. He traded his image as a neo-Sinatra heartthrob for flannel, jeans, and fur coats, finding himself in the wilderness of the Wild West (the singer has a ranch in Montana). Criticism raged against the project. "Justin Timberlake relaunches his brand, now as a white man," The Outline headlined. "Montanans laughed at the notion that a multimillion-dollar home at a private ski resort, filled with other non-Montanans, would evoke 'the Wild West'; others suggested that he'd watched The Revenant or listened to Bon Iver once and co-opted the signifiers," observed Anne Helen Petersen on Buzzfeed.
Critics saw Justin Timberlake's reinvention as another disguise. "Justin Timberlake hasn't suddenly reclaimed his white masculinity for the first time with Man of the Woods. It's been with him all along. It's just that now it's become impossible to ignore," wrote Constance Grady for Vox.
The night Justin Timberlake performed at the 2018 Super Bowl halftime show, becoming the first person to take that stage three times, #JusticeForJanet was a trending topic on Twitter. While Jackson's career remained in shambles 14 years after Nipplegate, Timberlake returned to the scene in style. In addition, many fans considered Prince's appearance in a giant hologram yet another jab by Timberlake at black culture and an act of disrespect towards Prince, who had stipulated that he did not wish to appear in holograms because he considered them demonic. The press considered it one of the least memorable intermissions of the Super Bowl.
At the beginning of last year, the documentary series The New York Times Presents devoted an episode to Britney Spears' career and another to the collapse of Janet Jackson's career after the Super Bowl. In both, perhaps the two most emblematic episodes of misogyny in 2000s pop culture, Timberlake played an antagonistic role. And in both he went unpunished. "Timberlake's shine has worn off, leaving behind an uncomfortable tale of a man who enjoyed continued success at the expense of other people's losses," wrote journalist Chelsea McLaughlin.
Look, it took a scathing documentary to get Justin Timberlake to issue a "heartfelt apology" (likely drafted by his publicist) to Britney Spears & Janet Jackson. He spent nearly 20yrs benefiting from cultural appropriation & misogyny. He's a jerk – and his apology comes too late.

— Elgin Charles (@ElginCharles) February 13, 2021
Last month, Rolling Stone, the same magazine that two decades ago proclaimed him the new king of pop, analyzed Timberlake's viral dance in Washington. It blamed Generation Z for the singer's new status. "Zoomers, particularly those on TikTok, are really good at making previously lauded white men seem remarkably uncool. This is a curse that has now befallen Justin Timberlake, the once pop prince." But singer's decline in popularity goes beyond social media run-ins. "The new reckoning around him feels like a cultural exorcism, a chance to use the boy band vessel to purge ourselves of the evils he now represents to many," writes Maria Sherman at Slate.com. "Timberlake has become the perfect emblem of a bygone era that rewarded guys exactly like him—until it didn't."