Let's heed the UN's dire warning and stop the east African oil pipeline now | Bill McKibben, Diana Nabiruma and Omar Elmawi
If there is one world leader trying to look out for the planet as a whole, not just their own nation, it's the UN secretary general. Last week, António Guterres was resolute in the wake of the damning report from the IPCC on the perilious climate crisis. It should, he said, sound "a death knell for coal and fossil fuels, before they destroy our planet".
He called for an end to "all new fossil fuel exploration and production", and told countries to shift fossil fuel subsidies into renewable energy.
One of the first tests of whether anyone is paying attention will be if somebody rips up the plans for what would be the world's longest heated crude oil pipeline – the 1,443km (900-mile) east African crude oil pipeline (EACOP) that will run from oilfields in Uganda to the ocean ports of Tanzania. If it gets built, it's is a sure sign that the world's leaders are not listening.
The Environmental Law Alliance Worldwide-USA (ELAW-USA) estimates that burning the 210,000 barrels of oil a day that will be transported by the pipeline will produce more than 34m metric tonnes of carbon annually. This is significantly greater than the current combined emissions of Uganda and Tanzania.
So far, the Chinese national oil company, French oil giant Total, and the governments of Uganda and Tanzania are pressing ahead, apparently putting the money that can be made ahead of the interests of the climate.
Even on purely economic terms, it's a terrible bargain. In 2015, the Ugandan government estimated that climate crisis damages will collectively amount to 2-4% of the country's gross domestic product between 2010 and 2050.
This is about $3.2 to $5.9bn annually, losses that will exponentially rise if crude oil extraction, export and use is encouraged. The climate crisis is costing lives and livelihoods in Uganda now, with flash floods and landslides taking lives and destroying public infrastructure such as roads and farmlands. Currently, communities that lived near Lake Albert have been displaced due to increased water levels. Sealed oilwells near Lake Albert were also submerged last year.
You can see the same kind of damage across the African continent: in 2019, for instance, cyclones Idai and Kenneth in southern Africa took the lives of more than 1,000 people. Millions more were left without food or basic services. Severe droughts in east Africa in 2011, 2017 and 2019 destroyed crops and livestock, leaving 15 million people in Ethiopia, Kenya, and Somalia with food and water shortages.
Yet whenever oil discoveries are made in Africa, governments move in haste to extract it without thinking of how people and broader economies will be affected. Little is done to analyse and publicly share information on how much revenue will be generated from the exploitation of fossil fuels vis-a-vis the economic and social costs of biodiversity loss, climate impacts, physical and economic displacement, and risks to livelihoods.
Other fears about the pipeline are well documented: physical and economic displacement; a delayed compensation process; threats to lives and livelihoods from oil spills; destruction of sites of spiritual value. More than 2,000 sq km of protected wildlife habitat faces significant disturbance. The governments and companies involved won't even disclose key documents to the public to allow meaningful participation and informed consent. Not surprisingly, more than 1 million people have signed a global petition calling for the project to be axed.
But those numbers have to grow. The climate crisis is, in some ways, a crisis of inertia. We hear reports like last week's dramatic missive from the IPCC, and for a few hours, maybe a few days, we're shocked. But the oil companies count on our attention fading – because they're focused on one thing: drilling for more.
In a world where the temperature is rising fast (and where solar power is now the cheapest source of energy), that makes no sense. The UN secretary general is right: either there's a death knell for the fossil fuel industry or there's a death knell for our civilisations, beginning, of course, with its poorest and most vulnerable people.
The IPCC report was full of deeply detailed computer models and high-level physics, but its bottom line was easy to understand: when you find yourself in a hole, the first rule is to stop digging. If ground is broken as planned next April on this pipeline, the failure will be all of ours.
Bill McKibben is the founder of 350.org; Diana Nabiruma is senior programme officer at Africa Institute for Energy Governance (AFIEGO); Omar Elmawi is coordinator of the #StopEACOP campaign
Migrant fruit pickers charged thousands in illegal fees to work on UK farms, investigation shows | Nepal
Ditya*, a single mother from Nepal, is used to travelling abroad for work. For years she has made a living as a migrant farm worker, where she can earn several times what she would in her home country. Last year she applied to become part of the UK government's seasonal worker visa scheme, picking fruit and vegetables on a farm in Herefordshire that supplies fresh produce to Marks & Spencer (M&S), Tesco and Waitrose.
Ditya got the job, but it came at a huge cost. In order to secure it, she says she had to pay more than £3,000 – almost a third of what she earned during the six-month post – to recruitment agents.
Some of that money covered the cost of her flight and visa application. The rest appears to include illegal fees that labour rights experts describe as "exploitative and extortionate".
A joint investigation by the Bureau of Investigative Journalism (TBIJ) and the Guardian can reveal that as many as 150 Nepali workers who came to work at Cobrey Farms in Herefordshire as part of the government scheme may have paid similar amounts, many of them claiming they paid agents working for a UK-licensed recruitment company.
The findings suggest that the underfunding of labour-rights enforcement, combined with the rapid expansion of the seasonal worker scheme – which aims to plug shortages created by Brexit and Covid-19 – could be putting thousands of migrant labourers at risk of exploitation.
Tesco and M&S, which buy from Cobrey, have human rights policies requiring their suppliers to ensure workers are not charged fees.
Tesco and M&S said they are urgently investigating the matter. Tesco added that any illegal fees had to be repaid in full. The workers, however, say they have not yet been reimbursed.
A Waitrose spokesperson said it couldn't comment on the specific case, which was a live investigation, but it would "take whatever action" was needed.
The UK government launched the seasonal workers pilot scheme in 2019 to address concerns that the withdrawal from the EU would cause a shortage of labour for harvesting jobs on farms. Its rules state that workers should only pay a visa application fee of £259 (£244 until April this year) and travel costs. Any additional recruitment fees are illegal under UK law and can result in a labour provider being stripped of its licence.
Workers speaking on condition of anonymity said that they paid the fees to agents working for the Nepali company My Careers HR Solutions, which Poseidon Human Capital, a recruitment firm headquartered in London, says it controls day-to-day. Poseidon had in turn been hired by the Brighton-based charity Concordia, one of four organisations that operate the UK government scheme. Concordia had been contracted to find workers to pick fruit and vegetables at Cobrey Farms.
Simon Bowyer, CEO of Concordia, said that his company conducted an investigation and interviewed more than half of the 150 people recruited to work at the farm by Poseidon. He said a "significant percentage" told them they had paid fees to My Careers HR Solutions, its chairman John Khadka, Poseidon or "other named associates", and that most payments were between RS300,000 (£1,935) and RS750,000 (£4,840).
Poseidon director Matthew Hurley said the company hired its own investigators, from a "reputable law firm", who found that no officers from his company had been complicit in illegal fees being taken.
The costs for a Nepali worker to participate in the scheme, including charges for preparing documents, visa costs and logistics, are estimated to be more than £2,000, Hurley said. If farms covered these costs, potential "exposure to payment of illicit fees would be eradicated", he said.
Khadka, who was the chairman of Kathmandu-based My Careers HR Solutions at the time of the alleged breaches, said the investigation found two deposits made by workers to his accounts. He said that both were from longtime friends who he was helping to transfer money.
In March, Khadka denied that his company had recruited Nepali workers to the UK or that he had any dealings with Poseidon. He subsequently said that he was suspended from the My Careers HR Solutions board as a result of Poseidon's investigation, but added that it found the allegations made against him to be "incorrect".
Concordia has now terminated its relationship with Poseidon and alerted the Gangmasters and Labour Abuse Authority (GLAA), the government body in charge of licensing labour providers and tackling exploitation in the agriculture sector. A spokesperson for the GLAA said it does not "provide a running commentary on specific investigations".
The charging of recruitment fees via third parties has resulted in thousands of Nepali workers – primarily working in the Gulf and Malaysia – taking out informal loans they struggle to pay back, said Bishal Tamang, an independent migration researcher and former migrant worker. In the worst cases, he said, this has resulted in workers taking their own lives.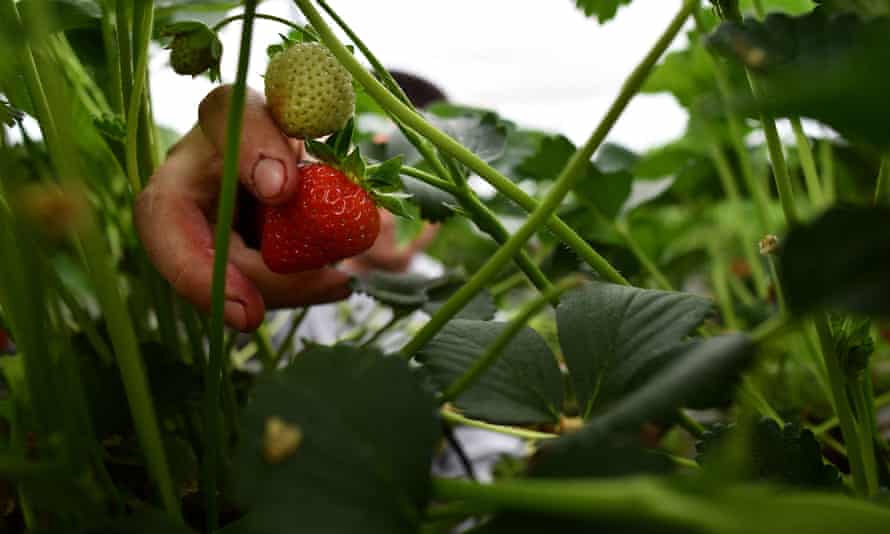 "They will borrow money from lenders that charge huge interest rates and give their land deeds as a guarantee. It is normally land that has been in the family for generations," he said.
Tamang said he had previously paid RS100,000 (£645) to secure work in Saudi Arabia, but that workers can be charged more than 10 times as much for work in the UK.
According to figures obtained through freedom of information requests, the most common allegations in the agriculture sector brought to the GLAA last year were in relation to recruitment fees. A total of 25 such allegations were made in 2021, more than three times the number made in 2018, the year before the scheme's launch.
"We need food on the shelves in supermarkets, and [migrant workers] have come to make that happen," said Emily Kenway, a researcher and former adviser to the UK's independent anti-slavery commissioner. "We've got to hold up our side of the bargain, which does not include workers being fleeced in order to get here."
Kenway said the GLAA has been more likely to pick up on these issues because it had working relationships with labour enforcement agencies in countries such as Romania, where most migrant workers came from before Brexit. But the GLAA's resources have not kept pace with the increase in the number of countries from which workers are now being recruited – 58 in 2021.
"We knew something like this was going to happen," Kenway said. "Everyone who works on labour rights, modern slavery and trafficking has been saying from day one that there is a massive chance that we're going to have exploitation taking place through the scheme because of its design and the lack of resourcing going into it."
The seasonal worker scheme, which issued just under 2,500 visas in 2019, is expecting to issue as many as 40,000 this year. Meanwhile, the Home Office's funding for the GLAA last year was £7m – less than what it spent on publications, stationery and printing.
Data released by the Home Office this week shows that Nepal has provided 395 seasonal workers to the UK in the first three months of this year – the fourth-highest country on the list.
Carolin Ott, a solicitor at Leigh Day, said the new findings were extremely concerning. "It is absolutely vital that this rapidly expanding scheme has necessary safeguards in place to prevent exploitation and ensure protection of seasonal workers' rights," she said.
Several workers who went to work at Cobrey Farms in 2021 said the recruitment fees represented a significant proportion of their earnings. One Nepali migrant who harvested asparagus and blueberries said he had paid about £3,100 to a recruiter. He said the farm's HR team learned in the summer of the "exorbitant fees" some workers said had been charged by My Careers HR Solutions.
Ditya said she paid £4,420, including a £1,260 deposit that was returned to her when she went back to Nepal. When Concordia asked about recruitment fees during its investigation, she lied, saying she had only paid for her visa and flight, because she "didn't want to get in trouble".
Chris Chinn, whose family runs Cobrey, said that the farm notifies and cooperates with the GLAA in the event of any alleged or observed breach of labour standards. He said Cobrey's licence means it has been "assessed as meeting the rigorous standards set by the GLAA".
Concordia's Simon Bowyer said that his company would not be refunding the workers, but would like to see My Careers HR Solutions do so. "I don't know the exact nature of the relationship between My Careers and Poseidon," he said, but we were not happy when we found that relationship – whatever it was – existed."
TBIJ and the Guardian have also seen training certificates issued to Cobrey workers that feature the logos of the British Council and Ofqual, both of which said that they have not accredited any of the people or companies named in the documents. Hurley put this down to a "certification mistake" that was being addressed.
*Name has been changed
Additional reporting by Pramod Acharya
Share your experiences
Have you worked on a UK farm as part of the seasonal worker visa scheme? You
can get in touch by filling in this encrypted form, anonymously if you prefer. Read terms of service here and privacy policy here.
Your responses are secure as the form is encrypted and only the Guardian has access to your contributions.
Pussy Riot: Maria Alyokhina, a punk poet against Putin | Culture
The setting is the White House – or rather a set of White House, the one inhabited by actors Kevin Spacey and Robin Wright in the TV show House of Cards. The year is 2015. Maria Alyokhina, better known as Masha, has already been jailed and released more than one time. And she has begun to write her book, a Vonnegutesque memoir called Riot Days. The memoir tells the story behind Pussy Riot, the feminist punk collective that made Alyokhina the kind of star that is invited to make a provocative cameo in a hit TV show. It also depicts the author's day-to-day life in prison, with special emphasis on the freezing cold, systematic mistreatment and forced labor – problems that seem not to have changed since Dostoevsky's time. And it also recounts Alyokhina's lifetime of defying tyranny.
In the third House of Cards episode of the show's third season, Masha and fellow Pussy Riot activist Nadya Tolokonnikova refuse to toast Viktor Petrov, the Vladimir Putin of the series, played by Lars Mikkelsen. The women's appearance on the show reflected the fact that they are recognized as major players in history –although Masha is not so sure. "As a teenager," Masha recounts in Riot Days, "I used to do graffiti on one of the school walls." The wall was painted with historical motifs depicting a Russia she hadn't seen and didn't believe in. "I liked seeing how the graffiti was gaining ground and began to mix with those historical episodes, giving shape to another truth, ours," she writes. Even then, the teenage Masha thought like an activist.
Born in Moscow in 1988, Maria Alyokhina grew up in 1990s Russia, and she remembers "people queuing everywhere, queuing for food, clothes, vouchers." That, she says, has not changed. "They tell us that the country has changed, but I keep seeing the queues." Masha was raised by her mother, a programmer, and did not meet her math teacher father until she was 21. She hated the Russian educational system and changed schools four times. "They taught you not to think. They wanted us to just follow the rules. Obviously, I didn't like it at all," she once said. A poet, actress and mother, Masha studied journalism and creative writing and was a Greenpeace activist. She has long been inspired by the performance artist and political provocateur Aleksander Brener.
Pussy Riot's first action took place in the same spot where Brener stood before the Kremlin with a pair of boxing gloves – the image of him dressed as a boxer became iconic – and asked the Russian president at the time, Boris Yeltsin, to come out and fight. "There were eight of us, like the eight dissidents in 1968″ who protested against the occupation of Czechoslovakia, she recalls. But the image that spread across the world, forever changing the West's conception that Russia had left its Soviet past behind, occurred in the Moscow Cathedral. The action landed the collective in jail for the first time: the collective sang a song asking the Mother of God to become a feminist and free Russia from Putin. Masha dressed in green and wore a yellow balaclava. Lara Alcázar, the founder of the Spanish branch of the feminist activist group Femen, says that the action was significant because it "clicks in the mind of those who see it."
"The protest seeks to arouse an opinion, a series of questions. It has always been necessary, but right now there is an emergency. It shows you the other side – in this case, where the oppressors and the oppressed are," says Alcázar. Today, Masha is hiding somewhere in Iceland, after having fled Russia with her partner Lucy Shtein, both disguised as food couriers. Her life is in danger. Alcázar also points out that women who dedicate themselves to activism break many boundaries. As with Femen's demonstrations, Pussy Riot's protests are especially powerful because they consist of direct action and provocation, she says.
Carol Paris, editor of the Spanish-language version of Read & Riot: A Pussy Riot Guide to Activism, says that the most interesting thing about the collective is how they transcend the idea of individuality. "They show us how we can become active free agents. We should all be Pussy Riot." And yet, as writer and translator Monika Zgustova points out, we cannot forget that Masha and the rest of the Pussy Riot "are in real danger, danger of being killed with a bullet to the forehead or a sophisticated poison, as has already happened to so many people who made the Kremlin uncomfortable." That danger "gives value, weight and seriousness to their message," a message that, as Nadya Tolokonnikov writes, they express through "barbaric and primitive political cabaret."
Resurgence of fighting in DRC displaces 37,000 people in four days – in pictures
A ceasefire breakdown has seen violence between the military and M23 rebels intensify in North Kivu, Democratic Republic of the Congo