Let's heed the UN's dire warning and stop the east African oil pipeline now | Bill McKibben, Diana Nabiruma and Omar Elmawi
If there is one world leader trying to look out for the planet as a whole, not just their own nation, it's the UN secretary general. Last week, António Guterres was resolute in the wake of the damning report from the IPCC on the perilious climate crisis. It should, he said, sound "a death knell for coal and fossil fuels, before they destroy our planet".
He called for an end to "all new fossil fuel exploration and production", and told countries to shift fossil fuel subsidies into renewable energy.
One of the first tests of whether anyone is paying attention will be if somebody rips up the plans for what would be the world's longest heated crude oil pipeline – the 1,443km (900-mile) east African crude oil pipeline (EACOP) that will run from oilfields in Uganda to the ocean ports of Tanzania. If it gets built, it's is a sure sign that the world's leaders are not listening.
The Environmental Law Alliance Worldwide-USA (ELAW-USA) estimates that burning the 210,000 barrels of oil a day that will be transported by the pipeline will produce more than 34m metric tonnes of carbon annually. This is significantly greater than the current combined emissions of Uganda and Tanzania.
So far, the Chinese national oil company, French oil giant Total, and the governments of Uganda and Tanzania are pressing ahead, apparently putting the money that can be made ahead of the interests of the climate.
Even on purely economic terms, it's a terrible bargain. In 2015, the Ugandan government estimated that climate crisis damages will collectively amount to 2-4% of the country's gross domestic product between 2010 and 2050.
This is about $3.2 to $5.9bn annually, losses that will exponentially rise if crude oil extraction, export and use is encouraged. The climate crisis is costing lives and livelihoods in Uganda now, with flash floods and landslides taking lives and destroying public infrastructure such as roads and farmlands. Currently, communities that lived near Lake Albert have been displaced due to increased water levels. Sealed oilwells near Lake Albert were also submerged last year.
You can see the same kind of damage across the African continent: in 2019, for instance, cyclones Idai and Kenneth in southern Africa took the lives of more than 1,000 people. Millions more were left without food or basic services. Severe droughts in east Africa in 2011, 2017 and 2019 destroyed crops and livestock, leaving 15 million people in Ethiopia, Kenya, and Somalia with food and water shortages.
Yet whenever oil discoveries are made in Africa, governments move in haste to extract it without thinking of how people and broader economies will be affected. Little is done to analyse and publicly share information on how much revenue will be generated from the exploitation of fossil fuels vis-a-vis the economic and social costs of biodiversity loss, climate impacts, physical and economic displacement, and risks to livelihoods.
Other fears about the pipeline are well documented: physical and economic displacement; a delayed compensation process; threats to lives and livelihoods from oil spills; destruction of sites of spiritual value. More than 2,000 sq km of protected wildlife habitat faces significant disturbance. The governments and companies involved won't even disclose key documents to the public to allow meaningful participation and informed consent. Not surprisingly, more than 1 million people have signed a global petition calling for the project to be axed.
But those numbers have to grow. The climate crisis is, in some ways, a crisis of inertia. We hear reports like last week's dramatic missive from the IPCC, and for a few hours, maybe a few days, we're shocked. But the oil companies count on our attention fading – because they're focused on one thing: drilling for more.
In a world where the temperature is rising fast (and where solar power is now the cheapest source of energy), that makes no sense. The UN secretary general is right: either there's a death knell for the fossil fuel industry or there's a death knell for our civilisations, beginning, of course, with its poorest and most vulnerable people.
The IPCC report was full of deeply detailed computer models and high-level physics, but its bottom line was easy to understand: when you find yourself in a hole, the first rule is to stop digging. If ground is broken as planned next April on this pipeline, the failure will be all of ours.
Bill McKibben is the founder of 350.org; Diana Nabiruma is senior programme officer at Africa Institute for Energy Governance (AFIEGO); Omar Elmawi is coordinator of the #StopEACOP campaign
Brexit: British Embassy launches survey on key issues affecting UK nationals in Spain | Brexit | International
The British Embassy in Madrid has launched a survey aimed at finding out how UK nationals in Spain have been affected by key issues, in particular, the United Kingdom's exit from the European Union, a process commonly known as Brexit.
The poll is for Britons who are full-time residents in Spain (not those with second homes) and are covered by the Brexit Withdrawal Agreement, i.e. they were officially registered in the country before December 31, 2020, when the so-called Transition Period came to an end.
Questions in the survey address issues such as access to healthcare and the uptake of the TIE residency cards, which were introduced as a replacement for green residency cards (either the credit-card size or the A4 sheet version, officially known as the Certificado de Registro de Ciudadano de la Unión).
The aim of the poll is to gather vital information on the experience of UK nationals living in Spain that will help the British Embassy provide feedback to Spanish authorities. The survey takes around 10 minutes to complete, and all answers are confidential.
Have you heard our Spanish news podcast ¿Qué? Each week we try to explain the curious, the under-reported and sometimes simply bizarre news stories that are often in the headlines in Spain.
'The challenge for us now is drought, not war': livelihoods of millions of Afghans at risk | Global development
The war in Afghanistan might be over but farmers in Kandahar's Arghandab valley face a new enemy: drought.
It has hardly rained for two years, a drought so severe that some farmers are questioning how much longer they can live off the land.
Mohammed Rahim, 30, grew up working on a farm along with his father and grandfather in the Arghandab district of Afghanistan's southern province. Famous for its fruit and vegetables, the area is known as the bread basket of Kandahar.
Like most in the valley, Rahim's family relies solely on farming. "The fighting has just stopped. Peace has returned," Rahim says. "But now we face another war: drought.
"Now we have to dig deep to pump water out of the land. It has been two years, there has been little rain and we have a drought here. I don't know if our coming generations can rely on farming the way our ancestors used to do."
Pir Mohammed, 60, has been a farmer for more than four decades. "Not long ago, there were water channels flowing into the farm and we were providing the remaining water to other farmers," says Mohammed. "Before, the water was running after us, flowing everywhere – but now we are running after water."
The water used to come free from the river but now the daily diesel cost for the water pump is at least 2,500 Afghani (£21).
"We don't make any profit. We are in loss, rather. Instead, we are using our savings. But we don't have any other option as we do it for survival," says Mohammed. "However, the scarcity of water has affected the quality of crops as well."
About 70% of Afghans live in rural areas and are particularly vulnerable to the impacts of drought.
Last week, Rein Paulsen, director of the Food and Agriculture Organization's Office of Emergencies and Resilience, said severe drought was affecting 7.3 million people in 25 of the country's 34 provinces.
He warned: "If agriculture collapses further, it will drive up malnutrition, increase displacement and worsen the humanitarian situation."
Arghandab has been a favourite destination for farming because of the abundance of water and fertile lands. Neikh Mohammed, 40, left the Dand district of Kandahar to work in Arghandab in 2005. When he arrived he was amazed to see the greenery and pomegranate farms.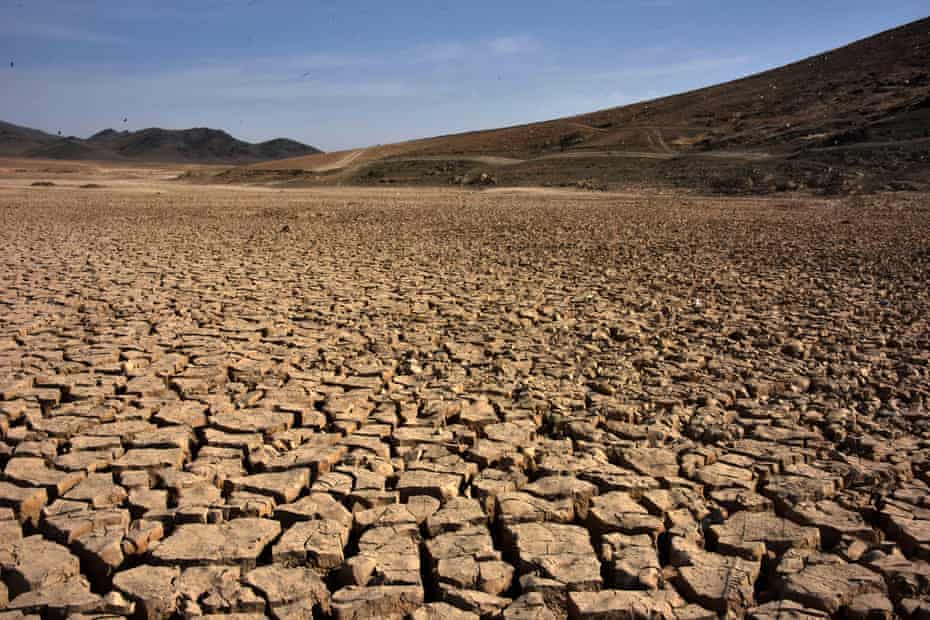 "It used to rain a lot here and we could not cross the river and come into our farms. We had a life with abundant water. But the past is another country now," he says.
According to a report by the UN mission in Afghanistan, many local farmers were caught in the crossfire between the Taliban and the Afghan security forces. The Taliban carried out attacks from thick foliage on the farms, which provided a hiding place, ideal for an ambush.
"For the past 20 years, we did not have peace and could not work after dark in our farms. But now we can stay as long as we want without any fear," says Neikh Mohammed. "Now the challenge is not just restoring peace but the drought and escalating cost of essential commodities."
Farmers say they want support from international aid agencies and assistance from the new government headed by the Taliban to help them survive.
Pir Mohammed says: "The real challenge for us now is drought, not war. We need food, water, dams and infrastructure in our country. The world should invest in us and save us."
[Ticker] US to lift Covid travel-ban on EU tourists
Fully vaccinated travellers from the EU and the UK will be let back into the US from "early November" onward, the White House said on Monday, ending an 18-month ban and prompting airline firms' shares to climb. "This new international travel system follows the science to keep Americans … safe," a US spokesman said. The EU recently recommended increased restrictions on US visitors, amid anger at lack of US reciprocity.

Source link