Latina singers: From flamenco to Spanglish: Why Rosalía's latest album is causing a stir | USA
When Spanish singer Rosalía appeared live on Spain's Cadena SER radio network to present her album El mal querer in November 2018, everyone wanted to see what she had to say. Even the crew of the radio program La Ventana were eagerly awaiting the interview, something that, according to radio presenter Carles Francino, had never happened before, not even with such distinguished guests as Spanish prime ministers, Nobel prize winners or the actor Richard Gere. Rosalía was 25 years old at the time and had two albums to her name. Her responses captivated the interviewers who praised her in hyperbolic terms, comparing the Barcelona-born artist to legendary Spanish copla singer Miguel de Molina. Francino said she had triumphed because she was "very good and very different" – paraphrasing the iconic Spanish poet Jaime Gil de Biedma.
And Francino wasn't the only one to sing Rosalía's praises. In a pre-recording, Martín Guerrero, the managing director of Casa Patas, a seminal flamenco venue in Madrid, said that Rosalía was "electrifying, thrilling and unique." The comments section below the YouTube video of the interview, which has more than 500,000 views, is also filled with messages extolling the singer. "From her vocabulary and her way of thinking, I thought she was a very poised woman, who knows what she is saying when it comes to music and music history and knowledge. She is not your average girl. She is a genius," one YouTube user wrote.
Francino, perhaps sensing what was about to happen to the pop star, brought the interview to an end with a request: "We are just asking you one thing, Rosalía: don't change." He could not have asked anything more difficult of her.
A little over three years later, the public is eagerly awaiting her third album, Motomami, which will be released sometime in 2022. Rosalía has given a preview of what's to come, sharing snippets of songs such as Candy and Saoko on social media. But the single that has caught the most attention is Hentai, a slow ballad accompanied by piano whose lyrics have triggered bafflement and disbelief. The sexually explicit nature of the song and Rosalía's use of Spanglish quickly became fodder for internet memes and jokes. In the 20-second clip of the track, Rosalía sings "Te quiero ride como a mi bike" or "I want to ride you like my bike." The educated and cultured singer, who used to cite centuries-old poetry, sounded like someone completely different.
"It's as if the person who does the songs for [children's band] CantaJuegos had come home drunk and horny and had opened a notepad," wrote one Twitter user. "Rosalía is now making music by taking random words from the dictionary," read another message. The backlash was so great that, a few hours later, Rosalía herself even tweeted about it. "The people who are upset about the lyrics in Hentai, are you okay?"
It has not been a sudden change. Since her debut album Los ángeles, in which the singer made reference to flamenco singers La Niña de los Peines and Enrique Morente, as well as the poet Federico García Lorca, to the explicit and visceral Hentai, five years have passed. In that period, Rosalía has gone from being 24 to 28 years old, and she has experienced a global pandemic that kept her in Miami and away from her family for the first time. She has traveled across Latin America and rubbed elbows with the leading figures of the international music scene. A few months ago, she released a collaboration called Linda with the Dominican rapper Tokischa. The lyrics of the feminist tune – "nos besamos pero somos homies" or "we kiss but we're homies" – surprised her fans for its simplistic nature. "It's true that there wasn't a bad rhyme in her first two albums, her lyrics were excellent. In contrast, in her latest songs there are terrible rhymes," says Jorge Carrión, the coordinator of the book La Rosalía, ensayos sobre el buen querer (or, Rosalía, essays on 'el buen querer').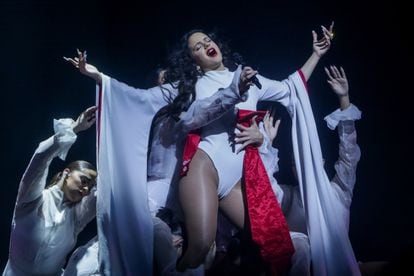 It's impossible to separate Rosalía's new music from her travels across the Americas, which she herself has documented in great detail. Like many other stars of today, she has opted to overshare on social media, where she uploads posts on every step she takes without any apparent communication strategy. Her surprising friendship with US personality Kylie Jenner and the rest of the Kardashian family, which appears to be very close, was one of the first shocks. We have seen her surrounded by entrepreneurs such as Dave Grutman and Jonathan Cheban, living an opulent lifestyle (Spain's far-right Vox party accused her of being a millionaire and having a private plane) and alongside celebrities such as Christina Aguilera, Drake, Naomi Campbell and Hunter Schafer from the US hit series Euphoria.
Living in Miami, Rosalía has started to express herself like other Spanish singers who emigrated to the US before her, such as Julio Iglesias and Alejandro Sanz. The Argentinian newspaper Clarín described her accent as "indecipherable, a mix of Spanish, Catalan, Andalusian and Caribbean, riddled with words in English." In an interview with a Dominican newspaper, Rosalía explained that her friendship with the Kardashians began when she started to hang out with Kendall in Los Angeles, which she named using the English acronym LA instead of the city's full name as you do in Spanish.
Rosalía's constant use of social media clashes with her previous image as an avant-garde artist who had released two albums exploring issues such as grief and gender violence. In her Instagram and TikTok accounts we see a cheerful, exhibitionist and sexual young woman, who often shares photos of herself half-naked and is seen with impossibly long fake nails and heavy makeup. She is obsessed with her pet chihuahua and loves cars and motorbikes – to such a degree that she bought a €60,000 pink-upholstered Ford Ranger Raptor with "La Rosalía" embossed in the headrests. Sometimes she takes on a certain childish attitude as if she were a character of one of the anime series she loves. On TikTok, she shared a photo with the message: "POV: When you steal Raul's phone and it has FaceID." The message, written in Spanish and containing spelling mistakes, was difficult to make sense of for those unaware of her relationship with singer Rauw Alejandro, which became public at the end of 2021.
This free-spirited image has left its mark on her music, both in her collaborations and what has been heard of Motomami. Even the name of the album appears to announce a new era that is lighter and fresher. In the video to announce the album launch, Rosalía can be seen covered in red glitter in a jeweled bikini, motorbike helmet and stilettos. The music in the clip is more reminiscent of other contemporary pop artists such as Charli XCX, SOPHIE, Arca or Grimes than of the flamenco which launched her career.
The debate around Rosalía's transformation is not new. The jump from Los ángeles to El mal querer had already raised questions about whether the move from music that paid homage to traditional flamenco to music that was an explosive mix of genres with global reach was part of a sincere and organic transformation, or whether it hid a premeditated and commercial strategy. Rosalía has behind her a team of women, including her sister Pili, who is the artist's stylist, her mother Pilar, the administrator of the company Motomami S.L., which manages the financial side of her career, and her manager Rebeca León, who is a superstar herself within the Latin music industry. But Rosalía has always defined herself as a controlling and detail-oriented artist who devises far-reaching projects. She even studied sound engineering in order to have greater control over the creative process. "I'm not doing it for mere strategic reasons, but rather taking into account the reason why I make music: to share it. The priority is to be connected to each moment that I am living and for this to be a means of communication, not a monologue," she said in an interview with Spanish magazine MondoSonoro in 2018.
Despite his reservations, book coordinator Carrión is still interested in Rosalía's latest project, which he describes as daring. "I sense that she has both discovered so many new popular genres in Latin America and what it means to be a global artist. She has begun to collaborate with the leading figures in reggaeton, trap and other urban music genres and that has led to a fusion [of styles]," he says. He agrees with Sara García, a comedian and the creator of the stand-up show Riot Comedy, who has been closely following Rosalía, her music and her relationship with Madrid-born singer C. Tangana for years. "She has pulled a 'Miley Cyrus' and is making songs that have nothing to do with the aesthetic, rhythms or soul of El mal querer. She is sending us signals that Motomami is not going to have anything to do with what we have seen before."
These signs were always there. Rosalía may be multifaceted and unable to be pigeon-holed, but if there is something that defines her it is the way she incorporates everything she knows into her music. Her first album was marked by her studies in flamenco, while the second mixed this knowledge with personal elements such as the R&B music she listened to as a teen and the sound of motorbikes, which her parents have always owned. When she reached success, she wrote Milionària in her native language, Catalan, and now she is writing about the volatility of fame and sexual pleasure with her partner. She also speaks of her own chameleon-like nature in Saoko ("A butterfly, I transform / Drag queen make-up, I transform").
It's likely that the reservations about her public image on social media, the people around her and the lyrics of her new songs are no more than a manifestation of prejudices, a generational gap and a certain amount of sexism. We are simply not used to seeing a genius being happy, naïve, sexual and exhibitionist and blowing kisses in photos next to Kylie Jenner. Rosalía's greatest talent is in breaking the mold.
Census 2022 – what difference does it make?
Next Sunday, April 3rd, is Census night. Millions of people in homes countrywide will fill in page after page of questions, some of which are deeply personal and many of which might be unfamiliar.
But what it is it all about?
At a basic level, Census 2022 will be used to inform planning of public policy and services in the years ahead, according to the Central Statistics Office.
The questions will cover a range of environmental, employment and lifestyle issues, including the use of renewable energy sources in homes.
The questions will help inform policy development in the areas of energy and climate action, and the prevalence of internet access, to understand the availability of and need for internet connections and range of devices used to access the internet.
Questions also focus on changes in work patterns and will include the trend of working from home and childcare issues, while questions are also asked about the times individuals usually leave work, education or childcare, to help identify and plan for transport pattern needs locally and nationally.
Other topics covered include volunteering and the type of organisations volunteers choose to support, tobacco usage and the prevalence of smoke alarms in the home.
And of course there is a time capsule – the chance to write something which will be sealed for the next 100 years.
In this episode of In The News, the head of census administration Eileen Murphy and statistician Kevin Cunningham about what it all means for us.
Oscars 2022: Will Smith makes Oscar history after slapping Chris Rock over joke about wife Jada Pinkett Smith | Culture
Will Smith took the Oscar for Best Actor at last night's 94th Academy Awards, but he also became the protagonist of the ceremony for other reasons. The night was following the script, until Smith slapped comedian Chris Rock on the stage after the latter made a joke about the shaved head of the former's wife, Jada Pinkett Smith. Rock had quipped that he was "looking forward to GI Jane 2," in reference to her look. Pinkett Smith has revealed publicly that she has alopecia. It looked as if the moment had been planned, until Smith went back to his seat and shouted: "Get my wife's name out of your fucking mouth."
The moment, which immediately became Oscar history but for all the wrong reasons, left the attendees with frozen smiles, and asking themselves whether it was possible that a veteran such as Smith could have lost his cool in front of tens of millions of people. After taking the prize for Best Actor, the superstar actor made a tearful apology, saying that he hoped the Academy "will invite me back." Later on, actor Anthony Hopkins called for "peace and love," but it was already too late. The incident overshadowed the success of CODA, which took the Oscar for Best Picture. Just like the time when Warren Beatty mistakenly named La La Land as the big winner of the night, no one will speak about anything else from last night's awards.
At first sight, Smith's actions looked as if they were scripted. When he first heard Rock's joke, he laughed. But his wife was seen on camera rolling her eyes, and it was then that the actor got up onto the stage and hit Rock. When he returned to his seat he raised his voice twice to shout "Get my wife's name out of your fucking mouth," sending a wave of unease and shock through the attending audience. The fact that he used the f-word, which is prohibited on US television, set alarm bells ringing that this was real and not a planned moment. In fact, the curse word was censored by the broadcaster, ABC, in the United States.
During a break, Smith's PR manager approached him to speak. In the press room, which the actor skipped after collecting his prize, instructions were given to the journalists not to ask questions about the incident, Luis Pablo Beauregard reports. The next presenter, Sean "Diddy" Combs, tried to calm the situation. "Will and Chris, we're going to solve this – but right now we're moving on with love," the rapper said.
When Smith took to the stage to collect his Best Actor award for his role as Richard Williams – the father of tennis stars Venus and Serena – in King Richard, he referred to the character as "a fierce defender of his family." He continued: "I'm being called on in my life to love people and to protect people and to be a river to my people. I know to do what we do you've got to be able to take abuse, and have people talk crazy about you and have people disrespecting you and you've got to smile and pretend it's OK."
He explained that fellow actor Denzel Washington, who also spoke to Smith during a break, had told him: "At your highest moment, be careful, that's when the devil comes for you."
"I want to be a vessel for love," Smith continued. "I want to be an ambassador of that kind of love and care and concern. I want to apologize to the Academy and all my fellow nominees. […] I look like the crazy father just like they said about Richard Williams, but love will make you do crazy things," he said. He then joked about his mother, who had not wanted to come to the ceremony because she had a date with her crochet group.
During the commercial break, Will Smith is pulled aside and comforted by Denzel Washington and Tyler Perry, who motion for him to brush it off. Will appears to wipe tears from his eyes as he sits back down with Jada, with Denzel comforting Jada and Will's rep by his side. pic.twitter.com/uDGVnWrSS2

— Scott Feinberg (@ScottFeinberg) March 28, 2022
The Los Angeles Police Department released a statement last night saying that Chris Rock would not be filing any charges for assault against Smith. "LAPD investigative entities are aware of an incident between two individuals during the Academy Awards program," the statement read. "The incident involved one individual slapping another. The individual involved has declined to file a police report. If the involved party desires a police report at a later date, LAPD will be available to complete an investigative report."
On December 28, Pinkett Smith spoke on social media about her problems with alopecia. She stated that she would be keeping her head shaved and would be dealing with the condition with humor. "Me and this alopecia are going to be friends… Period!" she wrote on Instagram.
House-price inflation set to stay double digit for much of 2022
House-price inflation is expected to remain at double-digit levels for much of 2022 as the mismatch between what is for sale and what buyers want continues.
Two new reports on the housing market paint a picture of a sector under strain due to a lack of supply and increased demand driven by Covid-related factors such as remote working.
The two quarterly reports, one each from rival property websites myhome.ie and daft.ie, suggest asking prices accelerated again in the first quarter of 2022 as the stock of homes available for sale slumped to a new record low.
Myhome, which is owned by The Irish Times, said annual asking-price inflation was now running at 12.3 per cent.
Price
This put the median or typical asking price for a home nationally at €295,000, and at €385,000 in Dublin.
MyHome said the number of available properties for sale on its website fell to a record low of 11,200 in March, down from a pre-pandemic level of 19,000. The squeeze on supply, it said, was most acute outside Dublin, with the number of properties listed for sale down almost 50 per cent compared with pre-pandemic levels.
It said impaired supply and robust demand meant double-digit inflation is likely until at least mid-2022.
"Housing market conditions have continued to tighten," said author of the myhome report, Davy chief economist Conall Mac Coille.
"The broad picture of the market in early 2022 remains similar to last year: impaired supply coupled with robust demand due to Ireland's strong labour market," he said.
"One chink of light is that new instructions to sell of 7,500 in the first 11 weeks of 2022 are well up from 4,800 in 2021, albeit still below the 9,250 in 2019. The flow of new properties therefore remains impaired," said Mr Mac Coille.
"Whatever new supply is emerging is being met by more than ample demand. Hence, transaction volumes in January and February were up 13 per cent on the year but pushed the market into ever tighter territory," he said.
He said Davy was now predicting property-price inflation to average 7 per cent this year, up from a previous forecast of 4.5 per cent, buoyed strong employment growth.
Homes
Daft, meanwhile, said house asking prices indicated the average listed price nationwide in the first quarter of 2022 was €299,093, up 8.4 per cent on the same period in 2021 and and just 19 per cent below the Celtic Tiger peak, while noting increases remain smaller in urban areas, compared to rural.
Just 10,000 homes were listed for sale on its website as of March 1st, an all-time low. In Dublin, Cork and Galway cities, prices in the first quarter of 2022 were roughly 4 per cent higher on average than a year previously, while in Limerick and Waterford cities the increases were 7.6 per cent and 9.3 per cent respectively.
The report's author, Trinity College Dublin economist Ronan Lyons, said: "Inflation in housing prices remains stubbornly high – with Covid-19 disturbing an equilibrium of sorts that had emerged, with prices largely stable in 2019 but increasing since.
"As has been the case consistently over the last decade, increasing prices – initially in Dublin and then elsewhere – reflect a combination of strong demand and very weak supply."