Kristalina Georgieva: 'Spain's guaranteed minimum income is a good instrument to improve equality' | Economy and Business
Shortly after one starts to talk to the managing director of the International Monetary Fund (IMF) about economics, the conversation turns to her origins, what she learned about the history of a country and the unstoppable pace of change. Kristalina Georgieva, who was born in Bulgaria 66 years ago, worked selling groceries in a market in Sofia, and later became a university professor. She saw a communist regime fall, and her life took a radical turn. In 1993, she joined the World Bank and then she returned to Europe, where she became a vice-president at the European Commission.
She ran for secretary general of the United Nations in 2016, but it was António Guterres who ended up taking the role. In 2017, she was named managing director of the World Bank, and back then, in an in interview with EL PAÍS, she warned that she was not considering retiring. Last year, the IMF got rid of its age limit to join the leadership of the organization and Georgieva was picked for the top job. She took possession in October. Five months later, the world changed. On Friday, via a video call with EL PAÍS, she analyzed the most serious situation the world has seen in generations.
Question. I am sure that when you took office you expected to be faced with a crisis, even a major recession, but not this. How has this been for you personally?
Answer. "Pray for the best, prepare for the worst" is an important motto. I find myself in this position, and I believe that everything I have done in my life is helping me cope with this. I was European Commissioner for humanitarian aid, I come from a country that went through a severe crisis in the 1990s. And at the World Bank I worked on very dramatic cases and situations. I have been preparing for this moment my whole life.
Q. Two years ago, when you were at the World Bank, you recalled your time in Sofia and the events of 1989. You said that the biggest lesson you learned was that change is unstoppable. Are you thinking about that now as well?
A. It is useful to think of two things. One, that we can use a crisis as an opportunity to transform our world for the better. I have seen this happening and I strongly believe in it, and I strongly believe that this is what we need to do now. Being sad or disappointed is not what helps, what helps is to take action. Lack of confidence is the mother of all crises, and we can build confidence only if we have the conviction that together we can overcome this crisis. I feel fortunate to be at the helm of this institution that brings 189 countries together. We live in a more shock-prone world. Now we have the pandemic, but the climate crisis has not gone away. We are experiencing climate shocks and because we are so interconnected, inevitably there are economic obstacles to overcome. We have to move toward a more resilient society and a more resilient economy.
This is a crisis like no other because we stepped on the brakes, affecting both supply and demand, in order to protect people's health
Q. There is a lot of debate now about whether we will come out of this crisis better. Or if the economy will, at least. Do you believe that is what happened the last time? Could it happen now?
A. The global financial crisis has driven the world toward very significant reforms in the banking sector and it is more resilient, which has helped a great deal in coping with the current shock. From this crisis we have to take a broader view of what resilience is. One obvious aspect concerns our health systems, but also these shocks of nature that are going to accelerate unless we act. We need a greener, smarter, and fairer future. Is that possible? Yes. If we look back at the Great Depression, then there was the New Deal, and a very significant change in policies that greatly reduced the risk of another economic depression. Now we have to transform policies to create a more resilient world. Crises are an opportunity to do that, because people are more inclined to seek solutions of that kind.
Q. Are you optimistic about a rapid recovery?
A. I will answer that in two parts. First, this is a crisis like no other because we stepped on the brakes, affecting both supply and demand, in order to protect people's health. We have never done anything like this before. In addition, the degree of uncertainty is very high because we don't know how the pandemic will be overcome, and we don't know whether there will be a second wave. We are optimistic about vaccines and treatment, but we don't yet have those vaccines and treatment. I expect the crisis to be very deep, but relatively short, and I expect the recovery to start gradually, as early as this year. Our latest projection for 2021 is for global growth of 5.8%, but at the end of this month we will update our projections for this year and 2021. The revision for 2020 will be downward for most of the countries, with some exceptions.
Q. Still, if there are no surprises, we can rule out a depression.
A. Yes, we can rule out a depression. Let's remember that economists define a depression as a steep decline in output, of 10% or more, lasting for several years. We are projecting a big downturn this year, but not of that magnitude. And we are projecting a partial recovery next year. We should remember, looking back, that during the Great Depression there was very little immediate action by the governments and I believe that this time around people will recognize the decisiveness with which the administrations and central banks have acted. Fiscal measures totaling $10 trillion have been deployed, while the central banks have injected over $6 trillion in liquidity.
Q. What do you expect from the US economy? Do you believe that the current wave of social tensions could worsen the outlook?
A. The latest employment figures show some positive signs, that the reopening of the country is resulting in the hiring of workers who were laid off because of the pandemic. This is what we would expect in countries that are beginning to open up again, although the problem is far from being resolved. The unrest and the protests remind us that in both the United States and in the rest of the world there is still inequality and exclusion. I would take these protests more as a wakeup call. We ought to address the root causes of the problem, why people are going out into the streets, and when you do that, you see that it is often because of discrimination and inequality. The year 2019 was a year of protest in many places. As we build public policies in response to this crisis, we ought to concentrate on policies that are going to reduce inequality. This is certainly the case in the United States. And what I hope we will see is action to end a pattern of racial discrimination.
We cannot return to a world in which each country is only concerned with its own economy and its own people
Q. Regarding economic policies, what would you like to see most from the US government?
A. The US has responded very well to the crisis. The Federal Reserve – which is not the government, but independent – has played a hugely important role in providing liquidity and the Congress and the administration have passed good fiscal measures to stimulate the economy. The massive liquidity created by the [Federal Reserve] has also helped emerging markets to continue issuing bonds. In March we saw $100 billion flowing out from these economies, seeking safety in other assets, and we were concerned that the market would be closed to them. In April and May, however, emerging countries issued $77 billion in bonds at a very reasonable cost. So the measures have been appropriate and rapid, but we also need to see how we come out of this together. In other words, we need to avoid a resurgence of protectionism. We need to resist this natural temptation. There are problems with globalization, there are legitimate complaints that we spoke about before the pandemic, such as leaving parts of society behind. There are issues to be resolved, but we cannot return to a world in which each country is only concerned with its own economy and its own people.
Q. Spain has approved a guaranteed minimum income scheme for vulnerable families. Do you think that this should be a permanent tool or just something associated with this crisis?
A. First of all, bravo. Spain has taken an appropriate action to protect the most vulnerable people in this crisis. And second, yes, there is good logic in making this permanent. With the caveat that there are also regional schemes and some work has to be done to make sure that there is consistency, and that there are no overlaps that give rise to unfairness. Spain has higher poverty in comparison to the eurozone, especially among children. In Spain, 21% of the population falls below the poverty line, while in the EU, the figure is less than 17%. In terms of people at risk of poverty, the figure was 26% in Spain, and 22% in the EU. In other words, Spain has some important work to do to improve inequality and this is a good instrument. Coming out of this crisis, we need to build up stabilizers of social protection. I have huge respect for the economy minister, Nadia Calviño. As you know, I worked with her when I was vice-president of the Commission and she was the Director General for Budget, and I know that she will be thinking ahead. What can be added to these social safety nets? These are social lifelines helping people to help themselves. This income for vulnerable families is good and it would be good to continue it in the future.
Q. How long can this pace of public spending be maintained in Spain? When will the country have to start thinking again about fiscal consolidation?
A. Right now, the focus should be on getting through this crisis with minimal scarring. You don't hear the IMF saying this often: spend. But that is what we are saying to the governments. Spend as much as you can, but keep the receipts, and make sure that you are accountable for how the money is being used. And also make sure that the measures are temporary and targeted. So, many of the measures will have to be removed, but when we are on the other side of the crisis. We are not there yet. And then, of course, governments will have to be sure that there is strong and sustained growth, because then it will be easier to deal with those deficits and debts. It is important not to make the mistake we made with the financial crisis when this support was removed too quickly. More dynamism needs to be injected into the economy, and we know which sectors are the winners. The digital economy is a great window of opportunity, it is going to go fast, and so is the environmental sector. There are sectors, and this is applicable to Spain, that create large numbers of jobs, such as reforestation, building installations, or coastal zone management, among others. All of this, while looking at fairness in taxation. It is only fair that the winners from this crisis should also contribute to the rest of society.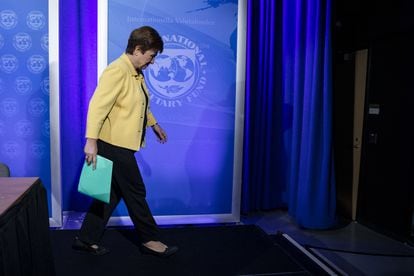 Q. Would you say that the IMF has also learned lessons from its past mistakes?
A. We all have, governments and the IMF. Certainly, the Fund has learned two important lessons. One, policies are for people, to improve their lives, and they are not intended for the paper on which they're written. They are not only for those in the corridors of power. So we have looked closely at how we perform surveillance, how we arrange our assistance packages, and how we judge whether we are succeeding. And the second important lesson, as you quoted me before, is to assume that change is unstoppable. We have to look ahead. For example, we have to take the climate impact into account. One thing that I love about the IMF is how open-minded it is.
Q. For example…?
A. For example, now this crisis is erupting and for the first time we need epidemiological projections, so we incorporated them into our macroeconomic models very quickly. In practical terms, virtually overnight, from March 13 to 16, the entire institution started working from home. And in six weeks we have approved 69 requests for emergency financing. I am saying this because people sometimes think that the Fund is a bunch of guys in gray suits who work behind closed doors, but what I am so privileged to run is not the IMF from your grandmother's era. This is a very agile and human institution. It has a big wallet of $1 trillion, and it has a brain, but it also has a heart.
Q. That brings me to Argentina. The support for the country in the negotiations is quite remarkable, and I see a change there. Could you explain this and also how you imagine Argentina coming out of this crisis?
A. Argentina is a complex story. A country that has gone through boom and bust cycles for decades, it has suspended payments eight times and is now in a ninth technical default, which we hope will not turn into an actual default. And it has had a turbulent relationship with the IMF over time. What we are seeing now is a chance for the country to break this cycle, and this chance needs to be anchored in something, which is bringing its debt back to a sustainable level. In other words, reaching a positive outcome in the negotiations with creditors to open up space for Argentina. I find it remarkable how Argentine society has united behind the debt negotiations. Of course, like any other country, there are differences, but it is a country with great economic potential. As for the president, with whom I have been working on economic issues, I will say that he wants to do the right thing for the people of Argentina, and also for the role that the country could play in the region and in the world. So, I wish them the best of luck, and if they come to the Fund to request an assistance program, we will work with Argentina to support policies that will break that boom and bust cycle.
"Europe is the most consistent voice against protectionism in the world and I am grateful for that"
"We'll see what it will take," says Kristalina Georgieva, with regard to the approval of a €750 million program from the EU.
Q. Will it be enough?
A. Well, we'll see what it will take, but this is the first time the EU is going to the markets to raise these funds and more than half, some €400 billion, would be distributed as grants. And so as not to increase the burden on the countries, it will offer a massive injection above and beyond the current financial framework. I am very pleased to see this, it is going in the direction that we are asking for, spending more, and getting the benefit of negative interest rates passed on to the countries most affected by the crisis.
Q. With each country adopting its own measures, isn't the idea of a single market at risk?
A. Well, it is very important that the legislators and governments direct these measures in an appropriate, visible and competitive way. And that the recovery fund be used in a way that serves to balance things out. The measures adopted up to now are considerable. Spain, for example, has introduced measures to protect businesses, with specific focus on SMEs, amounting to around 10% of GDP. The fiscal measures may be less, at around 3% to 4%, but they are also considerable. And this is being supplemented by European funds. Europe has been quick to see what needed to be done. Protecting the single market is one of these things, as well as global integration. Europe is the most consistent voice against protectionism in the world and I am grateful for that.
Q. What do you expect from the Mexican economy and what measures should be taken?
A. Mexico has faced a number of challenges before this crisis. It has been really focused on retaining a good fiscal position, while at the same time putting in place a set of policies to contain the pandemic. We have supported Mexico for quite some time with a flexible credit line to beef up their economic buffers. But the economy is not in an easy place. Thursday's industrial production data showed quite a dramatic drop. We have predicted that the Mexican economy would shrink by around 5% in 2020 and it is likely that we will be revising this downward. And this is true for many countries, not just for Mexico. The challenge for Mexico will be how to reignite growth and how to do so with the fiscal constraints that they have. It is going to be a tough 2020, and we hope to see a turnaround in 2021.
Q. Would you say something similar about Brazil?
A. In terms of the response to the crisis, they have taken significant steps forward. Their fiscal measures and the actions by the central bank are very strong and appropriate. They also have more economic buffers and more room to maneuver. As you know, though, they have been hit the hardest by the pandemic and it would be very important to manage the situation on the basis of transparent data. And, also, to achieve the greatest unity possible between the central government and the provinces.
Climate change: Floods, fires, smog: AI delivers images of how climate change could affect your city | USA
The full brunt of the devastating effects of climate change is still a long way off. If we don't experience the impact directly, it's difficult to fully internalize the extreme seriousness of the climate crisis.
That's why a team at the Mila-Quebec Artificial Intelligence Institute, led by Professor Yoshua Bengio, wants to bring it home – right to your doorstep in fact. His team has developed a tool that makes it possible to visualize the effects of floods, wildfires and smog anywhere in the world. Their simulation does this by making use of a generative adversarial network (GAN), a type of machine-learning algorithm. GANs can also produce things such as deepfake images, which are digitally composed of millions of images to create realistic photos of something (or someone) new.
For two years, 30 scientists have worked on the project, which is named after thispersondoesnotexist.com, a website portfolio of deepfake faces. Bengio's version is called "This Climate Does Not Exist." All a user has to do is type in an address or select a marker on Google Street View, and then indicate what kind of catastrophe they want to see: flood, wildfire or smog. The algorithm works its magic and returns the image with the requested effect. These images are not intended to be an accurate portrayal of what would happen at each specific location if no action on climate change is taken, but rather are a recreation of the worst possible effects in the scenario of the user's choice.
The realism is particularly striking in the flooding option, which was the most difficult for Bengio's team to produce. The algorithm takes the location proposed by the user, automatically places a layer of water on it and then adapts it to the environment of the image itself. The result is hyperrealistic.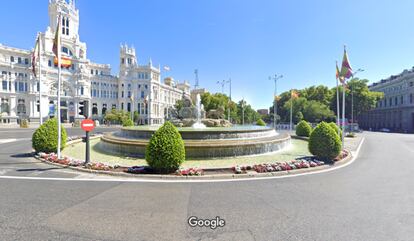 "One of the most important challenges has been getting the algorithm to simulate flooding in a wide variety of images," explains Alex Hernandez-Garcia, one of the project's lead researchers. "One module of the algorithm is in charge of detecting which parts of the image should be covered with water and another module is in charge of generating the water texture by incorporating the context of the image, for example, the reflection of buildings. Finally, these results are combined to generate the final image."
To detect which parts to cover with water and which to leave unscathed, Hernandez-Garcia and his colleagues combined several artificial intelligence (AI) and machine-learning techniques. "We generated a virtual city that allowed us to make a series of images with and without water. We also adjusted an algorithm that was able to make good predictions in that virtual world, detecting the different parts of a scene: the ground, cars, buildings, trees, people and so on," he explained. "However, the algorithm must be able to make good predictions based on real images [those from Google Street View]." For the latter, they used generative adversarial networks.
The process is completed in a few seconds, and before displaying the image to the user some information is provided about the causes and consequences of the selected weather phenomenon, and its relationship to climate change. For example, if a flood is chosen, it indicates that flash floods kill about 5,000 people a year, that sea levels are expected to rise by two meters by the end of the century and that this major disruption to the planet will forever alter the lives of at least one billion people by the end of 2050. "If we do nothing, soon we will face major climate catastrophes," says Professor Bengio, the institute's scientific director. "This website makes the risks of climate change much more real and personal to people," he argues.
Generative adversarial networks
The quality of AI took a giant leap forward about a decade ago with the emergence and consolidation of machine learning and deep learning. These techniques are based on training a machine so that it is capable of performing complex tasks after reaching certain conclusions on its own. For example, if you want the algorithm to distinguish between blueberry muffins and chihuahuas, the programmer will feed it a series of examples of each category, followed by thousands of images that are not pre-sorted. The machine will establish which is which, and when it gets it wrong and is made aware of the error, will refine its criteria.
Bengio won the 2018 Turing Award, considered the Nobel Prize of computer science, along with Geoffrey Hinton and Yann LeCun, for their contribution to the development of neural networks. This is a further step in machine learning that attempts to mimic the functioning of the human brain: applying several simultaneous layers of processing to increase performance. Neural networks are behind the most complex classification systems, such as voice assistants or advanced prediction models.
Generative adversarial networks (GANs) go even further. They were invented at the Mila-Quebec Artificial Intelligence Institute in 2014 and are capable of generating new content that looks faultlessly real to the human eye. GANs are behind the increasingly sophisticated deepfake videos of Tom Cruise or Donald Trump now circulating online, in which politicians or celebrities say or act in whichever way their creator likes. They work thanks to competition between two neural networks: one tries to produce images that are as realistic as possible and the other tries to detect whether they are real or a fabrication. This tension is replicated thousands or millions of times and during this process, the generating network learns to create more and more successful images. When the first network succeeds in fooling the second, we have a winning image. From there, a perfectly rendered image of New York City's Times Square inundated by flooding is just a click away.
The Quebec lab is now using a new type of GAN they have developed to generate the climate change images seen on their website. "In general, the limited availability of images and the need to adapt the algorithm to a multitude of situations have been the main technical challenges we have faced," says Hernandez-Garcia.
Assad regime 'siphons millions in aid' by manipulating Syria's currency | Global development
The Syrian government is siphoning off millions of dollars of foreign aid by forcing UN agencies to use a lower exchange rate, according to new research.
The Central Bank of Syria, which is sanctioned by the UK, US and EU, in effect made $60m (£44m) in 2020 by pocketing $0.51 of every aid dollar sent to Syria, making UN contracts one of the biggest money-making avenues for President Bashar al-Assad and his government, researchers from the Center for Strategic and International Studies (CSIS), the Operations & Policy Center thinktank and the Center for Operational Analysis and Research found.
Hit by new US sanctions and the collapse of the banking system in neighbouring Lebanon, cash-strapped Damascus is relying increasingly on unorthodox methods for raising funds – money either pocketed by officials in Damascus for their own personal wealth, or put towards the 10-year-old war effort.
Researchers analysed hundreds of UN contracts to procure goods and services for people living in government-held areas of Syria, where more than 90% of the population are living in poverty since the Syrian pound, or lira, crashed last year.
While the central bank's official exchange rate has improved this year to SYP2,500 to the US dollar, the black market rate is SYP3,500. Legitimate traders and consumers prefer to use the black market rate, as they receive more Syrian pounds for foreign currency.
Since the UN is forced by the Syrian government to use the official rate, half of foreign aid money exchanged into Syrian pounds in 2020, when the rates were hugely divergent, was lost after being exchanged at the lower, official rate.
"This shows an incredibly systematic way of diverting aid before it even has a chance to be implemented or used on the ground," said Natasha Hall, of the CSIS, a Washington-based thinktank that helped compile the research.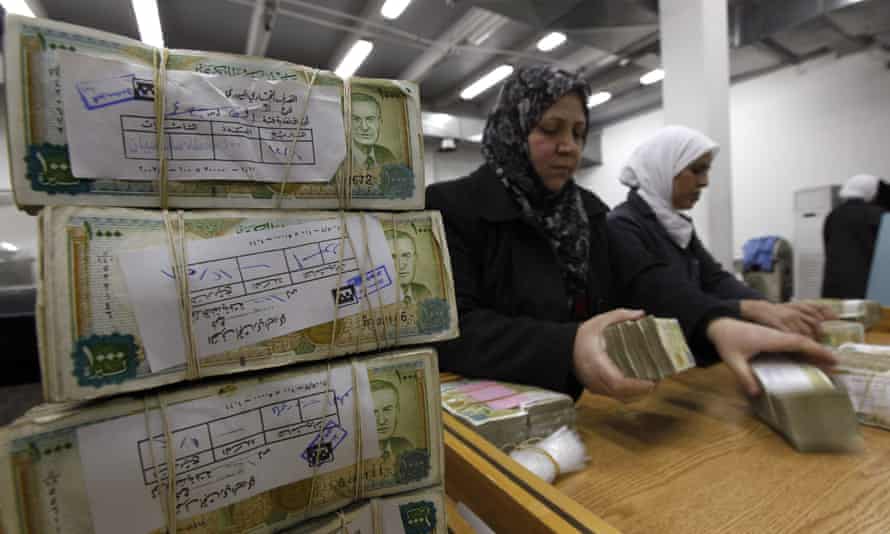 "If the goal of sanctions overall is to deprive the regime of the resources to commit acts of violence against civilians and the goal of humanitarian aid is to reach people in need then we have this instance … where aid is at complete contradiction to those two stated goals."
After 10 years of civil war in Syria, international donor fatigue, already seen in decreasing aid pledges, has turned to more overt political re-engagement with Assad's regime.
Without the US playing a strong role in finding a political solution in Syria, which Washington still publicly advocates, Arab nations – including the US-allied Jordan, the United Arab Emirates, Saudi Arabia and Egypt – have recently restarted diplomatic talks, reopened borders for trade and signalled renewing economic cooperation.
The US allows Damascus to play a major role in funnelling Egyptian gas to Lebanon to power the country's fuel-depleted power plants. Interpol allowed Syria to rejoin its network even as the fate of dissidents captured throughout the war remains unknown.
Examining 779 publicly available procurements for 2019 and 2020, listed on the UN Global Marketplace database, researchers found that up to $100m was lost in the exchange rate.
If salaries, cash-aid programmes and other funding streams not made public were included, the bank could be making hundreds of millions of dollars, according to researchers.
The funding has been channelled through various UN agencies – the Office for the Coordination of Humanitarian Affairs (OCHA); the World Food Programme; the UN Development Programme; the UNHCR; the Food and Agriculture Organisation; and Unicef.
The UN's financial tracking system told the researchers it did not monitor the amount of money exchanged into Syrian pounds as "tracking such information was beyond the scope of their mission".
More than 350,000 people have died in Syria over the past decade, and governments have donated on average $2.5bn a year to the UN's Syria programmes since 2014.
In 2016, the UN was accused of aiding the regime by diverting billions of dollars in aid to government-held regions while leaving besieged areas without food and medicine.
Human Rights Watch (HRW) has warned that UN agencies and governments risked complicity in human rights violations in Syria if they did not ensure transparency and effective oversight.
Last year, the US announced an additional $700m in humanitarian assistance for Syria. The UK government has given £1.59bn in aid to Syria between February 2012 and June 2021.
A Foreign, Commonwealth and Development Office spokesperson said: "The UK does not provide any aid through the Assad regime … Robust processes are in place to ensure that our aid reaches those who need it most."
Hall said there was a "reticence" about investigating how much aid had been diverted. She said donors were well aware of the problem. "I think it is about [them] choosing certain battles to fight. It's just not clear to me that any battles are being fought when it comes to aid in Syrian government-held areas today," she said.
"There's really no way for us, as independent consultants, to know the full extent of how aid is spent inside the country … We just wanted to flag that, even through this limited portal to understanding how much is spent, it's already tens of millions of dollars which is hoarded."
She believes the UN should negotiate a preferential exchange rate with the Syrian government – – to at least reduce the amount siphoned off.
Sara Kayyali, of HRW, said "there was no due diligence in terms of human rights" within UN procurement to avoid bankrolling Syria.
"This should be a wake-up call to the UN … they need to revise the way they provide aid and revise how they consider their obligations to respect human rights in light of this, because it's difficult to justify this idea that hundreds of millions of dollars are going to an abusive state apparatus," she said.
Danielle Moylan, a spokesperson for the UN agencies mentioned, said: "The UN welcomes all independent scrutiny of humanitarian operations in Syria. Our foremost priority has, and always will be, assisting the people in need in Syria, guided by humanitarian principles, accountability to the affected populations, transparency, efficiency and effectiveness.
"The majority of UN's procurement for our humanitarian response in Syria is made in international and regional markets and therefore not affected by the Syrian exchange rate. Otherwise, as is the case in any country, the UN in Syria is required to use the official exchange rate," Moylan said.
"In the past, the UN and humanitarian partners have negotiated a 'preferential' exchange rate for humanitarian operations [and] continues to engage the Central Bank of Syria on the issue of 'preferential' exchange rates."
Alexei Navalny wins 2021 Sakharov Prize
The European Parliament announced that Kremlin critic Alexei Navalny has won the Sakharov Prize for defending human rights. The parliament's president David Sassoli wrote on Twitter: "Alexei Navalny is the winner of this year's #SakharovPrize. He has fought tirelessly against the corruption of Vladimir Putin's regime. This cost him his liberty and nearly his life. Today's prize recognises his immense bravery and we reiterate our call for his immediate release."