Justified: Generation Z doesn't like Justin Timberlake anymore: the 'new king of pop' apologized too late | Culture
Twenty years ago, Rolling Stone magazine crowned Justin Timberlake (Memphis, Tennessee, 41 years old) "the new king of pop." This summer, a video of the singer dancing at Washington's Something in the Water festival accumulated millions of views on social networks, but not for the reasons he would like. Commenters called the star "creepy," "hilarious" and "embarrassing.". "Justin Timberlake still thinking he has any swag left while wearing those Old Navy khakis on stage," jeered one Twitter user. "This is the height of gentrification," wrote another. When did Justin Timberlake, once the biggest star on the planet, the world's best pop dancer and the coolest man in the entertainment industry, become a pop culture piñata? Timberlake has been irritating public opinion for 20 years. Now, all the backlash is hitting him at once.
Timberlake released his first solo album, Justified, in 2002 at the age of 21. The promotional campaign coincided with his breakup with Britney Spears. He used the "Cry Me A River" music video, which featured a lookalike of the pop singer, to make it clear that she had cheated on him. Timberlake revealed on two different radio shows that he had had sexual relations with Spears, despite the fact that during their courtship both had proclaimed their intention to be virgins at marriage.
Timberlake continued talking about Spears over the years. In 2013, he referred to her in a Saturday Night Live sketch about his ancestors' wishes for their descendents: "He'll date a popular female singer. Publicly they'll claim to be virgins, but privately, he'll hit it." At a 2007 concert, while Spears was in a rehabilitation center for her mental problems and addictions, he alluded to her more indirectly: he ended "Cry Me A River" singing the chorus of Amy Winehouse's "Rehab."
In 2004, Timberlake participated in the Super Bowl halftime show alongside Janet Jackson. At the end of the performance he uncovered her breast for 9/16 of a second before an audience of 143 million viewers. More than 200,000 viewers complained to CBS. In the midst of the Iraq war, the so-called Nipplegate incident occupied ample space in the conservative media, which fueled the controversy to the point of sinking Jackson's career. Radio and television channels stopped broadcasting her, ABC canceled a movie about Lena Horne that she was going to star in and Disney World removed a statue of Mickey Mouse dressed as Jackson.
Timberlake, by contrast, suffered no consequences. The Grammys canceled Jackson's planned appearance, but Timberlake did perform, winning two awards and using his speech to apologize. He didn't mention his stage partner. At no time did Timberlake publicly defend, support or apologize to her. What he did do was criticize the singer's interview with Oprah Winfrey, in which Jackson claimed to have felt betrayed by Timberlake. Many fans believe he insulted her on the song "Give It To Me:" "Could you speak up and stop the mumbling? I don't think you're getting clear. Sitting on the top it's hard to hear you from way up here. I saw you trying to act cute on TV. Just let me clear the air. We missed you on the charts last week. Damn that's right, you wasn't there." "Give It To Me" reached number one on the United States' charts.
Timberlake's album Future Sex/Love Sounds was the third best-selling album of 2006. Three of its songs went on to reach number one: "Sexyback," "My Love" and "What Goes Around Comes Around," which also attacks Spears.
His wedding to actress Jessica Biel in 2012 generated controversy. A video, orchestrated by one of his friends to be projected during the reception, was leaked in which several homeless people from Los Angeles congratulated Timberlake and expressed their regret at not being able to attend the event, which was held in Puglia (Italy) and cost six million euros. The friend in question paid €30 to each homeless person for their participation. That month, Shriners Children's Hospital announced the end of its relationship with Timberlake.
The current of public opinion definitively turned against him until 2016. Grey's Anatomy actor Jesse Williams gave a speech at the BET gala about the need to rebel against cultural appropriation: "we're done watching and waiting while this invention called whiteness uses and abuses us, burying black people out of sight and out of mind while extracting our culture, our dollars, our entertainment." Timberlake reacted by tweeting "#inspired," to which journalist Ernest Owens replied, "Does this mean you are going to stop appropriating our music and culture? And apologize to Janet." "Oh, you sweet soul," replied the singer. "The more you realize that we are the same, the more we can have a conversation. Bye." Given the controversy, Timberlake deleted the tweet but insisted that "we are all one…one human race."
That exchange sparked a media conversation about cultural appropriation and the well-intentioned passivity of white celebrities. Timberlake has built his career drawing on black aesthetics, musicians and culture. His sound has oscillated between R&B, hip hop, funk and soul, but for him, as Candance McDuffy wrote in Glamour, "black culture is a lucrative disguise that he can remove as soon as it ceases to benefit him." Or as Luria Freeman summed it up in Vibe, "Justin owes his voice to the black community, but he remains silent."
In early 2018, Timberlake released his fourth album, Man Of The Woods. He traded his image as a neo-Sinatra heartthrob for flannel, jeans, and fur coats, finding himself in the wilderness of the Wild West (the singer has a ranch in Montana). Criticism raged against the project. "Justin Timberlake relaunches his brand, now as a white man," The Outline headlined. "Montanans laughed at the notion that a multimillion-dollar home at a private ski resort, filled with other non-Montanans, would evoke 'the Wild West'; others suggested that he'd watched The Revenant or listened to Bon Iver once and co-opted the signifiers," observed Anne Helen Petersen on Buzzfeed.
Critics saw Justin Timberlake's reinvention as another disguise. "Justin Timberlake hasn't suddenly reclaimed his white masculinity for the first time with Man of the Woods. It's been with him all along. It's just that now it's become impossible to ignore," wrote Constance Grady for Vox.
The night Justin Timberlake performed at the 2018 Super Bowl halftime show, becoming the first person to take that stage three times, #JusticeForJanet was a trending topic on Twitter. While Jackson's career remained in shambles 14 years after Nipplegate, Timberlake returned to the scene in style. In addition, many fans considered Prince's appearance in a giant hologram yet another jab by Timberlake at black culture and an act of disrespect towards Prince, who had stipulated that he did not wish to appear in holograms because he considered them demonic. The press considered it one of the least memorable intermissions of the Super Bowl.
At the beginning of last year, the documentary series The New York Times Presents devoted an episode to Britney Spears' career and another to the collapse of Janet Jackson's career after the Super Bowl. In both, perhaps the two most emblematic episodes of misogyny in 2000s pop culture, Timberlake played an antagonistic role. And in both he went unpunished. "Timberlake's shine has worn off, leaving behind an uncomfortable tale of a man who enjoyed continued success at the expense of other people's losses," wrote journalist Chelsea McLaughlin.
Look, it took a scathing documentary to get Justin Timberlake to issue a "heartfelt apology" (likely drafted by his publicist) to Britney Spears & Janet Jackson. He spent nearly 20yrs benefiting from cultural appropriation & misogyny. He's a jerk – and his apology comes too late.

— Elgin Charles (@ElginCharles) February 13, 2021
Last month, Rolling Stone, the same magazine that two decades ago proclaimed him the new king of pop, analyzed Timberlake's viral dance in Washington. It blamed Generation Z for the singer's new status. "Zoomers, particularly those on TikTok, are really good at making previously lauded white men seem remarkably uncool. This is a curse that has now befallen Justin Timberlake, the once pop prince." But singer's decline in popularity goes beyond social media run-ins. "The new reckoning around him feels like a cultural exorcism, a chance to use the boy band vessel to purge ourselves of the evils he now represents to many," writes Maria Sherman at Slate.com. "Timberlake has become the perfect emblem of a bygone era that rewarded guys exactly like him—until it didn't."
Alejandro G. Iñárritu: 'To migrate is to die a little' | Culture
Bardo, the seventh film by the Oscar-winning Mexican director Alejandro González Iñárritu, is full of "Easter eggs" – obscure references to past works, hidden throughout the film like secret little treats. Bardo, False Chronicle of a Handful of Truths (the work's full title) has echoes of Amores Perros, Birdman, The Revenant, and even Detrás del dinero (Behind the Money), a TV series Iñárritu co-directed with Pelayo Gutiérrez in 1995. Iñárritu's new movie, a three-hour-long work of autofiction, is an intimately personal project – a kind of distillate of its creator's own selfhood.
Iñárritu discussed the intricacies of his latest, and most personal, film during a recent long-distance interview with EL PAÍS. The film is a work of great maturity, and a reflection on the identity and experience of someone who, like Iñárritu, has left his country for the United States. It is also a portrait of a person who cannot help but see success through the lens of uncertainty. Iñárritu attended the San Sebastián International Film Festival in northern Spain in September to celebrate the premiere of a new cut of the film. "These films need time," says Iñárritu. Bardo will play in select theaters in October, and will be available for streaming on Netflix on December 16.
Question. The Chilean writer Benjamín Labatut has said that Bardo is not an autobiography, but rather a succession of mental states.
Answer. That's a good interpretation. I've always said that Mexico is not a country; it's a state of mind. When you leave a country, your involuntary memory becomes your richest source of imagination. That uncertainty of sensations, feelings, memories, fears and illusions is the foundation of Bardo. I tried to put all these impulses in order. Or at least to give them a sense of meaning the only way I know how, which is through images and cinema. I wouldn't call it a film with a coherent or traditional structure. My sense is that they're traces of memory.
Q. After Biutiful, you said that you were feeling somewhat tired of conventional narratives. It seems like critics are judging Bardo based on ideas of a certain traditional model of storytelling.
A. You make some films for the public, and with others you have the luxury of making them for yourself out of a vital or existential need. Bardo is one of those films. Sometimes you make films not to reaffirm conventions, but to break them. There's an implicit risk in what we're doing; there's no recipe to follow. These films need time, in contrast to what we now call "content" – consumer products, structures, genres and tones that are already well understood within an industry. This film obeys another set of rules.
Q. You've said that to make a film without fear is an exercise in banality. That fear is an ally. What were your fears in making Bardo?
A. To open the cellar of one's own history is always terrifying. It's also useless. To make a film is useless. So is to dream. All of this is useless except for those who do it. Then, doing it becomes an essential, life-affirming act. What I realized over the years is that the narratives that bind together entire countries, the stories we're instilled with from childhood, are always interpreted through our nervous system. They're built into us. They give us identity, a sense of belonging and collective power. When you leave, you start to see these narratives in perspective, and with time and distance they dissolve. Your own experiences and relationships, your feelings of affection toward your parents, your friends, your country. The stories our mind weaves start to unravel, to be questioned, and everything becomes uncertain. This is why the main character says that memory has no truth, only emotional conviction. This is the most complicated and delicate part. I don't remember my childhood; I have no images of those years. I envy anyone who can build a narrative of their life, and find their reason for existing, from there – from the beginning of everything. For me, it's the other way around. It's perhaps the past 25 years of my life where I might find some clues about what my early years were like. And that's what I'm doing. These are the questions I ask myself, that have no answers.
Q. During filming, you were considering Limbo as a title. At what point did you decide to change it to Bardo?
A. They're similar concepts. One from Catholicism, where limbo is a place for the souls of infants and small children who die before being baptized and are thus denied entry into heaven. That's a bit reductive. But bardo is a similar concept in the Buddhist tradition – a state in which all things are in constant transition. We die and are reborn all the time. For me, to migrate is to die a little. It implies a certain acceptance of the end of something, of being reborn again and of reinventing yourself. That integration into a new culture implies the disintegration of what came before. That's the bardo I'm talking about. And in the end, the final migration, which is inevitable and touches us all: death. At my age, you start to think about it. It makes you laugh, makes you reassess, forces you to try to put things in order.
Q. You mentioned your childhood. In one scene, the protagonist, who has become a child, encounters his father in the bathroom at a dancehall. His father tells him that success is something you should only take a little taste of, and then spit it out, because otherwise it poisons you.
A. That's literally something my father said. He always maintained a very guarded attitude toward success, something he never experienced himself. I used it because it's something that stuck with me. With my father, there was never really any praise. Not because he had bad intentions; he just thought that reinforcing someone's successes or virtues might make that person believe it so much that they'd stop doing what they did naturally. The character, in one part of the film, is grappling with his own mind. The first 25 minutes are about him, his award, his interview. Then it gets diluted and becomes a film about the heart. For me, Bardo is full of humor, moving between the sublime and the stupid, the ridiculous and the painful, just like life. It's not a dive into obscurities, but a glide over the surface.
Q. You opt for catharsis in all of your projects. Was that the case here?
A. For me it was a compulsory exercise because of my age and my need to free myself, and thus to be able to share, without filters or disguises, a very fragile mental and emotional state that's difficult to articulate in words. If I had been a painter, I would have painted a self-portrait, which is always a well-received endeavor. Or a maximalist mural in the vein of [José Clemente] Orozco. But I don't know how to paint. And words? Only writers like Octavio Paz or Jorge Luis Borges, or Rulfo, [Julio] Cortázar, César Vallejo – only they were able to make sense of the nonsense. With those talents far out of my reach, I stuck to what I could do with the 32 cinematographic sequences that make up this film.
I think those of us who have this experienced share something that's difficult to speak about. Those of us who have left, even if we return to our country, we can never return. There's no going back. This is a feature of the hybrid culture that very much defines our times. For those who have not left – in this case, people from the United States, who are culturally self-contained and speak a language that's spoken all over the world – this can be difficult to understand.
Q. You met Guillermo del Toro when he came to help you edit Amores Perros and suggested that you cut the film down. That it was 20 minutes too long. In Venice, Bardo received a lot of criticism for being three hours long. Do you think this criticism is unfair?
A. I think some one-hour movies are totally unbearable and way too long. And then there are films that are three and a half hours long and they're some of my favorites. This kind of thinking seems superficial to me. There's an obsession with runtime or the box office, as if these things were important. Editing a film is an endless process. It's like editing a book. Rulfo spent nearly 17 years editing Pedro Páramo, an audacious process of extraction. It's always hard to know where the final waters of a film will flow. My processes are long. In fact, with a lot of my films I've made edits up to the very last minute. I was making little tweaks to 21 Grams until the day it premiered. You let a film go because of a deadline, like a festival or a premiere. In this case, with Bardo, I finished the film two days before I left for Venice. I'm very happy to say that I'm just now incorporating some extra scenes that weren't finished in time for the premiere. I also tightened up the internal rhythm of a few other scenes. The essence of the film is intact, but I had the opportunity to put a final touch on it, to do a little acupuncture. I'm very rigorous. I'm a butcher. I share that with Guillermo del Toro; we're very hard on ourselves.
Q. There's a plot throughout the film, playing out in the background, in which a large corporation is about to buy up a part of Mexico. It's a commentary on colonialism that I think has been missed or overlooked by the Anglo world.
A. The reductions or personal accusations based on what other people assume my intentions were in making this film have made them unable to see everything that's there. This film speaks to all of that, and much more. It summons the smells of Mexico City and speaks of the last, lost gasps of my dying father, who left before I could be by his side. It speaks of childhood adolescence, which arrives without warning. Of the fading memory of our son Luciano whom we lost – a central focus of the film. It speaks of our friends with white hair that we didn't notice were aging. Of the weddings and funerals we missed, of the city that no longer is. And it speaks, also, of life, cumbia, and the heat of Mexico coexisting with death, with disappearance and impunity. It's a very Mexico City film, I think.
Q. You make the film's protagonist, Silverio Gama, into a reporter working in the deadliest country in the world for journalists. But I didn't notice any commentary on the violence experienced by the press in Mexico.
A. In a way, the relationship between two characters, Silverio and Luis, his nemesis, speaks, I think, to the situation of journalists who stay in Mexico, who are very brave, and speaks to the impunity that exists, but also to the way truth is subjected to an increasing series of distortions. We all have this feeling, that truth is slipping out of our grasp.
Q. After working with cinematographers like Rodrigo Prieto and Emmanuel "El Chivo" Lubeski, how did Darius Khondji end up being the cinematographer for Bardo?
A. Darius is a brother I didn't meet until I was 59. He's French-Iranian and has a universal soul. He's also experienced a version of this cultural dislocation, from living in another country, which is France, but having Iranian roots. We share that genesis and we share an excitement for visual exploration. Never in my life have I worked so hard for a film to have such fluidity of time and space, to appear this dreamlike and surreal. There was a lot of storyboarding, a lot of design and motion work, to be able to enter the stream of consciousness. It's a fluid film that took many, many months to make. I'd say about two years of pre-production, and then it was interrupted twice because of the pandemic.
Q. The film draws very clear connections to Birdman. You teamed up again with screenwriter Nicolás Giacobone. Why return to an exploration of the ego after making a film with such a perfect tone and form?
A. Unlike Riggan Thompson, the superhero actor played by Michael Keaton who's furiously trying to be seen and recognized again, this film is not about ego; it's about uncertainty. The protagonist questions the appreciation he seeks from those who despise him. It's about uneasiness and success, which is this smoke that escapes him and never satisfies him. It's a reflection I make, out of the things that one exchanges. It's not about ego, but about questioning the ego. That's just part of it; the rest is diluted into much deeper things.
Translated by Max Granger
Foreign residents in Geneva could get voting rights
Jennifer Coolidge returns to 'The White Lotus,' the series that brought her late-in-life success | Culture
When Jennifer Coolidge was announced as the winner of the Emmy for best supporting actress in a miniseries for The White Lotus, on September 12, the 1990s house song "Finally" played in the background. The chorus ("Finally it has happened to me") was appropriate for the actress's long-awaited moment of recognition. Thanks to the dark comedy by HBO Max and a character that her friend Mike White, creator of the show, conceived expressly for her, the actress has finally been embraced by an industry that had ignored her for decades.
Her bizarre award acceptance speech, in which she confessed to bathing in lavender which caused her to "swell up" inside her dress, ran out of time and ended up dancing on stage, won over the audience. The viral moment blurred the line between fact and fiction, evoking the character of Tanya McQuoid, the delusional millionaire that Coolidge plays in the series whose second season begins on October 31.
"Two years ago I was about to buy a flower shop because I really thought I wasn't going to be able to pursue acting. And look where we are now," said the actress in April in Taormina (Sicily), during the filming of the new episodes of The White Lotus. Little did she know that her Emmy would arrive five months later.
Her career was marked by her role in American Pie (2000), where she seduced one of her college son's friends. But she feels like she was typecast almost from the start, in the early 1990s, when she debuted with an episodic role on the hit show of the day, Seinfeld. "So, there was a certain type of woman with, let's say, non-standard beauty who always played the crazy best friend of the protagonists, the weird sidekick. I told my agent that I was no longer interested in doing that, that I wanted to do stand-up comedy. And I spent four years trying to make a living from it. Until I returned to those characters," she recounted from Italy, as she resumed the role with which she managed to vindicate her career.
After a series of jobs to make the rent, and public appearances not unlike that at the Emmys, Coolidge became a charming disaster, an aesthetic reference known for tacky haute couture, always sweet and often clumsy and out of place.
A small role a few years ago in the celebrated Promising Young Woman changed things somewhat. But, the actress says, everything took a great qualitative leap when her friend Mike White brought out The White Lotus. "No one had asked me to be the protagonist of their story until he arrived. It's like he gave the rest of the industry permission to give me those kinds of roles." Coolidge is now preparing projects with leading roles alongside David Harbor (Stranger Things), Anthony Mackie (the new Captain America) and Reese Witherspoon. Ryan Murphy has cast her in his Netflix feature The Watcher, and she will join Jennifer Lopez in Shotgun Wedding.
She and Mike White met while playing a wedding couple in the independent comedy Gentlemen Broncos (2009) by Napoleon Dynamite director Jared Hess. They have been close friends ever since. They travel together and live together for months on end. "He has me hooked. I think he finds it hilarious that I can continue to live as I am," says the actress. For 15 years, he had promised the actress that he would write a series or a movie exclusively for her so that she could shine. He completed a script in 2018 and pitched it to as many networks as possible, but no one was interested in the pitch. When The White Lotus arrived, White cast her to compensate for not having kept his promise, not knowing that the consolation prize would give her the triumph that she had only glimpsed.
In the first season of the comedy, the actress plays a woman from a wealthy background named Tanya McQuoid. She encourages Natasha, one of the workers at the luxury resort where she is on vacation, to set up her own business with her financial help. But Tanya meets a man and gets distracted from her initial project of helping her new friend. In the new episodes, the millionaire gets what she wants. She has high expectations regarding her love life, but she discovers that it may not bring her happiness. "When you have a lot of money, it is much more disappointing to not do the right thing. It is in your hand to change other lives for the better. But there are also times when people tend to think that if you are in a privileged position, you can do anything. I've been asked many times for help getting into a film or television project and, when I don't succeed, people have stopped talking to me," she confesses.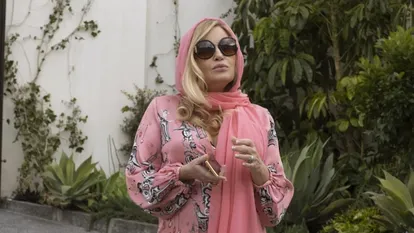 The actress is aware that she is a muse of someone special in Hollywood, who, in his own way, is loyal to her. White was an unsuccessful actor who decided to spend his unemployment time writing his own stories. He created Enlightened, a comedy that played with the bipolarity of its protagonist. He had a modest win with the story on HBO between 2011 and 2013. Then his career hit a slump again, until The White Lotus came on the same platform. As his face was not well known among the general public, a couple of years ago the writer and director decided to participate in the reality show Survivor, which in the United States is reserved for anonymous contestants. A few weeks ago, White lost all anonymity after receiving the highest recognition in the television industry.
"Mike always knew she was a star who hadn't found the right material yet," says David Bernad, executive producer of the comedy and one of the first people to whom they both dedicated their Emmys. Coolidge was faced with the responsibility of playing a character that White had written expressly for her. The actress has underscored the humility that the felt, although when she tells it, she can't help but make even serious things sound funny: "Sometimes it's painful. You see how a person who is really smart can see you. And it is not always in an attractive way. It is a difficult mirror to look at. When I read what he writes sometimes I think: 'Oh, God, Mike has seen me in situations where I've been ridiculous. And on top of that, the guy records it through a character. But one of these days I'm going to write about him and what he's like," she jokes.
Coolidge understands her friend's sense of humor: "Uncomfortable situations are funny to him," she explains. Sometimes, she adds embarrassing aspects to Tanya that she knows he will like. At other times, she allows herself to become a puppet in White's hands. In a somewhat tragic scene in the first season, during a funeral aboard a ship, Coolidge improvised, out of necessity, part of her speech, while her co-stars tried not to laugh so as not to spoil the shot. "I don't remember very well what I did because I was terribly ill. Mike knows I hate boats. He has seen it with his own eyes. That's why he decided to do that dramatic sequence in one of them. I was filling an entire bucket of vomit inches from my castmates. It was disgusting and I had no privacy at all, because the boat was much smaller than what I was promised. But he thought it was all very funny," she says, feigning indignation. "I knew she didn't like going on a boat… Well, it's true that sometimes I torture her a bit for the sake of comedy," he admits with a laugh.
"Mike has a memory like an elephant for all the embarrassing situations I go through, but he also pays close attention to what I want. That's also in my character. With him, I don't feel like I'm acting. He has a broad and compassionate perspective and sees the good and the bad in people. He forgives his characters, however they may be. I guess that's why I forgive him," admits the new queen of comedy.