Jennifer Coolidge returns to 'The White Lotus,' the series that brought her late-in-life success | Culture
When Jennifer Coolidge was announced as the winner of the Emmy for best supporting actress in a miniseries for The White Lotus, on September 12, the 1990s house song "Finally" played in the background. The chorus ("Finally it has happened to me") was appropriate for the actress's long-awaited moment of recognition. Thanks to the dark comedy by HBO Max and a character that her friend Mike White, creator of the show, conceived expressly for her, the actress has finally been embraced by an industry that had ignored her for decades.
Her bizarre award acceptance speech, in which she confessed to bathing in lavender which caused her to "swell up" inside her dress, ran out of time and ended up dancing on stage, won over the audience. The viral moment blurred the line between fact and fiction, evoking the character of Tanya McQuoid, the delusional millionaire that Coolidge plays in the series whose second season begins on October 31.
"Two years ago I was about to buy a flower shop because I really thought I wasn't going to be able to pursue acting. And look where we are now," said the actress in April in Taormina (Sicily), during the filming of the new episodes of The White Lotus. Little did she know that her Emmy would arrive five months later.
Her career was marked by her role in American Pie (2000), where she seduced one of her college son's friends. But she feels like she was typecast almost from the start, in the early 1990s, when she debuted with an episodic role on the hit show of the day, Seinfeld. "So, there was a certain type of woman with, let's say, non-standard beauty who always played the crazy best friend of the protagonists, the weird sidekick. I told my agent that I was no longer interested in doing that, that I wanted to do stand-up comedy. And I spent four years trying to make a living from it. Until I returned to those characters," she recounted from Italy, as she resumed the role with which she managed to vindicate her career.
After a series of jobs to make the rent, and public appearances not unlike that at the Emmys, Coolidge became a charming disaster, an aesthetic reference known for tacky haute couture, always sweet and often clumsy and out of place.
A small role a few years ago in the celebrated Promising Young Woman changed things somewhat. But, the actress says, everything took a great qualitative leap when her friend Mike White brought out The White Lotus. "No one had asked me to be the protagonist of their story until he arrived. It's like he gave the rest of the industry permission to give me those kinds of roles." Coolidge is now preparing projects with leading roles alongside David Harbor (Stranger Things), Anthony Mackie (the new Captain America) and Reese Witherspoon. Ryan Murphy has cast her in his Netflix feature The Watcher, and she will join Jennifer Lopez in Shotgun Wedding.
She and Mike White met while playing a wedding couple in the independent comedy Gentlemen Broncos (2009) by Napoleon Dynamite director Jared Hess. They have been close friends ever since. They travel together and live together for months on end. "He has me hooked. I think he finds it hilarious that I can continue to live as I am," says the actress. For 15 years, he had promised the actress that he would write a series or a movie exclusively for her so that she could shine. He completed a script in 2018 and pitched it to as many networks as possible, but no one was interested in the pitch. When The White Lotus arrived, White cast her to compensate for not having kept his promise, not knowing that the consolation prize would give her the triumph that she had only glimpsed.
In the first season of the comedy, the actress plays a woman from a wealthy background named Tanya McQuoid. She encourages Natasha, one of the workers at the luxury resort where she is on vacation, to set up her own business with her financial help. But Tanya meets a man and gets distracted from her initial project of helping her new friend. In the new episodes, the millionaire gets what she wants. She has high expectations regarding her love life, but she discovers that it may not bring her happiness. "When you have a lot of money, it is much more disappointing to not do the right thing. It is in your hand to change other lives for the better. But there are also times when people tend to think that if you are in a privileged position, you can do anything. I've been asked many times for help getting into a film or television project and, when I don't succeed, people have stopped talking to me," she confesses.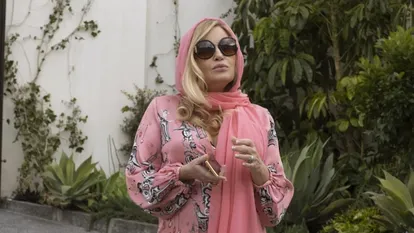 The actress is aware that she is a muse of someone special in Hollywood, who, in his own way, is loyal to her. White was an unsuccessful actor who decided to spend his unemployment time writing his own stories. He created Enlightened, a comedy that played with the bipolarity of its protagonist. He had a modest win with the story on HBO between 2011 and 2013. Then his career hit a slump again, until The White Lotus came on the same platform. As his face was not well known among the general public, a couple of years ago the writer and director decided to participate in the reality show Survivor, which in the United States is reserved for anonymous contestants. A few weeks ago, White lost all anonymity after receiving the highest recognition in the television industry.
"Mike always knew she was a star who hadn't found the right material yet," says David Bernad, executive producer of the comedy and one of the first people to whom they both dedicated their Emmys. Coolidge was faced with the responsibility of playing a character that White had written expressly for her. The actress has underscored the humility that the felt, although when she tells it, she can't help but make even serious things sound funny: "Sometimes it's painful. You see how a person who is really smart can see you. And it is not always in an attractive way. It is a difficult mirror to look at. When I read what he writes sometimes I think: 'Oh, God, Mike has seen me in situations where I've been ridiculous. And on top of that, the guy records it through a character. But one of these days I'm going to write about him and what he's like," she jokes.
Coolidge understands her friend's sense of humor: "Uncomfortable situations are funny to him," she explains. Sometimes, she adds embarrassing aspects to Tanya that she knows he will like. At other times, she allows herself to become a puppet in White's hands. In a somewhat tragic scene in the first season, during a funeral aboard a ship, Coolidge improvised, out of necessity, part of her speech, while her co-stars tried not to laugh so as not to spoil the shot. "I don't remember very well what I did because I was terribly ill. Mike knows I hate boats. He has seen it with his own eyes. That's why he decided to do that dramatic sequence in one of them. I was filling an entire bucket of vomit inches from my castmates. It was disgusting and I had no privacy at all, because the boat was much smaller than what I was promised. But he thought it was all very funny," she says, feigning indignation. "I knew she didn't like going on a boat… Well, it's true that sometimes I torture her a bit for the sake of comedy," he admits with a laugh.
"Mike has a memory like an elephant for all the embarrassing situations I go through, but he also pays close attention to what I want. That's also in my character. With him, I don't feel like I'm acting. He has a broad and compassionate perspective and sees the good and the bad in people. He forgives his characters, however they may be. I guess that's why I forgive him," admits the new queen of comedy.
Jennifer Lopez thought she was 'going to die' after her breakup with Ben Affleck | Culture
The story of Jennifer Lopez, 53, and Ben Affleck, 50, is still providing new twists and turns after more than 20 years. When it seemed that one of the most famous couples in Hollywood had made as many headlines as possible with their reconciliation and subsequent marriage, the singer has made the news again by sharing more details about how they got together in 2002 and why they broke up two years later.
Reflecting on their relationship, Lopez said that it wasn't a case of love at first sight. "I think what happened is, as we worked together, we became such good friends," she said in an interview with Apple Music. The two met while filming the movie Gigli (2002), but at the time, Lopez was married to choreographer Chris Judd. The chemistry between the two, however, was undeniable. "We realized that we were crazy about each other […] It's like you just knew it. It's just like, 'This is the person I want to be with.' And that happened over a period of months."
And then, from one day to the next, it was over. "It was so painful after we broke up. Once we called off that wedding 20 years ago, it was the biggest heartbreak of my life. I honestly felt like I was going to die," she said. In the interview, Lopez said she even stopped performing songs inspired by their relationship because it was too painful. "It was a part of me then that I had to put away to move on and survive. It was a survival tactic, for sure."
"It sent me on a spiral for the next 18 years where I just couldn't get it right," she continued. "But now, 20 years later, it does have a happy ending."
During their separation, Lopez starred in dozens of movies, performed at hundreds of concerts (including the Super Bowl halftime show) and found love with singer Marc Anthony (with whom she has two children) and former baseball player Alex Rodriguez, with whom she was briefly engaged.
In April 2021, Lopez and Affleck confirmed they were back together after the singer broke up with Alex Rodríguez, and Affleck ended his relationship with actress Ana de Armas. A year later, the two were engaged and just a month later they were married in Las Vegas. Another month after that, they held a three-day wedding with friends and family.
Last Friday, Lopez announced she will be releasing a new album, This is Me… Now, on the 20th anniversary of her 2002 record This is Me… Then. The focus of the new album is love, she said. "We captured me at this moment in time when I was reunited with the love of my life and we decided we were going to be together forever. The whole message of the album then is this love exists. This is a real love," she said. "If you have, like me at times, lost hope, almost given up, don't. Because true love does exist and some things do last forever and that's real."
"I want to put that message out into the world and that does take a lot of vulnerability," she continued. "But I couldn't stop myself and some parts of it scare me. And I think parts of it scare Ben too. He's like, 'Oh, do you really want to say all this stuff?' And I'm like, 'I don't know how else to do it, baby.'"
Unko Museum: Tokyo opens first poop museum to explore a taboo topic among Japanese youth | Culture
Among the many synonyms for excrement that exist in the Japanese language, the founders of the Tokyo Unko Museum chose the most candid one, unko, to name an irreverent space designed for female Instagram users. "My goal was for poop to stop being a taboo subject for young girls," explains its creator, Masaru Kobayashi.
With Japanese influencers in mind, Kobayashi filled the museum's rooms with toilets and poop-shaped pieces in shades of turquoise, fuchsia and lemon yellow. The colors follow the palette of the Japanese kawaii aesthetic, which combines the cutesy and the grotesque. Kobayashi explains that, far from being a cultural fad, kawaii is a natural extension of traditional Japanese culture. "At the pinnacle of world-famous kawaii culture is poop, a fragile material that disappears down the drain shortly after being brought into this world," reads a sign at the museum entrance.
To revive the scatological enthusiasm of childhood, visitors are welcomed into a room equipped with nine colorful toilets, whose arrangement evokes the communal toilets of ancient Rome. A museum guide invites them to sit down, clench their fists and, after counting one-two-three, imagine that they are releasing a symbolic dump. When they get up, they find in their respective receptacles pieces of plastic poop, which resemble the poop emoji in striking pastel colors.
There are neon signs with the word poop written in 16 languages. A tearoom serves huge cakes topped with golden feces. Another room features colorful droppings that move when stroked like furry animals. Video games include flying poops. On small toilet-shaped blackboards hung on the wall, visitors are invited to make their own poop drawings.
Although there is a Japanese term for museum, Kobayashi chose the English "museum" to describe a thematic venue whose sole function is to create entertaining environments. Instagram is full of photographs of absurd and witty scenes from the exhibits: couples play-acting, sitting on separate toilets, young parents with blue poop on their heads, or the typical tourist photo featuring a huge illuminated poop. Kobayashi confesses that at first he feared that the unusual concept would be rejected. He felt better when older people started to visit, many of whom saw a generational change in the fact that young girls were openly talking about poop.
In the past three years, Kobayashi has created six such museums across Japan. He has received invitations to open another in Singapore and is in talks with several Asian countries where the subject of human poop lacks the taboo it has historically had in the West.
Classics authors in Japanese literature, such as Natsume Soseki, coined memorable phrases about poop's "physiological pleasures," and Junichiro Tanizaki devoted a long passage from his well-known essay Praise of the Shadow to the traditional toilet set in the middle of a garden, which is where "poets of all times have found abundant material for their haikus."
Many Japanese children learn to write the complicated characters of their language with a series of popular books called Poop Exercises, which contain more than 3,000 humorous phrases related to the subject. For 17 years, Toto, which manufactures high-tech toilets, has held a poetry contest inspired by the subject in the senryu style, which consiss of a short humorous poem and is a relative of the haiku.
For Kobayashi, the evolution of the museum's audience is apparent in their gradual migration from Instagram to TikTok. His intention, he says, is to continue creating playful spaces that provide moments of relaxation to contrast with typically Japanese solemnity. His next project is a railway museum where, unlike the rigorous Japanese rail schedules, no trains arrive on time.
The medieval monks who forged a nobleman's will to appropriate a valuable church | Culture
The monks of the San Pedro de Cardeña monastery, in Spain's Burgos province, had long had their eye on the Santa María de Cuevas de Provanco church in Segovia. But the substantial inheritance that the Count of Castile, Asur Fernández, and his wife Guntroda, bequeathed them made no mention of this Romanesque church surrounded by beautiful vineyards.
Such was the ambition of the monastery to own the church that two hundred years after the death of the Count, they forged the parchment on which his will was written. Their only mistake was an omission to remove all the copies of the authentic will. Now, the Spanish National Research Council (CSIC) and the University of Burgos have been able to demonstrate that the fraudulent document, considered until now to be the oldest of those kept in the Historical Nobility Archive in Toledo, is in fact a forgery from the 12th century, and not from the year 943, as it claims.
The document faked by the monks – officially known as OSUNA, CP.37, D.9 – is a parchment on which round Visigothic script records a donation from the Count of Castile to the monastery of San Pedro de Cardeña. Until now, the document was thought to be somewhat unique as hardly any original documents from the 10th century survive in Castilian Spanish. However, research has shown that it was actually drawn up two centuries later.
The research, to be made public shortly in the Medieval Studies Annual Report, has revealed which procedures were employed to doctor the will, as well as the motives that led the monks to do so. The forgers based their work on an authentic document stipulating a donation from the Count, inserting elements that were not in the original, in order to use it as evidence in potential lawsuits, two of which were subsequently filed and won by the monks.
The analysis of the document, carried out by Sonia Serna from the University of Burgos, has exposed anomalies both in its preparation and its writing. Serna explains that the scribe was accustomed to working with the 12th century Carolinian script, and made an effort to imitate the round Visigothic script typical of 10th century Castile. But anachronistic features crept into his work, such as the use of the Carolinian system of abbreviations and the adoption of anomalous solutions to abbreviate some words, elements that would not have existed in the 10th century. All the same, the forgery proved effective enough to win two court cases.
The forged document included a clause that ceded the church to the Burgos monastery
The original document used by the monk as a model for his forgery was lost. However, a copy survived in the collection of charters, known as Becerro Gótico de Cardeña and kept in the Zabálburu Library in Madrid. By comparing both texts, Julio Escalona from the CSIC History Institute verified that the monk copied the wording and appearance of the authentic will, but inserted a clause assigning the church of Santa María de Cuevas de Provanco to the monastery of San Pedro.
In 1175, the church of Santa María de las Cuevas was the subject of litigation between the monastery of San Pedro and the councils of Peñafiel and Castrillo de Duero. The Burgos monastery finally won by presenting the false parchment document and getting two monks to testify its authenticity. According to the experts, that document was the will filed in the Toledo archive, whose anomalous paleographic features are consistent with an elaboration in the second half of the 12th century, taking the original as a model.
"Its value does not lie in the anecdotal fact of its being or not being the oldest document in the archive [as was believed until now], but in showing how technical skills and moral and religious authority combined in this case to build a credible truth, capable of triumphing in a judicial scenario," states the CSIC and University of Burgos study. "Ultimately, it reminds us that to fully understand any historical period, it is essential to understand how each period rewrites and manipulates its past."
The monastery of San Pedro de Cardeña, where the forgery was made, was completely plundered by the Napoleonic troops during the invasion of the Iberian Peninsula in 1808. The monks fled in terror and had to abandon all the treasures they had been guarding for centuries. One of the desecrated tombs was that of El Cid – or Rodrigo Díaz de Vivar, with Napoleon's soldiers selling off his weapons and remains throughout Europe. They even made engravings reflecting the plundering of the tomb of the legendary warrior. Today, a plaque states that although the remains of the Castilian hero are no longer here, his horse is buried in the monastery's garden, though this may be no more than a myth.