'It's the way she owns her body': how Megan Thee Stallion rode to Grammys glory | Megan Thee Stallion
In 2014, a then-unknown Megan Thee Stallion tweeted: "I need a team [because] I promise this rap shit gone take off for me."
That promise has been fulfilled in quite spectacular fashion. The 26-year-old, born Megan Jovon Ruth Pete, is now one of the world's most famous and respected rap stars, with her three Grammy awards at last weekend's ceremony marking the peak of her career thus far.
As well as winning one of the night's "big four" awards – becoming the first female rapper this century to win best new artist – she is the first woman to win the best rap song category as lead artist. She shared her award with Beyoncé, who had joined Megan on the remix to Savage, a matter-of-fact statement of multifaceted womanhood. Billie Eilish meanwhile spent much of her winner's speech trying to give her record of the year award away to Megan, repeatedly telling her: "You deserve this."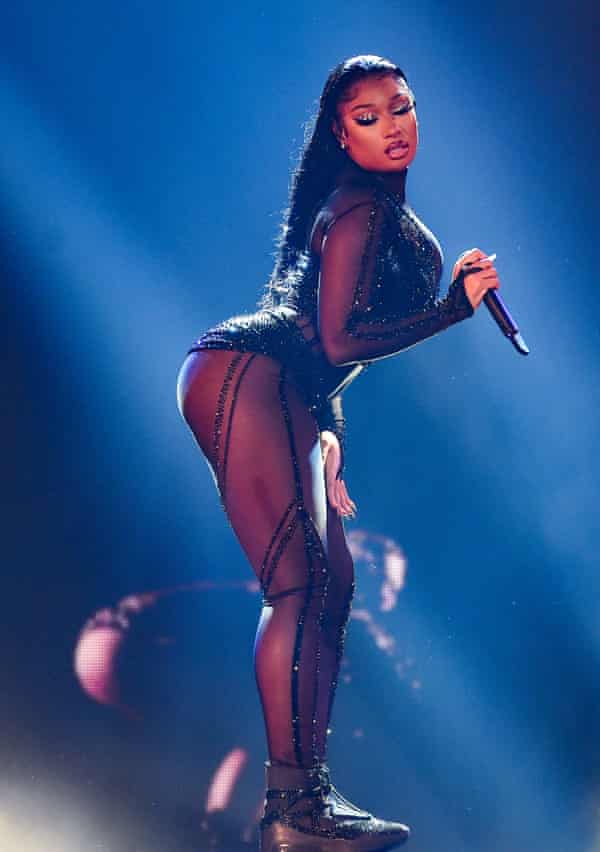 That sentiment is shared by a generation of young women who regard Megan as an omnipotent figure. She has earned admiration for her rap flow, weighted with teeth-kissing technical mastery on top of the beat and rooted in the energetic club styles of the American south. Her punchline-rich lyrics are wittily self-confident, humiliating men for their sexual failings and dismissing female rivals as "bitches thinkin' they the shit when they really toilet water."
"Her cadence on records is phenomenal," says Tiffany Calver, presenter of BBC 1Xtra's Rap Show. "The lyricism and wordplay is amazing, but there's just something so present about the way she is on a record, which hasn't really been heard from anyone else, that consistently, in a really long time. She can take also records which have substance, but make them fun, so they can resonate with a larger audience. It's not something that's just pop and candyfloss."
But it's Megan's self-styled "hot girl" image as a strutting monarch decreeing that every women is innately glamorous and sexually attractive – including those ignored by a narrow-minded and often racist mainstream – that has synthesised that admiration into adulation.
"You can just tell she's confident in herself physically, and she's sexually liberated," says the British rapper Ms Banks, who has spent time with Megan in the UK. "That's very relatable – you feel like she's one of your homegirls. When women are seen to be sexually free [in music], it's often for a man – in a guy's video, with a nice car, and a girl next to him shaking her arse. But Megan is doing it for herself, in her own video."
Megan began her rap career while studying at university in her native Texas, seeing off a crop of male rappers with a freestyle filmed on a Houston rooftop in 2013. She picked a statuesque artist name to match her 5ft 10in frame. "I'm tall as well," says Ms Banks, "and seeing someone like her own her body the way she does, I never had that growing up. It's epic."
Breakthrough tracks like Big Ole Freak and Cocky AF situated her in the horny and uncompromising lineage of Lil Kim and Foxy Brown – as well, of course, as her confident male peers. "You can only rap about peace and Kumbaya and you're supposed to be such a lady," Megan complained in a 2018 interview. "I'm not scared to say what I want to do. If the boys can do it, we can do it too." Calver compares her early years to a boxer in the ring, "just constantly jabbing. Every single time her lyricism was above the bar".
The "hot girl" line became a meme that underpinned her first US Top 20 hit in 2019, Hot Girl Summer, its credo fleshed out in a tweet by Megan: "Being a Hot Girl is about being unapologetically YOU, having fun, being confident, living YOUR truth, being the life of the party etc," she explained.
The mantra was further defined in Savage, in which Megan described herself as "classy, bougie, ratchet": a chorus that announced she, and thus all women, could be sophisticated and trashy at the same time. It chipped away at the sexist binary of decorum and debauchery that women are often sorted into. Ms Banks agrees: "She shines a light on the fact that we can be all these things in one."
It was only a matter of time before she worked with Cardi B, the chart-topping New York rapper whose talent, frankness and sexual appetite match hers. Their track WAP, an ode to vaginal fluid whose male characters are in constant danger of either asphyxiation or drowning, went to No 1 in both the US and UK last August. It caused a level of face-fanning moral panic that recalled Mary Whitehouse, with conservative pundits queueing up to decry this tale of female sexual pleasure.
The outrage continued this week after their performance of the song at the Grammys, with Candace Owens saying the performance heralded "a weakening of American society … the end of an empire", and Tucker Carlson accusing the pair of "intentionally trying to degrade our culture and hurt our children".
Ms Banks believes there are double standards at play around this tall, curvaceous Black woman: "You don't mind a woman wearing a leotard with her arse out if she's slim, but if she's got a bit of a bum, now it's more explicit. Why? And I do feel like there's a racist undertone." She says that while sexuality is a major part of Megan's brand, her dance moves are misinterpreted by white critics. "Back home, all over Africa and the Caribbean, there's aunties of all ages that wind up their hips and move their waists, and it has nothing to do with sex – it's a part of the culture. But on a bigger stage, some people are offended by it."
Megan's championing of self-confidence, not to mention her philanthropy and advocacy for higher education, is far more valuable than talkshow chatter. She was able to weather a much more serious attack in July 2020 when she was injured by bullet shrapnel in her foot, later accusing Tory Lanez – a rapper with five US Top Five albums – of being the shooter. He was charged with assault and pleaded not guilty, with the case still ongoing.
On Instagram she explained that her fear of police brutality made her reticent to come forward, and then wrote a widely admired piece in the New York Times that discussed how misogyny entwines with racism and is brought to bear on Black women. She has since rapped about the trauma: "At war with myself / in my head, bitch, it's Baghdad," runs one lyric from her debut album Good News.
In refusing to be cowed by that incident, Megan showed that her message of robust self-belief wasn't just about feeling confident in the bedroom or nightclub – it was something to underpin a woman's life. "It's the way she owns her body," Ms Banks reiterates, summing up her appeal. "She's the captain of her ship."
Travel agents experiencing increase in bookings since Covid-19 restrictions eased
Travel agents are experiencing an increase in inquires and bookings since the government announced the relaxation of Covid-19 restrictions on Friday.
Pat Dawson, CEO of the Irish Travel Agents Association, says there has been a "phenomenal" turn around in bookings, and travel agents are busy getting back to inquiries.
"We are looking at a healthy summer season, it's the first time I've been positive in two years."
He advised people to book their holidays early to avoid disappointment. "The longer you leave it, the dearer it will get. Mid-term break in February and Easter are almost full."
Mr Dawson believes there is a pent-up demand. "There are some people who have money they haven't spent, a big chunk of that will be spent on foreign holidays."
John Spollen, director of Cassidy Travel in Dublin, says he has seen an increase in bookings over the weekend.
Popular destinations include Spain and Portugal, which have been Irish favourites for many years now, says Mr Spollen. There are also some bookings for the US, Jersey, Madeira and the Greek islands.
Peak travel
People should avoid peak travel times from mid June to the end of August and consider booking mid-week, early or late flights to get the best value, according to Mr Spollen.
"In May, September and October, the weather will be similar to summer weather."
Mr Spollen added people should take out travel insurance and ensure their passport and driver's licence are in date.
Michael Doorley of Shandon Travel in Cork said they have seen a huge increase in inquiries.
"We are not back to 2019 levels yet… the EU is a big destination. We have had a lot of inquires about mobile home holiday parks. Italy would be the most popular destination for this type of holiday, but Croatia is becoming almost as popular."
There are also bookings for America coming in, as well as some couples celebrating their honeymoons belatedly, according to Mr Doorley.
It is important that people understand the restrictions in the country they are travelling to, he added, and they should check the Department of Foreign Affairs website regularly.
Aoife O'Donoghue is just one of the many Irish people who have not been on a holiday abroad in two years, and she is excited to be going to Barcelona at the end of March.
"A friend is moving over there in February, so myself and two other girls are going to visit her. It's actually all our birthdays that weekend too," she says.
The friends used to live together in Galway, and Ms O'Donoghue says it's fantastic to have something to look forward to again.
The last time she went abroad was to Switzerland in January 2020. "Just as we were coming back there was news of the big Covid outbreak in Italy, so felt lucky to have gotten a holiday in before it all kicked off."
Property group clashes with council over Dundrum residential development
The owners of Dundrum Town Centre have clashed with Dún Laoghaire-Rathdown council over demands for more large apartments as they advance fast-track plans for a major residential development in the south Dublin village.
Property group Hammerson and insurer Allianz, which operate the new shopping complex in the area, have been in talks with An Bord Pleanála to build up to 889 apartments on the site of the old Dundrum shopping centre.
Their company, Dundrum Retail Ltd Partnership, has told the council it should scrap new requirements for "a minimum of three-plus bedroom units" in large apartment blocks that are included among proposed amendments to its draft county development plan.
In a submission last week to the council, the company said the new guidelines were in conflict with official rules that said there should be no minimum requirement for apartments with three or more bedrooms.
According to the company, the justification for the guidelines was based on fast-track strategic housing development permissions in the council area and "evidence" from certain boroughs in London.
"[Dundrum Retail Ltd Partnership] submit that the logic underpinning the policy is flawed and is not a basis for imposing prescriptive unit mix ratios on a countywide basis," it said.
"The draft development plan needs to be amended to remove the very prescriptive requirement for apartments with three or more bedrooms and to allow applicants to make the case for a particular unit mix based on the particular attributes of local areas where a different mix might be appropriate."
The company also told the council that proposed amendments to the development plan presented "contradictory or ambiguous objectives" in relation to proposals for a community, cultural and civic centre in the area.
Such objections were included among 106 submissions on the draft plan in a public consultation which closed last week. Numerous other developers and the Irish Home Builders Association lobby group also opposed the measures, some saying they would delay or prevent the delivery of new homes.
Asked about the submissions, the council said the response to any issues raised would be set out in a report by its chief executive to elected members which would be published. "It will be a decision of the elected members to adopt the plan and it is anticipated that this will take place in early March 2022. The plan will then come into effect six weeks later," the council said.
Cost increase
In its submission, the Irish Home Builders Association said its members were concerned that the introduction of "further onerous standards" would increase the cost of delivering new homes and their price.
"This at a time when construction costs are already under huge inflationary pressure and affordability is a major issues for most home buyers," said James Benson, director of the association.
"A key concern of the home-building sector in respect of the new plan is a lack of consistency with national planning guidelines/standards, which may be considered to be contrary to recent Government policy which sought to bring a greater extent of standardisation to national planning standards."
The submission added: "The key concerns relate to the locational restriction and unit mix requirements for [build-to-rent] schemes, other standards for apartment developments which are more onerous/restrictive than the Government's… guidelines, and the requirement for early delivery of childcare facilities in residential developments, all of which have the potential to impact adversely on the viability and affordability of housing in the county."
Another builder, Park Developments, said in a submission the draft sought "more onerous policies, objectives and standards" that would have a direct effect on housing supply. "We are already seeing the impact of the chronic shortage in the supply of housing on the affordability of rental accommodation and homeownership."
Castlethorn Construction said the blanket imposition of three-bedroom requirements "can only serve to militate against development of apartments" in the council area. It said the cost of delivering three-bed apartments was "very significant", adding that demand was "not evident by reference to market sentiment, estate agents' advice" and national policy imperatives.
Developer Hines, which has major interests in the Cherrywood strategic development zone, said in its submission that the logic underpinning requirements for more three-bedroom units was flawed.
"While making the case that recent development has been weighted towards one- and two-bed units, it fails to recognise that three-bed semi-detached and detached houses remain the predominant typology within [Dún Laoghaire-Rathdown] and that the [strategic housing development] permissions provide a much-needed mix of housing types within the county to redress this balance within the county."
Laicisation of Catholic priest in Tipperary causes disappointment and anger in parish
Standing in the family's hardware store on Main Street in Carrick-on-Suir, Fiona Hearn remembers how Fr Richard Geoghegan gave her son First Holy Communion 15 years ago.
Today, Geoghegan is no longer a priest, following the Vatican's decision to issue a laicisation order, with the history of the story up to that point a subject of disagreement.
The former parish priest at Ballyneale and past curate at St Nicholas Parish in Carrick-On-Suir announced on Twitter last week that he had been officially "dismissed by Rome" on January 7th.
"My Bishop was happy to dispense me. I'm a good man. And he talks about the shortage of vocations," said Geoghegan, who entered the seminary in 1987 aged just 19, and he was ordained six years later.
The Bishop of Waterford and Lismore, Phonsie Cullinan, whose diocese extends over both the borders of Tipperary and Cork, has rejected Geoghegan's charges.
Geoghegan had petitioned Pope Francis for laicisation last March and it was granted on December 15th, said the bishop: "I wish to acknowledge and thank Richard for his pastoral ministry over the years and wish him well for the future."
Geoghegan came under fire from conservative Catholics following an appearance on hotelier Francis Brennan's RTÉ show Grand Tour of Vietnam in 2017, wherein he performed in drag as singer Shirley Bassey, wearing a blonde wig and lipstick.
The TV appearance might not have done him any favours, Hearn accepts. "He is only human at the end of the day. He is well loved here in town. We'd love to have him back. I'd have nothing but deep respect for him," she says.
"He is a real people's person. Some older priests could be aloof. You couldn't meet a nicer, more down to earth man. I think he has been pretty hard done by the Pope and the bishop."
Hearn is not alone in her feelings, with many members of the tight-knit Catholic churchgoing community in Carrick-On-Suir and surrounding districts still shocked and disappointed by the turn of events.
Despite the bishop's declaration that Geoghegan had himself applied to be laicised, the Association of Catholic Priests' Tim Hazelwood describes his treatment as "inappropriate, unreasonable and unacceptable".
In 2020, Hazelwood accompanied Geoghegan to a meeting with Bishop Cullinan, and his secretary.
"It was obvious from the meeting that he wanted Richard to apply for laicisation," Hazelwood says. "That's when Richard said he would have liked to be a curate…Richard found it difficult being on his own in a parish. He needed support," Hazelwood adds.
"Obviously, the bishop had made up his mind," says Hazelwood, "I was shocked, really because the majority of bishops would be supportive, but what I was hearing was really a put down."
Geoghegan declined to comment when contacted.
Former parishioner, John Nolan said, "The Church is crying out for priests and is leaving a good man go. He was friends with everyone, an absolute gentleman. Anyone having a wedding here would look for him. I think it is all down to Bishop Phonsie. "
Describing him as "a fantastic priest", Carrick-on-Suir butcher Morris Whelan says was a great man. "He knew everyone by name. You'd meet him once and he knew your name forever. He was involved in the parish in every part of it."
Local Sinn Féin councillor David Dunne remembers Geoghegan's kindnesses during his mother's illness.
"Everyone recognised him for the programme he did with Francis Brennan…It was fairly flamboyant and wasn't in keeping with the Church, but it was typical of Fr Richard," said Cllr Dunne, "He was always friendly, outgoing and is well-regarded. It is a major loss."
Describing the former priest's ability to engage, Luke Foran says: "One of my favourite memories of him is my brother's Communion where he had all the kids gathered around and Richard's phone rang, and who was on the phone only 'Jesus'.
"You should have seen the kids' faces drop. It was brilliant and he enthralled and captivated the whole place. He was ahead of his time. Richard humanised the priesthood and was a breath of fresh air," he said.
Besides the memories, there is anger, too. Ashling Ní Fháthaigh said: "When he was saying mass the church was a lot fuller with a younger congregation. (He) was liked by so many and was punished for that."
Believing that the church's hierarchy has questions to answers, Margaret Croke says: "A church without compassion and understanding who can so readily dismiss a person who was so dedicated for so many years to its flock and to God really needs to change."