'It will be a catastrophe': fate of Syria's last aid channel rests in Russia's hands | Global development
Just over half a mile away from the Bab al-Hawa border crossing connecting Syria and Turkey a 6th-century triumphal arch still stands, the remains of a Roman road stretching straight as an arrow on either side. For millennia this part of the world has been a crossroads of trade, culture and history. Today, it's more important than ever.
Bab al-Hawa is Syria's last lifeline, through which vital UN aid supplies for 3.4 million people living in the war-torn north-west of the country arrive. But before 10 July, the security council must vote in New York on whether to keep the aid flowing. What might seem like an obvious decision to outsiders is actually far from certain: Russia may use its veto power as a permanent member of the council to close the UN's last access point, as it has managed to do with the other three aid crossings.
That the UN's assistance for Syrians living outside the regime's control could suddenly end this week is a reminder not just that the international community has failed the Syrian people, but how the conflict has broken the mechanisms built to keep the world safe.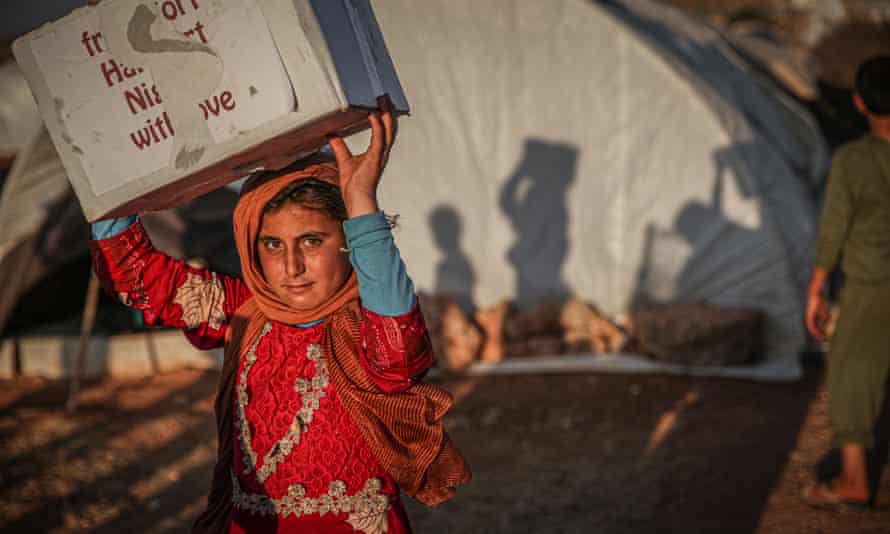 Compared with many areas deeper inside the country, Bab al-Hawa is an island of order and stability: manicured lawns and trees surround the crossing offices and the asphalt is clean and smooth. Hundreds of aid and commercial lorries pass through each day.
Employees inspect more than 30,000 tonnes of aid a month, about 60% of which comes from the UN. The vast majority – 87.5% – is food, with the rest made up of medicine, other health supplies, clothes, sanitation and hygiene equipment, according to the crossing's spokesperson, Mazen Alloush.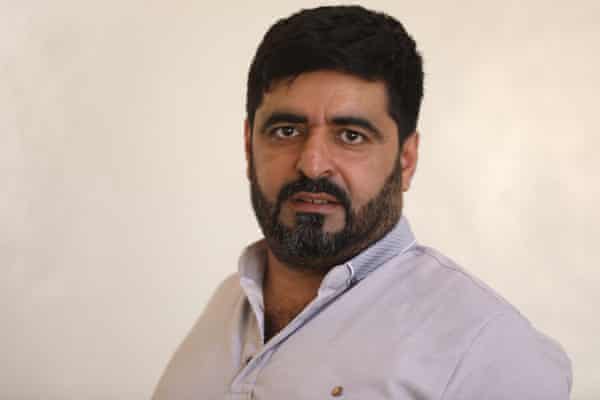 "If the UN aid entry is suspended, the crossing won't close, but it will be a catastrophe," aid worker Bakri al-Obeid said. "The knock-on effects would be huge: about 1.8 million people living in camps will lose food supplies, 2.3 million will lose clean water, and half of the hospitals will lose funding. Food prices will go up and bakeries will close down."
Across north-west Syria, need is acute. After a decade of war, the area is the last that remains outside Bashar al-Assad's control, after military intervention from his Russian allies in 2015 turned the tide of the war in the government's favour. The population of Idlib city and the surrounding countryside has swollen from one million to about 3.4 million as displaced people have fled the regime's advance, with two-thirds living in camps or other makeshift accommodation.
The region is, for the most part, ruled by an Islamist militant group, leaving civilians trapped between the two forces. A 2020 ceasefire is routinely ignored: regime airstrikes regularly target civilian infrastructure, stretching the limited health facilities to breaking point.
Last year's collapse of the Syrian pound sent food prices soaring, and the arrival of Covid-19 has exacerbated the level of need across the entire country – but the north-west is suffering the most.
"If the aid crossing is closed, we would have to shut down the hospital operations within a week," said Dr Tarraf al-Tarraf, a urologist who switches to emergency surgery whenever there is a new wave of bombings. "It will be a total disaster … Closing Bab al-Hawa is using aid as a weapon."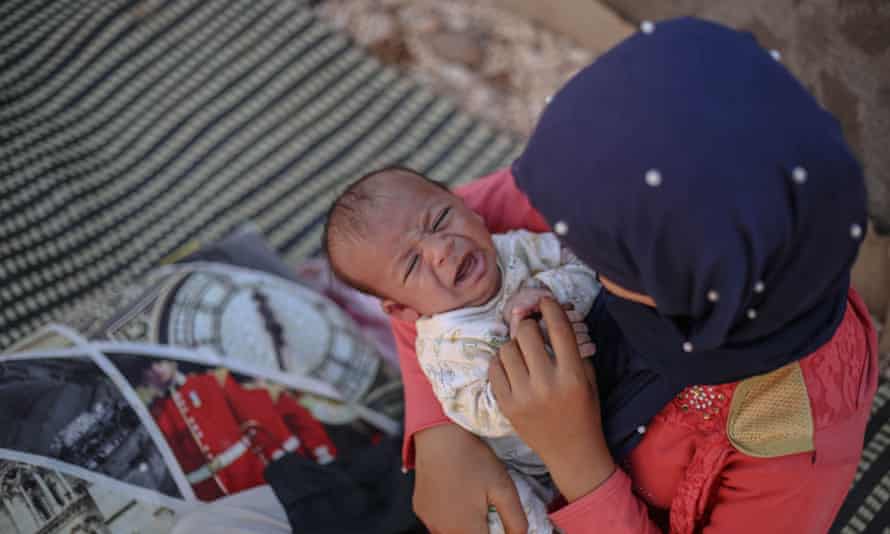 International aid has been deeply politicised since the beginning of the Syrian crisis. "It was clear right from 2011 that it was going to be hard to get the Russians to engage in any meaningful way," a senior western diplomat said of early UN efforts to stop the regime's violence against Arab spring protesters.
After it became clear that a series of peace talks known as the Geneva process, along with other diplomatic efforts, were not going to bring a timely end to the fighting, many at the UN decided to focus on what could be done to alleviate the humanitarian situation.
Eventually, in 2014, member states agreed on Resolution 2165, built on legal justifications, which allowed the UN to operate without the permission of the Damascus government and provide aid directly to rebel-held areas through four border crossings – two with Turkey, one with Iraq and one with Jordan.
"It was a very difficult negotiation, but we were able to push it through by taking advantage of the fact the Ukraine crisis was unfolding as well as the Winter Olympics in Sochi, putting Moscow on the back foot," the diplomat said. "It was a huge breakthrough in our efforts to bring relief to the people of Syria. Even if it didn't work as smoothly as we would have liked, it was a big step."
In January 2020, however, arguing that the ground situation had changed, Russia used the threat of a total veto to cut the crossing on the Iraqi border; in July, it cut another in the north-west. (Al-Ramtha, on the Jordanian border, became less crucial after 2018, when the regime took back control of the area.)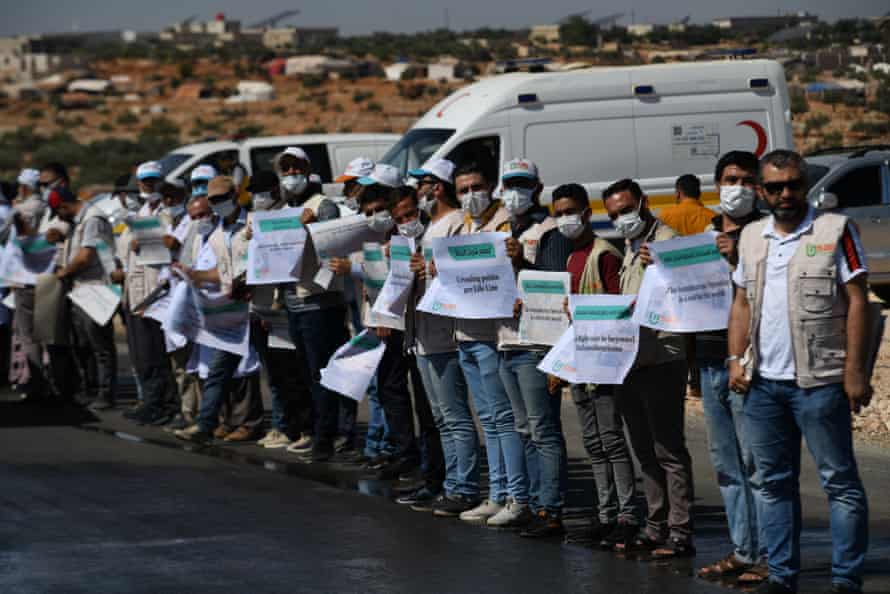 Today, only Bab al-Hawa remains – and the Russian delegation to the UN has hinted again that it will veto extending the resolution's mandate when it expires next week.
Moscow has long maintained that all, rather than part of the UN's aid to Syria should be distributed centrally through the Syrian government, blaming Hayat Tahrir al-Sham, the militant group in control in Idlib, along with Turkey, which backs some rebel groups, for not allowing aid from Damascus.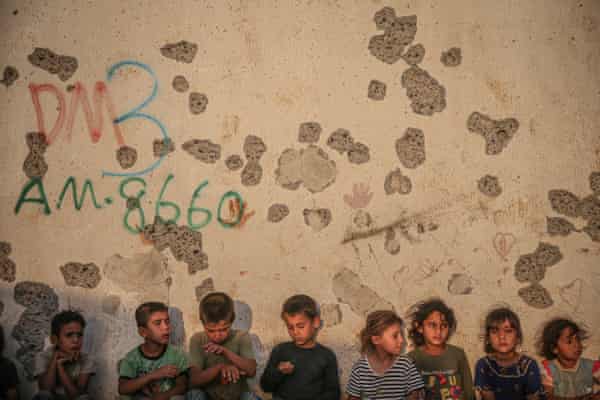 Based on bitter experience, however, Syrians in the north-west know that if the regime controls the flow of aid, they are unlikely to see any of it. "When eastern Ghouta was under siege the only humanitarian corridor was with the regime," said Obeid. "People there starved to death."
Efforts to keep Bab al-Hawa open – and restore the other two crossings – have gone into overdrive in capitals across the world before the New York showdown. Mark Cutts, the UN's deputy regional humanitarian coordinator for Syria, said it is crucial that member states understand the scale of the potential crisis.
"We have managed to run a massive aid operation for 10 years, supporting civilians on different sides of the front line. We need security council support to continue providing cross-border aid in north-west Syria, where there is artillery shelling and bombing virtually every day," he said.
"The war is not over. Our cross-border operation from Turkey has proven to be the safest and most direct route. To cut off that lifeline would be a crime."
While aid agencies have realised since the first crossing was closed in 2020 that they may need to make contingency plans to bypass the UN and rely instead on local partners, there is no real or immediate working alternative to Bab al-Hawa.
The vote is also being watched warily by Washington and Moscow as a harbinger of future relations. "The problem is that, even if Moscow doesn't use its veto this time, it just kicks the can down the road for six months, or maybe a year, depending on how long the mandate is extended for," said Dareen Khalifa, senior Syria analyst with the International Crisis Group.
"Putting the lifeline of three million Syrians up for negotiations every six to 12 months, is an unsustainable situation. And Syrian civilians end up paying the price."
'Cramped and unsafe' Glasgow housing unit forced to suspend mother and baby services | Immigration and asylum
A housing unit has been forced to close its services to mothers and babies after a damning report found that the "cramped and unsafe" accommodation breached their human rights.
In its report, the Children and Young People's Commissioner Scotland said the unit, which housed asylum-seeking mothers and their children, had radiators and gas cookers dangerously close to babies' cots, a lack of natural light and little ventilation, and no space for babies to crawl, play or walk.
Each of the 38 rooms measures approximately 5 metres by 3 metres (16ft x 10ft) and contains a single bed, cot, kitchenette and shower.
The unit, run by a Home Office subcontractor, Mears Group, was opened in January 2021 to house mothers and babies while Covid-19 restrictions were in place. Women were moved out of flats in the city centre and accommodated in the unit on the periphery of Glasgow's Southside.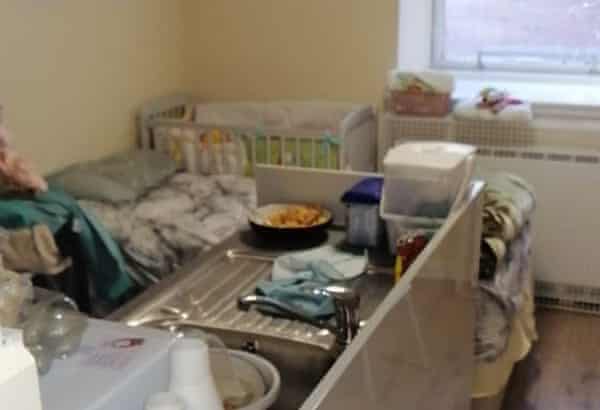 The accommodation was described as "prison-like" by the charity Amma Birth Companions, which repeatedly called for its closure. Mears said the last mother and baby had now left the unit and the Scottish Children's Commissioner confirmed that the women had been relocated to more appropriate accommodation.
The removal of mothers and babies from the site comes after criticism of accommodation provided for asylum seekers in Glasgow when a knife attack at a hotel in the centre of the city in 2020 left six people wounded and the attacker shot dead by police. Campaigners from a Glasgow group, Refugees For Justice, said the attack was a "direct result of the dysfunctional UK asylum support and accommodation system" and that there was an accommodation crisis in the city.
Ai* arrived at the unit in the autumn of 2021, when she was three months pregnant. She lived there for seven months, and, following the birth of her daughter in March this year, she was moved out.
"When I first arrived, I thought I was only going to stay for a few hours, but then they gave me a key for the room," she said through an interpreter. "When I opened the door, I was really scared. The room was so small, with no privacy and you [could] hear all the babies crying all around.
"Then there were mice in the room. I told my midwife, who complained to the staff at the unit, but they did nothing. They just told me to cover up the food."
Ai, who was in a safe house for trafficked women until she arrived at the unit, says that she was asked to sign a tenancy contract, which stipulated that nobody could stay over to support her with her baby, and imposed a 10pm curfew.
"Every mum has to manage by themselves," she said. "There were so many loud noises, and fire alarms going off in the day and at night, which scared my baby. Sometimes we had to take our babies outside at night, when the alarm went off."
The unit housed 38 women, and Ai says there were only six washing machines, all far away from the rooms.
"I had to wash my clothes and my baby's clothes in the sink sometimes, pouring dirty water in where I washed plates and prepared food," she said.
She added that the window in her room would get stuck, with a barrier in front of it, leaving the room poorly ventilated and cold.
Mears said it was aware of a pest-control issue and had put measures in place at the unit, adding that furniture had been arranged so that cots were not set up close to kitchen equipment.
In a statement, Mears added: "The mother and baby unit was purpose-designed with the advice of the local authority and NHS at a time when we had a significant number of mothers and babies to support and did not have suitable accommodation.
"Our aim was to provide a good standard of accommodation and enhanced wraparound support for mothers and their children. As accommodation needs have changed, we now operate the unit as initial accommodation for single females who are newly arrived into Glasgow."
Maree Aldam, of Amma Birth Companions, welcomed the news that the last family had now left the unit. She said: "Although we welcome the progress made to relocate mothers with babies into more suitable accommodation, we remain concerned about the long-term effects of this experience on the affected mothers and their babies.
"We continue to call on the Scottish government to put in place minimum housing standards that will protect every child in the asylum process from ever enduring such living conditions again."
* Name has been changed to protect her identity
The headline and text of this article were amended on 19 May 2022. The housing unit is not closing down, as an earlier version said; it remains open for mothers and children, but no longer offers services to mothers and babies.
African heritage: Argentina conducts census of its Afro community for the first time | International
Nélida Wisneke is Afro-Argentine. This teacher and writer recounts that her ancestors were slaves who fled from Brazil in the 19th century. At 55 years old, for the first time she will see her ethnic identity recognized in the new national census: Argentina is asking all the country's inhabitants if they are descendants of Africans or indigenous people, one of the main novelties of the census and much celebrated by the entire Afro-Argentine community.
"The state is beginning to repay the historical debt it owes us. For the community it is extremely important, because based on these data it will be possible to develop public policies to get out of invisibility and be able to access basic rights," adds Wisneke, author of the novel No te olvides de los que nos quedamos (or Do Not Forget About Those of Us Who Remain).
"I think this is a historic moment for the Afro-Argentine community because this census represents the fruit of many years of struggle. Beyond the statistical data on economic and sociodemographic conditions, which are important to advance towards a more inclusive society, it is also very important that it makes the community visible. It changes the Eurocentric and colonial paradigm with which our society was conceived," says musician Emanuel Ntaka, today in charge of the Afro Program of the Argentine Ministry of Culture.
In the previous census, carried out in 2010, there was a question about Afro-Argentine identity as a sample in some of the forms, but not in all. Now, it is one of the 61 questions included in the survey that will be carried out throughout the country. The 2010 census recorded that nearly 150,000 people perceived themselves as Afro-descendants, 10 times less than the estimate made by community leaders.
In the 12 years that have passed since then, Ntaka explains, Afro-descendant organizations have worked to try to reverse decades of policies of invisibility and social homogenization. Still, there is a possibility that the number is lower than the real number because there are people of African descent who choose not to perceive themselves as such.
Prejudices are installed from childhood, even at school. "In school events, the representation of the Afro-Argentine is picturesque. They are the empanada sellers, the porridge sellers, the laundresses… that is the place that we Afro-descendants occupy in the construction of this country. But in reality, the African influence is everywhere, from the war of independence to culture, with the influence in music, in cuisine, in language," Ntaka points out.
In an official video released this past week for the census, prominent Afro-Argentine figures appear proudly talking about their ancestors. "I am Miriam Victoria Gómes, I was born in the province of Buenos Aires, and I belong to the Cape Verdean community of Dock Sud," says one of the people featured in the video. Ntaka details that he is the son of a teacher from the Argentine province of Santiago del Estero and a South African singer and activist father. "Collecting data on our living conditions is going to be a necessary instrument for public policy," says actress Silvia Balbuena, a descendant of slaves who arrived in Argentina in the 15th century.
One of the community's goals is to combat structural racism in Argentine society. Wisneke experienced it first hand: she is the only one of 10 siblings who has completed her studies. Born into a peasant family in Misiones, in the extreme northeast of Argentina, this teacher says that her ancestors were slaves. "They came from Brazil and settled in Misiones. They were part of the quilombos [settlements], of which nobody talks here," she points out as an example of the visibility of this community in a country that is proud of its European roots but not of others. "Very recently, in the city of Córdoba, a plaque was inaugurated in commemoration of the first sale of slaves, in 1588. The African presence in Argentina is very old," Wisneke underlines.
🇦🇷 Hoy conmemoramos el Día Nacional de las/los afroargentinas y afroargentinos y de la cultura Afro.
"Afrofragmentos" es un proyecto audiovisual sobre la contribución de las/los afroargentinas y afroargentinos a nuestra historia y nuestra cultura.

👉🏿 https://t.co/JJh8R8lhsB pic.twitter.com/n4qFuTHh9k

— Cultura Nación (@CulturaNacionAR) November 8, 2020
Ntaka was 23 years old when a group of skinheads attacked him at a bus stop in 2001. "You fucking Black, go back to your country," he heard them scream before they began to beat him until he was unconscious. To which country did they want him to return if Argentina was the country in which he was born? With that question in mind, the attack became the starting point of his activism promoting the rights of the Afro-Argentine community. The census will offer a first x-ray of who they are and how they are faring.
'Huge spike' in global conflict caused record number of displacements in 2021 | Global development
Conflict and violence forced people from their homes a record number of times last year, a report has found, with sub-Saharan Africa bearing the brunt of mass internal displacement caused by "huge spikes" in fighting.
People fleeing violence were internally displaced 14.4m times in 2021, an increase of 4.6m on 2020, according to figures published by the Norwegian Refugee Council's Internal Displacement Monitoring Centre (IDMC).
Most of those displacements – 11.6m, or 80% of the total – took place in sub-Saharan African countries, with the war in northern Ethiopia dwarfing other conflicts in terms of the number of times people were forced from their homes.
Alexandra Bilak, IDMC director, said the geographic concentration of the conflict-related displacement across sub-Saharan Africa, from the Sahel to east Africa, was a huge concern. "These are, of course, countries that have experienced long histories of conflict, but what these numbers show is that the conflicts are far from having been resolved," she said.
"So on top of protracted crises, you get new waves of violence every year. In Ethiopia and Burkina Faso, we're talking huge spikes of new violence that have led to incredibly large numbers being displaced and, at least for now, very little prospect for returns."
New flare-ups of violence often collided with climate pressures such as drought or flooding, and resulting food insecurity, making it even harder for countries to give internally displaced people (IDPs) the help they needed, she said.
"There's absolutely no window during which some kind of stabilisation could happen, and some degree of return or sustainable local integration. These constant shocks to the system mean that the numbers keep increasing."
According to the report, there were 59.1 million IDPs globally in 2021, a cumulative figure, which has grown steadily since the IDMC began documenting in 2003. Every year more displacement is caused by natural disasters than conflict, but last year the number of forced movements due to disasters such as such as storms, floods and volcanic eruptions – 23.7 million – was down considerably on 2020.
The number of times people were forced from their homes by violence was of particular concern to the IDMC. As the report deals with 2021, the figures do not include the huge humanitarian fallout from the Russian invasion of Ukraine, where more than 7 million people are thought to be internally displaced.
The only place to rival that scale of displacement was Ethiopia, where conflict – chiefly war between government forces and Tigrayan rebels in the north of the country – triggered 5.1m internal displacements. Until the invasion of Ukraine, that was the highest annual figure ever recorded for a single country.
The Democratic Republic of the Congo (DRC), which saw 2.7m displacements due to conflict, and Afghanistan, where the Taliban toppled Ashraf Ghani's government, also registered all-time highs. The volatile situation in Myanmar, where the military staged a bloody coup, helped triple the overall figure for east Asia compared with the previous year.
With more than half the global IDP population under 25, and about 25 million under 18, the IDMC called for more targeted interventions to protect children and young people from the particular dangers they face. "The financial difficulties IDPs tend to face may force children to engage in dangerous income-generating activities, including crime, transactional sex or joining armed groups," the report notes. "Strengthening child protection systems that consider these risks is essential."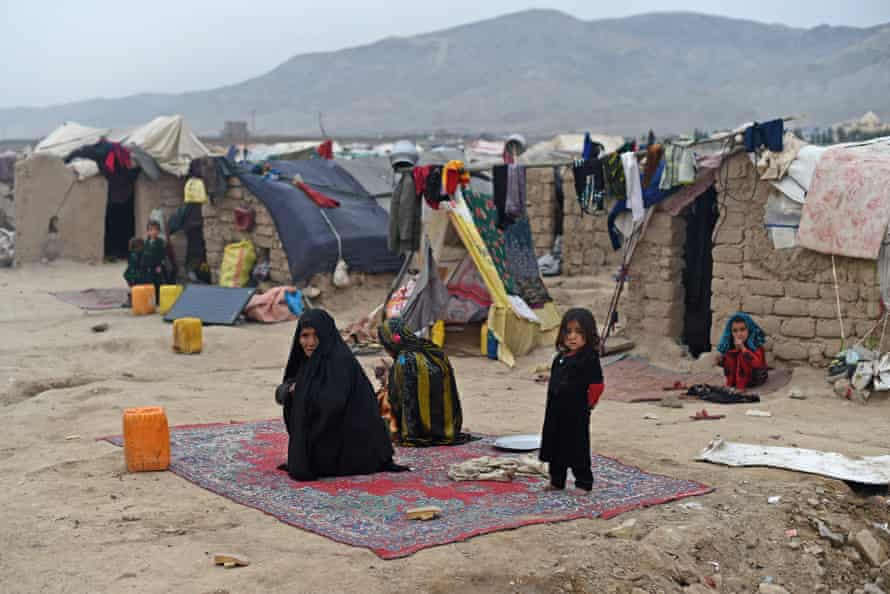 Displaced girls and boys, it adds, confront different risks, with girls at greater risk of sexual violence and child marriage, and boys of recruitment by fighters.
Bilak hoped the report would raise awareness of the worsening plight of IDPs, which historically had received "much less attention" from governments and policymakers than that of refugees or migrants. "This is, first and foremost, a call for acknowledgment of the scale … and the urgency of the issue," she said.
Faced with the stark increase in conflict-related displacement, she added, the IDMC urged greater investment in peace-building, "and in preventing those conflicts from happening in the first place".