'It still gives me nightmares': the firefighters on the frontline as the world burns | Wildfires
Babis Zacharis
Hellenic fire service volunteer, Athens
In Greece, fires take up a lot of resources. There isn't enough money to recruit the number of [firefighters] needed or to buy the necessary equipment. Volunteers plug the gaps.
To become a volunteer firefighter with the Greek fire service, I had to do 120 hours of training. Volunteers work in urban environments dealing with accidents and rescues, house fires, factory fires, as well as tackling wildfires. We have to work at least three days a month; I have a full-time job as a civil engineer.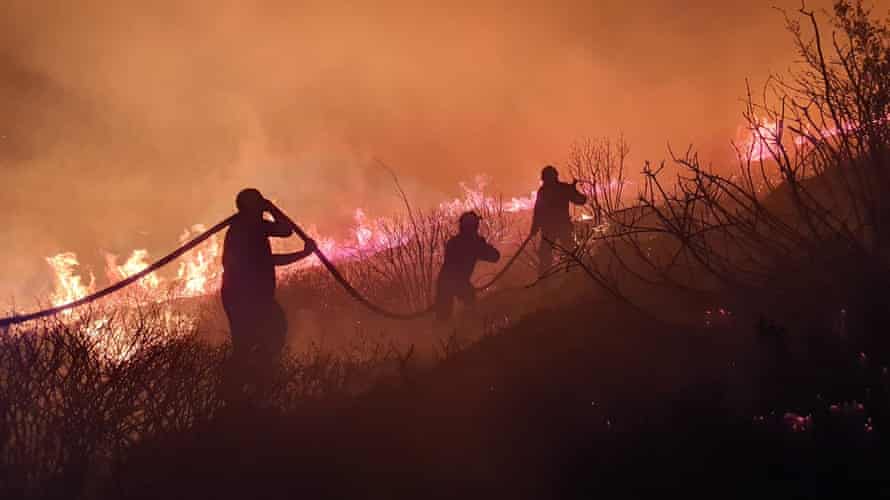 For the past five to six years, wildfires have become the norm in Greece. The last one I was involved in was in early August. Many buildings were burned, a lot of forest was lost and all of Athen's fire services, and some from other regions of Greece, were called in to help. There were bad wildfires in other parts of the country at the same time.
The work was difficult and emotional. When I saw the fire, my first feeling was anger – I saw it as an enemy. I could not accept that it would destroy something I love. As the blaze grew, sometimes we felt helpless. At one point, we ran out of water and electricity, and had to retreat.
It is also dangerous. One of the volunteer firefighters involved in that fire just died. He suffered burns when the vehicle he was in caught fire. Firefighters have a very strong relationship with each other; we are like a family. We see ourselves in each other. It's extremely emotional.
Volunteers get paid nothing. The state provides those in the Greek fire service with some equipment but not everything that is needed, so I have bought my own. I'm happy to do this, but not everyone can. Unlike employed firefighters, our families get no compensation if we die in the line of duty.
When a volunteer firefighter with the Greek fire service died last year of a heart attack while responding to a fire, there was a small ceremony and a tweet from the fire service. When someone offers themselves to the public and dies in the line of duty, the least they deserve is proper recognition.
Scott Vinen
Tasmania fire service, Australia
Are bushfires getting worse? I can't answer with any scientific basis but they're getting more frequent – the bushfire season tends to start earlier and run for longer. We seem to be having longer dry spells. There's a lot more public scrutiny on us to do a better job.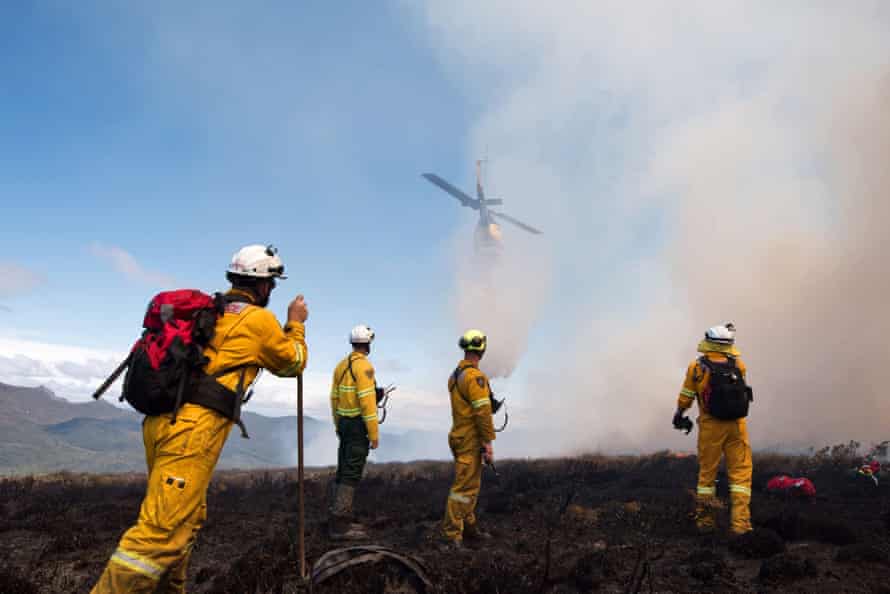 During wildfires, there are trees falling down, you're out in the bush and in danger. In 2016, I was fighting a fire in a remote location. We had to fly in and out by helicopter. They weren't able to land so I had to jump out with my backpack, tools, food and water. As I got to the ground, lightning struck a tree and lit up the sky like nothing I've seen before.
In 2019, I was in charge of groups tackling a fire near the Great Lake. One of my seconds in command was fighting a fire and a gust of wind meant it went over the top of his head, melted the guideposts and damaged some vehicles. They weren't hurt, but it was quite scary.
Another time, a helicopter got its bucket caught in a tree and went to ground. Flying conditions are always tough because there's a lot of smoke and fire creates wind. We had to get the operator out because the fire was all around him.
We've just set up a remote rescue capability as part of the remote area firefighting operation. We are gearing up for rescuing our own people and those from other services.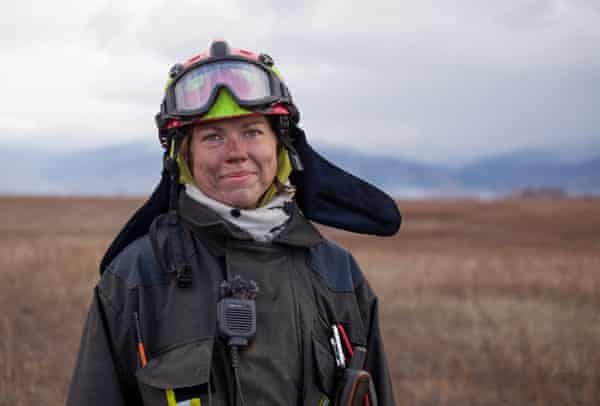 Sonya Kosacheva
Greenpeace, Russia
I discovered a love for firefighting in 2010 when a friend asked if I'd be interested in volunteering. The opportunity also opened my eyes to some huge problems we have in Russia.
There are various services dedicated to fighting fires in cities, forested areas and nature reserves. Our country is huge and there isn't enough money to provide a firefighting service throughout. There are 'zones of control', which are remote areas with few people living there, where regional authorities do not have to put out fires [if the cost of doing so exceeds that of the fire damage]. This means wildfires get out of control. We saw this in 2019 when smoke from fires burning in Yakutia, Siberia, covered cities thousands of miles away.
As a woman, it's very hard to work as a professional firefighter in Russia. Until recently, women could work in city fire service support roles but could not work directly with fire – it was believed the work is too dangerous for women. Two years ago, the professional standard of a forest firefighter was modified to include women, but in practice, nothing has changed.
This year was a record year, in terms of the scale of wildfires, after we had abnormal heatwaves in the Arctic region. Many fires are started by people but the climate crisis enables them to spread.
In June, I was called to a fire in the Denezhkin Kamen nature reserve in the Urals. The fire had started due to lightning. The reserve authority realised that the few rangers they had would not be enough to stop it and asked for help from the state aviation service. Sometimes it can take a few days for them to arrive because there's a lot of bureaucracy and money involved. This time can be critical in terms of managing the fire.
In the meantime, the reserve called us. I had three hours to gather all the stuff I needed before driving 48 hours from Moscow to the reserve. We rotated drivers so we were constantly on the move. When we got there, the fire had spread over 50 hectares [124 acres]. We set up camp and changed into our firefighting clothes.
First, we had to cross a river and then it was a two-hour walk up to an elevation of 600 metres. The aviation service arrived quickly this time and there were about 50 people working on the fire. As the nearest water source was two hours away, we decided to dig a line around the fire to contain it. We worked for 10 days. In the end, about 100 people were involved in putting out the fire.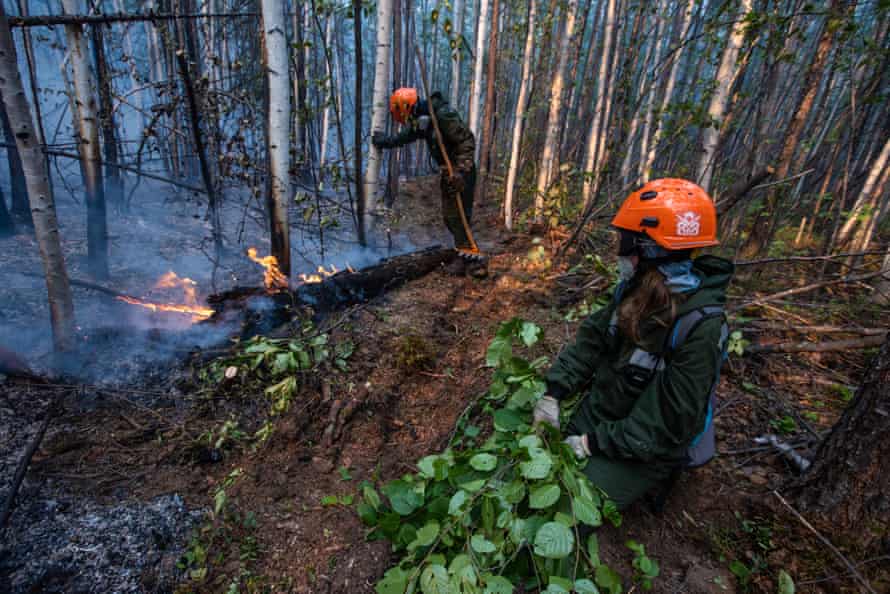 As well as the director of the nature reserve, there were two other women involved. Our male colleagues said to us on quite a few occasions: "Girls, you must be tired. This is a man's job. Stay at the camp."
We were all tired and had the same bruises. I and the other woman told them: "You're also tired from wearing heavy equipment. Why don't you stay at the camp?"
Tjalle Boorsma
Asociación Armonía, Bolivia
The worst experience I had still gives me nightmares. It was in 2016; it was intense; we didn't have the right equipment and we made mistakes. No one got hurt, but most of us were dehydrated with a severe headache for two days afterwards.
I work for a Bolivian organisation focused on protecting the country's most threatened birds. It owns an 11,000-hectare nature reserve that is home to the critically endangered blue-throated macaw.
I started working on the reserve in 2015 and since day one, fire has been the biggest threat. That year, a fire started on neighbouring land got out of control and burned the whole reserve. We had no system in place to protect against fire and none of us were trained in how to fight fires.
The land surrounding us is used for grazing cattle. The ranchers set fire to grassland the cows refuse to eat hoping it will burn a small area before the rain comes. Often, rain doesn't arrive or the wind shifts and the fire gets out of control.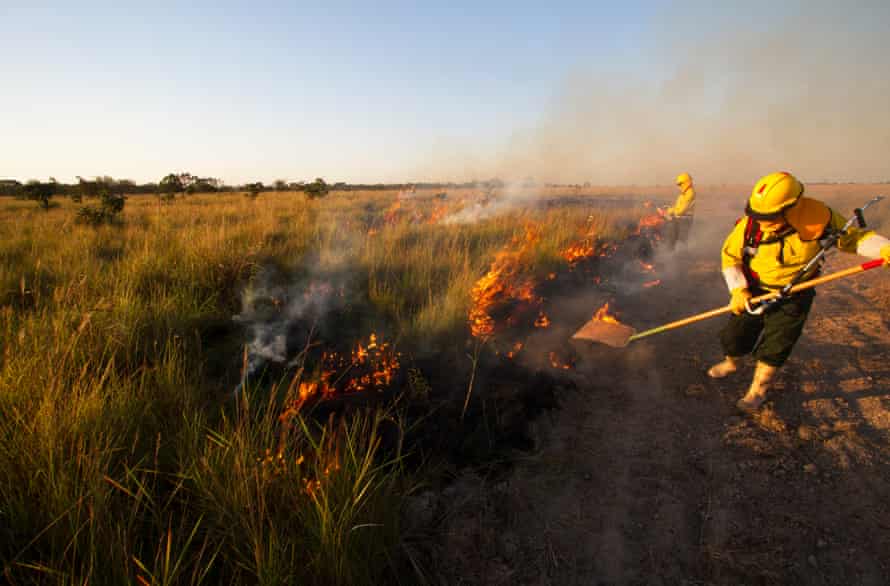 Every year there are weather extremes. We've had some intense flooding, followed by a longer dry season. There is a fire service managed by the government but very little funding for conservation and habitat protection. Park rangers and firefighters are often trained by, and receive equipment from, non-governmental organisations. It has been left up to me to work towards a management plan for fire and fundraise to protect the reserve from fire.
Now we create firebreaks by ploughing the ground with a tractor so there is no fuel for any fire. This year we have a 4km-long [2.5 miles] firebreak that is 20 metres wide, and on either side of that we burn a 30-metre to 50-metre section so if a fire reaches it, there's nothing left to burn and it will go out.
We are well-prepared but I worry when we reach the dry season. It's always a stressful time.
Anna Mattila
Jokilaaksojen rescue services, Finland
I always knew wildfires were going to be a part of the job as we have a lot of forests in Finland. Ten years ago, I'd maybe tackle two to three each year; now it's between five and 10. My service has to deal with 20 to 30 every year now.
In July, I was involved in fighting the worst one of my career, and the worst our service has seen for 20 years. The fire in Kalajoki, in a remote area of north-west Finland, destroyed more than 300 hectares. There were 100 firefighters working around the clock for almost two weeks. Firefighters were called back from holidays and off-days, including me.
We had to ask for help from other fire departments. All 22 regional rescue services in Finland helped – from Helsinki to Lapland. I think this is the first time this has happened in Finnish history.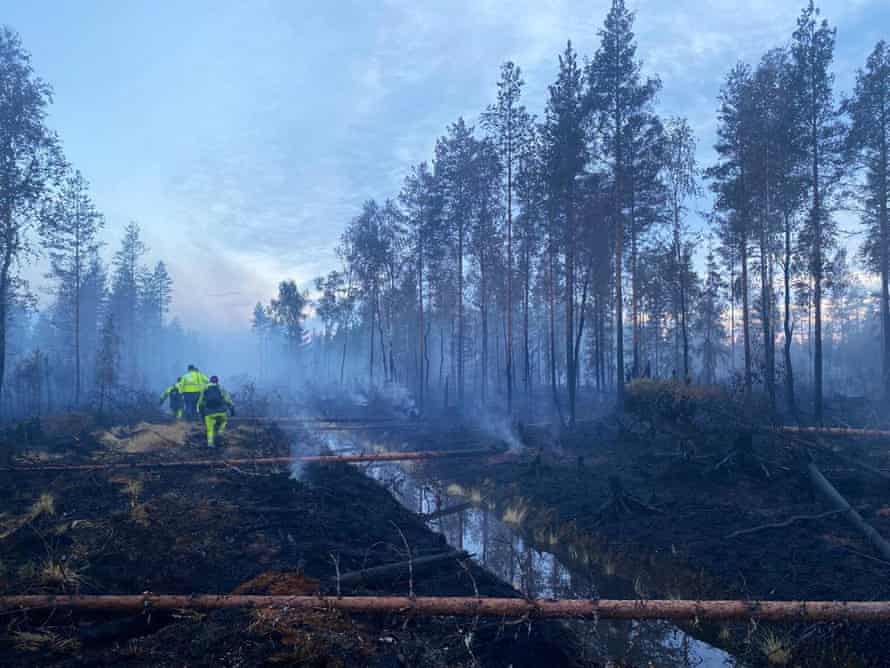 The fire was in the middle of nowhere and we had to use all-terrain vehicles and walk to get to the frontline. When I arrived, trees were burning and toppling over. That was the scariest bit. It was dangerous for the firefighters. Luckily, there were no serious injuries. There were about five helicopters dropping water on the flames.
I worked a 16-hour shift. It was almost 30C [86F] and the terrain was difficult. My eyes stung and watered because of the smoke. But for me, it was more stressful mentally. I was in charge of making sure firefighters weren't going to get hurt and that they got enough rest, had eaten and that new ones would come to take over.
After that shift, I had to go back to my normal duties before I returned to Kalajoki two weeks later. Life goes on, whether there's a big fire burning somewhere or not.
Pussy Riot: Maria Alyokhina, a punk poet against Putin | Culture
The setting is the White House – or rather a set of White House, the one inhabited by actors Kevin Spacey and Robin Wright in the TV show House of Cards. The year is 2015. Maria Alyokhina, better known as Masha, has already been jailed and released more than one time. And she has begun to write her book, a Vonnegutesque memoir called Riot Days. The memoir tells the story behind Pussy Riot, the feminist punk collective that made Alyokhina the kind of star that is invited to make a provocative cameo in a hit TV show. It also depicts the author's day-to-day life in prison, with special emphasis on the freezing cold, systematic mistreatment and forced labor – problems that seem not to have changed since Dostoevsky's time. And it also recounts Alyokhina's lifetime of defying tyranny.
In the third House of Cards episode of the show's third season, Masha and fellow Pussy Riot activist Nadya Tolokonnikova refuse to toast Viktor Petrov, the Vladimir Putin of the series, played by Lars Mikkelsen. The women's appearance on the show reflected the fact that they are recognized as major players in history –although Masha is not so sure. "As a teenager," Masha recounts in Riot Days, "I used to do graffiti on one of the school walls." The wall was painted with historical motifs depicting a Russia she hadn't seen and didn't believe in. "I liked seeing how the graffiti was gaining ground and began to mix with those historical episodes, giving shape to another truth, ours," she writes. Even then, the teenage Masha thought like an activist.
Born in Moscow in 1988, Maria Alyokhina grew up in 1990s Russia, and she remembers "people queuing everywhere, queuing for food, clothes, vouchers." That, she says, has not changed. "They tell us that the country has changed, but I keep seeing the queues." Masha was raised by her mother, a programmer, and did not meet her math teacher father until she was 21. She hated the Russian educational system and changed schools four times. "They taught you not to think. They wanted us to just follow the rules. Obviously, I didn't like it at all," she once said. A poet, actress and mother, Masha studied journalism and creative writing and was a Greenpeace activist. She has long been inspired by the performance artist and political provocateur Aleksander Brener.
Pussy Riot's first action took place in the same spot where Brener stood before the Kremlin with a pair of boxing gloves – the image of him dressed as a boxer became iconic – and asked the Russian president at the time, Boris Yeltsin, to come out and fight. "There were eight of us, like the eight dissidents in 1968″ who protested against the occupation of Czechoslovakia, she recalls. But the image that spread across the world, forever changing the West's conception that Russia had left its Soviet past behind, occurred in the Moscow Cathedral. The action landed the collective in jail for the first time: the collective sang a song asking the Mother of God to become a feminist and free Russia from Putin. Masha dressed in green and wore a yellow balaclava. Lara Alcázar, the founder of the Spanish branch of the feminist activist group Femen, says that the action was significant because it "clicks in the mind of those who see it."
"The protest seeks to arouse an opinion, a series of questions. It has always been necessary, but right now there is an emergency. It shows you the other side – in this case, where the oppressors and the oppressed are," says Alcázar. Today, Masha is hiding somewhere in Iceland, after having fled Russia with her partner Lucy Shtein, both disguised as food couriers. Her life is in danger. Alcázar also points out that women who dedicate themselves to activism break many boundaries. As with Femen's demonstrations, Pussy Riot's protests are especially powerful because they consist of direct action and provocation, she says.
Carol Paris, editor of the Spanish-language version of Read & Riot: A Pussy Riot Guide to Activism, says that the most interesting thing about the collective is how they transcend the idea of individuality. "They show us how we can become active free agents. We should all be Pussy Riot." And yet, as writer and translator Monika Zgustova points out, we cannot forget that Masha and the rest of the Pussy Riot "are in real danger, danger of being killed with a bullet to the forehead or a sophisticated poison, as has already happened to so many people who made the Kremlin uncomfortable." That danger "gives value, weight and seriousness to their message," a message that, as Nadya Tolokonnikov writes, they express through "barbaric and primitive political cabaret."
Resurgence of fighting in DRC displaces 37,000 people in four days – in pictures
A ceasefire breakdown has seen violence between the military and M23 rebels intensify in North Kivu, Democratic Republic of the Congo
The battle for the ends of the earth: Australia, the US and China dispute the islands of the South Pacific | International
Fiji. Kiribati. The Solomons. Tonga. The names evoke tiny tropical paradises, shirtless Olympic flag bearers or bloody World War II battles. But they are also islands in a key strategic position to either give access to the South Pacific or block vital sea routes, a short distance from Australia, for decades the region's great protector. The territories are now the scene of an intense struggle for control between the great powers: on the one hand, Australia and the United States; on the other, China, which has begun its power play by sending high-ranking government officials to the region and promising investments, security agreements and infrastructure construction.
Alarm began to spread in Canberra and in the United States last month as a result of the unexpected signing of an agreement between China and the small Solomon Islands, with 687,000 inhabitants. The agreement covered trade, fishing and–most importantly–security, allowing Chinese security forces to be sent to maintain social order and protect lives and private property at the request of the national government. Chinese military ships will be able to make visits to the islands and carry out "logistical replacement." Although the two signatory governments deny the prospect, both Canberra and Washington fear that the pact could open the way for a future Chinese military base in the area, less than 2,000 kilometers from Australian territory.
China's growing diplomatic and economic activity in the area has not stopped there. This Thursday, the Chinese Foreign Minister, Wang Yi, arrived in Honiara, the capital of the Solomons, to begin a 10-day tour of eight Pacific island nations: the Solomons, Fiji, Kiribati, Samoa, Tonga, Vanuatu, Papua New Guinea and East Timor. Upon his arrival, he expressed his hope that relations with Honiara will serve as an example for other Pacific islands.
A "sincere" partner, according to Beijing
Beijing describes itself to the island nations as a "sincere and reliable" partner, appealing to the disenchantment that their governments may feel for the cavalier treatment or even neglect they may have received from Australia and the United States.
Wang will meet with Pacific foreign ministers in Fiji next week. The Chinese minister will present a cooperation plan, the China-Pacific Island Nations Common Development Vision, sent last week to a dozen governments.
With this initiative, similar in language to the pact signed with the Solomons, China hopes to strengthen its ties with the region. It offers millions of euros in assistance and the prospect of a free trade agreement that gives products from these islands access to the huge Chinese market. Beijing also offers local police training nd cyber security cooperation. In exchange, the country seeks access to the area's natural resources and the ability to draw highly detailed marine maps of its waters.
China's aggressive courtship of the islands, until now firmly anchored in Australia's orbit, has unleashed the fear of a change in the nations' geopolitical alignment. In addition to their strategic position, their votes in international institutions can be decisive. "We know that China sees [its Development Vision proposal] as the first of many," said the new Australian Prime Minister, Anthony Albanese. "It is trying to expand its influence in the region of the world where Australia has been the primary security partner since World War II," he added.
After taking office on Monday, Albanese promised to increase his attention to the island nations. His initiative begins with assistance against climate change, the great concern of states particularly vulnerable to the effects of greenhouse gases and an issue that his predecessor, the conservative Scott Morrison, disdained. Canberra has also announced a plan for 500 million Australian dollars (€330 million) in development aid. One of Albanese's first acts was sending his foreign minister, Jenny Wong, to Fiji to meet with prime minister Frank Bainimarama before the arrival of the Chinese representative.
The United States has not been left behind. In February, Washington announced the reopening of a US embassy in the Solomons after a 29-year absence. In April, the White House chief for Indo-Pacific, Kurt Campbell, traveled to the area.
The competition has picked up speed this month. In addition to Labor's victory in the Australian elections, US President Joe Biden's tour of Asia has contributed to the growing tension. At the Tokyo summit on Tuesday of the Quad, the informal alliance between the US, Australia, Japan and India, the four leaders devoted part of their discussions to China's growing influence in the South Pacific. They announced the creation of an initiative, the Indo-Pacific Partnership for Maritime Domain Awareness, that will include the islands of the area to respond to humanitarian disasters, in addition to combating illegal fishing.
This week, during the Chinese and Australian diplomatic campaigns, Campbell spoke by video with Bainimarama about economic agreements and improving security. Meanwhile, according to the Financial Times, Beijing is preparing a new bilateral agreement with Kiribati, although the latter country has denied the collaboration. Minister Wang will visit Tarawa, its capital, for four hours this Friday.
The countries in the region had traditionally been diplomatic allies of Taiwan and therefore had no formal ties with Beijing. After the victory of President Tsai Ing Wen in 2016, though, the Xi Jinping government began to courting Taipei's partners to break ties with the self-ruled island and engage with China.
Amidst allegations of corruption and bribery, the Solomons took the step in 2019, just four months after Manaseh Sogavare came to power.
The relationship with the islands has become an important element for Beijing in its strategic rivalry with the United States and its allies, particularly since Washington's September announcement of the formation of Aukus. The Pacific military alliance also consists of Australia and the UK and is intended to respond to China's rise.
"The United States is trying to tame China's rise with its Indo-Pacific strategy, but now China's footprints are ubiquitous in the region, showing that the taming strategy is not working," wrote the newspaper Global Times, owned by the Communist Party.
Meanwhile, the islands are accepting the support from all sides. In a tweet this Thursday, Bainimarama wrote, "They ask me about the Fiji agenda. At all tables, what matters most is our people and our planet, as well as our respect for International Law."