Infinite lives: the company saving old arcade machines | Games
On a rural industrial estate five miles outside Honiton, under the flight path of a nearby aerodrome, sits a rather nondescript warehouse. Only one feature marks it out: in front is a graveyard of stripped arcade cabinets, slowly rotting in the cold and damp.
I am here to visit Play Leisure, a company that restores and sells old arcade games. It has a compelling TikTok account where it shares new discoveries – a recent post showed off a Deadstorm Pirates machine with its enormous sit-in cabinet and giant cinematic display. I've dragged my friend and fellow arcade fanatic Joao Sanches along, and now I'm feeling nervous and responsible because, walking up to the unmarked entrance, I've no idea if they will have anything interesting in stock after our 90-minute drive.
But peering inside, I spot it immediately, sat there in the cramped reception area amid piles of cardboard boxes: a pristine 1992 Street Fighter II machine, the backboard sporting a wild illustration of Ryu kicking Ken, each special feature on the playfield named after famous Street Fighter attacks. I almost gasp.
Matt Conridge, the owner of Play Leisure, has always been interested in arcade machines. "Like a lot of us in our 30s and 40s, it comes from back when I was a kid," he explains as he comes to greet us. "I used to visit arcades at seaside resorts – places like Dawlish and Lynmouth."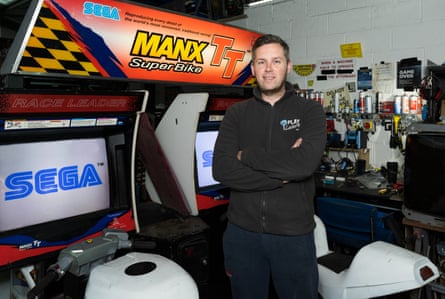 Three years ago, Conridge was running a video game bar in Bideford, north Devon, when Covid hit. Facing disaster, he decided to close up and use his contacts in the arcade scene to pivot into a new project: restoration. He rented a warehouse, employed a small team of specialist engineers and started buying up all the old coin-ops he could get his hands on. The plan was to repair them and sell them on to private collectors and retro theme bars, after the pandemic.
"Back then, we were only buying small quantities so it usually came from collectors. Now we take them on an industrial scale," says Conridge. "At the moment, with what's happening in the economy, arcades are cutting costs, getting rid of some of the lower performing machines that cost them more to run than they make in revenue. We get clearances from arcades, play centres, trampoline parks … "
Another problem is that older coin-ops require specialist engineers to maintain them. "A lot of the people who used to build and service these machines have retired," says Conridge. "That knowledge is dying."
Matt takes us through to the main warehouse space, where we're momentarily stunned again. Crammed into a space about the size of a tennis court are 200-odd arcade machines from throughout gaming history. The first thing I spot is the twin cabinet version of Sega's brilliant 1995 racing game Manx TT Super Bike, which allowed players to sit on reproduction motorcycles and compete against each other along narrow country lanes. Nearby there's Konami's thrilling Silent Scope 2: Fatal Judgement, complete with its authentic sniper rifle controller, and further back in this electronic labyrinth is a twin cab of Final Furlong, the crazy Namco horse racing game that you control by sitting on a plastic horse and jumping up and down.
I'm taken back to the first time I visited Japan in 2000 to attend the Tokyo Game Show. I walked into an arcade in Akihabara and saw salarymen on their lunch hour, dozens of them in rows playing this game, grimacing with effort in the darkness.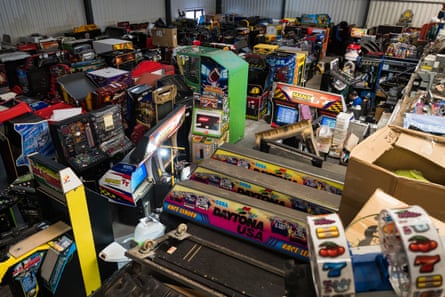 The machines arrive in huge shipping containers and Conridge is never quite sure what games he'll find or what condition they will be in. "The problem is, arcade operators don't generate any more money by keeping machine internals clean," he says. "If you open it up and start cleaning the inside you may end up causing issues. We've opened them and found coins, tools … We found a porno mag in the back of a machine once. We've just got one from Blackpool, a crane machine that dispensed sweets – it's been left for a few years and the sweets have fallen inside and rotted, then the flies got in there … ugh."
Will they clean that? "No," laughs Conridge. "We'll sell it off and let someone else deal with it."
Conridge is however, conscientious about whom he sells brittle older machines to. "There are some retro machines that we advise people not to buy unless they're technically minded," he says. "There's a pinball machine, a 1966 electromechanical model we're just about to put on sale, and we'll refuse to sell that to nine out of 10 people who contact us because we know it won't be suitable for them. These machines are like classic cars: they are specialist pieces of equipment and need constant care. If I sell it to someone who just wants a working machine, they'll be fed up after five minutes – we've got to choose the right customer for it. Someone who is able to tinker."
It's not just ancient pinball machines that are problematic. The big video arcade games of the 1990s – the technical peak of the industry – often used proprietary hardware that is simply impossible to replace or reproduce. "The Sega Model arcade boards used custom Lockheed Martin chips, which you just can't source," explains Chris, the lead engineer. "We have to decide whether to harvest parts from less interesting games and use them to resupply classics like Sega Rally." Around the outskirts of the warehouse space, there are shelves groaning under the weight of esoteric parts, haphazardly piled or collected in boxes.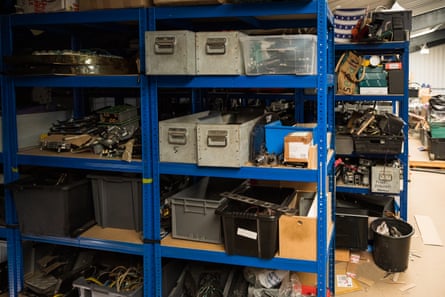 Adding to the value of these machines now is the fact that arcades historically dumped old units when they stopped being profitable. "Ten to 15 years ago companies just didn't foresee that there would be any interest from collectors," says Conridge. "We just sold an Addams Family pinball machine for £10,000 – that would have been chucked in a skip 15 years ago. People didn't expect anyone would want them."
This was especially true of larger speciality machines, such as rhythm action games, with their bulky floor pads and complicated controllers, and driving games with their realistic race car cabinets. Not only did they take up valuable floor space, they were expensive to maintain. Their growing rarity represents an interesting challenge for Play Leisure, because games like Dance Mania and Guitar Hero are exactly the sorts of machines that the new era of retro gaming bars – such as the NQ64 chain, which has just taken on £2m of funding – are looking for: not only are they fun to play in a bar environment, they're fun to watch, too. "Dance Mania is now a £3k machine," Conridge says.
When cabinets arrive, their condition is assessed. For Conridge there is a delicate balance between restoration and preservation. He shows me a Point Blank machine that's just come in: Namco's entertaining light gun shooter, which was also popular on the PlayStation, is a currently a hit with buyers. He will aim to repair these machines whatever state they arrive in – even though the guns themselves, with their delicate recoil mechanic, are often busted beyond repair ("they get really smashed by kids in the arcade").
On this cabinet, the lavishly illustrated decals on the sides are peeling off: do they change the artwork for a modern reproduction? "If we do, it will look better but it won't be original," says Conridge. "It's a challenge. We don't tend to sell perfect-looking machines. When we went into arcades as children, the machines would have cigarette burns – that's how you remember them. There's a certain charm to that."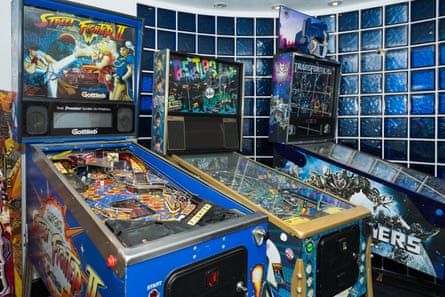 Some arcade cabinets are not economically viable to repair, but that doesn't mean they're unsellable. "We sell quite a lot of project machines," he says. "For a collector working in their garage, that's fine. We had a Star Wars 1982 Atari machine come in about 14 months ago. We put it on TikTok and Facebook – someone rang and they were desperate for it. It was nice to save this original machine from being scrapped."
If they can't be repaired, they're stripped for parts: circuit boards, cathode ray monitors, joysticks, motors. Almost none of these are manufactured any more, so they're all saved. Even completely stripped cabinets can have value: people often use them as a shell for their own arcade machines, using a PC and LED monitor. "Our customers can be really creative," says Conridge. "We have people turning them into cocktail cabinets, stands for DVD players and games consoles. It's nice because they're not ending up in a landfill site – they're getting another life."
Conridge reckons half his machines go to retro bars and modern arcades. The rest are bought by private collectors. There's a highly active arcade-collecting community, based around Discord servers and forums such as UKVAC, and Covid brought in a lot of new customers who started building gaming dens in the midst of lockdown.
Besides retro pinball tables and 1990s hits, the big sellers are attached to film or TV licences. Play Leisure has sold three Star Wars Battle Pods, really big immersive machines, for £10,000 each. An Aerosmith-branded arcade game named Revolution X will sell for £1,500, an X-Files pinball table for £3,500. There's an odd market too for old coin-pushing machines, mostly thanks to the TV quiz show Tipping Point and the growing popularity of TikTok accounts that specialise in coin-pushing live streams.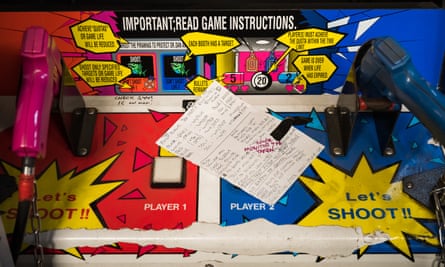 Joao and I spend the whole day here, snaking between the machines, peering into their exposed innards. We photograph everything. A long time ago we worked together on the video game magazine Edge, often reporting on arcade shows – these machines, which are now antiques, were the newest, hottest tech when we started our careers.
And before that, as a kid, I hung out in arcades in the 1980s. Donkey Kong, Defender, Space Harrier, Out Run; a pocket full of 10 pence coins, a whole day to waste. It is bittersweet to see the machines here, their CRT monitors cracked or missing, light gun holsters worn and split.
It is good that these things are being saved. To many of us, these are more than just disposable commercial products: they are works of art containing within them the experiences of thousands of players, my own included.
The Call for AI Regulation in Creative Industries
THE VOICE OF EU | Widespread concerns have surged among artists and creatives in various domains – country singers, authors, television showrunners, and musicians – voicing apprehension about the disruptive impact of artificial intelligence (AI) on their professions.
These worries have prompted an urgent plea to the U.S. government for regulatory action to protect their livelihoods from the encroaching threat posed by AI technology.
The Artists' Plea

A notable rise in appeals to regulate AI has emerged, drawing attention to the potential risks AI poses to creative industries.
Thousands of letters, including those from renowned personalities like Justine Bateman and Lilla Zuckerman, underscore the peril AI models represent to the traditional structure of entertainment businesses.
The alarm extends to the music industry, expressed by acclaimed songwriter Marc Beeson, highlighting AI's potential to both enhance and jeopardize an essential facet of American artistry.
Copyright Infringement Concerns

The primary contention arises from the unsanctioned use of copyrighted human works as fodder to train AI systems. The concerns about AI ingesting content from the internet without permission or compensation have sparked significant distress among artists and their representative entities.
While copyright laws explicitly protect works of human authorship, the influx of AI-generated content questions the boundaries of human contribution and authorship in an AI-influenced creative process.
The Fair Use Debate

Leading technology entities like Google, Microsoft, and Meta Platforms argue that their utilization of copyrighted materials in AI training aligns with the "fair use" doctrine—a limited use of copyrighted material for transformative purposes.
They claim that AI training isn't aimed at reproducing individual works but rather discerning patterns across a vast corpus of content, citing precedents like Google's legal victories in the digitization of books.
The Conflict and Seeking Resolution

Despite court rulings favoring tech companies in interpreting copyright laws regarding AI, voices like Heidi Bond, a former law professor and author, critique this comparison, emphasizing that AI developers often obtain content through unauthorized means.
Shira Perlmutter, the U.S. Register of Copyrights, acknowledges the Copyright Office's pivotal role in navigating this complex landscape and determining the legitimacy of the fair use defense in the AI context.
The Road Ahead

The outpouring of concern from creative professionals and industry stakeholders emphasizes the urgency for regulatory frameworks to safeguard creative works while acknowledging the evolving role of AI in content creation.
The Copyright Office's meticulous review of over 9,700 public comments seeks to strike a balance between innovation and the protection of creative rights in an AI-driven era. As the discussion continues, the convergence of legal precedents and ethical considerations remains a focal point for shaping the future landscape of AI in creative industries.
---
Thank You For Your Support!
— By Darren Wilson, Team VoiceOfEU.com
— For more information & news submissions: info@VoiceOfEU.com
— Anonymous news submissions: press@VoiceOfEU.com
---
How Vibertron Is Making Technology Consulting More Accessible To SMEs
SMEs Growth by Raza H. Qadri
By Clint Bailey – Sr. Business and Technology Editor 'The Voice of EU'
Vibertron Consulting, based in California, emerged on the scene just a year ago, as a subsidiary of Vibertron, and is rapidly gaining momentum as the preferred integrated technology and strategic consultancy platform in the United States and beyond.
At the helm of Vibertron Consulting is Raza H. Qadri (Ali), a highly accomplished individual with a diverse range of qualifications. With an MBA, a B.Sc. degree in Electrical Engineering, and a third degree in Computer Science, Qadri firmly believes in the importance of formal education as a cornerstone for building a robust and sustainable business.
Having amassed valuable experience across various industries including engineering, media, finance, and technology, as well as successfully founding three startups, Qadri is now putting his theories into practice. He has established a global business-to-business (B2B) remote work platform that offers integrated technology, marketing, and sales consultancy solutions specifically designed for small and medium-sized businesses.

With his expertise and a strong background in multiple fields, Qadri aims to empower businesses by providing comprehensive solutions tailored to their specific needs. The integrated approach of Vibertron Consulting allows clients to leverage technology, strategic marketing, and sales expertise to expand their operations and drive growth.
"An integrated platform is more of a complex business and go-to-market challenge rather than a technical one" Qadri explained.
"There are complexities associated with technical scale and optimization, but with today's technology we can build a diverse platform using pre-existing components such as integrated services, even though the new technology trend is shifting back to data centre-based digital architecture."

A Blend Between Marketplace & Integrated Managed Solutions
Founded in 2019, Vibertron presents itself as a hybrid technology company, providing clients with the opportunity to acquire comprehensive remote work, and consulting solutions. Facilitated by an internal database comprising approximately 1,500 thoroughly vetted specialists from the marketing, sales, and technology consulting industries, Vibertron ensures a high level of expertise and professionalism among its professionals. Notably, the specialists within the database possess a minimum requirement of a Master's degree or 5-7 years of work experience in their respective fields. This stringent selection process ensures that clients can confidently engage with skilled professionals who possess the necessary qualifications and industry knowledge to deliver exceptional results.
"At Vibertron, we pride ourselves on working with top-tier professionals who exemplify integrity and professionalism. We prioritize building a team that upholds these values and ensures a positive client experience. Trust and excellence are at the core of our interactions, guaranteeing that our clients receive exceptional service every step of the way." Qadri explained.
"To achieve this, we have created a B2B platform that is a blend between a marketplace and a managed professional solutions with two distinct models – one for one-time service buyers and one for clients looking for managed 360° marketing, sales, and technology solutions."
Keeping It Simple
As stated on Vibertron's official website, clients seeking integrated technology, marketing, and sales consultancy services can choose from three distinct plans: MCiHT™ (Technology), MCiM™ (Marketing), and MCiS (Sales). Each plan offers tailored solutions to cater to the specific needs and requirements of businesses in these domains.
"In addition to essential features like a social feed, messaging capabilities, and secure payment infrastructure (currently leveraging Stripe and Bank of America), Vibertron recognizes the importance of embracing emerging technologies such as AI and blockchain. By integrating these cutting-edge technologies, we aim to enhance our platform and deliver innovative solutions that meet the evolving needs of our clients." Qadri said.
Artificial Intelligence (AI) & Hybrid Consulting Model
In line with its core objective, Vibertron is strategically preparing to implement an AI-based hybrid co-pilot. This advanced technology will assist clients in acquiring integrated solutions and conducting thorough due diligence. By leveraging blockchain technology, Vibertron aims to validate project credentials, enabling clients to confidently engage with top-tier professionals who possess a proven track record of successfully delivering similar work. Throughout the entire process, Vibertron remains fully committed to supporting clients every step of the way, ensuring a seamless and reliable experience.
"Our ultimate objective is to enhance trust within the consulting industry, recognizing the significant value consultants bring in accelerating progress. However, we have observed numerous distortions arising from market inefficiencies, resulting in a widespread lack of confidence in the role of consultants. By addressing these challenges and fostering transparency and reliability, we aim to rebuild trust and establish consultants as valuable assets for achieving business goals." Qadri explained.
"We firmly believe that an improved consulting industry, potentially operating on a smaller scale, has the potential to serve as an economic engine, fostering accelerated growth within the global economy. By addressing the challenges and enhancing the efficiency of the consulting sector, we can create a conducive environment for rapid economic advancement on a global scale."
A Unique Niche Between Consulting & Remote Working
Vibertron Consulting adopts a distinctive business model in which internal Project Managers, acting as Client liaisons, oversee and manage the complete technology, marketing, and sales operations of small and medium-sized businesses (SMBs). These dedicated Project Managers provide real-time monitoring of teams and deliver the utmost level of consulting service in their respective domains, ensuring that businesses receive exceptional support and guidance.
"We have developed our business suites with SMBs in mind. Consider the expenses and commitment involved in hiring full-time staff for technology or marketing roles. We have revolutionized this dynamic by offering business solutions that cost less than employing even a single full-time professional in these fields. This is a key factor that attracts SMB owners to choose our services for managing their entire technology, marketing, or sales operations. Furthermore, our team comprises highly skilled professionals, and the scope of our services is unmatched by any standard, adding to our appeal in the market." Qadri added.
Sustainable Growth
Presently, Vibertron operates in Europe, the UK, and the US and is actively engaged in securing seed funding for the consulting segment. Furthermore, the company intends to expand its products and workforce in the US, aiming to hire ten new employees by the end of this year, effectively doubling its team size.
Since its inception, the startup has experienced significant growth, progressing from a team of two to fourteen individuals, successfully completing over 650 projects. Additionally, Vibertron has served 75 LCE clients seeking consulting services in the domains of technology, marketing, and sales. Embracing the age-old adage that "cash is king" Qadri, a staunch proponent, emphasizes the importance of generating revenue at the earliest stages of the business, fostering sustainability and facilitating further development.
"By prioritizing revenue generation, we aim to deliver enhanced value to customers, provide a better quality of life to our employees, and enable investors to recognize the long-term viability and sustainability of our business model." he said.
"In the current business landscape, startups driven by growth objectives must adhere to fundamental principles such as maintaining healthy cash flow, establishing stable operational and burn rates, and relying on revenue-backed valuations. These foundational principles serve as crucial guidelines for us towards ensuring the long-term viability and success."
Funding & Growth
Qadri added, "While securing funding remains an ongoing process for us, as it does for many startups, our position as a profitable business enables us to effectively navigate the transitional period between being considered "too early" and reaching the ideal stage of development. This financial stability provides us with the necessary resilience and flexibility to sustain growth and seize opportunities as they arise.".

---
Photo credits: Vibertron.
By Clint Bailey, Senior Business News Editor at 'Voice of EU' as well as co-editor of EU-20 magazine. Have a tip? Send him a DM at info@voiceofeu.com.
Innovative Kite Sail Technology Startup Paves the Way for Greener Shipping Industry | "EU20"
The maritime sector faces increasing pressure to reduce its reliance on fossil fuels. Recently, the
International Maritime Organization (IMO)
announced new emissions-reduction targets. In this piece, we will analyze:
Beyond The Sea's Revolutionary Kite Sail Technology
A Game-Changer for the Maritime Industry
Expanding Possibilities and Environmental Commitments
Overcoming Challenges and Seeking Government Support
Future Opportunities
In response, startups like Beyond The Sea are revolutionizing the industry with their innovative kite sail technology. With the ability to reduce fuel consumption by up to 20%, these kite sails have the potential to transform the way ships and vessels operate.
In response, startups like
Beyond The Sea
are revolutionizing the industry with their innovative kite sail technology. With the ability to reduce fuel consumption by up to 20%, these kite sails have the potential to transform the way ships and vessels operate.
Beyond The Sea's Revolutionary Kite Sail Technology
In southwest France's Arcachon Bay, Beyond The Sea conducted successful tests of their blue inflatable kite sail. The company's founder, Yves Parlier, combined his sailing expertise with artificial intelligence and automated traction systems to develop a highly efficient kite sail. This innovative technology adapts the sail's position based on wind conditions, resulting in significant fuel savings.
A Game-Changer for the Maritime Industry
The impact of kite sails on the maritime industry cannot be understated. With approximately 100,000 merchant ships and 4.6 million fishing trawlers worldwide, the potential for widespread adoption of this technology is enormous. The Wind Ship association predicts that by 2030, the market for kite sails could be worth four billion euros, with around 1,400 vessels equipped with this sustainable solution.
READ MORE: ALL ABOUT 'BEYOND THE SEA'
Expanding Possibilities and Environmental Commitments
Beyond The Sea plans to further develop their kite sail technology. In upcoming tests off the waters of Norway, Japan, and the Mediterranean, they will explore larger kite sizes, aiming to reach 800 square meters within four years. Meanwhile, other companies like Airseas and Chantiers de l'Atlantique are also pioneering alternative solutions, such as larger kites for larger ships and rigid sails for ocean liners.
Overcoming Challenges and Seeking Government Support
While the wind propulsion sector shows promise, challenges remain. The cost of heavy fuel oil and the need for environmental regulations are key considerations. Lobbying for wind to be recognized as a fuel, the sector is working closely with the French government to create a supportive regulatory framework.
Recognizing wind as a viable fuel source could not only accelerate the adoption of wind propulsion technology but also create over 30,000 new jobs by 2030.
Future Opportunities
The innovative kite sail technology developed by Beyond The Sea and other companies presents a game-changing opportunity for the maritime industry. With the ability to significantly reduce fuel consumption and emissions, these sustainable solutions align with the industry's growing focus on environmental responsibility.
By harnessing the power of the wind, the maritime sector can chart a course toward a greener and more sustainable future.
---
We Can't Thank You Enough For Your Support!
— By Johnathan Elf, Contributor 'Voice of EU'
— For More Info. & News Submissions: info@VoiceOfEU.com
— For Anonymous News Submissions: press@VoiceOfEU.com
---