Indonesia's Joko Widodo skillfully hosts a tricky G20 summit | International
The 17th annual G20 meeting of heads of state was held in Bali, Indonesia this year, and the host nation and its president received high praise for achieving consensus among the participating Western and Eastern powers in a tense global environment. It was a significant accomplishment for President Joko Widodo, a leader of the non-aligned Global South (regions within Latin America, Asia, Africa and Oceania), and a successful turn on the world stage by the world's fourth most populous country (280 million people).
Indonesia and Joko Widodo, the nation's president since 2014, represent an interesting political model for the Global South, which is striving for greater unity and a louder voice in world matters. The popular president, whom everyone calls Jokowi, has led a period of impressive economic development and recently polished his country's international profile by skillfully hosting a G20 summit dogged by early pessimism.
Joko Widodo's personal investment in the summit was obvious when he traveled to Kyiv, Moscow and Beijing months before the meeting, and quieted threats of a summit boycott if Russia was not excluded. Despite the naysayers, the summit was well-attended and produced an agreement that many doubted was possible. Indonesia also secured a pledge by a group of developed countries to contribute $20 billion in public and private funding for the country's decarbonization initiatives.
The meeting enabled Indonesia to showcase its remarkable pace of economic development at a time of global turmoil, and positioned the country as an attractive investment opportunity for the industries of the future. Indonesia's year-over-year GDP growth in the third quarter of 2022 stood at 5.7%. Inflation in October also hovered around at 5.7%, which is surprisingly good in view of the double-digit inflation in many countries. Exports are growing at a good pace, especially palm oil and thermal coal, but manufacturing is increasingly important.
Foreign direct investment also reached new highs, especially investments in raw material processing. Indonesia is a mining powerhouse in nickel and bauxite, and has large cobalt reserves, materials that are in high demand for green technologies. The country's non-aligned political stance enables it to attract foreign investment from both sides of the East-West divide.
Except during the global pandemic slump, Indonesia has sustained a ~5% growth rate for many years. Joko Widodo's administration has invested heavily in national infrastructure, and is building highways, bridges and dams at a much faster pace than in the past. Critical to all of this economic success is the nation's political stability, which is characterized by an inclusive process of democratic consolidation. When ex-general Prabowo Subianto Djojohadikusumo lost to Joko Widodo in the 2019 presidential election and refused to concede, alleging fraud, Joko Widodo appointed him defense minister to defuse the crisis and demonstrate inclusivity.
Joko Widodo rose to power by projecting himself as a simple man, an outsider and man of the people. But he has desisted from the extremist populism of other presidents around the world. The erosion of democracy in Muslim nations such as Turkey and Tunisia has not surfaced in Indonesia, which has the largest Muslim population in the world and may represent a new model of democracy for the Islamic world.
Freedom House, an American organization dedicated to the support and defense of democracy around the world, says: "Indonesia has made impressive democratic gains since the fall of an authoritarian regime in 1998, establishing significant pluralism in politics and the media and undergoing multiple, peaceful transfers of power between parties." Joko Widodo, who has governed for eight years, is an integral part of this success story.
However, the country's democratic maturity is still incomplete, and there are plenty of challenges to overcome. Joko Widodo's critics claim that the once-independent anti-corruption agency was debilitated when its staff was absorbed into the civil service, and there is persistent violence against minority groups. Amnesty International reported an increase in attacks against human rights activists in 2021.
The ambitious project to build a new capital city called Nusantara is also facing major challenges. The objective is to alleviate congestion in Jakarta and extend economic opportunity beyond the island of Java, the epicenter of this archipelago nation. Opponents allege infrastructure development issues and financing irregularities, and criticize the hasty legislative process that approved the project.
Other countries such as Vietnam are also vying for a greater share of foreign investment from companies seeking to diversify their manufacturing supply chain and reduce their dependency on China.
But no one doubts the tangible progress made by Indonesia, nor the positive image achieved by Joko Widodo's turn in the global spotlight. Hosting the G20 summit enabled Indonesia to build a network of relationships that could lift the nation to a higher rung on the global ladder of nations. It remains to be seen how Joko Widodo will exploit this opportunity during the remaining two years of his second term (Indonesia has a two-term limit), amid all the global uncertainty that surrounds his nation.
Mobilising Assam's 'hargila army': how 10,000 women saved India's rarest stork | Global development
On a cool December afternoon a group of women dressed in brightly coloured mekhela chadors (Assam's traditional handwoven clothing) sit in a circle on the grass at the Bhokha Beel wetlands, singing and clapping.
Some of the women are wearing papier-mache headdresses shaped like long-necked birds. As they sing, one of them gets to her feet and starts dancing.
They are part of the "hargila army", a group of rural women in the Indian state of Assam who work to protect one of the world's rarest storks: the greater adjutant (Leptoptilos dubius) – or hargila (meaning "bone swallower" in Assamese) as the scavenger bird is known locally. They are celebrating the recent UN Environment Programme's Champions of the Earth award, conferred on the group's biologist founder, Dr Purnima Devi Barman.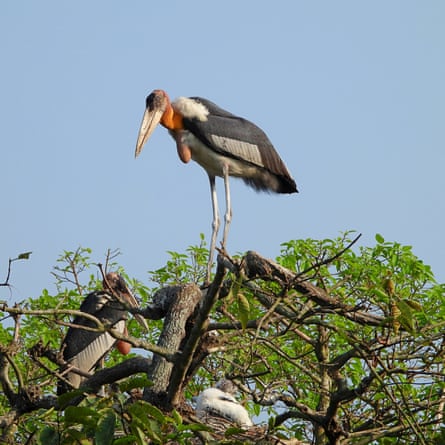 Barman won the award for her achievement in mobilising more than 10,000 women to help save the stork. "They are the protectors of the birds and of their nesting trees," says Barman, referring to the band of homemakers turned conservationists.
The greater adjutant, a member of the stork family that can grow up to 1.5 metres (5ft) tall, was once abundant across south Asia. But its distinctive features – a featherless head, dangling gular (throat) pouch, striking pale eyes and long skinny legs – and its foul-smelling droppings and dietary preference for carrion – won it few fans.
The birds were not just reviled, they were seen as a bad omen and carriers of disease. Villagers attacked them with stones, cut down trees where they roosted communally and burned their nests.
Today the greater adjutant is endangered, with fewer than 1,200 adult birds in its last strongholds – the Indian states of Assam and Bihar, and Cambodia. Most of the global population is found in Assam, making Barman and the hargila army's work critical to its survival.
Barman grew up in a village on the Brahmaputra, a river that flows for 2,500 miles through Tibet, north-east India and Bangladesh. As a child, she learned about Assam's wildlife from her grandmother, who took her into the paddy fields where she worked and taught her about local birdlife. "She didn't know how to write but she had a feeling for nature and taught me lots of songs and stories about the birds," says Barman.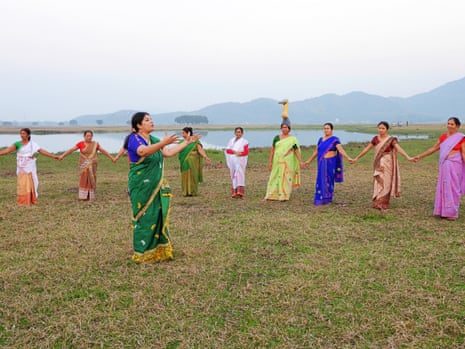 Her love of the natural world stayed with her. She gained a first degree and a master's in zoology and was about to embark on a PhD on the greater adjutant when a contact phoned to tell her that a villager in Dadara had cut down a kadam (burflower) nesting tree in his yard.
When she arrived at the site she was appalled to find the ground littered with nests and dead or injured chicks. "It was my mothering instinct. I wanted to do something to protect these innocent creatures," says Barman, whose twin girls were two at the time.
Barman began teaching the villagers about the birds' importance as "nature's cleaning crew", and why nesting trees should not be cut down. In response, she was taunted and asked to clean the foul-smelling mess herself. The hostility she faced made her realise that to save the bird, she first needed to change the community's attitude to it.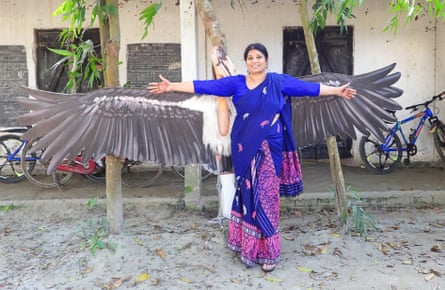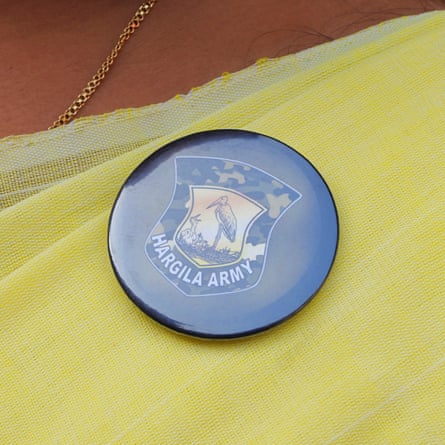 She delayed her PhD and set to work: she organised public meetings where she honoured the owners of trees, mostly men, instilling in them a sense of pride in their role as guardians. The tactic paid off. "Not a single nesting tree has been cut down since 2010," she says.
But it was the women who Barman believed held the key to sustainable and community-led conservation. The problem was they were confined to their homes and household chores. So Barman found creative ways to bring them out where she could talk to them. She began organising cooking competitions of traditional sweets and snacks, where she befriended the women and talked about the birds.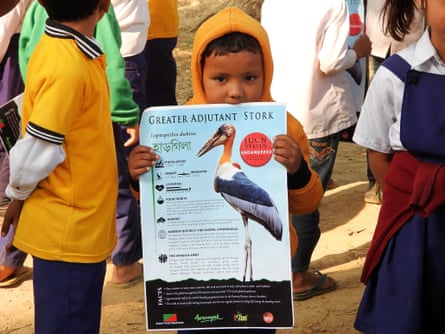 She tapped into the women's nurturing side by organising "baby showers" during the storks' breeding season, inspired by a Hindu ritual for expectant human mothers, and "happy hatching" ceremonies to commemorate the arrival of the chicks. Slowly but surely, the women began to accept the birds as part of their world.
By 2014, the conservation movement had gathered momentum and the hargila army was born. "Conservation is all about uniting people and building ownership," says Barman. "I've always believed that, if given a chance, women can make a big difference in conservation."
Today, the once-maligned bird is now a cultural symbol, appearing on everything from towels to road-safety campaigns.
In the villages of Dadara, Pacharia and Singimari (all in Kamrup district), greater adjutants' nests have increased from 28 in 2010 to more than 250 according to Barman's last count, making the area the world's largest breeding colony. "We now have more than 1,000 hargila birds in Assam," says Barman, referring to recent but unpublished data collected by her team.
The conservation efforts have also transformed the lives of the women, who now go into other villages to raise awareness of the birds. "Joining the hargila army gave me a chance to show everyone that I could do something meaningful with my life," says Daivaki Saikia, a young widow from Dadara's marginalised fishing community, who has been a member for five years.
The UN award was for Barman's "entrepreneurial vision" in using conservation to improve women's economic status. Assam has a rich tradition of weaving, so Barman secured funding for 30 looms and provided training in weaving the hargila motif into fabrics, providing women with an independent income. Eighty women were also given sewing machines to make bags, cushion covers and other items from the handwoven fabrics.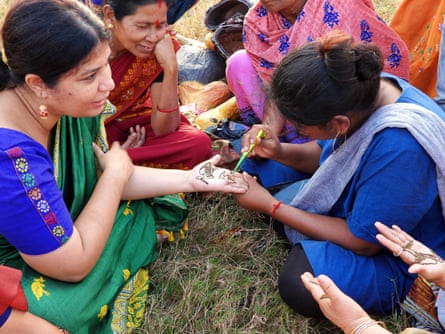 In 2021, Barman established the Hargila Learning and Conservation Centre in a government school in Pacharia village, where hargila army members use songs, art and games to encourage children to protect the birds.
Juggling her job as a biologist at Aaranyak, a wildlife non-profit organisation based in the city of Guwahati, Barman continues to help preserve the hargila. In February the hargila army begins its work in the districts of Morigaon and Nagaon, with further expansion planned for Assam.
She also hopes to set up a nursery for kadam trees that can be distributed to those who want to plant them in their gardens (45,000 saplings have already been handed out). "This will help improve the back-yard biodiversity," says Barman.
Barman's unwavering dedication has been recognised in India and internationally. Last year she was named World Female Ranger and in 2017, she received the prestigious Whitley award, known as the "Green Oscars", as well as India's highest civilian honour for women – the Nari Shakti Puraskar.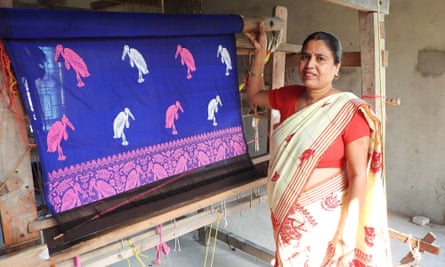 But Barman refuses to rest on her laurels. No opportunity to advocate for the bird is missed. "My intention is to involve everyone," she says. "If people are concerned about the conservation of the hargila and its habitat, it will help other species as well."
Video | The 10 deadliest earthquakes of the 21st century | International
The death toll from the Syria and Turkey earthquake rose Wednesday to more than 11,000, making it the deadliest quake worldwide in more than a decade and one of the 10 most lethal earthquakes of the 21st century.
In this video, EL PAÍS reviews, in chronological order, the quakes that have caused the largest loss of life since 2001. The list includes the 2010 earthquake in Haiti, which killed 250,000 people and left 1.5 million homeless, as well as the 2004 quake that hit the Indonesian province of Aceh, triggering a tsunami that killed nearly 230,000.
Other major natural disasters include the 2003 earthquake in Iran, the 2015 earthquake in Nepal and the 2011 earthquake and tsunami that hit northern Japan, killing 15,690 people. The video shows the devastating impact of these natural disasters. Earthquakes take an especially hard toll on countries that are ill-prepared to face an emergency of such scale. Japan and Chile, for example, have been hit by stronger quakes, but recorded fewer fatalities thanks to anti-seismic building norms.
Sign up for our weekly newsletter to get more English-language news coverage from EL PAÍS USA Edition
Uganda condemned for 'shameful' decision to close UN human rights office | Global development
Rights activists and campaigners have condemned the Ugandan government's decision to shut down the country's UN human rights office, describing it as "shameful".
In a letter to the Office of the UN high commissioner for human rights (OHCHR) in Uganda dated 3 February, the foreign affairs ministry said it will not renew the host country agreement it signed with the OHCHR, which established its initial mandate in the country in 2005. The current mandate, signed on 9 February 2020, expires in August.
"The government of Uganda will now continue its cooperation with the OHCHR Headquarters either directly or through its Permanent Mission in Geneva," reads the letter.
The development comes less than three months after the UN's committee against torture adopted the concluding observations on Uganda, which raised concerns that torture and ill-treatment continued to be frequently practised, and called for investigation and prosecution of security officials accused of excessive use of force, violence and arbitrary detention.
"The closure of the @UNHumanRightsUG office proves that [the] government has lost all sense of shame. It no longer wants any close international scrutiny of its human rights record," tweeted Adrian Jjuuko, executive director of the Human Rights Awareness and Promotion Forum.
"If the protectors are sent away, what then happens to those they were protecting? We are headed for tough times," he added.
Bobi Wine, the reggae singer turned Ugandan opposition leader, whose supporters remain in unauthorised places of detention or "safe houses", said it was no surprise that Uganda's president, Yoweri Museveni, who has been in power since 1986, has closed the OHCHR. He tweeted: "In the face of growing international condemnation and isolation, tyrant Museveni has responded by shutting down NGOs, Facebook, DGF [Democratic Governance Facility] & declaring several internationals Persona Non-Grata or deporting them! Now he shuts down @UNHumanRightsUG."
Wine added: "You'll recall in the aftermath of the 2021 election and the hundreds killed or abducted by the Museveni regime, we petitioned the UN Human Rights Office & the military brutalised journalists right there. This UN Office condemned these actions. Not surprising it's being closed."
Human right activists and advocacy groups have called the decision a "mockery" and accused the government of running from international scrutiny on abuse and protection of human rights.
"This is unbelievable, and the reasons given by the government are a mockery of the real state of human rights in the country," said Jjuuko. "To claim that Uganda no longer needs the office [OHCHR] because of its strong stand for human rights is ironic to say the least.
"A strong stand for human rights would imply opening up to the UN and other actors."
David Livingstone Sewanyana, founder of the Foundation for Human Rights Initiative in the capital, Kampala, told the Guardian, "The decision not to renew the mandate deprives Uganda of a critical player in the field of human rights promotion and protection."
At least 38 local and international staff at the head office in Kampala and two field offices in Gulu and Moroto stand to lose their jobs.
Jjuuko said: "Following closely on the closure of the DGF, this is a scary move which indicates that the government is no longer willing to have its human rights record scrutinised by international actors.
"This leaves local organisations at much more risk of being further silenced and their work curtailed without the government fearing close international security. It is a sad day indeed for the human rights movement in Uganda."