'I'm not alone': survivors organise against sexual violence in Colombia | Sexual violence
Children now play football on the field where the lives of the people of El Salado changed completely.
In February 2000, about 450 paramilitary fighters stormed this small Colombian town. They forced people from their homes into the field, and began to play drums and drink alcohol stolen from local shops. They then went on to torture and kill. Yirley Velasco was one of those gang-raped. She was 14 at the time.
The massacre at El Salado – which left at least 60 people dead and many more "disappeared" – was one of the most brutal events in Colombia's decades of armed conflict.
Afterwards, Velasco, her family and other survivors fled to nearby cities and towns, where they often lived in deep poverty and faced stigma for having been forcibly displaced. Two decades on, only an estimated 1,200 of the 4,000 people in the community have returned.
Today there are no signs of the bloodshed on the football field and the children kick their ball over a faded peace sign painted on ground. "When I pass by here, all the feelings come rushing back to me. I saw a lot of people get killed. It's not easy to forget that. And there is still pain. There is still sadness," says Velasco.
Velasco and 12 other survivors created a network, Mujeres Sembrando Vida (Women Sowing Life), to support victims of sexual and domestic violence in the northern Colombian region of Montes de María, an area still plagued by conflict.
Sexual violence is a common tactic used by paramilitaries, guerrillas and state military forces to sow fear and assert power.
"Sexual violence against women and girls is a kind of discrimination that comes from long-existing structures," says Linda Cabrera, director of Sisma Mujer, an organisation that defends victims of gender-based violence in Colombia. "What it has created is different kinds of traumas."
In El Salado there is no official registry of the rapes committed by paramilitaries. Velasco said the topic was missing in conversations about reparations.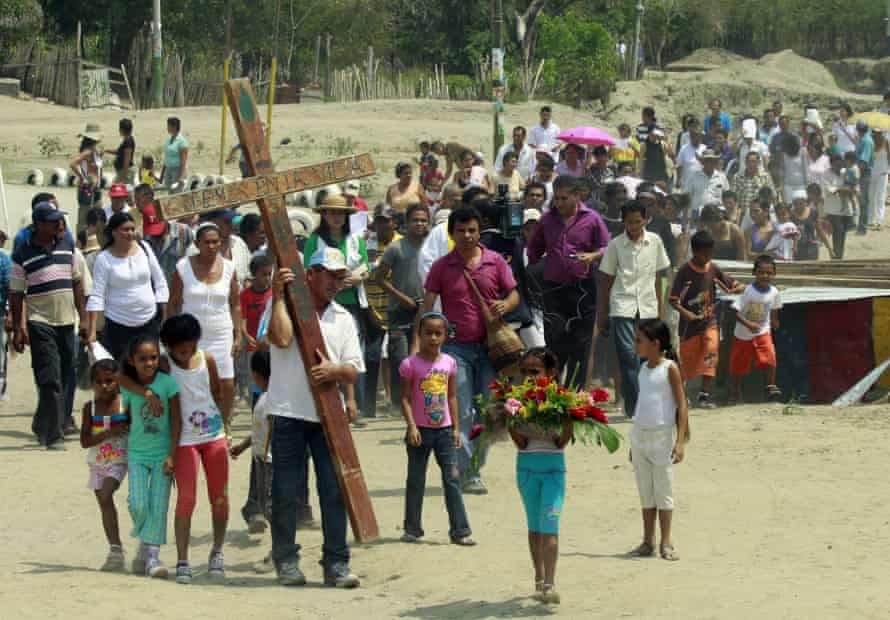 "When they began to discuss El Salado, I heard them talk about thousands of things [the community needed] – a health centre, a road, a church – but when they finished I said to myself: 'What about the women?'" Velasco says.
"Because I lived it. I've felt the pain, I know the helplessness that comes from being ignored."
At the beginning of the pandemic, domestic abuse cases surged with protracted lockdowns across the world. It was particularly rampant in Latin American countries, with previously high rates of domestic and sexual violence. Although quarantines are no longer in force, gender-based violence has continued at alarming levels.
Velasco and her team guide victims to report cases and ensure these are handled appropriately, and try to address the sense of impunity that goes hand-in-hand with such crimes in Colombia.
"We do what the state entities fail to do," she says.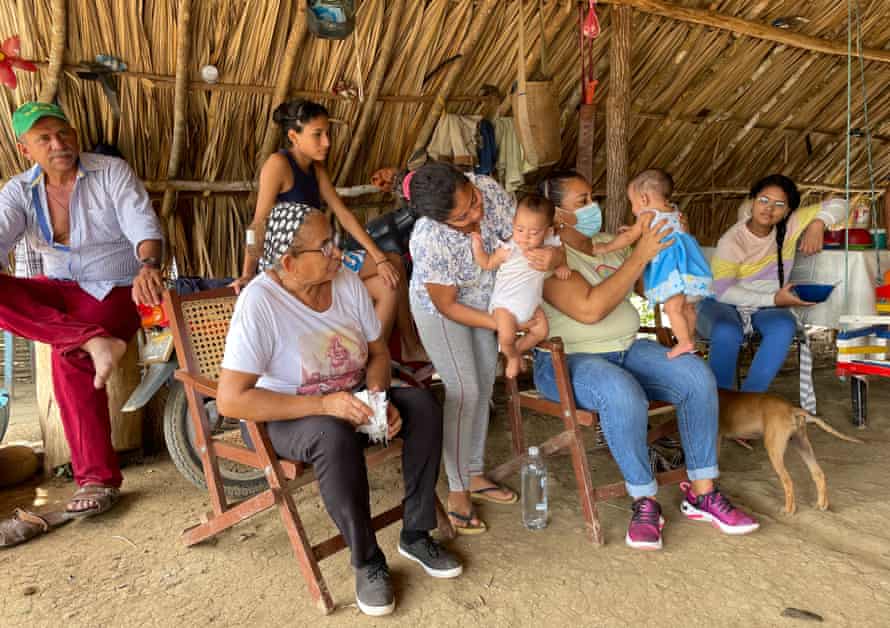 Members of Mujeres Sembrando Vida are part of multiple regional and national support groups. WhatsApp networks have been crucial to contacting victims in rural areas.
Velasco and her team also run in-person workshops in rural communities, teaching women about gender equality, and have set up a collective savings account to help women in emergencies.
"Ninety per cent of women depend on what their husbands give them. That's what the violence is born from. With this savings account, if a woman has an emergency, there is money," she says.
So far the team have helped about 280 women in El Salado and nearby communities. They have helped women leave abusive situations, get medical help and created projects to enable financial independence.
For survivors of sexual violence such as Diana Chamorro, 56, such support has been transformative.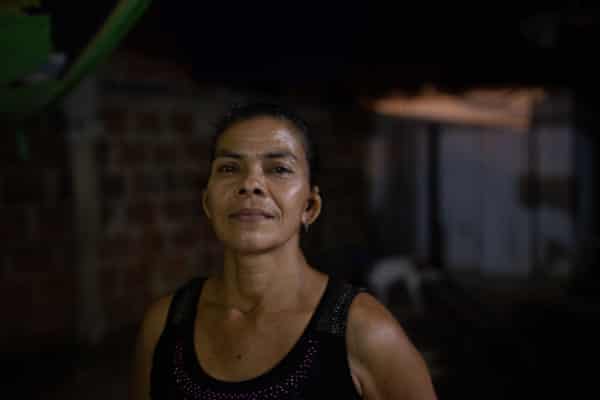 In 1998, Chamorro was walking to her brother's house not far from her home when a group of men attacked and raped her. The men were in military camouflage, but she never saw their faces. She says she told no one about the rape.
"I told absolutely no one," she says. "What do I say if I don't know who it was? That was part of it. The other part was the shame."
It was only after meeting Velasco four years ago that Chamorro began to address the trauma she had felt for decades with a psychologist. Since then she has helped others.
"I felt protected, like I have someone to count on, that I'm not alone like a lot of women who have suffered more than I have," says Chamorro. "I want to make sure that these women can join us."
But the work of Mujeres Sembrando Vida has become increasingly difficult amid a resurgence of violence in Colombia. The Montes de María region is contested territory used by armed groups for drug trafficking.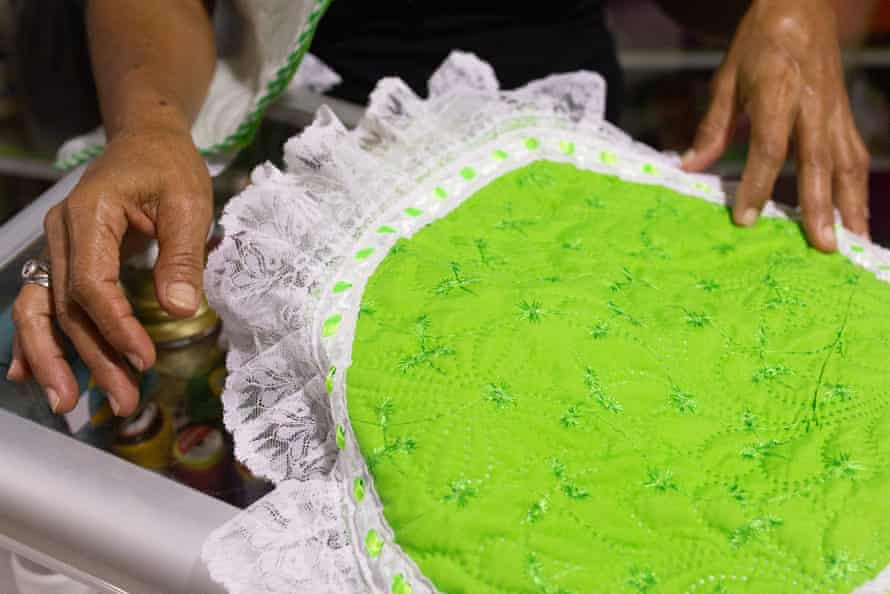 People say they felt some relief after the government struck a peace deal with the Revolutionary Armed Forces of Colombia (Farc) in 2016, which offered respite to the fighting. But the peace process has fallen apart as different groups vie for territory, says Elizabeth Dickinson, a Colombia analyst for International Crisis Group.
The militia, Clan del Golfo, or Gulf Clan, and a handful of smaller gangs control the Montes de María.
"Instead of one dominant group, you have three dominant groups [in Montes de María]," Dickinson says. "Then everyone wants a piece of the pie, and the ones who suffer are the civilian population."
Activists like Velasco are constantly under threat. In Colombia, at least 1,205 social leaders have been murdered since the peace accords were signed in 2016, according to Bogotá-based thinktank Indepaz.
Velasco says she has received about 500 death threats via message, 100 by phone and five written threats on her door. The threats often make reference to rape, she says.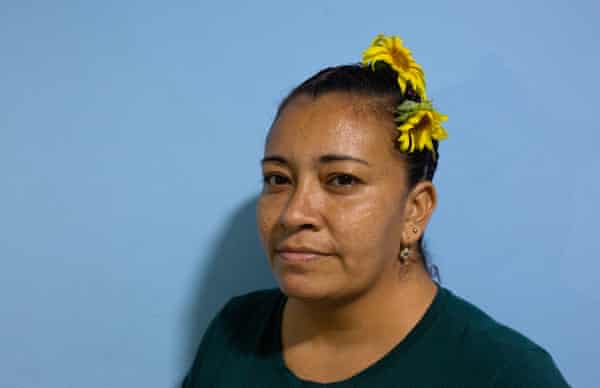 Sitting in her backyard under a security camera that the authorities have installed, she reads aloud a recent text. "Yirley Velasco, we are going to kill you, we have a lot of people all around you … We're going to kill your mother and entire family if you stay here. We'll give you two days for you to leave … we're the Clan del Golfo."
When she drives she is accompanied by two state-assigned bodyguards in a truck with bullet-proof windows.
Despite the risks, Velasco and Chamorro aim to expand their work. "We want to bring [new women] with us to help clear their minds so they can live in better conditions, tell their stories, and so their wounds can heal."
Ten women and girls killed every day in Mexico, Amnesty report says | Global development
At least 10 women and girls are murdered every day in Mexico, according to a new report that says victims' families are often left to carry out their own homicide investigations.
The scathing report, released on Monday by Amnesty International, documents both the scale of the violence and the disturbing lack of interest on the part of Mexican authorities to prevent or solve the murders.
"Mexico is continuing to fail to fulfil its duty to investigate and, therefore, its duty to guarantee the rights to life and personal integrity of the victims as well as to prevent violence against women," says the report, Justice on Trial.
"Feminicidal violence and the failings in investigation and prevention in northern Mexico are not anecdotal, but rather form part of a broader reality in the country," the report adds.
Femicide has been rife in Mexico for decades – most notoriously in an epidemic of murders which claimed the life of some 400 women in the border city Ciudad Juárez during the 1990s. In recent years, a growing feminist movement has held massive street protests against the violence, but authorities have proved unwilling to take action to stop the killing.
"It's always a question of political will," said Maricruz Ocampo, a women's activist in the state of Querétaro.
Ocampo has been part of teams lobbying state governors to issue an alert when femicides reach scandalously high levels – a move to raise awareness and mobilise resources. But officials often resist such moves, she said, as governors worry about their states' images and investment.
"They refuse to recognise there is a problem," she said.
The president, Andrés Manuel López Obrador, has also downplayed the problem. He branded the women protesting on 8 March, International Women's Day, as "conservatives" and alleged a dark hand manipulating the demonstrations.
When asked last year about rising violence against women, he responded, "Tell all the women of Mexico that they are protected and represented, that we're doing everything possible to guarantee peace and quiet and that I understand that our adversaries are looking for ways to confront us."
Mexico recorded the murders of 3,723 women in 2020. Some 940 of those murders were investigated as femicides.
The Amnesty report focused on Mexico state, a vast collection of gritty suburbs surrounding Mexico City on three sides. It has become notorious for femicides over the past decade – and for the way the former president, Enrique Peña Nieto, a former Mexico state governor, ignored the problem.
The report found cases of families carrying out their own detective work, which were ignored by investigators. In many cases, authorities contaminated crime scenes or mishandled evidence. They often did not even pursue leads such as geolocation information from victims' mobile phones.
In the case of Julia Sosa, whose children believe she was killed by her partner, two daughters found her body buried on the suspect's property – but had to wait hours for police to arrive and process the crime scene. One of her daughters recalled the subsequent interview process, in which "the police officer was falling asleep".
Sosa's partner hanged himself, prompting police to close the case, even though family members said there were more leads to pursue.
In states rife with drug cartel violence, activists say cases of femicides go uninvestigated as impunity is commonplace.
"The authorities say it's organised crime and that's it," said Yolotzin Jaimes, a women's rights campaigner in the southern state of Guerrero. "Many of these aggressors find protection under the excuse of organised crime."
The persistence of femicides is a stark contrast to recent gains by the women's movement in Mexico. The country's supreme court decriminalised abortion earlier this month. A new congress recently sworn in has gender parity and seven female governors will be installed by the end of year – up from just two before last June's election's
The decriminalisation of abortion "let off some steam" from the pressure driving the protests "because part of the demands was over the right to choose," Ocampo said. "But when it comes to violence, we still see it everywhere."
US official urges EU to speed up enlargement
Gabriel Escobar, the US' newly-appointed acting deputy secretary of state for South Central Europe, has urged Europe to speed up Western Balkans enlargement. "To return 20 years later and see that there hasn't been much progress on that front was a little disappointing," he told the RFE/RL news agency Friday, referring to his last post in Europe in 2001. "We would like to see a more rapid integration," he said.
Climate crisis leaving 'millions at risk of trafficking and slavery' | Global development
Millions of people forced to leave their homes because of severe drought and powerful cyclones are at risk of modern slavery and human trafficking over the coming decades, a new report warns.
The climate crisis and the increasing frequency of extreme weather disasters including floods, droughts and megafires are having a devastating effect on the livelihoods of people already living in poverty and making them more vulnerable to slavery, according to the report, published today.
Researchers from the International Institute for Environment and Development (IIED) and Anti-Slavery International found that drought in northern Ghana had led young men and women to migrate to major cities. Many women begin working as porters and are at risk of trafficking, sexual exploitation and debt bondage – a form of modern slavery in which workers are trapped in work and exploited to pay off a huge debt.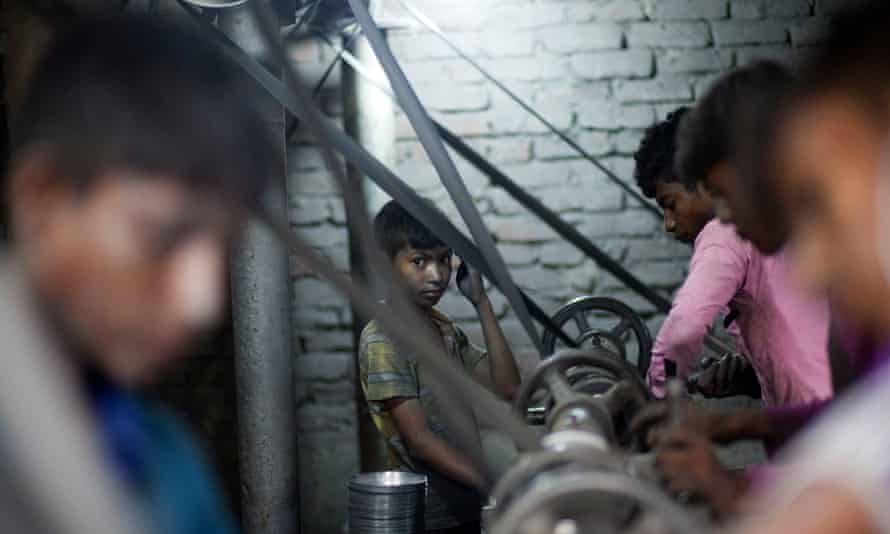 One woman, who migrated to Accra from northern Ghana, used to farm until the land was ruined by flooding and she was forced to move. For seven years she has worked as a porter (kayayie), carrying items on her head.
She said: "Working as a kayayie has not been easy for me. When I came here, I did not know anything about the work. I was told that the woman providing our pans will also feed us and give us accommodation. However, all my earnings go to her and only sometimes will she give me a small part of the money I've earned."
She dropped a customer's items once and had to pay for the damage, which she could not afford. The woman in charge paid up on condition that she repay her. She added: "I have been working endlessly and have not been able to repay."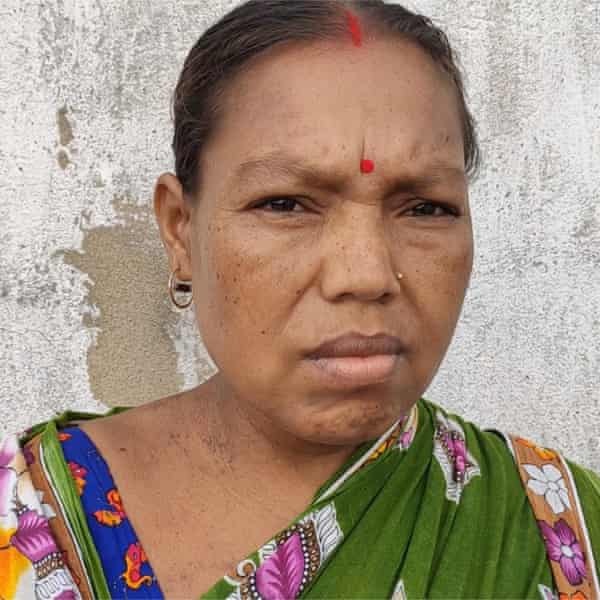 In the Sundarbans, on the border between India and Bangladesh, severe cyclones have caused flooding in the delta, reducing the land available for farming. With countries in the region tightening immigration restrictions, researchers found that smugglers and traffickers operating in the disaster-prone region were targeting widows and men desperate to cross the border to India to find employment and income. Trafficking victims were often forced into hard labour and prostitution, with some working in sweatshops along the border.
Fran Witt, a climate change and modern slavery adviser at Anti-Slavery International, said: "Our research shows the domino effect of climate change on millions of people's lives. Extreme weather events contribute to environmental destruction, forcing people to leave their homes and leaving them vulnerable to trafficking, exploitation and slavery."
The World Bank estimates that, by 2050, the impact of the climate crisis, such as poor crop yields, a lack of water and rising sea levels, will force more than 216 million people across six regions, including sub-Saharan Africa, south Asia and Latin America, from their homes.
The report is a stark warning to world leaders in advance of the Cop26 UN climate summit in Glasgow in November and calls on them to make sure efforts to address the climate emergency also tackle modern slavery. The report says labour and migrant rights abuses are disregardedin the interests of rapid economic growth and development.
Ritu Bharadwaj, a researcher for the IIED, said: "The world cannot continue to turn a blind eye to the forced labour, modern slavery and human trafficking that's being fuelled by climate change. Addressing these issues needs to be part and parcel of global plans to tackle climate change."