'I was born a fighter': the champion boxer changing young lives in Zimbabwe | Global development
Beneath a corrugated iron roof in the crowded Harare suburb of Mbare, a group of boys darts back and forth across a smooth concrete floor, firing a series of rapid punches into the air.
A wiry older man, dressed in low-slung tracksuit bottoms and flip-flops, watches their moves, encouraging them to "Jab! Jab! Jab!".
It's a long way from a glamorous black-tie occasion in Glasgow in January 1998, when Arifonso Zvenyika beat Scotland's Paul Weir to take the Commonwealth flyweight title for Zimbabwe.
Nicknamed "Mosquito" – reflecting his 50kg fighting weight and his deadly skills – Zvenyika is one of the country's most successful boxers.
However, there is little to show for those early triumphs. Now 45, Zvenyika lives hand to mouth, hustling like so many others in a country where up to 90% of working-age adults are not formally employed.
When he's not struggling to put food on the table for his own family, he trains young people for nothing at the Mosquito Boxing School of Excellence.
"I grew up without anything – even now I don't have anything, but I can share boxing with less privileged children," says Zvenyika, who is proud to have been born and raised in Mbare.
"The champions always come from the ghetto," he says.
Three times a week, up to 20 young people – aged from eight to their early 20s – gather for fitness training and to develop their technical skills.
Zvenyika says that he particularly focuses on boys and young men who struggle to remain in school and spend time on the streets.
"Some of the kids are totally poor and not even going to school. Some draw back from training as they don't have shoes," says Zvenyika.
One of the boys, 16-year-old Noel Sunday, says: "Both my parents are unemployed. I only did four years of school. I haven't done my O-levels."
A chalkboard in the gym reminds the young boxers to "Go hard or go home" and lists 10 rules. Eating, smoking and even laughing and jokes during sessions are prohibited.
"Boxing not only teaches discipline, but also positive values. It's a low-cost, high-impact sport," says David Mutambara, a former chair of Zimbabwe's Sports and Recreation Commission.
"But there is a scarcity of resources in this country. We get people who have natural, raw talent. The skills development needed to polish that raw talent is lacking."
Zvenyika is reliant on others to provide training space, and is constantly on the hunt for more equipment. The school is short of gloves, pads, punchbags and headgear.
The rest of the time he spends looking for work.
"I'm shy to say it, but I can't afford to feed my family properly," he says. "We eat bread without butter, we drink tea without milk."
A few miles from the centre of Harare, Mbare is chaotic and densely populated. It's a first stop for arrivals to the capital who come looking for work.
"My family makes money running around the marketplace and helping to carry people's luggage," says Tatenda Kachepa, 22, who has trained with Zvenyika for five years and is one of the club's star boxers.
The pandemic pushed many people already struggling to earn a living into desperation.
"We are now 15 people living together at my father's place," says Kachepa, who is still trying to complete his schooling. "During Covid, we haven't made any money. It's been a dog-eat-dog situation."
Substance abuse, already widespread in Harare's low-income areas, has become more of a problem during the pandemic.
Illicit alcohol, marijuana and methamphetamine – better known as crystal meth or by its street name mutoriro – are all popular among young people.
"I've been there myself," says Zvenyika of his own drug-taking past. "It hurts me to see these young kids doping. I'm trying to find ways to stop them."
Zvenyika's story is a familiar one – from rags to riches, followed by a slide into bad choices and prison.
"My mother tried her best, but she didn't have money to send me to school," says Zvenyika, who turned professional at 17. "I took up boxing as something to resolve my pain and calm me down."
After his talent took him to Zambia and Australia, as well as to Scotland, Zvenyika crashed back down to a very different reality.
Accused by a neighbour of stealing a radio – Zvenyika insists he was framed – in 2000, the boxing champion was sentenced to two and a half years in prison.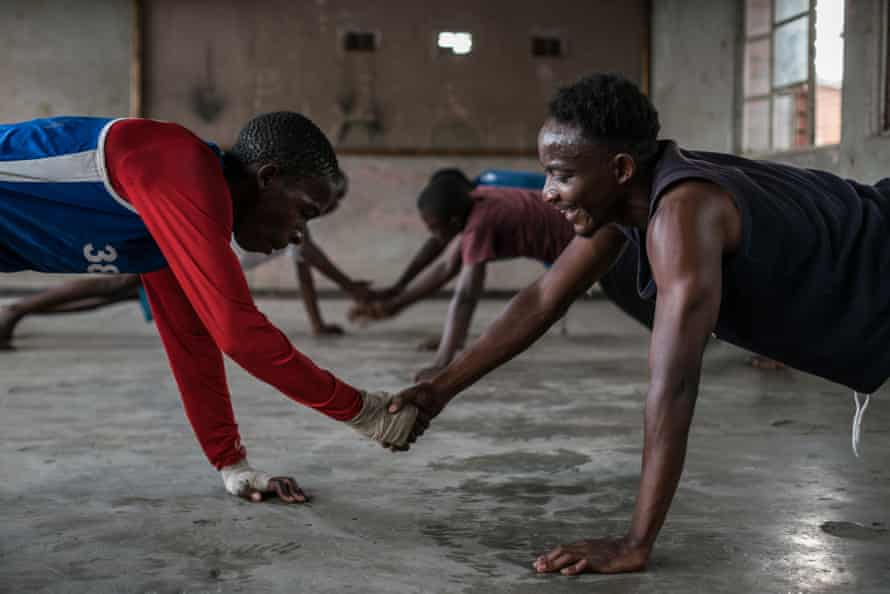 Although he continued to fight after his release, Zvenyika's imprisonment – and a stroke while in jail – effectively ended his professional career.
"I've been in prison, in hospital, in a hooligan's cell. I don't want others to fall into that pit," says Zvenyika. "I'm trying to move them to be good people."
And he is confident that Mbare's younger generation has sporting potential.
"People paint a bad picture of Mbare, but it's a talent hub," he says. "Young guys can get into bad things, but training keeps them busy."
Strict lockdowns closed the club for much of the past 18 months, but as of last month Zvenyika has welcomed back his young students.
He is determined to keep the Mosquito boxing school open, despite the challenges.
"I was born a fighter and I'll die a fighter," he says. "Boxing might leave me, but I'll never leave boxing."
Pussy Riot: Maria Alyokhina, a punk poet against Putin | Culture
The setting is the White House – or rather a set of White House, the one inhabited by actors Kevin Spacey and Robin Wright in the TV show House of Cards. The year is 2015. Maria Alyokhina, better known as Masha, has already been jailed and released more than one time. And she has begun to write her book, a Vonnegutesque memoir called Riot Days. The memoir tells the story behind Pussy Riot, the feminist punk collective that made Alyokhina the kind of star that is invited to make a provocative cameo in a hit TV show. It also depicts the author's day-to-day life in prison, with special emphasis on the freezing cold, systematic mistreatment and forced labor – problems that seem not to have changed since Dostoevsky's time. And it also recounts Alyokhina's lifetime of defying tyranny.
In the third House of Cards episode of the show's third season, Masha and fellow Pussy Riot activist Nadya Tolokonnikova refuse to toast Viktor Petrov, the Vladimir Putin of the series, played by Lars Mikkelsen. The women's appearance on the show reflected the fact that they are recognized as major players in history –although Masha is not so sure. "As a teenager," Masha recounts in Riot Days, "I used to do graffiti on one of the school walls." The wall was painted with historical motifs depicting a Russia she hadn't seen and didn't believe in. "I liked seeing how the graffiti was gaining ground and began to mix with those historical episodes, giving shape to another truth, ours," she writes. Even then, the teenage Masha thought like an activist.
Born in Moscow in 1988, Maria Alyokhina grew up in 1990s Russia, and she remembers "people queuing everywhere, queuing for food, clothes, vouchers." That, she says, has not changed. "They tell us that the country has changed, but I keep seeing the queues." Masha was raised by her mother, a programmer, and did not meet her math teacher father until she was 21. She hated the Russian educational system and changed schools four times. "They taught you not to think. They wanted us to just follow the rules. Obviously, I didn't like it at all," she once said. A poet, actress and mother, Masha studied journalism and creative writing and was a Greenpeace activist. She has long been inspired by the performance artist and political provocateur Aleksander Brener.
Pussy Riot's first action took place in the same spot where Brener stood before the Kremlin with a pair of boxing gloves – the image of him dressed as a boxer became iconic – and asked the Russian president at the time, Boris Yeltsin, to come out and fight. "There were eight of us, like the eight dissidents in 1968″ who protested against the occupation of Czechoslovakia, she recalls. But the image that spread across the world, forever changing the West's conception that Russia had left its Soviet past behind, occurred in the Moscow Cathedral. The action landed the collective in jail for the first time: the collective sang a song asking the Mother of God to become a feminist and free Russia from Putin. Masha dressed in green and wore a yellow balaclava. Lara Alcázar, the founder of the Spanish branch of the feminist activist group Femen, says that the action was significant because it "clicks in the mind of those who see it."
"The protest seeks to arouse an opinion, a series of questions. It has always been necessary, but right now there is an emergency. It shows you the other side – in this case, where the oppressors and the oppressed are," says Alcázar. Today, Masha is hiding somewhere in Iceland, after having fled Russia with her partner Lucy Shtein, both disguised as food couriers. Her life is in danger. Alcázar also points out that women who dedicate themselves to activism break many boundaries. As with Femen's demonstrations, Pussy Riot's protests are especially powerful because they consist of direct action and provocation, she says.
Carol Paris, editor of the Spanish-language version of Read & Riot: A Pussy Riot Guide to Activism, says that the most interesting thing about the collective is how they transcend the idea of individuality. "They show us how we can become active free agents. We should all be Pussy Riot." And yet, as writer and translator Monika Zgustova points out, we cannot forget that Masha and the rest of the Pussy Riot "are in real danger, danger of being killed with a bullet to the forehead or a sophisticated poison, as has already happened to so many people who made the Kremlin uncomfortable." That danger "gives value, weight and seriousness to their message," a message that, as Nadya Tolokonnikov writes, they express through "barbaric and primitive political cabaret."
Resurgence of fighting in DRC displaces 37,000 people in four days – in pictures
A ceasefire breakdown has seen violence between the military and M23 rebels intensify in North Kivu, Democratic Republic of the Congo
The battle for the ends of the earth: Australia, the US and China dispute the islands of the South Pacific | International
Fiji. Kiribati. The Solomons. Tonga. The names evoke tiny tropical paradises, shirtless Olympic flag bearers or bloody World War II battles. But they are also islands in a key strategic position to either give access to the South Pacific or block vital sea routes, a short distance from Australia, for decades the region's great protector. The territories are now the scene of an intense struggle for control between the great powers: on the one hand, Australia and the United States; on the other, China, which has begun its power play by sending high-ranking government officials to the region and promising investments, security agreements and infrastructure construction.
Alarm began to spread in Canberra and in the United States last month as a result of the unexpected signing of an agreement between China and the small Solomon Islands, with 687,000 inhabitants. The agreement covered trade, fishing and–most importantly–security, allowing Chinese security forces to be sent to maintain social order and protect lives and private property at the request of the national government. Chinese military ships will be able to make visits to the islands and carry out "logistical replacement." Although the two signatory governments deny the prospect, both Canberra and Washington fear that the pact could open the way for a future Chinese military base in the area, less than 2,000 kilometers from Australian territory.
China's growing diplomatic and economic activity in the area has not stopped there. This Thursday, the Chinese Foreign Minister, Wang Yi, arrived in Honiara, the capital of the Solomons, to begin a 10-day tour of eight Pacific island nations: the Solomons, Fiji, Kiribati, Samoa, Tonga, Vanuatu, Papua New Guinea and East Timor. Upon his arrival, he expressed his hope that relations with Honiara will serve as an example for other Pacific islands.
A "sincere" partner, according to Beijing
Beijing describes itself to the island nations as a "sincere and reliable" partner, appealing to the disenchantment that their governments may feel for the cavalier treatment or even neglect they may have received from Australia and the United States.
Wang will meet with Pacific foreign ministers in Fiji next week. The Chinese minister will present a cooperation plan, the China-Pacific Island Nations Common Development Vision, sent last week to a dozen governments.
With this initiative, similar in language to the pact signed with the Solomons, China hopes to strengthen its ties with the region. It offers millions of euros in assistance and the prospect of a free trade agreement that gives products from these islands access to the huge Chinese market. Beijing also offers local police training nd cyber security cooperation. In exchange, the country seeks access to the area's natural resources and the ability to draw highly detailed marine maps of its waters.
China's aggressive courtship of the islands, until now firmly anchored in Australia's orbit, has unleashed the fear of a change in the nations' geopolitical alignment. In addition to their strategic position, their votes in international institutions can be decisive. "We know that China sees [its Development Vision proposal] as the first of many," said the new Australian Prime Minister, Anthony Albanese. "It is trying to expand its influence in the region of the world where Australia has been the primary security partner since World War II," he added.
After taking office on Monday, Albanese promised to increase his attention to the island nations. His initiative begins with assistance against climate change, the great concern of states particularly vulnerable to the effects of greenhouse gases and an issue that his predecessor, the conservative Scott Morrison, disdained. Canberra has also announced a plan for 500 million Australian dollars (€330 million) in development aid. One of Albanese's first acts was sending his foreign minister, Jenny Wong, to Fiji to meet with prime minister Frank Bainimarama before the arrival of the Chinese representative.
The United States has not been left behind. In February, Washington announced the reopening of a US embassy in the Solomons after a 29-year absence. In April, the White House chief for Indo-Pacific, Kurt Campbell, traveled to the area.
The competition has picked up speed this month. In addition to Labor's victory in the Australian elections, US President Joe Biden's tour of Asia has contributed to the growing tension. At the Tokyo summit on Tuesday of the Quad, the informal alliance between the US, Australia, Japan and India, the four leaders devoted part of their discussions to China's growing influence in the South Pacific. They announced the creation of an initiative, the Indo-Pacific Partnership for Maritime Domain Awareness, that will include the islands of the area to respond to humanitarian disasters, in addition to combating illegal fishing.
This week, during the Chinese and Australian diplomatic campaigns, Campbell spoke by video with Bainimarama about economic agreements and improving security. Meanwhile, according to the Financial Times, Beijing is preparing a new bilateral agreement with Kiribati, although the latter country has denied the collaboration. Minister Wang will visit Tarawa, its capital, for four hours this Friday.
The countries in the region had traditionally been diplomatic allies of Taiwan and therefore had no formal ties with Beijing. After the victory of President Tsai Ing Wen in 2016, though, the Xi Jinping government began to courting Taipei's partners to break ties with the self-ruled island and engage with China.
Amidst allegations of corruption and bribery, the Solomons took the step in 2019, just four months after Manaseh Sogavare came to power.
The relationship with the islands has become an important element for Beijing in its strategic rivalry with the United States and its allies, particularly since Washington's September announcement of the formation of Aukus. The Pacific military alliance also consists of Australia and the UK and is intended to respond to China's rise.
"The United States is trying to tame China's rise with its Indo-Pacific strategy, but now China's footprints are ubiquitous in the region, showing that the taming strategy is not working," wrote the newspaper Global Times, owned by the Communist Party.
Meanwhile, the islands are accepting the support from all sides. In a tweet this Thursday, Bainimarama wrote, "They ask me about the Fiji agenda. At all tables, what matters most is our people and our planet, as well as our respect for International Law."