'I just need my son': the people who disappeared amid Colombia's protests | Colombia
Before 17-year-old Duvan Barros left his home in a downtrodden neighbourhood in Bogotá to attend an anti-poverty demonstration, he asked his mother, Dolores Barros, to make him a fruit juice. She said no, but there would be one waiting when he got back.
That was 5 June, and Barros hasn't seen him since.
"He went to the protests to support the cause, to fight for his rights, and that's the last I know," she said, in her rented home in the downtrodden El Amparo neighbourhood of western Bogotá. "I just need my son."
Since protesters first took to the streets of Colombia's cities in late April, calling on the government to address entrenched inequality, hundreds of people have been reported missing. Some have eventually reappeared after being held for days in extrajudicial police custody.
But others have not been seen again: 77 people have vanished since the start of the unrest. Some were protesters, others appear to have had no links to the demonstrations.
The disappearances have evoked memories of some of the darkest days of the country's civil war, during which thousands of people were forcibly disappeared by the military, rightwing paramilitaries and leftwing guerillas.
Newscasts still show the smoke-filled streets and skirmishes on the fringes of cities across the country. Frontline masked protesters block roads and launch rocks at armoured riot police, who respond with teargas and billy clubs. At least 44 protesters have been killed by police, according to local rights groups, and Barros worries her son could now be added to that number.
In recent communiques, the offices of Colombia's attorney general and human rights ombudsman have both labelled the disappeared as "non-located people". The euphemistic language reflects a disturbing nonchalance of the issue, say human rights activists.
"It's a political strategy to divert attention away from the seriousness of the crimes – and from the involvement of state agents," said Adriana Arboleda, the spokesperson for Movice, a Colombian organization that supports victims of state crimes.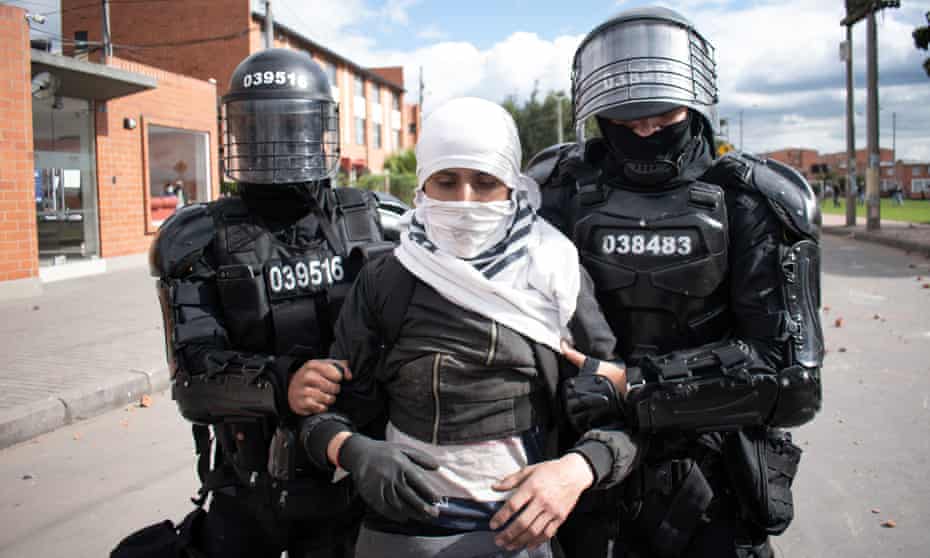 Duvan was last seen by some of his friends at Portal de las Américas, a bus terminal in the Colombian capital that has since been dubbed Portal Resistencia by protesters who have battled with police almost nightly since the demonstrations began. He was wearing a yellowT-shirt, black trousers, a black cap and black shoes.
"I need him here, I don't know if he's eaten or if he's cold," Barros said, fighting back tears. "You can imagine my desperation."
Each day, Barros checks in with police, hospitals, and morgues for signs of her son, but has found authorities unresponsive. "People die every day in Bogotá," one police officer told her. "Maybe he went to another town," suggested another.
"I'm certain that if I had money, they would be looking everywhere for him," Barros said. "But we're in Colombia."
Many families are fearful of reporting loved ones missing, worried that doing so could affect their chances of coming home alive. "Many protesters have also been portrayed as vandals, so people worry that their loved ones could be investigated if they report them missing," Arboleda said.
Meanwhile, authorities continue to find corpses. Last month, the severed head of Santiago Ochoa, 23, was found in a black bin liner left in a rural garden in Tuluá, a town in Colombia's conflict-ridden Valle de Cauca province. He had been reported missing two days earlier.
Days later, forensic scientists searching for Ochoa's body pulled the remains of Hernán David Ramírez, 25, from a nearby river. He had been missing since 10 June.
In several Colombian cities – including Cali, Pereira and Pasto – police officers have detained protesters in extrajudicial sites, using football grounds and shopping centres to hold people without formally charging them.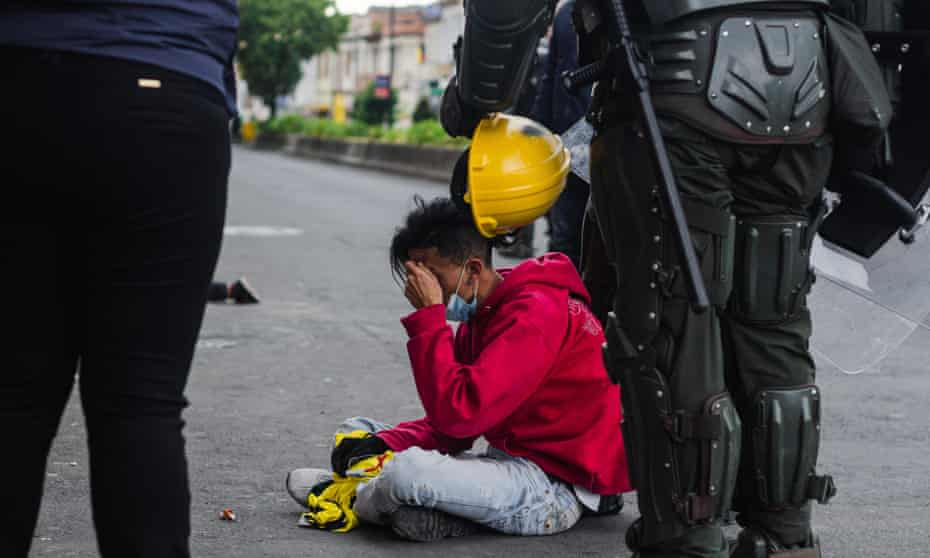 Such tactics have prompted comparisons with bitter memories from elsewhere in Latin America. During the cold war, tens of thousands of people were kidnapped and murdered by the military in Argentina, Chile, Brazil, Uruguay and Guatemala. In Mexico, about 85,000 people have disappeared since 2006, when its government began ramping up offensives on drug traffickers.
During Colombia's 50-year conflict with the Revolutionary Armed Forces of Colombia (Farc), more than 100,000 people were forcibly disappeared, with atrocities committed by state-aligned paramilitary groups, leftist rebels and Colombia's conventional forces.
On Tuesday, a court charged a general and nine officers with forcibly disappearing 24 people and murdering at least 120 civilians, who were later passed off as guerrillas to inflate combat kills and receive bonuses.
A 2016 peace deal with the Farc formally ended that conflict, in which 260,000 people died and 7 million were displaced. But the shadow of that violence still looms over Colombians like the Barros family.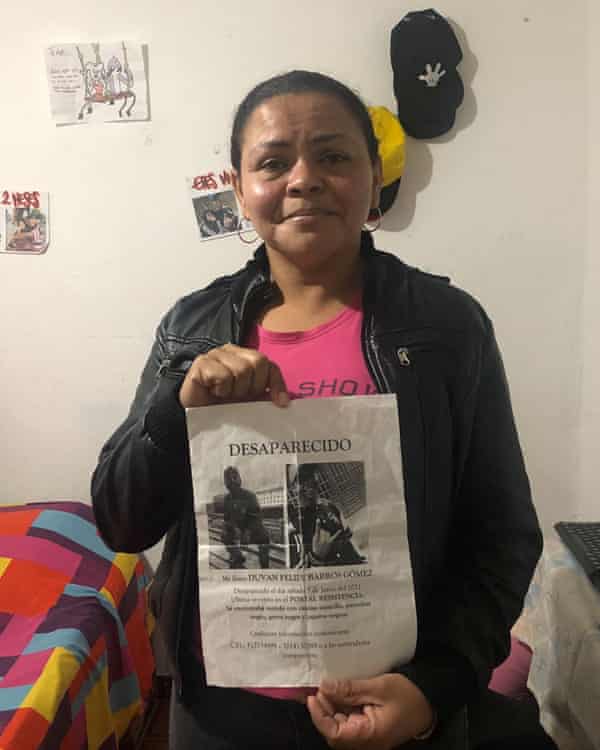 In 2006, when Duvan was a toddler, the pair left their home on the Caribbean coast after militiamen killed Barros's brother. She suspected the men belonged to a paramilitary group, but when she started asking questions, death threats began – and she fled to the capital.
"I brought my son here to safety, I raised him on my own," Barros said, as heavy rain pummeled the plastic roof. "He only has me, and now he's all alone."
Family members of those disappeared during the conflict see history repeating itself.
"Forced disappearances aren't consigned to history, they're continuing today, affecting victims and society alike," said Elizabeth Santander, a London-based Colombian activist whose husband, Marino Escobar Aroca, was disappeared by Colombia's intelligence agency in 1987.
Escobar's remains were never found, though Santander still lobbies the Colombian government and international community to keep searching for all those forcibly disappeared – including those lost during the protests. "The disappeared disappear the day we stop looking for them."
Barros continues the tireless search for her son, putting up posters around Portal de las Américas and meeting with rights groups like Movice who are supporting her case.
Barros works the night shift at a nearby textile factory, which she says is ideal as she can dedicate her days to the search effort, and she hardly sleeps anyway.
"There are so many people missing but the families are scared to speak out," Barros said, as she put on her coat and headed to the site where Duvan was last seen. "I'll go wherever I have to until I get answers."
Macron promises strong EU borders
Obligatory detentions, more security screening, and faster deportations – these are the French EU presidency's migration priorities, in a right-wing home affairs agenda.
Immigration did not take centre stage in French president Emmanuel Macron's speech in the EU Parliament in Strasbourg on Wednesday (19 January).
But what he did say emphasised keeping people out.
"We must protect our external borders, including by developing a rapid-intervention [military] force … to build partnerships with countries of origin and transit, to fight against [human-]smuggling networks, and make our return policy effective," he told MEPs.
He voiced empathy for people "in great misery … and insecurity", some of whom had walked from Africa or Asia to Europe, he said.
But Macron's empathy had its limits. "It's a horrendous humanitarian situation, but that's reality," he said.
And his speech was matched by his priorities on immigration for the next six months.
EU states should agree "common rules" on border "screening", including "an obligation to 'keep at the disposal of the authorities' persons apprehended at the external borders, by increasing detention capacities," France said in a memo to fellow EU states on 17 January.
Screening should include "health and safety checks" and fingerprinting, the memo said.
"The asylum procedure … would only be provided for in the later stages" of the security process, France noted.
And EU states should step up deportations, by concluding "more readmission agreements with priority third countries" and creating a new "EU Return Coordinator", France added.
These were the "core" measures France believed EU states could agree on by July, following months of consultations.
France also discussed how EU states could show "solidarity" with front-line countries, such as Greece and Italy, without taking in asylum seekers.
They could pay each other off or send border guards instead, France proposed.
But there was as little in the French memo on protecting migrants' lives or welfare as there was in Macron's speech.
The EU should offer "dignified reception and better integration of people in need", the memo said, in its only words on the issue.
Misery
Record numbers of people drowned last year trying to cross the Mediterranean, while others froze to death in the forests of Belarus and Poland.
At the same time, EU countries carried out thousands of illegal "pushbacks".
Some built new walls and razor-wire fences, while conditions at many Greek migrant camps remained dismal.
But for all the human "misery" involved, EU migration has become a political weapon ahead of French elections in April, where Macron is running against three right-wing contenders, among others.
"We cannot have a sieve-like Europe," the centre-right candidate, Valérie Pécresse, said while on a visit to Greece last week.
And one far-right candidate, Marine Le Pen's party spoke out in Strasbourg.
"Your Europe [the EU] is 60 years old, but our Europe is 3,000 old," one of Le Pen's MEPs, Jordan Bardella, told Macron.
"Will Europe still be Europe if refugees are everywhere? Will it still be Europe if people swear allegiance to sultans in Turkey and Morocco?," Bardella said.
Meanwhile, Macron's migration agenda comes alongside other EU presidency projects on counterterrorism, antisemitism, and hate speech.
And some of these would also appeal to right-wing voters.
EU countries needed to tackle "the extremely sensitive nature of the notion of blasphemy, which rallies and mobilises all streams of the radical Islamist scene", such as the lone knife-man who beheaded a French schoolteacher in 2020, France warned in a recent EU memo on terrorism.
It proposed a hawkish definition of antisemitism that was being used to demonise Israel's opponents.
And for all the French concern on dialling down hatred, Macron's vision of a secular Europe contained nothing on tackling Islamophobia.
Politics
For his part, French Green MEP Yannick Jadot took the French leader to task in heated, eyeball-to-eyeball comments in the Strasbourg chamber.
Jadot highlighted the death of a young Kurdish migrant in the English Channel.
"All that she wanted was to live and to love, Mr President … Why do you pull down the tents [in Calais migrant camps] every day?", Jadot said.
But Jadot is also running in April and his intervention was just more French election fever for some MEPs, such as the Spanish leader of the socialist group, Iratxe García Pérez, who asked the Frenchman to cool his tone.
By 2050, a quarter of the world's people will be African – this will shape our future | Edward Paice
In 2022 the world's population will pass 8 billion. It has increased by a third in just two decades. By 2050, there will be about 9.5 billion of us on the planet, according to respected demographers. This makes recent comments by Elon Musk baffling. According to him, "the low birthrate and the rapidly declining birthrate" is "one of the biggest risks to civilisation".
Fertility rates in Europe, North America and east Asia are generally below 2.1 births per woman, the level at which populations remain stable at constant mortality rates. The trajectory in some countries is particularly arresting. The birthrate in Italy is the lowest it has ever been in the country's history. South Korea's fertility rate has been stuck below one birth per woman for decades despite an estimated $120bn (£90bn) being spent on initiatives aimed at raising it. Japan started the century with 128 million citizens but is on course to have only 106 million by 2050. China's population will peak at 1.45 billion in 2030, but if it proves unable to raise its fertility rate, the world's most populous country could end the century with fewer than 600 million inhabitants. This is the "big risk" alluded to by Musk. The trouble is, his statement seems to imply that "civilisation" does not include Africa.
The populations of more than half of Africa's 54 nations will double – or more – by 2050, the product of sustained high fertility and improving mortality rates. The continent will then be home to at least 25% of the world's population, compared with less than 10% in 1950. Expansion on this scale is unprecedented: whereas the population of Asia will have multiplied by a factor of four in this timeframe, Africa's will have risen tenfold. "Chronic youthfulness", as demographer Richard Cincotta has termed it, is the result: 40% of all Africans are children under the age of 14 and in most African countries the median age is below 20.
African mothers will have about 450 million children in the 2020s. This is projected to rise to more than 550 million in the 2040s, about 40% of all children born worldwide in that decade. Overall, low or rapidly declining birthrates remain the exception rather than the rule in most of Africa. Globally, the number of births are at their highest level ever – 140 million a year – and are unlikely to fall by much in the course of the next two to three decades.
That is some bow wave underpinning future population growth, for good or ill (or both). With continuing high fertility in east, west and central Africa, the continent will contribute 1.3 billion of the 2 billion increase in the global population between 2019 and 2050. By then, the populations of east and west Africa will each exceed that of Europe. Thereafter, Africa's varied demography will be one of the principal determinants of whether the global population will peak in the second half of the 21st century or continue growing, a vexed and contested issue with added significance in the age of the climate crisis.
Elon Musk's population implosion narrative is not original. It echoes that of Dr HB McKlveen, warning of the "depopulation of civilised nations" in the Journal of the American Medical Association in 1895; and that of many western economists in the 1930s, John Maynard Keynes among them. More than 50 years after the publication of Paul Ehrlich's bestselling The Population Bomb, explosion narratives also burst forth at regular intervals. To date, human adaptability and resilience have overcome demographic crises (such as the Black Death in the 14th century), and periodic alarmism. This is not intended to sound complacent or Panglossian, merely to caution that alarmist narratives are invariably touted for ideological or some other specific reasons. Beyond two or three decades, demographic futurology is fraught with pitfalls, although not nearly as hazardous as medium- and long-term economic or weather forecasting.
The omission of African demography from Musk's pronouncement is symptomatic of colossal shortcomings in the understanding of Africa and its constituent countries in the west. African delegations are bit-part players at global gatherings like Cop26, despite the ramifications of the climate crisis for the continent (and its potential for countering deleterious effects). Western governments have been slow to cooperate with African counterparts in the battle to contain Covid-19, and have done woefully little by way of assistance. Africa remains fundamentally marginalised, including in stereotypical depictions in most western media and the imaginations of most western citizens. This lamentable state of affairs cannot – will not – endure.
Sheer weight of numbers must bring about a reimagining of African countries and their populations. This alone will impact geopolitics, global trade, technological development, the future of the world's dominant religions, patterns of migration – almost every aspect of life. More widespread familiarity with the continent's diverse demographic characteristics and trajectories is a good entry point to this reimagining. Oh, and it might also help to be ever-cognisant of the fact that the landmasses of China, the US, Europe, India and Japan can all fit inside this continent that will loom ever-larger in the lives of its neighbours and the world.
Sign up for a different view with our Global Dispatch newsletter – a roundup of our top stories from around the world, recommended reads, and thoughts from our team on key development and human rights issues, delivered to your inbox every two weeks:
MEPs keen to speed up green-transition fund for poor
The EU should start paying out its €72bn fund for helping poor households shift to green energy in 2024, instead of 2025 as previously planned, according to a European Parliament proposal seen by Reuters. "The green transition should be feasible for everyone," Dutch centre-right MEP Esther de Lange said. "The fund should not be used to buy Teslas …. but rather small- and medium-sizes cars for everyday families," she added.