'I had to step up': Child labour in poorest countries rose during Covid, says report | Global development
Gopal Magar's father has had a drinking problem for as long as he can remember, but when Kathmandu went into lockdown last spring, it got worse. With five members of his family confined to a small room in the south of the city, tempers frayed and the 14-year-old saw his father beat his mother again and again. One day Gopal could stand it no longer. He fought back, and then fled, leaving his parents, and his school, behind.
Gopal now lives with his older brother on the other side of the city, and has swapped his classroom for a construction site. "I have fewer problems now, but I need to work really hard," he says. He starts work at six in the morning and for the next 12 hours hauls sand, loads bricks and mixes concrete. He earns about £7 a day and sends some of it to his mother to help her buy food and pay the rent.
Gopal does not know if he will ever go back to school: "I have no interest in study at the moment because of my family problems."
His story is not unusual: the lockdowns in some of the world's poorest countries have seen schools close, households lose their incomes, and, in some cases, a growth in domestic abuse. The result, according to a report, has been a rise in child labour, as children like Gopal have found themselves in often precarious and exploitative work, with long hours, low pay, and scant regard for safety.
Jo Becker, director at Human Rights Watch (HRW), which co-published the report with the Initiative for Social and Economic Rights in Uganda and Friends of the Nation in Ghana, said: "The key driver is the economic situation that so many families are facing because they have lost jobs, they have lost income. The lockdowns in many countries have really dealt a blow."
"Some of the children we spoke to said their parents had been taking out loans, falling into debt, and so they have felt pressure to work to help their families meet their needs."
Researchers interviewed 81 children between the ages of 8 and 17 in Ghana, Nepal, and Uganda. The vast majority said their family income had been hit by the pandemic and resulting lockdowns, and all of them described undertaking work ranging from rickshaw driving and gold mining to carpet weaving and brick making.
"I started working because we were so badly off," says Florence, 13, in Uganda. "The hunger at home was too much for us to sit and wait."
In each of the countries, more than one-third of the children interviewed worked at least 10 hours a day, in some cases every day. Some Nepali children recounted working 14 hours a day or more in carpet factories. Gita, 14, says that her family could "barely get by" on her mother's salary and that she feels it is her duty to bring in some money to the home. "I couldn't just sit back," she says. "I had to step up." So Gita worked at a loom from 4am until 10 pm each day, with an hour's break. Once she returned to school she continued to weave for 13 hours a day – five hours before classes and eight hours after.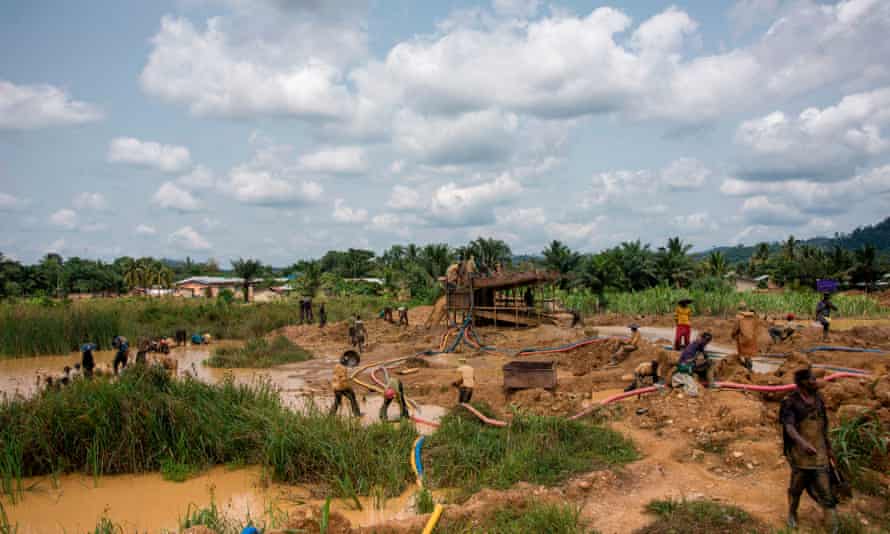 Some of the most shocking testimony in the report is from Ghana, where children detailed their work in goldmines, carrying heavy loads, crushing ore with hammers, breathing dust from processing machines, and handling mercury. Ibrahim, 14, says crushing ore is the most difficult part of the work: "I get really exhausted whenever I do that." For his after-school job – five hours at the mine – he is paid 20 cedis (£2.40).
It is illegal for children to work in Ghana's goldmines and the government has identified child labour as a "rapidly growing concern". But, Becker said, in many places enforcement of such laws has suffered as a result of the pandemic.
"Most of the countries that we've looked at have good child labour laws that are in line with international standards, but because of Covid-19 restrictions labour inspections are down and without enforcement and monitoring employers are going to feel less pressure to apply the law," she said.
According to the International Labour Organization, the number of children worldwide in some form of child labour decreased by about 38% between 2000 and 2016, partly it is thought as a result of the strategic use of child benefit payments to families with children.
Becker said that progress had been sent into reverse by the pandemic. She urged governments to re-commit to child benefit payments to "[relieve] the financial pressure on families so that they can buy food, pay for their housing without resorting to child labour".
National back-to-school campaigns were also needed to make sure that children return to the classroom once schools reopen, the report said. Unicef warned last month that an estimated 800 million children around the world were still not fully back in school and that the longer closures continued the less likely it was that pupils would return.
HRW has called on governments to embark on mass outreach programmes to persuade communities that children – especially girls and migrants – should come back "as soon as it is safe".
Such efforts would be welcome news to one of Gopal's teachers, Sagendra Shrestha. Gopal, he said, "was improving so much. Without the pandemic I'm sure he'd still be in school". Most schools in Kathmandu have been closed for 11 of the past 14 months. Shrestha said many parents had no internet access and did not know how to support children's learning. "They have to go out to work, so they take their children with them," he said. "I see lots of children on construction sites nowadays."
Russia to lose Swift access, pipeline if it invades Ukraine
"Work is already underway for … disconnection of Russia from the Swift banking system, sanctions on the Russian gas pipeline Nord Stream 2 [to Germany]," if it invades Ukraine, Latvian foreign minister Edgars Rinkēvičs said in The Guardian Tuesday. "If [Russian president] Vladimir Putin wants to see gas flow through that pipeline, he may not want to take the risk of invading Ukraine," US national-security adviser Jake Sullivan told Reuters.
Can artistic freedom survive in Sudan? The writing's on the wall… | Global development
In the new dawn of a heady post-revolutionary era, Suzannah Mirghani returned in 2019 to the country of her birth for the first time in years. Her mission was to shoot a short film on Sudanese soil. It proved unexpectedly straightforward.
"When the revolution happened, there was this exuberance," she says, from her Qatari home. "When we came to make our film, we were given the green light. We were told: 'Anything you want'.
"Nobody harassed us. Nobody told us what to do. Nobody asked us for the script. I call this time in the history of Sudan 'the honeymoon'," says Mirghani.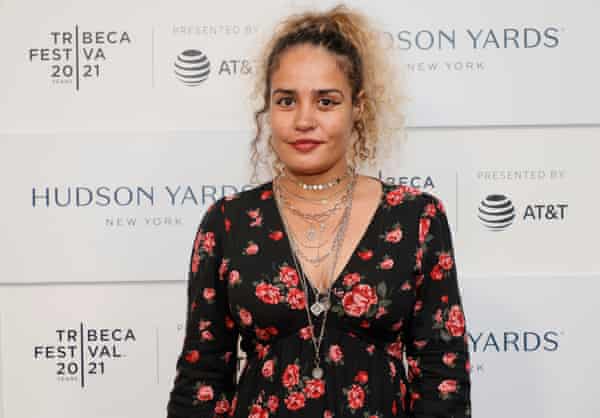 More than two and a half years after the toppling of the longtime dictator Omar al-Bashir, Mirghani fears the honeymoon is over, at least for her. The turmoil into which Sudan has again been plunged means she feels unable to return safely.
On 31 October, as her film, Al-Sit, won the latest of many awards, Mirghani had to give an acceptance speech that was anything but celebratory.
Six days before, the military had seized power in a coup, detaining the civilian prime minister and bringing the country's fragile transition to democracy to an abrupt halt.
In a video address from Qatar to the Africa in Motion film festival in Scotland, Mirghani said "the only reason" she and her crew had been able to make Al-Sit was the active encouragement given by the civilian-military partnership government. "Now," she added, "we're in very serious danger of going back to the bad old days of military rule and stifling creative expression."
Since the coup, a lot has happened: huge pro-democracy protests thronged through Khartoum and other cities, with at least 40 demonstrators killed.
After almost a month, the prime minister, Abdalla Hamdok, was released as part of a deal struck with the coup leader, Gen Abdel Fattah al-Burhan.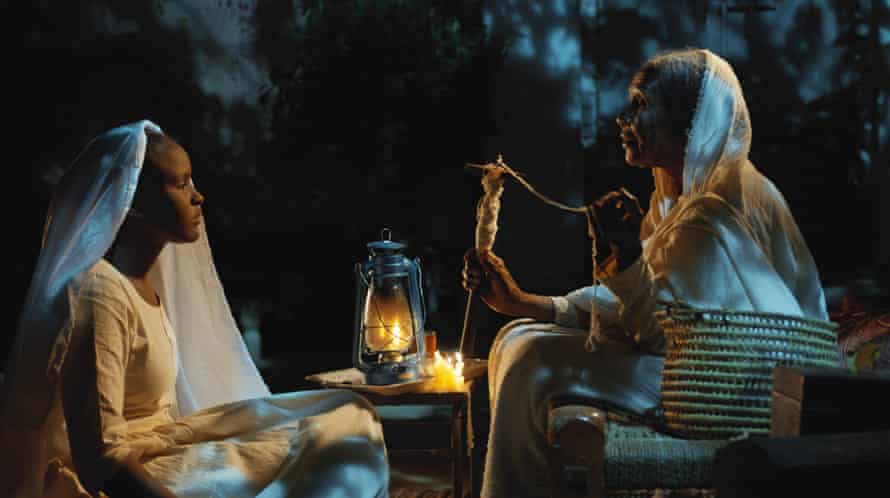 But the protesters, who want the military out of politics for good, are not convinced, and even less so as security forces fire teargas into the crowds that continue to gather despite Hamdok's return. With the creative gains made after the revolution now hanging in the balance, Sudanese artists feel they have to speak out.
"We artists will be the first to be targeted if the military government continues in power," writes Aamira*, a painter, in an email from Khartoum. "We are demonstrating in the streets, facing guns, unarmed. There is nothing to fear any more."
In an interview with the Financial Times last week, Hamdok defended his decision to strike a deal with the military, saying it was essential to stop the bloodshed and "preserve the achievements of the last few years".
It may not have been uppermost in his mind, but one of those achievements was the flowering of an artistic community that had long been harassed, censored and forced into the shadows. Assil Diab, a street artist, says: "I painted Omar al-Bashir as the [face of] coronavirus in a stadium in Bahri during the daytime, which would have been just impossible; my whole family could have been killed two years ago."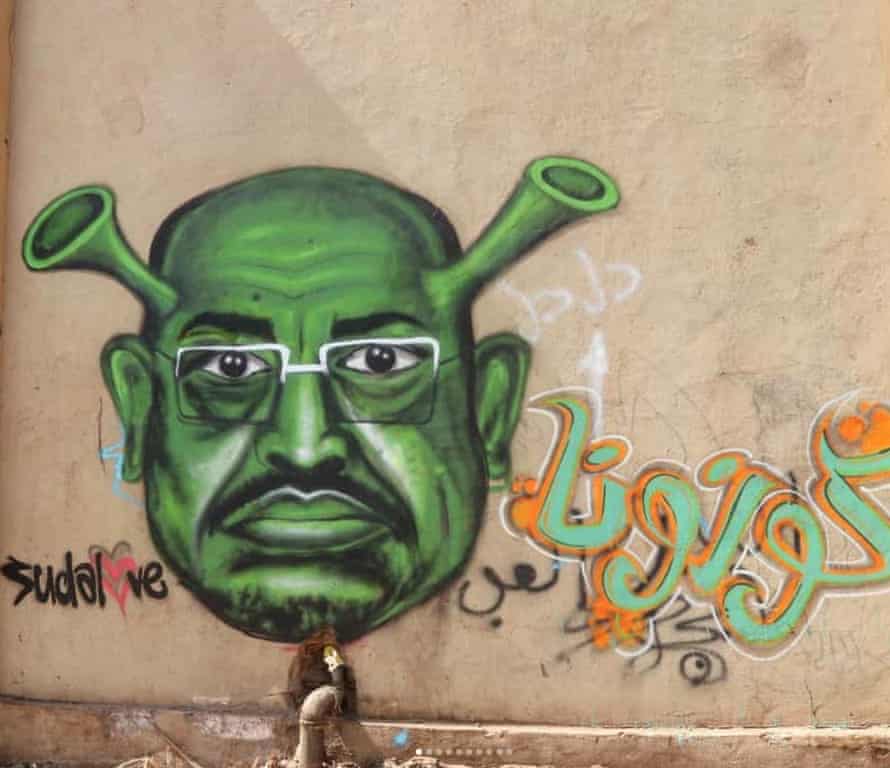 Feeling compelled to return amid the revolutionary fervour, Diab returned to Sudan in 2019 and made her name painting the faces of the revolution's "martyrs" on the outside of their families' homes, with a getaway car close by in case the notorious paramilitary Rapid Support Forces saw her.
For Mirghani, the "absolute elation" of the revolution yielded creative results. Al-Sit is the beautifully observed story of a Sudanese village girl whose parents want her to marry the sharp-suited son of a wealthy cotton trader in Qatar. "To finally be able to express yourself, to say what you had wanted to say to these people for 30 years: it's amazing.
"My film is about women's rights. It's social commentary on arranged marriage. I don't think we could have said that a few years ago," says Mirghani.
The "honeymoon" was not without its challenges. The dictator was gone, but social and religious conservatism – and a reluctance to champion the arts – remained. Artistic freedom was patchy: in 2020, the renowned film-maker Hajooj Kuka and several others were detained during a theatre workshop.
Asim*, a documentary film-maker in Khartoum, says that, although in the capital the "direct censorship" of the Bashir era has eased, the rest of Sudan is not as relaxed. "It's partially freedom and partially censorship," he says. "It is a battle about 10% won."
Khalid Albaih, a political cartoonist based in Qatar, returned after the revolution to launch the Sudan Artist Fund (SAF), to provide budding creatives with money and mentors, and with an ambitious plan to create a public art and design library. He says: "I thought: this is it. All doors were open and this is what we were going to do.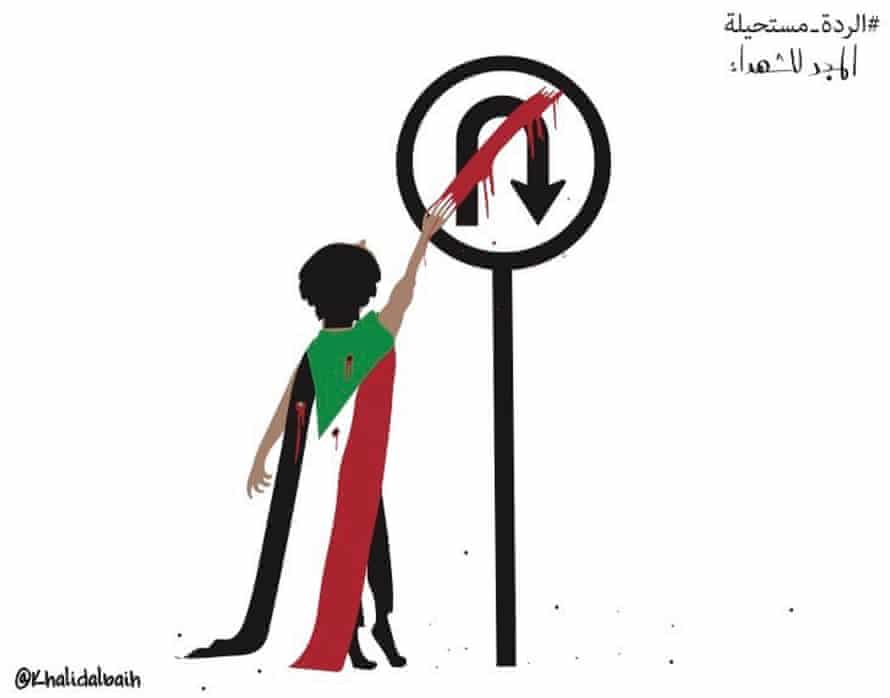 "I took all my papers, and for the first time in 10 years I'm in Sudan walking around, not scared of any police, or secret police, or anything. I went to every business owner in Sudan and everyone that can donate money to these causes. And I got nothing but rejection – for a library and for an artists' fund."
Finally, Albaih secured $7,000 (£5,300) from CultuRunners, a cultural exchange organisation, and the SAF awarded its first grant of $500 in October – just before the coup. "It was incredible because the internet cut out [after the coup leaders imposed a nationwide online blackout] so the artist didn't even know he had won. We had to call him. It took two or three weeks to send the money to him," says Albaih.
The cartoonist knows there will not be any more funding for a while. "Now everything is rocky. No one knows how things will go. It's going to be really hard for artists and these kinds of initiatives to move forward.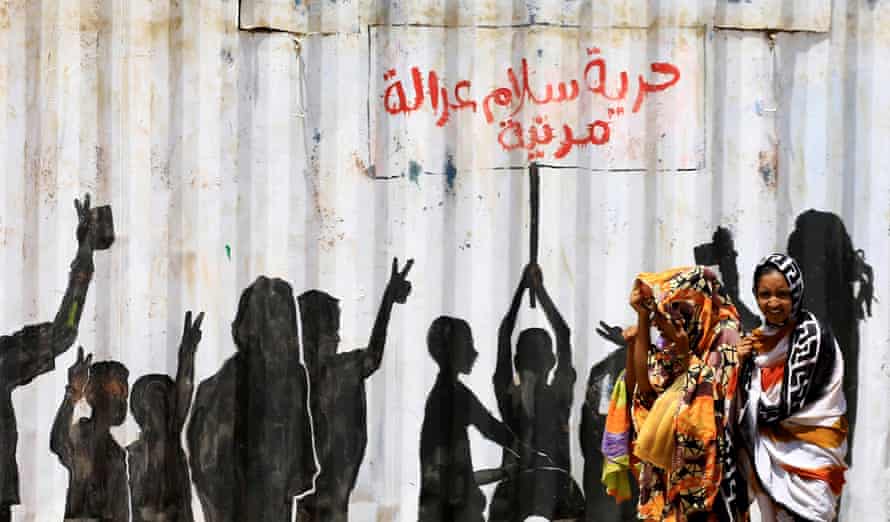 The coup, says Diab, left the creative community feeling "disappointed and just broken down … because we finally thought we were free and then this happened." She intends to apply for political asylum in the US, where she is studying, feeling she "can be of better use to Sudan" from overseas.
Those in the thick of it cannot afford to give up hope. Asim was at a protest in Khartoum against the post-coup deal last week and was "teargassed the entire afternoon" amid chants of "no partnership, no negotiation, no legitimacy". He is realistic about future challenges but knows that people have made up their minds.
"I feel like there is a grip on power and it will not end today; it will not end tomorrow. Whether those power-hungry authoritarians will roll with democratic transition and allow people to express their freedoms, allow journalists and film-makers to operate or not, that is something that is still [up in] the air, because you never know with the ever-changing dynamic of power in this country," he says.
The momentum towards democracy is undeniable, he says. "I believe that is possible and I believe there is hope. The people will not stop asking for what they really want. [Will] that future come tomorrow? The day after? In two years? In five? We never know. But it seems like the consensus is that people agree it has to happen."
*Names have been changed to protect their identity
Sign up for a different view with our Global Dispatch newsletter – a roundup of our top stories from around the world, recommended reads, and thoughts from our team on key development and human rights issues, delivered to your inbox every two weeks:
EU agrees to sanction Russian mercenaries
EU diplomats have provisionally agreed to blacklist three Russian nationals and one entity, the 'Wagner Group' mercenary outfit, on grounds of human rights abuses in Africa and the Middle East, diplomatic sources said. The decision will be formalised by foreign ministers next Monday. The move comes amid Wagner's increasing presence in Mali, threatening French interests in the region. Europe earlier sanctioned a Russian oligarch, Yevgeny Prigozhin, said to fund Wagner.