'I get this rush of sadness': is a wave of youth migration threatening the Nigerian way of life? | Global development
On the day Nigeria celebrated the anniversary of its independence from British rule, Chisom Chuba said farewell to her family and her home country. Her mother accompanied the industrial chemistry graduate to the airport but Chuba's father stayed away.
"My father refused to come with me to the airport and I think it was because he was afraid of crying. I could see his hands shaking when he was giving me some advice," she says.
It was a tearful parting with her mother at the departure gate. "I was so distraught that I was heading in the wrong direction because my vision was blurred by tears," says Chuba, who now lives in Ireland.
That was 1 October 2020; she has not seen her family since.. She is not unusual: just like Chuba, many Nigerians are leaving jobs, families and friends behind in search of better opportunities.
According to a report by the African Polling Institute last year, seven in 10 Nigerians would be willing to go abroad if they had the resources. yearlyAnd the number of skilled work and study visas issued by the UK to Nigerians increased by 210% between 2019 and 2021, from 19,000 to 59,000.
Their aspirations are fuelled by Nigeria's continued lack of career opportunities and the failure of the country's institutions to provide functioning systems.
Nigeria is dealing with a number of problems, including insecurity, corruption and inflation. In August, inflation reached its highest rate since 2005 at 20.52%. With no corresponding increase in wages, families face constantly increasing prices of goods and services with little support from their government.
Unemployment is also high at 33.3%. The erratic power supply regularly disrupts the activities of firms, industries and even hospitals, and the country is experiencing its worst insecurity since 1999.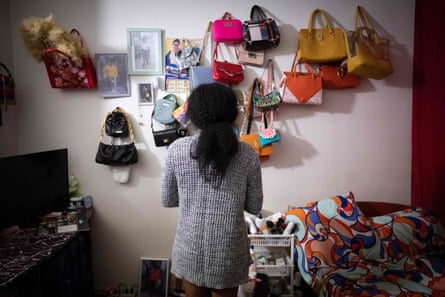 For Chuba, the last straw was the sexual abuse she was expected to endure while earning 30,000 Naira (£57) a month working for a quality-assurance firm. Chuba saw only one way out and began working on her plan to emigrate.
"There was nothing for me in Nigeria," she says. "I knew that if I remained there, I would not amount to much as a career woman. I tried searching for other jobs but if they were not paying peanuts, they were making the working environment unbearable."
Unlike during the early days after Nigeria became independent in 1960, when those who travelled abroad for work or study were eager to return home to their newly thriving economy, corruption has eaten deep into the institutional framework of the country, putting many off doing the same.
As migration has gained momentum, families are being torn apart. People have had to come to terms with not seeing their loved ones for a long while – or perhaps not at all. Parents are facing old age without their children close by, and siblings are scattered across the world.
Five years after Osazua Iredo's twin sister left for the US in 2012, her brother left for the UK. Neither has returned. Iredo is waiting for Germany to give her a study visa and the rest of her siblings are also making plans. Her mother is supportive, but Iredo worries about her being all alone in Nigeria.
"Every parent wants their children to be successful. So even if being separated from their children hurts them, they will encourage you to go where it can be better," she says.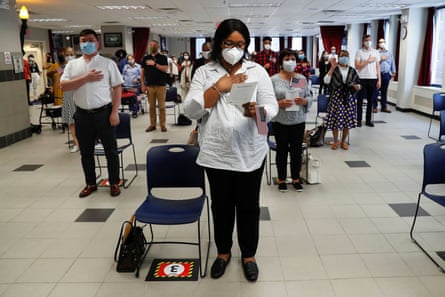 When Adewale Oluwagbenga left for Canada in 2012, his wife was pregnant with their third child. He has not been back since, thwarted by the cost of flights and limited time off granted in the North American labour market, but he is determined to secure citizenship so that he can bring his family to visit.
Chuba faces a similar problem: "Twenty days of annual leave is barely enough time for me to spend with my family in a year.
"By the time you get to the festive season, how many days of leave do you have left? Some companies are kind enough to give you an extension but without pay," she says.
Nigeria's rich family traditions make such separations difficult. Christmas, weddings, birthdays, and even funerals are much anticipated because they serve as bonding periods for extended families. The increasing wave of migration is tearing the fabric of Nigeria's culture.
"I miss my parents and siblings. When I hear my colleagues casually say they are driving down to see their parents, I get this rush of sadness. How lucky they are to be just hours away from their parents," says Chuba.
Philip Dimka, a psychologist and trauma counsellor, says migration can affect children and parents in many ways. For children, the separation can exert negative family pressure and cause depression, sadness, mood changes and frustration.
"In relation to emotional consequences, you are likely to see attachment problems, especially if the migration happens when these children are younger. They can become indifferent and may show no excitement, even if they see them [family members] after a long time," says Dimka.
Meanwhile, adults can struggle to fit in and adapt to their new environment without the support of family. "There is a tendency for you to adjust more to a new environment when you are with your family, but when you are separated, you are likely to develop stress and anxiety."
Chuba says she feels as though a sticking plaster is being ripped from her skin whenever a video call with her family ends.
"I don't know if it is the sound of the call dropping or just watching the screen go blank with their image gone. But it is all I can get for now."
Uganda condemned for 'shameful' decision to close UN human rights office | Global development
Rights activists and campaigners have condemned the Ugandan government's decision to shut down the country's UN human rights office, describing it as "shameful".
In a letter to the Office of the UN high commissioner for human rights (OHCHR) in Uganda dated 3 February, the foreign affairs ministry said it will not renew the host country agreement it signed with the OHCHR, which established its initial mandate in the country in 2005. The current mandate, signed on 9 February 2020, expires in August.
"The government of Uganda will now continue its cooperation with the OHCHR Headquarters either directly or through its Permanent Mission in Geneva," reads the letter.
The development comes less than three months after the UN's committee against torture adopted the concluding observations on Uganda, which raised concerns that torture and ill-treatment continued to be frequently practised, and called for investigation and prosecution of security officials accused of excessive use of force, violence and arbitrary detention.
"The closure of the @UNHumanRightsUG office proves that [the] government has lost all sense of shame. It no longer wants any close international scrutiny of its human rights record," tweeted Adrian Jjuuko, executive director of the Human Rights Awareness and Promotion Forum.
"If the protectors are sent away, what then happens to those they were protecting? We are headed for tough times," he added.
Bobi Wine, the reggae singer turned Ugandan opposition leader, whose supporters remain in unauthorised places of detention or "safe houses", said it was no surprise that Uganda's president, Yoweri Museveni, who has been in power since 1986, has closed the OHCHR. He tweeted: "In the face of growing international condemnation and isolation, tyrant Museveni has responded by shutting down NGOs, Facebook, DGF [Democratic Governance Facility] & declaring several internationals Persona Non-Grata or deporting them! Now he shuts down @UNHumanRightsUG."
Wine added: "You'll recall in the aftermath of the 2021 election and the hundreds killed or abducted by the Museveni regime, we petitioned the UN Human Rights Office & the military brutalised journalists right there. This UN Office condemned these actions. Not surprising it's being closed."
Human right activists and advocacy groups have called the decision a "mockery" and accused the government of running from international scrutiny on abuse and protection of human rights.
"This is unbelievable, and the reasons given by the government are a mockery of the real state of human rights in the country," said Jjuuko. "To claim that Uganda no longer needs the office [OHCHR] because of its strong stand for human rights is ironic to say the least.
"A strong stand for human rights would imply opening up to the UN and other actors."
David Livingstone Sewanyana, founder of the Foundation for Human Rights Initiative in the capital, Kampala, told the Guardian, "The decision not to renew the mandate deprives Uganda of a critical player in the field of human rights promotion and protection."
At least 38 local and international staff at the head office in Kampala and two field offices in Gulu and Moroto stand to lose their jobs.
Jjuuko said: "Following closely on the closure of the DGF, this is a scary move which indicates that the government is no longer willing to have its human rights record scrutinised by international actors.
"This leaves local organisations at much more risk of being further silenced and their work curtailed without the government fearing close international security. It is a sad day indeed for the human rights movement in Uganda."
2023 State of the Union address, live | Biden will call for collaboration with Republicans | USA
On the List: Biden's guests at the State of the Union address
In the highly theatrical ritual of the State of the Union address, delivered each year by the President of the United States to a joint audience of congressmen and senators on Capitol Hill, the most eagerly awaited list in the hours leading up to the address is that of those invited by the President himself to attend his speech on the floor of the House of Representatives. They are carefully chosen to underscore with their presence the points the president wants to emphasize. This year they range from rock stars (Bono) to anonymous citizens unwittingly placed at the center of a whirlwind of tragedy and media attention, such as the parents of Memphis teen Tyre Nichols, the latest name to enter the history of police brutality infamy in the country.
 
What follows is a list of some of those illustrious guests at tonight's speech in Washington: 
Bono. Singer of the Irish band U2 and activist for the most varied causes, for whose fight he deploys his worldwide fame.
Oksana Markarova, the Ukrainian ambassador to the United States. She was already invited last year, when Biden's first speech came six days after the Russian invasion of Ukraine. Nearly a year later, the end of the war seems far off, but the U.S. commitment to Kiev's cause remains unwavering.
Row Vaughn and Rodney Wells, mother and stepfather of Tyre Nichols. Five police officers beat him to death last month in Memphis. His case, and the poise of his parents, have reopened the debate about police brutality in the United States, an issue that seemed on the mend after the chokehold death of African-American George Floyd at the hands of a white Minneapolis police officer on May 25, 2020. 
Brandon Tsay, another anonymous man at the center of American political power. Tsay disarmed the killer of 11 people in one of the latest mass shootings to horrify the country. It happened in Monterey Park, California, and the tragedy ripped the Asian American community in half. 
Deanna Branch. Lead was found in her son's blood because of water coming out of the home's plumbing. The Biden Administration has set a goal of replacing all lead pipes in the country within the next decade.
Mitzi Colin Lopez. Immigrant rights activist, specializing in advocacy for dreamers.  
Doug Griffin of Newton, New Hampshire. Lost a daughter to a fentanyl overdose. Biden plans to stress the importance of the fight against opioids. The drugs have taken the lives of 100,000 Americans by 2022.
Amanda Zurawski, Texas neighbor. She almost died because of restrictive anti-abortion laws that came out of the Supreme Court ruling that eliminated a woman's federal right to choose.
High-profile lawsuit against Meta can be heard in Kenya, Nairobi court rules | Global development
A Kenyan court has ruled that a case brought against Facebook by a former content moderator can go ahead.
Daniel Motaung, who was hired as a Facebook content moderator by the tech firm's subcontractor Sama in 2019, filed a suit against the two companies last year, alleging that he had been exposed to graphic and traumatic content at work, without adequate prior knowledge or proper psychosocial support – which he says left him with post-traumatic stress disorder.
He also claimed he was unfairly dismissed after trying to unionise his co-workers to fight for better conditions.
Facebook's parent company, Meta, contested its involvement in the case, saying that Sama was Motaung's employer, and Meta could not be subjected to a hearing in Kenyan courts because it was not registered, and did not operate, in the country.
However, on Monday the judge found that the tech giant was a "proper party" to the case.
The Kenya employment and labour relations court is yet to release its full ruling on Motaung's case, but the decision – the first of its kind in Africa – is already being hailed as a win for the accountability of big tech on the continent, and in the global south.
"If the attempt by [Meta] to avoid Kenyan justice had succeeded, it would have undermined the fundamental tenets of access to justice and equality under the law in favour of foreign privilege," said Irũngũ Houghton, executive director of Amnesty International Kenya.
"We finally have an avenue for accountability," said Odanga Madung, senior researcher for platform integrity at Mozilla. "It calls for tech giants to make serious changes within their companies that take into consideration their workers and users outside the US and Europe."
Cori Crider, director of Foxglove, a UK tech justice non-profit, which supported the Motaung case, said social media platforms should not outsource critical online safety functions like content moderation. "It is the core function of the business. Without the work of these moderators, social media is unusable. When they are not able to do their jobs safely or well, social media's safety brutally falters."
Meta is facing a second court case in Kenya, which was due to be heard this week but has been postponed. It was filed by two Ethiopian petitioners and a Kenyan rights advocacy group, Katiba Institute, who claim that the company failed to take online safety measures to manage hate speech on the platform during northern Ethiopia's civil war – which they say fanned the conflict, with serious offline consequences.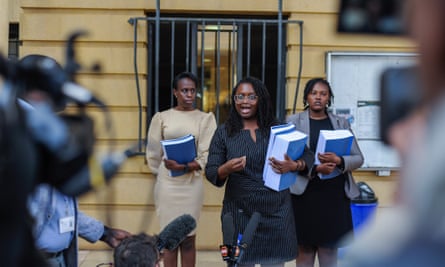 The father of one of the petitioners was killed after a violent Facebook post that was reported, but not acted on in time. The petitioners claim that Facebook also failed to recruit enough moderation staff to its regional hub in Nairobi.
"There are problems with Facebook's woeful failure to value or to staff content moderation outside of the English-speaking United States," said Crider, adding that Monday's ruling could have global and regional implications on how tech firms think about and manage content moderation.
Leah Kimathi, a convenor for the Council for Responsible Social Media, agrees. "Big tech should not just look at Kenyans as a market, but should be accountable and alive to the nuances, needs and peculiarities of Kenya, especially when it comes to content moderation."
Facebook has more than 13 million users in Kenya. It and Meta's WhatsApp are the most commonly used social media platforms in the country.
A nationwide poll conducted in 2022 by the Council for Responsible Social Media showed that 68% of Kenyans who have internet access get their news from social media, and that a majority of these feel that social media platforms could do more to remove harmful content.