Huelva: Development plans threaten valuable Tartessos necropolis in southern Spain | Culture
One of the most important Tartessian enclaves in the world was built between the 8th and 6th centuries BC on what is still an undeveloped, elevated piece of land in the center of Huelva, in Spain's southern region of Andalusia, between the streets of Fray Junípero Serra and San Sebastián. The first excavations were carried out there between the late 1960s and early 1970s, resulting in the discovery of dozens of tombs filled with trousseaus of gold, silver and jewels, an ancient hearse, ceramics and even an Egyptian ivory chest featuring four figurines. The items were of such value that they subsequently went on display in some of the world's most renowned museums, including New York's Metropolitan.
The 53-meter-high knoll – known locally as the Cabezo de La Joya – was used by the Tartessians not only as a place to live and bury their dead, but also as a strategic location to control the bay and carry out trade with other parts of the known world. But this rich cultural heritage is about to be cemented over as city authorities in Huelva have chosen the base of the hillock to erect four tower blocks of up to 15 floors each. While the highest part of the knoll will escape being razed by the bulldozers, it will be trapped between the concrete, glass and steel of the new buildings, which will rise five meters above it.
The urban development has triggered protests among scientific and academic communities as well as citizen groups who consider it an attack on Huelva's heritage. As many as 40 research centers and associations are calling for a halt to the already-approved plan, including the Royal Academy of San Fernando, the Geological Mining Institute of Spain and the Andalusian Ombudsman.
A section of the General Research Plan for the Archaeological Zone of Huelva – signed by the regional department of Culture and Historical Heritage, the University of Huelva, the research group Vrbanitas and the Research Center for Historical, Cultural and Natural Heritage – states that what is now the city center was first established during the first millennium BC, close to a set of hills – or cabezos – by the sea. Over time, the coastline changed and these natural elevations became distanced from the coast, appearing as mounds on an otherwise completely flat terrain. Gradually, they were abandoned as settlements and used instead as fruit orchards and vineyards while the capital crept closer to the sea, devouring the nearby hills as more land was cultivated and later modern buildings constructed.
But long before all this happened, between the end of the second millennium and the beginning of the first millennium BC, the hillocks that made up prehistoric Huelva, namely San Pedro, Cementerio Viejo, Molino de Viento, La Esperanza, Cabezo del Pino, Padre Julián, La Joya, Roma and Mondaca – most of which have now disappeared – provided the communities that occupied them with an excellent place to live and also to bury their dead.
The cabezos were settled by a technologically advanced society, which traded beyond the peninsula, as far as the Middle East. "Its people became familiar with other languages, customs and aesthetics, and had access to fashions and new cultural, technological and religious trends that were implanted in the ancient world," according to the report.
Aristocratic tombs were found during excavations, with grave goods that are unmatched by those found in other burial grounds from the Orientalizing period of the 7th century BC, which incorporated features from the eastern Mediterranean region. Along with the corpses, there were bronze jars, silver and gold objects, alabaster vases, ivory artifacts and a hearse that would have been pulled by two horses to carry a person of high standing to his grave.
But, now, the General Urban Development Plan of Huelva is about to trample on the past and convert the Cabezo de la Joya into the Execution Unit No. 1, an area of about 26,000 square meters where four towers will stand, despite the fact it has been part of the Huelva Archaeological Zone Declaration since 2001, and is registered in Andalusia's General Catalog of Historical Heritage within the protected category of Asset of Cultural Interest (BIC in its Spanish acronym).
Jorge Cotallo, president of ArqueoHuelva, a cultural association that does educational work on heritage issues, is outraged. "It is inadmissible," he says. "The necropolis of La Joya is possibly the most important one in the Orientalizing Tartessian world and, far from protecting and disseminating it, our authorities want to build on top of it!" Meanwhile, the Huelva Te Mira citizens' association has filed a contentious-administrative appeal against the final approval of the urban plan on the grounds that "it proposes the destruction of much of the hill and the construction of buildings of up to 15 floors."
In a harsh report issued in September, Andalusian Ombudsman Jesús Maeztu Gregorio de Tejada called for the preservation of all the cabezos, especially La Joya, "which is of international scientific value." The report said that these knolls "have a natural value in themselves that makes them unique." It added that the development of La Joya is not considered compatible with the protection of the archaeological zone and is in breach of articles 19, 28.1 and 29.1 of the Law of Historical Heritage of Andalusia.
A spokeswoman for the local government stated that the city council approved the modification of the urban plan last November and all that remains to be drafted are projects focusing on where the roads will be laid and the buildings located. The plan was approved with votes from the Socialist Party (PSOE); there were abstentions from the Popular (PP), the far-right Vox and the center-right Ciudadanos (Citizens), while the local parties Mesa de la Ría and Adelante Huelva cast negative votes.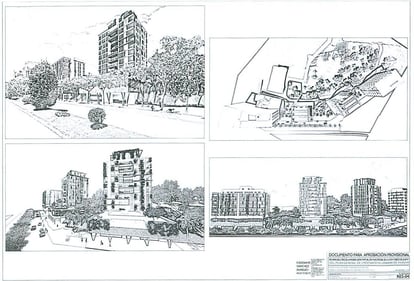 Thanks to the first excavations, dozens of Tartessian tombs have been documented. In tomb number 17, said to be the richest and most unique trousseau of all those in the necropolis, a disassembled chariot that would have been pulled by two horses was unearthed. The experts' report reads as follows: "It has been understood as a two-wheeled chariot, due to the presence of two hubcaps with feline heads." Among its elements were the reinforcements of the central rudder, a silver mould, the lining of the end of the spear, a quiver-box for arrows, rein buckles, reinforcements decorated with rosettes, two horse bits and bronze fastening rods.
An ivory chest was found in another of the tombs with silver hinges, pins and bronze corner pieces that join an armature featuring four Egyptian-style figurines made from ivory.
In 1999, an emergency dig was carried out due to the need to build a health center at the base of the hill during which more tombs and a ceramic trousseau were found. However, the neglect to which the area has been subjected has meant regular looting has taken place, particularly when official excavations have made the booty more accessible.
The experts who carried out the archaeological diagnosis for the General Research Plan of the Archaeological Zone of Huelva point out that the local government claims there are no archaeological remains in the lower part of the hill, which, besides being inaccurate, is an assumption made before the archaeological diagnosis report could be delivered.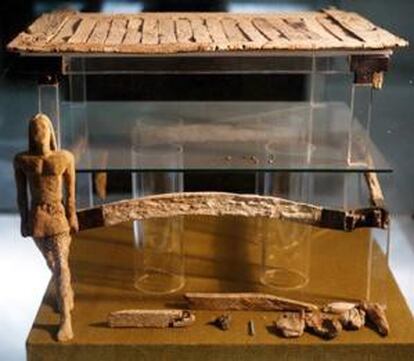 Historians say that the Odiel River could be clearly observed from the top of the hill, the same spot where the archaeological site known as the Huelva Estuary Deposit was located in 1923, which turned up bronze swords and other metallic objects that were sacred offerings to the waters. Nor should it be forgotten, add these experts, that the island of Saltés is also visible from this spot. Saltés was a source of sacred votive offerings, according to the experts, making it a place of special relevance that would have been considered sacred in itself. The proposal is that the area be completely free of urban development and become an area for the interpretation of heritage.
"But city officials are not interested," insists Cotallo. "Instead of preserving and adding value to a unique Tartessian site, they prefer to put up four apartment blocks that will destroy it and cover it. The systematic destruction of Huelva's heritage is unrelenting. Is nobody going to do anything about it?"
English version by Heather Galloway.
Travel agents experiencing increase in bookings since Covid-19 restrictions eased
Travel agents are experiencing an increase in inquires and bookings since the government announced the relaxation of Covid-19 restrictions on Friday.
Pat Dawson, CEO of the Irish Travel Agents Association, says there has been a "phenomenal" turn around in bookings, and travel agents are busy getting back to inquiries.
"We are looking at a healthy summer season, it's the first time I've been positive in two years."
He advised people to book their holidays early to avoid disappointment. "The longer you leave it, the dearer it will get. Mid-term break in February and Easter are almost full."
Mr Dawson believes there is a pent-up demand. "There are some people who have money they haven't spent, a big chunk of that will be spent on foreign holidays."
John Spollen, director of Cassidy Travel in Dublin, says he has seen an increase in bookings over the weekend.
Popular destinations include Spain and Portugal, which have been Irish favourites for many years now, says Mr Spollen. There are also some bookings for the US, Jersey, Madeira and the Greek islands.
Peak travel
People should avoid peak travel times from mid June to the end of August and consider booking mid-week, early or late flights to get the best value, according to Mr Spollen.
"In May, September and October, the weather will be similar to summer weather."
Mr Spollen added people should take out travel insurance and ensure their passport and driver's licence are in date.
Michael Doorley of Shandon Travel in Cork said they have seen a huge increase in inquiries.
"We are not back to 2019 levels yet… the EU is a big destination. We have had a lot of inquires about mobile home holiday parks. Italy would be the most popular destination for this type of holiday, but Croatia is becoming almost as popular."
There are also bookings for America coming in, as well as some couples celebrating their honeymoons belatedly, according to Mr Doorley.
It is important that people understand the restrictions in the country they are travelling to, he added, and they should check the Department of Foreign Affairs website regularly.
Aoife O'Donoghue is just one of the many Irish people who have not been on a holiday abroad in two years, and she is excited to be going to Barcelona at the end of March.
"A friend is moving over there in February, so myself and two other girls are going to visit her. It's actually all our birthdays that weekend too," she says.
The friends used to live together in Galway, and Ms O'Donoghue says it's fantastic to have something to look forward to again.
The last time she went abroad was to Switzerland in January 2020. "Just as we were coming back there was news of the big Covid outbreak in Italy, so felt lucky to have gotten a holiday in before it all kicked off."
Property group clashes with council over Dundrum residential development
The owners of Dundrum Town Centre have clashed with Dún Laoghaire-Rathdown council over demands for more large apartments as they advance fast-track plans for a major residential development in the south Dublin village.
Property group Hammerson and insurer Allianz, which operate the new shopping complex in the area, have been in talks with An Bord Pleanála to build up to 889 apartments on the site of the old Dundrum shopping centre.
Their company, Dundrum Retail Ltd Partnership, has told the council it should scrap new requirements for "a minimum of three-plus bedroom units" in large apartment blocks that are included among proposed amendments to its draft county development plan.
In a submission last week to the council, the company said the new guidelines were in conflict with official rules that said there should be no minimum requirement for apartments with three or more bedrooms.
According to the company, the justification for the guidelines was based on fast-track strategic housing development permissions in the council area and "evidence" from certain boroughs in London.
"[Dundrum Retail Ltd Partnership] submit that the logic underpinning the policy is flawed and is not a basis for imposing prescriptive unit mix ratios on a countywide basis," it said.
"The draft development plan needs to be amended to remove the very prescriptive requirement for apartments with three or more bedrooms and to allow applicants to make the case for a particular unit mix based on the particular attributes of local areas where a different mix might be appropriate."
The company also told the council that proposed amendments to the development plan presented "contradictory or ambiguous objectives" in relation to proposals for a community, cultural and civic centre in the area.
Such objections were included among 106 submissions on the draft plan in a public consultation which closed last week. Numerous other developers and the Irish Home Builders Association lobby group also opposed the measures, some saying they would delay or prevent the delivery of new homes.
Asked about the submissions, the council said the response to any issues raised would be set out in a report by its chief executive to elected members which would be published. "It will be a decision of the elected members to adopt the plan and it is anticipated that this will take place in early March 2022. The plan will then come into effect six weeks later," the council said.
Cost increase
In its submission, the Irish Home Builders Association said its members were concerned that the introduction of "further onerous standards" would increase the cost of delivering new homes and their price.
"This at a time when construction costs are already under huge inflationary pressure and affordability is a major issues for most home buyers," said James Benson, director of the association.
"A key concern of the home-building sector in respect of the new plan is a lack of consistency with national planning guidelines/standards, which may be considered to be contrary to recent Government policy which sought to bring a greater extent of standardisation to national planning standards."
The submission added: "The key concerns relate to the locational restriction and unit mix requirements for [build-to-rent] schemes, other standards for apartment developments which are more onerous/restrictive than the Government's… guidelines, and the requirement for early delivery of childcare facilities in residential developments, all of which have the potential to impact adversely on the viability and affordability of housing in the county."
Another builder, Park Developments, said in a submission the draft sought "more onerous policies, objectives and standards" that would have a direct effect on housing supply. "We are already seeing the impact of the chronic shortage in the supply of housing on the affordability of rental accommodation and homeownership."
Castlethorn Construction said the blanket imposition of three-bedroom requirements "can only serve to militate against development of apartments" in the council area. It said the cost of delivering three-bed apartments was "very significant", adding that demand was "not evident by reference to market sentiment, estate agents' advice" and national policy imperatives.
Developer Hines, which has major interests in the Cherrywood strategic development zone, said in its submission that the logic underpinning requirements for more three-bedroom units was flawed.
"While making the case that recent development has been weighted towards one- and two-bed units, it fails to recognise that three-bed semi-detached and detached houses remain the predominant typology within [Dún Laoghaire-Rathdown] and that the [strategic housing development] permissions provide a much-needed mix of housing types within the county to redress this balance within the county."
Laicisation of Catholic priest in Tipperary causes disappointment and anger in parish
Standing in the family's hardware store on Main Street in Carrick-on-Suir, Fiona Hearn remembers how Fr Richard Geoghegan gave her son First Holy Communion 15 years ago.
Today, Geoghegan is no longer a priest, following the Vatican's decision to issue a laicisation order, with the history of the story up to that point a subject of disagreement.
The former parish priest at Ballyneale and past curate at St Nicholas Parish in Carrick-On-Suir announced on Twitter last week that he had been officially "dismissed by Rome" on January 7th.
"My Bishop was happy to dispense me. I'm a good man. And he talks about the shortage of vocations," said Geoghegan, who entered the seminary in 1987 aged just 19, and he was ordained six years later.
The Bishop of Waterford and Lismore, Phonsie Cullinan, whose diocese extends over both the borders of Tipperary and Cork, has rejected Geoghegan's charges.
Geoghegan had petitioned Pope Francis for laicisation last March and it was granted on December 15th, said the bishop: "I wish to acknowledge and thank Richard for his pastoral ministry over the years and wish him well for the future."
Geoghegan came under fire from conservative Catholics following an appearance on hotelier Francis Brennan's RTÉ show Grand Tour of Vietnam in 2017, wherein he performed in drag as singer Shirley Bassey, wearing a blonde wig and lipstick.
The TV appearance might not have done him any favours, Hearn accepts. "He is only human at the end of the day. He is well loved here in town. We'd love to have him back. I'd have nothing but deep respect for him," she says.
"He is a real people's person. Some older priests could be aloof. You couldn't meet a nicer, more down to earth man. I think he has been pretty hard done by the Pope and the bishop."
Hearn is not alone in her feelings, with many members of the tight-knit Catholic churchgoing community in Carrick-On-Suir and surrounding districts still shocked and disappointed by the turn of events.
Despite the bishop's declaration that Geoghegan had himself applied to be laicised, the Association of Catholic Priests' Tim Hazelwood describes his treatment as "inappropriate, unreasonable and unacceptable".
In 2020, Hazelwood accompanied Geoghegan to a meeting with Bishop Cullinan, and his secretary.
"It was obvious from the meeting that he wanted Richard to apply for laicisation," Hazelwood says. "That's when Richard said he would have liked to be a curate…Richard found it difficult being on his own in a parish. He needed support," Hazelwood adds.
"Obviously, the bishop had made up his mind," says Hazelwood, "I was shocked, really because the majority of bishops would be supportive, but what I was hearing was really a put down."
Geoghegan declined to comment when contacted.
Former parishioner, John Nolan said, "The Church is crying out for priests and is leaving a good man go. He was friends with everyone, an absolute gentleman. Anyone having a wedding here would look for him. I think it is all down to Bishop Phonsie. "
Describing him as "a fantastic priest", Carrick-on-Suir butcher Morris Whelan says was a great man. "He knew everyone by name. You'd meet him once and he knew your name forever. He was involved in the parish in every part of it."
Local Sinn Féin councillor David Dunne remembers Geoghegan's kindnesses during his mother's illness.
"Everyone recognised him for the programme he did with Francis Brennan…It was fairly flamboyant and wasn't in keeping with the Church, but it was typical of Fr Richard," said Cllr Dunne, "He was always friendly, outgoing and is well-regarded. It is a major loss."
Describing the former priest's ability to engage, Luke Foran says: "One of my favourite memories of him is my brother's Communion where he had all the kids gathered around and Richard's phone rang, and who was on the phone only 'Jesus'.
"You should have seen the kids' faces drop. It was brilliant and he enthralled and captivated the whole place. He was ahead of his time. Richard humanised the priesthood and was a breath of fresh air," he said.
Besides the memories, there is anger, too. Ashling Ní Fháthaigh said: "When he was saying mass the church was a lot fuller with a younger congregation. (He) was liked by so many and was punished for that."
Believing that the church's hierarchy has questions to answers, Margaret Croke says: "A church without compassion and understanding who can so readily dismiss a person who was so dedicated for so many years to its flock and to God really needs to change."