How the Sweden Democrats grew even in their most turbulent stronghold
There have been allegations of tax avoidance, tough policies for migrants, inappropriate drunken nakedness, and a mass departure of civil servants. There have been complaints of a biased media and an entrenched "deep state" resisting every effort to reform. 
The four years of Sweden Democrat rule in the Swedish municipality of Hörby have seen, if not all then at least a bit of, the drama of Donald Trump's America, played out in and around a country market town of 15,000 people.
Yet when the Sweden's Democrat's performance was put to the vote, it raised its share of the vote here by four percentage points, winning an impressive 39 percent. 
"We were shrieking with joy. This was something we could only dream of," says Cecilia Bladh in Zito, the town's Sweden Democrat mayor,  when The Local meets her in her office, which is decorated with black and white photos of horses being traded at long-gone country fairs.
Hörby, in the Skåne countryside 40 minutes drive northeast of Malmö, was one of four towns the populist Sweden Democrats controlled at the time of Sweden's general election two weeks ago. This month it grew its share of the vote between three and ten percentage points in every one.
"We are very, very happy about the trust that we got from our voters," Bladh in Zito continues. "I strongly believe that [it's because] the way we are dealing with questions is very real. It's reality-based political issues. We have both our feet on the ground, and we listen to our voters and the people here in the municipality. What do you need, what do you want?"
The party has managed to keep open the small schools in the villages surrounding the town, which there had been plans to close and consolidate. 
"We said, 'no, no, no, no way', because if we take away the countryside schools, the countryside will die out or later," she says.
It has hired security guards for the city centre, and cut the amount of spending on social welfare by a quarter, she claimed.  
"For the fourth year in a row now, we are increasing safety here in Hörby, so we have less problems now than we had before," she boasts.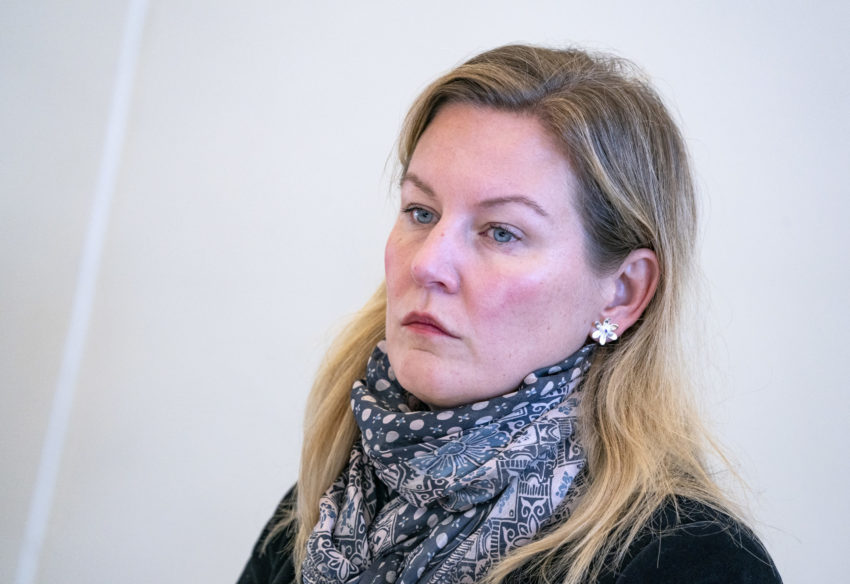 Cecilia Bladh in Zito, the mayor of Hörby, holds a press conference about the fire in the town. Photo: Johan Nilsson/TT
Bladh in Zito and her team have certainly shaken things up, imposing a new organisational structure on the municipality. "We are driving through real change from the ground up, changing the way we look at costs, and changing a lot of the steering documents," she says.
The SD-led council has tried to halve the municipal budget for "mother-tongue education", where children with foreign backgrounds are given an hour's teaching a week in their home language. It has stopped the gay pride rainbow flag from being flown on municipality buildings. It has scrapped an ambition to be "fossil-free by 2020", and also claims to have slashed the budget for social benefits by a quarter, again by tightening rules for immigrants.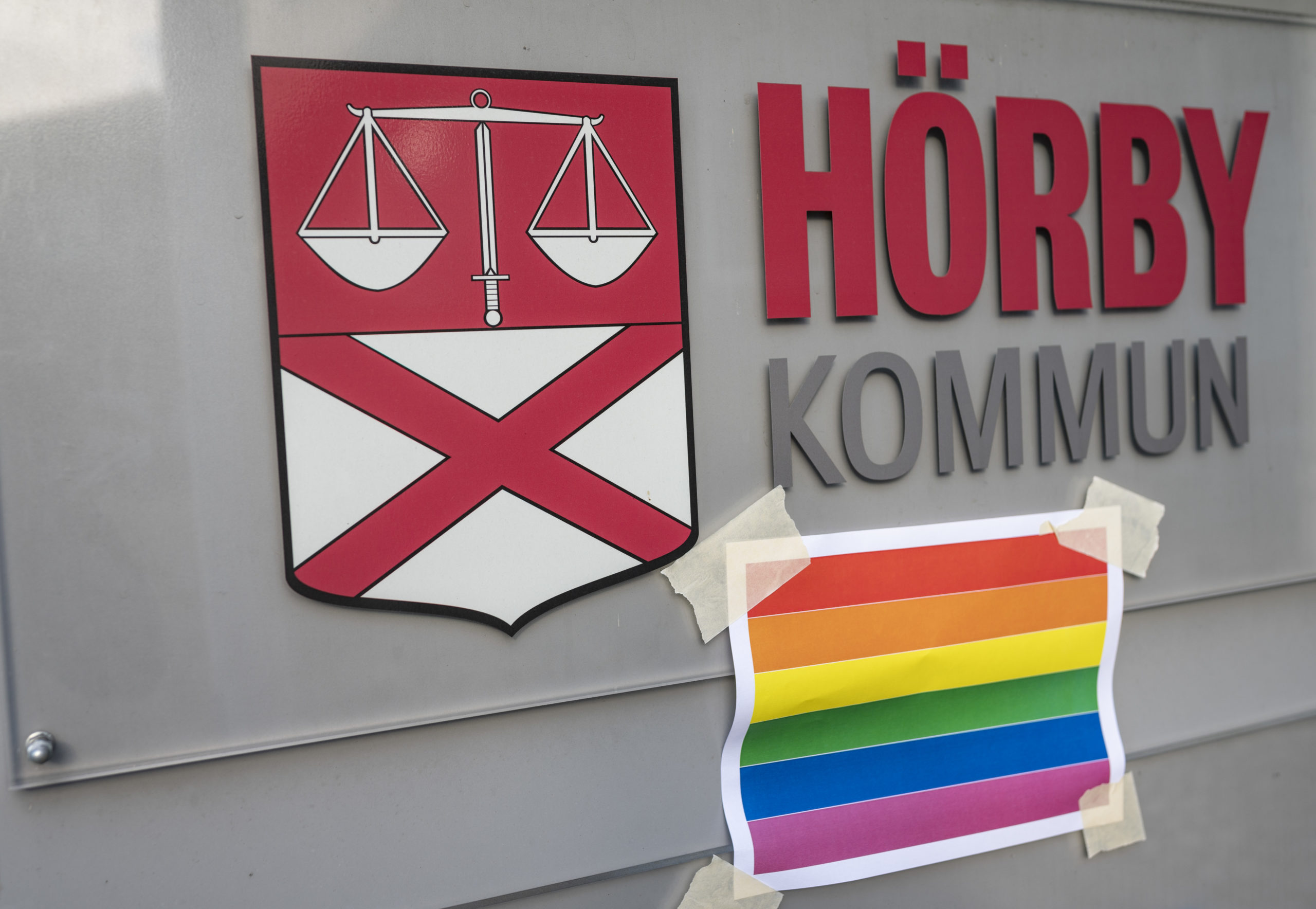 Some has taped a pride flag to the sign at the entrance of Hörby municipality as a protest. Photo: Johan Nilsson/TT
But it may be that people in Hörby voted for the far-right party itself more than for what it did in the town. 
"I think it's a protest, a protest against those who sit and rule the municipality, who haven't been listening to the problems people on the ground are facing, and anyway and there's no one who could do it better," says 81-year-old Kerstin, as she drags her shopping in a wheeled bag across one of the town's two central squares.
She voted for the party both in 2018 and again this year because of what she sees as the complacency of the established parties.
The party grew its share of the vote in nearly nine out of every ten municipalities across Sweden, gaining both in its heartlands here in Skåne, and in the northern regions of the country traditionally dominated by the Social Democrats.
READ ALSO: What have the Sweden Democrats proved in four years of municipal rule? 
It overtook Sweden's former farmer's party, Centre, as the most popular party among agricultural workers, a trend that is likely to be seen Hörby, which is at the centre of some of Sweden's best agricultural land. 
But as in Trump's America, the party's success has divided communities, with Hörby no exception.
"It's completely crazy that so many people here vote for them," complains Johan Tinné, co-owner of the central Café Innegarden, who puts the party's growth down to gang shootings in Sweden's big cities rather than the performance of Bladh in Zito and her team.
When asked if friends and family also vote for the party, he shakes his head. "The day they start voting for SD, I'll end all my contact with them."
Even supporters like Kerstin have misgivings: "There have been stories that haven't been so nice, but they've ridden it out."
First Stefan Borg, the party's group leader, withdrew his candidacy for mayor after the activist magazine Expo revealed that he had been spreading pro-Russian propaganda, writing posts about "the last generation of Swedes" and "the great replacement", and making homophobic statements on social media.Bladh in Zito then stepped in. 
Both Borg and Bladh in Zito are strangely cosmopolitan figures for small-town Swedish politics, and both have a connection to Russia (albeit only a slight one in her case). 
After retiring from his career as a fighter pilot, Borg spent years in Russia learning the language, and told The Local in 2018 he made his living as "a translator of Russian religious philosophy in the tradition of Dostoevsky".
Bladh in Zito grew up in the town but spent her 20s and 30s working as a consultant and energy executive in Stockholm, Germany and Rome. According to her LinkedIn profile, she studied in 2000 at Saint Petersburg Electrotechnical University. 
At the start of 2020, seven unions representing civil servants, teachers and other municipal workers raised the alarm after a mass departure of top civil servants, and reports of a bullying culture.
"It's a very toxic environment," Maria Westlund, chief health and safety representative for the Saco union told the Telegraph. "The working environment has been hostile: People don't get information shared with them, they get left out of emails. People talk crap about them when they're not there. They're not included in meetings." 
Renaldo Tirone, leader of the local Social Democrats, accuses the mayor of "ruling by fear".
But when the struggle was raging, Borg dismissed it in a Facebook post: "What's happening is an attempt by the Deep State, through the unions, to take back political power in Hörby."
Bladh in Zito argues that it was a good thing that civil servants left the municipality if they were opposed to the structural reforms or didn't want to enact the ruling parties' plans. 
"Some people said, 'ok, I don't want to work in the new organisation' because they had lost a title, or maybe even lost some power. That's fine. That's understandable. That's very normal. The other thing is that we had some civil servants at the beginning, who said, 'we don't want to work in a municipality, where the Sweden Democrats are the rulers. We don't want to work there'."
She claims, however, that over the four years as a whole, the churn among council civil servants has not been larger than at other comparable municipalities. 
Then the civil servant in charge of the municipality's social services had to resign after a naked swimming incident at a staff social event.
Most recently, this June, the Aftonbladet tabloid accused Bladh in Zito of paying Polish builders at least 2.5 million kronor in cash to avoid tax when renovating her historic house in the town centre. She claims her Italian ex-husband handled the payments.
She claims that her Italian ex-husband, who is conveniently nowhere to be found, was responsible for paying for the renovation, so she can't say anything about how the builders were paid. But anyway, she claims, she is the victim of a biased left-wing media, with the journalist behind the story "as far left as you can go". 
"They do not want Sweden Democrats to have the power, and they've been trying for four years, even before I was elected, to kick us out," she says. "They asked my former employers if I did something wrong, they've been pushing me politically for three and a half years, and now, because they couldn't find anything in my professional or political life, they going after my private side."
For Westlund, Bladh in Zito's refusal to answer detailed questions about the renovation, like her refusal to work closely with unions, is a sign of a worrying, closed, secretive approach.
"They don't answer the press, they don't answer when other parties ask them things. They just keep everything quiet," she says. "I feel like it's not a democracy anymore."
Bladh in Zito, on the other hand, thinks the party's local gains have proven that it can rule responsibly.
"There will always be people who don't like us, we can never change that," she says. "But I hope they understand that we don't bit, we are not neo-Nazis, we are not fascists, and we are not racists. We are a party which has reality-based political views."
"We've done very well in all our four municipalities, and I hope that can give the Moderates the bravery to start cooperating with us at a national level."
Unko Museum: Tokyo opens first poop museum to explore a taboo topic among Japanese youth | Culture
Among the many synonyms for excrement that exist in the Japanese language, the founders of the Tokyo Unko Museum chose the most candid one, unko, to name an irreverent space designed for female Instagram users. "My goal was for poop to stop being a taboo subject for young girls," explains its creator, Masaru Kobayashi.
With Japanese influencers in mind, Kobayashi filled the museum's rooms with toilets and poop-shaped pieces in shades of turquoise, fuchsia and lemon yellow. The colors follow the palette of the Japanese kawaii aesthetic, which combines the cutesy and the grotesque. Kobayashi explains that, far from being a cultural fad, kawaii is a natural extension of traditional Japanese culture. "At the pinnacle of world-famous kawaii culture is poop, a fragile material that disappears down the drain shortly after being brought into this world," reads a sign at the museum entrance.
To revive the scatological enthusiasm of childhood, visitors are welcomed into a room equipped with nine colorful toilets, whose arrangement evokes the communal toilets of ancient Rome. A museum guide invites them to sit down, clench their fists and, after counting one-two-three, imagine that they are releasing a symbolic dump. When they get up, they find in their respective receptacles pieces of plastic poop, which resemble the poop emoji in striking pastel colors.
There are neon signs with the word poop written in 16 languages. A tearoom serves huge cakes topped with golden feces. Another room features colorful droppings that move when stroked like furry animals. Video games include flying poops. On small toilet-shaped blackboards hung on the wall, visitors are invited to make their own poop drawings.
Although there is a Japanese term for museum, Kobayashi chose the English "museum" to describe a thematic venue whose sole function is to create entertaining environments. Instagram is full of photographs of absurd and witty scenes from the exhibits: couples play-acting, sitting on separate toilets, young parents with blue poop on their heads, or the typical tourist photo featuring a huge illuminated poop. Kobayashi confesses that at first he feared that the unusual concept would be rejected. He felt better when older people started to visit, many of whom saw a generational change in the fact that young girls were openly talking about poop.
In the past three years, Kobayashi has created six such museums across Japan. He has received invitations to open another in Singapore and is in talks with several Asian countries where the subject of human poop lacks the taboo it has historically had in the West.
Classics authors in Japanese literature, such as Natsume Soseki, coined memorable phrases about poop's "physiological pleasures," and Junichiro Tanizaki devoted a long passage from his well-known essay Praise of the Shadow to the traditional toilet set in the middle of a garden, which is where "poets of all times have found abundant material for their haikus."
Many Japanese children learn to write the complicated characters of their language with a series of popular books called Poop Exercises, which contain more than 3,000 humorous phrases related to the subject. For 17 years, Toto, which manufactures high-tech toilets, has held a poetry contest inspired by the subject in the senryu style, which consiss of a short humorous poem and is a relative of the haiku.
For Kobayashi, the evolution of the museum's audience is apparent in their gradual migration from Instagram to TikTok. His intention, he says, is to continue creating playful spaces that provide moments of relaxation to contrast with typically Japanese solemnity. His next project is a railway museum where, unlike the rigorous Japanese rail schedules, no trains arrive on time.
The medieval monks who forged a nobleman's will to appropriate a valuable church | Culture
The monks of the San Pedro de Cardeña monastery, in Spain's Burgos province, had long had their eye on the Santa María de Cuevas de Provanco church in Segovia. But the substantial inheritance that the Count of Castile, Asur Fernández, and his wife Guntroda, bequeathed them made no mention of this Romanesque church surrounded by beautiful vineyards.
Such was the ambition of the monastery to own the church that two hundred years after the death of the Count, they forged the parchment on which his will was written. Their only mistake was an omission to remove all the copies of the authentic will. Now, the Spanish National Research Council (CSIC) and the University of Burgos have been able to demonstrate that the fraudulent document, considered until now to be the oldest of those kept in the Historical Nobility Archive in Toledo, is in fact a forgery from the 12th century, and not from the year 943, as it claims.
The document faked by the monks – officially known as OSUNA, CP.37, D.9 – is a parchment on which round Visigothic script records a donation from the Count of Castile to the monastery of San Pedro de Cardeña. Until now, the document was thought to be somewhat unique as hardly any original documents from the 10th century survive in Castilian Spanish. However, research has shown that it was actually drawn up two centuries later.
The research, to be made public shortly in the Medieval Studies Annual Report, has revealed which procedures were employed to doctor the will, as well as the motives that led the monks to do so. The forgers based their work on an authentic document stipulating a donation from the Count, inserting elements that were not in the original, in order to use it as evidence in potential lawsuits, two of which were subsequently filed and won by the monks.
The analysis of the document, carried out by Sonia Serna from the University of Burgos, has exposed anomalies both in its preparation and its writing. Serna explains that the scribe was accustomed to working with the 12th century Carolinian script, and made an effort to imitate the round Visigothic script typical of 10th century Castile. But anachronistic features crept into his work, such as the use of the Carolinian system of abbreviations and the adoption of anomalous solutions to abbreviate some words, elements that would not have existed in the 10th century. All the same, the forgery proved effective enough to win two court cases.
The forged document included a clause that ceded the church to the Burgos monastery
The original document used by the monk as a model for his forgery was lost. However, a copy survived in the collection of charters, known as Becerro Gótico de Cardeña and kept in the Zabálburu Library in Madrid. By comparing both texts, Julio Escalona from the CSIC History Institute verified that the monk copied the wording and appearance of the authentic will, but inserted a clause assigning the church of Santa María de Cuevas de Provanco to the monastery of San Pedro.
In 1175, the church of Santa María de las Cuevas was the subject of litigation between the monastery of San Pedro and the councils of Peñafiel and Castrillo de Duero. The Burgos monastery finally won by presenting the false parchment document and getting two monks to testify its authenticity. According to the experts, that document was the will filed in the Toledo archive, whose anomalous paleographic features are consistent with an elaboration in the second half of the 12th century, taking the original as a model.
"Its value does not lie in the anecdotal fact of its being or not being the oldest document in the archive [as was believed until now], but in showing how technical skills and moral and religious authority combined in this case to build a credible truth, capable of triumphing in a judicial scenario," states the CSIC and University of Burgos study. "Ultimately, it reminds us that to fully understand any historical period, it is essential to understand how each period rewrites and manipulates its past."
The monastery of San Pedro de Cardeña, where the forgery was made, was completely plundered by the Napoleonic troops during the invasion of the Iberian Peninsula in 1808. The monks fled in terror and had to abandon all the treasures they had been guarding for centuries. One of the desecrated tombs was that of El Cid – or Rodrigo Díaz de Vivar, with Napoleon's soldiers selling off his weapons and remains throughout Europe. They even made engravings reflecting the plundering of the tomb of the legendary warrior. Today, a plaque states that although the remains of the Castilian hero are no longer here, his horse is buried in the monastery's garden, though this may be no more than a myth.
Seven of Italy's most enchanting Christmas markets in 2022
After two years of pandemic cancellations and restrictions, Italy's Christmas markets will be back in full swing this festive season.
While the energy crisis means some towns are cutting back on lighting and limiting the hours of operation, there's still plenty of magic to be found.
Whether your focus is on sipping mulled wine surrounded by snow-topped mountains, riding a ferris wheel, sampling German sausages or marvelling at light displays, Italy has something for everyone.
Without further ado, here are some of the country's best Christmas markets in 2022.
Bolzano
One of Italy's longest-running Christmas markets, the festive extravaganza in Bolzano's Piazza Walther is also said to be the country's largest, with around 80 stalls selling a variety of traditional handicrafts and local treats.
Resting at the foot of the snow-capped Dolomites, Bolzano's pre-WWI history and proximity to the Austrian border means the city is steeped in Germanic influences, with a number of citizens speaking German as their first language.
This gives Bolzano's Christmas market a German twist; expect to be offered candied fruit, apple strudel, cinnamon-spiced mulled wine and other alpine delights as you browse its chalet huts.
When? Until January 6th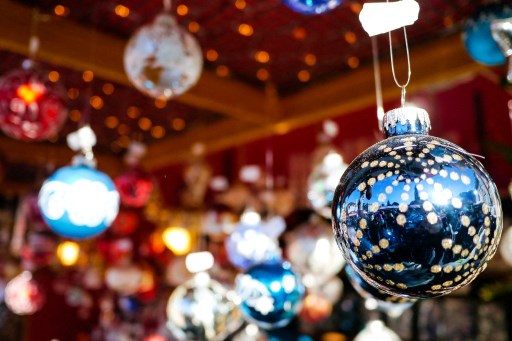 Christmas balls on display in Bolzano's Christmas market. Photo by Andreas SOLARO / AFP.
Trento
While it hasn't been running for quite as long as neighbouring Bolzano's, Trento's Christmas market has become almost as popular, with new stalls added every year.
Just like Bolzano, Trento is surrounded by maintains, which means you can take in views of stunning white peaks as you wander the old town's cobbled streets warming your hands on a cup of vin brulè.
As usual, the market will be spread across Piazza Battisti and Piazza Fiera; the Trento city council has also published a calendar of key events happening every day as part of the city's festive offering.
This year Trento's Christmas market will have a 'green' focus – the use of clean energy, edible bread plates and recycled paper are all part of the concerted effort to limit the event's environmental impact.
When? Until January 8th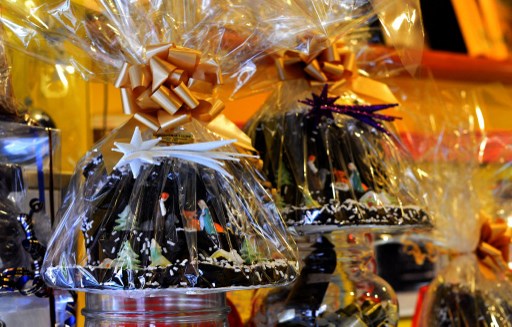 Trento's Christmas market has grown rapidly in recent years. Photo by ALBERTO PIZZOLI / AFP.
Milan
Throughout the month of December and into January, Milan's Piazza del Duomo plays host to the city's Christmas market, with almost 80 wooden huts popping up all over the main square.
Those who want to see Milan at its most Christmassy, however, will want to wait for the "Oh Bej! Oh Bej!" ("How beautiful! How beautiful!" in local dialect) festive fair held in the area surrounding the city's castle, Castello Sforzesco.
This sprawling, centuries-old market is held to coincide with the Feast of Sant'Ambrogio, Milan's patron saint, and is expected to take place as usual from December 7th-10th.
As a result of the energy crisis, Milan will turn on its Christmas lights two weeks later than usual this year, on December 7th – so you might want to time your visit accordingly if you want to witness the city's illumination.
When? December 1st until January 6th (Piazza del Duomo market)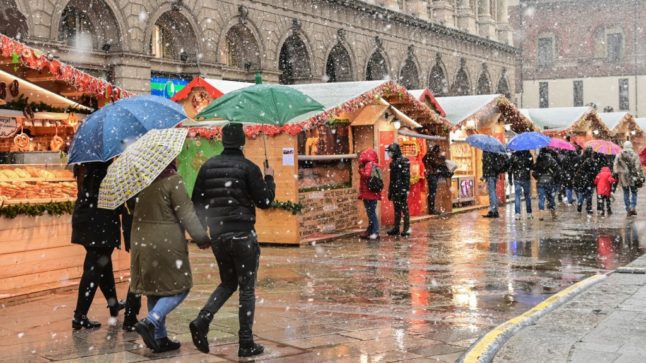 People walk across a Christmas market in downtown Milan as snow falls on December 8, 2021. Photo by MIGUEL MEDINA / AFP.
Cernobbio, Como
Lake Como's roving 'Città dei balocchi' or 'Toytown' Christmas fair this year moves to Cernobbio, where visitors can expect to find the town's Villa Erba park transformed into a winter wonderland.
Fairytale characters, singing trees and a talking tower will greet adults and children who enter the park, with admission free to all.
Festivities are due to kick off at 5pm on December 7th with the opening of Magic Light festival, a mesmerising light display with projections of moving images.
On December 8th – Italy's Feast of the Immaculate Conception, which for many in Italy signals the start of the festive period – light displays on Cernobbio's tree and in the old town will be switched on, heralding the arrival of Christmas.
When? December 7th until January 8th
Florence
Florence has a range of Christmas markets, but the largest and best-known is the one on Piazza Santa Croce in front of the beautiful Santa Croce Basilica.
It's run by the organisers of the Heidelberger Weihnachtsmarkt in Germany, which means you can expect authentic bratwurst, stollen, Glühwein, lebkuchen biscuits and German beer, as well as Austrian, Dutch, Hungarian, Polish, French and Italian treats.
This one closes a full week before Christmas, so if you're planning an Italy Christmas markets tour you might want to make Florence your first stop.
When? Until December 18th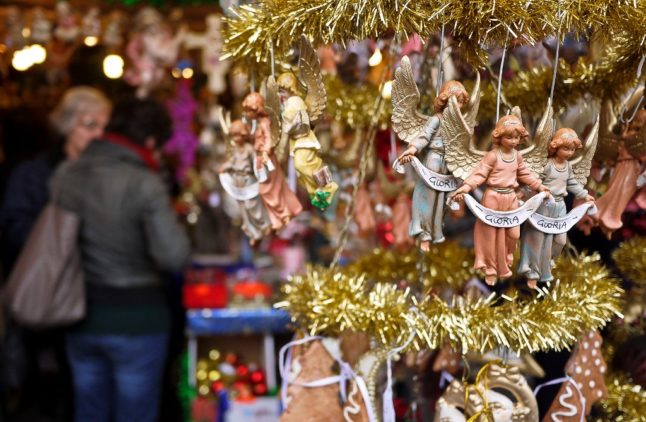 Florence's Christmas market is German-themed. Photo by ANDREAS SOLARO / AFP.
Verona
Like Florence, Verona's Christmas market is a collaboration with that of a German city; in this case, Nuremberg's Christkindlmarkt.
At the main market on Piazza dei Signori you can expect to find sauerkraut, potatoes and German sausage, as well as fried donuts made with ricotta and coated in chocolate.
In addition to those on main square, the market stalls – which this year number some 100 huts – will fill Cortile del Mercato Vecchio and stretch intro surrounding squares and streets.
This year's festive offering includes a Santa Claus house, a children's train, two skating rinks, and a range of musical events.
Be sure to look out for the city's famous 70m-high, 82m-long illuminated shooting star sculpture in Piazza Bra – installed in November and dismantled in January every year since 1984, the sight has become central to the Veronese Christmas experience.
When? Until December 26th
Salerno
Ensuring that Italy's northern and central regions don't get all of the glory, the Luci d'artista (Artist's Lights) display in Salerno draws visitors from all over the world to this small city just east of the Amalfi coast.
This illuminated open-air exhibition runs the length of the main shopping street, up to the Christmas tree on Piazza Portanova, through the medieval city centre and up to the Villa Comunale public gardens.
Salerno's Christmas market stalls occupy a stretch of the seafront, and this year will run from December 3rd-25th.
Accompanying the event will be a 55m-high ferris wheel, two jazz concerts, and a Santa Claus house (from December 10th to January 7th).
When? December 2nd until January 31st; Christmas market stalls December 3rd-25th.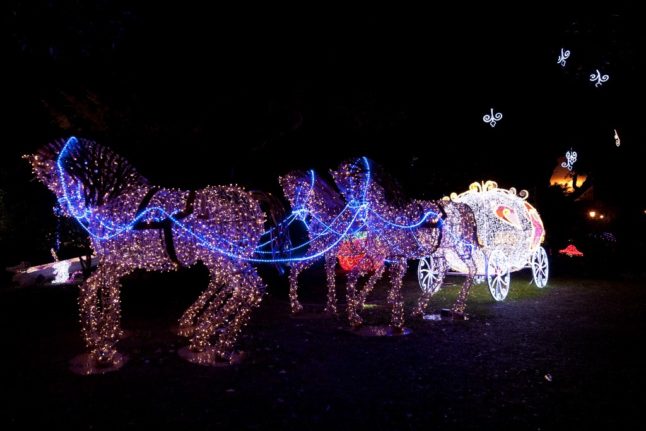 The Luci d'artista lights display in Salerno attracts visitors from all over the world. Photo by MARIO LAPORTA / AFP.