How that viral video was made
Uncanny Valley is inescapable. Just look at the latest eerie video from the amateur (for now) parodist Steven Connolly. The faces of Ronan O'Gara and Johnny Sexton have been merged with, respectively, Emilio Estevez and Ally Sheedy in John Hughes's film The Breakfast Club. All rivalries are forgotten as the rugby legends make a touching romantic connection.
"Johnny has a public reputation for being a bit of a grump," Connolly says. "So that suited Ally Sheedy's character right there. So it just kind of worked. Rog has liked the video, but Johnny hasn't. Ha ha!"
The video sits among an array of largely sports-related parodies on Connolly's increasingly popular YouTube channel. Enjoy Graham Souness, the famously combative former footballer, recommending a new scent called Brutal. Rory McIlroy's face is superimposed on that of Sylvester Stallone in a subversion of Rambo: First Blood Part II. "You gave the order for people to start shouting when people are teeing off, didn't you?" RorySly grumbles before brandishing a knife at poor (unaltered) Charles Napier.
Over the past year or two Connolly has enjoyed the odd bit of feedback from the celebrities. Ricky Gervais liked his Oscar impressions video and helped that post go viral. Padraig Harrington also gave him a helpful retweet.
We catch Connolly, who works in IT, on his lunch break. "I have always mimicked," he says. "I think I started mimicking the parish priest in Manorhamilton, in Co Leitrim, for a few laughs. Then I did the teachers in school. A few years ago, my brother said he knew someone who was setting up a radio channel. I auditioned. I didn't get it, but I then formalised it. It is part time. I don't think I've been paid for anything."
There are two skills here. Connolly is as adept at the Co Down vocal rambles of McIlroy as he is at Souness's more wintery Scottish grumbles. But it is the video trickery that establishes his parodies as entertainment of the moment. Just a decade or so ago, it would require millions – and the services of Hollywood's swankiest special-effects boffins – to merge footage in this manner. Such "deepfakes" are now available to the skilled amateur.
"You basically take the faces – Rog and Emilio, say – and the AI runs for about 24 to 36 hours, and then there is the editing on top of that," he explains.
So is there a specific piece of software that helps out with such operations?
"Yes, this is DeepFaceLab. It would be tricky to use if you are not IT-orientated," he says, before going on to mention "batch files" and other terms that cause the civilian brow to furrow. "I could show somebody in a few hours how to do it. It is much more difficult if you are trying to work it out yourself."
We have become used to online creators playing any number of imaginative conjuring tricks with pre-existing footage. Dialogue is manipulated. Music is reimagined. One wonders where copyright comes into this. The venerable Universal logo is right there at the start of Connolly's Breakfast Club clip.
"Parody is fine. That is my rudimentary knowledge of copyright law," Connolly says. "YouTube will notify you if there is any issue with copyright. I put up Star Wars, and obviously John Williams's soundtrack is in there. They say you can't monetise this. But you don't monetise anything anyway."
Welcome to the new economy.
Art fakes: Disputed 'Basquiats' seized by FBI shake the US art world | Culture
While New York surrenders once again to the genius of Jean-Michel Basquiat with an exhibition of unpublished work curated by his family, in Orlando (Florida), there is considerably more controversy over the work of the artist who died at the age of 27. An exhibition at the Orlando Museum of Art dedicated to the former close friend of Andy Warhol, entitled Heroes & Monsters, has cost the head of that gallery his job, while the FBI investigates the authenticity of 25 of the works, not to mention the threats made by the director against an expert who had been commissioned to evaluate the authorship.
Although the scandal began to take shape in February, when the exhibition opened, the FBI raid took place last Friday with the seizure of the paintings with a contested attribution to Basquiat. Aaron De Groft, director and chief executive of the museum, has relentlessly defended that these are genuine works, while emphasizing that it is not a museum's role to certify the authenticity of the works it exhibits. "[The paintings] came to us authenticated by the best Basquiat specialists," he told the local NBC television station in February.
De Groft had for months championed the importance of the paintings, asserting that they are worth millions of dollars, until an expert showed up who'd been hired by the owners of the paintings and she began to question his version of events. The director was fired on Tuesday, just two business days after agents seized the 25 suspicious works. The museum's board of trustees met for hours that day, but not before warning employees that anyone who dared to discuss the matter with journalists would suffer the same fate as De Groft. Hence, it is impossible to know the version not only of the former director, but of any worker at the center. Nor can any information be gleaned at the New York exhibition, a mixture of unpublished work and memorabilia, where organizers are fearful of the devaluation caused by the Orlando scandal.
"It is important to note that there is still nothing that makes us think that the museum has been or is the subject of an investigation," Emilia Bourmas-Free told the local chain on behalf of the art gallery. Cynthia Brumback, chairwoman of the museum's board of trustees, expressed itself in similar terms in a statement, saying that the board of trustees is "extremely concerned about several issues related to the exhibition Heroes & Monsters," including "the recent revelation of an inappropriate e-mail correspondence sent to academia concerning the authentication of some of the artwork in the exhibition," as reported by The New York Times.
The statement refers to a disparaging message sent by De Groft to the specialist hired for the expert opinion, cited in the FBI investigation as "Expert 2″ but who the New York Times has confirmed is Jordana Moore Saggese, an associate professor of art at the University of Maryland. This expert, who received $60,000 for a written report, asked the museum not to have her name associated with the exhibition, according to the FBI affidavit. Angry, De Groft threatened to reveal the amount of the payment and share the details with her employer, the university.
"You want us to put out there you got $60,000 to write this?" wrote De Groft, according to the affidavit. "Ok then. Shut up. You took the money. Stop being holier than thou. Do your academic thing and stay in your limited lane." The board said it has launched an official process to address the matter. The scandal was precipitated a few hours after the closing of the exhibition, which had originally been meant to travel to Italy.
The mystery of the cardboard box
But how did the paintings get to the Orlando Museum? The museum and its owners maintain that the paintings were found in a Los Angeles storage unit in 2012. The New York Times reported that questions arose over one of the paintings, made on the back of a cardboard shipping box with FedEx lettering in a typeface that was not used until 1994, six years after Basquiat's death, according to a designer who worked for the company.
Both De Groft and the owners of the paintings maintain that they were made in 1982 and that Basquiat sold them for $5,000 to a famous television screenwriter, now deceased, who deposited them in a storage unit and forgot about them.
Ramón Estévez regrets his name change to Martin Sheen | Culture
At the beginning of the sixties, Ramón Estévez was desperate. His first steps as a television actor had gone well, but he felt stuck in that medium and wanted to get into theater and film. However, at the time, his name held him back: there were few successful Latinos in the United States. "Whenever I called for a position, whether for work or for an apartment, they answered me hesitantly when I gave my name, and when I arrived, I found the position already filled." He said in 2003. And so, Ramón decided to create an artistic name by merging the name of Robert Dale Martin, the CBS network's casting director, who had helped him in those essential appearances on the small screen, and that of Bishop Fulton J. Sheen, who, as Estévez's little sister Carmen recalls, "regularly appeared on TV."
This is how Martin Sheen came about, and owing to his great talent, he triumphed first in theater and, later as an actor in the movies, notably: Badlands, Apocalypse Now, The Departed, and Wall Street. However, the identity of Ramón Antonio Gerardo Estévez did not disappear: this name remains in all of Sheen's official documents (passport, driver's license and marriage license)… and in the actor's soul. Last week, in an interview with Closer magazine, he confessed that one of the great regrets of his life was his change of name. He speaks with pride of the obstinacy of his son Emilio, who kept it despite "his agent's advice to change it". In relation to his own decision, he reflects: "Sometimes they convince you, when you don't have enough insight or even enough courage to stand up for what you believe in, and you pay for it later."
Over time, Sheen recovered his Galician roots, the land where his father, Francisco Estévez Martínez, was born. His father was an immigrant who left Parderrubias, in Salceda de Caselas (Pontevedra), for Cuba at the age of 18 in 1916. He left with no Spanish, a language he learned on the Caribbean Island. In the early 1930s, he emigrated to the United States to a modest Irish neighborhood in Dayton (Ohio), where he married another immigrant, Mary-Ann Phelan.
Martin Sheen's life has been profoundly marked by his childhood. His father worked at NCR Corporation, an industrial conglomerate that began manufacturing cash registers. Shortly after his marriage, the company sent him to the Bermuda Islands where his first children were born. Sheen was the seventh of ten children (nine boys and one girl), and the first to be born in Dayton, in 1940, after the family moved to the US. His left arm was clasped by forceps during birth, leaving it three inches shorter than his right arm. As a result of this, the character that Sheen interprets in the series The West Wing of the White House, President Josiah Bartlet, puts on his jacket with a strange twist of the body. As a child, he suffered from polio which kept him bedridden for a year, and at the age of 11 his mother died. Thanks to the support of a catholic charity and his own father's efforts, the family remained united against the distribition of children to orphanages or foster homes, a common practice at the time.
He was the eccentric of the family: he decided to go into acting. Against his father's objections, Ramón, the most reserved son only enjoyed the theater and decided to study acting. "You don't know how to sing or dance!", his father told him, to which his son replied: "You love westerns and in those nobody sings or dances". "But you don't ride a horse either!" was his father's comeback. Despite this discouragement, he moved to New York, following in the footsteps of his idol, James Dean.
In the mythical episode Two Cathedrals of The West Wing, he explains how the character President Bartlet reflects the experiences of his own childhood and adolescence. Estévez/Sheen: a practicing Catholic and relentless campaigner against global warming, a man in favor of civil and immigrant rights, he was arrested several times during demonstrations outside the White House. His activism began when he was just 14 years old in a golf club where he worked. He led a strike of caddies, protesting against the club members' use of bad language in front of children.
And then there's the Spanish context. Francisco Estévez did not teach his children Spanish, but the Estévez family went back to their roots. Francisco was able to return to his hometown in Galicia in 1967 (just as Sheen landed his first big role in In the Custody of Strangers), where he began building a house, while making regular trips back to Dayton. He would never see this house finished. He died in Dayton in 1974, and was buried with his wife and son Manuel, who had died in 1968. His only daughter, Carmen, ended up working as an English teacher at a school in Madrid, where she married. For years people in Madrid have bumped into Sheen during his visits to his sister. Carmen finished building her father's house and inaugurated a river promenade dedicated to his memory. Indeed, she has kept the memory of the Estévez alive in Salceda de Caselas.
The Camino de Santiago, a dream come true
In the early years of the 2000s, Sheen, his son Emilio Estévez and his grandson, Taylor, walked the Camino de Santiago. In Burgos, the grandson met a girl, and at the end of the walk he decided not to return to Los Angeles, but to remain in the Castilian city, where he got married. Influenced by that experience, Sheen and Estévez made the film El camino (2010), in which both co-starred and the latter directed. A few months ago, Sheen spoke proudly of El camino, a great success, and a faithful portrayal of his spirituality. During filming, at a lunch under huge pergolas at the back of Burgos cathedral, Sheen explained: "I am a Catholic, and a lot of that spirituality is in this movie. I have had an extremely happy life, with the normal highs and lows of a career. I have survived disease and my family is wonderful [his four children, including Charlie Sheen, are actors]… I believe in a church that does incredible work in the Third World. Other things, like some of the pronouncements from the Pope [at that time, Benedict XVI], are more difficult for me. I live my faith, and it is between God and I." A few meters from Sheen and the journalist, at the long tables, was a strange group that didn't not look like actors: "That's my wife, that's my sister and her husband, that my best childhood friend… I've invited them to come and have a good time with Emilio, Taylor [who worked as an assistant] and me". Taylor Estévez currently works as a stunt coordinator in California.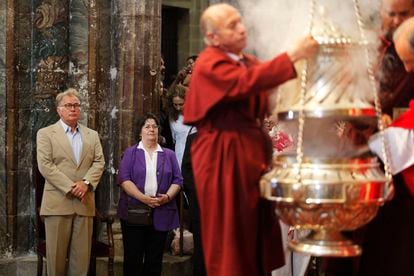 Carmen Estévez says that for decades the family did not understand their father's deeply Galician sense of humor, until they realized that for much of the time he was not being serious. This sarcasm was inherited by his son Ramón/Martin, and he made a display of this in Burgos. In response to a question about his career, he said: "With my resume full of bad movie titles, what can I say. I'm an actor and that's how I've supported my family. But I've been in about 10 films that I can be proud of…" at which point he dropped his cup of coffee and blurted out: "See? For gloating over my career. Divine punishment".
Buzz Lightyear: To Lesbians and Beyond | Culture
The first homosexual kiss in a Disney movie has been more than expected. Many of us wanted to see it in Frozen: some interpret the ice princess's song "Let it Go" as a reference to being gay. Lots of people awaited it in Luca, where the love between protagonists Luca and Alberto was at times more obvious even than that of the cowboys in Brokeback Mountain. We longed for a legendary, effervescent kiss, the fruit of a rebellious and passionate love. It was going to be a vindictive kiss, full of fireworks. It would be one of those kisses that precede the mythical The End, when the screen fades to black behind the lover's mouths. It was a kiss that was going to take everything over. Above all, it was going to be the great kiss of the 21st century, undoubtedly the century of homosexual visibility and the century of the gender revolution, the moment when women fall in love and kiss for the first time and do all of it on the big screen. (Well, not all of it.)
The first lesbian kiss in Disney history appears in the recently released Lightyear, and it has sadly led to the censorship of the film in 14 countries in the Middle East and Asia. The kiss takes place in 1995, that is, 27 years ago. The first homosexual kiss of the Disney Pixar factory recognizes that it is years late. It is a 90′s kiss. It comes not from the 21st century, but the 20th. How? The film starts with the following premise: in 1995 Andy, the protagonist of Toy Story, went to the cinema to see Lightyear. This is the movie he saw then. Lightyear, therefore, is not the end of the saga but its prequel. In addition, the controversial kiss does not happen between a young protagonist and her girlfriend, but between two mature women who have been married for years. We are not facing a rebellious kiss, much less a political or ideological one. This kiss is not intended to be a novelty or to make anything visible. It is an absolutely conventional gesture. Thank you, Disney Pixar for going beyond my wildest dreams when it comes to normalizing visibility. And thank you for listening to your workers and refusing to remove the scene. In the long run, it will be more profitable to sacrifice box-office earnings than dignity.
In addition to being between two women, the kiss happens between two mothers, on the day that they celebrate their son's birthday. It is not the classic Disney kiss, a culmination of the romantic love between the leading couple, but a stolen moment of quotidian happiness. It is a fleeting kiss, insignificant in the history of lovers. It lasts just seconds. It is not charged with any special meaning in the love story. It speaks of a way of building affections and meaning different from that imposed by the traditional heterosexual canon: seemingly unimportant gestures of are everything. It represents a kind of love where kisses do not represent a turning point in the lovers' lives, but rather small anchor points in their story history. In this gesture, romantic love is not ultimately the center of life but part of it. In Lightyear, we witness the anodyne kiss on the lips between space explorer Alisha Hawthorne and her wife, and we realize that partners are not at the center of any story, but rather one of those fragments that give meaning to life. It is a sapphic kiss in the sense that it is another way of building love, more horizontal, quieter and healthier.
Alisha—a female, lesbian and black—does not have as much screentime as Buzz Lightyear—male, white and the story's protagonist. She is the protagonist's friend, confidante and inspiration. Together they are trapped on an uninhabitable planet due to a mistake he made. From that moment on their lives run parallel but radically different–almost like the story of lesbian and heterosexual love. She adapts to the circumstances and begins to live the life that has befallen her, without rejecting its difficulties. The conditions are not the best, but Alisha falls in love–with a woman–and celebrates her luck. Together they have a son. Along the way, she takes care of those she loves, she has a granddaughter, she fights and she investigates. She fills her life with meaning, and she dies. Buzz, on the other hand, insists on "finishing the mission," "being important," "saving the world," "succeeding," "being a hero," "doing things alone" and "being the first." Buzz, who will never know love, embodies many of the traditional values of heteronormative love, starting with the desire for protagonism and the sense of a linear life narrated through love or milestones, leading only to deep, intimate failure.
Lightyear attempts to travel into space to escape from the planet where he is trapped, failing over and over again. Additionally, though, time is altered every time he subjects his ship to hyperspeed. Every time he returns, a few minutes have passed for him and a few years–four, ten or twenty–for Alisha. He burns through life, while she lives it. In one of the final moments, Buzz Lightyear explains to Alisha's granddaughter why he and her grandmother became space rangers. "We just wanted to be important," he says. "Trust me, she was," she says. And the hero understands that his whole life has been a huge misunderstanding. He will have to return home, knowing that his home is the one he has tried to flee all his life.
The film is a masterpiece, full of action, emotion, humor and imagination. Its commitment to diversity includes a warrior over seventy years old, a rebel whose role is essential in saving the world. No one is talking about the old woman for the simple reason that old age remains invisible even when it occupies the center of the scene. The film also gives us Sox, an adorable robotic cat that demonstrates how the only technology that works is that which helps people, not that which attempts to change them. It is truly one of the great Pixar movies, much more than action and stars.
At this point, it had gotten hard to explain why we humans want to keep going to infinity and beyond. But there is a moment, at the end of the film, when we understand: when the elite protectors of the universe excitedly observe the bronze statue of Alisha, a black lesbian woman, the source of meaning for humanity, because she is the one who knew how to live a small life with greatness.