How Facebook is pushing staff out of social media as it morphs into Meta
The Instagram engineer had already packed his bags for a December holiday when his boss pulled him into a virtual meeting to talk about job goals for 2022.
Their conversation soon took an unexpected turn. Forget the goals, his boss told him. To succeed at Meta, the parent company of Facebook and Instagram, his boss said, he should instead apply to a new position in the burgeoning augmented reality and virtual reality teams. That's where the company needed people, he said.
The engineer, who had worked at Instagram for more than three years and who declined to be identified for fear of retaliation, was taken aback by essentially having to reapply for a job. He said he hadn't decided what to do.
Mark Zuckerberg, founder and CEO of the company formerly known as Facebook, has upended his company ever since he announced in October that he was betting on the so-called metaverse. Under this idea, his company – renamed Meta – would introduce people to shared virtual worlds and experiences across different software and hardware platforms.
Since then, Meta has pursued a sweeping transformation, current and former employees said. It has created thousands of new jobs in the labs that make hardware and software for the metaverse. Managers have urged employees who worked on social networking products to apply for those augmented reality and virtual reality roles. The company has poached metaverse engineers from rivals including Microsoft and Apple. And it has officially rebranded some products, such as its Oculus virtual-reality headsets, with the Meta name.
The moves amount to some of the most drastic changes at the Silicon Valley company since 2012, when Zuckerberg announced that Facebook had to shift its social network away from desktop computers and toward mobile devices. The company restructured, focusing its energy and resources on making mobile-friendly versions of its products. The makeover was hugely successful, leading to years of growth.
But changing the company's course now is far more challenging. Meta has more than 68,000 employees, more than 14 times its size in 2012. Its market value has risen by more than eight times over that period to $840 billion (€740 billion). Its business is entrenched in online advertising and social networking. And while the shift may give Meta a head start on the internet's next phase, the metaverse remains a largely theoretical concept – unlike the 2012 move to mobile when smartphones were already widely used.
Internal disruption
The result has been internal disruption, according to nine current and former Meta employees who were not authorized to speak publicly. While some workers were excited about Meta's pivot, others questioned whether the company was hurtling into a new product without fixing issues such as misinformation and extremism on its social platforms. Workers were expected to adopt a positive attitude toward innovation or leave, one employee said, and some who disagreed with the new mission have departed.
What the metaverse focus means for the company's existing social networking products such as Facebook and Instagram remains in flux, two employees said. At Facebook and Instagram, some teams have shrunk over the last four months, they said, adding that they expected their budgets for the second half of 2022 to be smaller than in previous years.
A spokesman for Meta, which reports quarterly earnings on Wednesday, said building for the metaverse was not the company's only priority. He added that there hadn't been significant job cuts to existing teams because of the new direction.
Adam Draper, a managing director of Boost VC, a venture capital firm that invests in companies focused on "sci-fi technology", said Meta's new bet was well-timed.
"There will be entire economies and countries built digitally through VR/Web3, and we are just scratching the surface," he said, using terms to describe next-generation technologies for building the metaverse. He noted that Meta was in the lead with virtual reality because of products such as its Oculus headsets, adding: "This is the sci-fi future, and Meta made the bold move to make it a reality."
Facebook's pivot to the metaverse started in its top ranks. In September, Mike Schroepfer, the long-serving chief technology officer, said he would step down by the end of 2022. In his place, Zuckerberg appointed Andrew Bosworth, known as "Boz", who has for the past few years led development on products such as the Oculus headsets and Ray Ban Stories smart glasses.
Bosworth's ascendancy was a sign to insiders that Zuckerberg was taking virtual reality and the metaverse seriously. The two had met at Harvard in an artificial intelligence class, when Zuckerberg was a student and Bosworth was a teacher's assistant. They kept in touch after Zuckerberg dropped out of the university. Eventually, Bosworth moved to Silicon Valley to work for Zuckerberg.
Zuckerberg has since turned to Bosworth for major initiatives. In 2012, Bosworth was given the task of building out Facebook's mobile advertising products. After management issues at the Oculus virtual reality division, Zuckerberg dispatched Bosworth in August 2017 to take over. The virtual reality business was later rebranded Reality Labs.
Pledged billions
In October, the company said it would create 10,000 metaverse-related jobs in the European Union over the next five years. That same month, Zuckerberg announced he was changing Facebook's name to Meta and pledged billions of dollars to the effort.
Reality Labs is now at the forefront of the company's shift to the metaverse, employees said. Workers in products, engineering and research have been encouraged to apply for new roles there, they said, while others have been elevated from their jobs in social networking divisions to lead the same functions with a metaverse emphasis.
Of the more than 3,000 open jobs listed on Meta's website, more than 24 per cent are for roles in augmented or virtual reality. The jobs are in cities including Seattle, Shanghai and Zurich. One job listing for a "gameplay engineering manager" for Horizon, the company's free virtual reality game, said the candidate's responsibilities would include imagining new ways to experience concerts and conventions.
Internal recruitment for the metaverse ramped up late last year, three Meta engineers said, with their managers mentioning job openings on metaverse-related teams in December and January. Others who didn't get on board with the new mission left. One former employee said he had resigned after feeling that his work on Instagram would no longer be of value to the company; another said they did not think Meta was best placed for creating the metaverse and was searching for a job at a competitor.
Meta also lured away dozens of employees from companies such as Microsoft and Apple, two people with knowledge of the moves said. In particular, Meta hired from those companies' divisions that worked on augmented reality products, such as Microsoft's HoloLens and Apple's secretive augmented reality glasses project.
Representatives for Microsoft and Apple declined to comment. Bloomberg and the Wall Street Journal previously reported on some of the personnel moves.
Meta's employees have been asked to contribute to the change in other ways. In November, they were asked to sign up for Project Aria, an effort to gather data for future augmented reality glasses, according to an internal memo that was reviewed by the New York Times.
Employees could "earn points and win swag" by wearing the glasses and gathering data through the device's cameras and sensors, the memo said. To reduce people's privacy concerns about being filmed with the glasses, employees were asked to wear a T-shirt identifying themselves as a "research participant" and were told they could not view or listen to the raw data captured by the glasses, according to the memo.
Employees have also been able to sign up to test the Oculus Quest headsets and to use them for meetings in Horizon Workrooms, the company's virtual reality work-conferencing space.
Wearable tech
Meta is working on other wearable-tech products, including a smartwatch with health and fitness tracking capabilities, said two people with knowledge of the project. The Information, a tech news website, reported earlier on the smartwatch. Ray Ban Stories, the smart glasses that people can use to capture video, are a stepping stone to making more people comfortable with putting smart tech on their bodies, the report said.
In a company-wide meeting days after Zuckerberg announced that Facebook was going all in on the metaverse, Sheryl Sandberg, the chief operating officer, took questions from employees about the change.
She said she was "excited" about the metaverse's possibilities and told attendees to imagine the endless opportunities that would be available to people around the world, two employees who listened to the virtual meeting said.
Many employees showed their enthusiasm using heart emojis. But in one private chat for engineers, which was reviewed by the New York Times, one employee wrote: "Who is the elephant in the room who is going to ask how all of it works? Not it." – This article originally appeared in The New York Times
From the living room to the vault: the story of a painting that no one knew was a Van Dyck | Culture
The painting The presentation of the baby Jesus to Saint Barbara, by the Flemish painter Anton van Dyck, remains secure in an insurance company's safe deposit box in Seville waiting to find out what its next destination will be. For several generations this canvas, measuring 130 by 92 cm, has been hanging in pride of place at a family home in Jaén (southern Spain). The family always looked at it with admiration, but little did they know that every day they were sitting under a masterpiece.
To the astonishment and disbelief of the family, a Madrid art company authenticated the painting as a work by Anton van Dyck (1599-1641) last year. Along with Rubens, the artist is considered the most important of the Flemish painters. The heir to this family legacy, who has been inundated with offers from famous auction houses, has the Museum of Fine Arts of Seville at the top of his list of buyers. Managed by the Junta de Andalucía, the museum has already shown its interest in adding the painting to their art collection.
The Andalusian Ministry of Culture confirmed to EL PAÍS that the family wrote to them in July to inform them of the existence of the canvas, but now they are waiting to resume contact to delve deeper into the matter. "If, as it seems, it is a Van Dyck, anything that enriches the collection of the Museum of Fine Arts is of interest to us, of course it is," says a spokesperson from the Ministry. The painting is kept under lock and key and the owner, at the moment, has not allowed photos to be taken.
"The owner of the painting has no intention of speculating, but he does have a special interest in it staying in Seville, the city where the family now lives and with which he has a special connection," says Luis Baena, the lawyer representing the painting's owner, who wishes to remain anonymous for the moment. Van Dyck is a key painter in the development of the Sevillian baroque due to the influence he had among 17th century artists.
It is thought that the painting might have reached the home of this family in Jaén through Seville (where part of the family lived) in the 17th century. This was when more than a hundred Flemish families, mainly merchants and bankers, settled in the Andalusian city. After its authenticity was certified, the canvas, which showed obvious signs of deterioration as it was a painting from the first third of the 17th century, was restored by a workshop of renowned Andalusian professionals.
At the moment, The presentation of the baby Jesus to Saint Barbara does not have an official appraisal, although its owners anticipate that they will ask for "a fair and reasonable price." In any case, it is known that, after coming to light, this work of art will be significantly revalued. Just this year, art collector Albert B. Roberts bought an oil sketch of Saint Jerome with an angel that had been found in a shed in upstate New York for over $600. After offering the work to Sotheby's auction house, he sold it for more than $3 million. Part of those profits went to the Albert B. Roberts Foundation, which provides financial support to artists and various charities.
"It is very difficult to specify an approximate value of this type of work of art. Each painting has its own features," says Consuelo Durán, who manages the Durán auction house. In any case, up to more than €9 million ($9.4 million) have been paid for Anton van Dyck's works in the past. That was the amount that Alfred Bader and Philip Mold paid in 2009 at an auction at Sotheby's in London, which set a record for works by the Flemish painter.
In a case similar to what occurred with the Andalusian family, a priest from the county of Cheshire in the United Kingdom bought a portrait for £400 ($482) in 2014. It was later revealed that it was a sketch of one of the magistrates that the Dutch artist portrayed in 1634. The resulting painting decorated the walls in Brussels city hall until it was destroyed in a French attack on the Belgian capital 61 years later.
Anton Van Dyck became the first court painter in England after a long stay in Italy. He is universally known for his portraits of the Genoese nobility and of Charles I, king of England and Scotland, his family members and his court. In addition to portraits, for which he was highly appreciated, he also dealt with biblical and mythological themes, introducing some notable pictorial innovations.
Sign up for our weekly newsletter to get more English-language news coverage from EL PAÍS USA Edition
8 Reasons Why Highly Intelligent Individuals Tend To Embrace Messiness At Home
By Darren Wilson
In the realm of intellectual brilliance, the concept of order and tidiness often takes a backseat. Highly intelligent individuals, driven by a relentless pursuit of knowledge and innovation, forge their paths in a world of ideas and creativity.
This propensity for intellectual pursuits can give rise to living spaces that may seem cluttered and untamed to the untrained eye.
Here, we dive into eight compelling reasons why some of the brightest minds in history tend to gravitate towards messy households, shedding light on the unique relationship between intelligence and chaos.
1. Unkempt Homes Foster Creativity and Novelty
For highly intelligent individuals, a chaotic environment serves as a crucible for creativity.
Studies from the University of Minnesota have shown that disorderly settings encourage thinking outside the box. In experiments, participants in cluttered rooms generated ideas perceived as more enjoyable and innovative.
This environment fosters a unique brand of creativity, allowing brilliant minds to explore uncharted territories of thought.
2. Disinclination to Adhere to Social Norms
Conformity rarely finds a place in the lives of the highly intelligent. These individuals possess an independent streak that extends to their living spaces.
They question the societal expectation of a meticulously clean home, choosing instead to embrace the chaos that mirrors their unconventional thinking.
Their rejection of conformity extends to their environment, where their independent spirit takes precedence over tidiness.
3. Energy Allocated to Intellectual Pursuits
The pursuit of intellectual endeavors consumes the majority of their energy. Immersed in research, contemplation, and problem-solving, these individuals leave minimal room for routine tasks like cleaning.
This single-minded dedication to intellectual pursuits manifests in a living space that reflects their prioritization of knowledge over cleanliness.
4. Immersed in Thoughts, Oblivious to Surroundings
The minds of highly intelligent individuals are a whirlwind of intellectual activity. Lost in contemplation about the nature of existence and the complexities of the universe, they often become oblivious to their immediate surroundings.
This profound mental engagement takes precedence over the physical environment, resulting in spaces that may appear untamed to others.
"In the world of a true entrepreneur, chaos and creativity dance in perfect harmony."

– Raza H. Qadri
5. Cleaning Appears Boring and Monotonous
Geniuses often find routine tasks like cleaning to be uninspiring and monotonous.
Their minds are wired to seek intellectual stimulation and challenge, rendering cleaning a lower priority.
They possess a higher threshold for messiness, requiring mental engagement that everyday tasks cannot provide.
6. Independence Trumps Social Approval
Independence is a hallmark of highly intelligent individuals. They chart their paths, setting their own standards and disregarding external validation.
WATCH: 22 INTERESTING FACTS ABOUT ALBERT EINSTEIN
This autonomy extends to their living spaces, where their personal preferences dictate the level of tidiness. They clean not to conform but to accommodate their own thresholds of disorder.
7. Priority on World-Changing Pursuits
For these exceptional minds, the pursuit of groundbreaking ideas takes precedence over mundane tasks.
Cleaning, considered peripheral in the grand scheme of their intellectual pursuits, is deferred to allow room for the development of technologies and solutions that shape the course of progress.
8. Aversion to Mundane Tasks
The brilliance of these minds lies in their ability to envision a transformative future. The act of cleaning pales in comparison to the exhilaration of ideation and innovation.
Cleaning becomes a secondary concern, reserved for moments when disorder reaches an insurmountable level. The brilliance of their minds manifests not in pristine living spaces, but in the ideas and innovations that have the power to change the world.
In the tapestry of intelligence, the threads of brilliance are often interwoven with chaos. Highly intelligent individuals find their stride amidst clutter, using their mental prowess to craft worlds of innovation and creativity. While their living spaces may appear untamed, they stand as a testament to the extraordinary minds that inhabit them.
In the pursuit of groundbreaking ideas and transformative technologies, the genius of messiness finds its place. It is a reminder that the true measure of brilliance lies not in the pristine order, but in the world-altering ideas that emerge from the minds of these exceptional individuals.
---
Thank You For Your Love And Support!
— By Darren Wilson | Team 'THE VOICE OF EU'
— For more information & news submissions: info@VoiceOfEU.com
— Anonymous news submissions: press@VoiceOfEU.com
---
Copyright Dispute: DC Comics And 'Fables' Author Clash over Ownership, Author Aims for Public Domain
This is a story full of fairy tales. In some ways, it even resembles one. And yet it also proves that, in the real world, things rarely end happily ever after. A few days ago, Bill Willingham, the father of the celebrated Fables comic book series, announced that he was sending his most cherished work to the public domain, that is, to everyone. That's only fair, since that is also where he got the main characters of his stories, from Snow White to the Wolf, from Pinocchio to Prince Charming, who were then relocated to modern New York. In this tale, the hero has long-faced mistreatment at the hands of the villains, DC Comics, the owner of Vertigo, which publishes the work in the United States, and its executives.
"If I couldn't prevent Fables from falling into bad hands, at least this is a way I can arrange that it also falls into many good hands," Willingham wrote in an online post in which he decried the label's repeated attempts to take over his creations and opposed them with this final extreme remedy. But the company responded that it considers itself to be the true owner of the series.
In a statement published by the specialized media IGN, the company threatened to take "necessary action" to defend its rights. Thus, the end of the dispute is uncertain. But it is unlikely that everyone will end up happily ever after.
In the meantime, in a new post, Willingham celebrated the massive support he received. In fact, for the moment, he has declined all interview requests — he did not respond to this newspaper's request, nor did the publisher — arguing that he preferred to spend the next few days working on new artistic projects. Meanwhile, the dispute continues.
Fables is one of the most celebrated graphic novels of the last 20 years, and it has spawned spin-offs and a video game adaptation (The Wolf Among Us).
This situation also touches on a key issue, namely, the intellectual property rights of characters and works, especially in a sector where, for decades, dozens of cartoonists and screenwriters have accused comic book giants Marvel and DC of pressuring them to cede their ideas and accept commissioned contracts.
Willingham sums it up as a policy aimed to make creators sign "work for hire" agreements and crush them. All of this makes a gesture that was already intended to make a splash even more resonant.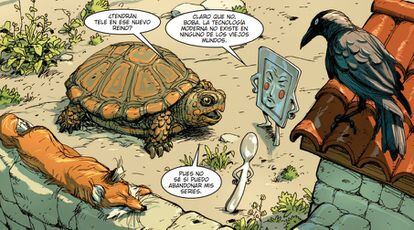 Indeed, the battle over intellectual property is as old as contemporary comics: the copyrights for Superman, Batman and The Fantastic Four all have unresolved disputes and complaints from Jerry Siegel, Bill Finger and Jack Kirby over the contemptuous treatment they suffered. And heavyweight Alan Moore has been lamenting for years that DC took away his ownership of famous works like Watchmen.
Along with prestige and principles, tens of millions of dollars are at stake, especially now that the film industry has become interested in comics.
"When you sign a contract with DC, your responsibilities to them are carved in stone, where their responsibilities to you are treated as "helpful suggestions that we'll try to accommodate when we can, but we're serious adults, doing serious business and we can't always take the time to indulge the needs of these children who work for us" the Fables author wrote on his blog. Following the impact of his original message, Willingham posted two other texts. He maintains that he had thought about sending his work into the public domain when he passed away, but that "certain events" have changed his plans: among them, he lists the changes in management and attitude at the top of the publishing company; the multiple breaches of obligations such as consultations about covers, artists for new plots and adaptations; DC's forgetfulness when it came to pay, which forced him to demand invoices of up to $30,000; the suspicious frequency with which the publisher attributed it to "slipping through the cracks" (to such an extent that the author insisted that they stop using that expression); and the time and chances he gave them to respect the pact, renegotiate it or even break it and consensually separate.
"Shortly after creating Fables, I entered into a publishing agreement with DC Comics. In that agreement, while I continued to own the property, DC would have exclusive rights to publish Fables comics, and then later that agreement was expanded to give DC exclusive rights to exploit the property in other ways, including movies and TV.
DC paid me a fair price for these rights (fair at the time), and as long as they behaved ethically and above-board, and conducted themselves as if this were a partnership, all was more or less well. But DC doesn't seem to be capable of acting fairly and above-board.
In fact, they treated this agreement (as I suppose I should have known they would) as if they were the boss and I, their servant. In time that got worse, as they later reinterpreted our contracts to assume they owned Fables outright," Willingham laments. Hence, he concluded that "you can't reason with the unreasonable."
Having ruled out a lawsuit as too expensive and time-consuming at 67 years of age, he found a more creative solution: if they prevented him from owning his works and benefiting from them as he was entitled to do, he would not let the publisher do so either. Or, at least, everyone could use the comics as they wished. But the label was quick to clarify in its statement to IGN: "The Fables comic books and graphic novels [are] published by DC, and are not in the public domain".
For his part, Willingham promises to continue fighting for all the conditions of his still-in-force contract that he considers DC to have violated, as well as for the last installments of the series, the final script of which he delivered two years ago.
There will be additional chapters in this dispute, as well as in many other ones like it: in 2024, the historic first image of Mickey Mouse, the one that starred in the 1928 short Steamboat Willie, enters the public domain in the U.S. and other countries. Copyright in the U.S. lasts for 95 years, and math is an exact science.
Therefore, in a few years, King Kong, Superman and Popeye will meet the same fate. But The New York Times has wondered how the "notoriously litigious" Disney will react and how far it will go to fight in court. And who would dare to freely use all these works for fear of a million-dollar lawsuit? The same question surrounds DC and similar companies. Because in the real world, fairy tales are rare. Or they end up in court.
---