How a Galway accountancy grad became Sr Colette of the Poor Clares
SR COLETTE OF THE GALWAY ENCLOSED ORDER ON EMBRACING A LIFE UNIMAGINABLE TO MANY, INCLUDING HER FAMILY

A curved driveway leads up to the imposing institution in Nun's Island. Long grass to the left, Galway cathedral –from an unfamiliar angle – to the right, an empty shopping trolley near the door. An intercom voice bids enter.
As I stand in the hallway sanitising hands, a voice comes from behind: "Is that you, Deirdre?" Decades after last hearing it, Marina's voice is instantly recognisable. On turning, it's the same face: beaming, wide-smiled. The face is now framed in white, her body is robed in the voluminous brown Poor Clares' habit, with a black veil.
Sometimes we fall into things, other times conscious choices shape our paths. I've known Marina since primary school. She was the older sister of my classmate Nicola. We had similar backgrounds, our mothers knew each other. I could be her; she could be me. Years later, on hearing she had entered the enclosed, contemplative order, it was like news from a parallel world, an unimaginable choice, taking an extreme, other-worldly, path. How did this happen?
As a young woman Marina was in a charismatic youth prayer group, visited the Marian shrine at Medjugorje, was a daily Mass-goer; activities not entirely typical of her generation. In Medjugorje with her friend Maura, who also later entered the Poor Clares, she had an intense religious experience. She wrote about a sort of prayer ecstasy: "Suddenly I was swept off my feet … I was totally overcome and could not believe the intense feelings of love I had for God … Nothing in my life compared with it."
Today Sr Colette, as she is now known, talks about this "big experience of God's love. I was blown away by it, and thought – I'll do anything you want, even if it's to become a nun. I got a big grace of prayer, a desire for prayer, a taste for prayer, a love for prayer. It came in an instant. One particular moment. Oh my God, and I knew this was Jesus, and I was overwhelmed with feeling love for him. It was very real."
This intense experience propelled her, slowly, towards religious life. But not just any religious life. "I knew, if I was going to be called to be a nun, it would be an order devoted to prayer." All the same, "part of me hoped I wasn't going to be a nun. I did struggle with it."
The radical step wasn't taken overnight. After Medjugorje "I knew I was on a high". On advice, she stalled consideration of vocation, and threw herself instead into college, social life and relationships. "I went out with fellas, because I'd given myself permission to park it."
After university she worked, slogging through accountancy exams for years. Colouring her outlook, "faith and prayer was an integral part of who I was and was fulfilling me". The day after eventually passing her finals was anti-climactic, with a "deep sense of emptiness"; after years of study, "it meant nothing to me". She interpreted little things as hints, "Like the Lord saying, 'Right, you've had that time, would you consider?'"
Entering religious life meant forgoing her family, boyfriends, children, career, social life. "Any of the fellas I went out with, you always kind of wonder. But I suppose I never felt ultimately: he's the one. You might think it for a while, but I just wasn't fulfilled enough."
Also, "I always imagined I would have children. That's something every woman has to face. We all lose fertility at some stage. I had to face it earlier – and realise I'm not any less the person I was just because I don't have children."
She put off telling her family. "I knew they wouldn't want it, becoming a nun, of any kind, but especially contemplative." For a long time they didn't discuss it, for fear of upset. "It was like this big elephant in the room."
Late one night her youngest sister "got really angry and said, will you just make up your mind. We don't want you to go in there, but until you make your decision we can't come to terms with it. If you go in, we'll deal with it. I knew I wasn't being fair to them."
After her finals, in the 1990s, and  five years after "the Lord broke in on me",  at age 29, Marina entered the Poor Clares.
All her middle years have been inside. While others built relationships, careers, families, homes – while Ireland changed immeasurably – Sr Colette had a parallel existence behind walls.
The Poor Clares, following saints Clare and Francis, have "a long reciprocal relationship with the city of Galway, people coming for prayer and leaving their cares here. And they support us, bringing food or other things [hence the shopping trolley, during Covid]. There's very little we have to buy. It's unpredictable. You could have a whole load of fresh veg and then none for ages."
The oasis receives callers and letters daily, for Mass, seeking solace or prayer, or petitions requesting prayers for big and small challenges – illness, break-ups, exams. During the pandemic contact has been through an open window rather than the hatch inside. Token dividers in parlours separate sisters from visitors. ("That's not keeping me in, it's not keeping you out. It's symbolic of the life I've embraced.")
Access is usually confined to the front, but Sr Colette leads me through a long, glazed corridor and outside. Beforehand I'd asked if she would like anything. Maybe a takeaway coffee, she said. A latte. We sit in the secret garden. Warm, engaged, frank, open and chatty, Sr Colette belies all mother abbess cliches. The request for coffee tickled me, I say. I thought it might, she grins. We walk around the garden: trees, vegetables, a shrine. Each sister has a flower bed. There's a clothes line, and large, free-standing Stations of the Cross.
Sr Colette is currently Mother Abbess of the community of 10, including 'a good few nurses, another accountant'
Sr Colette gestures up to the large grey building, pointing out the bakery and cutting room. They no longer make altar breads, instead importing them to supply the diocese.
Is that the accountant in you, I tease, outsourcing? It wasn't a monetary issue, but too few sisters. "It's lovely work, both supplying and baking. It suits our way of life because it doesn't tax the brain, it leaves you free to be in a spirit of prayer. But the number of sisters has gone up and down. Employees working with us would change the dynamic. So we keep the spirit of silence with supplying it."
They don't take a vow of silence. "Contemplation is a deeper form of prayer. Also, it's more down-to-earth than people think. It is mystical prayer. For Francis and Clare, the fact that Jesus became human, everything in our lives can be permeated. In here or not, everything we do has a knock-on, and people are more conscious of it. Every time you choose to wash this [takeaway cup] and recycle it. They're small things but they all have significance. And if we try to live our lives united to Jesus. We believe our life has value."
They take vows of poverty, chastity, obedience and enclosure. It took Marina years to enter, and more before full profession; discernment allows for a decision freely made.
There are paths not taken, what-ifs. "It wouldn't be normal if you didn't. Also, there are junctions in your life" before commitment. A year as postulant was a transition, wearing her own clothes. Novice for two years, wearing full habit and white veil, was a shock. "Suddenly you're a nun. I remember the first time someone outside said, 'Hello, Sister.' "
The abbess cutting novices' hair doesn't just happen in the movies. "For a woman coming in, part of your femininity is your hair, your appearance." This isn't taken. "It's for you to hand it over. She's not forcing, it's something I'm giving to God, a surrender."
First Profession to the Order involves vows for three years before Solemn Profession. Those stages of formation, which now take at least nine years, are milestones in decision-making.
"You grapple with that [decision-making]. But I did make my vows each time. I had a conviction this was what I was being called to do. This way of life really is one of faith, because overtly, we're not doing charitable works. Well we are, listening to people, that's a huge thing, and being a place they look for solace. But we're not nursing. So either God is who he is and prayer works, or he isn't. And if he isn't, it doesn't make any sense. I think our way of life particularly is one of faith, and if you believe in it, it's very fulfilling. I believe the prayer I make is not just talking to myself, that in some way I'm standing before the all-powerful God, lifting up these people who look to us for prayer, and carrying them."
Six years after Marina entered the Poor Clares, Sr Colette made her Solemn Profession.
The abbess gave her 10 names, to pick three; Colette was first choice. Batista's feast day was coming up. "I said, I don't care what you call me, but not Batista or I'll be Batty for the rest of my life!"
The austerity was actually part of the attraction. There's the discipline of early mornings: 5.15am daily; Sunday lie-in to 6.15 or so – and days parsed by prayer. But more fundamentally, it's a sort of subsuming of self into something greater.
"There was a part of me coming into the Poor Clares that was attracted to the radicality of the way of life. I felt, 'I only have one life. You may as well go the whole hog.'
"Every nun is the whole hog, really, because you're surrendering your free will. The radicality of the habit attracted me, in that I loved clothes. It was a radical giving of myself, not having that ability to wear the clothes I wanted. There was also a freedom in it. I don't have to worry about fashion, or what I'll wear in the morning." But "just because you're in an unflattering dress doesn't mean you lose your femininity".
If you were coming in here to escape, you couldn't survive here. You might escape some problems, but you can't escape yourself
Becoming a novice was, "I won't say traumatic, but a bit of a shock to the system. Before, I knew how a bad hair day affected the way you felt. But I didn't realise until then how much who I thought I was, was determined by things connected to my physical appearance. That was one of the times I had to grapple with: who am I? But that was like a blessing. All of us have props for the image we want to present to the world." There's another look now, she acknowledges, and new props.
Though enclosure cuts off past lives, Poor Clares leave the convent for "useful, evident, reasonable or approved purposes": medical appointments, courses, voting. In the past sisters didn't attend parents' funerals, but now "it's left to the sisters how to handle that", and they often attend.
Like birth families, Poor Clares live with others they have not chosen. "Our spirituality is family-oriented; we are not just people who cohabit." You must get on better with some than others? Yes, "but how do you grow otherwise? The lord chooses our companions, and it's those sisters that will make me look at the things I have to try and deal with. Any vocation: marriage, single, religious life – intrinsic in it is a certain death to self. Real love means you're not totally focused on my own needs and wants. There are calls beyond ourselves, to what's best in ourselves. That's painful."
"There's a legend in Galway, if you hear the Poor Clares' bell that they're desperate or something. But we ring it several times a day, when we go to pray!"
The day is punctuated by prayer: Adoration of the Blessed Sacrament; all day, every day in the choir; taking turns to rise at midnight; Divine Office seven times daily.
Does she still bliss out on prayer? "It's like any relationship. Sometimes it's just same-old, same-old, but there are moments where it's deeper. Our prayer life is also fuelled by people that look to us. You can be humbled by people's entrustment of themselves to us, things that are difficult to say or write."
We talk about the mechanics – does she focus on the words, what she's praying for, the sound? "Different things. Scripture works at a dynamic level. Psalms cover the whole gamut of human emotions, situations of distress or joy. So I may not necessarily feel joyful, but I can pray a joyful psalm (or the opposite). I feel we're bringing humanity before the Lord in that. A mantra settles you to another level. Psalms can be mantraic if you chant them."
The day's balance is prayer, work and community. Sisters have individual time. Sr Colette likes to sit in the garden and read. She has learned guitar and organ/keyboard, a challenge. She reads, often later into the night than she should.
It went viral. In the first two weeks we had two million hits or something
Poor Clare congregations are autonomous, and affiliated with the Franciscans. The sisters vote for abbess every three years. Sr Colette is currently Mother Abbess of the community of 10, including "a good few nurses, another accountant", ranging in age from 40s to 90, all but one fully professed. Some entered straight from college, others worked; the most recent entered five years ago, in her 40s.
"A lot have come and might stay a few years, then discern it wasn't for them. I think it takes great courage to even consider, and then to take the plunge. It also takes courage to leave." They're still in contact with those who left: "It was part of their journey."
I ask, probably too diplomatically, what she thinks about the horrors exposed at the heart of the church, and its changed role in Ireland since she entered. She answers diplomatically, too.
"That is so devastating, because for all of us it shakes our trust in humanity. When someone is in a position of trust, and trust is eroded, it's much more painful. It has damaged people's trust, and cut them off from a source of grace and support. And it's terrible, because everyone is tarred with the same brush. "
While a world apart and unworldly, the Clares are more connected than might appear. They started a website in 2003, when it was unusual for an enclosed order. "We needed to be out there, to offer some of what we have to the wider public. And also for vocations."
It's a treasure trove, with sisters' life stories; in Sr Colette's entry there are photos of Marina, vivacious and glowing. (That woman hasn't disappeared.) And prayers for everyday and special intentions, "the fruit of our own prayer, to try and make prayer more accessible for people on the go, for a relationship with God without having to read tomes. It's easier than people think."
An eye-catching photo from the launch – involving sisters, a laptop, a grille, reflections – got international attention. "It went viral. In the first two weeks we had two million hits or something."
And proving "how the providence of God is ahead of us all the time", the prayers they had gathered and written were a head start for a book of prayer, when Hachette Books approached them. Calm the Soul, published in 2012, reflects Psalm 93: "When cares increase in my heart, your consolation calms my soul."
She marvels still at the response. "The letters we got. It was touching people's hearts, giving them peace or comfort. A book on prayer was the ninth bestselling Irish book that year; it was 15 weeks at No 1. That blew my mind."
They have family visits. "We are not in a vacuum, we hear about their lives, nieces, nephews, current things." Galway sisters meet other monasteries at federal assembly (her parents travel with her sometimes) and on courses.
They don't get newspapers or listen to radio, bar a news bulletin daily, but read the Irish Catholic and religious periodicals. She mentions the St Anthony's Messenger's wide-ranging articles. At Christmas and Easter they can watch TV and films.
Letters flow daily. "When I came in, I became more aware of what was really happening in people's lives. People looking on wouldn't have a clue about some of the reasons they're asking for prayers. You see what's really going on. People don't have a pretence; they can be vulnerable."
I wouldn't say I never had doubts. Even after I entered, sometimes I wondered
Many perceive enclosed orders as turning their back on what's most challenging in life, but which is also most fulfilling. "If you were coming in here to escape, you couldn't survive here. You might escape some problems, but you can't escape yourself. Whatever hang-ups you have, weaknesses, shortfalls, you bring with you. You're confronted. You have to work through it."
With deeper commitment comes challenges. Though responsibilities are shared, the abbess has to "keep the show on the road". She recalls when she was first voted abbess, and planning a renovation of the front building: "We didn't have a quarter of the estimate – I remember being overwhelmed for a while."
She seems serene, and fulfilled. But "I wouldn't say I never had doubts. Even after I entered, sometimes I wondered. Loneliness is part of the human condition. There's part of us, St Augustine says, you have made us for yourself, our hearts are restless until they rest in you. There's a part of us that is incomplete without God, on a faith level. Lots of people are living their lives without God, but I do believe. That's why heaven is blissful, because we are complete. That's my faith vision."
Before I leave, we climb the fire escape at the back to take in a panoramic view of the city. Sr Colette points out surrounding landmarks – the Bish (St Joseph's Patrician College – the sound of lads in the yard at break), the Pres, hospital, university, cathedral – that encircle this place apart.
Another perspective on a parallel universe seems somehow appropriate for the otherness of Sr Colette's world.
Spanish architecture: The story of Madrid's abandoned 'beach' for its working class | Culture
La Playa de Madrid was just 15 minutes from the Spanish capital's Puerta del Sol square when it was inaugurated. Nine decades later, the distance is the same, but the premises developed by the architect Manuel Muñoz Monasterio in 1932 to create a "beach" in the landlocked city are in a state of complete disrepair.
The great leisure project for Madrid's working class on the banks of the River Manzanares now houses fetid mattresses, crumpled beer cans, rank swimming pools, tattered tennis courts and facilities that are at risk of disappearing altogether.
Owned by the state agency Patrimonio Nacional, which manages Spain's national heritage, La Playa de Madrid has been closed for six years. Defaults in rent payments forced it to close, and it subsequently became the target of vandalism. "There is no longer even any security," says Juan García Vicente from the green group Ecologists in Action, who is upset by the state of dereliction of a site with social and architectural significance in the city's history.
The access point to the "beach," which borders La Zarzuela racetrack on one side and the Puerta de Hierro Sports Park (previously known as Parque Sindical) on the other, has not been opened since the authorities evicted staff and members at the end of October 2014. The company running the complex at that time, which belonged to the former president of the Spanish employers association CEOE, Arturo Fernández, received a court order to vacate the premises as it had failed to pay rent or any tax despite operating the five swimming pools, 11 tennis courts, four paddle courts, one roller-skating rink, four frontón courts, the cafeteria, the restaurant and the parking lot.
Arturo Fernández has left a hole in the National Heritage agency's accounts to the tune of €867,006, which will have to be paid as soon as his company's bankruptcy is resolved. The 3,000 Playa de Madrid members who had paid their fees were also denied access. Fernández's contract had been renewed in 2011, despite the fact that he was already €466,831 in arrears. It was a sum that, according to the Court of Auditors, "he paid a few days before signing the new contract."
To add insult to injury, EL PAÍS has learned that on July 30, National Heritage filed a complaint in court in a bid to evict the new company running the complex, Centro de Eventos Playa de Madrid, which is also behind on payments.
"It has not paid even one month's rent and has run up a debt of €530,523," says a National Heritage spokesperson. The new contract went into effect on October 17, 2017, after the president of National Heritage at the time, Alfredo Pérez de Armiñán, decided to lease the 184,800 square-meter property to a company that not only failed to pay rent, but also reneged on a commitment to invest €3.2 million to renovate the complex.
Meanwhile, under the National Heritage's current president, Llanos Castellanos, an initiative is underway to revamp the more than 22,000 hectares of green spaces owned by the institution throughout the country, including the Playa de Madrid complex, which will be finalized when the judicial process ends. "The aim is to turn it into a sustainable property that is financially self-sufficient, and to make sure that what has happened does not happen again," says Castellanos.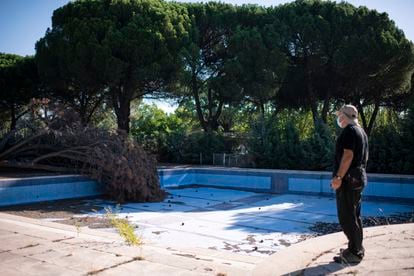 The phony beach was fashioned from a shallow river, from which "a beautiful arm of the sea" was created, to quote an ad from that period. But the dam that stored up the water to create a 300-meter shoreline was dismantled this January by the Tajo Water Confederation so that the river could follow its natural course unimpeded, according to García Vicente.
"It was a very interesting dam because it still allowed the water to flow and remain clean," says Alberto Tellería, a member of the Madrid Citizenship and Heritage Association, who still remembers the complex's dance floor and the announcement of a design competition for cheap evening dresses in 1934.
The "beach" was very popular among the working classes during the Second Republic, before Francisco Franco's air forces razed it. And it was there that the photojournalist Robert Capa constructed his iconic image of of two militiamen greeting each other under the lighthouse tower.
But unpaid dues and ignored commitments have proved the ruin of the site, which is these days trapped between two highways. "These are public facilities of extraordinary significance," says Juan García Vicente, who has been fighting for years for a path that will connect Madrid with El Pardo, on the left bank of the river.
This path should be ready in a couple of months and access to the "beach" will be reserved for pedestrians and cyclists. Meanwhile, the dignity of the complex is still to be restored, which according to Carlos Ripoll, a member of the Madrid Architects Association (COAM), has an "impeccable" language all of its own.
The simple and modern lines of the structures designed by the creator of the Las Ventas bullfighting ring and the Santiago Bernabeu soccer stadium are hidden behind pines, cork oak and poplars, and they are reminiscent of the international tone set by Swiss architect Le Corbusier. Muñoz Monasterio, who sided with the regime after the civil war (1936-1939), carried out the post-war reconstruction in 1948, refurbishing it according to Franco's taste, with slate roofs and spires. But the subsequent inauguration of the nearby Parque Sindical (now known as the Puerta de Hierro Sports Park) and water contamination ended Madrid's dream of having a beach.
English version by Heather Galloway.
Russians' Alcohol Consumption Drops 80% in 7 Years
Alcohol consumption has been reduced by 80% over the past 5-7 years in Russia, Minister of Health Veronika Skvortsova stated at a working breakfast during the Gaidar Forum today, reports RIA-Novosti.
The Gaidar Forum is an annual event in Moscow hosted by the Russian Presidential Academy of National Economy and Public Administration, which brings together economist, Nobel Prize winners, leading professors, and representatives of the Russian and foreign elite to discuss the most acute problems of the day, especially as concerns Russia's position and strategic role in the world.
"We have managed to reduce the consumption of alcoholic beverages by 80% per capita…" Skvortsova stated. Meanwhile, "the number actively engaged in sports has grown by more than 40%."
She also noted that smoking among adults has dropped 22%, and has been reduced thrice over among children and adolescents.
According to a 2012 report from the World Health Organization, the number of Russians who drink several times a week had by then declined to 5%, and the number who drink several times a month to 33%. Russian citizens were found to drink about as much as citizens of Denmark, Great Britain and Croatia.
The Russian Orthodox Church has played a key role in reducing the amount of alcohol consumption in the country. There are more than 500 active anti-alcoholism projects in Russia today under the auspices of the Church.
"One of the Church's most successful works in the sphere of temperance education is the celebration of the All-Russian Day of Sobriety on September 11," stated Valery Doronkin, head of the Coordinating Center for Combating Alcoholism and Endorsing Sobriety of the Synodal Charity Department.
Special prayers are added to the Litany of Peace and the Litany of Fervent Supplication on the Day of Sobriety. His Holiness Patriarch Kirill stated on this day in 2016:
By decision of the Holy Synod in 2014, the day of the Beheading of St. John the Prophet, Forerunner, and Baptist is deemed the Day of Sobriety, because precisely the mad state of Herod, drunk on wine at his banquet, was the cause of such a frightful order which he gave—to behead the holy prophet.
We know what terrible sufferings drunkenness has brought our people in the past, and which continue today: the destruction of families, the birth of sick children, people, losing the meaning of life and health, called to the fullness of existence, becoming invalids in youth only because they didn't have enough strength to turn from sinful attractions and stop drinking.
According to the primate, not only the health of the nation, but also "the very existence of our people and state" depends upon this question.
---
Source: Orthodox Christianity
G7 countries accused of prioritising military spending over climate action
G7 countries "are stuck in the 1970s and 1980s" and avoiding profound societal changes needed to address the climate crisis, while embracing "the ruse of net-zero" carbon emissions, according to leading climate scientist Prof Kevin Anderson.
Speaking at a briefing on climate issues at the summit of the Group of Seven leaders, comprising Canada, France, Germany, Italy, Japan, the UK and the United States, in Cornwall, Prof Anderson said: "Net zero is the latest ruse that we're using to avoid making profound social changes and to avoid the rapid and just phasing out of our existing oil, gas and coal industries."
The former director of the Tyndall Centre for Climate Change Research in the UK said this was also avoiding the adoption of challenging policies and the huge transformation of infrastructure required.
Net zero was "a way of passing the buck to future generations", he said at the event hosted by the COP26 Coalition – the campaign group seeking greater climate justice commitments at the United Nations climate conference in November.
"We need leaders now who are prepared to grasp the enormity of the climate challenge but also the wider ecological crisis – rather than the eloquent, simple greenwashing of 'business as usual'. And that's what we're seeing currently.
"Despite ramping up of good news stories in advance of COP26, the reality is that the gap between the necessary action and actual cuts in emissions for both 1.5 degrees and 2 degrees is just getting bigger. Playing into this ongoing failure is the ubiquitous language of 'net zero', under which almost any organisation, region or country can claim to be aligned with the Paris commitments," Prof Anderson said.
"But dig a little deeper and claims of net zero are often little more than a ruse whereby immediate cuts in actual emissions are substituted for future speculative 'negative emissions', offsetting and other forms of mitigation denial," he said.
Military spending
Niamh Ní Bhriain of the Transnational Institute's war and pacification programme said prioritisation of military spending, costing almost $2 trillion (€1.7 trillion) a year, was an issue that "must be brought into the room in discussing climate justice and global poverty".
A total of 57 per cent of that spend on military, security, intelligence and borders came from G7 countries, she added. "This is a political choice. This is a question of political will; that we're spending this much on the military."
Unprecedented spending on borders by rich countries of the global north to prevent migrants coming to their shores was part of a militarised response to migration, which she predicted would become even more prevalent when parts of the world became uninhabitable as the climate crisis deepened.
COP26 Coalition spokesman Asad Rehman of War on Want said G7 countries, who bear the greatest responsibility for fuelling crises that threaten the lives and livelihoods of billions, could no longer make empty statements or hollow promises to act. "Leaders must listen to the millions of people in every corner of the world who are demanding a justice transition."
As a first step the G7 must commit to doing their fair share of emissions reductions by 2030 to limit warming to well below 1.5 degrees, he said, and commit "to unlocking the trillions needed to build a sustainable economy of the future – one that guarantees universal public services, living wages and puts people before profit."
Rising sea levels
Meanwhile, Extinction Rebellion Ireland have been staging theatrical displays along the coast of Ireland calling on G7 leaders to take adequate action against sea level rise.
The UN estimates there could be anywhere between 25 million and 1 billion environmental migrants by 2050, with many of those on the move because of the effects of sea level rise, an Extinction Rebellion Ireland spokeswoman said. "These estimates envisage flooding of Irish coasts; meanwhile, other island nations around the world are already suffering," she said.
"Since signing the Paris Agreement in 2015 these nations have utterly failed to meet their commitments to reduce emissions and mitigate the worst effects of climate change. Greenwashing and empty promises won't stop the sea levels from rising; our crops from failing or the entire ecosystem on which our lives rely on from collapsing. 2021 is a critical year and the decisions made by the G7 are make or break," she added.
In Dublin, activists formed the Extinction Rebellion and G7 logos on the beach of Sandymount Strand, capturing the large-scale visual by drone camera.
In Cork, protestors used a tape measure to mark the rising sea levels and highlight the risk of flooding that coastal communities face. Off the Down coast Extinction Rebellion Northern Ireland members dressed as red rebels served tea at a table half submerged in the sea.