Hope and pride: Zimbabweans put the country on the map in world of wine | Global development
Like many young Zimbabweans before and since, Tinashe Nyamudoka left the economic chaos of his country to find work and a better life for himself in neighbouring South Africa.
When he left in 2008, Nyamudoka had never tasted wine. Now, he ranks among southern Africa's top sommeliers and has his own wine label with international sales.
"We have a lot going against us as Zimbabweans, and you might think there is nothing good coming out of the country," says the 36-year-old. "So, for me to be recognised as the [top] sommeliers in the world, being African and Zimbabwean, instils a sense of hope and pride."
Nyamudoka began his career as a waiter in a Cape Town restaurant, where he learned about the different varieties and tastes of the wines his customers drank. He moved on to become a hotel wine waiter, working alongside some of the city's leading sommeliers.
After studying his trade, he won the best wine steward award in a competition for luxury hotels in the Western Cape in 2013.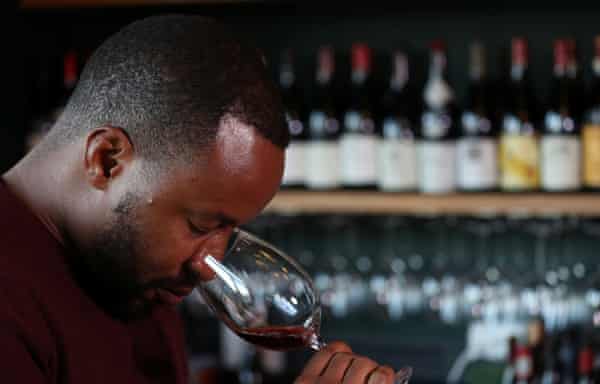 His talents received international attention when, in 2017, he and three other Zimbabwean sommeliers were selected to take part in the World Blind Tasting Championship in France. The team was the first from Zimbabwe to take part in the contest, in which competitors have to use just their palate to identify the variety of grape, country of origin, appellation, vintage and producer of the wines.
The Zimbabweans did not win – coming 23rd out of 24 teams – but their story became the subject of a documentary released last year, Blind Ambition, which Nyamudoka says brought him "a sense of pride". The team returned to the competition the next year and this time came 14th – beating the UK and the US teams.
His wine label, Kumusha – "home" or "roots" in Zimbabwe's Shona language – has benefited from his celebrity, producing 200,000 bottles a year, up from 1,200 when it was launched four years ago. "People started embracing it," he says.
"I conceptualised it [the label] around 2014," he adds. "Xenophobia was hitting home [in South Africa] and we were all missing kumusha."
The eight Kumusha wines – three reds, four whites and a rosé – are all produced in South Africa. They are sold in the US, the Netherlands, Kenya and Zimbabwe – "my exciting market", he says. This month, he is starting to export his wines to the UK.
"I started this brand from scratch with no aid or financial handouts. It has been pure grit, passion and dedication," he says. "I want people to understand that you can make it without prejudice."
But Nyamudoka says he has encountered racism on his way to the top of a white-dominated industry.
"There are instances where you get to a tasting, and it is all white [people], you kind of feel out of place. At work, you cannot get the position you want because you are black. It comes in different forms. It is not obvious, it is much more subtle," he says.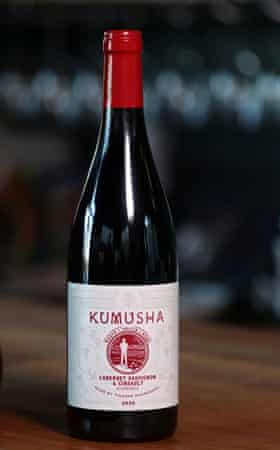 "When I was in my last days on the floor [in a restaurant], people would recognise your talent, but they would not give you your flowers [recognition] because you are not like them. It is like you must work twice as hard to prove yourself. It is always going to be there, I suppose."
Nyamudoka, who sits on the board of the recently established Sommeliers Association of Zimbabwe, hopes that his achievements will encourage other Zimbabweans to enter the wine industry.
"There's been an emergence of black sommeliers in the world as the industry becomes more diverse. We see the hospitality offering in Zimbabwe improving and there will be a need for sommeliers."
A fellow sommelier, Takura Makadzange, agrees. Also from Harare, Makdazange, 38, trained in Australia, working his way up from hotel porter to restaurant owner. Now, he is back in Zimbabwe.
"I came back home because there are plenty of opportunities. There is plenty of space in hospitality. Recently there has been more of an explosion in the food and drink sector in Zimbabwe, especially speciality wines that are being made now.
"The industry has grown, the fish industry has grown and we can have access to wildlife and game meat. Promoting the local food and beverage industry is a no-brainer. We have something that no one else does. National pride is important but also we have beautiful products," he says.
Makadzange qualified for last month's Ubuntu Sommelier Trophy in South Africa, but had to withdraw when he caught Covid-19.
"There are instances where a less-qualified white person is trusted with looking after the wine list over any person of colour, but you have to keep moving," he says.
"It is very unusual for a Zimbabwean to do well in this field. We want to continue that trajectory.
"I think it's time we have more women sommeliers from Zimbabwe so, hopefully, I will train someone to get to the standard of competing."
Sign up for a different view with our Global Dispatch newsletter – a roundup of our top stories from around the world, recommended reads, and thoughts from our team on key development and human rights issues, delivered to your inbox every two weeks:
Kyiv investigates allegations Russian forces shot surrendering Ukrainian soldiers | International
Ukrainian officials on Sunday launched an investigation into allegations that Russian forces killed surrendering Ukrainian soldiers — a war crime if confirmed — after grainy footage on social media appeared to show two uniformed men being shot at close range after emerging from a dugout.
The video shows the servicemen, one of them with his hands up, walking out at gunpoint and lying down on the ground before a group of Russian troops appears to open fire. It was not immediately possible to verify the video's authenticity or the circumstances in which it was filmed, and it was unclear when the incident took place.
The Ukrainian General Prosecutor's office on Sunday launched a criminal investigation, hours after the Ukrainian military's press office said in an online statement that the footage is genuine.
"The video shows a group in Russian uniforms shooting, at point-blank range, two unarmed servicemen in the uniform of the Armed Forces of Ukraine who were surrendering," the prosecutor's office said in a Telegram update on Sunday.
The Russian defense ministry did not immediately respond to an emailed request for comment. As of Sunday evening, there were no public statements from the Russian government or military on the video.
Kyiv, its Western allies and international human rights organizations have repeatedly accused Moscow of breaching international humanitarian law since it launched its full-scale invasion of Ukraine in February 2022. The Kremlin denies these allegations.
The video first appeared Saturday on DeepState, a popular Ukrainian Telegram channel covering the war. The post claimed the footage came from the front lines near Avdiivka, a Ukrainian holdout in the country's part-occupied east, where there has been fierce fighting in recent weeks.
The General Prosecutor's Office on Sunday said that the alleged killing took place in the Pokrovsk district, which includes Avdiivka and surrounding areas.
"It's clear from the video that the Ukrainian servicemen are taking the necessary steps that show they are surrendering," Ukraine's human rights chief, Dmytro Lubinets, said hours after the footage emerged on Saturday.
In a statement posted to Telegram, Lubinets described the incident as "yet another glaring example of Russia's violations of international humanitarian law."
Oleksandr Shtupun, a spokesperson for the Ukrainian military grouping that is fighting near Avdiivka, was cited by Ukrainian media as saying the video was "glaring confirmation" of Moscow's disrespect for the laws of war.
In March, footage of a man exclaiming "Glory to Ukraine" before being gunned down in a wooded area sparked national outcry in Ukraine, as senior officials alleged that he was an unarmed prisoner of war killed by Russian soldiers.
Last summer, Kyiv and Moscow also traded blame for a shelling attack on a prison in occupied eastern Ukraine that killed dozens of Ukrainian POWs. Both sides claimed the assault on the facility in Olenivka was aimed at covering up atrocities, with Ukrainian officials charging captive soldiers had been tortured and executed there.
The U.N.'s human rights chief in July rejected Moscow's claim that a rocket strike had caused the blast.
Also on Sunday, Ukraine's energy ministry reported that close to 1,000 towns and villages suffered power outages that day, with hundreds of settlements in the west battered by wintry weather and others affected by ongoing fighting.
The Institute for the Study of War, a Washington-based think tank, late on Saturday assessed that military operations have slowed down all along the frontline in Ukraine due to poor weather, with mud bogging down tracked vehicles and making it hard for lighter equipment and infantry to advance.
Even so, Shtupun, of Ukraine's Tavria military command that oversees the stretch of frontline near Avdiivka, said in a separate statement Sunday that Russian infantry attacks had intensified in the area over the past day. In a Telegram post, he insisted Ukrainian troops were "holding firm" in Avdiivka and another nearby town.
In the southern Ukrainian city of Kherson, at least two people died and seven more were wounded after Russian forces on Sunday shelled a high-rise apartment block and other civilian buildings, the head of the city's military administration said in a series of Telegram posts.
One of the updates by Roman Mrochko featured a blurred photo of what he said was the body of a deceased civilian, apparently lying on a dirt road or in a yard outside the high-rise. The photo's authenticity could not be independently verified.
Regional Gov. Oleksandr Prokudin separately reported on Sunday that Russian shelling that day damaged two of Kherson's hospitals. He did not immediately reference any casualties.
Earlier in the day, a 78-year-old civilian died in a village northeast of Kherson after Russian shells slammed into his garage, according to a Telegram update by the regional Ukrainian military administration.
Sign up for our weekly newsletter to get more English-language news coverage from EL PAÍS USA Edition
Open Source Software (OSS) Supply Chain, Security Risks And Countermeasures
OSS Security Risks And Countermeasures
The software development landscape increasingly hinges on open source components, significantly aiding continuous integration, DevOps practices, and daily updates. Last year, Synopsys discovered that 97% of codebases in 2022 incorporated open source, with specific sectors like computer hardware, cybersecurity, energy, and the Internet of Things (IoT) reaching 100% OSS integration.
While leveraging open source enhances efficiency, cost-effectiveness, and developer productivity, it inadvertently paves a path for threat actors seeking to exploit the software supply chain. Enterprises often lack visibility into their software contents due to complex involvement from multiple sources, raising concerns highlighted in VMware's report last year. Issues include reliance on communities to patch vulnerabilities and associated security risks.
Raza Qadri, founder of Vibertron Technologies, emphasizes OSS's pivotal role in critical infrastructure but underscores the shock experienced by developers and executives regarding their applications' OSS contribution. Notably, Qadri cites that 95% of vulnerabilities surface in "transitive main dependencies," indirectly added open source packages.
Qadri also acknowledges developers' long-standing use of open source. However, recent years have witnessed heightened awareness, not just among developers but also among attackers. Malware attacks targeting the software supply chain have surged, as demonstrated in significant breaches like SolarWinds, Kaseya, and the Log4j exploit.
Log4j's widespread use exemplifies the consolidation of risk linked to extensively employed components. This popular Java-based logging tool's vulnerabilities showcase the systemic dependency on widely used software components, posing significant threats if exploited by attackers.
Moreover, injection of malware into repositories like GitHub, PyPI, and NPM has emerged as a growing threat. Cybercriminals generate malicious versions of popular code to deceive developers, exploiting vulnerabilities when components are downloaded, often without the developers' knowledge.
Despite OSS's security risks, its transparency and visibility compared to commercial software offer certain advantages. Qadri points out the swift response to Log4j vulnerabilities as an example, highlighting OSS's collaborative nature.
Efforts to fortify software supply chain security are underway, buoyed by multi-vendor frameworks, vulnerability tracking tools, and cybersecurity products. However, additional steps, such as enforcing recalls for defective OSS components and implementing component-level firewalls akin to packet-level firewalls, are necessary to fortify defenses and mitigate malicious attacks.
Qadri underscores the need for a holistic approach involving software bills of materials (SBOMs) coupled with firewall-like capabilities to ensure a comprehensive understanding of software contents and preemptive measures against malicious threats.
As the software supply chain faces ongoing vulnerabilities and attacks, concerted efforts are imperative to bolster security measures, safeguard against threats, and fortify the foundational aspects of open source components.
---
We Can't Thank You Enough For Your Support!
— By John Elf | Science, Technology & Business contributor VoiceOfEU.com Digital
— For more information: info@VoiceOfEU.com
— Anonymous news submissions: press@VoiceOfEU.com
---
The Implications Of Controlling High-Level Artificial Super Intelligence (ASI)
Artificial Super Intelligence (ASI)
By Clint Bailey | 'Voice of EU'
The notion of artificial intelligence surpassing humanity has long been a topic of discussion, and recent advancements in programs have reignited concerns. But can we truly control super-intelligence? A closer examination by scientists reveals that the answer is highly unlikely.
Unraveling The Challenge:
Controlling a super-intelligence that surpasses human comprehension necessitates the ability to simulate and analyze its behavior. However, if we are unable to comprehend it, creating such a simulation becomes an impossible task. This lack of understanding hinders our ability to establish rules, such as "cause no harm to humans," as we cannot anticipate the scenarios that an AI might generate.
The Complexity Of Super-Intelligence:

Super-intelligence presents a distinct challenge compared to conventional robot ethics. Its multifaceted nature allows it to mobilize diverse resources, potentially pursuing objectives that are incomprehensible and uncontrollable to humans. This fundamental disparity further complicates the task of governing and setting limits on super-intelligent systems.
Drawing Insights From The Halting Problem:

Alan Turing's halting problem, introduced in 1936, provides insights into the limitations of predicting program outcomes. While we can determine halting behavior for specific programs, there is no universal method capable of evaluating every potential program ever written. In the realm of artificial super-intelligence, which could theoretically store all possible computer programs in its memory simultaneously, the challenge of containment intensifies.
The Uncontainable Dilemma:

When attempting to prevent super-intelligence from causing harm, the unpredictability of outcomes poses a significant challenge. Determining whether a program will reach a conclusion or continue indefinitely becomes mathematically impossible for all scenarios. This renders traditional containment algorithms unusable and raises concerns about the reliability of teaching AI ethics to prevent catastrophic consequences.
The Limitation Conundrum:

An alternative approach suggested by some is to limit the capabilities of super-intelligence, such as restricting its access to certain parts of the internet or networks. However, this raises questions about the purpose of creating super-intelligence if its potential is artificially curtailed. The argument arises: if we do not intend to use it to tackle challenges beyond human capabilities, why create it in the first place?
READ: ALL ABOUT ARTIFICIAL INTELLIGENCE
Urgent Reflection – The Direction Of Artificial Intelligence:

As we push forward with artificial intelligence, we must confront the possibility of a super-intelligence beyond our control. Its incomprehensibility makes it difficult to discern its arrival, emphasizing the need for critical introspection regarding the path we are treading. Prominent figures in the tech industry, such as Elon Musk and Steve Wozniak, have even called for a pause in AI experiments to evaluate safety and potential risks to society.
The potential consequences of controlling high-level artificial super-intelligence are far-reaching and demand meticulous consideration. As we strive for progress, we must strike a balance between pushing the boundaries of technology and ensuring responsible development. Only through thorough exploration and understanding can we ensure that AI systems benefit humanity while effectively managing their risks.
---
We Can't Thank You Enough For Your Support!

— By Clint Bailey, Team 'THE VOICE OF EU'
— For Information: Info@VoiceOfEU.com

— For Anonymous News Submissions: Press@VoiceOfEU.com
---