Hidden human rights crises threaten post-Covid global security – Amnesty | Human rights
Neglected human rights crises around the world have the potential to undermine already precarious global security as governments continue to use Covid as a cover to push authoritarian agendas, Amnesty International has warned.
The organisation said ignoring escalating hotspots for human rights violations and allowing states to perpetrate abuses with impunity could jeopardise efforts to rebuild after the pandemic.
"We've seen the development of new legal tools to supposedly 'combat fake news' but which in fact repress freedom of expression, attacks against human rights defenders – particularly environmental defenders – the world over, and further repression of [minority] populations who have fallen off the agenda altogether," said Agnès Callamard, Amnesty's new secretary general.
"The voices and experiences of all these people must be at the heart of our reboot post Covid-19. If they are not, then the crises will multiply and the [current] system will perpetuate."
A number of under-reported crises were taking place across the globe that warranted immediate attention, said Callamard.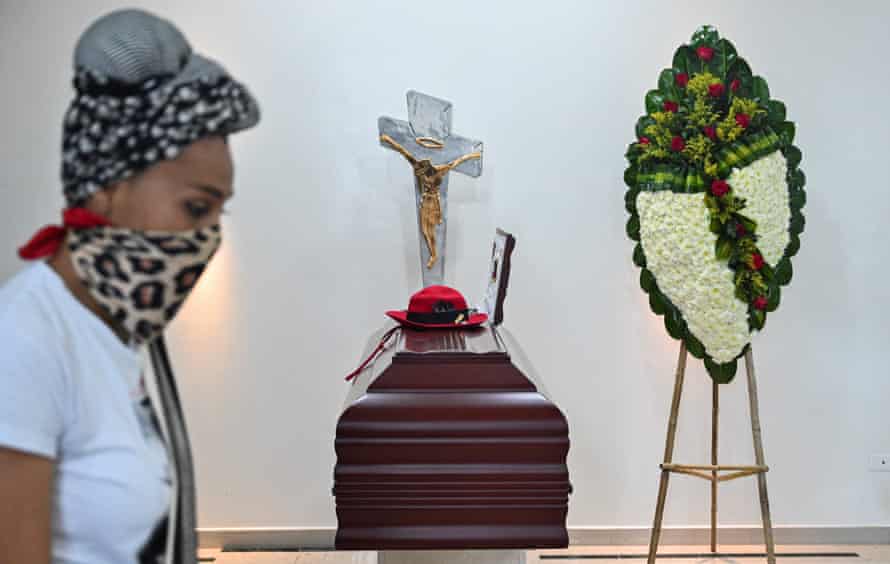 Amnesty's global report for 2020–2021, published on Wednesday, found that "fake news" laws in the Gulf, Hungary and Singapore were being used to silence criticism of governments and responses to the pandemic.
Singaporean authorities used the Protection from Online Falsehoods and Manipulation Act, which forces online media platforms to carry corrections or remove content the government considers to be false – with penalties of up to 10 years' imprisonment or fines of up to S$1m (£540,000), throughout 2020 against government critics and political opponents.
Activists in Western Sahara, which has been locked in a decades-long struggle for independence from Morocco, faced a number of interrogations and trumped-up charges for their human rights work, according to the report.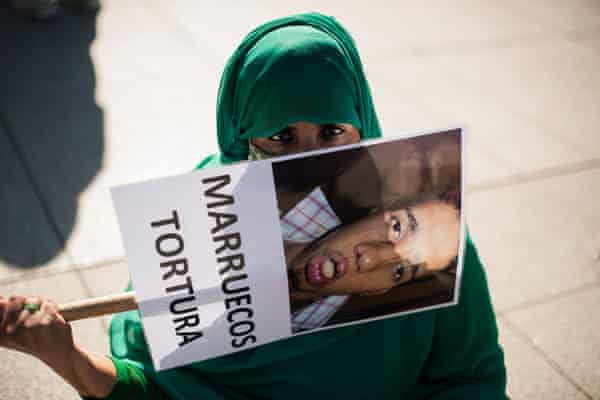 "Western Sahara has been living under oppression for many decades, but [the decision by Donald Trump] to recognise Morocco's sovereignty has simply escalated the repression," said Sahrawi activist Mohamed Elbaikam. "Activists are seeing their salaries cut off or frozen; they're being followed and targeted with trumped-up charges, their family members are threatened, their phones and internet connections are hacked, and some are being tortured and sent to prison without trial."
The human rights situation in the Philippines, already tenuous, worsened dramatically in 2020. In July 2020, the Philippines passed an anti-terrorism bill and its broad and vague definition of terrorism has since been used to target rights campaigners. The island nation is already the second deadliest country behind Colombia for human rights activists, according to the advocacy group Front Line Defenders. The vast majority of those killed in 2020 were working on environmental, land and indigenous rights, it said.
Amnesty's report painted a grim picture of the state of human rights around the world, with Callamard saying Covid-19 had "exposed and amplified everything that is wrong with our society".
Leaders had weaponised the pandemic by using it to ramp up attacks on human rights; vulnerable and elderly people died in their thousands in care homes; gender-based and domestic violence had increased in every region of the world; and global bodies such as the international criminal court and UN had failed to meet the human rights challenges omnipresent in 2020, she said.
A number of governments around the world also used excessive violence to police the pandemic – including the Philippines, Nigeria and Brazil, where an average of 17 people were killed every day by police in the first half of the year, Amnesty's report claims.
A number of countries had continued crackdowns on freedom of expression in 2020. In nearly a third of all the countries Amnesty monitored, authorities had harassed or intimidated health or other key workers, with many facing reprisals, including arrest and dismissal, for raising concerns about safety or working conditions during the pandemic.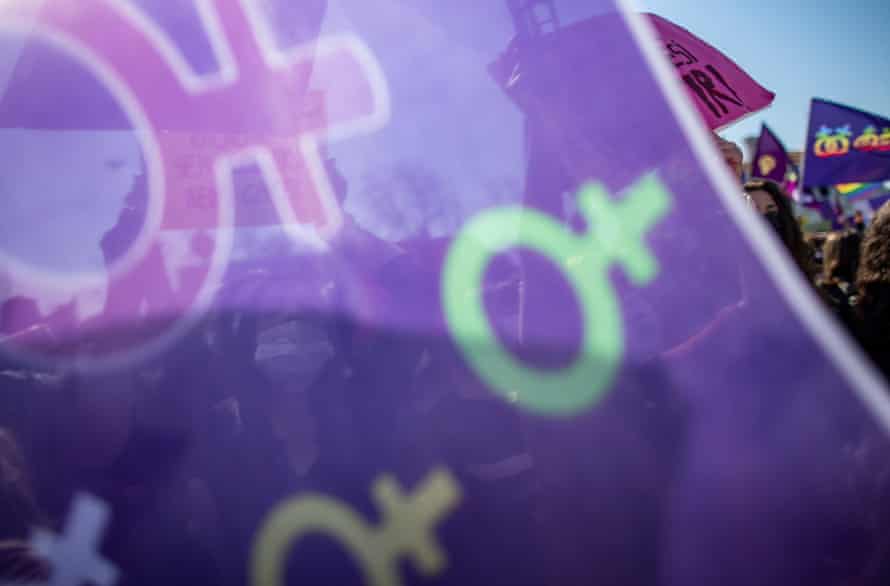 The report, which covered global human rights trends as well as those of 149 individual countries, also highlighted a marked increase in gender-based and domestic violence around the world, with many women and LGBTQ+ people facing barriers to protection and support due to restrictions on freedom of movement and lack of confidential reporting mechanisms.
Callamard said the pandemic had highlighted "the world's inability to cooperate effectively in times of dire global need".
"The only way out of this mess is through international cooperation," she said.
The report found that the world's most marginalised people, among them women and refugees, bore the brunt of the pandemic. Death, discrimination, unemployment and inequality were global themes: Covid-19 killed at least 1.8 million people worldwide in 2020, while 270 million were left facing acute food insecurity, many of them in squalid camps.
The report also highlighted the number of people who had been inspired to join protests against regressive policies, for example the Black Lives Matter protests in the US, the #EndSARS protests in Nigeria and virtual climate strikes.
Covid-19: Italian and Spanish PMs meet in Madrid ahead of EU recovery fund summit | International
Italy's prime minister, Giuseppe Conte, was in Madrid on Wednesday for a meeting with his Spanish counterpart, Pedro Sánchez of the Socialist Party (PSOE), to discuss their countries' joint strategy for an upcoming summit on the European Union's coronavirus recovery fund.
Spain and Italy, the two European countries to be hardest hit by the Covid-19 pandemic, are joining forces against the so-called "frugal" countries – Austria, the Netherlands, Sweden and Denmark – which oppose the idea of a €750 billion fund, of which €500 billion would be non-recoverable grants and the rest made up of loans.
Sánchez and Conte have shared interests, as their countries stand to benefit the most from the fund, according to Italian and Spanish sources who added that Germany and France back this position as well.
"This time Italy, Spain, France and Germany are clearly in sync. We all support the European Commission's proposal," said Spanish sources.
"With the meeting held today with @GiuseppeConteIT we are relaunching relations between Spain and Italy. We agree that the good understanding between our countries must be taken to the political arena. We hope to hold a new Italian-Spanish summit in 2020," tweeted Spain's Sánchez on Wednesday.
Conte and Sánchez will be traveling separately in the coming days to the Netherlands and Germany, and the Spanish leader is also planning a stop in Sweden, whose government wants to replace some of the EU fund grants with loans, according to Spanish sources. The Spanish and Italian PMs are hoping to arrive at the July 17-18 summit in Brussels with a strong negotiated position that will leave little room for resistance from the "Frugal Four."
Wednesday's meeting also served to reinforce bilateral ties that had been weak for years. The last time that the leaders of both countries had come together was in 2014, when then-prime ministers Enrico Letta and Mariano Rajoy met in Rome.
English version by Susana Urra.
'Where should we go?': thousands left homeless as Karachi clears waterways | Global development
Maqsooda Bibi, 62, did not know the house she had lived in all her life would be demolished, forcing her whole family to become homeless. But on Monday, Pakistan's supreme court backed the Sindh government in bulldozing her home and hundreds of others, legalising the eviction of thousands who live along narrow waterways – nullahs – that crisscross Karachi.
The verdict came as Bibi and hundreds of others held a protest outside the court. "We hoped that the court would ask the government not to make us homeless, but it did the opposite. Our children also protested on Sunday and urged the supreme court to stop demolition. It seems no one here cares for the future of the poor."
At least 8,000 houses are being knocked down along the nullahs. The work, which began in February, is in response to the 2020 Karachi floods that saw choked up nullahs overflow and swamp the city. Improvements to Karachi's water and sewage systems are being financed by the World Bank.
As people watched their homes being turned into rubble, civil society organisations approached the court to try to stop the evictions. They said the houses were not to blame for blocking the waterways.
But on Monday the supreme court rejected the petition.
While dozens of people told the Guardian they were renting their homes, the court said any leasing of land along the nullahs was illegal. Activists and writers have termed the decision "unjust". Writer Fatima Bhutto, of the Bhutto political dynasty, tweeted: "The supreme court's decision is a tragedy."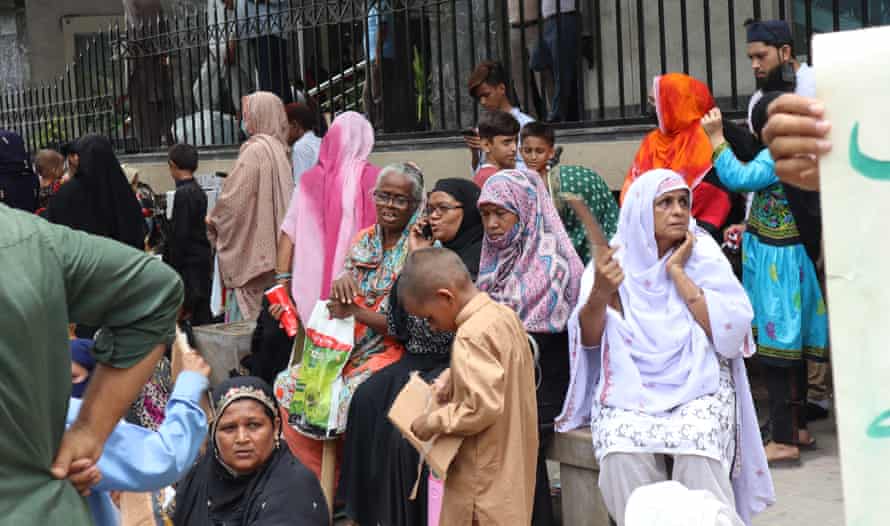 In an editorial, Pakistan's largest English-language daily, Dawn, said: "The demolition of houses situated within nine metres on either side of the Gujjar and Orangi nullahs will continue. When this exercise is completed (before this year's monsoon, according to the plan), at least 100,000 people would perhaps have been rendered homeless. As many as 21,000 children would be out of school and living under the open sky."
Bibi's house was her family's home for five decades. She shared it with four daughters and three sons-in-law. "We all started living on the lawn after they demolished our house but they will snatch the lawn now. At first, they took our shelter, now they will take our land," she says.
Muhammad Shahid is a heart patient whose house was bulldozed a month ago. He expected justice from the court. He was at home when his house was bulldozed at around 11am one morning.
"We are helpless. Where should we go? We can't die or live. I had my angiography done and now I can't work. My children aren't educated enough. My wife had a paralysis attack," says Shahid. He says that even he has not got the 90,000 Pakistani rupees (£410) promised by the government.
Muhammad Aslam did receive some compensation for the loss of his house. But he says it is not enough. He says: "I want to return the amount because it is of no use for four families." He lives with 28 others in one room and a tent after his two-storey house was bulldozed. "We are troubled in all ways, there is no gas or electricity or even sanitation. This isn't living," says Aslam.
Architect and urban planner Arif Hasan says the government had no "proper plan". "They are not doing it merely to stop the flood but to make long roads along the nullahs connecting the Lyari expressway with the northern bypass, displace poor and benefit the rich." He says the World Bank should denounce the Sindh government, as forced evictions are against the bank's policies.
Muhammad Abid Asghar was one of the first to lose his home, on 2 February. With others, he established Gujjar Nala victims committee and, with activists of Karachi Bachao Tehreek (Save Karachi Movement), went to the Sindh high court.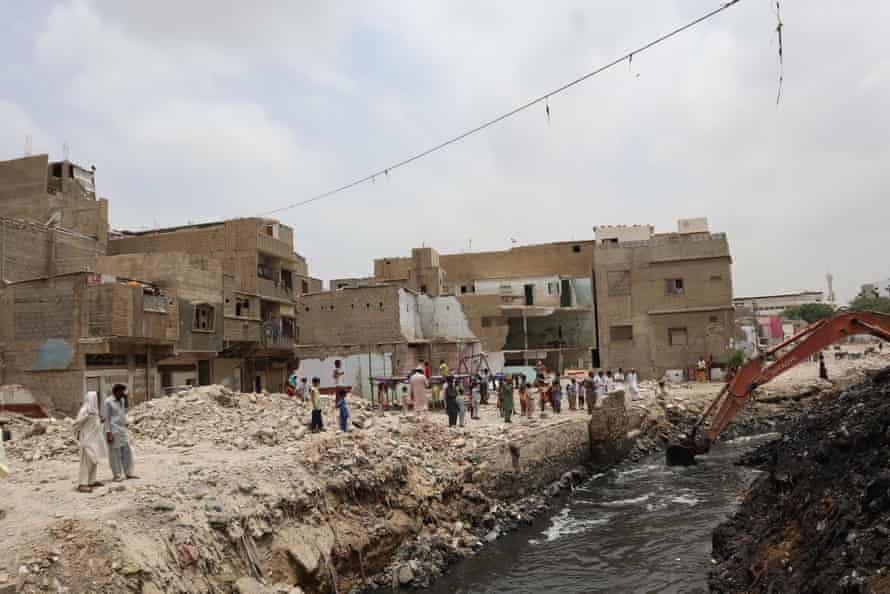 After chalking slogans against the demolitions on walls around the city, the activists say they were called by the World Bank team for a meeting in April.
"We had believed the bank was funding the evictions, but the World Bank denied it. They assured us that no leased houses would be bulldozed."
Sindh minister for information, Nasir Hussain Shah, also says the World Bank is not linked to the evictions. "The government will help residents in rehabilitation," he says, adding that "not more than 5%" of residents were against the demolition works.
The World Bank did not respond to a request for comment.
China calls Nato statement 'slander'
The Chinese mission to the EU denounced a Nato statement that declared Beijing a "security challenge," saying China is actually a force for peace but will defend itself if threatened, AP reports. The Chinese news release said the Nato statement was a "slander on China's peaceful development, a misjudgment of the international situation and (Nato's) own role, and a continuation of the Cold War mentality and organisational political psychology."