Halyna Hutchins: Alec Baldwin, an actor dogged by scandal | USA
Alec Baldwin once borrowed the words of one of the acting colleagues he admires the most – "the incredibly intelligent and wise Warren Beatty" – to explain his ongoing image problems. "Your problem is a very basic one, and it's very common to actors. And that's when we step in front of a camera, we feel the need to make it into a moment. This instinct, even unconsciously, is to make the exchange in front of the camera a dramatic one," Beatty said.
Last Thursday, on the set of the movie Rust, of which Baldwin is the star and a producer, that moment could not have been more dramatic. It was Baldwin who pulled the trigger on a prop firearm that killed the Ukrainian director of photography, 43-year-old Halyna Hutchins, and wounded the movie's director, 48-year-old Joel Souza. The tragic incident left Baldwin speechless for several hours until he expressed his "shock and sadness," offering his help and support to Hutchins' family and stating that he was "fully cooperating" with the police investigation into the accident. A social media post from a few days earlier in which he was kitted out in his cowboy gear and covered in blood in character for Rust was removed from his accounts.
Scandal seems to follow Alec Baldwin around, whether or not he is looking for that drama to which Beatty alluded. The eldest of six siblings of a middle-class Catholic family of Irish descent, the four Baldwin brothers are all involved in show business, although they couldn't be much different from one another. Daniel has had problems with drugs. Stephen is currently involved with an Evangelical church and his political views are inclined toward conservatism. The second-youngest, William described his brother as someone who always has something "to fucking whine about," according to The New Yorker. Alec is the eldest and the most disciplined, but also the one who protected the other brothers from bullies as he was the most combative. He went to school with the notion of becoming the president of the United States, but on recognizing he had little chance of achieving that goal he enrolled at the Lee Strasberg Theatre & Film Institute in New York, graduating many years later.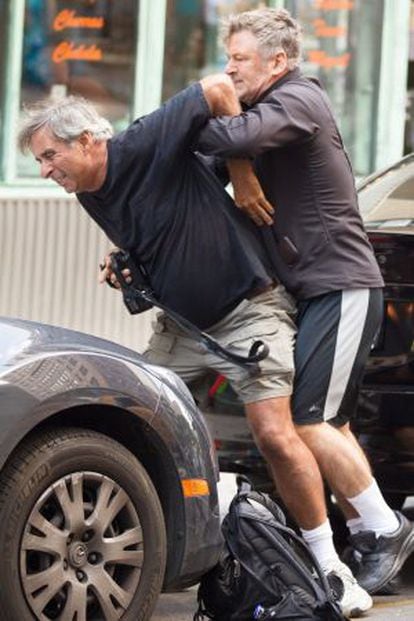 His career could have panned out like Al Pacino's or Jack Nicholson's, actors who he looked up to, but Baldwin's generation was not the same. Perhaps neither was his talent, and certainly, the world of movies had changed. In 1992, Baldwin ensured that he would be associated with his idols when he starred with Jessica Lange in a Broadway revival of A Streetcar Named Desire, which three years later would be turned into a television movie with Baldwin and Lange reprising their roles for the small screen. Not only did Baldwin receive a Tony nomination for his Broadway performance, he also drew favorable comparisons to legendary actor Marlon Brando, who starred in the stage production and the 1951 movie version. Around this time Baldwin was also landing meaty screen roles, including that of Jack Ryan opposite Sean Connery in The Hunt for Red October.
But as time progressed, Baldwin's name was more frequently heard in connection to his social life and scandals than for his stage or screen performances. His marriage to actor Kim Basinger, who he met in 1991 while filming The Marrying Man, ended acrimoniously, and Baldwin's relationship with the couple's daughter, Ireland, has often been fractious. In 2007, a voicemail message the actor left for Ireland, who was 11 at the time, caused a sensation due to Baldwin's use of not very fatherly language, during an ongoing spat with Basinger following their 2002 divorce.
Then there is the other Alec Baldwin, described by the actor himself as "bitter, defensive, and more misanthropic than I care to admit," in an open letter to Vulture magazine in 2014 titled Good-bye, Public Life. At that time Baldwin had forged a reputation as a violent, homophobic egocentric following several incidents aired in the media. And, of course, from his own mouth. Even so, he managed to resurrect his career in the most surprising way imaginable: by making fun of himself.
Baldwin's portrayal of the absurd and conceited television executive Jack Donaghy across seven seasons of 30 Rock (2006-13), a character inspired by Baldwin himself, earned back his public popularity and landed the actor back-to-back Primetime Emmy Awards in 2007 and 2008 and three Golden Globes. In 2011, he started a new chapter in his personal life with his current wife, Hilaria Baldwin, with whom he has six children. But as one of his closest friends, Lorne Michaels, producer of Saturday Night Live where Baldwin has received plaudits for his impersonations of former US president Donald Trump, once said: "Everything would be better if you were able to enjoy what you have."
Baldwin's altercations – mostly verbal, occasionally physical – with the paparazzi or anyone who in the actor's opinion has violated his privacy have been frequent, including on productions on which he has worked. In 2013, the actor Shia LaBeouf was fired from the Broadway theatre production of Orphans when Baldwin said: "Either he goes or I do." Years earlier an actress left another play Baldwin was working on by leaving a written note stating that she feared for her "physical, mental and artistic" safety.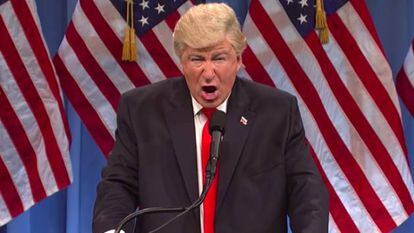 Every one of Baldwin's reinventions seems inexorably to be followed by another fall from grace. On the one hand, there is the Baldwin who has stated on several occasions that he intends to withdraw from public life, and on the other the Baldwin who is obsessed with social media, writing a tweet for every occasion. Many of these posts have cost the actor, such as in 2017 when he commented on a video of a suspect being fatally shot by police: "I wonder how it must feel to wrongfully kill someone…"
There are still unanswered questions surrounding the death of Halyna Hutchins. The investigation has not disclosed whether the firearm was discharged accidentally or if Baldwin was aiming it at the time, although the transcript of a call to the emergency services appears to indicate it happened during a rehearsal. As of yet, no charges have been filed against Baldwin but it is unknown if this may yet occur at a later date. A statement taken from the assistant director states that Baldwin was told by crew members that the gun was not loaded. Many observers are wondering if Rust will be completed, if the project will be abandoned. And many more are asking the same about Baldwin: will he be able to find a way back from this latest dramatic moment?
Covid testing rules for all arrivals into State come into force
New Covid testing rules for travellers arriving into the State have come into force today.
At the start of the week the Government announced that all incoming travellers except those travelling from Northern Ireland will have to present a negative test result in order to enter the country irrespective of the vaccination status.
The move came in response to concerns about the spread of the Omicron variant of Covid-19.
The test requirements were due to be introduced from midnight on Thursday. However the system was postponed at the last minute to midnight on Sunday in order to allow airlines prepare for checks.
For those with proof of vaccination they can show a negative professionally administered antigen test carried out no more than 48 hours before arrrival or a PCR test taken within 72 hours before arrival. Those who are unvaccinated must show a negative PCR test result.
Ryanair's Michael O'Leary had described the move as "nonsense" and "gobbledygook".
Meanwhile more than 150 passengers have departed Morocco for Ireland on a repatriation flight organised by the Government.
The 156 passengers on the flight from Marrakech to Dublin included Irish citizens as well as citizens of several other EU countries and the UK.
The journey was organised after flights to and from Morocco were suspended earlier this week until at least December 13th, amid fears over the spread of the new Omicron Covid-19 variant.
The repatriation flight on Saturday was operated on behalf of the Government by Ryanair.
Responding to news of the flight's departure, Minister for Foreign Affairs Simon Coveney hailed the efforts of the Irish Embassy in Rabat in the operation, tweeting: "Well done and thank you!".
On Saturday the number of Covid patients in hospital has fallen to 487, the lowest level in almost four weeks, the latest official figures show. The number of Covid patients in hospital fell by 41 between Friday and Saturday. There were 5,622 further cases of Covid-19 reported on Saturday.
Tweeting about the latest hospital figures on Saturday, Tánaiste Leo Varadkar said the "plan is working – 3rd doses, masks, test & isolate, physical distancing. Thank you for what you are doing. Please don't lose heart. Let's all have a safe Christmas."
The figures come as the Government on Friday announced its most wide-ranging introduction of new restrictions this year after "stark" warnings from the National Public Health Emergency Team (Nphet) to take immediate action in the face of the threat from the Omicron variant.
From Tuesday until at least January 9th, indoor hospitality will be limited to parties of up to six adults per table, while nightclubs will be closed and indoor events limited to half a venue's capacity. Advice has been issued that households should not host more than three other households in their home, while the use of the vaccine pass is to be extended to gyms and hotel bars and restaurants.
Trinity College immunologist Prof Luke O'Neill said the main reason for the new restrictions was the new Omicron variant, and he thought they were needed as the "next three to four weeks are going to be tough". Speaking to Brendan O'Connor on RTÉ radio, he said it was "strange" that restrictions were being introduced when things are stabilising, with the lowest hospital numbers since November 6th.
Prof O'Neill said he was "hopeful" at news that the Omicron variant may have a piece of the common cold virus in it which could make it more like the common cold.
Divock Origi delivers late delight as Liverpool see off Wolves
Wolves 0 Liverpool 1
Divock Origi's last-gasp strike sent Liverpool top of the Premier League with a dramatic 1-0 win at Wolves.
The substitute fired in from close range in stoppage time just as it looked like the Reds would fail to score for the first time in eight months.
He spared Diogo Jota's blushes after the forward hit Conor Coady on the line following Jose Sa's second-half mistake.
Chelsea's 3-2 defeat at West Ham gave the Reds a path to the summit and they went top thanks to Origi's late show. Resilient Wolves were left with nothing despite another battling display and sit eighth.
Liverpool had blown away the majority of their rivals this season, having scored four in each of their last three Premier League games before arriving at Molineux.
They had, simply, been too good but found Wolves at their resolute best until the death.
Only Chelsea and Manchester City have conceded fewer goals than Bruno Lage's side prior to the game and there was strong resistance to Liverpool's threat.
The visitors failed to find any early rhythm, thanks largely to the hosts' determination. Aside from Leander Dendoncker slicing a clearance from Jota's header the Reds made few first-half inroads.
Three straight clean sheets had given Wolves' defence renewed confidence and they continued to keep it tight as Liverpool slowly began to turn the screw.
Trent Alexander-Arnold volleyed over after 28 minutes and then turned provider for Jota, who headed his far post cross wide.
Liverpool had control but only managed to open their hosts up once and, even then, Romain Saiss's presence ensured Mohamed Salah just failed to make contact with Andrew Robertson's low centre.
As an attacking force Wolves were non-existent. Having scored just five league goals at Molineux that was no surprise but Adama Traore, Raul Jimenez and Hwang Hee-chan carried little threat.
Joel Matip and Virgil Van Dijk were on cruise control and apart from Rayan Ait-Nouri's sharp run – before he wasted his cross – there was little for Liverpool to fear.
Yet, they were still searching for a goal. Having scored in every Premier League game since a 1-0 defeat to Fulham in March more was expected after the break.
Salah's knockdown caused some penalty box pinball which saw Thiago Alcantara twice denied but Jürgen Klopp's men lacked the fluidity and precision to break Wolves down.
They needed a mistake from Sa to create their best opening on the hour and even then Jota missed it.
The goalkeeper raced out to the left after Jordan Henderson's searching pass for Jota but collided with Saiss to give the forward a clear run to goal.
He advanced but from just six yards belted the ball at the covering Coady on the line.
Alexander-Arnold drove over as Liverpool's frustrations grew and Sa denied Sadio Mane late on.
But Origi had the final say deep into added time when he collected Salah's pass, turned and fired in from four yards.
Teenage girl travelling on scooter seriously injured in collision
A teenage girl was seriously injured after she was struck by a van while she was travelling on a push scooter in Dublin, gardaí have said.
The collision happened on Walkinstown Avenue in Dublin 12 shortly after 6pm on Wednesday.
The teenager is being treated for serious injuries at Children's Health Ireland Hospital in Crumlin. No other injuries were reported from the incident.
The scene was preserved for technical examination, and investigations are continuing.
Gardaí are appealing to anyone with information on the incident to contact them at Crumlin Garda station on 01-666-6200, the Garda confidential line on 1800-666-111 or any Garda station.
Any person, whether a motorist or pedestrian, who was travelling along Walkinstown Avenue on Wednesday between 5.45pm and 6.30pm is also asked to come forward.
Gardaí have asked that any camera footage is made available to them.