Giulio Regeni's last messages before his death in Egypt counter spy claims | Global development
The Facebook messages written by the Cambridge student Giulio Regeni in the weeks leading up to his murder give the lie to any notion he was a spy or political agitator.
Even before he left England, Regeni was concerned about the risks he might face doing his thesis on trade unions in Egypt, a sensitive subject in the country.
But the 28-year-old thought the worst that could happen would be for him to be deported before he could finish his research.
Instead, he was snatched off the street and tortured and his semi-naked body dumped by the roadside in a brutal killing for which four Egyptian security officials are due to stand trial in Italy in October.
"Egypt is in a difficult state right now," he wrote before leaving for Cairo, in messages shared with the Guardian by his friend. "The dictatorship is back and until recently it wasn't clear how brutal it was going to become. It seems that it's 'stabilising' now … this state of affairs is very precarious."
Enforced disappearances are a daily occurrence under Egypt's hardline president, Abdel Fatah al-Sisi. Last year, the country's human rights commission reported 2,723 enforced disappearances in the past five years, some of whom were tortured and shot.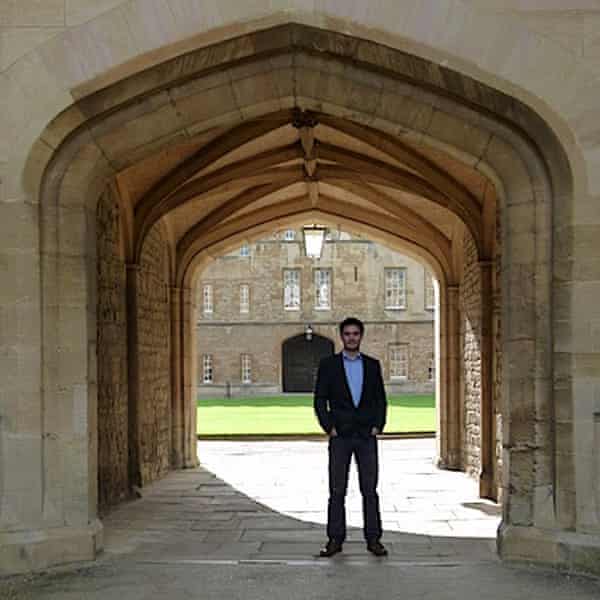 Regeni is unusual because he was a foreigner, an Italian PhD student at Girton College who moved to Cairo in September 2015 to work on a development studies thesis about independent trade unions.
It was a touchy subject in a country that had seen a huge rise in worker representation during the Arab spring, which swept Mohamed Morsi, the Muslim Brotherhood leader, to power in 2012.
Twelve months later, Morsi was toppled in a coup that eventually installed the former general, Sisi, as the country's leader, in a return to military rule.
Regeni, who had previously studied Arabic and politics at Leeds University, decided to research his thesis in Cairo from September 2015 to March 2016, with a two-week break at home with his family for Christmas in Fiumicello, north-east Italy.
In October, a month after his arrival, he described trade unions as "the only remaining force in civil society".
He concentrated on the street vendors, of whom there were about 6 million, who had set up a union to combat government crackdowns. Regeni said the situation in Cairo was "depressing, but not manic like 2013".
"This doesn't feel like it's going to be another 30 years," he added, in reference to the length of rule of the previous army leader, Hosni Mubarak.
But things took a worrying turn when, at a meeting of union activists, Regeni spotted a veiled young woman taking his picture on her phone, which made him fear he was under surveillance.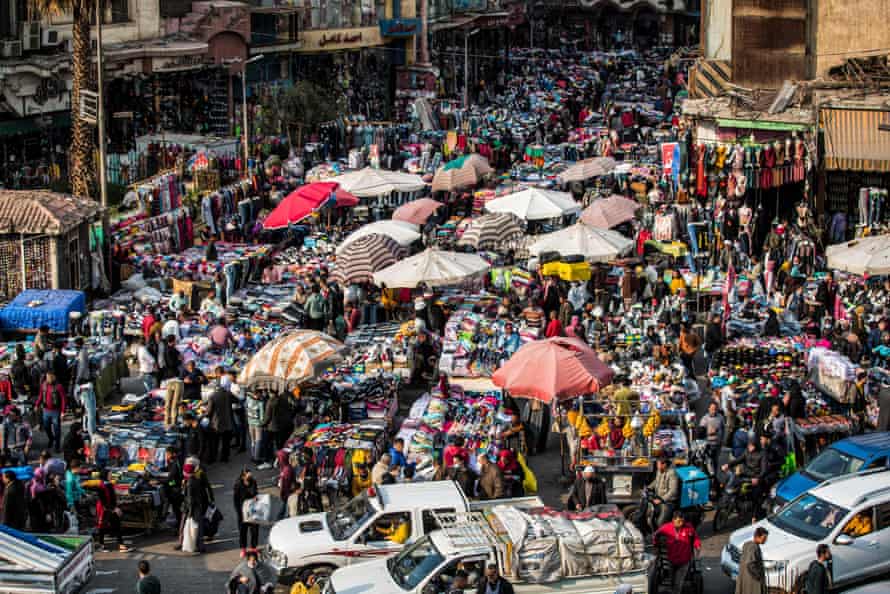 He was also getting irritated by vendors hassling him for mobile phones and the head of their union asking for money for family medical bills. When the student said he could not help, Mohamed Abdallah reported him to police, later claiming he thought he was a spy.
In one of his last Facebook messages, Regeni asked for help with his English in a paper he had written.
Five days later he was snatched off the street on his way to an evening out.
Nine days after that his body was found, dumped on the side of the Cairo-Alexandria highway. He had been tortured; beaten, burned and stabbed before his neck was broken after he was struck from behind with a heavy, blunt object.
His injuries were so severe that when his mother, Paola, saw his body she could only recognise him from the "tip of his nose".
What followed was an apparent cover-up by the authorities. President Sisi, in an interview with the Italian newspaper, La Repubblica, vowed to track down the culprits. Instead it was then claimed there had been a robbery by a gang, all now dead.
But Italian investigators discovered phone records that showed the leader of the gang – all killed in a police shootout – was not even in Cairo at the time Regeni disappeared. They concluded the student's identity documents had been planted at one of their addresses.
In large part due to eyewitnesses coming forward to say they saw Regeni being interrogated at the National Security Agency headquarters, an Italian judge last month said the four senior Egyptian security officials should stand trial. Gen Tariq Sabir, Col Usham Helmi, Col Athar Kamel Mohamed Ibrahim and Maj Magdi Ibrahim Abdelal Sharif face charges of aggravated kidnapping. Sharif is also being accused of conspiracy to commit murder.
Egypt has closed the case and refuses to extradite the suspects to Italy, so the trial will go ahead without them.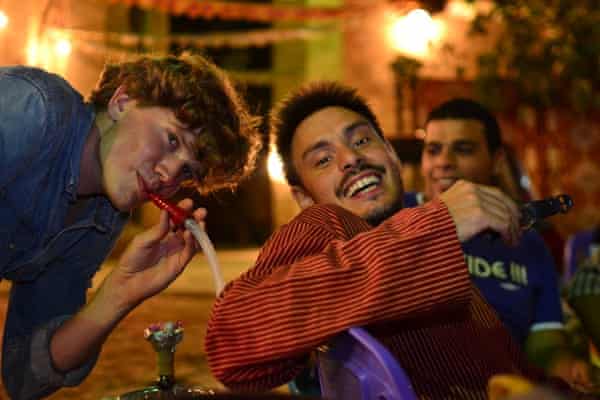 Johannes Svensson shared a flat in Cairo with Regeni while he was working for a UN agency in 2013, at the time Morsi was overthrown.
"He was interested in how this group of street vendors, who you might suspect are quite weak, organises itself in an efficient way and manages to have some political leverage."
Regeni was an academic, not a political agitator, says Svensson.
In fact, he described Regeni as the "cautious" one when they were together on the streets in July 2013 to witness the celebrations after Morsi's overthrow.
Since his death, Regeni has become a martyr – or shahid – for the disappeared in Sisi's Egypt.
"That's why there's graffiti of him in Cairo," says Regeni's anonymous Facebook friend. "He is a representative figure of that."
Norway killings 'appeared to be' Islamist 'terrorism'
Wednesday's murders "appeared … to be an act of terrorism" Norway's 'PST' intelligence service said Thursday, noting that the killer, Danish national Espen Andersen, had been a "known" threat. Andersen was a Muslim convert and extremist, but might also have had psychiatric problems, Norwegian police said. Norway's terrorism-threat level was "moderate", the PST added, while monitoring the risk of "follow-up actions, revenge actions" by either "extreme Islamists" or "right-wing extremists".
UN quizzed over role in prison-like island camp for Rohingya refugees | Global development
The UN's refugee agency (UNHCR) is facing questions over whether it is helping to detain Rohingya refugees in prison-like conditions by providing services on a controversial island camp.
Over the past year, Bangladesh has relocated almost 20,000 refugees to Bhasan Char, an island formed of silt deposits in the Bay of Bengal thought to be vulnerable to cyclones, which the refugees are unable to leave.
About 700 refugees have reportedly attempted to flee the island but Bangladesh hopes that the UNHCR's cooperation will ensure better services for the refugees and is now planning to increase the island's population by 80,000 over the next three months.
Refugees International, a global advocacy organisation, said there were "serious questions" about whether it was safe and possible to move such numbers to the island from the Cox's Bazar refugee camps, which are the world's largest, hosting about 890,000 refugees.
"Most concerning is whether any relocations of Rohingya refugees to the island will be truly voluntary, evidenced by the fact that hundreds of refugees relocated there have already tried to flee," said Daniel Sullivan, Refugees International's senior advocate for human rights.
"As Refugees International has warned in the past, failure to properly assess conditions and inform refugees about the move will result in policies more akin to detention than refuge."
The Geneva-based Global Detention Project tweeted: "In signing a new memorandum of understanding with the Bangladesh government, is the UNHCR assisting in the detention of Rohingya refugees on Bhasan Char island? Are refugees free to move on and off the island? Are they moving there truly voluntarily?"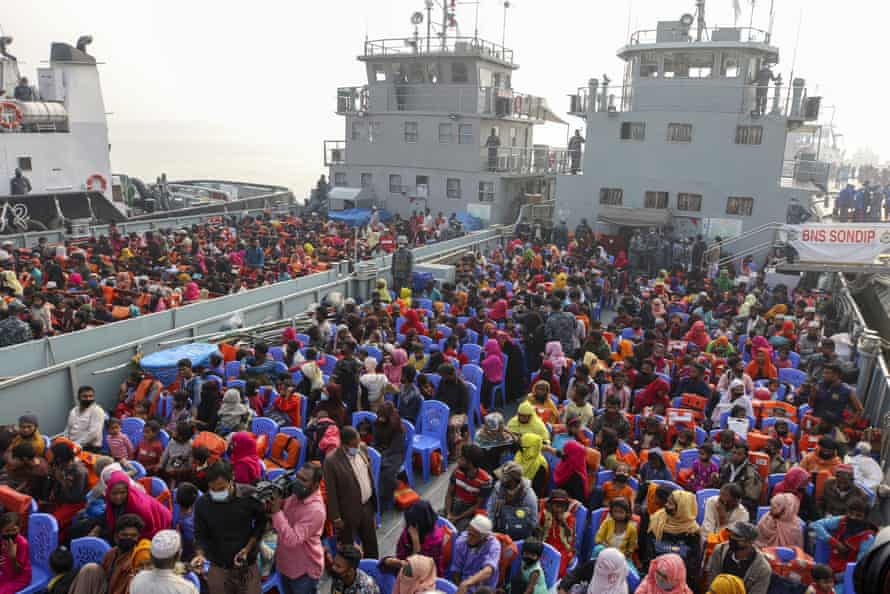 Human Rights Watch reported in June that the government had misled refugees about conditions on the island and that some had been relocated without informed consent. It also reported that, despite promises from the government of good living conditions, they did not have access to work or education and were unable to leave.
In May, during a visit by senior UNHCR officials to inspect the island, thousands of refugees defied orders to remain in their shelters to protest at the living conditions. The UNHCR later said it was "deeply concerned" that refugees were injured during the protest.
A Rohingya teacher living in the Cox's Bazar camps said they opposed the UNHCR's cooperation with the government because they did not believe the island was fit to live on.
"There is not any freedom for the Rohingya people in Bhasan Char. People who have gone there thought life would be comfortable for them, as the government said they would be provided with everything they need," said the teacher, who did not want to be named for fear of repercussions. "There is a lady in Bhasan Char – she sometimes talks with her mother and I heard from her mother that people in Bhasan Char are living as if in prison there.
"At least the government could consider free movement for the people who are in Bhasan Char, so they could travel to see their relatives."
A leaked copy of the agreement offers no guarantee that refugees will be able to move freely to the mainland, Reuters reported on Friday.
Bangladesh has justified relocating refugees to the island by arguing that conditions are better than the overcrowded camps in Cox's Bazar, which have witnessed devastating floods and fires this year.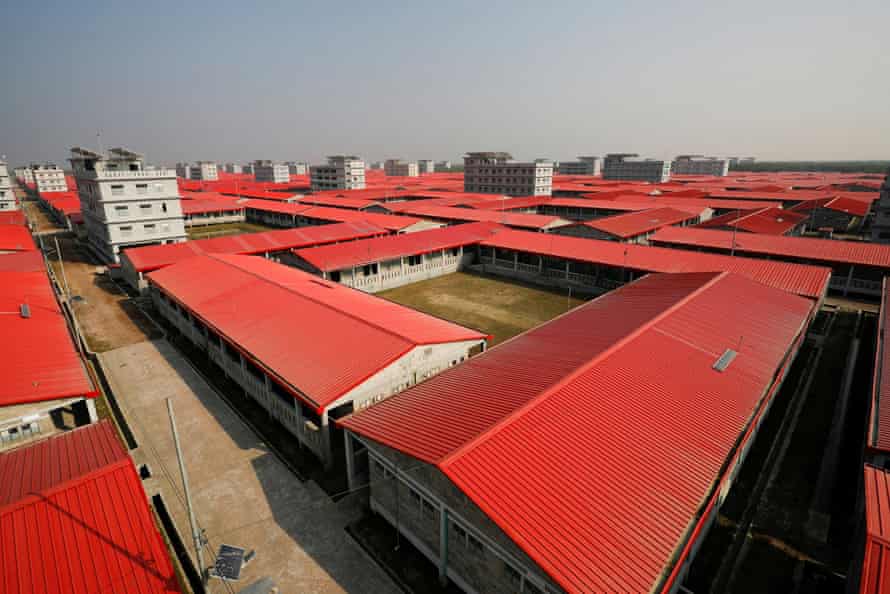 The UN said, after the agreement with the government was announced last weekend, that its presence on Bhasan Char would "help support the refugees to lead decent lives on the island" by ensuring protection, education, healthcare and livelihoods.
Former UNHCR official Jeff Crisp questioned why the agreement between Bangladesh and UNHCR had not been published and whether it failed to ensure freedom of movement for the refugees, which could amount to it becoming a prison island.
He also questioned what the long-term plan was for the island, as little progress had been made towards ensuring the Rohingya can return safely to Myanmar, which several generations of refugees have fled after repeated military operations.
"I don't know what strategy the Bangladeshi government is working on. What is the endgame? Do they assume people can live happily on Bhasan Char?" said Crisp. "They're talking about 80,000 moving in the next three months. Are that number of people going to volunteer to go and, if they do, can you move that many people and give proper attention to settling them properly?"
China's Xi to snub UK climate summit
Chinese prime minister Xi Jinping will not personally attend the 'COP26' climate summit in Scotland, UK prime minister Boris Johnson has been informed, British newspaper The Times reported Thursday. The no-show might mean China would not submit a 'nationally defined contribution' (NDC) on CO2-cuts either, British officials feared. Just half of the world's 'G20' wealthiest countries have filed NDCs so far, amid a supply crunch in oil and gas markets.