'Gamechanger': Uganda launches drone delivering HIV drugs to remote islands | Global development
As the bottles of medication are carefully loaded into the body of the drone, a small crowd gathers to watch on the other side of the yellow tape marking out the grassy landing strip.
With a gentle buzz the drone rises, a little uncertainly, into the sky, on its 1.5-metre wings. The precious cargo leaving Bufumira health centre III, in Uganda's Kalangala district, is critical drugs for people living in some of the most far-flung communities in the region. Kalangala is made up of 84 islands in Lake Victoria, the world's largest tropical lake, which Uganda shares with Tanzania and Kenya.
The drone taking off last week was a pilot for a new project which will now see 20 scheduled flights a month, carrying mostly HIV medicines out to 78 community groups and health facilities across the widely scattered Ssese islands, which have the highest HIV prevalence in Uganda.
Located about 60 miles from the capital, Kampala, and home to more than 67,000 people, Kalangala district has an HIV prevalence rate of 18%, far higher than the national rate of 5.6%. The government's HIV strategy estimates prevalence of the virus to be up to 40% in some fishing communities.
The delivery of antiretroviral drugs (ARVs) and healthcare is difficult, weather-dependent and risky for healthcare workers, as travel into the region is possible only by boat. The drones, it's hoped, which cost about £4,000 each, carry loads of up to 1kg and fly for 150km, will "close that last mile", said Andrew Kambugu, executive director at Makerere University Infectious Disease Institute (IDI).
"Closing the last mile of delivery and ensuring that people living in remote communities have equitable access to modern treatments for HIV is one of the most significant challenges in global health and in Uganda," he said.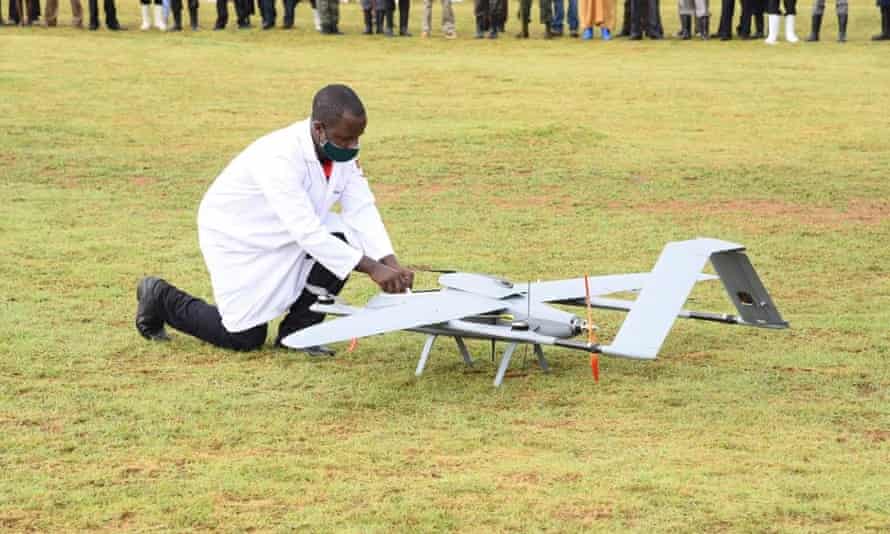 "Medical drones can help solve this challenge by safely and reliably delivering lifesaving medications, thereby empowering frontline healthcare workers to allocate more time and resources to performing other essential services, resulting in healthier and more resilient communities."
Uganda's ministry of health, the Academy for Health Innovation, Uganda, and IDI collaborated on the medical drones pilot at Bufumira, which carried ARVs to more than 1,000 people living with HIV.
The "overcoming geographical barriers with technology" initiative will ease challenges, said Henry Mwebesa, Uganda's director general of health services, who watched the launch.
"Using medical drones is a huge step for us as a health sector in improving service delivery especially in hard to reach areas," he said.
"It's very useful. Once it's successful we can adopt it for other facilities and replicate it in other places."
The drones are controlled by locally trained experts who monitor the flight and landing.
"This is exciting. It will ease the transportation of vaccines to our health facilities in those landing sites," said Jude Matovu, in charge of the Bufumira health centre. "So we expect our outpatient department coverage to increase."
The Uganda Medical Association has welcomed the drones, but expressed concern over drug shortages due to inadequate funding. Its secretary general Mukuzi Muhereza said: "We are welcoming it. It's very important and it could be a gamechanger. It would be nice to see whether it really works with our bad network and connectivity.
"While the distribution and delivery is welcome, the other biggest problem I see is that even other public health facilities get stock-outs even when they can be reached by road. So the stock-outs I don't think would be because of the transportation or connectivity. The biggest stock-outs are because of the funds," he said.
"Realistically I think we are not giving enough money to national medical stores to purchase drugs and supplies for every Ugandan that needs it. The biggest change would be if we can enhance the budget and make sure we have what [we need] to send."
Other African countries, including Rwanda and Ghana, are also using drones to deliver blood and medical supplies, with the technology estimated to be serving more than 22 million people.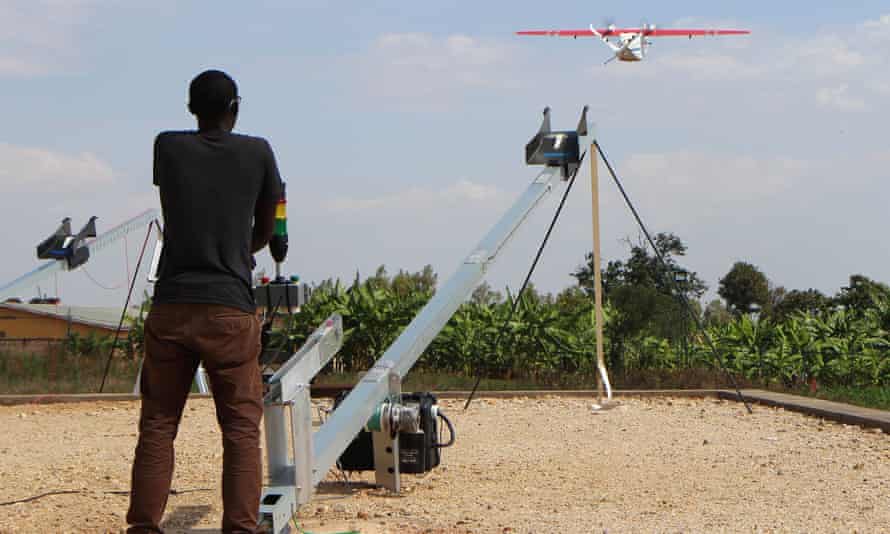 Rosalind Parkes-Ratanshi, director at the Academy for Health Innovation, said the programme will also be an important research opportunity to assess and quantify how effective drones are at delivering medications, data that will help scale drone technology and respond to emergencies.
"Thanks to the support and coordination of our partners, including Johnson & Johnson, this programme will help gather the information and data needed to help make this future a reality, while also helping to deliver lifesaving care to people in need," said Parkes-Ratanshi.
El Salvador 'responsible for death of woman jailed after miscarriage' | Global development
The Inter-American court of human rights has ruled that El Salvador was responsible for the death of Manuela, a woman who was jailed in 2008 for killing her baby when she suffered a miscarriage.
The court has ordered the Central American country to reform its draconian policies on reproductive health.
The decision on Tuesday marked the first time an international court has ruled on El Salvador's extreme abortion laws and was celebrated by women's rights activists, who believe it could open doors for change across the region.
Since 1998, abortion in El Salvador has been banned without exception, even in cases of rape and incest. Over the past two decades, more than 180 women have been jailed for murder for having an abortion after suffering obstetric emergencies, according to rights groups.
The case of Manuela v El Salvador was brought after the 33-year-old mother of two from the countryside died from cancer after receiving inadequate medical diagnosis and treatment, leaving her two children orphaned. She had been serving a 30-year prison sentence for aggravated homicide after a miscarriage.
When Manuela – whose full name has never been made public in El Salvador – went to the hospital after miscarrying, staff failed to provide her with timely treatment and instead subjected her to verbal abuse and accused her of having an abortion, according to the Center for Reproductive Rights. Manuela was handcuffed to her bed and denied access to a lawyer while police interrogated her.
"There is no doubt that Manuela suffered an obstetric emergency," the landmark court ruling stated. "Such situations, as they are medical conditions, cannot lead to a criminal sanction."
The court also ruled that the state must pay reparations to Manuela's family, and should develop comprehensive sexual education policies and guarantee doctor-patient confidentiality.
"The Inter-American court has done justice by recognising Manuela was another victim of an unjust legal context that originates in the absolute prohibition of abortion," said Morena Herrera, at the Feminist Collective for Local Development, one of the parties in the case supporting Manuela's family.
"Manuela's story is a sad one, but it represents a change and becomes a path of justice and hope for all women in Latin America and the Caribbean who are criminalised for obstetric events."
Most countries in the region respect the Inter-American court's jurisdiction, opening the door for sweeping change, activists said.
"This is a huge advance for reproductive rights, not only in El Salvador but across Latin America," said Catalina Martínez Coral, regional director for Latin America and the Caribbean at the Center for Reproductive Rights, another party in the case. "This is a standard we can apply to the constitutions and states across the region."
Martínez Coral added that while the ruling was to be celebrated, the issue of poverty affecting access to reproductive rights remained a challenge.
"There are over 180 cases of women in jail, or that have been jailed, over these issues," said Martínez Coral, who also worked as a litigator on the case against the Salvadorean state.
"What that means is we're dealing with a state that criminalises women and, above all, criminalises poor women in the most rural and impoverished areas," she said.
EU commission unveils proposal to digitalise justice systems
The European Commission unveiled on Wednesday a proposal to digitalise EU cross-border justice systems, aiming at making them more accessible and effective. Under the new draft law, the EU executive wants to tackle inefficiencies affecting cross-border judicial cooperation and barriers to access to justice in cross-border cases. Shifting paper-based communications to electronic formats would save up to €25m per year across the EU in postage and paper costs.
Covid limits migration despite more people displaced by war and disasters | Global development
The coronavirus pandemic had a radical effect on migration, limiting movement despite increasing levels of internal displacement from conflict and climate disasters, the UN's International Organization for Migration said in a report on Wednesday.
Though the number of people who migrated internationally increased to 281 million in 2020 – 9 million more than before Covid-19 – the number was 2 million lower than expected without a pandemic, according to the report.
"We are witnessing a paradox not seen before in human history," said IOM director general, António Vitorino. "While billions of people have been effectively grounded by Covid-19, tens of millions of others have been displaced within their own countries."
Internal displacement caused by violence, conflict and disasters increased to 40.5 million from 31.5 million. Globally, the IOM said governments implemented a total of 108,000 restrictions on international travel, alongside internal restrictions on movement, disrupting migration during the pandemic.
Prior to the report's release, Vitorino told IOM member states on Monday that international cooperation was needed to ensure people were not stripped of the option of migrating when they needed to.
He also pointed out that people from countries with low levels of vaccination could be excluded from emigrating. "We must acknowledge the deep impacts the Covid-19 pandemic has had for people on the move: people stranded in transit, families separated across borders, migrants left unemployed but unable to afford the return home," said Vitorino.
"The resulting complex patchwork of measures, frequently changing in scope and application, has placed a chilling effect on cross-border mobility, particularly for those unvaccinated."
The report said conditions were particularly harsh for people from developing countries working in the Middle East and south-east Asia, with the pandemic affecting their incomes and housing, while they were also often excluded from access to healthcare and welfare.
However, the feared 20% drop in remittances – which can be a key lifeline to poor families during crises – that was predicted by the World Bank in April 2020 did not materialise and had been much lower, at 2.4%. This might be partly related to people being forced to send money to their families through formal routes, the report suggested, because options such as carrying cash were blocked off, as well as many working in jobs on the frontline of the pandemic that continued despite lockdowns.