First Nation calls for release of school records to identify residential victims | Canada
The First Nations community that shocked Canada with the discovery of unmarked graves says school records will be critical in identifying victims – and that a much greater area needs to be searched to understand the true scale of the tragedy.
Tk'emlups te Secwepemc First Nation released on Thursday its first full report on the discovery of 215 unmarked graves at the site of a former residential school.
"We are not here for retaliation. We are here for truth telling," Kúkpi7 (chief) Rosanne Casimir said at a presentation of the findings. "We are here today to honour the missing children in our caretakership who have experienced unthinkable circumstances leading to their death and whose remains were placed in unmarked graves."
The report comes nearly two months after the Tk'emlups te Secwepemc First Nation announced ground-penetrating radar had identified suspected unmarked graves.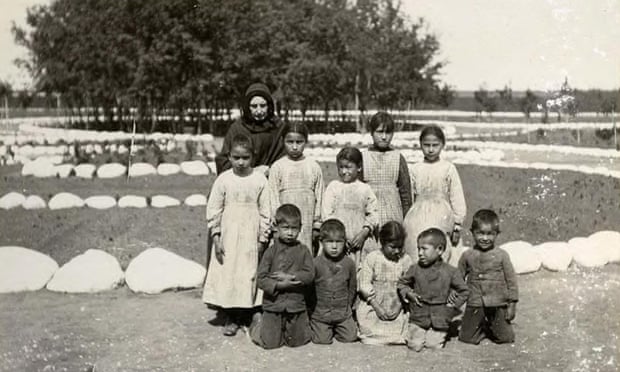 At least 150,000 Indigenous children were forced to attend residential schools across the country, which were funded by the federal government and run by churches as part of the campaign to strip the youth of their cultural identity.
Since then, other First Nations have reported similar discoveries at the site of former residential schools.
Cowessess First Nation in the province of Saskatchewan announced 751 potential unmarked grave sites last month and 182 graves were discovered near the St Eugene residential school in south-eastern British Columbia. Earlier this week, Penelakut Tribe said more than 160 undocumented graves had been found near the site of the Kuper Island residential school.
Casimir called on the federal government to release attendance records to begin the process of identifying potential victims.
"Every student who ever attended the Kamloops residential school is documented in those records," she said. "We are loth to put the responsibility of identifying those lost on the survivors … who have been traumatized and re-traumatized already."
Casimir also called on the Catholic church to release its records, taking aim at an institution that has faced growing criticism over its failure to compensate survivors.
"The Roman Catholic church has repeatedly refused to accept responsibility or formally apologize for its direct role in the numerous and horrific abuses committed … through the residential school system," she said.
As part of the announcement, survivors of the school testified about the legacy of the institution.
Evelyn Camille, a Tk'emlups te Secwepemc elder who was forced to attend the school, said many had long warned of missing children, but were ignored.
"Truth and reconciliation? I often wondered, 'What the hell does that mean?' Do they want to hear the truth, really? We have tried to tell them the truth," she said. "Who is going to listen?"
Camille called on the graves to remain untouched. "Yes there may have to be some studies to be done, but what good are those studies going to do for us?"
Only two acres of the site, an apple orchard, have been studied – a space that has "barely scratched the surface", said Dr Sarah Beaulieu, a specialist in ground-penetrating radar who has worked with the community. An additional 160 acres – 647,500 square meters – still require surveying.
Stories of children as young as six being awoken in the night to dig holes for burials, as well as the discovery of a juvenile rib bone and tooth in that area, prompted the initial search earlier this year.
Only excavation and forensic study, however, can conclusively confirm how many children are buried on the grounds, said Beaulieu.
"Remote sensing such as [ground penetrating radar] is not necessary to know that children went missing in the Indian residential school context. This fact, this knowledge has been recognized by Indigenous communities for generations," she said. "All residential school landscapes are likely to contain burials and missing children. And remote sensing such as [radar] merely provides some spatial specificity to this truth."
Brexit: British Embassy launches survey on key issues affecting UK nationals in Spain | Brexit | International
The British Embassy in Madrid has launched a survey aimed at finding out how UK nationals in Spain have been affected by key issues, in particular, the United Kingdom's exit from the European Union, a process commonly known as Brexit.
The poll is for Britons who are full-time residents in Spain (not those with second homes) and are covered by the Brexit Withdrawal Agreement, i.e. they were officially registered in the country before December 31, 2020, when the so-called Transition Period came to an end.
Questions in the survey address issues such as access to healthcare and the uptake of the TIE residency cards, which were introduced as a replacement for green residency cards (either the credit-card size or the A4 sheet version, officially known as the Certificado de Registro de Ciudadano de la Unión).
The aim of the poll is to gather vital information on the experience of UK nationals living in Spain that will help the British Embassy provide feedback to Spanish authorities. The survey takes around 10 minutes to complete, and all answers are confidential.
Have you heard our Spanish news podcast ¿Qué? Each week we try to explain the curious, the under-reported and sometimes simply bizarre news stories that are often in the headlines in Spain.
'The challenge for us now is drought, not war': livelihoods of millions of Afghans at risk | Global development
The war in Afghanistan might be over but farmers in Kandahar's Arghandab valley face a new enemy: drought.
It has hardly rained for two years, a drought so severe that some farmers are questioning how much longer they can live off the land.
Mohammed Rahim, 30, grew up working on a farm along with his father and grandfather in the Arghandab district of Afghanistan's southern province. Famous for its fruit and vegetables, the area is known as the bread basket of Kandahar.
Like most in the valley, Rahim's family relies solely on farming. "The fighting has just stopped. Peace has returned," Rahim says. "But now we face another war: drought.
"Now we have to dig deep to pump water out of the land. It has been two years, there has been little rain and we have a drought here. I don't know if our coming generations can rely on farming the way our ancestors used to do."
Pir Mohammed, 60, has been a farmer for more than four decades. "Not long ago, there were water channels flowing into the farm and we were providing the remaining water to other farmers," says Mohammed. "Before, the water was running after us, flowing everywhere – but now we are running after water."
The water used to come free from the river but now the daily diesel cost for the water pump is at least 2,500 Afghani (£21).
"We don't make any profit. We are in loss, rather. Instead, we are using our savings. But we don't have any other option as we do it for survival," says Mohammed. "However, the scarcity of water has affected the quality of crops as well."
About 70% of Afghans live in rural areas and are particularly vulnerable to the impacts of drought.
Last week, Rein Paulsen, director of the Food and Agriculture Organization's Office of Emergencies and Resilience, said severe drought was affecting 7.3 million people in 25 of the country's 34 provinces.
He warned: "If agriculture collapses further, it will drive up malnutrition, increase displacement and worsen the humanitarian situation."
Arghandab has been a favourite destination for farming because of the abundance of water and fertile lands. Neikh Mohammed, 40, left the Dand district of Kandahar to work in Arghandab in 2005. When he arrived he was amazed to see the greenery and pomegranate farms.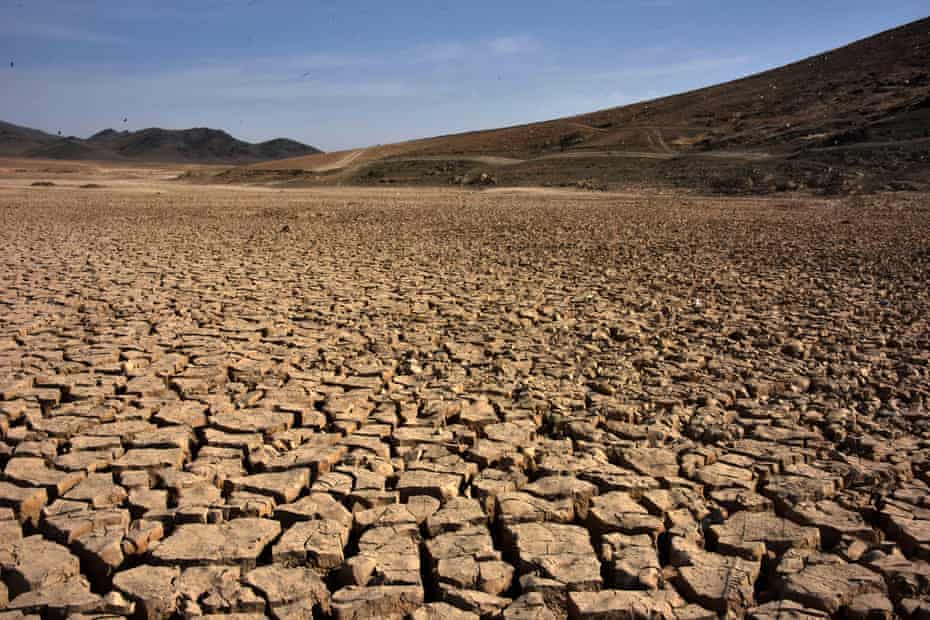 "It used to rain a lot here and we could not cross the river and come into our farms. We had a life with abundant water. But the past is another country now," he says.
According to a report by the UN mission in Afghanistan, many local farmers were caught in the crossfire between the Taliban and the Afghan security forces. The Taliban carried out attacks from thick foliage on the farms, which provided a hiding place, ideal for an ambush.
"For the past 20 years, we did not have peace and could not work after dark in our farms. But now we can stay as long as we want without any fear," says Neikh Mohammed. "Now the challenge is not just restoring peace but the drought and escalating cost of essential commodities."
Farmers say they want support from international aid agencies and assistance from the new government headed by the Taliban to help them survive.
Pir Mohammed says: "The real challenge for us now is drought, not war. We need food, water, dams and infrastructure in our country. The world should invest in us and save us."
[Ticker] US to lift Covid travel-ban on EU tourists
Fully vaccinated travellers from the EU and the UK will be let back into the US from "early November" onward, the White House said on Monday, ending an 18-month ban and prompting airline firms' shares to climb. "This new international travel system follows the science to keep Americans … safe," a US spokesman said. The EU recently recommended increased restrictions on US visitors, amid anger at lack of US reciprocity.

Source link