'Fight Club' author Chuck Palahniuk reflects about his life: From building his own castle to making the audience faint | Culture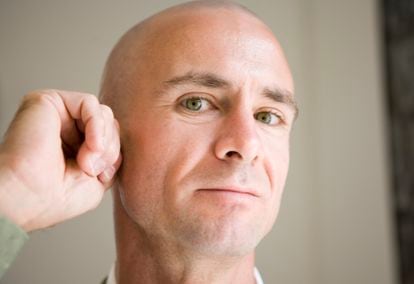 The Covid-19 pandemic divided the world in two: those who tackled personal projects, taking advantage of the collapse, and those who later regretted not having done so. For Chuck Palahniuk, 60, confinement was not as problematic – after all, a writer needs a certain degree of isolation in order to concentrate – as the closing of the gyms. Suddenly, he had no way of working up. So, he set himself a new routine: building a castle with his bare hands on top of a cliff outside of Portland. He chuckles as he recalls: "I changed a completely abstract activity in the gym for lifting rocks weighing more than 40 pounds. I started with a simple room and before I knew it I was making windows, niches for statues, a patio… There it is, without ceilings, like a strange uninhabitable fantasy." During those months, he took on something he had been avoiding: teaching and preparing a manual for aspiring novelists: Consider This: Moments in My Writing Life After Which Everything Was Different (Grand Central Publishing).
Question. You start this book by saying that you never wanted to write it. What made you change your mind?
Answer. Before publishing Fight Club, I used to work on a truck assembly line. There were so many of us journalists in that company that we joked that they should teach welding during the career. Then I signed up for the writing workshop of Tom Spanbauer [author of The Man Who Fell in Love with the Moon] and everything changed. I owe him a lot of what I know. Thanks to him, I was able to develop my career. And since Tom is not in good health and was never going to write this book, I owed it to him.
Q. Tom Spanbauer created the concept of "dangerous writing," which you practice. What is it about?
A. It's about exploring something threatening and unresolved in your life, overcoming fears from painful personal truths.
Q. What advice, as a writer, would you have given to yourself as a young person?
A. Relax. You need to take your time to publish something that matters; you only have one first novel.
Q. In your case, it was Fight Club. You did take your time… you wrote it when you were 33.
A. I was still young, wasn't I? [Laughs]
Q. How did you manage to keep grounded after its success?
A. It was not a success, on the contrary. During my first promotional tour, in Seattle two people showed up, and in San Francisco, nobody. And even though the film rights were acquired, nothing indicated that it would actually be filmed. When it was finally released, it lasted a couple of weeks in the theaters. By then, it had hardly been sold; almost all copies of the book remained in a warehouse. It wasn't until Fox released it on DVD that it really found its audience.
Q. Is it true that after you were introduced to Brad Pitt on the set, you wanted to get his lips?
A. [Laughs] We all have our insecurities. I, for example, have been trying to hide my neck since I was a child. It's too long. That's why I always had my promotional photos taken with a turtleneck. But I hadn't paid attention to my mouth until a friend told me: "Have you noticed how the attractive thing about Brad Pitt are his perfect lips?" They are very pronounced, very full. That made me self-conscious about mine; they are quite thin. I needed lips like those. So I called several cosmetic surgery offices to get information and tried one of those telemarketing-style inventions that do suction to achieve a fuller effect. It was a complete disaster. And I took the opportunity to write about it, of course.
Q. Why are you so keen on exploring the limits of the body?
A. Funny you should mention it, because I have realized that the stories that most attract me as a reader are those that include some physical element. And that is always present in my writing: it could be in violence, in sex, in drugs or in illness. Creating a very intense feeling of the character's body generates a physical reaction in the reader.
Q. When would you say you moved on from your obsession with provoking?
A. The 1990s was the decade of transgressive novels. It started with American Psycho and continued with Trainspotting and Fight Club. Novels about bored kids who would try anything to feel alive. But everything changed with 9/11. Suddenly, anything transgressive was in danger of being accused of inciting terrorism, and publishers decided not to take legal responsibility for their authors. That is why there was such a strong revival of codified formulas of transgression, such as horror. I published my own horror trilogy: Lullaby, Diary and Haunted. I had to sharpen my wits to hide the message. I don't see it as something bad; on the contrary, it forces the reader to exercise their intelligence to decode what you're really telling them.
Q. You have a short story, Guts, about risky forms of masturbation that can end in tragedy. It is famous for causing fainting among the audience. Why do you like to read it in public so much?
A. Guts comes from true stories. I wrote it as a personal challenge, thinking about Shirley Jackson and her story The Lottery. When she published it in The New Yorker in the 1950s, the magazine lost subscribers; some people were very offended. I was obsessed with the idea: what would a story capable of amassing the same level of anger look like today? Reading it in public is the most humiliating thing I can do, because I have to put all my dignity aside. It is a message especially for the youngest: in order to create, the first thing you have to lose is shame – only then do you end up facing your own fears.
Q. Shirley Jackson's daughter sold her mother's ashes online, and gave you some. Where do you keep them?
A. They are too precious a relic to keep in my hands. I bought two beautiful wooden boxes from an antiques dealer, split them up and sent them to my agent and publisher. The truth is that I'm not particularly fetishist.
Q. In your book, you raise two unanswered questions: why are we so obsessed with stories about losers? Why do high culture tales end badly?
A. In most movies of my generation the good guys used to lose. Rocky lost, Rosemary gave birth to the devil's son, Taxi Driver croaks, Carrie kills everyone and then herself, Midnight Cowboy ends terribly… Everyone goes after an ideal and loses the battle, although many persevere. Someone named this "romantic fatalism." We had seen the failure of Vietnam, Nixon's corruption, the environmental crisis… Nobody was going to go for a nice ending, we had to see the hero try and try and fail. The decline of the Summer of Love would give rise to the Me Generation of the 1970s and the yuppies of the 1980s. And so, we have remained in love with tragic endings until today.
Q. In 2018, you experienced a particularly difficult moment: you lost the income of your last years due to the embezzlement committed by your literary agency's accountant. What was it like to suddenly find yourself in scarcity?
A. It was disturbing, but it helped me not to be so confident. In any case, I didn't start writing for money, and it has never been my main goal. I'm not a big spender either. So, essentially, nothing changed. At that time, much worse things happened to me, like the death of my father-in-law from cancer.
Q. You have always been very discreet about your relationship with your husband, with whom you've been with for almost 30 years. But you now talk about it more openly. What has changed?
A. The death of my parents was decisive. I didn't want to embarrass them when they were alive, because homosexuality wasn't something they quite agreed with. Also, my husband feels more comfortable with it. In 2018, we were invited to the Rome Film Festival, and when I walked the red carpet we posed together and he hugged me from behind. It was a natural gesture that we don't usually do in public.
Q. You've had no problem writing about your addiction to sedatives, but I read that you've given them up. What drove you to do it?
A. I started because I suffer from insomnia. I can spend weeks wandering sleeplessly. Then I discovered that they were a fantastic tool for writing in one sitting or for keeping up with the pace of promotional tours. Vicodin or Ambien were useful to turn my body into a machine that responded to the need to rest or to be awake when needed. Until I was invited to a cultural festival in Borelo, Palermo, and I got hammered mixing pills with booze. I ended up acting like a jerk in front of people I admire, like the writer John Irving. On my return to Portland, I was so embarrassed that I said to myself: never again.
The discreet return of Will Smith after the Oscars slap | Culture
Eight months after slapping comedian Chris Rock during the Oscars ceremony, Will Smith is back. The performer, who that same night won the award for Best Actor for his role in King Richard, has been preparing his comeback for weeks. His return coincides with the release of his new film, Emancipation, Apple TV+'s big bet for the upcoming awards season. Before the scandal, Smith was the platform's strong asset to promote the movie, but his behavior that day changed everything. Even if he were nominated for an award, he would not be able to attend the Oscars, as the Academy has banned him from any of its events for a decade.
Set to be released on Friday, December 2 in selected theaters (a requirement to be eligible for the Oscars), Emancipation is Smith's first movie since the slap affair. The film, directed by Antoine Fuqua, is based on the true story of a slave who flees a plantation in 19th-century Louisiana to reunite with his family. Smith plays the lead, Gordon, who went down in history as Whipped Peter. The image of his whipped, wounded back was seen around the world in 1863 and helped illustrate the cruelty of slavery.
That same picture caused a controversy on the red carpet of the Los Angeles premiere when producer Joey McFarland took the original print of the famous photograph to the event. "I wanted a piece of Peter to be here tonight," McFarland explained. The gesture was not well received on social media, and some African-American activists were very critical. "I don't know, man, but bringing 'a piece of Peter' that you 'own' to the red carpet of a movie that's personally enriching you so that you can collect more slave memorabilia that you'll keep until your death…," said film producer Franklin Leonard in a message on Twitter. Later, McFarland apologized: "I hope my actions didn't distract from the film's message, Peter's story and just how much impact he had on the world," he wrote on Instagram.
Emancipation will be released on Apple TV+ on Friday, December 9. For months, the conversation in Hollywood had revolved around what the company would do with this film that cost more than $120 million. Many assumed that the release would be pushed back to 2023, by which time, the slap would have become old news. However, Apple decided to stay on course, in the hopes that the movie will follow in the footsteps of CODA, which became the first film released on a streaming service to win the Oscar for Best Picture.
In October, Smith held a private screening attended by some of the most powerful and influential African Americans in Hollywood, including Rihanna, rapper A$AP Rocky, comedian Dave Chappelle, filmmaker Tyler Perry and designer Fawn. Then, on November 29, he appeared on The Daily Show, hosted by his friend Trevor Noah on Comedy Central. On the show, he talked about all that went through his head during and after that "horrible night": how a long bottled up anger made him lose his temper when he heard Rock's joke about his wife, and how he has spent most of the year trying to forgive himself "for being human."
The actor is aware that there are some who have not forgiven him, and does not rule out the possibility that many people will not want to see his new film and may even call for a boycott. "I completely understand if someone is not ready, I would absolutely respect that and allow them their space to not be ready. My deepest hope is that my actions don't penalize my team," he expressed recently in a brief interview for Good Day DC.
James Cameron on filming 'Titanic': 'Kate Winslet came out a bit traumatized' | Culture
Kate Winslet began filming Titanic when she was 20 years old, and turned 21, during the 160 days the shoot lasted. In her first interviews after its release, the British actress shared her thoughts on the film's director, James Cameron. "He has a temper like you wouldn't believe," she told The Guardian. "You'd have to pay me a lot of money to work with Jim again."
However, 25 years later, Winslet has joined forces with Cameron again on Avatar: The Way of Water, the long-awaited sequel to the sci-fi epic released in 2009. And, now, it is Cameron who has discussed the experience of shooting Titanic. "I think Kate came out of Titanic a bit traumatized by the scale of the production and her responsibility within it," Cameron told Radio Times.
The 68-year-old director said that despite the rumors, there was never any hostility between them. "We've both been eager over time to work together again, to see what the other is about at this point in our lives and careers," Cameron said.
Titanic was a worldwide success. Until the release of Avatar, it was the highest grossing film in history. It became the first film ever to make more than $1 billion at the box office, a record it broke just four months after its release. It was nominated for 14 Oscars, and took home 11, including Best Picture and Best Director. But the movie, with a $200 million-budget, was also one of the most expensive ever made. With costs soaring, executives suggested some scenes be cut to save money, but were shut down by Cameron.
The film earned the director a reputation as "the scariest man in Hollywood." "He became known as an uncompromising, hard-charging perfectionist and 300- decibel screamer," wrote journalist Christopher Goodwin in a 2009 article in The Sunday Times. But Cameron has always denied these allegations, claiming that a strict methodology is needed when working with thousands of people.
Winslet spoke about the high-pressure environment on set in a 1997 interview with The Los Angeles Times. "The first day started at 5 am and went on to 1 am," she said. "Nothing could have prepared me for it. There were quite a few 20-hour days. And two-thirds of it was night shooting – because the Titanic sunk at night. It was every man for himself on the set – you had to ensure that you snatched some sleep during the day, with a black eye mask on. Sometimes you'd find yourself having lunch at 2 am or breakfast at 4 pm. It was very disorienting."
After the grueling experience on Titanic, Winslet said shooting Avatar: The War of Water was much more enjoyable. In an interview with The Telegraph, she described Cameron as a "genius," and said "he is much more calm now." She explained: "There were all those conversations about this huge film, Titanic. I can't imagine the pressure. As we get older, we learn how to say, 'I made a mistake.' We all get better at that, don't we?"
Sign up for our weekly newsletter to get more English-language news coverage from EL PAÍS USA Edition
The sacred drugs of antiquity: Fact and fiction | Science & Tech
One of the most fascinating aspects of ancient civilizations is the artistic and religious manifestation of their consumption of mind-bending natural substances. In the 1970s, historian Carl A. P. Ruck, mycologist R. Gordon Wasson and others coined a term to designate psychoactive substances used to produce visionary experiences in spiritual rituals – entheogens. The term is derived from two ancient Greek words: entheos, which translates as "full of the god, inspired, possessed," and genesthai, which means "to come into being." Together with Swiss chemist Albert Hofmann, the first to synthesize LSD, they wrote The Road to Eleusis, a controversial book that proposed the ritual use of ergot, a fungus with hallucinogenic properties, as a way of understanding the secretive Mysteries conducted at Eleusis in Greece for nearly two millennia. It wasn't a new idea – other anthropologists and religious historians from renowned universities in Cambridge, Vienna and Chicago had proposed consuming the so-called "plants of the gods" to probe the myths, images and ancestral stories of ancient peoples.
While it was generally accepted that prehistoric peoples used psychoactive substances to induce visions, trances and ecstatic experiences, scholars found it hard to acknowledge that the Roman and Greek founders of Western civilization also had myths and rites full of references to these sacred plants. But when it came to the classical world, perhaps a deep-rooted Eurocentric bias hampered the objective application of the historiographic and anthropological approaches used to study "other peoples." This bias seems to persist even today despite excellent books like Las drogas sagradas en la Antigüedad (or, The Sacred Drugs of Antiquity) by Carlos G. Wagner, which seek to dispel such outdated attitudes.
Wagner's book is the culmination of 40 years of research that began in Phoenicia (an ancient civilization in the Levant region of the eastern Mediterranean), extended to the Greco-Roman world, and then to Egypt and the Ancient Orient. It is a comprehensive historical and cultural journey through the ancient world, from the dawn of the river valley civilizations to the symbiosis of Christianity with Greco-Latin cultural structures. Wagner's book uses archaeobotanical accounts combined with literary and iconographic sources to examine entheogenic substance use in the art and religious rituals of various societies.
Wagner's methodical and objective study of entheogens in antiquity provides substantial evidence of their use. Readers should not expect a New Age treatise on drug-based religious naturalism, or an anachronistic apology, or an all-encompassing and simplistic explanation for every mystery of antiquity, which characterize many books about entheogens. However, he does not shy away from controversial issues such as shamanism and other anthropological labels like thaumaturges (miracle workers) and medicine-men. Nor does he discount the notion that drugs may have inspired artistic creation and religious intuition since prehistoric times.
Such a study requires geographical and historical comparisons: East versus West, prehistory versus antiquity. It is surprising to read in Wagner's book that great works like Gilgamesh and Homer's epic poems may allude to ethnobotany and the manifestation of sacred botanical, oracular, shamanic or visionary symbology in art. One begins to wonder about the entheogenic backdrop of the hero's battles with monsters like Medusa and Humbaba, or the references to magical herbs in Greek, Germanic and Celtic myths, not to mention the ones in Indo-Iranian religions. Wagner systematically tackles classic questions about Eleusis and Pythia, the Oracle of Delphi, and gives his readers a balanced assessment of what is known and what remains in the realm of hypothesis. He also includes a long discussion of Dionysian religion and its use of trance-inducing intoxicants, and compares it to the worship of other ancient nature gods of fruitfulness and vegetation.
Carlos Wagner has written an exciting book that synthesizes the current body of knowledge about the role of psychoactive substances, and also presents insights from neuroscience on how they affect the mind and body. The use of vision-inducing substances in spiritual rituals officiated by priestly elites enabled them to maintain their own power and prestige through stories, rituals and images. The myths, visions, sorceries, oracles and trances that persisted over four millennia can and should be viewed in the light of mythical plants like ambrosia, soma and haoma, and real ones like hellebore, dogbane, cannabis and poppy.
Sign up for our weekly newsletter to get more English-language news coverage from EL PAÍS USA Edition