Female political prisoners in Iran facing 'psychological torture', say campaigners | Human rights
Female human rights activists imprisoned in Iran face increased jail terms and transfers to prisons with "dangerous and alarming" conditions, hundreds of miles away from their families, according to campaigners.
Warnings of the deteriorating treatment of female prisoners in Iran come days after Nazanin Zaghari-Ratcliffe, the British-Iranian national who has served a five-year prison sentence in Iran, was sentenced to a further year in jail and a year-long travel ban by the Iranian courts.
Human rights campaigners said that in the past six months increasing numbers of Iranian women jailed for human rights and political activism had been moved from Evin prison in Tehran to prisons outside the capital city without warning.
The women were locked up in the same area as criminals who had committed serious offences such as murder, in breach of Iranian law and international standards. Campaigners said that some had been raped by interrogators, attacked by fellow prisoners or denied medical treatment.
Shiva Mahbobi, spokesperson for the Campaign to Free Political Prisoners in Iran, described it as "a way of subjecting them to psychological torture".
"It is really, really bad," she said. "[The guards] take away all their stuff; the family does not know where they are. There is a lack of drinking water, and lots of illnesses and contagious diseases.
"The guards intentionally plan for non-political prisoners to attack them. Some families can't go and visit; if they can, it's difficult to do often."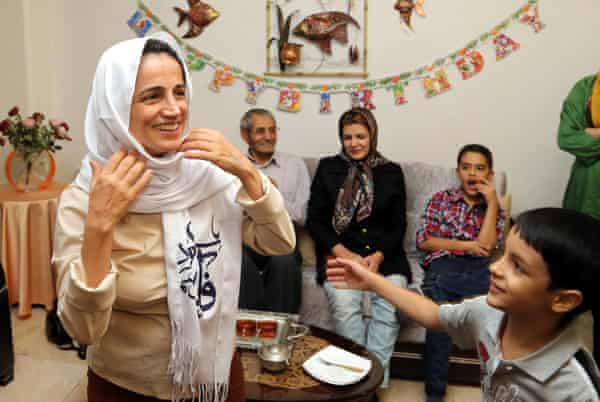 Nasrin Sotoudeh, a human rights lawyer imprisoned for her work defending women's rights and protesting against Iran's forced veiling laws, was transferred from Evin prison to Shahr-e Rey prison in Varamin, outside Tehran, in October last year. In January she was diagnosed with a myocardial bridge – symptoms include angina, chest pain and other heart complications. She was told by a doctor to avoid stress and that she should be held in a well-ventilated space.
But the conditions in Shahr-e Rey prison are "extremely poor", according to Nassim Papayianni, Amnesty International's Iran campaigner. It is a disused chicken farm that holds several hundred women convicted of violent offences in overcrowded and unhygienic conditions, without access to decent food, medicine and fresh air, she said.
There are no windows, and prisoners have no access to safe, drinkable water. Reports from the facility indicate high levels of assault towards inmates by other inmates and prison staff, as well as rampant drug use and infectious diseases.
In December last year, Saba Kordafshari, a human rights defender, was also transferred from Evin to Shahr-e Rey prison.
Zeynab Jalalian, a Kurdish Iranian woman, was moved to four different prisons between April and November last year including Yazd, Evin and Kermanshah. She has described prison transfers as a type of mental torture. She was not allowed to take her personal belongings, including clothes, with her and said she had been denied healthcare, which caused her more suffering, especially as she recovered from Covid-19.
In January, Golrokh Ebrahimi Iraee was moved almost 120 miles (200km) from Shahr-e Rey to Amol prison in northern Iran without notice and deprived of her personal possessions. She had already served one sentence when she was imprisoned again in November 2019 for "insulting the supreme leader" and "spreading propaganda against the system". In an open letter, her husband wrote that guards had dragged her across the floor by her hair.
Atena Daemi, a women's rights activist, has been sentenced in two further cases for peacefully protesting while serving time for campaigning against the death penalty in Iran. She was transferred suddenly, and without notice, from Evin prison to Lakan prison in Gilan province, north-west of Tehran, last month.
Also in March, Sepideh Gholian, a human rights defender, was transferred from Evin prison to Bushehr prison, which is nearly 300 miles from her family home. And Maryam Akbari Monfared was transferred from Evin prison to Semnan prison, east of Tehran. She is serving a 15-year sentence and has been in prison since 2009 without a single day of leave.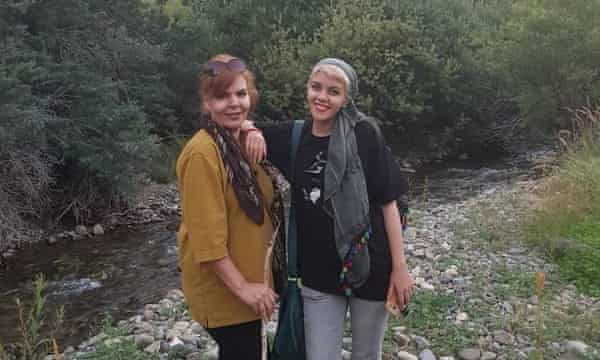 Yasaman Aryani and Monireh Arabshahi were transferred in October last year from the women's ward of Evin prison to one in Karaj, Alborz province.
Papayianni said that all the women had been wrongfully convicted and should be released. "At Amnesty International, we believe that none of them should be in prison at all. We believe all their sentences are unjust and that they should be immediately released." She added that the situation for these women was deteriorating and that transferring women was commonly used to silence detainees, particularly when they had campaigned from behind bars.
Mahbobi said that she suspected the increasing number of transfers were part of a political move to close Evin prison, where most political prisoners are traditionally held, in an effort to declare that Iran does not detain human rights defenders.
"It's quite dangerous" she said. "It's really alarming. On one hand, they can send these prisoners to prisons that are really unimaginable and put their lives in danger, and then [the government] can claim they don't have any political prisoners."
The Iranian government has been approached for comment.
Fresh violence at anti-vax protests in Brussels
Belgian police fired water cannon at violent anti-vaccination protesters outside EU buildings in Brussels for the second weekend in a row on Sunday. More than 40,000 people also protested against lockdowns in Vienna Saturday. Several thousand people also protested in Utrecht, in The Netherlands, as well as in Berlin and Frankfurt, where German police used batons and pepper spray after being attacked by a radical minority in the demonstration.
'They see it in corridors, in bathrooms, on the bus': UK schools' porn crisis | Pornography
Barnardo's works directly with children who are victims of abuse or display signs of harmful or risky sexual behaviour. In 2020-21, they worked with 382,872 children, young people, parents and carers.
In a recent survey of their frontline workers across England and Wales, staff reported a rise in the number of children participating in acts they have seen in pornographic videos, despite feeling uncomfortable or scared. They describe porn as having a "corrosive" effect on child wellbeing.
Child sexual abuse expert Sarah works with children who are displaying signs of inappropriate sexual behaviour. She also trains other professionals who work with children
"I started out as a primary school teacher eight years ago, and I've been worried about children seeing porn ever since. Children don't have to be able to type to see porn – it can be sent to them or shown to them on someone else's phone. They see it at school, in the corridors, in the bathrooms, on the bus. There is just no censor on any of it – one video leads to another. If you can imagine it, it exists as porn, and children are seeing it.
"I am working with a teenager who was sexually abused by a family member. This young person had been exposed to porn and it was perpetuating what the abuser told them – that this is normal, that it's not abuse."
She is particularly concerned, as are her colleagues, about the increasingly extreme nature of the porn freely available on mainstream sites.
"A common role play theme on porn sites is intra-familial abuse – on mainstream sites you will see fetishisation of grandad and granddaughter sex, or stepfathers and stepdaughters. This may lead to a young person not disclosing or getting the support they need. From both angles it is dangerous; it puts the child at risk and encourages the perpetrator.
"The impact of porn shows in children harming others or themselves because they either don't understand or are so ashamed of sexual urges. Shame is very prevalent and is often hidden.
"We are working with a seven-year-old who has been exposed to porn and is now displaying sexualised behaviour. They had free rein on a device, and someone hadn't deleted a browser history. Once a young person sees porn, they may feel a need to come back again and again – porn is designed to meet a need. That is a form of sexual abuse against that child."
Brian* is a senior social worker who has worked with children for over 30 years
"Unfortunately, porn is a feature for the majority of the children who come into our service. The children we support are very damaged. They would be likely to have experienced multiple forms of abuse – sexual, physical and domestic. Porn in and of itself is not the cause of their behaviour but it becomes a compounding factor when it hits that history of vulnerability.
Adult sex offenders can give children a distorted rationalisation for their behaviour, and the messages that are given through porn then fit with that distortion.
Lucy* has worked within the field of child sexual abuse for 16 years.
"We know children find porn distressing – they are telling us that themselves. We have done research with children in schools so that we have a cohort to compare our vulnerable children to, and they are saying the same thing.
"This is not what could be described as erotic or soft porn. They may start on porn sites and quickly begin to see very hardcore material. Or [extreme material] lands in their social media feeds, and they can then feel compelled to go back and look again.
"Children are less able to manage sexual arousal, and this material is designed to be arousing. Lots of children can feel guilty and distressed by what they see. We have 14-year-olds telling us they have to watch it as soon as they wake up. They describe being preoccupied with accessing porn to an extent that impacts upon their day-to-day life.
"We also regularly work with children with learning disabilities, another group vulnerable to the harm of porn. They may be shielded from sexual information and then reach 13 or 14 and take away the wrong learning from porn. They may learn that no means yes, that if you persist, women will enjoy forced sex. These messages are harmful for any child but for children with learning needs or who have developed unhealthy beliefs around sex as a result of abuse, it's particularly bad.
"After lockdown, we began to get more calls from parents where there is no other obvious trauma, just the exposure to porn. I've been doing this 16 years, and children have far more access to porn now."
* Names and some details have been changed to protect identities
French centre-right tilts toward Pécresse
Valérie Pécresse, a moderate conservative who has likened herself to former British and German leaders Margaret Thatcher and Angela Merkel, has emerged as a front-runner in primaries in France's centre-right Les Républicains party, Reuters reports. "I won't flinch. I have a project for a clean break, a project for the unashamed right," she said Thursday, ahead of elections against liberal incumbent Emmanuel Macron and far-right contenders in spring.