Fears for Afghan psychiatrist abducted by armed men | Global development
One of Afghanistan's most prominent psychiatrists has been abducted on his way home from work by a group of armed men.
Dr Nader Alemi, 66, who opened the country's first private psychiatric hospital in the northern city of Mazar-i-Sharif, was stopped by seven men in a white car last week, said his family.
Alemi, whose hospital was featured in the Guardian in 2016, has treated thousands of Afghans, including Taliban fighters, since it opened in 2004. He is believed to be the only Pashto speaking psychiatrist in the north. It's the language most commonly spoken by the Taliban in the region.
His family said Alemi had received several threatening calls and messages in the months before he was abducted. One chilling message, sent on 21 June and seen by the Guardian, said: "You will be killed soon."
Alemi is a prominent figure in Mazar-i-Sharif, Afghanistan's fourth-largest city. As well as opening the hospital, he has also built a secondary school in the city, equipped with a library and laboratory.
His daughter, Manizheh Abreen, said her father was being driven home last Monday when the men stopped the vehicle and ordered the driver, Basir, out of the car. They told Alemi to get out of the car and go with them to answer questions at a local police station. "They forcefully pushed him into their car and fled away. They stopped him where there were no CCTV cameras installed and they knew it already," said Abreen.
The family said they do not know who was responsible for the kidnapping and have not received a ransom note.
Alemi's son, Dr Fardeen Alemi, said: "Our main concern is that my father is suffering from diabetes and he needs to take regular insulin. We are extremely devastated about this situation. My father has only done sincere service towards the community and he is a brilliant psychiatrist and helped people in need.
"He has always held this idea that I have to serve the people and that's why he never left his country," he said.
The family said there is no active, formal government presence in Mazar-i-Sharif, and fear Alemi's abduction will not be properly investigated.
Dr Khan Murad Muradi, one of the doctors in Alemi's neuro-psychiatric hospital, said: "We are all shocked and saddened by this horrible incident. He was a kind-hearted man and I don't think any doctor could treat patients in a situation like this. No one feels safe here in Mazar-i-Sharif."
Patricia Gossman, associate Asia director for Human Rights Watch called on Afghan authorities to investigate the whereabouts of Alemi.
"If he has been abducted then those responsible should be held accountable. The Taliban claim to be able to bring security, so they should properly investigate what happened and bring those responsible to justice, while also protecting the rights of those accused of any wrongdoing."
On Saturday, the Taliban killed four alleged kidnappers in Herat, hanging their bodies in public as a deterrent to others.
Russia further tightens EU gas supplies
Russian firm Gazprom has booked just one third of offered additional gas-transit capacity via the Yamal-Europe pipeline via Poland for November and not booked any volumes via Ukraine, Reuters reports. The tightening of the supplies amid a crunch in world energy markets was "blackmailing Europe in order to obtain Nord-Stream 2 certification", Yuriy Vitrenko, the head of Ukraine gas firm Naftogaz said, referring to Russia's new pipeline to Germany.
Italy using anti-mafia laws to scapegoat migrant boat drivers, report finds | Global development
Italian police have arrested more than 2,500 migrants for smuggling or aiding illegal immigration since 2013, often using anti-mafia laws to bring charges, according to the first comprehensive analysis of official data on the criminalisation of refugees and asylum seekers in Italy.
The report by three migrant rights groups has collected police data and analysed more than 1,000 criminal cases brought by prosecutors against refugees accused of driving vessels carrying asylum seekers across the Mediterranean.
The report by Arci Porco Rosso, the NGO Alarm Phone, and the nonprofit Borderline Sicilia, found evidence of police officers offering immigration papers and other incentives to migrants to persuade them to testify against the suspected boat drivers, who, in some cases were asylum seekers forced at gunpoint by traffickers to navigate refugee boats.
The NGOs claim the new evidence in the report confirms that Italy has spent decades pursuing a policy of criminalising asylum seekers, alleging prosecutors have been filling its prisons with innocent men used as scapegoats.
"We have examined over 1,000 court cases, spoken to hundreds of people involved," the report stated. "We spoke to persons accused of boat driving, lawyers, judges and members of the police and coastguard, to reveal the full extent of Italy's process of criminalising migration."
Using police data and evidence presented in hundreds of court cases, the report revealed how refugees were targeted for prosecution.
Before sending a boat to Italy, from Libya, Tunisia, or Turkey, the report said smugglers often choose a migrant as a driver. This can be someone who does not have enough money to pay for the trip or with experience of navigation.
When the boat enters Italian waters, the authorities ask passengers to identify the driver, who is then arrested.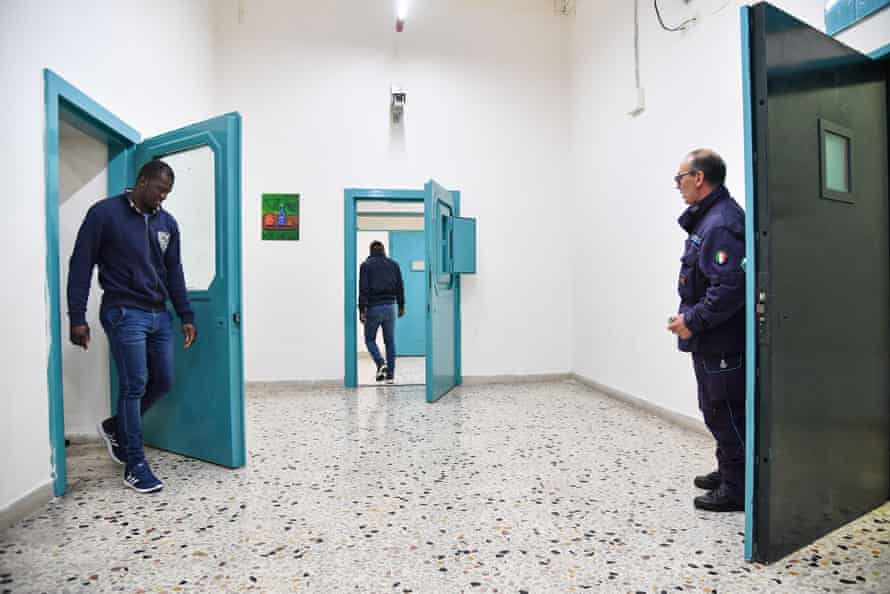 Boat drivers, who often come from war-torn countries, are accused of crimes, from illegally piloting migrant boats to the country, to trafficking in migrants, to criminal association. They can face sentences from 15 years to life in prison.
Although in several court cases judges have recognised the "state of necessity" – that the unlawful conduct is justified to protect the perpetrator or another person from imminent and serious danger – hundreds of cases are currently making their way through Italy's legal system.
Since 2013, at least 24 people have received sentences of more than 10 years, while six have been given life sentences, according to the report.
"This happens when, unfortunately, during the journey, some of the passengers die," said Maria Giulia Fava at Arci Porco Rosso. ''In that case, the boat driver is charged with murder. It is in those moments that justice is transformed into a terrible machine that risks destroying the lives of these people forever."
Four Libyan professional footballers were arrested in Sicily in 2015 and sentenced to 30 years after 49 people died during a sea crossing. The men's families and friends said they were refugees fleeing the civil war to continue their careers in Germany and were forced to pilot the boat. Last year, Libyan warlord Gen Khalifa Haftar reportedly refused to release 18 Italian fishers accused of illegally fishing in Libyan territorial waters until Italy had freed the footballers. But the move was unsuccessful.
Italian prosecutors' use of anti-mafia laws in the cases of migrant boat drivers, which the report said has been framed as a continuation of the country's prolonged battle against organised crime, has led to hundreds of boat drivers facing draconian charges, such as criminal association.
Evidence in the report appears to show that in some instances police have offered incentives to migrants to identify those driving the boat as being part of smuggling operations.
"In one case a Nigerian witness told us that the police officers promised him that, by providing an accusatory statement [against a boat driver], he would be allowed to go to school and have a bed in a hostel,", said the report. "Sometimes, the same thing happens with translators, who are asked by the authorities to find the boat drivers among the other passengers."
International monitors suspend Russia-Ukraine mission
International monitors in Russia-occupied east Ukraine have suspended operations to protect staff following protests in Donetsk over Ukraine's capture of Andrei Kosyak, who Ukraine said was a Russian national on a covert mission. "Because of safety concerns and because of our safety rules and considerations we suspended our operations," Yaşar Halit Çevik, the chief monitor of the Organisation for Security and Cooperation in Europe's 'special monitoring mission', told Reuters Sunday.