Far left and right MEPs less critical of China and Russia
MEPs have shown consistent support for action against authoritarian regimes – except for Russia or China, which tends to split the far left and right from the political mainstream, according to a recent study.
But unanimity requirements in the votes of the European Council are considered a clear impediment for a more effective EU foreign policy.
The two-year-long research led by the Hungarian think-tank Political Capital Institute is based on the results of over 90 votes cast in the European Parliament from July 2019 to May 2021.
The majority of MEPs supported action against the Belarus and Syrian regimes (over 80 percent) and authoritarian practices in Chad, Haiti or Pakistan (over 90 percent).
However, MEPs tend to be more divided when voting on resolutions on China and Russia.
The report confirms that the image of China is rather "negative" in the European Parliament, which is reflected, for example, in the almost unanimous vote in favour of freezing the ratification of the EU-China investment deal.
While all mainstream groups in the EU Parliament are highly critical of China, the only open supporters of Beijing appeared to be from the leftist group The Left (formerly known as the GUE/NGL Group).
Far-right national parties, such as Germany's AfD, tend to criticise Beijing's policies, although they generally abstain in resolutions that condemn China's actions.
But, overall, the Identity and Democracy (ID) group is seen "somewhat resilient to Chinese influence" because the group's largest national party, Italy's League, is strongly critical of Beijing.
The report also notes that the Bulgarian Socialist Party (BSP) is considered among the most China-friendly of mainstream parties, as members of the national delegation apparently coordinated to be absent during the voting of two resolutions concerning the Uyghurs and Hong Kong.
Kremlin's appeal
By contrast, Russian interests are backed by both the far-left and the far-right in the EU Parliament.
Both ID and The Left can be considered "highly vulnerable to Russian influencing efforts," the report reads, pointing out that "they regularly recite pro-Kremlin disinformation narratives in plenaries".
Broadly, all mainstream groups in the EU Parliament are highly critical of the Kremlin – but there are a few exceptions among the national delegations, such as the Latvian Russian Union in the Greens or the Estonian Center Party in Renew.
Nevertheless, MEPs from the Czech Republic, Hungary, Poland, Slovakia, Austria, Romania, and Bulgaria tend to be much more critical of Russia than the average.
The report shows that the Kremlin's European alliances in the EU Parliament can be changing constantly.
It points out how Italy's League's voting behaviour on Russia changed in late 2020 to become more critical – or how MEPs from France's Les Républicains have gradually become more friendly towards Russia.
According to the researchers, Russia uses its financial and natural resources to undermine European resistance or disrupt EU unity, which has been the case in the Nord Stream 2 project. The plan is supported by often Kremlin-critical parties who back the EU's sanctions policy, such as the majority of the German CDU/CSU and Austria's ÖVP.
Additionally, the report concludes that both sides of the political spectrum, not only its extremes, seem to be more defensive to regimes close to them ideologically.
For example, resolutions on Cuba, Bolivia and Venezuela were approved by a narrow margin due to left-wing groups' hesitancy to support the proposals.
The resolutions on Cuba and Bolivia were rejected by the majority of members from Socialists and Democrats and the Greens. Most socialist MEPs also abstained on the resolution slamming the 2020 Venezuelan parliamentary elections to be illegitimate.
Meanwhile, the right-oriented groups were more likely to abstain on or reject a text criticising the situation of Ethiopian migrants in detention centres in Saudi Arabia.
Texas anti-abortion law shows 'terrifying' fragility of women's rights, say activists | Global development
The new anti-abortion law in Texas is a "terrifying" reminder of the fragility of hard-won rights, pro-choice activists have said, as they warn of a "more aggressive, much better organised [and] better funded" global opposition movement.
Pro-choice campaigners have seen several victories in recent years, including in Ireland, Argentina and, most recently, Mexico, where the supreme court ruled last week that criminalising abortion was unconstitutional. Another is hoped for later this month when the tiny enclave of San Marino, landlocked within Italy, holds a highly charged referendum.
But Texas's law, which bans abortions after about six weeks, once embryonic cardiac activity is detected, and does not make exceptions for incest or rape, has sent shock waves around the world, making pro-choice activists realise they can take nothing for granted.
Sarah Shaw, head of advocacy at MSI Reproductive Choices, said: "Even though we have seen little gains here and there, in some places, we can never, ever be complacent because we're only ever really hanging on to these rights by the skin of our teeth."
She said the Texas law was "really terrifying" because of the emboldening message it sent to other anti-choice governments and organisations, with the fact it had happened in the US giving it "a huge weight and legitimacy".
"This is all happening in the context of a rising, much more aggressive, much better organised, better funded and much more legitimised opposition movement than we've ever seen before," Shaw said.
Pro-choice campaigners say they have faced increasingly vocal opposition from organisations that started on the US religious right but have spread to other countries, such as 40 Days for Life, a group that distributes graphic and misleading leaflets to women outside UK abortion clinics.
Heartbeat International, a conservative US Christian federation, funds and coordinates a network of anti-abortion "pregnancy resource" centres, many of them in sub-Saharan Africa, to provide women with what it calls "true reproductive help".
"It's a transnational movement now," said Shaw. "What we're seeing is them [US organisations] exporting their playbooks and their money overseas."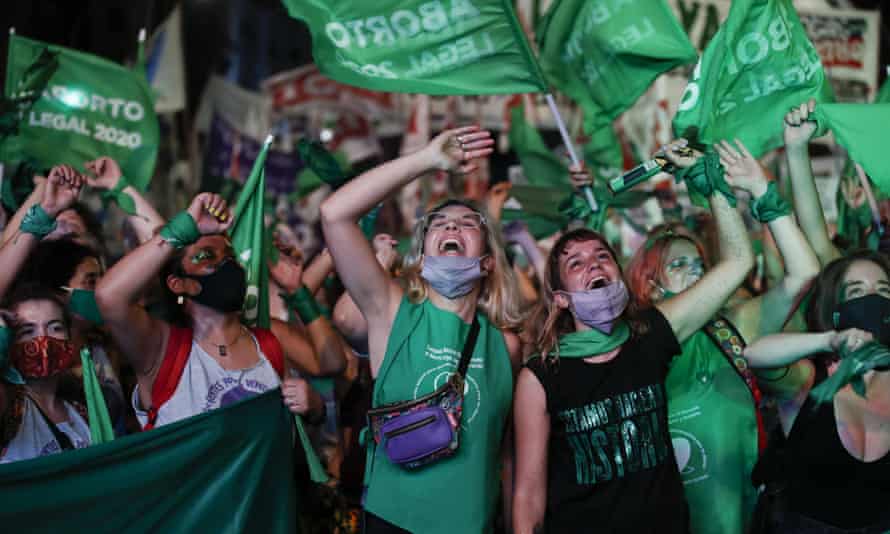 Attacks on abortion rights usually happen in countries where other human rights are under threat, according to analysts. Last year, more than 30 countries, many of them led by authoritarian strongmen or rightwing populists, including Belarus, Uganda, Hungary, Egypt and Donald Trump's US administration, signed a non-binding anti-abortion document known as the Geneva consensus declaration. The text was also seen as being anti-LGBTQ, as most of the signatories had not legalised same-sex marriage and several prosecute their LGBTQ+ citizens.
In one of his first acts as president, Joe Biden removed the US from the declaration in January, as well as ending the Mexico City policy, known as the "global gag rule".
Among the signatories was Poland, which is one of only three countries to have significantly rolled back abortion rights since 2000, according to the Guttmacher Institute. The other two are Nicaragua and the US.
In October last year, Poland's constitutional tribunal ruled that terminations due to foetal defects were unconstitutional. Three months later, a near-total ban on abortions was imposed. Abortion is now only legal in the case of rape, incest or a threat to the mother's health.
Meanwhile, human rights observers have said that a Nicaraguan law punishing abortion without any exceptions, passed in 2006, has simply forced women to seek unsafe backstreet terminations.
Marge Berer, coordinator of the International Campaign for Women's Right to Safe Abortion, said setbacks were all too common, with breakthrough moments often followed by backlashes.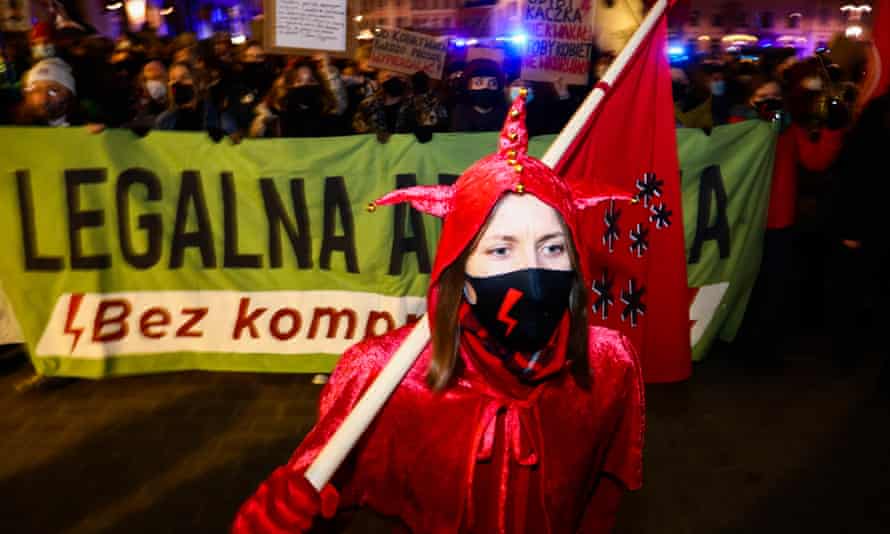 "My experience of this is one step forward, two steps forward, or one step back, 10 steps back," she said. "And much of it, if not all of it, depends on who is the head of the government of the day."
Berer, who has been involved in the pro-choice movement for almost 40 years, said the overall picture was brighter than it had been then: fewer deaths from unsafe abortions, and many more countries where terminations are legal.
But, she added, she was not hugely optimistic about the future. "There's so much misogyny in the world. And I don't know how anybody is going to make that go away," she said. "For me, that's the real problem. It's that when misogyny takes over on a policy level, it's very nasty."
However, there is more hope among activists in Latin America, where the marea verde, or green wave, has swept through first Argentina and, last week, Mexico, where the supreme court struck down a state law that imposed prison terms for having an abortion. While it did not automatically legalise abortion, the decision is thought to set a binding precedent for the country's judges.
Eugenia López Uribe, regional director of the International Planned Parenthood Federation, said the legal change was the result of "40 years of hard work" by campaigners, with mass demonstrations, backroom lobbying and "a mainstreaming" of women's rights in public discourse.
She said the ability of the Catholic church to tell people what to do when it came to abortion and contraception had been greatly reduced. "What we know from different surveys … is that in reality Catholics … feel that this is a private decision that you have to do with your own conscience."
As women in Texas bear the brunt of the law brought in by the governor, Greg Abbott, their Mexican allies across the border were planning to take the fight north, she added.
"The 'green wave' hasn't reached the United States so this is a very good opportunity for [it] to cross the border of the Rio Grande and go to the United States. We can make it go even further. We've been used to thinking about it in Latin America. Now is the time for North America."
France attacks US over 'stab in back' submarine deal
France has called a US deal to develop nuclear-powered submarine technology with Australia and the UK, but not any EU countries, unveiled Thursday, a "stab in the back," in the words of French foreign minister Jean-Yves Le Drian. The move is to see France lose out on a multibillion-euro submarine-technology deal with Australia. "This is not over. We're going to need clarifications. We have contracts," Le Drian added.
'A forgotten disaster': earthquake-hit Haitians left to fend for themselves | Global development
David Nazaire, a 45-year-old coffee farmer from Beaumont, a small village in rural southern Haiti, was getting ready to harvest when an earthquake struck his home and livelihood. Much of the farming infrastructure – as well as nearby homes, schools and churches – was damaged or completely destroyed. A month later, he and thousands of rural Haitians – those most severely affected by the tremor – are still waiting for relief, and are not expecting it to arrive soon.
"The earthquake didn't destroy our crops, but it did take everything else," Nazaire says, outside a neighbour's house, now a pile of rubble beneath plastic roof tiles supported by the remnants of concrete walls. "We were just getting ready to harvest, but that's lost now."
The 7.2 magnitude earthquake that struck southern Haiti on 14 August killed more than 2,200 and left 30,000 homeless. But while foreign aid and builders have been trickling into urban centres such as Les Cayes, the capital of Sud province, and other quake-struck areas, many rural Haitians see an all too familiar abandonment.
"Haiti has always been divided between an urban professional class and the ignored rural communities," says Estève Ustache, 58, a researcher on rural development attached to a Methodist church outside Jeremie, another quake-struck town. "You have to ask yourself, why do leaders and aid workers only travel to these rural areas in a helicopter? Because they know it would be nearly impossible to go otherwise."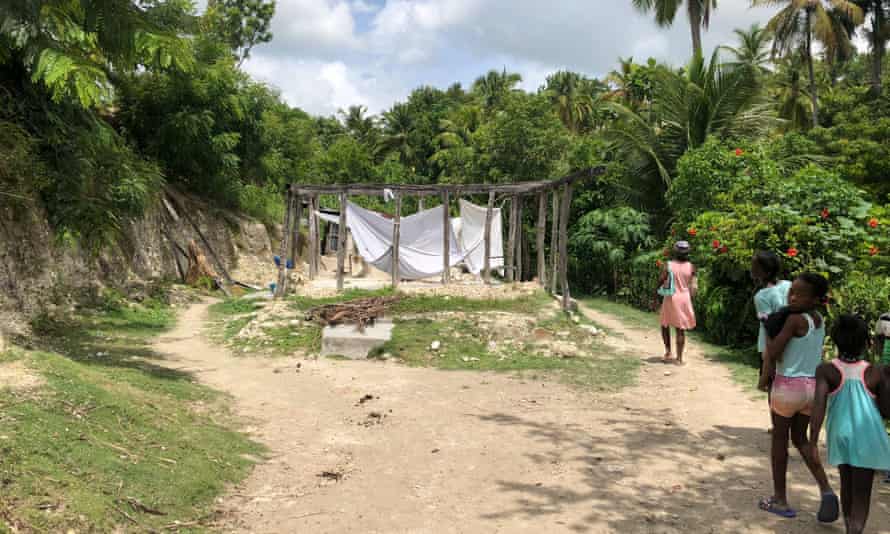 Haiti is the poorest country in the western hemisphere, where nearly half of the 11.4m population is food insecure. But the poverty in which rural Haitians – who make up two-thirds of the population – live is startling, even by the country's own abject standards.
The drive to Tricon, a rural hamlet just a few miles from Les Cayes – the regional capital – takes more than an hour. The road has never been paved and heavy rains can leave it impassable. Communities live in shacks built partly from material scavenged in the city. The phone signal is unreliable, and aside from a handful of community-built wells, there is no water supply.
"Everything we have, we built ourselves," says Moise Magaly, 49, who was tending to her bean crops when the earth beneath her began thrashing, throwing her to the ground and making her arm "go crack".
Most in the community are gaunt, after a dry spell that led to crops of cassava, beans and corn failing to yield their usual harvest. Vetiver, a cash crop often used to combat soil erosion, has been over-farmed in the area, further damaging the land.
Magaly's house was damaged in the earthquake, knocking out the walls but leaving the roof standing on top of wooden struts. Like almost everyone else in southern Haiti, the fear of aftershocks and another quake has kept her sleeping outside, vulnerable to the Atlantic hurricane season.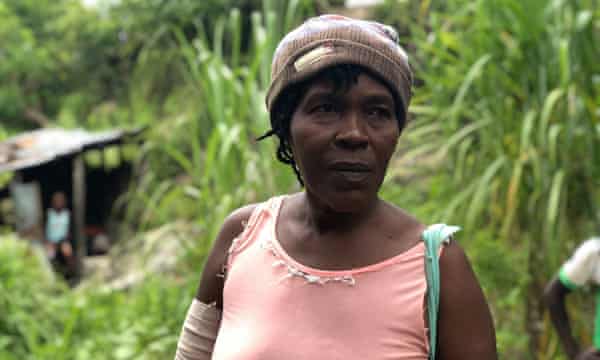 "I don't know why no one comes for us," Magaly says, clutching at her arm. "We've contacted the media and our representatives but we've heard nothing."
Aid has arrived in the country, with the US delivering more than 60 tonnes of aid to quake-hit regions, while Britain has pledged £1m of support, including shelter kits and solar-powered lanterns.
But some working on the relief effort worry that as international compassion wanes, so too will the funds from donors.
"It's a very poor area, where people don't have the resources or the funds for materials to build their houses well," says Kit Miyamoto, a structural engineer who runs a firm and foundation that works in Haiti and around the world to improve earthquake preparedness. "And this is a forgotten disaster because it happens out of the eyes of the world, which means there will be less funding."
Miyamoto adds that rural homes, churches and schools were more affected than those in cities because many of them were built before 2010, when improved building codes were adopted nationwide after a catastrophic earthquake struck the capital Port-au-Prince, killing more than 200,000.
"Construction is different now, and people are more conscious of how to build in a way that does the little things right, and makes the difference," Miyamoto says.
But despite growing awareness of resilient construction techniques, the relief effort remains hampered by the sheer isolation of the most affected communities, and some are giving up hope.
"No one has been here since the earthquake. Just like before, the only time we see an outsider round here is when they want our votes," says Altema Jean Joseph, a 52-year-old farmer who grows vetiver, an ingredient used in expensive perfumes which, despite costing $25,000 (£18,000) a barrel, makes farmers only $4 a week. "So why would we expect them here? We'll have to build back ourselves."