Exploring The Intricate Psychology Of Horror And Fear
By Raza H. Qadri (ALI)
---
I. Introduction
– Brief introduction of horror and fear in literature, science, films, and experiences.
– The universal fascination with the genre.
II. Evolutionary Roots of Fear
– The evolutionary purpose of fear as a survival mechanism.
– Evolution offear responses over time.
III. The Biological Underpinnings behind Physiology of Fear
– The biological processes that occur when an individual experiences fear.
– Release of stress hormones, heightened senses, and fight-or-flight response.
IV. The Role of Psychology in Fear Perception
– How individual differences and past experiences shape fear responses.
– The influence of genetics, upbringing, and cultural background.
V. The Psychology of Suspense and Tension
– The techniques used in horror storytelling to create suspense and anticipation.
– The impact of pacing, foreshadowing, and unexpected twists.
VI. The Power of Imagination in Fear
– How the mind fills in gaps in information, making fear a highly subjective experience.
– The role of ambiguity and suggestion in horror narratives.
VII. Catharsis and Psychological Release
– How experiencing fear in a controlled environment can lead to a sense of catharsis.
– The psychological benefits of safely confronting fear.
VIII. The Dark Side of Fear: Phobias & Trauma
– How excessive or irrational fear can lead to phobias and anxiety disorders.
– The psychological impact of trauma and its long-term effects.
IX. The Art of Empathy & Identification
– The role of empathy in horror, allowing audiences to connect with characters and their fears.
– How identification with characters amplifies the fear experience.
X. The Genre's Appeal
– The psychological satisfaction derived from facing fear in a controlled setting.
– How conquering fear in fiction can empower individuals in real life.
XI. Cultural Variations in Fear
– How cultural beliefs, folklore, and societal norms influence the perception of fear.
– Variations in horror themes and elements across different cultures.
XII. My Personal Thoughts
– Final reflections on the enduring fascination with fear and its complex interplay with the human psyche.
---
1. Introduction
The thrill of fear has been a captivating aspect of human experience since time immemorial. From spine-tingling tales around campfires to the latest blockbuster horror films, the allure of the macabre holds a special place in our collective psyche. But what is it about fear that draws us in, despite our natural inclination to avoid it? This article delves into the fascinating world of the psychology behind horror, dissecting the intricate mechanisms that make our hearts race, palms sweat, and minds crave the chilling unknown.
At its core, horror serves as a visceral exploration of our most primal instincts. It taps into the ancient fight-or-flight response, triggering a surge of adrenaline that heightens our senses and readies us for action. But in the safe confines of a movie theater or a gripping novel, there's no real threat. Instead, we find ourselves immersed in a carefully crafted experience, where fear is both the predator and the prey.
To understand the psychology of horror, we must first acknowledge the profound connection between fear and our evolutionary history. Millennia ago, fear was a survival mechanism, a vigilant alert system designed to protect our ancestors from lurking dangers. Today, in a world vastly different from the primeval landscapes our forebears navigated, this same mechanism operates in a new context, eliciting thrills rather than sheer survival.
Yet, not all fear is created equal. The horror genre encompasses a vast array of sub-genres and styles, each designed to exploit different facets of our psychological makeup. From supernatural terrors that challenge our beliefs about reality, to psychological thrillers that unravel the intricacies of the human mind, horror serves as a multi-faceted mirror reflecting our deepest fears and anxieties.
Moreover, horror often takes residence in the realms of the unknown and the uncanny. It invites us to confront existential questions about life, death, and the inexplicable. This confrontation can be both cathartic and thought-provoking, allowing us to grapple with our own mortality and the enigma of the human condition.
While the visceral reactions to horror are universal, the nuances of what terrifies us are deeply personal. Our unique experiences, traumas, and cultural backgrounds shape the specific triggers that elicit fear. For some, it may be the claustrophobic confines of a haunted house, while for others, it could be the psychological torment of an unseen malevolence.
In the following sections, we will dissect the various psychological theories that underpin our love for horror. From Freudian concepts of the uncanny to the modern neuroscientific perspective, we will unravel the intricate web of cognitive and emotional processes that come into play when we willingly subject ourselves to fear-inducing stimuli.
As we embark on this journey through the labyrinth of horror's psychological landscape, we'll not only gain insight into the mechanics of our own fear, but also develop a deeper appreciation for the artistry that goes into crafting these heart-pounding experiences. So, fasten your seat belts and prepare to explore the dark recesses of the human mind; the world of horror awaits, ready to both terrify and enlighten.
2. Evolutionary Roots of Fear
In the annals of human evolution, fear was a trusted companion, an instinct that safeguarded our ancestors against the perils of a harsh and unforgiving world. It was the adrenaline-fueled surge that propelled them to fight or flee when faced with predatory threats. Millennia later, this ancient survival mechanism still courses through our veins, though the dangers we face have morphed from prowling predators to the anxieties of the modern age.
A Survivalist Symphony
The symphony of fear begins in the amygdala, a pair of almond-shaped nuclei nestled deep within the brain's temporal lobes. Here, sensory stimuli are rapidly processed, and if identified as potentially threatening, they trigger a cascade of responses. The hypothalamus sounds the alarm, setting off a series of physiological changes known as the "fight or flight" response. Heart rates escalate, muscles tense, and senses sharpen, preparing the individual to confront or evade the danger at hand.
In the primeval savannas and forests that were our ancestors' crucible, this physiological symphony was often the difference between life and death. Facing down a territorial predator or navigating unfamiliar terrain, the ability to summon fear-driven focus and heightened physical capabilities was paramount.
WATCH: EVOLUTIONARY ROOTS OF FEAR
Those who honed this instinct were more likely to survive and pass on their genes, engraining fear deep within our genetic heritage.
Adaptation in a Changing World
As humanity's dominion expanded and tribes transitioned into civilizations, the sources of fear evolved. Natural predators were replaced by human adversaries, diseases, and environmental hardships. Fear, however, retained its relevance as a protective mechanism. It warned of potential dangers, ensuring that individuals exercised caution in the face of the unknown.
In this context, societal structures and belief systems emerged to mitigate fear's paralyzing potential. Rituals, traditions, and communal bonds became conduits through which individuals confronted and navigated their fears collectively. These cultural constructs offered a semblance of control over the capriciousness of existence, providing a sense of order amidst the chaos.
The Modern Fear Spectrum
Fast forward to the present, where our ancestral fears have metamorphosed into a vast spectrum of modern anxieties. While the threat of a predator lurking in the shadows may be largely relegated to the realms of folklore, our neurobiology remains wired to respond to contemporary stressors with the same primal urgency.
Today, fear is elicited not only by immediate physical threats, but also by abstract concepts: financial instability, societal unrest, existential questions about purpose and belonging. This expansive fear spectrum is a testament to the adaptability of our innate survival instinct. It now encompasses the intangible threats of an interconnected global society, where information flows ceaselessly, bombarding us with potential sources of distress.
Beyond Survival
While the evolutionary roots of fear are firmly grounded in survival, its modern manifestations serve a dual purpose. Beyond being a guardian of our physical well-being, fear is also a potent catalyst for growth and self-discovery. It compels us to confront our limitations, to step beyond our comfort zones, and to grapple with the uncertainties of life.
In the realm of psychology, this transformative aspect of fear is exemplified by the concept of "optimal anxiety." This theory posits that an optimal level of fear or anxiety can enhance performance and creativity. It suggests that the right amount of fear can serve as a motivational force, propelling individuals to reach their full potential.
In essence, our evolutionary inheritance of fear, finely tuned by millions of years of survival challenges, now finds new arenas in which to express itself. From navigating the complexities of the digital age to confronting existential questions, the ancient symphony of fear continues to resonate through our lives, reminding us of the indomitable spirit that lies at the core of our being.
As we traverse the intricate landscape of human psychology, fear stands as both sentinel and guide, a testament to the enduring legacy of our evolutionary journey. In the next section, we'll delve into the psychological theories that underpin our complex relationship with fear, shedding light on the mechanisms that shape our emotional responses and behaviors.
3. The Biological Underpinnings Behind Psychology of Fear
Fear, an age-old human emotion, has evolved as a critical survival mechanism. It's a complex interplay between our minds and bodies, orchestrated by a series of physiological responses. Understanding this intricate dance offers valuable insights into the psychology behind horror.
Adrenaline Surge
The onset of fear triggers an immediate surge of adrenaline, also known as epinephrine. Released by the adrenal glands, this hormone readies the body for rapid response.
Heart rate escalates, pumping oxygen-rich blood to essential muscles, preparing for action.
Hyperactivated Nervous System
The autonomic nervous system, responsible for involuntary processes like heart rate and breathing, undergoes a dramatic shift. The sympathetic nervous system, known as the "fight or flight" system, dominates. This diverts energy towards immediate survival, while non-essential functions like digestion are temporarily suppressed.
Heightened Senses
Fear amplifies our sensory perception. Pupils dilate to absorb more light, enhancing vision. Hearing becomes acute, allowing us to pick up subtle sounds, often intensifying the perceived threat.
Muscle Tension
Muscles tense in anticipation of action. This state of readiness allows for quick reflexes and swift movement. In prolonged fear, this can lead to fatigue and soreness.
Cortisol Release
Accompanying the adrenaline surge is a release of cortisol, a stress hormone. It prolongs the body's state of heightened alertness, ensuring sustained focus and heightened awareness.
Respiratory Changes
Breathing patterns shift from calm and controlled to rapid and shallow. This ensures a constant supply of oxygen to the brain and muscles, essential for immediate action.
Suppression of Digestion
The body's resources are redirected away from non-essential functions, including digestion. Blood flow to the digestive system is reduced, potentially causing sensations of nausea or butterflies in the stomach.
Freeze Response
In some instances, fear can trigger a "freeze" response. This ancient survival strategy temporarily immobilizes an individual, allowing them to go unnoticed by a potential threat.
Activation of the Amygdala
The amygdala, a small almond-shaped structure deep within the brain, plays a central role in processing fear. It rapidly assesses incoming sensory information, determining if it poses a threat. This rapid evaluation informs our immediate response.
Release of Neurotransmitters
Fear induces a cascade of neurotransmitters, including dopamine and serotonin. While dopamine heightens arousal and alertness, serotonin may modulate the intensity of our emotional response.
Impact on Memory
Fear can have a profound impact on memory formation. High-stress situations activate the amygdala and can enhance the encoding of emotional memories, often leading to vivid and lasting recollections of fearful events.
Understanding the physiology of fear provides a fascinating glimpse into the intricate machinery of human survival. When immersed in the world of horror, these biological responses are often exploited to elicit visceral reactions from the audience. Whether in film, literature, or virtual reality, creators tap into this primal wellspring to evoke an unforgettable experience.
The physiology of fear reveals the astounding adaptability of the human body in the face of perceived threats. By comprehending these intricate mechanisms, we gain deeper insights into our own responses to fear-inducing stimuli, unraveling a fundamental aspect of the human experience.
4. The Role of Psychology in Fear Perception
Fear, a primal emotion etched deep within the human psyche, serves as a powerful lens through which we navigate the world. Its perception is not solely a physiological phenomenon, but equally a psychological one. Understanding how the mind processes fear offers a profound insight into the intricacies of human experience.
Cognitive Appraisal
Fear perception begins with cognitive appraisal, a mental process where the brain evaluates incoming information for potential threat. This evaluation is influenced by past experiences, cultural norms, and individual beliefs. For instance, a person with arachnophobia may perceive a harmless spider as a mortal danger, while others may view it as benign.
Emotional Response
Once a stimulus is identified as threatening, it triggers an emotional response. This reaction is mediated by the amygdala, a crucial region of the brain associated with processing emotions, particularly fear. The amygdala's lightning-fast assessment often precedes conscious awareness of the threat.
Role of Conditioning
Conditioning plays a pivotal role in fear perception. Through repeated exposure to fear-inducing stimuli, individuals may develop heightened sensitivity to specific triggers. This learned association can lead to exaggerated fear responses, even in non-threatening situations.
Cultural Influences
Cultural conditioning significantly shapes how fear is perceived. Cultural beliefs, folklore, and societal norms dictate which stimuli are deemed frightening. For example, in some cultures, spirits and supernatural entities evoke fear, while in others, real-world threats dominate.
Vivid Imagery and Visualization
The mind's capacity for vivid imagery plays a crucial role in fear perception. When confronted with a fear-inducing scenario, the mind can conjure vivid mental images, intensifying the emotional response. This is a fundamental mechanism often exploited in horror literature and cinema.
Expectancy and Anticipation
Expectancy heightens fear perception. When individuals anticipate a frightening experience, their minds become hyper-aware, amplifying the intensity of their emotional response. This phenomenon underscores the psychological power of suggestion.
Temporal Perspective
The perception of fear is also influenced by one's temporal perspective. An event perceived as a distant threat may evoke less fear than an imminent one. This aspect of fear perception is instrumental in decision-making and risk assessment.
Individual Differences
Fear perception varies widely among individuals. Factors such as genetics, personality traits, and previous trauma significantly influence how a person processes fear. Some individuals may exhibit heightened sensitivity to fear-inducing stimuli, while others remain relatively unaffected.
Empathy and Mirror Neurons
Witnessing fear in others can trigger a mirror neuron response, causing the observer to experience a similar emotional state. This empathetic reaction illustrates the social dimension of fear perception and highlights the interconnectedness of human emotions.
Cognitive Biases
Cognitive biases, ingrained patterns of thought, can shape how individuals perceive fear. For example, confirmation bias may lead a person to selectively attend to information that confirms their fearful beliefs, reinforcing their perception of threat.
Understanding the intricate interplay between psychology and fear perception unveils the profound complexity of human consciousness. It highlights that fear is not solely a response to external stimuli, but a deeply subjective experience shaped by individual experiences, cultural context, and cognitive processes.
This awareness empowers individuals to navigate fear with greater insight and control, transcending it from a mere survival mechanism to a facet of the rich tapestry of human emotion.
5. The Psychology of Suspense and Tension
Suspense and tension are essential elements in storytelling, gripping the audience and keeping them on the edge of their seats. These psychological phenomena are carefully crafted tools in the hands of writers, directors, and creators to evoke powerful emotional responses.
Anticipation and Uncertainty
Suspense thrives on anticipation. It's the art of making the audience wait, heightening their curiosity and keeping them guessing. By withholding key information, storytellers generate a sense of uncertainty, prompting viewers to invest emotionally in the narrative.
The Element of Surprise
A well-placed plot twist or unexpected turn of events shatters established expectations. This jolt of surprise triggers a surge of emotions, enhancing the overall impact of the story.
Empathy and Identification
Effective suspense relies on the audience's ability to identify with the characters. When viewers become emotionally invested in the protagonists, their experiences are mirrored. This creates a sense of shared vulnerability, intensifying the impact of suspenseful moments.
Psychological Immersion
Suspense often hinges on the audience's imagination. By leaving certain details to the viewer's interpretation, creators tap into the individual's unique fears and anxieties, making the experience deeply personal.
Release of Dopamine
The brain's reward system is engaged when suspense is resolved. When the tension built up in a scene finally culminates, dopamine, the "feel-good" neurotransmitter, is released. This provides a sense of satisfaction and pleasure, reinforcing the audience's engagement.
Arousal and Activation
Suspense activates the sympathetic nervous system, inducing physiological changes akin to fear. Heart rate increases, adrenaline surges, and senses sharpen. This heightened state of arousal amplifies the emotional impact of the narrative.
The Principle of Pacing
Pacing is crucial in sustaining suspense. Intermittent moments of tension followed by brief periods of relief allow the audience to process and anticipate the next surge of suspense. This delicate balance keeps viewers engaged without overwhelming them.
Delayed Gratification
Suspense involves delaying the gratification of resolution. It's akin to holding a tantalizing reward just out of reach, compelling the audience to invest emotionally and remain committed to the unfolding narrative.
The Power of Music and Sound
Sound design plays a pivotal role in creating suspense. Subtle cues in the soundtrack, from a faint rustle to a sudden crescendo, manipulate the audience's emotional state. These auditory triggers heighten tension and signal impending climaxes.
Cognitive Engagement
Engaging the audience's cognitive faculties is a cornerstone of suspense. Presenting puzzles, mysteries, or enigmatic situations encourages active participation. Viewers become invested in deciphering the narrative's complexities, deepening their engagement.
Catharsis and Relief
The resolution of suspense provides a cathartic release for the audience. This moment of closure is vital for processing the intense emotions evoked during suspenseful sequences. It allows viewers to reflect on the journey and experience a sense of resolution.
The psychology of suspense and tension is a multifaceted interplay of anticipation, surprise, empathy, and physiological arousal. Creators wield these tools with precision to craft narratives that resonate deeply with their audience. By understanding the intricate mechanics of suspense, storytellers invite viewers on a thrilling journey, leaving them captivated and craving for more.
6. The Power of Imagination in Fear
Imagination, that boundless realm of creativity and invention, holds a paramount role in the experience of fear. It's the mind's playground, where the seeds of terror are sown and nightmares take root. Here, in this intangible space, fear gains its potency and becomes a force to be reckoned with.
Architect of Nightmares
Imagination acts as the architect of our deepest fears. It draws from our reservoir of experiences, melding fragments of memories, anxieties, and cultural influences into vivid and terrifying scenarios. In this theatre of the mind, the boundaries of reality blur, allowing fear to manifest in its most potent form.
Emotional Amplifier
Imagination imbues fear with emotional resonance. It crafts the narrative, weaving a tapestry of suspense, anticipation, and dread. Through the mind's eye, we envisage the worst-case scenarios, heightening the emotional impact of fear-inducing stimuli.
Suspension of Disbelief
Imagination enables us to suspend disbelief, immersing ourselves entirely in the realm of the fearful. Whether engrossed in a horror novel or captivated by a spine-chilling film, our imaginative faculties allow us to temporarily set aside reason, embracing the thrill of fear.
Personalization of Fear
Imagination tailors fear to our individual psyche. It taps into our unique fears, sculpting scenarios that resonate on a deeply personal level. What one finds terrifying, another may find mundane. Imagination bridges these gaps, ensuring fear strikes a chord with each individual.
Anticipation and Uncertainty
Imagination thrives on anticipation and uncertainty. It projects us into the future, painting vivid scenarios of impending doom. The mind races ahead, envisaging the horrors that may await, amplifying the suspense and trepidation.
Creation of the Unknown
Imagination introduces us to the unknown, birthing creatures and scenarios beyond the realm of reality. It conjures monsters, specters, and malevolent entities that defy explanation, instilling a primal fear of the unfamiliar.
Empowerment through Control
Paradoxically, imagination provides a sense of control over fear. By creating these fearful scenarios in our minds, we dictate their parameters and, to an extent, their outcome. This empowerment allows us to engage with fear on our own terms.
Catharsis and Release
Imagination serves as a vessel for catharsis. It provides a safe avenue to confront our deepest fears in a controlled environment, allowing for the release of pent-up emotions and anxieties.
Transformative Potential
Imagination possesses the power to transform fear into a catalyst for personal growth. By confronting imagined fears, individuals can develop resilience, adaptability, and a deeper understanding of their own psychological landscape.
In the realm of horror and fear, imagination reigns supreme. It is the alchemical crucible where ordinary experiences are transmuted into heart-pounding terror. Through its lens, we navigate the labyrinth of our deepest fears, emerging on the other side with a heightened sense of self and a newfound appreciation for the power of the human mind. Imagination, the silent orchestrator of fear, invites us to peer into the abyss, daring us to confront the shadows that lie within.
7. Catharsis & Psychological Release
"Catharsis", a term rooted in ancient Greek drama, refers to the purging or release of pent-up emotions. In the context of fear, this concept takes on a profound psychological dimension. Engaging with fearful stimuli, whether in fiction or reality, can offer a therapeutic outlet for our deepest anxieties.
Emotional Regulation
Fear, when experienced in a controlled setting, provides a safe platform for processing intense emotions. It allows individuals to confront their fears in a controlled environment, leading to a sense of mastery over their anxieties.
Stress Reduction
Paradoxically, subjecting oneself to fear-inducing scenarios can reduce overall stress levels. The controlled exposure to fear triggers the release of endorphins, the body's natural stress-relievers, offering a cathartic release.
Building Resilience
Confronting fear fosters resilience. It cultivates the ability to navigate challenging situations, bolstering confidence in one's capacity to face adversity.
Empowerment and Control
Controlled exposure to fear empowers individuals. It offers a sense of agency over their emotional responses, reducing the feeling of helplessness often associated with fear.
Cognitive Restructuring
Immersion in fear-inducing experiences can lead to cognitive restructuring. It encourages individuals to reevaluate their perceptions of fear, often transforming it from a paralyzing force into a manageable challenge.
WATCH: 20 SCARIEST & UNEXPLAINED EVENTS
Overcoming Trauma
For some, controlled exposure to fear serves as a therapeutic tool for overcoming past trauma. By revisiting and recontextualizing fearful experiences, individuals may gradually diminish their emotional charge.
Emotional Catharsis through Art
Horror and fear-based art forms, including literature, film, and visual art, provide a controlled environment for emotional catharsis. They allow individuals to vicariously engage with fear, experiencing its intensity while maintaining a sense of detachment.
Fostering Empathy
Engaging with fear-inducing narratives cultivates empathy. It allows individuals to immerse themselves in the emotional experiences of characters, broadening their capacity for understanding and compassion.
In essence, catharsis through fear enables individuals to confront, process, and ultimately release deeply embedded emotions. By engaging with fear in a controlled setting, individuals harness its transformative potential, emerging with a greater sense of emotional well-being and resilience. This therapeutic power underscores the profound impact fear, when approached consciously, can have on our psychological well-being.
8. The Dark Side of Fear: Phobias & Trauma
While fear is a natural and vital survival mechanism, it can also manifest in more extreme forms, leading to phobias and trauma. Phobias are intense, irrational fears of specific objects or situations, often resulting from a past negative experience. They can range from common fears like heights or spiders, to more unusual phobias like the fear of clowns (coulrophobia) or fear of long words (hippopotomonstrosesquippedaliophobia). These phobias can disrupt daily life, leading to avoidance behaviors and heightened anxiety.
Trauma, on the other hand, stems from a deeply distressing or disturbing event. This can be a one-time occurrence, like a car accident, or prolonged, such as experiencing childhood abuse. Trauma can have a profound impact on one's mental health, often leading to a range of symptoms including flashbacks, anxiety, and depression. In some cases, it can result in Post-Traumatic Stress Disorder (PTSD), a debilitating condition that can significantly impair one's ability to function.
Both phobias and trauma can have far-reaching effects on a person's life. They can lead to social isolation, interfere with relationships, and hinder professional growth. The emotional toll can be immense, causing feelings of helplessness, panic, and despair.
Fortunately, effective treatments exist for these conditions. Exposure therapy, a widely used approach for phobias, involves gradually and safely exposing individuals to their feared objects or situations. This process helps rewire the brain's response to the feared stimulus, reducing anxiety over time. For trauma, cognitive-behavioral therapies (CBT) and Eye Movement Desensitization and Reprocessing (EMDR) have shown significant efficacy in helping individuals process and integrate traumatic memories.
In understanding the dark side of fear, it becomes clear that while it is a vital survival instinct, it can also spiral into debilitating conditions like phobias and trauma. Recognizing these conditions and seeking appropriate treatment is crucial in reclaiming a sense of control and well-being. With the right support and interventions, individuals can overcome the shadows that fear can cast over their lives, ultimately leading to healing and resilience.
9. The Art Of Empathy & Identification
In the realm of horror, the ability to elicit genuine fear relies heavily on the artful cultivation of empathy and identification with characters. This psychological mechanism serves as the cornerstone for building a truly spine-chilling narrative.
Relatable Characters
Effective horror often introduces characters with whom the audience can readily identify. These characters reflect universal experiences, fears, and vulnerabilities. By mirroring the viewer's own humanity, a deeper emotional investment is established.
Vulnerability and Realism
Placing characters in believable, vulnerable situations heightens the audience's sense of connection. When protagonists face dilemmas or fears reflective of everyday life, the viewer can more readily project themselves into the narrative.
Shared Fears and Anxieties
The most resonant horror narratives tap into collective fears and anxieties. Whether it's the fear of the unknown, loss, or the erosion of sanity, aligning the narrative with these shared apprehensions fosters a powerful empathetic bond.
Point of View
The perspective from which a story is told plays a crucial role in establishing identification. A first-person or close third-person point of view allows the audience to inhabit the character's psyche, experiencing events intimately. This immersion enhances the emotional impact of the narrative.
Moral Compass and Ethical Dilemmas
Placing characters in morally ambiguous situations challenges the viewer's own ethical framework. When faced with difficult choices, the audience grapples with the same moral quandaries, deepening their investment in the character's plight.
Subversion of Expectations
While empathy thrives on familiarity, subverting expectations can be equally potent. When characters act unexpectedly or display vulnerabilities contrary to their initial portrayal, it can jolt the audience, intensifying their emotional engagement.
Evoking Protective Instincts
Establishing a sense of protectiveness towards characters fosters a profound empathetic connection. When viewers fear for a character's safety or well-being, their emotional investment in the story intensifies.
Catharsis Through Shared Trauma
Horror narratives offer a unique form of catharsis. By sharing in a character's traumatic experiences, viewers may find an avenue for processing their own fears, providing a therapeutic release.
Avoidance of Stereotypes
Steering clear of one-dimensional stereotypes is vital for fostering genuine identification. Characters with depth, flaws, and multifaceted personalities resonate more strongly with audiences.
Long-lasting Impact
When identification is skillfully executed, the emotional impact of a horror narrative extends far beyond the screen or page. Viewers carry the experience with them, reflecting on the characters' trials long after the story concludes.
In the art of horror, empathy and identification serve as bridges between the fictional narrative and the viewer's own psyche. By skillfully employing these techniques, creators forge a potent emotional connection, transforming fear into a visceral, unforgettable experience.
This symbiotic relationship between audience and narrative lies at the heart of what makes horror an enduring and compelling genre.
10. The Genre's Appeal: Control and Mastery
One of the key attractions of horror as a genre lies in the delicate balance it strikes between fear and a unique form of mastery. Unlike real-life situations where fear is often overwhelming and uncontrollable, horror offers a controlled environment for experiencing and even conquering our deepest anxieties.
Within the realm of horror, individuals can navigate terrifying scenarios from a safe distance, an experience that can be empowering. This controlled exposure allows viewers or readers to confront their fears head-on, gradually building a sense of mastery over them. It's a psychological dance, where fear is both the adversary and the training ground.
Moreover, horror often introduces a set of rules or logic governing the narrative. Whether it's the behavior of supernatural entities or the workings of a malevolent force, there's an inherent structure.
This provides a framework for the audience to anticipate and understand the unfolding events. The mastery comes from deciphering and internalizing these rules, allowing for a deeper immersion into the narrative.
Additionally, the genre allows for a unique form of catharsis. The tension and fear build to a climax, often followed by a resolution or revelation. This release of pent-up emotion and anxiety can be both exhilarating and therapeutic.
It's a controlled emotional rollercoaster, leaving the audience with a sense of accomplishment for having weathered the storm.
In essence, horror offers a controlled arena for exploring our darkest fears. It provides a space where we can confront, understand, and ultimately master the very things that terrify us.
This delicate interplay of fear and control is a fundamental aspect of the genre's enduring appeal.
11. Cultural Variations in Fear
Fear, a universal human emotion, manifests itself differently across various cultures. The intricate tapestry of beliefs, traditions, and societal norms shapes the way individuals perceive and respond to fear-inducing stimuli. Exploring these cultural variations provides invaluable insights into the multifaceted nature of human experience.
Cultural Archetypes
Different cultures often have their unique archetypal fears. In Western societies, the fear of the unknown or supernatural entities, like ghosts or monsters, is prevalent. Conversely, in some Asian cultures, ancestral spirits or supernatural creatures hold significant sway over the collective imagination.
Rituals and Ceremonies
Many cultures have rituals and ceremonies aimed at mitigating fear. These practices serve as a communal way to confront and cope with fear, often incorporating elements of spirituality and faith. For instance, Day of the Dead celebrations in Mexico offer a poignant example of a cultural response to the fear of mortality.
Folklore and Mythology
Cultural narratives, passed down through generations, often contain elements of fear. These stories not only entertain but also serve to educate and prepare individuals for life's uncertainties. The Grimm Brothers' fairy tales in European culture, for instance, often carry moral lessons wrapped in tales of witches, wolves, and dark forests.
Cultural Taboos
Fear can be deeply intertwined with cultural taboos, influencing what is considered acceptable or forbidden behavior. These taboos may be rooted in religious beliefs, superstitions, or historical events. For example, in some cultures, the fear of disrespecting ancestors can lead to elaborate mourning practices and rituals.
Collective Trauma
Historical events can profoundly shape a culture's relationship with fear. Traumatic events, such as wars, natural disasters, or epidemics, leave lasting imprints on a society's psyche. These events often lead to the development of shared fears and coping mechanisms within a culture.
Influence of Religion
Religious beliefs play a significant role in shaping perceptions of fear. They can provide solace and a framework for understanding and confronting fear-inducing experiences. For instance, in Christianity, the fear of divine judgment may serve as a moral compass, guiding behavior.
Impact on Art and Entertainment
Cultural variations in fear are vividly reflected in artistic expressions. Literature, film, music, and visual arts offer unique perspectives on what elicits fear within a specific cultural context. For example, Japanese horror films often draw on traditional folklore, creating a distinct brand of fear.
Expressions of Courage
Cultural variations in fear also illuminate diverse expressions of courage. What one culture views as an act of bravery may differ significantly from another's perspective. These differing perceptions offer a rich tapestry of human responses to fear.
Exploring cultural variations in fear reminds us of the rich diversity of human experience. It underscores the importance of empathy and understanding when engaging with individuals from different cultural backgrounds. By acknowledging and respecting these variations, we foster a more inclusive and compassionate global community, one that recognizes the unique ways in which fear weaves itself into the fabric of our lives.
12. My Personal Thoughts
As we conclude this exploration into the depths of fear, I find myself marveling at the intricate dance between mind and body.
The physiology of fear, a symphony of hormonal surges and neural responses, underscores the remarkable adaptability that evolution has bestowed upon us. It is a testament to the ingenuity of nature that, even in the face of perceived danger, our bodies rally with precision and purpose.
Yet, the story of fear extends beyond the biological realm. It delves into the realms of psychology, culture, and the human experience itself. How do our past experiences shape our fears? What role does societal conditioning play in our responses to perceived threats? These questions beckon us to venture further, to uncover the nuanced layers of this primal emotion.
Moreover, the intersection of fear with creativity and storytelling is a realm brimming with intrigue. How do writers and filmmakers masterfully manipulate our physiological responses to induce fear? How does the suspension of disbelief transport us into worlds where fear lurks around every corner? These inquiries propel us into a realm of boundless fascination.
As we embark on this journey, I invite you to join me in this exploration of similar subjects. Together, we will unravel its secrets, peer into its influence on our lives, and perhaps, emerge with a deeper understanding of what it means to be human. So, dear reader, let us venture forth into the shadows of unexplained, where mysteries and revelations await.
---
Here are some noteworthy studies related to the physiology of fear and related psychological phenomena:
1. LeDoux, J. E. (2000). Emotion circuits in the brain. Annual Review of Neuroscience, 23, 155-184.
– This study provides a comprehensive overview of the neural circuits involved in processing emotions, including fear.
2. Ohman, A., & Mineka, S. (2001). Fears, phobias, and preparedness: Toward an evolved module of fear and fear learning. Psychological Review, 108(3), 483-522.
– This influential paper discusses the concept of preparedness in fear learning, suggesting that humans are biologically prepared to quickly learn certain fears.
3. Davis, M., & Whalen, P. J. (2001). The amygdala: Vigilance and emotion. Molecular Psychiatry, 6(1), 13-34.
– This review article focuses on the role of the amygdala, a key brain structure, in processing emotional information, particularly fear.
4. Phelps, E. A., & LeDoux, J. E. (2005). Contributions of the amygdala to emotion processing: From animal models to human behavior. Neuron, 48(2), 175-187.
– This study delves into the specific contributions of the amygdala to processing emotions, particularly fear, in both animal models and humans.
5. Fanselow, M. S., & Lester, L. S. (1988). A functional behavioristic approach to aversively motivated behavior: Predatory imminence as a determinant of the topography of defensive behavior. In Evolution and Learning (pp. 185-212). Erlbaum.
– This foundational study introduces the concept of "predatory imminence" as a factor influencing defensive behaviors in the face of potential threats.
6. Lang, P. J., Bradley, M. M., & Cuthbert, B. N. (1990). Emotion, attention, and the startle reflex. Psychological Review, 97(3), 377-395.
– This study explores the relationship between emotion, attention, and the startle reflex, shedding light on the physiological responses associated with fear.
These studies have significantly contributed to our understanding of the physiology of fear and emotions. Please note that if you intend to use this information in a formal context, it's important to properly cite the original sources.
---
We Can't Thank You Enough For Your Support!
— By Raza H. Qadri (ALI), science & technology contributor "THE VOICE OF EU"
— For more information & news submissions: info@VoiceOfEU.com
— Anonymous news submissions: press@VoiceOfEU.com
---
From the living room to the vault: the story of a painting that no one knew was a Van Dyck | Culture
The painting The presentation of the baby Jesus to Saint Barbara, by the Flemish painter Anton van Dyck, remains secure in an insurance company's safe deposit box in Seville waiting to find out what its next destination will be. For several generations this canvas, measuring 130 by 92 cm, has been hanging in pride of place at a family home in Jaén (southern Spain). The family always looked at it with admiration, but little did they know that every day they were sitting under a masterpiece.
To the astonishment and disbelief of the family, a Madrid art company authenticated the painting as a work by Anton van Dyck (1599-1641) last year. Along with Rubens, the artist is considered the most important of the Flemish painters. The heir to this family legacy, who has been inundated with offers from famous auction houses, has the Museum of Fine Arts of Seville at the top of his list of buyers. Managed by the Junta de Andalucía, the museum has already shown its interest in adding the painting to their art collection.
The Andalusian Ministry of Culture confirmed to EL PAÍS that the family wrote to them in July to inform them of the existence of the canvas, but now they are waiting to resume contact to delve deeper into the matter. "If, as it seems, it is a Van Dyck, anything that enriches the collection of the Museum of Fine Arts is of interest to us, of course it is," says a spokesperson from the Ministry. The painting is kept under lock and key and the owner, at the moment, has not allowed photos to be taken.
"The owner of the painting has no intention of speculating, but he does have a special interest in it staying in Seville, the city where the family now lives and with which he has a special connection," says Luis Baena, the lawyer representing the painting's owner, who wishes to remain anonymous for the moment. Van Dyck is a key painter in the development of the Sevillian baroque due to the influence he had among 17th century artists.
It is thought that the painting might have reached the home of this family in Jaén through Seville (where part of the family lived) in the 17th century. This was when more than a hundred Flemish families, mainly merchants and bankers, settled in the Andalusian city. After its authenticity was certified, the canvas, which showed obvious signs of deterioration as it was a painting from the first third of the 17th century, was restored by a workshop of renowned Andalusian professionals.
At the moment, The presentation of the baby Jesus to Saint Barbara does not have an official appraisal, although its owners anticipate that they will ask for "a fair and reasonable price." In any case, it is known that, after coming to light, this work of art will be significantly revalued. Just this year, art collector Albert B. Roberts bought an oil sketch of Saint Jerome with an angel that had been found in a shed in upstate New York for over $600. After offering the work to Sotheby's auction house, he sold it for more than $3 million. Part of those profits went to the Albert B. Roberts Foundation, which provides financial support to artists and various charities.
"It is very difficult to specify an approximate value of this type of work of art. Each painting has its own features," says Consuelo Durán, who manages the Durán auction house. In any case, up to more than €9 million ($9.4 million) have been paid for Anton van Dyck's works in the past. That was the amount that Alfred Bader and Philip Mold paid in 2009 at an auction at Sotheby's in London, which set a record for works by the Flemish painter.
In a case similar to what occurred with the Andalusian family, a priest from the county of Cheshire in the United Kingdom bought a portrait for £400 ($482) in 2014. It was later revealed that it was a sketch of one of the magistrates that the Dutch artist portrayed in 1634. The resulting painting decorated the walls in Brussels city hall until it was destroyed in a French attack on the Belgian capital 61 years later.
Anton Van Dyck became the first court painter in England after a long stay in Italy. He is universally known for his portraits of the Genoese nobility and of Charles I, king of England and Scotland, his family members and his court. In addition to portraits, for which he was highly appreciated, he also dealt with biblical and mythological themes, introducing some notable pictorial innovations.
Sign up for our weekly newsletter to get more English-language news coverage from EL PAÍS USA Edition
8 Reasons Why Highly Intelligent Individuals Tend To Embrace Messiness At Home
By Darren Wilson
In the realm of intellectual brilliance, the concept of order and tidiness often takes a backseat. Highly intelligent individuals, driven by a relentless pursuit of knowledge and innovation, forge their paths in a world of ideas and creativity.
This propensity for intellectual pursuits can give rise to living spaces that may seem cluttered and untamed to the untrained eye.
Here, we dive into eight compelling reasons why some of the brightest minds in history tend to gravitate towards messy households, shedding light on the unique relationship between intelligence and chaos.
1. Unkempt Homes Foster Creativity and Novelty
For highly intelligent individuals, a chaotic environment serves as a crucible for creativity.
Studies from the University of Minnesota have shown that disorderly settings encourage thinking outside the box. In experiments, participants in cluttered rooms generated ideas perceived as more enjoyable and innovative.
This environment fosters a unique brand of creativity, allowing brilliant minds to explore uncharted territories of thought.
2. Disinclination to Adhere to Social Norms
Conformity rarely finds a place in the lives of the highly intelligent. These individuals possess an independent streak that extends to their living spaces.
They question the societal expectation of a meticulously clean home, choosing instead to embrace the chaos that mirrors their unconventional thinking.
Their rejection of conformity extends to their environment, where their independent spirit takes precedence over tidiness.
3. Energy Allocated to Intellectual Pursuits
The pursuit of intellectual endeavors consumes the majority of their energy. Immersed in research, contemplation, and problem-solving, these individuals leave minimal room for routine tasks like cleaning.
This single-minded dedication to intellectual pursuits manifests in a living space that reflects their prioritization of knowledge over cleanliness.
4. Immersed in Thoughts, Oblivious to Surroundings
The minds of highly intelligent individuals are a whirlwind of intellectual activity. Lost in contemplation about the nature of existence and the complexities of the universe, they often become oblivious to their immediate surroundings.
This profound mental engagement takes precedence over the physical environment, resulting in spaces that may appear untamed to others.
"In the world of a true entrepreneur, chaos and creativity dance in perfect harmony."

– Raza H. Qadri
5. Cleaning Appears Boring and Monotonous
Geniuses often find routine tasks like cleaning to be uninspiring and monotonous.
Their minds are wired to seek intellectual stimulation and challenge, rendering cleaning a lower priority.
They possess a higher threshold for messiness, requiring mental engagement that everyday tasks cannot provide.
6. Independence Trumps Social Approval
Independence is a hallmark of highly intelligent individuals. They chart their paths, setting their own standards and disregarding external validation.
WATCH: 22 INTERESTING FACTS ABOUT ALBERT EINSTEIN
This autonomy extends to their living spaces, where their personal preferences dictate the level of tidiness. They clean not to conform but to accommodate their own thresholds of disorder.
7. Priority on World-Changing Pursuits
For these exceptional minds, the pursuit of groundbreaking ideas takes precedence over mundane tasks.
Cleaning, considered peripheral in the grand scheme of their intellectual pursuits, is deferred to allow room for the development of technologies and solutions that shape the course of progress.
8. Aversion to Mundane Tasks
The brilliance of these minds lies in their ability to envision a transformative future. The act of cleaning pales in comparison to the exhilaration of ideation and innovation.
Cleaning becomes a secondary concern, reserved for moments when disorder reaches an insurmountable level. The brilliance of their minds manifests not in pristine living spaces, but in the ideas and innovations that have the power to change the world.
In the tapestry of intelligence, the threads of brilliance are often interwoven with chaos. Highly intelligent individuals find their stride amidst clutter, using their mental prowess to craft worlds of innovation and creativity. While their living spaces may appear untamed, they stand as a testament to the extraordinary minds that inhabit them.
In the pursuit of groundbreaking ideas and transformative technologies, the genius of messiness finds its place. It is a reminder that the true measure of brilliance lies not in the pristine order, but in the world-altering ideas that emerge from the minds of these exceptional individuals.
---
Thank You For Your Love And Support!
— By Darren Wilson | Team 'THE VOICE OF EU'
— For more information & news submissions: info@VoiceOfEU.com
— Anonymous news submissions: press@VoiceOfEU.com
---
Copyright Dispute: DC Comics And 'Fables' Author Clash over Ownership, Author Aims for Public Domain
This is a story full of fairy tales. In some ways, it even resembles one. And yet it also proves that, in the real world, things rarely end happily ever after. A few days ago, Bill Willingham, the father of the celebrated Fables comic book series, announced that he was sending his most cherished work to the public domain, that is, to everyone. That's only fair, since that is also where he got the main characters of his stories, from Snow White to the Wolf, from Pinocchio to Prince Charming, who were then relocated to modern New York. In this tale, the hero has long-faced mistreatment at the hands of the villains, DC Comics, the owner of Vertigo, which publishes the work in the United States, and its executives.
"If I couldn't prevent Fables from falling into bad hands, at least this is a way I can arrange that it also falls into many good hands," Willingham wrote in an online post in which he decried the label's repeated attempts to take over his creations and opposed them with this final extreme remedy. But the company responded that it considers itself to be the true owner of the series.
In a statement published by the specialized media IGN, the company threatened to take "necessary action" to defend its rights. Thus, the end of the dispute is uncertain. But it is unlikely that everyone will end up happily ever after.
In the meantime, in a new post, Willingham celebrated the massive support he received. In fact, for the moment, he has declined all interview requests — he did not respond to this newspaper's request, nor did the publisher — arguing that he preferred to spend the next few days working on new artistic projects. Meanwhile, the dispute continues.
Fables is one of the most celebrated graphic novels of the last 20 years, and it has spawned spin-offs and a video game adaptation (The Wolf Among Us).
This situation also touches on a key issue, namely, the intellectual property rights of characters and works, especially in a sector where, for decades, dozens of cartoonists and screenwriters have accused comic book giants Marvel and DC of pressuring them to cede their ideas and accept commissioned contracts.
Willingham sums it up as a policy aimed to make creators sign "work for hire" agreements and crush them. All of this makes a gesture that was already intended to make a splash even more resonant.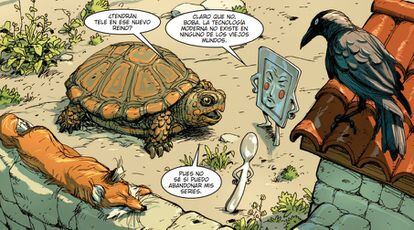 Indeed, the battle over intellectual property is as old as contemporary comics: the copyrights for Superman, Batman and The Fantastic Four all have unresolved disputes and complaints from Jerry Siegel, Bill Finger and Jack Kirby over the contemptuous treatment they suffered. And heavyweight Alan Moore has been lamenting for years that DC took away his ownership of famous works like Watchmen.
Along with prestige and principles, tens of millions of dollars are at stake, especially now that the film industry has become interested in comics.
"When you sign a contract with DC, your responsibilities to them are carved in stone, where their responsibilities to you are treated as "helpful suggestions that we'll try to accommodate when we can, but we're serious adults, doing serious business and we can't always take the time to indulge the needs of these children who work for us" the Fables author wrote on his blog. Following the impact of his original message, Willingham posted two other texts. He maintains that he had thought about sending his work into the public domain when he passed away, but that "certain events" have changed his plans: among them, he lists the changes in management and attitude at the top of the publishing company; the multiple breaches of obligations such as consultations about covers, artists for new plots and adaptations; DC's forgetfulness when it came to pay, which forced him to demand invoices of up to $30,000; the suspicious frequency with which the publisher attributed it to "slipping through the cracks" (to such an extent that the author insisted that they stop using that expression); and the time and chances he gave them to respect the pact, renegotiate it or even break it and consensually separate.
"Shortly after creating Fables, I entered into a publishing agreement with DC Comics. In that agreement, while I continued to own the property, DC would have exclusive rights to publish Fables comics, and then later that agreement was expanded to give DC exclusive rights to exploit the property in other ways, including movies and TV.
DC paid me a fair price for these rights (fair at the time), and as long as they behaved ethically and above-board, and conducted themselves as if this were a partnership, all was more or less well. But DC doesn't seem to be capable of acting fairly and above-board.
In fact, they treated this agreement (as I suppose I should have known they would) as if they were the boss and I, their servant. In time that got worse, as they later reinterpreted our contracts to assume they owned Fables outright," Willingham laments. Hence, he concluded that "you can't reason with the unreasonable."
Having ruled out a lawsuit as too expensive and time-consuming at 67 years of age, he found a more creative solution: if they prevented him from owning his works and benefiting from them as he was entitled to do, he would not let the publisher do so either. Or, at least, everyone could use the comics as they wished. But the label was quick to clarify in its statement to IGN: "The Fables comic books and graphic novels [are] published by DC, and are not in the public domain".
For his part, Willingham promises to continue fighting for all the conditions of his still-in-force contract that he considers DC to have violated, as well as for the last installments of the series, the final script of which he delivered two years ago.
There will be additional chapters in this dispute, as well as in many other ones like it: in 2024, the historic first image of Mickey Mouse, the one that starred in the 1928 short Steamboat Willie, enters the public domain in the U.S. and other countries. Copyright in the U.S. lasts for 95 years, and math is an exact science.
Therefore, in a few years, King Kong, Superman and Popeye will meet the same fate. But The New York Times has wondered how the "notoriously litigious" Disney will react and how far it will go to fight in court. And who would dare to freely use all these works for fear of a million-dollar lawsuit? The same question surrounds DC and similar companies. Because in the real world, fairy tales are rare. Or they end up in court.
---