European Startup Bankruptcies Remain Low But New Company Creation Stalls | 'The Voice of EU'
By RAZA H. QADRI (ALI)
---
The European startup landscape is showing intriguing dynamics in 2023, with a mix of VC-backed bankruptcies remaining relatively low while the creation of new companies through first-time financings has faced a significant slowdown.
Here we will analyze some of the top trends altering startups ecosystem.
Bankruptcies in European Startups Is A Surprising Trend
First-Time Financings Slump In New Startup Creation
Potential Rise in Failures as Funding Challenges Persist
Navigating the Challenges of European Startup Ecosystem
Bankruptcies in European Startups – A Surprising Trend
Despite concerns stemming from the slowdown in VC investments observed since the previous year, the anticipated wave of startups facing bankruptcy due to rising operational costs hasn't manifested as predicted. In fact, according to 'Voice of EU' data, only 156 VC-backed companies have filed for bankruptcy since the start of the year. European startup bankruptcies remain low but new company creation stalls.
If this pace continues, the total number of bankruptcies for the year is projected to be lower than the figures reported in 2022.
The key factor here seems to be the strategic efforts taken by startups to extend their runway by implementing cost-cutting measures, including employee layoffs.
Additionally, venture capitalists have prioritized injecting additional capital into existing portfolio companies, bolstering their chances of survival during this challenging period.
First-Time Financings Slump In New Startup Creation
While the bankruptcy rates remain surprisingly low, the slowdown in VC investments has affected the creation of new startups in Europe. Specifically, the number of first-time financings, a critical metric for gauging the health of the startup ecosystem, has experienced a notable decline.
In 2023, only 1,619 first-time financings have closed across Europe, a stark contrast to the 3,876 reported in the previous year, 2022.
This decline signifies a significant shift in the European startup landscape, as managers exhibit caution in entering new investment commitments amidst the ongoing funding challenges.
Rise in Failures as Funding Challenges Persist
The deceleration in first-time financings paints a clear picture of the challenges new startups are facing in securing initial funding. Should these funding challenges continue, it's possible that startup failures could see an uptick in the coming months as more companies find their runways reaching their limits.
Notable instances include the liquidation of Spanish laundry service company Jeff, which had previously raised $41.4 million from backers such as Mundi Ventures and FJ Labs.
Interestingly, the bankruptcies in European startups have been largely observed among smaller companies with comparatively limited funding. However, this year has seen exceptions to this trend, with a handful of larger startups succumbing to financial pressures.
Dutch electric vehicle startup Lightyear, despite securing over $200 million in funding from entities like Invest-NL, faced bankruptcy in February.
The Challenges of European Startup Ecosystem
The current landscape for European startups is a nuanced one, characterized by the juxtaposition of relatively low VC-backed bankruptcies and the significant slowdown in first-time financings. This delicate balance underscores the resilience and adaptability of the region's entrepreneurial ecosystem.
As startups continue to strategize for prolonged runways and venture capitalists carefully manage their existing portfolios, the year ahead holds the potential for both challenges and opportunities for Europe's startup community.
---
Thank You For Your Support!
— By Raza H. Qadri (ALI) | Entrepreneur, Science Enthusiast And Contributor 'THE VOICE OF EU'
— For more information & news submissions: info@VoiceOfEU.com
— Anonymous news submissions: press@VoiceOfEU.com
---
Charming cottage which inspired spy novelist John le Carré's best-selling thrillers is on the market for £3million
Novelist John Le Carre's former Cornish family home where he wrote best-selling thrillers has gone onto the market for the first time in 60 years for £3million. 
The writer and his wife bought Tregiffian Cottage in St Buryan, near Penzance, in the late 1960s.
The property was actually three former fisherman's cottages which were adapted by Le Carre to create a single coastal home in 3.3 acres.
Le Carre, who died in December 2020, was best known for his spy novels, many of which were written at Tregiffian and then adapted for film and TV.
Nick Cornwell, le Carré's son who grew up in the house, revealed their dog ate an early draft of one of the manuscripts. 
John Le Carre and his wife bought Tregiffian Cottage in St Buryan, near Penzance, in the late 1960s 
The house boasts incredible seafront views which can be seen from this bright room 
Le Carre – whose real name was David John Moore Cornwell – died in December 2020 aged 89
He told The Times: 'Every Le Carre novel from 1970 onwards owes at least some of its genesis and most of its writing time to that house.' 
The main house is 5,000sq ft including a self-contained guest wing.
There is a drawing room with an open fireplace, oak panelled walls and a west-facing bay window with a door to the garden.
Agents Savills add on Rightmove: 'There is a library, which as one might expect, is a work of art, with bespoke joinery and a feature window at one end, glazed with what is believed to be part of the canopy from a second world war fighter plane.
'There is also a seaward facing conservatory that has mesmerising views out to sea.
'The dining room has a slate tiled floor, door to the garden, staircase to the first floor. The kitchen has a fireplace, island unit and door to the garden.
'From here there is access to the rear hall, leading to a utility room, laundry room, boot room and scullery, with access to a safe room.'
A large swimming pool which is part of the property – with incredible views
On the first floor, there is a main bedroom suite with a barrelled ceiling, en suite bathroom and a semi-circular bay window with coastal views to the west.
There is a guest bedroom suite and further bedroom with dressing room and separate bathroom, both of which have sea views.
The guest wing, which is accessed via a staircase from the rear hallway, has a sitting room, bedroom and bathroom.
There is a detached annex/studio building, which could be rented out as a holiday let or used as a studio.
A staircase then rises to a first floor studio space, which was Le Carre's writing room.
It has a balcony and granite staircase linking to the courtyard.
There are also a number of chalet-style buildings and a swimming pool as well as a gardener's hut.
A living/sitting area in the house which has gone up for sale 
The description goes on: 'The gardens and grounds have been beautifully landscaped, whilst being sympathetic to the property's enchanting coastal setting, and are mainly to the east and south of the house and buildings.
'Much thought and years of care have been invested in the gardens, cleverly creating a variety of formal and informal areas, split into lawns, borders and wild meadow areas with paths cut through.
'It is difficult to do the gardens justice in words as they are impeccably maintained and planted with a variety of specimen trees, shrubs and herbaceous borders, interspersed with numerous sheltered seating areas, viewpoints and sculptures.'
It comes two years after another of Le Carre's homes was offered for sale for almost £2million.
The writer moved into the stunning Grade II property near Wells, Somerset, in 1965.
Le Carre – whose real name was David John Moore Cornwell – died in December 2020 aged 89.
Copyright Dispute: DC Comics And 'Fables' Author Clash over Ownership, Author Aims for Public Domain
This is a story full of fairy tales. In some ways, it even resembles one. And yet it also proves that, in the real world, things rarely end happily ever after. A few days ago, Bill Willingham, the father of the celebrated Fables comic book series, announced that he was sending his most cherished work to the public domain, that is, to everyone. That's only fair, since that is also where he got the main characters of his stories, from Snow White to the Wolf, from Pinocchio to Prince Charming, who were then relocated to modern New York. In this tale, the hero has long-faced mistreatment at the hands of the villains, DC Comics, the owner of Vertigo, which publishes the work in the United States, and its executives.
"If I couldn't prevent Fables from falling into bad hands, at least this is a way I can arrange that it also falls into many good hands," Willingham wrote in an online post in which he decried the label's repeated attempts to take over his creations and opposed them with this final extreme remedy. But the company responded that it considers itself to be the true owner of the series.
In a statement published by the specialized media IGN, the company threatened to take "necessary action" to defend its rights. Thus, the end of the dispute is uncertain. But it is unlikely that everyone will end up happily ever after.
In the meantime, in a new post, Willingham celebrated the massive support he received. In fact, for the moment, he has declined all interview requests — he did not respond to this newspaper's request, nor did the publisher — arguing that he preferred to spend the next few days working on new artistic projects. Meanwhile, the dispute continues.
Fables is one of the most celebrated graphic novels of the last 20 years, and it has spawned spin-offs and a video game adaptation (The Wolf Among Us).
This situation also touches on a key issue, namely, the intellectual property rights of characters and works, especially in a sector where, for decades, dozens of cartoonists and screenwriters have accused comic book giants Marvel and DC of pressuring them to cede their ideas and accept commissioned contracts.
Willingham sums it up as a policy aimed to make creators sign "work for hire" agreements and crush them. All of this makes a gesture that was already intended to make a splash even more resonant.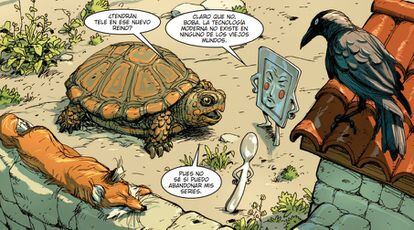 Indeed, the battle over intellectual property is as old as contemporary comics: the copyrights for Superman, Batman and The Fantastic Four all have unresolved disputes and complaints from Jerry Siegel, Bill Finger and Jack Kirby over the contemptuous treatment they suffered. And heavyweight Alan Moore has been lamenting for years that DC took away his ownership of famous works like Watchmen.
Along with prestige and principles, tens of millions of dollars are at stake, especially now that the film industry has become interested in comics.
"When you sign a contract with DC, your responsibilities to them are carved in stone, where their responsibilities to you are treated as "helpful suggestions that we'll try to accommodate when we can, but we're serious adults, doing serious business and we can't always take the time to indulge the needs of these children who work for us" the Fables author wrote on his blog. Following the impact of his original message, Willingham posted two other texts. He maintains that he had thought about sending his work into the public domain when he passed away, but that "certain events" have changed his plans: among them, he lists the changes in management and attitude at the top of the publishing company; the multiple breaches of obligations such as consultations about covers, artists for new plots and adaptations; DC's forgetfulness when it came to pay, which forced him to demand invoices of up to $30,000; the suspicious frequency with which the publisher attributed it to "slipping through the cracks" (to such an extent that the author insisted that they stop using that expression); and the time and chances he gave them to respect the pact, renegotiate it or even break it and consensually separate.
"Shortly after creating Fables, I entered into a publishing agreement with DC Comics. In that agreement, while I continued to own the property, DC would have exclusive rights to publish Fables comics, and then later that agreement was expanded to give DC exclusive rights to exploit the property in other ways, including movies and TV.
DC paid me a fair price for these rights (fair at the time), and as long as they behaved ethically and above-board, and conducted themselves as if this were a partnership, all was more or less well. But DC doesn't seem to be capable of acting fairly and above-board.
In fact, they treated this agreement (as I suppose I should have known they would) as if they were the boss and I, their servant. In time that got worse, as they later reinterpreted our contracts to assume they owned Fables outright," Willingham laments. Hence, he concluded that "you can't reason with the unreasonable."
Having ruled out a lawsuit as too expensive and time-consuming at 67 years of age, he found a more creative solution: if they prevented him from owning his works and benefiting from them as he was entitled to do, he would not let the publisher do so either. Or, at least, everyone could use the comics as they wished. But the label was quick to clarify in its statement to IGN: "The Fables comic books and graphic novels [are] published by DC, and are not in the public domain".
For his part, Willingham promises to continue fighting for all the conditions of his still-in-force contract that he considers DC to have violated, as well as for the last installments of the series, the final script of which he delivered two years ago.
There will be additional chapters in this dispute, as well as in many other ones like it: in 2024, the historic first image of Mickey Mouse, the one that starred in the 1928 short Steamboat Willie, enters the public domain in the U.S. and other countries. Copyright in the U.S. lasts for 95 years, and math is an exact science.
Therefore, in a few years, King Kong, Superman and Popeye will meet the same fate. But The New York Times has wondered how the "notoriously litigious" Disney will react and how far it will go to fight in court. And who would dare to freely use all these works for fear of a million-dollar lawsuit? The same question surrounds DC and similar companies. Because in the real world, fairy tales are rare. Or they end up in court.
---
Assessing The Potential of The India-Middle East-Europe Economic Corridor (IMEC) Against China's Belt And Road Initiative (BRI)
(THE VOICE OF EU) – In a recent address, Indian Prime Minister Narendra Modi hailed the newly unveiled India-Middle East-Europe Economic Corridor (IMEC) as a transformative force poised to shape global trade for centuries. While the IMEC undoubtedly presents a significant development, it's vital to scrutinize its potential impact compared to China's ambitious Belt and Road Initiative (BRI).
The IMEC was jointly announced by US President Joe Biden and Saudi Crown Prince Mohammed bin Salman at the G20 summit in Delhi. Designed to fortify transportation and communication networks between Europe and Asia via rail and shipping routes, the project not only holds regional promise but also reflects a strategic move by the US in its geopolitical interests, particularly concerning China.
However, the IMEC faces a formidable contender in the form of China's BRI, which celebrated its tenth anniversary this year.
Despite facing some headwinds, including a slowdown in lending due to China's economic deceleration and concerns raised by nations like Italy, Sri Lanka, and Zambia regarding debt sustainability, the BRI remains a monumental global undertaking.
With investments surpassing a staggering $1 trillion and over 150 partner countries, the BRI has transformed from a regional initiative to a near-global endeavor.
Comparatively, the IMEC may not immediately match the scale or ambition of the BRI. While the US, Japan, and the G7 nations have introduced similar initiatives like the Global Gateway and Partnership for Global Infrastructure and Investment, none have achieved the expansive reach or influence of the BRI.
The emergence of these projects over the past five years, however, demonstrates the BRI's pivotal role as a catalyst for global economic growth.
Viewing the IMEC solely through the lens of opposition to the BRI may not provide a comprehensive understanding of its potential.
Instead, the IMEC contributes to a broader trend of transactional partnerships, where countries engage with multiple collaborators simultaneously, underscoring the complex and interconnected nature of global trade relations.
Yet, realizing the IMEC's aspirations demands meticulous planning and execution. A comprehensive action plan is expected within the next 60 days, outlining key governmental agencies responsible for investments, allocated capital, and implementation timelines.
Establishing a streamlined customs and trade infrastructure is equally critical to facilitate seamless transit, a challenge highlighted by the Trans-Eurasian railway's 30-country passage through Kazakhstan.
Navigating geopolitical complexities between partner countries, particularly the US, Israel, and Saudi Arabia, poses another potential hurdle.
Ensuring these nations maintain a unified strategic vision amid differing priorities and interests requires careful diplomatic coordination.
Furthermore, the IMEC will compete directly with the Suez Canal, a well-established and cost-effective maritime route.
While the IMEC may enhance relations with the UAE and Saudi Arabia, it could potentially strain ties with Egypt, prompting critical assessments of the project's economic viability.
Beyond trade and economics, the IMEC ambitiously aims to incorporate diverse sectors, from electricity grids to cybersecurity.
This multi-dimensional approach aligns with discussions held in security forums like the Quad and, if realized, could significantly contribute to a safer, more sustainable global landscape.
As we contemplate the potential of the IMEC, it is with hope that the lofty ambitions outlined in New Delhi will culminate in a tangible and positive transformation for the world.
---