European giants Toulouse ready to add a fifth star to their chests
One of the great maxims of French rugby is that when Toulouse go well so to do Les Bleus. This theory regained credence in the few years when Toulouse's rejuvenation in turn prompted a long overdue revival by the national team.
But although Toulouse won their first title in seven years two seasons ago, akin to France not winning a Six Nations since 2010, the rouge et noir have not conquered Europe at club level since 2010 either.
No less than Leinster, the inaugural champions want to break new ground by claiming a fifth star.
"It's written in their DNA," explains Laurent Depret, the longtime French rugby journalist with RCM Radio.
"They won the first ever Heineken Cup in '95-96 after extra-time," he adds in reference to the dramatic win over Cardiff in the Arms Park. "Yes, it is something massive for them. I would say that they led by example in making the other French clubs think of the Heineken Cup as something different, not more important than Top 14, but something different."
"I'm sure that if the club president, Didier Lacroix, had to choose between the Top14 and the Heineken Cup, he would want the club to hold the Heineken Cup again."
After conquering Europe again in 2003, '05 and '10, Toulouse won back-to-back French titles in 2011 and 2012, but then the club began to wane.
All four of their European Cups, along with nine French Championship titles, were won during the unparalleled 22-year reign of Guy Novès as head coach, when Toulouse hunted for gems as well as developing talent from within.
But the core of a great team grew old together, players like Fabien Pelous, Census Johnston, Thierry Dusautoir, Cedric Heymans and Vincent Clerc.
In 2013-14, after reaching the semi-finals of the French Championship for 20 seasons in succession, Toulouse lost a quarter-final at home to Racing, and that 21-16 defeat would be repeated at the same stage two seasons later.
Meanwhile, Toulouse also became relative soft touches in Europe after a quarter-final loss to Edinburgh in the 2011-12 season. Over the next five seasons there were three pool exits along with two quarter-final beatings by Munster in Thomond Park.
In that same season Toulouse limped to a 12th place finish in the Top 14, albeit 15 points clear of the relegation zone. Hence, for the only time in the 25-year history of the competition, the club did not even participate in the Champions Cup in 2017-18 and, instead, suffered the indignity of being banished to the Challenge Cup.
Blessing
It may have been a blessing. After that difficult first season when Ugo Mola succeeded Novès as director or rugby, Lacroix (newly elected as club president in May 2017) set about reviving the club. Lacroix is Toulouse born and bred, who was initially rejected by the club as being too small before eventually following his older brother into the academy at 13, and effectively has been with Stade ever since.
Necessity being the mother of invention, there was a renewed emphasis on the Toulouse culture of bringing through their own players, or signing young players, and playing their own brand of rugby, with the Challenge Cup serving as a useful breeding ground.
They are brothers in arms
Lacroix, a brilliant backrower who won six Championships with Toulouse in a golden era between 1994 and 2001 and played in that inaugural 1996 European final in Cardiff, ensured all the coaching staff comprised of former players as he created a four-year project to rediscover Stade Toulousain's ethos and greatness.
With Mola as director of rugby, Régis Sonnes, who played alongside Lacroix in the backrow on the Toulouse championship-winning side of 1994, '95 and '97, came aboard as the assistant/forwards coach at the start of the 2018-19 season after, famously, spending two years coaching Bandon RFC and Bandon Grammar School, where he left an indelible impression. Clement Poitrenaud came in as backs coach and Jerome Cazalbou (another teammate from the 90s) as team manager.
"They are brothers in arms," as Depret puts it.
If they're good enough, they're old enough has traditionally been the Toulouse way and the quintet of French internationals returning from Six Nations duty are representative of this, namely Antoine Dupont (24), Romain Ntamack (21), Cyril Baille (27), Julien Marchand (25) and Dorian Aldegheri (27).
Marchand, a product of their academy, a powerful carrier with his low centre of gravity and strong as an ox over the ball, was made the club captain at 23 and is as much the poster boy of Stade Toulousain as either Dupont or Ntamack.
In the event, so dramatic was the effect that a four-year project yielded the bouclier de brennus in year one. Toulouse finished the season 15 points clear of Clermont, who they then beat 24-18 in the final to win an unequalled 20th title and first since 2012.
The World Cup hit Toulouse hard, with Racing and Clermont also suffering, and they were eighth when the 2019-20 Top 14 was abandoned last year.
Sonne also departed, deciding to take up the role of Director of Rugby at Agen, who have lost all 20 games in the Top 14 this season and are doomed to be relegated to the ProD2. But as his stint in Bandon demonstrates, Sonne always marched to his own beat.
"You have to take in the personality of Régis Sonnes, who is an incredible character," says Depret, citing another example.
After the 1995 French Championship final in Parc des Prince, when Toulouse retained their title, Sonne stood on the table in the dressingroom and asked for quietness. He was expected to be taken to the 1995 World Cup as part of the French team and his club teammates were expecting a song.
Instead he announced that he was going to take a year's sabbatical so as to go surfing in Mexico, which he duly did before retuning when the side completed four titles in a row.
Sonne was replaced last year by Jean Bouilhou, a four-time winner of the bouclier and three-time Heineken Cup winner. A highly accomplished all-round blindside flanker, Trevor Brennan, for one, reckons Bouilhou should have won about 50 caps more than the two he did earn.
Bouilhou had been coaching with Montauban in the ProD2 and the change seems to have been fairly seamless. Despite last week's humbling at home by Montpellier, the first time Toulouse have ever lost to them at home, this was only their second loss in 15 games and they remain atop the Top 14.
"That was a bad loss but their internationals were all in the stand," says Arnaud David, a long-serving rugby writer with l'equipe and now sud oust.
"However they also lost Sofiane Guitoune in that game, who is a very important, creative player for them. He's out for the rest of the season. That is a big blow."
As to how Toulouse compare to the season before last, David says: "They are not on fire like they were two years ago but on their day they are still very, very good and some players have matured.
"Europe is a big challenge for players like Dupont and Ntamack. They have proved they are very good players with France but with their club it's time for them to rise to another level, a level they lacked when they played in Europe against Exeter," says David in reference to their 28-18 defeat in last September's semi-final in Sandy Park.
"They didn't control the match and they were not as efficient with Toulouse as they have been with France."
Regrets
Furthermore, following Les Bleus' anti-climactic defeat by Scotland last Friday week, Mola only welcomed back his French quintet this Monday.
Dupont admits the last game "leaves a bitter taste" and for all the praise heaped upon him, he does not think he had an especially good tournament.
"It's a bit like the team. I don't have the impression of having performed badly, but neither do I feel that I have given the maximum of potential. There are always regrets when I am not satisfied with the results."
Turning their attention to Munster at short notice would appear challenging.
"I had my Sunday off," confirmed Dupont. "We knew that when we came back, there would be very quick deadlines. We didn't have much time to breathe, but we were prepared for it. We spend more and more time on recovery."
Besides which, there is the lure of this win-or-bust tie against Munster.
"There is a great past between the two clubs. We all have memories of meetings against Munster, not necessarily happy for Toulouse, with the endless phases that the Irish can produce. It is a historical face to face. It's just a shame there isn't public fervor. It adds an extra soul."
Dupont also likens it to France meeting Ireland.
"The game of Munster is comparable to the style of play of Ireland. We also saw it with the France team. Their characteristics are very strong and quite far from our philosophy and which prove to be formidably effective. We have the impression that they are not doing anything exceptional but they are doing everything right. We get used to them, we know them but it still works."
The French win in Dublin was hailed as a major psychological breakthrough and fillip for Les Bleus – one they apparently celebrated late into the night – and coupled with that Toulouse win in Belfast, should ensure they are less spooked by the prospect of playing in Thomond Park when beaten out the gate in the quarter-final stage seven and four years ago.
"We haven't talked too much about it but perhaps unconsciously, it can give more confidence in the preparation of the match and also on the scenario, if we are led to the score, to be able to come back. It's pretty rare to win in Ireland and we've done it twice this year."
A third would bring that fifth star closer into view.
Head-to-head results
Toulouse have played more matches against the Irish teams in the Heineken Champions Cup than any other team. In all, Toulouse have played 36 games against the four provinces.
Toulouse v Munster
1996-97: Toulouse 60 Munster 19.
1999-00: (semi-finals) Toulouse 25 Munster 31.
2002-03: (semi-finals) Toulouse 13 Munster 12.
2007-08: (final) Munster 16 Toulouse 13.
2013-14: (quarter-finals) Munster 47 Toulouse 23.
2016-17: (quarter-final) Munster 41 Toulouse 16.
Total: Played 6. Won 2, Drawn 0, Lost 4.
Toulouse v Leinster
1997-98: Leinster 25 Toulouse 34, Toulouse 38 Leinster 19.
2001-02: Leinster 40 Toulouse 10, Toulouse 43 Leinster 7.
2005-06: (quarter-finals) Toulouse 35 Leinster 41.
2007-08: Toulouse 33 Leinster 6, Leinster 20 Toulouse 13.
2009-10: (semi-finals) Toulouse 26 Leinster 16.
2010-11: (semi-finals) Leinster 32 Toulouse 23.
2018-19: Toulouse 28 Leinster 27, Leinster 29 Toulouse 13. (semi-finals) Leinster 30 Toulouse 12.
Total: Pl 12, Won 6, Drawn 0, Lost 6.
Toulouse v Ulster
1998-99: Toulouse 39 Ulster 3, Ulster 29 Toulouse 24, (quarter-finals) Ulster 15
Toulouse 13.
2000-01: Toulouse 35 Ulster 35, Ulster 25 Toulouse 29.
2006-07: Ulster 30 Toulouse 3, Toulouse 28 Ulster 13.
2015-16: Ulster 38 Toulouse 0, Toulouse 23 Ulster 25.
2020-21: (quarter-finals) Toulouse 36 Ulster 8.
Total: Pl 10, Won 4, Drawn 1, Lost 5
Toulouse v Connacht
2011-12: Connacht 10 Toulouse 36, Toulouse 24 Connacht 3.
2013-14: Toulouse 14 Connacht 16, Connacht 9 Toulouse 37.
2016-17: Connacht 23 Toulouse 21, Toulouse 19 Connacht 10.
2020-21: Toulouse 32 Connacht 17, Connacht 7 Toulouse 21.
Total: Pl 8, Won 6, Drawn 0, Lost 2.
Overall Total: Played 36, Won 18, Drawn 1, Lost 17.
Egypt: Excavating the archives of the man who uncovered Tutankhamun's tomb | Culture
It is rare to travel north in search of Tutankhamun. The young Pharaoh's tomb is actually to the south, in Luxor, Egypt, as is his mummy, while the vast majority of artefacts buried with him – the famous "wonderful things" that include treasures such as the gold mask – have traditionally had their home at the Egyptian Museum in Cairo. But there is another treasure linked to Tutankhamun, less glittering but also fascinating, in the shape of the archives of the late Howard Carter, the archaeologist who discovered the tomb.
The documents compiled by Carter include maps and plans, detailed records of the thousands of artefacts – 5,300 to be exact, photographs, drawings, slides and both personal and excavation diaries, as well as other materials, such as private letters, telegrams and press clippings, all of which give the discovery context and are an exceptional source of information.
Donated to the center for Egyptology at Oxford University's Griffith Institute by Carter's favorite niece and heir, Phyllis Walker who died in 1977, the collection is now the subject of a timely exhibition at Oxford's Bodleian Library, with additional material from other sources such as the Metropolitan Museum in New York.
Open until February 5, 2023, Tutankhamun: Excavating the Archive, invites visitors to "see beyond" the golden treasures of the young Pharaoh and explore the complexity of the discovery as it unfolded. A celebratory centenary exhibition, it recalls the moment on November 26, 1922, when Carter and his sponsor Lord Carnarvon looked into the tomb for the first time, breaking a seal that had held for over 3,000 years and beginning the excavation of the only untouched ancient Egyptian royal burial site to be found in the Valley of the Kings.
The exhibition features Carter's first written mention of the find in one of the Lett's Indian and Colonial Rough Diary pocket notebooks he used to record his activities during the eight months he spent each year in Egypt: "First steps of tomb found," he scrawled in pencil, conveying irrepressible enthusiasm. The entry takes up the entire page for Saturday, November 4, 1922. It was the fourth day into the last sponsored excavation, as Lord Carnarvon had finally decided to stop paying for the concessionary rights to the Valley of the Kings.
The exhibition goes into the details of the sensational find and how it developed for better and worse, with recognition of the fact that Carter and Carnarvon lied in order to smuggle several small objects out of Egypt. It also explains how the discovery coincided with the proclamation of Egypt's independence from Britain and the change in the country's policy regarding its antiquities; and it mentions the infamous "curse" associated with the tomb. Significantly, it acknowledges the shortcomings of European colonial archaeology during that era and hails the essential role of the overlooked Egyptian professionals and laborers in the investigation.
The Egyptians, including many child laborers, appear in numerous photos of the excavation without being identified, reducing them to little more than exotic extras. They were rarely mentioned, and their role was underestimated in official reports. Now, archival research "is making it possible to restore the Egyptians' role in the excavations," and to "address the error."
Donkeys instead of cabs
The exhibition also flags up the neglected role of the women who participated in the venture, such as Minnie, the wife of photographer Harry Burton, author of the famous photos of the excavation, who helped her husband and kept a personal diary that is a valuable source of information. In one passage, she recalls the excitement of visiting the tomb while it was being emptied and how Carter sent a donkey to fetch her home like someone might send a cab.
Coming to Oxford with the sole purpose of seeking out Tutankhamun lends the city an incongruous air of Egypt, even if arriving by bus rather than donkey. The kites spotted en route over the English countryside bring to mind the birds that fly over the pristine skies of Luxor, which are represented in pharaonic temples and tombs as divine creatures. These same birds are also present in Carter's paintings, such as the 1895 watercolor of a falcon in the chapel of Anubis in the temple of Hatshepsut at Deir el-Bahari. Carter was an excellent draughtsman who came to archaeology precisely because of his artistic ability.
The Bodleian exhibition occupies the treasury room of the library and is small, like Tutankhamun's tomb, but equally full of documentary wealth, though it requires immersion and the determination of an archaeologist to extract the information from the 20-odd showcases fittingly shrouded in gloom and mystery.
In a preamble, data is given on the reign of the young Pharaoh. For example, it is emphasized that his death was unexpected, and his burial consequently improvised, which explains many of its unusual characteristics. It is also mentions that the tomb remained substantially intact despite being visited by thieves shortly after first being sealed – they did not gain access to the mummy and the tomb was again rearranged and resealed so that what Carter encountered was virtually untouched. While it is written on a vaulting that the body of Tutankhamun is still in the sarcophagus, it was, in fact, removed from the stone coffin years ago and is exhibited in the same enclosure, but in a modern heated urn installed in the antechamber.
Obsession with the tomb
The tour begins with the climax of the discovery noted in Carter's diary, before delving into the background of the discoverer himself, who was a complex personality who never married and had no children. A photo shows him at the age of 19, the same age as Tutankhamun when he died. An 1892 letter from the great Egyptologist Flinders Petrie, who took him to Egypt, offers this insight: "His interest is in painting and natural history (…) He is of no use to me as an excavator."
There is then a space dedicated to "the long search" – a period that began after a proclamation in 1913 by excavation sponsor Theodore Davis that the Valley is exhausted; enter Carnarvon, who hired Carter, as he was obsessed with the idea that there was still a tomb to be found. It is thrilling to actually see a map drawn by Carter's own hand with the excavations between 1917 and 1922, when the tomb was not yet located, lying concealed beneath the remains of the ancient workers' huts from the neighboring tomb of Ramses VI. And then, the great moment of the discovery and the first actual foray into the tomb, around four o'clock in the afternoon on November 26, by Carter, Carnarvon, his daughter and several others.
A page from Carter's excavation diary contains the account of that Great Moment in his own handwriting. The hole in the door, the candle inserted, and Carnarvon asking: "Can you see anything?" The answer, Carter noted, was not the famous "yes, wonderful things" which he later claimed in subsequent records, but the less dramatic "yes, it's wonderful."
It was the beginning of an amazing scientific adventure that would last until December 1932, the 10 years it took to empty the tomb. Carnarvon died on April 5, 1923, without seeing the opening of the sarcophagus and the mummy of Tutankhamun, which was not examined until November 11, 1925. A letter from Carter to Egyptologist Alan Gardiner describes some of the emblematic artefacts observed in the antechamber: carts, beds with strange animal shapes, two life-size figures of guardians… "So far, it is Tutankhamun," he writes.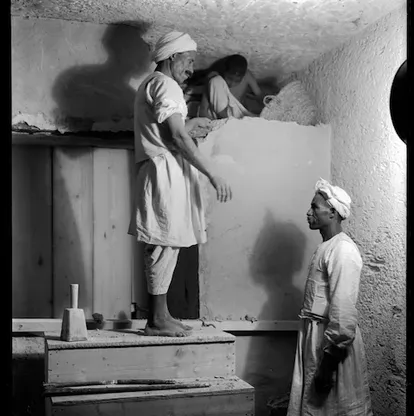 Burton's photos displayed in the exhibition are "the most famous archaeological images ever taken," and these, together with the drawings of the different rooms of the tomb and the artefacts as they were discovered transport us to the key moments of the discovery. The exhibition also explains the conservation challenges faced by the archaeologists and the solutions they came up with to preserve the objects. Then there is documentation of the complex system of rails used to transport the tomb's contents in wagons to the river to be shipped to the museum.
Particularly moving is a large portrait of an anonymous Egyptian boy photographed in 1927 by Burton wearing one of Tutankhamun's necklaces, demonstrating how it would have been worn. Years later, Hussein Abd el Rasul, a member of the local Qurna family, identified himself as the sitter. The exhibition points out that "many stories have been told about the image and who the boy was and his role in the excavation."
A group of Egyptian schoolchildren stopped in front of the photo the other day listening very attentively to the explanations of their teachers. Despite the lack of recognition for the Egyptians who worked on the tomb's excavation, some names have nevertheless been salvaged thanks to the gratitude Carter expressed in his writings, such as the name of the foreman, Ahmed Gerigar and his colleagues Gad Hassan, Hussein Abu Awad and Hussein Ahmed Said.
Besides criticizing the patronizing attitude toward the Egyptians involved in the excavation, the exhibition flags up the pursuit of profit, especially Lord Carnarvon's. It suggests that the origin of the famous curse on those tampering with the tomb mentioned in a delightful yellowed telegram in 1923 to "Carter Tutankhamun Thebes" from Dublin warning that if trouble continues he must reseal the tomb, was partly revenge by certain media angered by the aristocratic Carnarvon's exclusive contract with The Times.
Curses and criticism aside, public excitement at the find was such during the 1920s that it inspired a boardgame and a rash of songs. Meanwhile, the archive, which continues to be enriched and has been digitized for open access (www.griffith.ox.ac.uk), is invaluable to the study of the tomb's material, a work that Carter left unfinished.
For those whose appetite for "wonderful things" is not yet sated, the Ashmolean Museum close by houses an extraordinary collection of Egyptian antiquities, such as the large statues of the god of fertility Min who appears excited at the sight of a sensual bust of Antinous, Hadrian's lover who drowned in the Nile; an impressive stone head of a crocodile; the precious coffins and the mummy of the Theban priest Djed-djehuty-iuef-ankh and the Amarna pieces, which are closely linked to Tutankhamun as they represent his family, Akhenaten, Nefertiti and the princesses, as well as to people and places he saw during his lifetime. The ostraca collection compiled by Gardiner, who collaborated with Carter, is also on display there.
Hollywood: They have it all, and take it on the road, too: These are the luxury RVs of the stars | Culture
RVs have long been considered a fairly modest means of travel, an option that combines transportation and accommodation and that allows you to enjoy a more affordable vacation – bearing in mind that the comforts that they offer have little or nothing to do with those of a five-star hotel. However, this image has evolved in recent years, and the alternative of touring the world with your house in tow is gaining more and more followers, including some movie and music stars. Some use them for tourism and others to move between cities while they promote something or as a dressing room during shootings or tours, but they all have a few things in common: their enormous dimensions, their luxurious amenities and their million-dollar price tags.
At the beginning of July, all the details of Dolly Parton's mansion on wheels were released. More than an RV, this one is a bus. Dubbed Suite 1986, it is 45 feet long and Dolly has traveled more than 300,000 miles and visited more than 60 American cities in it. It houses all kinds of luxuries and personal belongings of the country music star — a display case for her wigs, a wide bed with pink velvet sheets, or a Parisian-inspired dressing table, among other things — and it is available to rent from $10,000, with a two night minimum stay. The Dollybus is part of the hotel complexes offered under the Dollywood label, the universe created in her image and likeness, which also includes a theme park inspired by Disney's Hollywood Studios in Florida, numerous hotels and spas and a water park.
Another celebrity who likes to have a traveling home is Jennifer Lopez. The Bronx Diva owns a 1,200-square-feet trailer that is valued at $2 million and, like Parton's, is also available to rent, for between $400 and $850 a night, when the singer is not using it. Its name is Baby Girl and, judging by the pictures, it has it all: in two spacious floors you can find amenities like a huge leather sofa, furniture made from materials like granite or marble, and all kinds of image and audio technologies, including everything from large TVs to state-of-the-art audio setups. An exclusive design by Anderson Mobile Estates, an American company specializing in this type of high-end vehicle, completely customizable to the customer's taste.
The same company built Will Smith's RV, known as The Heat, which the actor purchased in 2000 to use while filming. It is 55 feet long, has two floors and it is valued at 2.5 million dollars. It includes a projection room with a 100-inch screen and
capacity for thirty people, an ample lounge, a bathroom with sauna, first-rate materials like granite and leather, and technological devices everywhere.
Leonardo DiCaprio's RV does not fall far behind: it is 52 feet long, with four modules that can be extended to further expand the space. Of course, it includes all the necessary amenities, with eccentric details like two fireplaces and a large recycled glass shower valued at more than $40,000.
Justin Bieber's RV also has its fair share of eccentricities. In 2020, the Canadian singer purchased for $2.5 million a bus turned luxurious mansion that he takes on his tours and that he himself showed off in the American edition of GQ Magazine. Equipped to the last detail, it offers wonders such as underfloor heating, ceilings with LED lights, a steam shower, and an infrared sauna.
Other celebrities, after years of traveling with their house in tow, have decided to part with theirs. That is the case of Tom Hanks. The legendary actor auctioned off his RV last year: the trailer that was his home during the shooting of movies like Forrest Gump or Apollo 13 was sold for $235,200, an almost trivial figure when compared to those of his colleagues.
Among so much luxury on wheels, Chris Hemsworth's RV is also surprising for its modest dimensions. It was made by the Australian company Lotus Trooper, and it is equipped for all kinds of terrain. Despite its limited size, it includes things like Italian leather sofas and a designer kitchen; with this vehicle, the actor who brings Thor to life in the Marvel Cinematic Universe likes to enjoy family getaways, as he himself has shown on his social media.
Whether it is to go on road trips or as a place to rest between concerts or shootings, it is clear that the biggest music and movie stars cannot resist the opportunity to take all the comforts of home anywhere they go, preferably in rolling eccentricities that reinvent a concept popularized in the 1960s by the hippie movement – and look more fit for a Transformers movie than for an actual highway.
Writer Salman Rushdie attacked while giving a speech in New York | USA
Indian-born writer Salman Rushdie was attacked on Friday while giving a lecture in Chautauqua County, a town of about 140,000 inhabitants in western New York state. The first images of the event that have been shared on social networks show Rushdie on the floor, being attended by attendees and emergency services.
New York state police announced in a press release that the writer suffered an apparent stab wound to the neck, and was transported by helicopter to an area hospital. His condition is not yet known. An Associated Press reporter witnessed a man storm the stage at the Chautauqua Institution and begin punching or stabbing Rushdie as he was being introduced. The 75-year-old author was pushed or fell to the floor, and the man was restrained. The assailant has been arrested.
Rushdie's book The Satanic Verses has been banned in Iran since 1988, as many Muslims consider it blasphemous. A year later, on February 14, 1989, Iran's late leader, Ayatollah Ruhollah Khomeini, issued a fatwa calling for Rushdie's death. The theocratic Iranian regime also offered a reward of more than $3 million for anyone who killed the writer, who holds dual British and US citizenship.
Iran's government had long since distanced itself from Khomeini's decree, but anti-Rushdie sentiment has persisted. In 2012, a semi-official Iranian religious foundation raised the reward for Rushdie's death from $2.8 million to $3.3 million.
Rushdie, an English-language writer and perennial contender for the Nobel Prize in Literature, downplayed that threat then and said there was "no evidence" that people were interested in the reward. That year, Rushdie published a memoir, Joseph Anton, about the fatwa.
The 75-year-old author achieved international fame with the novel Midnight's Children, which was published in 1980 and won him the Booker Prize, the UK's most prestigious literary prize, the following year. The book sparked controversy in India for allegedly derogatory remarks towards the then prime minister of the country, Indira Gandhi.
With an overflowing imagination, his style has been compared to the magical realism of Gabriel García Márquez and Carlos Fuentes, among others. He himself has recognized on numerous occasions his important links with Latin American literature. His latest book Quixote (2020) adapts Cervantes' classic to the situation that the United States under the Donald Trump administration.