Empires Fall. Now It's America's Turn, and Russia Will Make It Happen
It's important for bullies to always win.  Because once their weakness is exposed they can no longer be bullies.
Empires don't start out as bullies.  They start out as the reaction to the last Empire which became a bully after embracing hubris over humility.
Empires have to resort to bullying near the end because they are fundamentally weak.  They all over-extend themselves through currency debasement which, in turn, degrades the cultural advantage the society had over the previous Empire.
Donald Trump knows how to bully with the best of them.  I go back and forth about his status as a bully, however.  He is a mercurial figure whose unpredictability is predictable.
I see him more as Loki than the typical bully.  In other words, it's probably fair to say that to Trump bullying is just another tactic.
So, as the head of the U.S., an Empire in the early stages of collapse, fundamentally weakened by two generations of empire building after the failure of Bretton Woods, Trump will bully his opposition because he knows that an Empire that is not feared is one that will soon be laughed at.
And when that happens, it's game over.
Trump understands that the U.S. can no longer afford to pay for the post-WWII institutional order.  Europe's been rebuilt but the EU is in the process of tearing it down for the sake of globalism.
And Germany is the one benefiting on our dime.
So, if you are opposed to the Empire, regardless of your politics, seeing Trump take it to the G-7 and, in particular, Germany should be welcomed.
Where you should be worried however, is how that same bullying is being turned on Russia and Iran.  In my latest article for Strategic Culture Foundation I remind everyone that none other than Mr. Realpolitik, Henry Kissinger, was advising Trump on Ukraine and Crimea in early 2017.
And after looking at the way Trump is prosecuting our relationship with Russia it's clear to me now Kissinger had a stronger influence on Trump than anyone thought.
As the Kremlin Turns
The Left still screaming about Russia collusion are themselves delusional.  Trump hasn't been secretly doing nice things for Putin behind everyone's back.  There's no coordination of policy between them.
I spent most of 2017 arguing with MAGA folks convinced that Trump and Putin were waging a secret war on the Deep State and the Neocons.  4-D chess arguments abounded.
When the reality was that while Trump and Putin keep in touch to ensure little direct conflict between the U.S. and Russian forces in Syria takes place, that is not evidence that Trump is soft on Russia in any way.
Not provoking a nuclear-armed country is not evidence of collusion, just functional brain cells.  A statement I can't make about most of Trump's critics this week.
This is an operating principle which governed this week's summit between Trump and North Korean leader Kim Jong-un as well.  Trump was smart to meet with Kim, who did outmaneuver the U.S. over the past five years, by achieving nuclear-armed status.
It forced the U.S. to the table and Trump, smartly, took the opportunity to save face and choose peace.
The same thing is not on the horizon with Russia today.
The Kremlin has moved on.  It would like a better relationship with Washington but it has no illusions about it happening.  To Putin's credit he has not ruled out speaking with Trump, but as Alistair Crooke points out today, there's little good reason for him doing so.
Trump has crossed so many lines with his Kissinger-inspired policy to force Russia to abandon its relationship with China through economic and political aggression that there's little to be gained by chatting about anything other than the weather.
Beware the Cauldron
To beat a bully you have to let him over-extend himself.  He has to feel confident of your passivity in the face of his aggression.  That means if you slap him in the face, he turns the other cheek.
If you attack his friends, he doesn't attack you.
For more than a year we've seen these things play out around the world vis a vis Russia in Syria and in Europe.  The attacks are both military, Syria and Ukraine, and financial, the Nordstream 2 pipeline.
I've detailed all of this at length over the past year.  Putin has taken so many shots to the chin that U.S. / Russian relations bear a great resemblance to the "Rumble in the Jungle" where Mohammed Ali let George Foreman punish him for round after round, expending himself in a futile attempt to knock Ali out.
And once Foreman's arms felt like lead and his legs like Jello, Ali struck so hard and so fast that he stunned the world.
Russian military strategy is dominated by this type of thinking.  Lure your opponent in. Create a weak spot and allow him to attack it over and over.  Invite the chaos.  Allow him to think he is winning.
So here's where we are today:
If Trump is successful in getting Germany to cower before his sanctions regime that will, in turn, put Iran under heavy pressure financially and socially.
That may yet lead to a formal withdrawal of IRGC Quds forces from Syria.  Yet another win.
But, it will only happen if the U.S. leaves the border crossing at Al-Tanf.  Small pirce to pay.
Germany's government is on increasingly shaky grounds as AfD are making her life miserable in the Bundestag and her partner Horst Seehofer of the CSU, as Interior Minister is openly defying her over migrant policy.  
The U.S. negotiates a deal with Turkey to control Manbij, possibly to undermine Russia's relationship with Erdogan, keeping the Turks in Syria to complicate peace talks.
Military conflict in Ukraine likely in the next few weeks with the UAF attacking the Donbass and an incident in the Sea of Azov.
This supports a failing Poroshenko government in trouble before the election and sucker Putin into direct support which can justify more sanctions and keeping the EU on board because of "Russian Aggression" and "Not supporting the Minsk process."
Trump is openly tying sanctions and trade normalization with the Nordstream 2 pipeline in brazen mafia-style negotiating tactics further complicating Merkel's life.
Five more Russian companies were sanctioned this week over 'cyber attacks.'
He's openly threatening major multinationals who do business in the U.S. for being a part of Nordstream 2.
I think you get the point.  I could go on for another page or two.
Closing the Trap
The point is that this is classic bullying behavior.  Trump is pot-committed, as poker-players say, to this policy.
Once you start with sanctions and threats, you can't stop.  It's go all the way or have your bluff called.  With Europe Trump holds aces.  They are dependent on the U.S. and their weakness will be the U.S.'s gain over the next year or two.  Europe's sovereign debt crisis will explode and the U.S. will see massive foreign in-flows.
It'll be a massive win but it won't be the win.  And in winning over Europe it sets him up for the big loss; the fight for the Middle East and Eurasian integration.
His gambit with Russia and Iran becoming an all-or-nothing proposition.  Trump has just about pushed all-in.  Russia/Iran/China's passivity has emboldened him. The fecklessness of the Obama administration creating dumpster fires in Ukraine and Syria, however, handed him bad cards and a dwindling stack.
He hasn't won a hand in the Middle East yet.  Sure he's made headlines but Putin, Rouhani, Nasrallah and Assad have won all the skirmishes that matter.  Any wins Trump has gotten were easy ones to pick up.  The framework for a deal has always been the same.  And no amount of Kissinger-style complications were going to change them.
Iran no more wants to stay in Syria than Putin wants to intervene in The Donbass. So, getting Iran out of Syria is easy.  All Trump has to do is leave.  Israel won't like it, but it won't be their decision.  Putin made that clear to Netanyahu when he visited Moscow.
The Kurds are the ones to make that decision for Trump, now that they are openly negotiating with Damascus after Trump backstabbed them over Manbij.
Without the support of the Kurds, the U.S. cannot stay in Syria at all.
So, when we reach the showdown hand Trump won't have aces.  And the classic Russian cauldron will collapse in around him.  And losing there will be the end of the U.S. empire abroad.
And the world will rejoice.
Star Wars: George Lucas's futuristic ark reveals its first mysteries | Culture
In the south of Los Angeles, an imposing building has been rising over the city for five years. It stands directly in front of the Natural History Museum, an essential tourist stop in Exposition Park, where visitors can also see the space shuttle Endeavor. Starting in 2025, the great attraction of the area promises to be the Lucas Museum of Narrative Art.
The name of George Lucas, the creator of Star Wars and Indiana Jones who became a patron of art together with his wife, the financier Mellody Hobson, influences the viewer's sense of the building. It is made up of a flattened sphere that is joined by a bridge to a huge oval, overlooking the University of Southern California – which the American Graffiti filmmaker attended. The museum's grounds occupy almost four and a half hectares, and to many people it looks like a spaceship landed in its midst.
But the museum team is quick to refute the popular impression. "It's the foliage of a tree," said Sandra Jackson-Dumont, director and CEO of the institution, a few days ago to a group of journalists who visited the work, including EL PAÍS. Ma Yansong, the architect responsible for the design, was reportedly inspired by the tall trees in Exposition Park. His office, MAD Architects, proposed a huge pavilion that leads into a space designed to unite the community in this lower-middle-class residential area where 70% of residents are Black or Latino. To emphasize the botanical reference, the project foresees planting 200 trees throughout the area.
This week, workers put up the more than 1,500 curved fiberglass panels that will give the building a futuristic look. They have been specially manufactured in northern California by robots; 15% of the façade is occupied by solar panels, which will help reduce the center's environmental impact. Jackson-Dumont, who worked at the Met in New York for five years before coming to the West Coast, proudly noted that there is no single straight line inside the Lucas Museum.
The idea for the museum was born in 2014. That year, Lucas and Hobson launched a competition to design a center that would be located in Chicago, where Hobson has great power thanks to the investment fund she chairs, Ariel, which has a budget of $16 billion. But a problem with the land forced the couple, who married in 2013, to look for a new location. They found it a few meters from the L.A. Coliseum, which has been the home of two Olympic Games and two Super Bowls.
After five years under construction and a $1 billion investment, the center has begun an aggressive public relations campaign to remind the public that the project did not fizzle out with the pandemic. It has simply been delayed once again. The opening date has been pushed back from 2022 to 2023 and now from 2023 to 2025. This week, the team held press events and conferences in New York with members of the art world to build buzz. In addition to the founders, the board of directors of the institution includes Henry Bienen, president emeritus of Northwestern University; sociologist Arne Duncan, who was Secretary of Education during the Obama Administration; Michael Govan, the director of the Los Angeles County Museum (LACMA); Andrea Wishom, the president of Skywalker Holdings, Lucas's real estate company; and filmmakers Steven Spielberg and Guillermo del Toro.
The board has recently revealed some of the works that have been added to the catalog. Among them is a painting by Robert Colescott, a subversive painter whose work is full of sarcasm and irreverence. The canvas, owned by Lucas and Hobson, shows a black George Washington crossing the Delaware. All those who appear in the painting are African American, a comment by Colescott on the absence of Black people in the historical landmarks of the United States.
The director of the museum believes that there will be no permanent collection once the museum opens its doors. Her idea is that the works will be rotated within the museum. Before their marriage, Lucas and Hobson were already art collectors. She was mainly interested in works by African-American artists such as Norman Lewis and Kara Walker. Lucas's forte was American art, graphics, comics and illustrations. After their union, they began looking for pieces that interested them both, such as canvases by the 1980s and 90s New York phenomenon Jean-Michel Basquiat, and the photorealistic works of Chuck Close.
A space dedicated to narrative art can sound confusing, and it is. The museum's treasures include objects as disparate as pieces made 2,200 years ago in Egypt, mosaics from the Roman Empire, the post-war works of Normal Rockwell, African art, a replica of Velázquez's "Las Meninas" made 200 years later by John Singer Sargent, photojournalism by Dorothea Lange, a self-portrait by Frida Kahlo, a mural by Judith Baca, Ralph McQuarrie's art designs from the Star Wars movies and Marvel comics by Robert Crumb, star of the American underground cartoon.
"Our intention is to erase the borders between culture and popular art," says the director. The museum will also have two exhibition halls with capacity for 300 people. One end of the building will include a library open to the public with the entire archive of Lucasfilm, the production company that the filmmaker sold to Disney in 2012 for $4 billion. Lucas and Hobson also bought the Separate Cinema archive two years ago, which includes 37,000 objects linked to the history of film noir ranging from 1904 to 2019.
Portofino mayor offers residents €400 to offset energy bills
And with far-right leader Giorgia Meloni promising to abolish a poverty relief scheme if she wins Sunday's general elections, he fears things will only get worse.
"There will be a flood of people here," he warned as he handed out food at the San Francesco kitchen, not far from Salerno's palm-lined seafront, south of Naples.
The eurozone's third largest economy is suffering a cost-of-living crisis exacerbated by Russia's war in Ukraine.
READ ALSO: Soaring energy prices push Italy's inflation to 37-year high
But as usual it is Italy's south, long plagued by poverty and unemployment which feels it hardest.
"I pay rent, the electricity bill, and then I've got nothing left for food," said 60-year-old Antonio Mela, a former barman who lives with his brother on a 500-euro state pension.
"Everyone is struggling here," he told AFP, as he took servings of pasta, pork and potatoes, and fruit.
Energy is a major concern in a country reliant on Russian gas, particularly here, in the Campania region.
According to the Italian Poverty Observatory, the region has the greatest number of people struggling to pay electricity and gas bills.
EXPLAINED: How much are energy bills rising in Italy?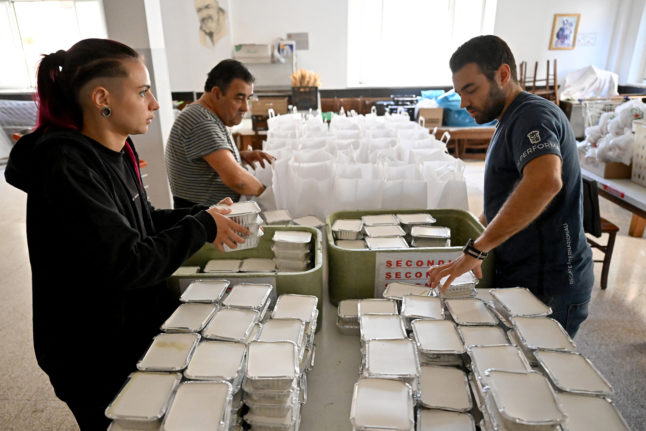 Volunteers prepare food at Mario Conte's San Francesco soup kitchen on September 20, 2022 in Salerno. Photo by Alberto PIZZOLI / AFP.
– Citizens' income –
Rocco Papa, a spokesman for the Catholic Caritas charity which helps run the kitchen, said there was a "chronic" lack of work in Salerno, where one in 13 people are at risk of extreme poverty.
"The bringing together of many factors, the pandemic, the war, has seriously aggravated the situation," he said.
While this is a familiar story across Europe, Italy, with its low-skilled and rapidly ageing population, is unique.
It was the only EU country where inflation-adjusted wages fell between 1990 and 2020, according to the Organisation for Economic Cooperation and Development (OECD).
EXPLAINED: What is Italy doing to cut the rising cost of living?
It is also one of just six EU countries without a national minimum wage, having instead, since 2019, the so-called "citizens' income".
Nearly 2.5 million people claim this benefit for the jobless, which works out on average at 550 euros a month, costing the state 8.3 billion euros this year.
The majority – 1.7 million people – live on Italy's islands or in the south, a region with a large shadow economy and where 10 percent of households live in absolute poverty.
But the benefit has been targeted by fraudsters, and some employers say it makes it impossible for them to find staff. They accuse young people of preferring to pocket easy money for sitting at home.
These payments have become one of the electoral campaign's most divisive issues, to the point that Meloni's far-right Brothers of Italy party, which led the last opinion polls, has vowed to ditch the scheme outright.
READ ALSO: Italian elections: The main campaign pledges made by Italy's political parties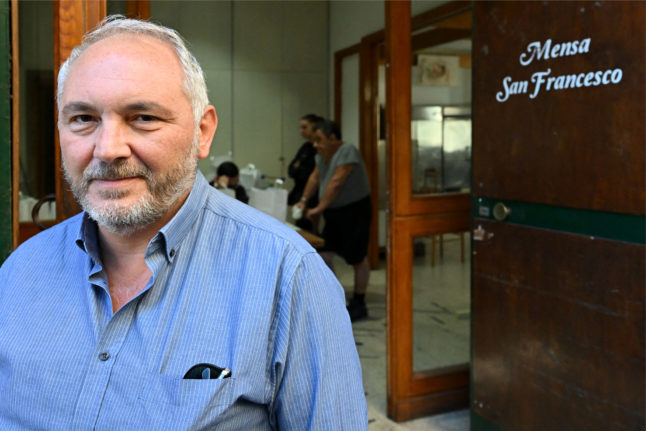 – War on poverty –
"The citizens' income helped hugely," 70-year-old Conte said. For a while, many guests stopped coming.
Rising prices have brought new faces to his door, however: from divorced dads to struggling carers, whose badly paid, off-the-books work is no longer enough.
The number of people using soup kitchens in Salerno has doubled over the past few months, while a Caritas-run canteen in Castellammare outside Naples has seen a three-fold increase.
Conte feeds an extra 10 families with young children each morning.
This benefit was the brainchild of the populist Five Star Movement, which swept to power four years ago after winning big in the south.
Now trailing the right in the polls, Five Star has vowed to make the income "more efficient", to bring in a minimum wage and to tackle the gender pay-gap.
The centre-left Democratic Party (PD) also wants to keep a reformed version of the benefit. It has pledged similar other anti-poverty measures as well as with 500,000 new council houses and free school meals.
READ ALSO: Italy plans to scrap VAT on bread and pasta amid cost of living crisis
– Favouring jobs –
But for Meloni, the citizens' income is not the solution.
Poverty, she told a rally in Palermo, Sicily this week, "is fought by favouring growth and jobs".
She proposes instead a benefit for those most at risk: disabled people, the over 60s, and struggling families with small children.
Her right-wing coalition, which brings together the anti-immigrant League and right-wing Forza Italia, has also promised tax cuts to boost growth.
The last available polls suggest Five Star and the Democratic Party's support for the citizens' income may once again be winning votes in the south – although not everyone here backs it.
"Young people have to work," said Mela, as he collected his food from the San Francesco kitchen. "It should be for families, not 30-year-olds.
"And they have to check who's cheating and who's not."
Music: Coldplay: Why such an irritating band can fill more venues than any other on the planet | Culture
Mick Jagger doesn't hate Coldplay. A few weeks ago, the Rolling Stones singer published a video on his Instagram account showing him in the upper stands of London's Wembley Stadium, waving his arms to the sound of the Coldplay anthem Fix You. Like the other 80,000 members of the audience, Jagger wore on his wrist a xyloband, the light bracelet that the British quartet has invented for their concerts. The image was startling. "Jagger listening to Fix You at Wembley and keeping the tears at bay," someone said on Twitter ironically, referring to the tear-jerking effect of listening to the piece. "Mick Jagger doesn't care if you know he loves Coldplay," the music medium Loudwire titled a piece of information about the video, noting that it's a bit embarrassing to declare passion for the music of the British quartet.
Put the words "hate + Coldplay" in Google or YouTube search engines and you will find dozens of articles on the subject. Music critics and aficionados can't stand them. A few years ago, The New Yorker published an article titled Why I Don't Like Coldplay and The New York Times critic Jon Pareles, left this phrase for history: "The most insufferable band of the decade."
But Coldplay is the biggest pop band of the moment. No one can come close to their concert numbers. After a hugely successful UK tour, the band will embark on a world tour in 2023. The 200,000 tickets for the band's four concert dates in Barcelona sold out in a matter of hours, and in Argentina, Coldplay is expected to perform to over half a million people during the 10 days they will be at River Plate stadium. We are talking about tickets that cost upwards of €105. And yet, Coldplay's music is hated just as much as it is loved. What have the British quartet done wrong?
Alexis Petridis, music critic for the British newspaper The Guardian and one of the most influential pop music specialists in Europe, ends his furious analysis of the band's latest album, Music of the Spheres (2021), with this criticism: "There must be more worthy ways to stay on top." His theory is that the quartet is obsessed with success and after commercial slips in the past, have decided to play it safe. How? By working the numbers. They selected artists with the most social media followers and platform listeners and went out of their way to have them on the record. Hence, the presence of Selena Gomez and Korean pop stars BTS.
It's an interesting theory, one that echoes similar criticism from Alfonso Cardenal, the host of the Sofá Sonoro music program on Spain's Cadena SER radio network. "Coldplay is a band that was aiming for an independent side, so to speak, but the unexpected success of their first album [Parachutes, 2000] turned them into stars, and they decided to stay there by performing commercial pop. Radiohead had the chance to do the same after the huge success of Creep, but preferred experimentation."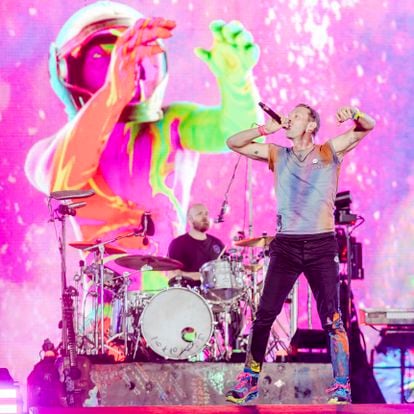 It is worth highlighting what Coldplay critics find annoying about the band's music: the excess of positivity, songs composed with the aim of being played in stadiums, saccharine melodies, the forced feelgood vibes and the lack of imagination – and this doesn't just apply to their early songs. And hence the jokes: Coldplay is perfect music for a wedding, indie music for people who don't like indie… Lanre Bakare is The Guardian's arts and culture correspondent. When asked by EL PAÍS about why some people have a problem with Coldplay, he says it's because the band is seen as too commercial. "Those looking for challenging music are put off by Coldplay's level of success. It is for the same reason that many hate U2, which I think is a group with certain similarities to Coldplay. Also, Coldplay's tendency to fall into sentimentality is off-putting to some. But the truth is that the mass public wants music that can soundtrack the ups and downs of their lives, and their songs are perfect in that regard," he says.
Gustavo Iglesias, from Spain's Radio 3, also defends the band: "Given Coldplay's massive success, it's easy to attack them and say that they have sold out or lost their dignity. But if you look at their career, their recent albums haven't been so bad. Music of the Spheres won't be an important work in the future of popular music, but I don't see it as an atrocity either, as much of the critics have said."
Critics of the band also criticize lead singer Chris Martin for his meekness as a rock star. He doesn't brag about vices, he grinds at the gym and always has a smile on his face. But this is exactly what Shuarma, the leader of the Spanish group Elefantes, likes about him. "Chris Martin is simple, nothing fancy or eccentric. His power is that naturalness. I think it's a time when the music culture is closer to the normal person than the rock star," he tells EL PAÍS. "Music has taken a turn: records are no longer sold and music programs and magazines are no longer so influential. There are no more rock stars, the ones that survive are the ones from yesteryear."
Shuarma admits he is more interested in Coldplay's early music than their latest albums. "However, they continue to do wonderfully now as well. They have a tremendous compositional capacity and energy. And collaborating with artists from different styles, as they have done with BTS or Selena Gomez, I think it enriches the music." Bakare agrees with Shuarma about Martin. "He's a new kind of pop star, less cool, but who connects on an emotional level and people can relate to. Chris Martin is a nerd who grew up an evangelical Christian. And it has paved the way for musicians with similar profiles, such as Ed Sheeran and Lewis Capaldi."
It is true that Coldplay has been a stadium band for years, but now it has exceeded expectations. "Nobody can doubt its pull, the figures are tremendous. The images of the Wembley concerts have raised a lot of expectations," says Cardenal. "Some are not fans of Coldplay, but are drawn to the show. It is also a concert which is considered an 'event to be at.' There are a lot of influencers, people taking photos for Instagram. They are fashions that bring together part of the population that wants to involved in what's being talked about." And there are the songs, of course, with the rousing choruses that work perfectly for large audiences.
We asked a college student who spent a morning in the virtual queue for Barcelona concert tickets why she wanted to see them. Blanca Liceras, a 23-year-old from Madrid: "I'm not a big fan of the group and I've barely listened to their latest album, but I decided to buy a ticket after seeing the videos of other concerts on social media: the lights, the different settings, how much fun people seem to have…."
The members of Coldplay met at university in the 1990s and moved to London full of ambition. "We wanted to meet musicians, the people with whom we were going to conquer the world," they have reported on occasion. When Britpop (Oasis, Blur, Suede) was beginning its decline, a new generation of British musicians appeared who turned down the volume of the guitars, introduced the piano and spoke of melancholy love. It was the early 2000s. Coldplay, Travis, Keane and Snow Patrol were appearing at the top of the charts.
Of all of them, only Coldplay are capable of reaching large audiences today, partly due to their willingness to be a commercial pop group. Iglesias finds their evolution "quite honest, they have never tried to be an arty or sophisticated group." Bakare points out: "They are fundamentally a commercial band that sometimes surprises us by winking at Kraftwerk. I always remember Noel Gallagher [Oasis] saying that Coldplay wrote songs for 'children who wet the bed.' The truth is that they make songs that connect with people on an emotional level, that's why they perform in Spain and fill stadiums and Noel doesn't."