Electric cars: How nations sitting on lithium reserves are handling the new 'white gold' rush | Economy and Business
The economic outlook for Latin America is not great. Before the Covid-19 pandemic hit, the region was already losing momentum and multilateral organizations and analysts were warning that governments would have to change their policies if they were to boost development.
Lithium represents an opportunity to turn the region's prospects around. A mineral with high electrical conductivity, it is essential for producing the batteries that will enable the world to cut its dependence on fossil fuels and migrate to cleaner renewable energies. Bolivia has the largest reserves in the world. The Bolivia-Argentina-Chile " lithium triangle" accounts for 63% of the planet's reserves. Peru and Mexico are in possession of a further three million tons or thereabouts. Lithium is, for big investors, the brightest star on the Latin American map.
The energy transition has come at a time when nationalism is on the rise in these countries. In recent months, efforts have been made to bring production under state control, a move that many citizens favor. Many others oppose it because of environmental concerns. Lithium is called "white gold" because of its market value and its silver hue. In English it is known as "white oil," a subtle but telling difference. For Latin Americans, lithium is a precious mineral like gold and silver, both of which have been exploited in their region since colonial times. But in Anglo culture the mineral is viewed as an enhancer, a natural resource that will be transformed into something else, a step in the value chain.
The price of lithium on the international market rose approximately 80% in 2021, according to a Bloomberg index. Just four years ago, another analysis by Bloomberg predicted that by 2040 more than half of all car sales in developed countries would be electric vehicles. However, a more recent study by the consulting firm KPMG, published in November last year, cut this forecast by 10 years. According to KPMG, 52% of car sales will be electric by 2030. More than 1,100 auto industry executives in 31 countries estimated that the sector will undergo a "radical transformation" in the next five to 10 years.
The world is moving rapidly in this direction and the need for lithium feels urgent, as if the window of opportunity could close at any moment. For years, Chile has depended on private investment to extract and process the mineral. Chile's president, Sebastián Piñera, who leaves office on March 11, announced the award of two production quotas of 80,000 tons of lithium each to two companies last month, one funded by Chinese capital and the other by Chilean capital. The announcement was controversial as the leftist president-elect Gabriel Boric won the election with a plan to create a national lithium company and implement a "new governance" of the salt flats containing the mineral's reserves. Boric also promised that all communities in Chile, regardless of their location, would have access to water, a necessary resource for mining. Piñera's contracts are now in legal limbo after being suspended by an appeals court.
The days of the current model might be numbered in any case. On February 1, Chile took an initial step toward nationalizing some of the world's largest copper and lithium mines as Congress approved a proposal to give control to the state. The vote was part of the process of drafting a new Constitution. Currently, the Constitution prohibits the nationalization of these resources.
In Mexico, where reserves have the potential to exceed the US Geological Survey's estimates of 1.7 million tons, President Andrés Manuel López Obrador has proposed something similar. As part of a bill to reform the energy sector, López Obrador is planning to nationalize lithium and create a state institution to control its processing. Unlike Chile, lithium production in Mexico has been limited to a single contract with a Chinese company, which to date, has not extracted a single gram of lithium carbonate. Experts point out that the government does not have the resources to create a state-owned company. Mexico is, therefore, idling in another kind of limbo.
In Peru, Pedro Castillo's government is seeking to modify an existing contract with the Canadian company American Lithium Corp so that the mineral is exported with added value, according to a pro-Castillo lawmaker's statements to local media. In other words, the state wants companies operating in Peru to do more than just extract and refine the lithium for export, but to also invest in factories to transform the lithium into a product with a higher market value, generating more and better-paid jobs.
Argentina is, to some extent, the exception. There, exploration rights are in the hands of the provinces and President Alberto Fernández's government has sought to promote the country's reserves worldwide. In 2020, Fernández set out to increase annual lithium carbonate production by 700% to 230,000 tons by the end of this year. This will require an investment of more than $1 billion by the private sector. During Fernández's visit to China at the beginning of February, government officials revealed that Argentina is negotiating with the Chinese to establish new investments, including plans to set up a battery factory.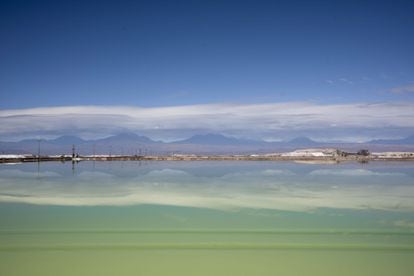 While Argentina is moving up a gear, Bolivia appears to be taking its time. Because of the unparalleled size of its reserves, this is the country that investors have the keenest eye on, but the mineral has already generated conflicts. In 2019, President Evo Morales announced that the German company ACI Systems would invest nearly $1.3 billion to exploit a large slice of its lithium reserves. Just weeks later, a major political crisis paralyzed the negotiations and Morales was forced to flee the country.
In July 2020, a Twitter user confronted Elon Musk, head of leading electric vehicles manufacturer Tesla, claiming that the "US organized a coup in Bolivia" just so that Musk could have access to the country's lithium. "We will coup whoever we want! Deal with it!" replied the entrepreneur in a tweet that soon disappeared; the only remaining record of it are screenshots in newspaper reports. The quip gave Morales the perfect hook to link the control of lithium to his administration's demise. Last year, during a visit to Mexico, the former president argued that the mineral should be in the hands of individual countries rather than the private sector. "We decided, as a country, to industrialize lithium," he said in statements in which he also criticized Tesla. "We hired experts… and we started the great industry and then came the coup. American congressmembers have recognized that the coup was over lithium."
In November 2020, Luis Arce, an ally of Morales, became president of Bolivia and embarked on a different approach. First, he organized a public event, a kind of fair, to attract domestic and foreign enterprises interested in investing. Subsequently, eight companies from the US, China, Russia and Argentina were selected and allowed to pilot test the extraction technology. In April, a technical group from the state-owned Yacimientos de Litio Bolivianos is expected to decide which companies should receive contracts. Among the factors to be considered are mineral recovery percentage, environmental impact and community protection, explains Diego von Vacano, a professor at the Texas A&M University in the US and an informal advisor to Luis Arce's government.
According to Von Vacano, the technical group is independent and made up of professionals in the field, two indigenous women and two men. Lithium mined from brine, as is the case in Bolivia, has a lower impact on the environment than lithium mined from solid sediment, as is the case in Mexico. However, it is still mining, which affects the ecosystem. "Bolivia does not want to repeat the mistakes that have been made; for example, the damage to the environment seen in Chile," says Von Vacano.
While Argentina is moving up a gear, Bolivia appears to be taking its time
"Throughout the history of colonialism, specifically with regard to mining, literature often describes mines as dead or uninhabited landscapes, devoid of life – a concept that in Latin is called terra nullius, or, no man's land," says Thea Riofrancos, an associate professor of political science at Providence College, Rhode Island, in the US. "In fact, that's not the case." Riofrancos recalls the first time she visited Chile's reserves in 2019. "I was amazed by the desert in many ways," she says. "The salar [a salt-encrusted depression] is like a grayish-white expanse that stretches as far as the horizon and seems endless. There are flamingos, and, if you're lucky, you can see beautiful birds of prey."
The Atacama Desert in Chile is incredibly arid and has high levels of ultraviolet radiation. According to a group of academics, it is "one of the harshest environments on Earth" and could hold the key to surviving global warming. In a paper published in the journal Proceedings of the National Academy of Sciences of the United States of America in November, a group of 27 scientists advocated preserving the desert to conduct scientific research, pointing out that "as a natural laboratory, Atacama is unparalleled for studying plant adaptation to extreme environmental conditions."
Historically, the southern hemisphere has provided the global economy with its raw materials, though its people have not benefited, says Riofrancos. "The case of Bolivia is extremely dramatic because the origins of Spanish imperialism lie in the Potosí mines," she explains. "The country has provided the world with minerals from silver to tin, as well as natural gas and agro-exports and now the prospect of lithium."
Perhaps that is why the Arce administration is handling the progress of the pilot program with discretion. Bolivia's Ministry of Hydrocarbons and Energy did not respond to questions from EL PAÍS about the estimated potential of this industry in terms of gross domestic product. Revenues will be subject to price fluctuations on the international markets, which is why there is already talk in Argentina and Bolivia of creating a lithium cartel similar to the Organization of Petroleum Exporting Countries (OPEC), which imposes production quotas to prevent oil prices from plummeting.
"We are working against the clock," says Von Vacano, who adds that "it is urgent to push lithium faster" because, otherwise, investors will look to sink their money into other countries. The revenue gained from lithium can be plowed back into local communities as is done in Norway and Qatar, Von Vacano points out. "This can be very positive. It can be a royalty model that benefits not only the regions of Potosí and Uyuni but also the rest of the country. This is money that can be used for education and health. It could transform the country completely."
A populist ex-premier who opposes support for Ukraine leads his leftist party to victory in Slovakia | International
A populist former prime minister and his leftist party have won early parliamentary elections in Slovakia, staging a political comeback after campaigning on a pro-Russian and anti-American message, according to almost complete results.
Former Prime Minister Robert Fico and the leftist Smer, or Direction, party had 22.9% of the votes, the Slovak Statistics Office said early Sunday after counting 99.98% of the ballots from some 6,000 polling stations.
Fico said he was ready to open talks with other parties on forming a coalition government as soon as President Zuzana Caputova asks him to do so. "We're here, we're ready, we've learned something, we're more experienced," he said.
"We have clear ideas, we have clear plans," Fico said. "We know what exactly the government should do."
Saturday's election was a test for the small eastern European country's support for neighboring Ukraine in its war with Russia, and the win by Fico could strain a fragile unity in the European Union and NATO.
Fico, 59, has vowed to withdraw Slovakia's military support for Ukraine in Russia's war if his attempt to return to power succeeds.
"People in Slovakia have bigger problems than Ukraine," he said.
The country of 5.5 million people created in 1993 following the breakup of Czechoslovakia has been a staunch supporter of Ukraine since Russia invaded last February, donating arms and opening the borders for refugees fleeing the war.
Slovakia has delivered to Ukraine its fleet of the Soviet-era MiG-29 fighter jets, the S-300 air defense system, helicopters, armored vehicles and much-needed demining equipment.
The current caretaker government is planning to send Ukraine artillery ammunition and to train Ukrainian service members in demining.
Winning approval for sending more arms to Ukraine is getting more difficult in many countries. In the U.S. Congress, a bill to avert a government shutdown in Washington, D.C., excluded President Joe Biden's request to provide more security assistance to the war-torn nation.
In other countries, including Germany, France, and Spain, populist parties skeptical of intervention in Ukraine also command significant support. Many of these countries have national or regional elections coming up that could tip the balance of popular opinion away from Kyiv and toward Moscow.
With no party winning a majority of seats in Slovakia, a coalition government will need to be formed.
The president traditionally asks an election's winner to try to form a government, so Fico is likely to become prime minister again. He served as prime minister in 2006-2010 and again in 2012-2018.
A liberal, pro-West newcomer, the Progressive Slovakia party, was second, with 18% of the votes.
Its leader Michal Simecka, who is deputy president of the European Parliament, said his party respected the result. "But it's bad news for Slovakia," he said. "And it would be even worse if Robert Fico manages to create a government."
He said he'd like try to form a governing coalition if Fico fails.
The left-wing Hlas (Voice) party, led by Fico's former deputy in Smer, Peter Pellegrini, came in third with 14.7%. Pellegrini parted ways with Fico after the scandal-tainted Smer lost the previous election in 2020, but their possible reunion would boost Fico's chances to form a government.
Pellegrini replaced Fico as prime minister after he was forced to resign after major anti-government street protests following the 2018 killing of journalist Jan Kuciak and his fiancee.
Pellegrini congratulated Fico on his victory but said that two former prime ministers in one government might not work well.
"It's not ideal but that doesn't mean such a coalition can't be created," he said.
Another potential coalition partner, the ultranationalist Slovak National Party, a clear pro-Russian group, received 5.6%.
Those three parties would have a parliamentary majority if they joined forces in a coalition government.
Fico opposes EU sanctions on Russia, questions whether Ukraine can force out the invading Russian troops and wants to block Ukraine from joining NATO.
He proposes that instead of sending arms to Kyiv, the EU and the U.S. should use their influence to force Russia and Ukraine to strike a compromise peace deal.
Fico's critics worry that his return to power could lead Slovakia to abandon its course in other ways, following the path of Hungary under Prime Minister Viktor Orbán and to a lesser extent of Poland under the Law and Justice party.
"It can't be ruled out that he will be looking for a partner who uses similar rhetoric, and the partner will be Viktor Orbán," said Radoslav Stefancik, an analyst from the University of Economics in Bratislava.
Orbán welcomed Fico's victory.
"Always good to work together with a patriot," he posted on X, the former Twitter. "Looking forward to it!"
Hungary has been sanctioned by the EU for alleged rule-of-law violations and corruption, while EU institutions say Poland has been on a slippery slope away from the EU's rule-of-law principles. Fico has threatened to dismiss investigators from the National Criminal Agency and the special prosecutor who deals with the most serious crimes and corruption.
Hungary also has — uniquely among EU countries — maintained close relations with Moscow and argued against supplying arms to Ukraine or providing it with economic assistance.
Fico repeats Russian President Vladimir Putin's unsupported claim that the Ukrainian government runs a Nazi state from which ethnic Russians in the country's east needed protection. Ukrainian President Volodymyr Zelenskyy is Jewish and lost relatives in the Holocaust.
Known for foul-mouthed tirades against journalists, Fico also campaigned against immigration and LGBTQ+ rights.
The populist Ordinary People group, the conservative Christian Democrats and the pro-business Freedom and Solidarity also won seats in parliament while the far-right Republic failed to do so.
Sign up for our weekly newsletter to get more English-language news coverage from EL PAÍS USA Edition
Slovakia election pits a pro-Russia former prime minister against a liberal pro-West newcomer | International
Voters in Slovakia cast ballots Saturday in an early parliamentary election that pits a populist former prime minister who campaigned on a pro-Russia and anti-American message against a liberal, pro-West newcomer.
Depending on which of them prevails, the election could reverse the small eastern European country's support for neighboring Ukraine in the war with Russia, threatening to break a fragile unity in the European Union and NATO.
Former Prime Minister Robert Fico, 59, and his leftist Smer, or Direction, party have vowed to withdraw Slovakia's military support for Ukraine in Russia's war, if his attempt to return to power is successful.
Smer's main challenger is Progressive Slovakia, a liberal party formed in 2017 and led by Michal Simecka, 39, a member of the European Parliament.
Referring to his rival, Fico said Saturday he wished his country would not be run by "amateurs" without experience in politics.
Fico, who served as prime minister from 2006 to 2010 and again from 2012 to 2018, opposes EU sanctions on Russia, questions whether Ukraine can force out the invading Russian troops and wants to block Ukraine from joining NATO.
He proposes that instead of sending arms to Kyiv, the EU and the U.S. should use their influence to force Russia and Ukraine to strike a compromise peace deal. He has repeated Russian President Vladimir Putin's unsupported claim that the Ukrainian government runs a Nazi state.
Fico also campaigned against immigration and LGBTQ+ rights and threatened to dismiss investigators from the National Criminal Agency and the special prosecutor who deal with corruption and other serious crimes.
Progressive Slovakia sees the country's future as firmly tied to its existing membership in the EU and NATO.
The party vowed to continue Slovakia's support for Ukraine. It also favors LGBTQ+ rights, a rarity among the major parties in a country that is a stronghold of conservative Roman Catholicism.
"Every single vote matters," the party's head, Michal Simecka, said on Saturday.
Popular among young people, the party won the 2019 European Parliament election in Slovakia in coalition with the Together party, gaining more than 20% of the vote. But it narrowly failed to win seats in the national parliament in 2020.
No party is expected to win a majority of seats Saturday, meaning a coalition government will need to be formed. The party that secures the most votes typically gets the first chance to put together a government.
Polls indicate that seven or eight other political groups and parties might surpass a 5% threshold needed for representation in the 150-seat National Council.
Among them is the left-wing Hlas (Voice), led by Fico's former deputy in Smer, Peter Pellegrini. They parted ways after Smer lost the previous election in 2020 but their possible reunion would boost Fico's chances to rule.
"It's important for me that the new coalition would be formed by such parties that can agree on the priorities for Slovakia and ensure stability and calm," Pellegrini said after voting in Bratislava.
The others include the Republic, a far-right group led by former members of the openly neo-Nazi People's Party Our Slovakia whose members use Nazi salutes and want Slovakia out of the EU and NATO.
Sign up for our weekly newsletter to get more English-language news coverage from EL PAÍS USA Edition
"The Creator": A Glimpse Into A Future Defined By Artificial Intelligence (AI) Warfare
By Cindy Porter
In "The Creator" visionary director Gareth Edwards thrusts us into the heart of a dystopian future, where the battle lines are drawn between artificial intelligence and the free Western world.
Set against the backdrop of a post-rebellion Los Angeles, the film grapples with pressing questions about the role of AI in our society.
While the narrative treads familiar ground, it is timely, given the rising prominence of artificial intelligence in our daily lives.
A Fusion of Genres
Edwards embarks on an ambitious endeavor, blending elements of science fiction classics with contemporary themes.
The result is a cinematic stew reminiscent of James Cameron's "Aliens" tinged with shades of "Blade Runner" a dash of "Children of Men," and a sprinkle of "Akira" This concoction, while intriguing, occasionally veers toward familiarity rather than forging its own distinct identity.
Edwards' Cinematic Journey
The British filmmaker, known for his foray into doomsday scenarios with the BBC docudrama "End Day" in 2005, has traversed a path from indie gem "Monsters" (2010) to the expansive Star Wars universe with "Rogue One" (2016).
"The Creator" marks another bold step in his repertoire. The film introduces compelling concepts like the posthumous donation of personality traits, punctuated by impactful visuals, and raises pertinent ethical dilemmas. It stands as a commendable endeavor, even if it occasionally falters in execution.
Navigating Complexity
In his pursuit of depth, Edwards at times stumbles into the realm of convolution, leaving the audience grappling with intricacies rather than immersing in the narrative.
While adept at crafting visual spectacles and orchestrating soundscapes, the film occasionally falters in the art of storytelling.
In an era where classic storytelling is seemingly on the wane, some may argue that this approach is emblematic of the times.
AI: Savior or Peril?
"The Creator" leaves us with a question that resonates long after the credits roll: Will artificial intelligence be humanity's salvation or its undoing? The film's take on machine ethics leans toward simplicity, attributing AI emotions to programmed responses.
This portrayal encapsulates the film's stance on the subject – a theme as enigmatic as the AI it grapples with.
"The Creator"
Director: Gareth Edwards.
Starring: John David Washington, Gemma Chan, Madeleine Yuna Boyles, Ken Watanabe.
Genre: Science fiction.
Release Year: 2023.
Duration: 133 minutes.
Premiere Date: September 29.
WATCH: TRAILER
Top 5 Movies by Gareth Edwards:
1. "Monsters" (2010)
– A breakout hit, "Monsters" showcases Edwards' talent for blending intimate human drama with towering sci-fi spectacles. Set in a world recovering from an alien invasion, it's a poignant tale of love amidst chaos.
2. "Rogue One" (2016)
– Edwards helms this epic Star Wars installment, seamlessly integrating new characters with the beloved original trilogy. It's a testament to his ability to navigate complex narratives on a grand scale.
3. "End Day" (2005)
– This BBC docudrama marked Edwards' entry into the world of speculative storytelling. Presenting five doomsday scenarios, it set the stage for his later exploration of dystopian futures.
4. "The Creator" (2023)
– Edwards' latest venture, "The Creator," immerses audiences in a future fraught with AI warfare. While not without its challenges, it boldly tackles pertinent questions about the role of artificial intelligence in our lives.
5. Potential Future Project
– As Edwards continues to push the boundaries of speculative cinema, audiences eagerly anticipate his next cinematic endeavor, poised to be another thought-provoking addition to his illustrious filmography.
"The Creator" stands as a testament to Gareth Edwards' unyielding vision and his penchant for exploring the frontiers of speculative cinema.
While it doesn't shy away from the complexities of AI, it occasionally falters in navigating its intricate narrative.
As we peer into this cinematic crystal ball, we're left with a stark question: Will artificial intelligence be our beacon of hope, or will it cast a shadow over humanity's future? Only time will unveil the answer.
---
We Can't Thank You Enough For Your Support!
— By Cindy Porter
— For more information & news submissions: info@VoiceOfEU.com
— Anonymous news submissions: press@VoiceOfEU.com
---