Elections in Peru: Keiko Fujimori: 'I will accept the decision of the electoral board' | USA
The building's elevator is directly connected to the living room of the apartment. Lima's smog-filled skies can be seen through a large window. Waiting in the room, dressed in a white chiffon blouse and a dark, sleeveless vest with flower-patterned jeans, is Keiko Fujimori, the candidate of the party Fuerza Popular (Popular Force) for president of Peru. During the presidential election campaign, the politician has displayed one of her greatest strengths, that of bringing together the country's elites, who in turn have backed her to the hilt to govern Peru for the next five years. But she has also let some of her weaknesses and contradictions show.
Fujimori, 46, who was briefly jailed after being accused of money laundering and criminal association in connection to the wide-ranging Odebrecht political bribery scandal, had promised to stamp out corruption. On an altar flanked by child-sized statues of Catholic figures, rests the bible she read when she was in prison. "Whatever the outcome, I will respect the will of the people," she said before the country went to the polls. Two weeks later, Fujimori has not acknowledged the narrow victory of her rival in the presidential run-off, the leftist leader of the Perú Libre (Free Peru) party, Pedro Castillo. Fujimori insists that if she is in power, the stability of Peru's faltering democracy would be shored up. In a wooden frame is a black and white photograph of her as a child with her mother, her two younger brothers and a man in a suit wearing horn-rimmed glasses: her father, Alberto Fujimori, Peru's last autocrat.
The decision of Fujimori and her party to seek the annulment of 200,000 votes cast in some of the country's poorest areas, where Castillo won huge support, has delayed the proclamation of a winner in the presidential contest by two weeks. According to the official count, Castillo won by a little over 40,000 votes. The wait has further strained social divisions after a high-intensity campaign that has divided the country. Fujimori and her allies say they are convinced that fraudulent activity altered the final result, despite the pertinent institutions and international observers stating they have seen nothing to suggest that is the case. Fujimori has the finest law firms in Lima behind her, and these have been filing various challenges. Up to now, all of them have been rejected. Associations formed by ex-military personnel have called for a coup to be staged to prevent Castillo from coming to power. For this sector of the political right, the leftist politician represents a fierce and outdated mode of communism.
It remains to be seen if Fujimori will eventually keep her word and accept the outcome of the vote, or if she will seek another path. "I will accept the results that the National Elections Jury decides," she says, in reference to the country's electoral board, seated on a three-piece couch. However, she adds, perhaps not enough is being done to find out "the truth." Her election team had three days after the day of the vote, June 6, to file the nullification appeals, but the majority of them were submitted after that deadline. That has provoked a legal debate – a common occurrence in Peru – as to whether these should now be considered. "We ask the Jury not to offer excuses about the matter of deadlines, what we ask is that it seeks to discover the truth. If there were a willingness to find out the truth…" Fujimori continues.
— Do you believe there is no willingness?
— I'm not going to say anything until I have heard the final decision.
— On June 6 you said: "From here on, I can say that whatever the outcome I will respect the will of the people, as should be the case."
— Of course. And I stand by that.
— Whatever the outcome?
— Yes.
Fujimori's face darkens when the opinions of some of the country's leading experts are read out to her. Alfredo Torres, president of pollster Ipsos Perú: "We have not found any indication of systemic fraud in the database." The Ombudsman office: "We categorically affirm that no attempt has been made to tamper with the will of the people." A report by the Organization of American States (OAS): "The mission has not detected serious irregularities."
Fujimori, who is running in her third consecutive presidential election, says that she is not questioning the system as a whole, but 800 polling stations in which she claims that irregularities have been detected, such as several members of the same family being in charge of a voting station, which is prohibited by law. Her party has published the names and surnames of the citizens in question. These individuals have denied the accusations and said that the issue is easily explained by a common fact in Peru's rural areas: many people share the same surname.
During the campaign, Fujimori allied herself with traditional enemies of her party such as Nobel Prize-winning author Mario Vargas Llosa and his family, who publicly backed her candidacy. Rural primary school teacher Castillo, with his rhetoric against the elites and the free market – which he has now moderated and in some cases rectified – represented for them a leap into the void. Both candidates, in the face of doubts among voters as to how they would position themselves once installed in the presidential seat, made democratic promises and concessions. Fujimori asked for forgiveness from ministers she had ejected using her majority in Congress during the last legislature. It appeared that her attitude toward this new political process would be different. However, is suggesting her opponent has been engaged in fraudulent activity not adding to the instability she sought to address?
— On the contrary, I have acknowledged that if I made a mistake in the last elections it was that I didn't ask for a recount [Fujimori lost by a similar margin against former prime minister Pedro Pablo Kuczynski and has always believed fraud was involved]. Today I am asking that they review certain polling stations. This kind of analysis will result in all Peruvians better accepting the outcome. With the next five years in mind, I think this will be much better and will strengthen democracy.
In a press conference, Fujimori appeared alongside Miguel Torres, one of her spokespeople. The prosecutor in charge of her case asked that Fujimori be returned to prison for violating the terms of her probation. In theory, she is not allowed contact with Torres, who has also been implicated. On June 21, there will be a hearing to study the prosecutor's petition. "I have always placed myself at the disposition of the justice system and that's why I have been in prison three times. The reasoning behind this fourth request for remand is absurd. We have been working for many months [with Torres] and this request was filed on the same day as we presented the annulment appeals," she says. Torres is at the back of the room as she speaks, distracted by his cellphone.
Fujimori received a lot of votes. A good number of these came from the opposition to Castillo (neither candidate won more than 30% of the vote in the first round), from urban areas and the coast. But her candidacy was met with utter rejection in rural areas and in the south of the country, where historical anti-Fujimori sentiment is practically a religion.
"It could also be that in some cases that is also in reference to me. But as in any democracy, [I will try to win them over] with a lot of tolerance and respect, beyond their position and their ideology, so that they feel they are part of a state, a state that has failed over deaths from Covid," she says. By population ratio, Peru has the most deaths in the world as a result of the coronavirus pandemic, with more than 180,000 fatalities.
Fujimori has not changed some of her more radical stances during her party's journey toward a more central political ground in a bid to attract voters who may feel threatened by Castillo.
— Our position in defense of life and the family is very strong.
— And by that you mean…
— We are against abortion and gay marriage.
Fujimori has though shifted her opinion over the issue of a pardon for her father. She was installed as First Lady of Peru (1994-2000) after the separation of her parents, when she was just 18 years old. In 2011, she said she would support pardoning handing her father, who is serving a 25-year-sentence for crimes again humanity and corruption. In 2016, she said she would not, that she respected the sentence handed to Alberto Fujimori for two massacres that took place during his 1990-2000 rule as president. Now, she has once again said she would grant him a pardon. Does she maintain that position? "Yes."
Vargas Llosa categorically asked that Vladimiro Montesinos, Alberto Fujimori's right-hand man who is in jail on similar charges, not be granted the same treatment.
Now that the presidential campaign is over, and with it with the machinery of propaganda, does Fujimori still feel that Castillo represents a danger to democracy? "I think that his ideals and his proposals are damaging to our democracy; he has very radical viewpoints."
The rattling of sabers has returned to Peru, a country that until the 1980s had had more military governments than civilian ones. Reservist officers have issued proclamations about a coup, which the Ministry of Defense has spoken out against. Even so, the smell of brimstone lingers in the air. "I believe that we should all remain calm," says Fujimori. "I have nothing to do with them and I think that at this time what is best is for me to maintain my cautious approach."
In the last three years, Fujimori has competed in two Ironman triathlons (a 2.4-mile swim, 112 miles on a bicycle and a 26-mile marathon). She brings that steely will to her political career.
— Is this the last time you will run in the presidential elections?
— I'm not going to answer that question. They will say that this lady has thrown in the towel. No, we will wait for the results. When we have them, I'll call you and I'll answer that question.
English version by Rob Train.
'The Taliban killed a midwife who refused to leave a woman in labour' | Afghanistan
When Afghanistan's first midwife-led birth centre opened in the impoverished district of Dasht-e-Barchi in western Kabul this year it was a symbol of hope and defiance.
It began receiving expectant mothers in June, just over a year after a devastating attack by gunmen on the maternity wing at the local hospital left 24 people dead, including 16 mothers, a midwife and two young children.
For Zahra Mirzaei, its launch – along with a second birth centre in the east of the capital – marked the culmination of a decade advocating for women's birth rights.
As president of the Afghan Midwives Association (AMA), Mirzaei was instrumental in establishing the midwife-led units promoting an ethos of respectful, bespoke care away from an over-medicalised setting.
"In our country this approach to pregnant women is groundbreaking and there was a great feeling of hope when we opened our doors," she says.
"Women who had previously experienced undignified, low quality care in poorly staffed hospitals were pleasantly surprised to discover there is another way of doing things."
The units in Dasht-e-Barchi and Arzan Qimat were established with technical support and training from the Europe-based Midwifery Unit Network (MUNet) and funding from two NGOs which we cannot name for security reasons.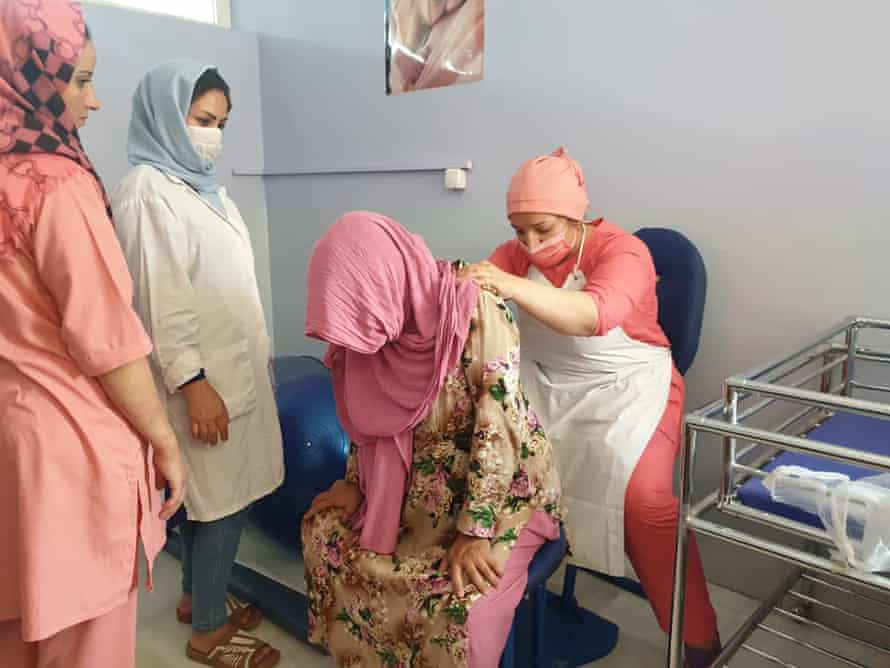 In the initial weeks the centres, staffed with a total of 75 midwives, were each welcoming 10 to 13 newborns a day. But as word spread, increasing numbers arrived and this soon climbed to 25 to 30.
By late July, Mirzaei was preoccupied with how to manage the rise in cases. But her work was overshadowed by a growing awareness of the Taliban's military offensive, which had gathered unexpected pace.
News of the Afghan government's imminent collapse amid the withdrawal of US troops was, to Mirzaei, personally and professionally shattering.
"Suddenly everything I had worked tirelessly for was under threat," she says. As a Hazara Shia and a longstanding campaigner for women's rights, the 33-year-old knew she and her three children were at risk.
"Previous Taliban governments have killed thousands of Hazara people without any reason. Also I knew my feminist work and belief in women's equality would never be accepted by the Taliban regime," says Mirzaei, who in 2020 was named one of 100 outstanding female nurses, midwives and leaders providing health services in difficult times by Women in Global Health.
As the US and its coalition partners scrambled to airlift thousands of people from the country, warnings were filtering through from Mirzaei's home town that she was a potential Taliban target.
On the day Kabul fell, plunging the country into turmoil, she left her office for the last time, fleeing in such a hurry she was unable to collect her shoes. "We didn't expect the situation to escalate so fast," she says.
Later that night she was woken by the sound of her eight-year-old daughter sobbing: "I went to her and she said: 'Mummy, I'm scared that when I'm 12 the Taliban will come and take me to get married and I won't be able to go to school.' That was so painful to hear that I promised there and then to get us out."
After calling every contact she could think of, she heard from a friend in the US who could help. Mirzaei left home with her family at 1am on 23 August, still wearing the flimsy slippers in which she'd fled her office.
They spent a harrowing 12 hours waiting in a sewer near the airport before being rescued by US troops and airlifted to Qatar. From there they were transferred to a refugee camp in southern Spain.
Speaking from the Spanish naval base in Rota, Mirzaei explains how leaving Afghanistan also meant, regrettably, stepping down as president of the AMA.
While she was heartbroken to give up the role, she remains a member of the advisory board and is working remotely to support the organisation including her successor – a woman from a different ethnic group who is more likely to be accepted by the regime.
---
As the eighth girl of 10 siblings, Mirzaei understood from a young age that boys and girls were not seen as equal. "I had two brothers but my father wanted more boys and it made me sad girls were not allowed to reach their full potential in our community."
Growing up in the province of Sar-e Pol, where poverty was widespread and literacy rates were poor, 16-year-old Mirzaei found education opportunities were limited.
An encounter at the local hospital set her on the path to becoming a midwife. In the waiting room she witnessed a woman desperately searching for a midwife only to be abused by a health worker.
"This incident really affected me – the way they treated her was shameful. When I saw the doctor I asked her what a midwife was and why it was so important.
"I liked the sound of midwifery – it spoke to the feminist in me. That kind doctor changed my life by explaining how I could enrol on a community education midwife programme."
A year later Mirzaei graduated with a diploma having already joined the AMA as a student. "I was inspired by its plans for improving the profession. For me the most important thing was for women to receive evidence-based, respectful maternity care."
But starting out as a hospital midwife in 2006 she was concerned by what she saw.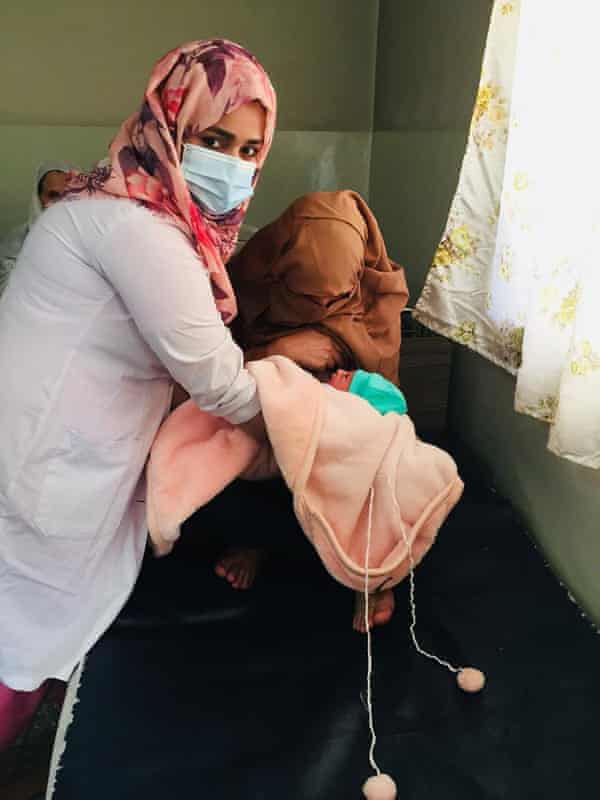 "There would be 150 deliveries a day in a hospital with only four or five midwives. Women would be left to give birth in the corner or in the toilet. The most painful thing was seeing how exhausted the midwives were – they couldn't support pregnant women emotionally and there was even physical abuse."
While women in remote areas typically give birth without medical assistance, or sometimes with a midwife, childbirth in urban hospital settings is highly medicalised.
"These facilities are staffed by doctors who don't seem to know their job description because they are overrun dealing with straightforward births," says Mirzaei. "The care is dehumanised and the use of hormone drips and episiotomies is routine practice."
Afghanistan has one of the highest maternal mortality rates in the world, although the number of women dying in childbirth has slowed from 1,450 per 100,000 live births in 2000 to 638 in 2017, according to UN data.
In 2012 Mirzaei became a provincial director for the AMA and later moved to Kabul to coordinate a midwives' mentorship programme for the organisation.
She joined a small but growing cohort to achieve a BA in midwifery after graduating from Zawul Institute of Higher Education in 2016. Two years later she was elected president of the AMA and made it her mission to establish midwife-led units.
The model would move away from medical interventions towards a focus on active birth, skin-to-skin contact and early breastfeeding.
In 2003 there were just 467 midwives operating in Afghanistan – the severe shortage brought about by the Taliban's ban on educating girls and women during the preceding years. This figure has since grown to 6,376 currently in clinical practice.
A 2018 Afghanistan Health Survey found just a fifth of pregnant women had received the recommended four antenatal care visits and fewer than 60% of births were overseen by a skilled healthcare professional.
There were 119 attacks by terrorist groups on healthcare facilities in Afghanistan in 2019, according to the World Health Organization. Then in May 2020 came the massacre at the maternity ward of the Dasht-e-Barchi hospital.
Among the dead was a midwife colleague of Mirzaei, Maryam Noorzad. "She was killed because she refused to leave a woman alone in labour. The baby was coming and after it was born a gunman entered and killed all three of them."
Not only was the attack a horrific crime against pregnant women, babies and hospital staff – it was also a devastating assault on decades of work to reduce maternal and newborn mortality in Afghanistan.
Despite the security fears, the AMA wanted to establish one of the midwife-led units in the same district to plug the gap left by the attack on the hospital, where there had been 16,000 babies born in 2019. Many of the midwives who survived the 2020 attack were among the highly trained staff taken on by the AMA to run the new centres.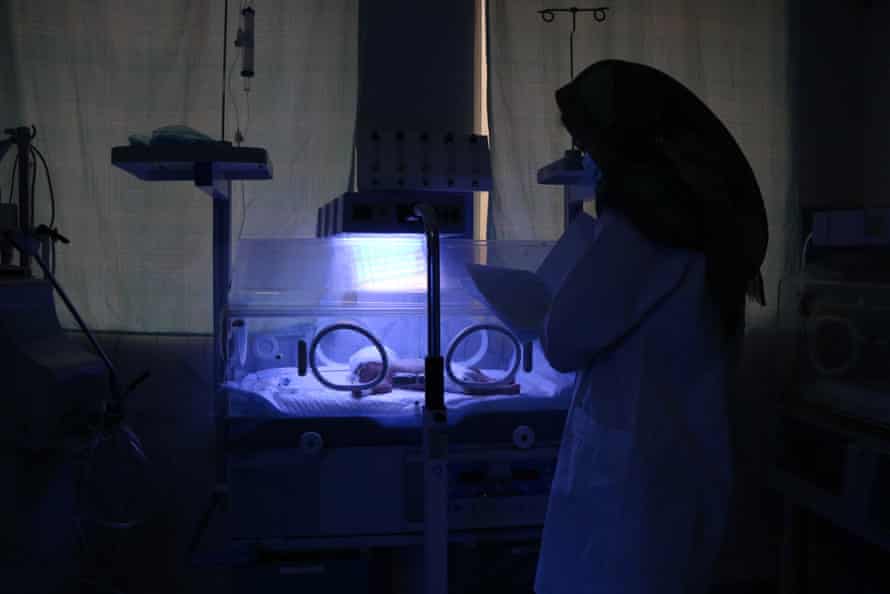 The success of the centres relies on one-to-one care and requires numbers to be kept at a manageable level. To meet the demand it was Mirzaei's ambition to open more units across Kabul and beyond.
But for now, at best, her dream is on hold. The centres closed after the Taliban takeover and while one has recently reopened many staff remain too fearful to go to work. Some midwives have already been interrogated by the Taliban for moving around without a chaperone.
The UN Population Fund (UNFPA) has estimated that without immediate support there could be 51,000 additional maternal deaths between now and 2025.
In Spain, Mirzaei is preparing to fly to the US to start the next chapter of her life. Her immediate future is uncertain but she has accepted an offer to study global maternal health at City, University of London, which she's had to defer until she can arrange a visa.
"Every day I open my phone and look at photos that were taken at our birth centres. It gives me hope. Their immediate success rests on the wider political situation but we will not cease our efforts to do everything we can for girls and women in Afghanistan."
Many midwives who have campaigned for women's rights in Afghanistan now find themselves targeted by the Taliban and have been forced into hiding, while others are at risk because of their ethnicity. The Association of Radical Midwives is raising funds to help those seeking to settle in the UK. To donate please visit this crowdfunding page.
EU to open new mission in Kabul
The EU foreign service is to open a mission in Kabul by the end of November, the FT reported Sunday, citing sources. The representation would not be an embassy, as the EU has not recognised the Taliban government. The EU office is also to be used by member states' diplomats. "There's only so much you can do from Doha," a source said. China, Russia, and Turkey never closed their embassies.
'Countdown to catastrophe': half of Afghans face hunger this winter – UN | Hunger
More than half of Afghanistan's population is facing acute hunger as the country has been thrown into one of the world's largest food crises.
Almost 23 million Afghans will be hungry due to conflict, drought and an economic downturn that is severely affecting livelihoods and people's access to food as a harsh winter looms, the UN has warned; an increase of nearly 35% compared with last year.
"Afghanistan is now among the world's worst humanitarian crises – if not the worst – and food security has all but collapsed. This winter, millions of Afghans will be forced to choose between migration and starvation," the World Food Programme's executive director David Beasley said, adding that "we are on a countdown to catastrophe".
The Taliban takeover in August has contributed to the economic upheaval as billions of dollars in foreign aid payments – 40% of the country's gross domestic product – have ceased and almost $10bn (£7.3bn) of Afghan central bank assets have been frozen.
Half of all Afghans will be facing crisis or emergency levels of acute food insecurity between this November and March next year, the UN report said.
As desperation grows, the number of beggars throughout Afghanistan's major cities – including children – has risen as urban residents, for the first time, suffer similar rates of food insecurity to rural communities; a shifting pattern of hunger in the country.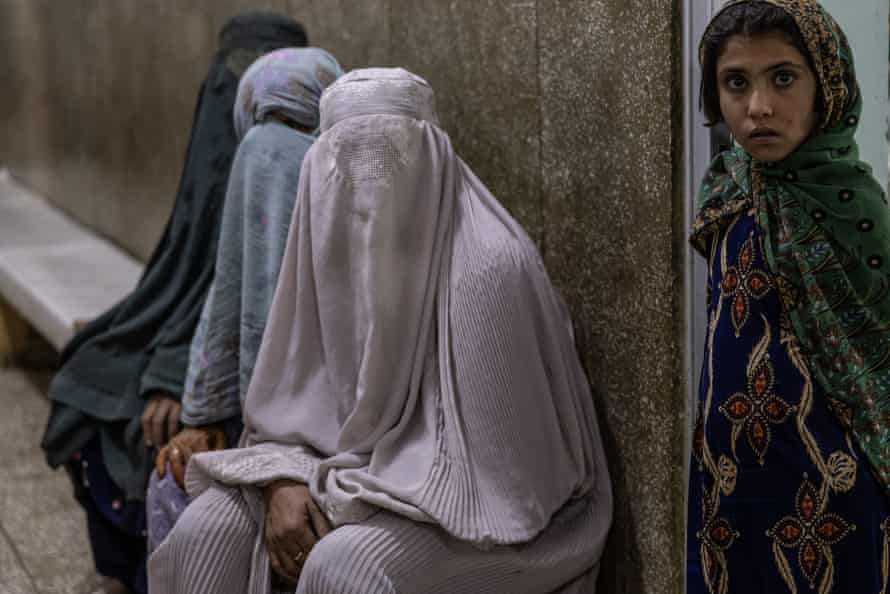 In the southern city of Kandahar, a traditional Taliban heartland, the malnutrition ward at Mirwais hospital was packed with women and children, most of them sharing beds with several others. The ward was stuffy and crammed. Mothers sat with their children while fathers or other male relatives – usually not allowed to enter – waited outside. Although the hospital is the biggest health facility in southern Afghanistan, it is poorly equipped.
"We have more than 70 children here and numbers are increasing," said paediatrician Zainullah Zermal, adding that although malnutrition cases usually rise with the approach of winter, this year's cases were alarming and the hospital was struggling to cope.
Many families had travelled significant distances to reach Kandahar, unable to access adequate healthcare nearer home. More than 2,000 clinics across the country have closed due to lack of funds.
Eighteen-month-old Memala shared her bed with another patient at Mirwais hospital, her body thin and frail, her gaze absent.
"We have travelled from Kandahar's Zhari district," her mother, who didn't want to give her name, said; about an hour's drive away. Zermal explained that, so far, most children had a good chance of survival, but he was worried about the coming weeks.
"We're now seeing more families arriving from far away. Some of them travel for days to seek medical care as there are no hospitals near them. Winter is coming and that's when malnutrition usually spikes."
In Kabul's Indira Gandhi children's hospital, the biggest paediatric clinic in the country, doctors said about a dozen children were arriving each day, even though the city's markets were still stocked with food.
"We don't have money to afford it," said Fereshta, a 30-year-old mother. Her six-month-old daughter Zahaba was underweight. Fereshta, who has five children, said that between worrying about money and not having enough to eat, she hadn't been able to breastfeed her daughter properly.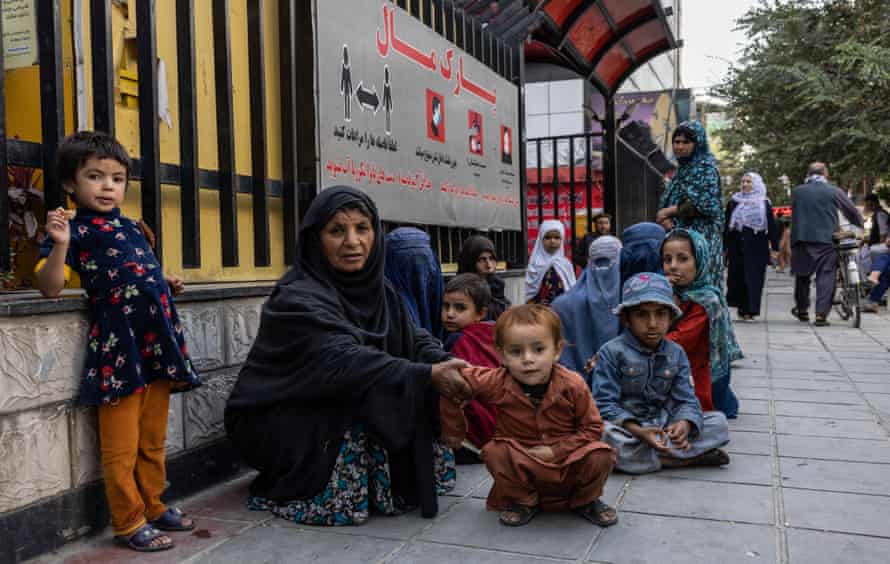 Only 5% of households have enough to eat every day, the UN said. Many families who fled fighting before the Taliban takeover can't afford to go back home, instead remaining in makeshift camps with no source of income. About 3.5 million people remain displaced within the country.
During the Taliban regime between 1996 and 2001, millions of Afghans lived in poverty and on the brink of starvation, and fears are mounting that a similar situation could arise.
The "Islamic Emirate" on Sunday launched a wheat-for-work scheme, saying it would employ 40,000 casual labourers in Kabul who would be paid in wheat instead of cash. During the initiative, set to last for two months, the Taliban pledged to distribute 11,600 tonnes of wheat in the capital.
Cash is largely unavailable, and many government employees are waiting for unpaid salaries.
In Kabul, beggars are visible on almost every street corner. In the city centre, small children chase after shoppers, hoping for a piece of bread.
Setara Amiri, 43, has been begging for the past month. Her husband, who worked as a driver for the previous government, is unemployed. "My children are begging too," she said, sitting on a busy Kabul pavement. The family used to get by, she said, but not now.
"Each morning I wake up, I worry that we won't have food at night. I'm begging so my children won't starve."