Egypt accused of widespread state-sanctioned killings of dissidents | Global development
Egyptian security forces engaged in an extended campaign of extrajudicial killings of detainees, routinely masked as shootouts with alleged terrorists, according to a new report by Human Rights Watch.
The report details what it alleges are a pattern of extrajudicial assassinations between 2015 and last year, a period in which the Egyptian interior ministry said publicly that 755 people were killed in alleged exchanges of fire with security forces, while naming just 141.
The ministry's statements were sometimes accompanied by photos showing bodies in remote desert locations lying next to firearms that the Egyptian authorities claimed were used in the attack. However, Human Rights Watch (HRW) says that the government rarely provided substantive information about the alleged shootouts.
For its new report, the rights organisation analysed nine of the incidents the Egyptian government claimed were shootouts, in which 75 alleged militants were killed. It interviewed relatives of 14 of the named individuals killed and conducted forensic analysis of pictures and video of the killings made available by the authorities.
In all 14 cases, family members of the deceased claimed that their relative was in police custody before the alleged shootout took place. Most told HRW that they had witnessed the arrest, and said they had extreme difficulty obtaining information about the death or the body.
The rights group said that the cases its researchers analysed led them to conclude that the individuals killed "at the moment of their deaths apparently posed no life-threatening danger to security forces or others, and so amounted to deliberate and unlawful killings".
"All evidence indicates that these were probable extrajudicial executions that represent a broader pattern," HRW claims in its report.
The head of Egypt's state information service did not respond when contacted to comment on the allegations.
Since coming to power in a military coup in 2013, the Egyptian president, Abdel Fatah al-Sisi, has overseen what HRW describes as "one of the worst prolonged human rights crises in the country's recent history", targeting all forms of political opposition, journalists and even benign dissent from citizens posting critical comments on social media. This includes the routine use of terrorism charges, where even peaceful opponents risk being accused of sponsoring or supporting terrorism.
"Under the pretext of combating terrorism, President Abdel Fatah al-Sisi's government has effectively given the interior ministry's police and national security agency free rein to suppress all opposition, including peaceful dissent, with near-absolute impunity for grave abuses," said the rights group.
The targets of extrajudicial assassination are normally accused of membership of the banned group Muslim Brotherhood or Hasm, an armed group reportedly responsible for a string of attacks across Egypt since 2016. The extrajudicial killings followed the introduction of a controversial 2015 anti-terrorism law, which removed any need for accountability over security agencies' use of deadly force.
"This is a reflection of the fact that these agencies feel they are immune from any scrutiny or punishment," said Amr Magdi of HRW. "Under Sisi, the security agencies have been green-lit to operate as they wish."
The rights organisation says that the level of documented abuses uncovered shows that Egypt's international partners "should halt all security and military assistance and weapons transfers to the Egyptian government and condition their resumption on an end to grave human rights abuses and transparent investigations of serious crimes", as well as imposing sanctions on those responsible.
The Egyptian government is routinely one of the world's largest arms importers, receiving weapons from around the world, including more than £24m in openly licensed sales from the UK in the past three years.
Egypt continues to receive $1.3bn (£950m) annually in military aid from the US, despite mounting pressure on Joe Biden to stick to his campaign promises of "no more blank checks" to the country. In February, the Biden administration approved a $200m arms sale to Egypt.
"The US relationship with Egypt is an anomaly," said Michele Dunne, of the Carnegie Endowment for International Peace. Congress is expected to state imminently whether it will override restrictions imposed on up to $300m of the $1.3bn arms deal because of human rights concerns.
"By withholding that $300m, the US would be putting a question mark on the degree of US support for military rule in Egypt, and saying we have some concerns about the brutal, abusive nature of that military rule," said Dunne.
"There's no one who can say credibly that withholding $300m in security assistance would cause a real and tangible security problem."
Brexit: British Embassy launches survey on key issues affecting UK nationals in Spain | Brexit | International
The British Embassy in Madrid has launched a survey aimed at finding out how UK nationals in Spain have been affected by key issues, in particular, the United Kingdom's exit from the European Union, a process commonly known as Brexit.
The poll is for Britons who are full-time residents in Spain (not those with second homes) and are covered by the Brexit Withdrawal Agreement, i.e. they were officially registered in the country before December 31, 2020, when the so-called Transition Period came to an end.
Questions in the survey address issues such as access to healthcare and the uptake of the TIE residency cards, which were introduced as a replacement for green residency cards (either the credit-card size or the A4 sheet version, officially known as the Certificado de Registro de Ciudadano de la Unión).
The aim of the poll is to gather vital information on the experience of UK nationals living in Spain that will help the British Embassy provide feedback to Spanish authorities. The survey takes around 10 minutes to complete, and all answers are confidential.
Have you heard our Spanish news podcast ¿Qué? Each week we try to explain the curious, the under-reported and sometimes simply bizarre news stories that are often in the headlines in Spain.
'The challenge for us now is drought, not war': livelihoods of millions of Afghans at risk | Global development
The war in Afghanistan might be over but farmers in Kandahar's Arghandab valley face a new enemy: drought.
It has hardly rained for two years, a drought so severe that some farmers are questioning how much longer they can live off the land.
Mohammed Rahim, 30, grew up working on a farm along with his father and grandfather in the Arghandab district of Afghanistan's southern province. Famous for its fruit and vegetables, the area is known as the bread basket of Kandahar.
Like most in the valley, Rahim's family relies solely on farming. "The fighting has just stopped. Peace has returned," Rahim says. "But now we face another war: drought.
"Now we have to dig deep to pump water out of the land. It has been two years, there has been little rain and we have a drought here. I don't know if our coming generations can rely on farming the way our ancestors used to do."
Pir Mohammed, 60, has been a farmer for more than four decades. "Not long ago, there were water channels flowing into the farm and we were providing the remaining water to other farmers," says Mohammed. "Before, the water was running after us, flowing everywhere – but now we are running after water."
The water used to come free from the river but now the daily diesel cost for the water pump is at least 2,500 Afghani (£21).
"We don't make any profit. We are in loss, rather. Instead, we are using our savings. But we don't have any other option as we do it for survival," says Mohammed. "However, the scarcity of water has affected the quality of crops as well."
About 70% of Afghans live in rural areas and are particularly vulnerable to the impacts of drought.
Last week, Rein Paulsen, director of the Food and Agriculture Organization's Office of Emergencies and Resilience, said severe drought was affecting 7.3 million people in 25 of the country's 34 provinces.
He warned: "If agriculture collapses further, it will drive up malnutrition, increase displacement and worsen the humanitarian situation."
Arghandab has been a favourite destination for farming because of the abundance of water and fertile lands. Neikh Mohammed, 40, left the Dand district of Kandahar to work in Arghandab in 2005. When he arrived he was amazed to see the greenery and pomegranate farms.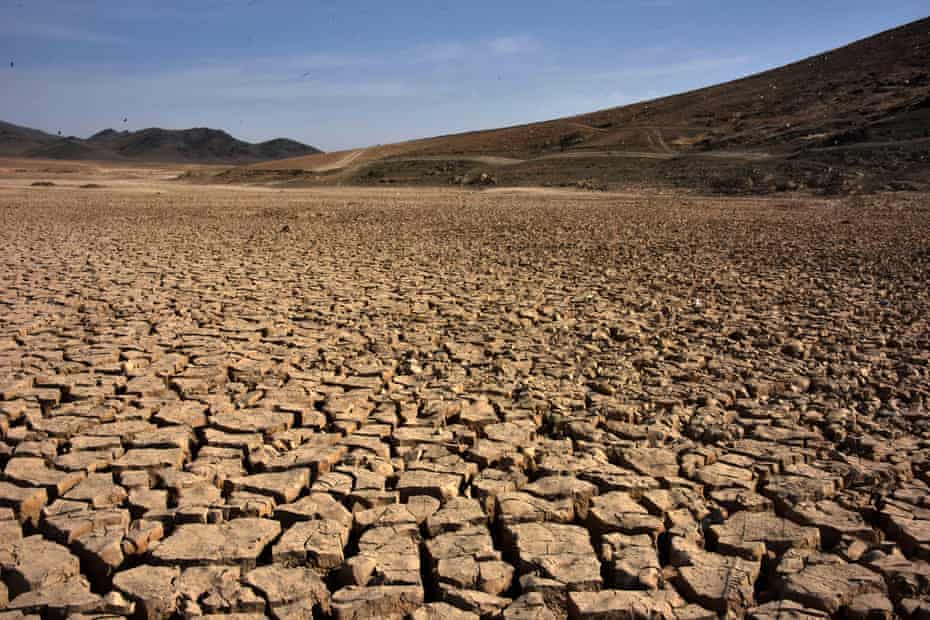 "It used to rain a lot here and we could not cross the river and come into our farms. We had a life with abundant water. But the past is another country now," he says.
According to a report by the UN mission in Afghanistan, many local farmers were caught in the crossfire between the Taliban and the Afghan security forces. The Taliban carried out attacks from thick foliage on the farms, which provided a hiding place, ideal for an ambush.
"For the past 20 years, we did not have peace and could not work after dark in our farms. But now we can stay as long as we want without any fear," says Neikh Mohammed. "Now the challenge is not just restoring peace but the drought and escalating cost of essential commodities."
Farmers say they want support from international aid agencies and assistance from the new government headed by the Taliban to help them survive.
Pir Mohammed says: "The real challenge for us now is drought, not war. We need food, water, dams and infrastructure in our country. The world should invest in us and save us."
[Ticker] US to lift Covid travel-ban on EU tourists
Fully vaccinated travellers from the EU and the UK will be let back into the US from "early November" onward, the White House said on Monday, ending an 18-month ban and prompting airline firms' shares to climb. "This new international travel system follows the science to keep Americans … safe," a US spokesman said. The EU recently recommended increased restrictions on US visitors, amid anger at lack of US reciprocity.

Source link