DUP leader urges Johnson to focus on Northern Ireland not partygate
The DUP leader has urged Boris Johnson to focus on Northern Ireland rather than the 'partygate' scandal at Downing Street.
Jeffrey Donaldson was speaking to Sky News after his party's first minister Paul Givan resigned from the post of First Minister in Northern Ireland on Thursday a campaign against the protocol.
"I would say this to the prime minister: Northern Ireland is an important part of the United Kingdom, " Mr Donaldson said in an interview broadcast on Saturday.
"You're our prime minister and if you want to build confidence, then do what other prime ministers did in the past and recognise that we have a serious problem here and instead of being focused on what's going on in Downing Street, be the prime minister the people need.
"Reach out to Northern Ireland, help us to resolve these issues, make this a priority, let's get our political institutions restored on the basis of sound foundations. That means dealing with the protocol, making these issues a priority so the people of Northern Ireland can enjoy strong stable government," he said.
The Taoiseach Micheál Martin on Friday night strongly criticised the DUP's decision to resign from the post and also criticised comments on Friday Mr Donaldson that cast doubt over whether the DUP would go back into government after an election if issues in relation to the Northern Ireland protocol were not addressed.
"No one party should use language like 'unless we are fully satisfied we will not be participating'," Mr Martin said.
"No one party should have a veto over whether an Executive exists or continues on, and likewise the Assembly," he said.
He said negotiations on the protocol were continuing between the EU and the UK and progress had been made. "The conclusion of those should have been awaited in my view by the DUP."
The Northern Ireland protocol is a part of the EU-UK Brexit withdrawal agreement guaranteeing a special post-Brexit trading status for the North in order to avoid a hard Border in Ireland.
As a consequence of the DUP's move, the Deputy First Minister, Michelle O'Neill of Sinn Féin, also ceased to hold office. Ministers now cannot sit in the Northern Ireland Executive and the Executive is unable to take significant policy decisions.
The Stormont crisis comes amid turmoil in Downing Street with Mr Johnson under further political pressure this weekend after conservative MP and former schools minister Nick Gibb has called on him to resign in an opinion piece published in The Telegraph newspaper . He said his constituents are "furious about the double standards" exposed by reports of social gatherings at Downing Street.
On Saturday the UK culture secretary, Nadine Dorries, rejected calls for Boris Johnson to resign claiming that the "vast majority" of the party were behind the prime minister.
A report by senior civil servant Sue Gray found that alcohol-fuelled events had taken place at Mr Johnson's offices and residence when Covid-19 lockdown rules were in force.
8 Reasons Why Highly Intelligent Individuals Tend To Embrace Messiness At Home
By Darren Wilson
In the realm of intellectual brilliance, the concept of order and tidiness often takes a backseat. Highly intelligent individuals, driven by a relentless pursuit of knowledge and innovation, forge their paths in a world of ideas and creativity.
This propensity for intellectual pursuits can give rise to living spaces that may seem cluttered and untamed to the untrained eye.
Here, we dive into eight compelling reasons why some of the brightest minds in history tend to gravitate towards messy households, shedding light on the unique relationship between intelligence and chaos.
1. Unkempt Homes Foster Creativity and Novelty
For highly intelligent individuals, a chaotic environment serves as a crucible for creativity.
Studies from the University of Minnesota have shown that disorderly settings encourage thinking outside the box. In experiments, participants in cluttered rooms generated ideas perceived as more enjoyable and innovative.
This environment fosters a unique brand of creativity, allowing brilliant minds to explore uncharted territories of thought.
2. Disinclination to Adhere to Social Norms
Conformity rarely finds a place in the lives of the highly intelligent. These individuals possess an independent streak that extends to their living spaces.
They question the societal expectation of a meticulously clean home, choosing instead to embrace the chaos that mirrors their unconventional thinking.
Their rejection of conformity extends to their environment, where their independent spirit takes precedence over tidiness.
3. Energy Allocated to Intellectual Pursuits
The pursuit of intellectual endeavors consumes the majority of their energy. Immersed in research, contemplation, and problem-solving, these individuals leave minimal room for routine tasks like cleaning.
This single-minded dedication to intellectual pursuits manifests in a living space that reflects their prioritization of knowledge over cleanliness.
4. Immersed in Thoughts, Oblivious to Surroundings
The minds of highly intelligent individuals are a whirlwind of intellectual activity. Lost in contemplation about the nature of existence and the complexities of the universe, they often become oblivious to their immediate surroundings.
This profound mental engagement takes precedence over the physical environment, resulting in spaces that may appear untamed to others.
"In the world of a true entrepreneur, chaos and creativity dance in perfect harmony."

– Raza H. Qadri
5. Cleaning Appears Boring and Monotonous
Geniuses often find routine tasks like cleaning to be uninspiring and monotonous.
Their minds are wired to seek intellectual stimulation and challenge, rendering cleaning a lower priority.
They possess a higher threshold for messiness, requiring mental engagement that everyday tasks cannot provide.
6. Independence Trumps Social Approval
Independence is a hallmark of highly intelligent individuals. They chart their paths, setting their own standards and disregarding external validation.
WATCH: 22 INTERESTING FACTS ABOUT ALBERT EINSTEIN
This autonomy extends to their living spaces, where their personal preferences dictate the level of tidiness. They clean not to conform but to accommodate their own thresholds of disorder.
7. Priority on World-Changing Pursuits
For these exceptional minds, the pursuit of groundbreaking ideas takes precedence over mundane tasks.
Cleaning, considered peripheral in the grand scheme of their intellectual pursuits, is deferred to allow room for the development of technologies and solutions that shape the course of progress.
8. Aversion to Mundane Tasks
The brilliance of these minds lies in their ability to envision a transformative future. The act of cleaning pales in comparison to the exhilaration of ideation and innovation.
Cleaning becomes a secondary concern, reserved for moments when disorder reaches an insurmountable level. The brilliance of their minds manifests not in pristine living spaces, but in the ideas and innovations that have the power to change the world.
In the tapestry of intelligence, the threads of brilliance are often interwoven with chaos. Highly intelligent individuals find their stride amidst clutter, using their mental prowess to craft worlds of innovation and creativity. While their living spaces may appear untamed, they stand as a testament to the extraordinary minds that inhabit them.
In the pursuit of groundbreaking ideas and transformative technologies, the genius of messiness finds its place. It is a reminder that the true measure of brilliance lies not in the pristine order, but in the world-altering ideas that emerge from the minds of these exceptional individuals.
---
Thank You For Your Love And Support!
— By Darren Wilson | Team 'THE VOICE OF EU'
— For more information & news submissions: info@VoiceOfEU.com
— Anonymous news submissions: press@VoiceOfEU.com
---
Copyright Dispute: DC Comics And 'Fables' Author Clash over Ownership, Author Aims for Public Domain
This is a story full of fairy tales. In some ways, it even resembles one. And yet it also proves that, in the real world, things rarely end happily ever after. A few days ago, Bill Willingham, the father of the celebrated Fables comic book series, announced that he was sending his most cherished work to the public domain, that is, to everyone. That's only fair, since that is also where he got the main characters of his stories, from Snow White to the Wolf, from Pinocchio to Prince Charming, who were then relocated to modern New York. In this tale, the hero has long-faced mistreatment at the hands of the villains, DC Comics, the owner of Vertigo, which publishes the work in the United States, and its executives.
"If I couldn't prevent Fables from falling into bad hands, at least this is a way I can arrange that it also falls into many good hands," Willingham wrote in an online post in which he decried the label's repeated attempts to take over his creations and opposed them with this final extreme remedy. But the company responded that it considers itself to be the true owner of the series.
In a statement published by the specialized media IGN, the company threatened to take "necessary action" to defend its rights. Thus, the end of the dispute is uncertain. But it is unlikely that everyone will end up happily ever after.
In the meantime, in a new post, Willingham celebrated the massive support he received. In fact, for the moment, he has declined all interview requests — he did not respond to this newspaper's request, nor did the publisher — arguing that he preferred to spend the next few days working on new artistic projects. Meanwhile, the dispute continues.
Fables is one of the most celebrated graphic novels of the last 20 years, and it has spawned spin-offs and a video game adaptation (The Wolf Among Us).
This situation also touches on a key issue, namely, the intellectual property rights of characters and works, especially in a sector where, for decades, dozens of cartoonists and screenwriters have accused comic book giants Marvel and DC of pressuring them to cede their ideas and accept commissioned contracts.
Willingham sums it up as a policy aimed to make creators sign "work for hire" agreements and crush them. All of this makes a gesture that was already intended to make a splash even more resonant.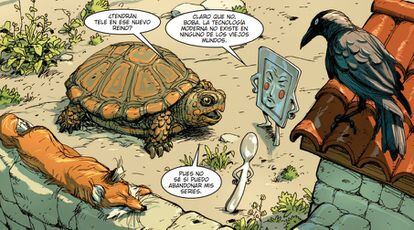 Indeed, the battle over intellectual property is as old as contemporary comics: the copyrights for Superman, Batman and The Fantastic Four all have unresolved disputes and complaints from Jerry Siegel, Bill Finger and Jack Kirby over the contemptuous treatment they suffered. And heavyweight Alan Moore has been lamenting for years that DC took away his ownership of famous works like Watchmen.
Along with prestige and principles, tens of millions of dollars are at stake, especially now that the film industry has become interested in comics.
"When you sign a contract with DC, your responsibilities to them are carved in stone, where their responsibilities to you are treated as "helpful suggestions that we'll try to accommodate when we can, but we're serious adults, doing serious business and we can't always take the time to indulge the needs of these children who work for us" the Fables author wrote on his blog. Following the impact of his original message, Willingham posted two other texts. He maintains that he had thought about sending his work into the public domain when he passed away, but that "certain events" have changed his plans: among them, he lists the changes in management and attitude at the top of the publishing company; the multiple breaches of obligations such as consultations about covers, artists for new plots and adaptations; DC's forgetfulness when it came to pay, which forced him to demand invoices of up to $30,000; the suspicious frequency with which the publisher attributed it to "slipping through the cracks" (to such an extent that the author insisted that they stop using that expression); and the time and chances he gave them to respect the pact, renegotiate it or even break it and consensually separate.
"Shortly after creating Fables, I entered into a publishing agreement with DC Comics. In that agreement, while I continued to own the property, DC would have exclusive rights to publish Fables comics, and then later that agreement was expanded to give DC exclusive rights to exploit the property in other ways, including movies and TV.
DC paid me a fair price for these rights (fair at the time), and as long as they behaved ethically and above-board, and conducted themselves as if this were a partnership, all was more or less well. But DC doesn't seem to be capable of acting fairly and above-board.
In fact, they treated this agreement (as I suppose I should have known they would) as if they were the boss and I, their servant. In time that got worse, as they later reinterpreted our contracts to assume they owned Fables outright," Willingham laments. Hence, he concluded that "you can't reason with the unreasonable."
Having ruled out a lawsuit as too expensive and time-consuming at 67 years of age, he found a more creative solution: if they prevented him from owning his works and benefiting from them as he was entitled to do, he would not let the publisher do so either. Or, at least, everyone could use the comics as they wished. But the label was quick to clarify in its statement to IGN: "The Fables comic books and graphic novels [are] published by DC, and are not in the public domain".
For his part, Willingham promises to continue fighting for all the conditions of his still-in-force contract that he considers DC to have violated, as well as for the last installments of the series, the final script of which he delivered two years ago.
There will be additional chapters in this dispute, as well as in many other ones like it: in 2024, the historic first image of Mickey Mouse, the one that starred in the 1928 short Steamboat Willie, enters the public domain in the U.S. and other countries. Copyright in the U.S. lasts for 95 years, and math is an exact science.
Therefore, in a few years, King Kong, Superman and Popeye will meet the same fate. But The New York Times has wondered how the "notoriously litigious" Disney will react and how far it will go to fight in court. And who would dare to freely use all these works for fear of a million-dollar lawsuit? The same question surrounds DC and similar companies. Because in the real world, fairy tales are rare. Or they end up in court.
---
Hollywood Actors & Studios Meet For First Time In 80 Days To Seek End To Strike
A lot has happened during the 80 says since the actors union SAG-AFTRA called a strike on July 13, but not when it comes to negotiations. It was not until Monday that the union finally met with the Alliance of Motion Picture and Television Producers (AMPTP) to start talks on their new collective contract, which is renewed every three years. The union and Hollywood studios have maintained such distant positions that it took two and a half months for them to finally sit down and talk.
On Monday, October 2, representatives of both parties met to discuss the actors' concerns: an increase in the minimum wage, guarantees regarding the role of artificial intelligence, regulations for the increasingly demanding self-taped auditions and fairer residuals — the long-term payments to those who worked on films and television shows for reruns and other airings after the initial release — in line with the rise of streaming. The meeting does not mean that the two sides have reached an agreement, but it does show greater willingness to strike a deal.
The SAG-AFTRA did not release a statement on the meeting until 8 p.m. LA time. "We have concluded our first day back in the bargaining with the AMPTP and will resume talks on Wednesday, October 4," it stated, while encouraging actors to join the picket line on Tuesday. "One day longer. One day stronger. As long as it takes," it ended. No details of the negotiation have been leaked, and both parties decided months ago not to give specific information to the media about the talks until a deal had been struck.
The SAG-AFTRA, which represents more than 160,000 actors, announced last week that they were finally going to sit down with the AMPTP, which represents Paramount, Disney, Universal, Netflix, Amazon, Sony, Warner and Apple. The strike has already led to $6 billion in losses, according to calculations by the state of California.
The talks with the actors union come after Hollywood studios and the Writers Guild of America (WGA) reached an agreement to end the screenwriters strike, which began on May 2 and lasted almost 150 days. The two parties negotiated for days before coming to a tentative deal on September 24. Writers in the union still need to vote on the deal, but it is widely expected to be ratified. If approved, the new collective agreement will be in effect until May 2026.
Just days after the end of the screenwriters strike, the actors union announced that they were set to begin negotiations with the Hollywood studios. But actor Fran Drescher, the president of the SAG-AFTRA, warned they had differing demands. "We're happy WGA came to an agreement but one size doesn't fit all," she told CNN.
Since the actors' strike was called in mid-July, tensions have been running high between the union and the Hollywood studios — so much so that it took more than 80 days for them to initiate talks.
The key issues are salaries and artificial intelligence. Now that the WGA has struck a deal, the SAG-AFTRA is alone on the picket line. It is seeking to negotiate a deal that is as good as the "exceptional" agreement achieved by writers.
But analysts warn the union shouldn't rush to reach a deal, given 160,000 families will be affected by the terms of the new collective contract. "It is not the actors' responsibility to bring Hollywood back to life," the Los Angeles Times wrote Monday in an editorial. "It was not the actors who created the problems that forced two incredibly disruptive strikes, any more than it was the writers. The studios created a system in which working actors can no longer earn a living wage in their chosen profession, and it's up to the studios to change that."
The strike has put hundreds of workers in grave financial strain. Some of Hollywood's highest-paid actors have donated millions of dollars to a common fund to help actors navigate these months of uncertainty.
This is the first time actors have been on strike since 1980. So far, it has been an upward battle. Chief negotiator Duncan Crabtree-Ireland told EL PAÍS that the actors have been willing to negotiate from day one, but that the studios have been reluctant to engage in talks. "We think that there is only one way to reach an agreement, and that is to talk and negotiate. And if they don't want to talk to us, and they don't want to negotiate with us, we're going to be ready to do that any time they're ready," she said.
That moment has taken almost three months to arrive. And this time, there will be new talks within 48 hours.
---