Desperate Zimbabweans risk police or crocodiles in bid to reach South Africa | Global development
A bushy pathway leads to the crossing points along the Limpopo River that are the most treacherous part of the journey for Zimbabweans seeking a better life in South Africa. The river has flooded after weeks of incessant rain, resulting in three drownings of "border jumpers" last month alone.
A few kilometres away, where the roar of the river can still be heard, men and women clutching small bags of belongings trudge along a different dusty track near Malindi Transit Shed. At 9am on a Friday morning in February, the route to the bridge connecting South Africa and Zimbabwe is already heavily patrolled by soldiers clasping rifles.
The journey to Beitbridge on the Zimbabwean side is punctuated by five security checkpoints, with a bribe of 50 rand (£2.40) required by the soldiers and police at each stop. "Where are you going? Come here!" shouts a soldier at a woman in a black tracksuit. After questioning her, he allows the woman to pass.
The path continues to the old Alfred Beit Bridge, where the road crosses the Limpopo between Musina in South Africa and Beitbridge in Zimbabwe. Here, border-jumping guides, known as magumaguma, are ready to assist in illegal crossings.
It is a steady stream, as Zimbabweans fleeing economic turmoil seek opportunities in South Africa, a more stable economy. Rising inflation, unemployment and poverty drives most Zimbabweans to make the journey. Those who can afford the bribes take the bridge. Others try their luck in the fast-flowing waters, where crocodiles swim.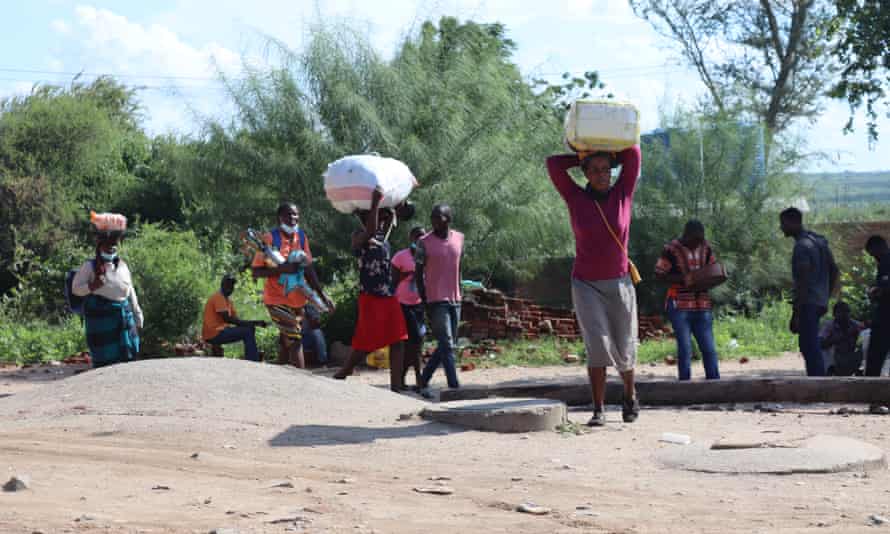 The risks are high: about 100 Zimbabweans are deported daily, according to South Africa's Department of Home Affairs. But Zimbabweans with little left at home are still making the journey in their droves.
"You just pay 20 or 50 rand and they will let you pass. But at every stop, you have to part with something. This is the price one pays to gain safe passage," says Gain Murambiwa*, 38, a taxi driver.
Another driver says it is more expensive in South Africa, where security has been stepped up.
"Anyone serious about crossing should at least part with 600 rand, because it is more expensive in South Africa. I normally do five or six trips because many people want to jump the border and we are here to help. There is brisk business when the border is closed like this," he says.
Moud Mbedzi*, 39, is hoping to join her husband, who left for South Africa before the pandemic. Holding a small bag of clothes, she says: "I have already communicated with someone on the other side who will help me get past security into South Africa."
She has left her two children in the care of her mother. "Luckily, my husband found a job and if I get one also, we will get enough money to take care of our children. It's sad to leave them but I have to go," she says.
Another hopeful traveller is Bright Ntepe*, 30, an engineering graduate. "There is nothing here for me. I have tried everything. Maybe there is a better life for me in South Africa. I know it is not going to be easy but I will try," Ntepe says.
The high river levels are undoubtedly deterring some. At Spillway, a once-popular illegal crossing about a mile from Beitbridge, the men fishing say the river is too dangerous to cross.
"We hardly see anyone coming to cross because the waters are too deep. It is very quiet these days," says 30-year-old Arnold Muzemba*.
But at other spots the risky crossings continue. Farther along the river, a group of men are repairing a broken wooden boat at one of the few illegal crossing points still in use since the river started rising.
Moses Mbedzi*, 40, transports both people and goods across the river. His raft is big enough to carry 12 people at a time, plus a refrigerator or other home appliances. Smugglers also pay large sums to move contraband across.
Driving home a nail as he tries to finish the work before the rain comes, he says three of his boats have been destroyed by the authorities in recent weeks, so he is making another one.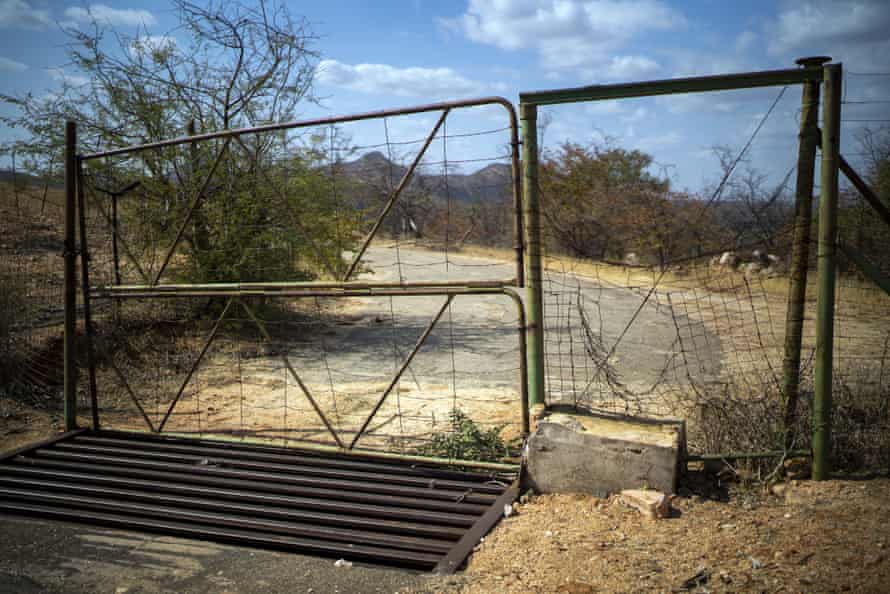 "This is the only job I know. How do I feed my family without helping people to cross? I know it is a dangerous job but I have to do it," Mbedzi says. "The day before yesterday, they [the security forces] destroyed my raft, but luckily they left the rope that we use to control the raft so that it is not swept away by the current.
"This is a dangerous undertaking, but I cannot sit at home and do nothing."
The Limpopo runs for about 160 miles (260km) along the border, and the police have just eight bases, 20 miles apart, making it difficult to control.
"These people are adamant. We always take their boats but you will see them the next day with a new one. They even tried to create a wooden bridge years ago but it was destroyed by our South African counterparts," a Zimbabwean soldier says.
Zimbabweans who succeed in breaching the border still have to get past dozens of roadblocks on the other side. According to South Africa's home affairs minister, Aaron Motsoaledi, 13,387 people were arrested at roadblocks between 10 December and 31 December last year for border jumping and smuggling-related offences.
The pandemic has exacerbated smuggling between the two countries, with the South African Police Service (SAPS) saying smuggled goods include cigarettes, explosives and stolen vehicles.
"The South African Police Service is working together with other stakeholders in the Justice, Crime Prevention and Security cluster at the borders as well as on the border line to curb illegal crossings of persons and the smuggling of items," says its spokesperson, Col Athlenda Mathe.
"On a weekly basis, there are undocumented persons who are mostly job-seekers that are apprehended by the SAPS and handed over to Zimbabwean authorities through a repatriation process which is dealt with by the Department of Home Affairs," says Mathe.
But even as the authorities in both countries try to stem the flow across the border, the economic crisis in Zimbabwe shows no sign of easing and the number of people prepared to risk the crossing for a better life is only rising.
* Names have been changed to protect their identity
Twenty victims of pedophilia denounce the Society of Jesus of Bolivia for covering up rapes | International
A pedophilia scandal is cornering the Society of Jesus in Bolivia. Half a year after the publication of the diary of the late Spanish Jesuit priest Alfonso Pedrajas, in which he admitted to having abused dozens of Bolivian children while his superiors looked the other way — and which triggered a series of accusations against a dozen priests in the Latin American country — a group of victims on Tuesday brought legal action against the Roman Catholic organization for covering up the abuse, for protecting pedophile clerics and for silencing the victims.
The plaintiffs, former students at several Jesuit-run schools who suffered sexual assaults between 1972 and 1995, had already independently brought complaints against their attackers months ago. Now, they have filed a class action suit against the current provincial of the religious order in Bolivia, Bernardo Mercado, "as the highest authority" of the institution. The plaintiffs are accusing the Society of Jesus of being the author "by omission" of the crimes of rape of minors, since for years officials were aware of the sexual abuse that was going on and did nothing to stop it. This is the first class action complaint by victims against the order in Bolivia.
Although the Bolivian penal code indicates that pedophilia crimes expire four years after the victim has reached the age of majority, the plaintiffs' lawyer, José Luis Gareca, argues that the cases of pedophilia committed by the Jesuits and their cover-up are "crimes against humanity," which have no statute of limitations as per the 1998 Rome Statute of the International Criminal Court of the United Nations. "Article 7 of this statute establishes that crimes against humanity must have been committed as part of a widespread or systematic attack and must be directed against a civilian population, as happened in the case of the plaintiffs," says Gareca.
The complaint, filed in the Cochabamba Prosecutor's Office, is based on the investigation that this newspaper carried out on the diary that Pedrajas, known among his students as "Pica," wrote between 1964 and 2006. In its pages he wrote repentantly about the sexual assaults he had committed against at least 85 children and how several senior officials of his order looked the other way when he told them what he had done. He also explained that they protected him when several victims reported the abuses they suffered.
Some of these former provincials (the highest position of the Jesuit order in Bolivia) are Ramón Alaix and Marcos Recolons, both Spaniards who, like Pedrajas, traveled to Bolivia as missionaries. Recolons, in addition to being a close friend of Pedrajas, as noted in his diary, held a high position in the Vatican between 2004 and 2008. In total there were seven superiors and a dozen other clerics who, according to the memoirs of Pedrajas, covered up the crimes.
The original story about Pedrajas was followed by other reports of new victims who accused other Spanish Jesuits of pedophilia at several schools, but mainly at the Juan XXIII school of Cochabamba, where Pedrajas was the principal for two decades and where more of his victims have surfaced. But there were other schools in Oruro, Santa Cruz and Sucre. In some of these cases, those affected said that they told various officials and superiors of the order about what was going on, but that, far from being listened to, they were threatened and punished. The accused Jesuits are Antonio Gausset (a deceased Spaniard), Luis Tó (a deceased Spaniard who in 1992 was transferred to Bolivia after a conviction for abusing a girl in Barcelona), Alejandro Mestre (a deceased Spaniard who became archbishop of La Paz and president of the Bolivian Episcopal Conference), Jorge Vila (a deceased Spaniard and founder of the humanitarian association DNI), Lucho Roma (a deceased Spaniard), Carlos Villamil (a deceased Bolivian and deputy principal at Juan XXIII), Francisco Pifarré (who also served as principal at Juan XXIII) and Francesc Peris (a Spaniard who taught at Juan XXIII in 1983, also accused of abusing girls in Barcelona until 2005). The Jesuit order, both in Bolivia and in Spain, never reported the cases to the authorities when these were first brought to their attention.
The group of victims recalls in the complaint that the Society of Jesus itself has acknowledged in several statements published in recent months that it knew about these abuses and that it did nothing about it. "We recognize that, in the past, some actions in this regard have not corresponded to the dimension of the crime perpetrated. For this reason we must ask for forgiveness. But it would be useless to recognize it if we do not act now to meet the circumstances," says one of these statements. The first action by Jesuit leaders was to provisionally remove eight priests who held the position of provincial: five who held the position during the years in which Pedrajas committed the abuses, and another three who did so after his death. The Society of Jesus states that there is an ongoing internal investigation into all such cases of abuse.
For the plaintiffs, says their lawyer, the silence imposed by the order and the impunity with which the pedophiles acted "has given rise to an institutional conduct of criminal permissiveness" in which hundreds of children fell "into the clutches of sexual predators and pedophiles who took it upon themselves to write diaries, take photos and film their victims." They also emphasize that civil justice "can in no way be replaced by the canonical law" that to date the Church uses to internally manage many of these cases, and where the aggressors typically purge "'their errors' via confessions and transfers to new locations to evade criminal sanctions."
Several investigations underway
The tsunami caused by the publication of the Pica case forced the Bolivian Episcopal Conference to launch a general investigation of past cases of pedophilia. The Bolivian president, Luis Arce, wrote to Pope Francis requesting from the Vatican all the files on cases of pedophilia committed by clerics in Bolivian territory. This request is still waiting to be fulfilled. In May, Arce also presented a bill in the Bolivian Legislative Assembly to eliminate the statute of limitations on pedophilia crimes and to create a truth commission to investigate all past cases. This initiative is still undergoing parliamentary processing. Meanwhile, the Bolivian Senate has created another investigative committee exclusively focused on cases of pedophilia by members of the cloth in that country.
The Bolivian Prosecutor's Office is still investigating both the attacks committed by Pedrajas and those reported in recent months. Prosecutors already have a copy of the diary and internal documentation of the Society of Jesus that was found after the police searched several offices of the order in La Paz, where its headquarters and some of its offices are located.
EL PAÍS launched an investigation into pedophilia in the Spanish Church in 2018 and has an updated database with all known cases. If you know of any case that has not seen the light, you can write to us at: abusos@elpais.es. If it is a case in Latin America, the address is: abusosamerica@elpais.es.
Sign up for our weekly newsletter to get more English-language news coverage from EL PAÍS USA Edition
Assessing The Potential of The India-Middle East-Europe Economic Corridor (IMEC) Against China's Belt And Road Initiative (BRI)
(THE VOICE OF EU) – In a recent address, Indian Prime Minister Narendra Modi hailed the newly unveiled India-Middle East-Europe Economic Corridor (IMEC) as a transformative force poised to shape global trade for centuries. While the IMEC undoubtedly presents a significant development, it's vital to scrutinize its potential impact compared to China's ambitious Belt and Road Initiative (BRI).
The IMEC was jointly announced by US President Joe Biden and Saudi Crown Prince Mohammed bin Salman at the G20 summit in Delhi. Designed to fortify transportation and communication networks between Europe and Asia via rail and shipping routes, the project not only holds regional promise but also reflects a strategic move by the US in its geopolitical interests, particularly concerning China.
However, the IMEC faces a formidable contender in the form of China's BRI, which celebrated its tenth anniversary this year.
Despite facing some headwinds, including a slowdown in lending due to China's economic deceleration and concerns raised by nations like Italy, Sri Lanka, and Zambia regarding debt sustainability, the BRI remains a monumental global undertaking.
With investments surpassing a staggering $1 trillion and over 150 partner countries, the BRI has transformed from a regional initiative to a near-global endeavor.
Comparatively, the IMEC may not immediately match the scale or ambition of the BRI. While the US, Japan, and the G7 nations have introduced similar initiatives like the Global Gateway and Partnership for Global Infrastructure and Investment, none have achieved the expansive reach or influence of the BRI.
The emergence of these projects over the past five years, however, demonstrates the BRI's pivotal role as a catalyst for global economic growth.
Viewing the IMEC solely through the lens of opposition to the BRI may not provide a comprehensive understanding of its potential.
Instead, the IMEC contributes to a broader trend of transactional partnerships, where countries engage with multiple collaborators simultaneously, underscoring the complex and interconnected nature of global trade relations.
Yet, realizing the IMEC's aspirations demands meticulous planning and execution. A comprehensive action plan is expected within the next 60 days, outlining key governmental agencies responsible for investments, allocated capital, and implementation timelines.
Establishing a streamlined customs and trade infrastructure is equally critical to facilitate seamless transit, a challenge highlighted by the Trans-Eurasian railway's 30-country passage through Kazakhstan.
Navigating geopolitical complexities between partner countries, particularly the US, Israel, and Saudi Arabia, poses another potential hurdle.
Ensuring these nations maintain a unified strategic vision amid differing priorities and interests requires careful diplomatic coordination.
Furthermore, the IMEC will compete directly with the Suez Canal, a well-established and cost-effective maritime route.
While the IMEC may enhance relations with the UAE and Saudi Arabia, it could potentially strain ties with Egypt, prompting critical assessments of the project's economic viability.
Beyond trade and economics, the IMEC ambitiously aims to incorporate diverse sectors, from electricity grids to cybersecurity.
This multi-dimensional approach aligns with discussions held in security forums like the Quad and, if realized, could significantly contribute to a safer, more sustainable global landscape.
As we contemplate the potential of the IMEC, it is with hope that the lofty ambitions outlined in New Delhi will culminate in a tangible and positive transformation for the world.
---
Safe Mobility Initiative Faces Challenges In Delivering On Its Promises For Latin American Migrants
In June, the United States introduced the Movibilidad Segura, or Safe Mobility, program, a new immigration initiative aimed at expanding legal routes for refugees and migrants from South and Central America.
The program's objective is to reduce irregular migration and strengthen transportation and communication links between the Americas. While the intentions behind Safe Mobility are commendable, its execution has faced several challenges, leaving thousands of applicants in limbo.
For many hopeful migrants like Eliezer Briceño, a 40-year-old Venezuelan residing in Ciudad Bolívar, Colombia, the application process has proven to be a complex and tedious endeavor.
Briceño's experience highlights the technological barriers that applicants face, emphasizing the need for reliable internet access and suitable devices for successful registration.
Unfortunately, these prerequisites pose significant challenges for those without adequate resources.
The overwhelming response to the program has led to the temporary closure of the website in Colombia, further complicating the application process. With quotas quickly filled during the limited application periods, the backlog of hopeful migrants has grown, exacerbating the frustration and uncertainty surrounding Safe Mobility.
Of the nearly 29,000 applicants from Colombia, less than 1% have progressed through the U.S. Refugee Admissions Program (USRAP) as of August 28. This statistic underscores the significant delays and challenges faced by applicants. Eliezer Briceño, like many others, anxiously awaits news about his application status, armed only with a receipt indicating a forthcoming call.
Safe Mobility, while a response to the migration crisis in Latin America, is one of several initiatives addressing the challenges faced by millions of displaced individuals.
Its collaboration with the International Organization for Migration (IOM) and the United Nations High Commissioner for Refugees (UNHCR) demonstrates a multi-lateral effort to find solutions to the region's complex humanitarian, political, and economic issues.
However, the program's operational secrecy, with undisclosed office locations, underscores the challenges faced by its administrators.
The need to protect both applicants and program staff from potential overcrowding and disruptions mirrors the situation in Tapachula, Mexico, where large groups of migrants have sought assistance, albeit without violent incidents.
The interview process for Safe Mobility applicants introduces another layer of complexity, marked by confidentiality agreements.
While applicants are required to sign agreements consenting to share personal data with program partners, the imposition of non-disclosure clauses appears unusual and unprecedented.
The UNHCR argues that confidentiality is crucial for the protection of individuals in need of international refuge.
The uncertainty persists even after interviews, as those rejected receive prompt notifications while others remain in a state of perpetual waiting. The apparent randomness of selections and the lack of clear communication only heighten the frustrations of applicants.
As Safe Mobility nears the midpoint of its announced six-month pilot period, questions about its effectiveness and future persist.
While the initiative addresses a critical need, its slow start and operational challenges highlight the complexity of addressing the migration crisis in the Americas.
Cooperation from multiple nations, alongside initiatives like Safe Mobility, will be essential in finding lasting solutions to this pressing global issue.
---