Dear America – You Are Delusional, and Failing at Everything You Undertake
Orlov is one of our favorite essayists on Russia and all sorts of other things. He moved to the US as a child, and lives in the Boston area.
He is one of the better-known thinkers The New Yorker has dubbed 'The Dystopians' in an excellent 2009 profile, along with James Howard Kunstler, another regular contributor to RI (archive). These theorists believe that modern society is headed for a jarring and painful crack-up.
He is best known for his 2011 book comparing Soviet and American collapse (he thinks America's will be worse). He is a prolific author on a wide array of subjects, and you can see his work by searching him on Amazon.
He has a large following on the web, and on Patreon, and we urge you to support him there, as Russia Insider does.
His current project is organizing the production of affordable house boats for living on. He lives on a boat himself.
If you haven't discovered his work yet, please take a look at his archive of articles on RI. They are a real treasure, full of invaluable insight into both the US and Russia and how they are related.
---
Back in the days when I was still trying to do the corporate thing, I regularly found myself in a bit of a tight spot simply by failing to keep my mouth shut.
I seem to carry some sort of gene that makes me naturally irrepressible. I can keep my mouth shut for only so long before I have to blurt out what I really think, and in a corporate setting, where thinking isn't really allowed, this causes no end of trouble. It didn't matter that I often turned out to be right. It didn't matter what I thought; it only mattered that I thought.
American involvement in the middle-eastern project is now limited to Putin's sporadic courtesy calls to Trump, to keep him updated.
Of all the thoughts you aren't allowed to think, perhaps the most offensive one is adequately expressed by a single short phrase: "That's not gonna work."
Suppose there is a meeting to unveil a great new initiative, with PowerPoint presentations complete with fancy graphics, org charts, timelines, proposed budgets, yadda-yadda, and everything is going great until this curmudgeonly Russian opens his mouth and says "That's not gonna work."
And when it is patiently explained to him (doing one's best to hide one's extreme irritation) that it absolutely has to work because Senior Management would like it to, that furthermore it is his job to make it work and that failure is not an option, he opens his mouth again and says "That's not gonna work either." And then it's time to avoid acting flustered while ignoring him and to think up some face-saving excuse to adjourn the meeting early and regroup.
I lasted for as long as I did in that world because once in a while I would instead say "Sure, that'll work, let's do it." And then, sure enough, it did work, the company had a banner year or two, with lots of bonuses and atta-boy (and atta-girl) certificates handed out to those not at all responsible for any of it. Flushed with victory, they, in turn, would think up more harebrained schemes for me to rain on, and the cycle would repeat.
It is probably one of the main saving graces of corporations that they do sometimes (mainly by mistake) allow some thought to leak through. The mistake in question is a staffing error in promoting those constitutionally incapable of keeping their mouths shut or shutting off their brains. Such errors create chinks in the monolithic phalanxes of corporate yes-men and yes-women.
Trump is too old to be a reformer or a revolutionary. He is of an age when men are generally mostly concerned about the quantity and consistency of their stool and how it interacts with their enlarged prostates.
The likelihood of such mistakes increases with the agony of defeat, which causes attrition among the ranks of qualified yes-sayers, creating holes that can only be plugged by promoting a few non-yes-sayers. However, this only seems to work in the smaller, hungrier corporations; the larger, better-fed ones seem to be able to avoid experiencing the agony of defeat for a very long time by moving the goal posts, outlawing any discussion of said defeat or other similar tactics. Eventually the entire organization goes over the cliff, but by then it is of no benefit to anyone to attempt to inform them of their folly.
It is much the same with governments, except here the situation is even worse. While the smaller, hungrier governments, and those blessed with a fresh institutional memory of extreme pain, do not have the luxury of lying to themselves, the larger political agglomerations—the USSR, the EU, the USA—have the ability to keep themselves completely immunized against the truth for historically significant periods of time.
The USSR clung to the fiction of great socialist progress even when it was clear to all that the cupboard was bare and there were rats gnawing through the rafters. The EU has been able to ignore the fact that its entire scheme is one of enriching Germany while impoverishing and depopulating eastern and southern Europe, neglecting the interests of the native populations throughout. And the amount of self-delusion that is still currently in effect in the USA makes it a rather large subject.
Regardless of how great the lies are and how forcefully they are defended, a moment always comes when the phalanx of truth-blocking yes-men and yes-women stops marching, turns and runs. This event results in a tremendous loss of face and confidence for all involved.
It is the crisis of confidence, more than anything else, that precipitates the going-off-a-cliff phenomenon that we could so readily observe in the collapse of the USSR in the early 1990s. I have a very strong hunch that similar cliff-diving exercises are coming up for the EU and the USA.
But for the time being I am just another disembodied voice on the internet, watching from the sidelines and periodically saying the unfashionable thing, which is: "This isn't gonna work." However, I've said this a number of times over the years, on the record and more or less forcefully, and I feel vindicated most of the time.
Internationally, for example:
• Carving the Ukraine away from Russia, having it join the EU and NATO and building a NATO naval base in Crimea "wasn't gonna work." The Ukraine is a part of Russia, the Ukrainians are Russian, and the Ukrainian ethnic identity is a Bolshevik concoction. Look for a reversion to norm in a decade or two.
• Destroying and partitioning Syria with the help of Wahhabi extremists and foreign mercenaries supported by the US, Saudi Arabia and Israel while Russia, Iran, Turkey and China stand idly by "wasn't gonna work"; and so it hasn't.
• Giving Afghanistan "freedom and democracy" and turning it into a stable pro-Western regime with the help of invading NATO troops "wasn't gonna work," and hasn't. Western involvement in Afghanistan can go on, but the results it can achieve are limited to further enhancing the heroin trade.
• Destroying the Russian economy using sanctions "wasn't gonna work," and hasn't. The sanctions have helped Russia regroup internally and achieve a great deal of self-sufficiency in energy production and other forms of technology, in food and in numerous other sectors.
All of these harebrained schemes, hatched in Washington, have backfired grandly. Those who have pushed for them are now reduced to just two face-saving maneuvers: blaming their political opponents; and blaming Russia. And these two maneuvers are set to backfire as well.
In the meantime, the world isn't waiting for the US to shake itself out of its stupor.
The fulcrum of American influence in the Middle East is Saudi Arabia and the petrodollar. In turn, Saudi Arabia rests on three pillars: the Saudi monarchy, Wahhabi Islam and the petrodollar. As I write this, the next king, Mohammed bin Salman, is busy hacking away at all three: robbing, imprisoning and torturing his fellow-princes, working to replace the Wahhabi clerics with moderate ones and embracing the petro-yuan instead of the now very tired petrodollar.
Not that any of these three pillars were in good shape in any case: the defeat of ISIS in Syria was a defeat for the Saudi monarchy which supported it, for the Wahhabi clerics who inspired it and, consequently, for the petrodollar as well, because Saudi Arabia was until now its greatest defender.
The new guarantors of peace in the region are Russia, Iran and Turkey, with China watching carefully in the wings. American involvement in the middle-eastern project is now limited to Putin's sporadic courtesy calls to Trump, to keep him updated.
And so here's my latest prediction: Trump's goal of "making America great" "isn't gonna work" either.
The country is so far gone that just taking the first step—of allowing the truth of its condition to leak through the media filters—will undermine public confidence to such an extent that a subsequent cliff-dive will become unavoidable. It's a nice slogan as slogans go, but Trump is too old to be a reformer or a revolutionary. He is of an age when men are generally mostly concerned about the quantity and consistency of their stool and how it interacts with their enlarged prostates.
Perhaps he will succeed in making America great… big piles of feces, but I wouldn't expect much more than that.
Chasing Horse charged with federal crimes in sex abuse probe | USA
A former "Dances With Wolves" actor accused of sexually abusing Indigenous women and girls for decades was charged with federal crimes Wednesday, adding to the growing list of criminal cases against Nathan Chasing Horse since his arrest last week in Nevada.
Chasing Horse, 46, now faces two counts of sexual exploitation of children and one count of possession of child pornography, according to a criminal complaint filed Wednesday afternoon in Nevada U.S. District Court. Authorities have said Chasing Horse filmed sexual assaults.
The federal charges came hours after a state judge on Wednesday granted $300,000 bail to Chasing Horse, who has been in Las Vegas police custody since his Jan. 31 arrest near the home he shared with his five wives.
Earlier Wednesday, about two dozen of Chasing Horse's relatives and friends had filed into a North Las Vegas courtroom in a show of support, hoping he would be released on bail. They cheered and celebrated the judge's decision as they left the courthouse, waving signs that translate to "Justice for Chasing Horse." Now, if he posts bail, he is likely to be taken into federal custody.
In state court, Chasing Horse is charged with eight felonies, including sexual assault, sex trafficking and child abuse. He has not entered a plea.
Canadian police in British Columbia confirmed this week they also are pursuing a criminal case against the former actor, who is known for his portrayal of Smiles A Lot in Kevin Costner's 1990 Oscar-winning film. He is accused in a 2018 sexual assault in the British Columbia village of Keremeos near the Washington state border.
Authorities in Nevada have said his crimes date to the early 2000s and stretch across the United States and into Canada.
It wasn't immediately clear how, if at all, the federal charges will affect Chasing Horse's case in Clark County. His public defender, Kristy Holston, did not immediately respond Wednesday evening to a request for comment.
At his bail hearing Wednesday morning, Clark County Chief Deputy District Attorney William Rowles told the judge that Chasing Horse should remain in custody because he was "grooming" girls to replace his older wives at the time of his arrest.
"There is evidence that this individual is still in the process of grooming young children to replace the others as they grow up," Rowles said.
Nevada authorities have described Chasing Horse in more than a hundred pages of court documents as the leader of a cult known as The Circle, whose followers believed Chasing Horse, as a "medicine man," could communicate with higher beings. Police said he abused that position to physically and sexually assault women and girls and take underage wives.
At its peak, Rowles said, The Circle had about 300 members.
Investigators and victims had been expected to speak in court Wednesday, because Nevada law requires prosecutors to show convincing evidence that a defendant should remain jailed as they await trial. But after delays in the proceedings, the judge heard only from Rowles, who requested $2 million bail, and Holston, who asked the judge to set bail at $50,000.
After the hearing, Holston told The Associated Press she also was happy with the judge's decision and said she is looking forward to his next court date in North Las Vegas, currently scheduled for Feb. 22. At that hearing, a judge is expected to hear evidence in the case and decide whether Chasing Horse will stand trial.
"We're really looking forward to the preliminary hearing in this case," she said, "because it's another public hearing where we will have an opportunity to point out the weaknesses in the state's case."
Rulon Pete, a representative of the victims and the executive director of the Las Vegas Indian Center, said they were disappointed with the judge's decision. Some of the victims were in the courtroom Wednesday.
"What happened this morning was like a slap in the face," Pete told The Associated Press.
Police have said they have identified at least six victims, including one who was 13 when she said she was abused, and another who said she was offered to Chasing Horse as a "gift" when she was 15.
Chasing Horse was born on the Rosebud Reservation in South Dakota, home to the Sicangu Sioux, one of the seven tribes of the Lakota nation. In 2015, he was banished from the Fort Peck Reservation in Poplar, Montana, following allegations of human trafficking.
Sign up for our weekly newsletter to get more English-language news coverage from EL PAÍS USA Edition
Merkel receives UNESCO peace prize for welcoming refugees
The offices accorded to the former leader are in view of the Russian embassy, where since the Ukraine invasion in February Berliners regularly leave signs and flowers protesting the war.
Long called the world's most powerful woman, Merkel these days has pulled back from the spotlight, working on her memoirs and enjoying the occasional television series, such as "The Crown", which tells the story of Queen Elizabeth II's turbulent decades on the throne.
But in many quarters the broad German support she once enjoyed as a staunch defender of Western liberal values has curdled.
"One year on, the world is in flames, Russia invaded Ukraine, gas and  petrol prices are through the roof and Germany fears the winter," wrote Der Spiegel magazine's Alexander Osang, a longtime Merkel confidant.
"Angela Merkel went from role model to culprit, from crisis-manager to crisis-causer."
Invitation to Bucha
Germany's first female chancellor has been accused of placating Russian President Vladimir Putin in the name of realpolitik, while deepening Germany's energy dependence on Moscow — not least by backing the Nord Stream 2 gas pipeline project even after Russia's 2014 annexation of Crimea.
READ ALSO: Merkel says no regrets over Germany's Russia gas deals
Hedwig Richter, modern history professor at Munich's Bundeswehr University, said Merkel's loss of standing had been "exceptional", representing a generation of political failings.
"Amorality is not the same thing as realpolitik," Richter told AFP.
"The governments of the last 16 years thought it was realistic to place values such as human rights and climate protection last in politics. But now reality is striking back."
Ukrainian President Volodymyr Zelensky has laid the blame at Merkel's feet, in particular for a decision at a 2008 NATO summit in Bucharest not to admit his country to the alliance.
In April, he offered her a barbed invitation to Bucha, the site of an alleged massacre of Ukrainian civilians, "to see what the policy of concessions to Russia has led to in 14 years".
Looming energy shortages due to Russian retaliation for Western sanctions have also soured the mood against Merkel at home.
In the public debate, "Merkel was tied up with this war and certainly to blame for the missing gas", said Nico Fried, who covered Merkel during all four of her terms, in Stern magazine.
"The question is what remains of Merkel after 16 years, whether her historical portrait is already fading before it was even really framed."
'Horribly neglected'
Just 23 percent of Germans would want Merkel back in power, according to a Civey institute poll in late November.
READ ALSO: ANALYSIS: Are Germans questioning Merkel's legacy?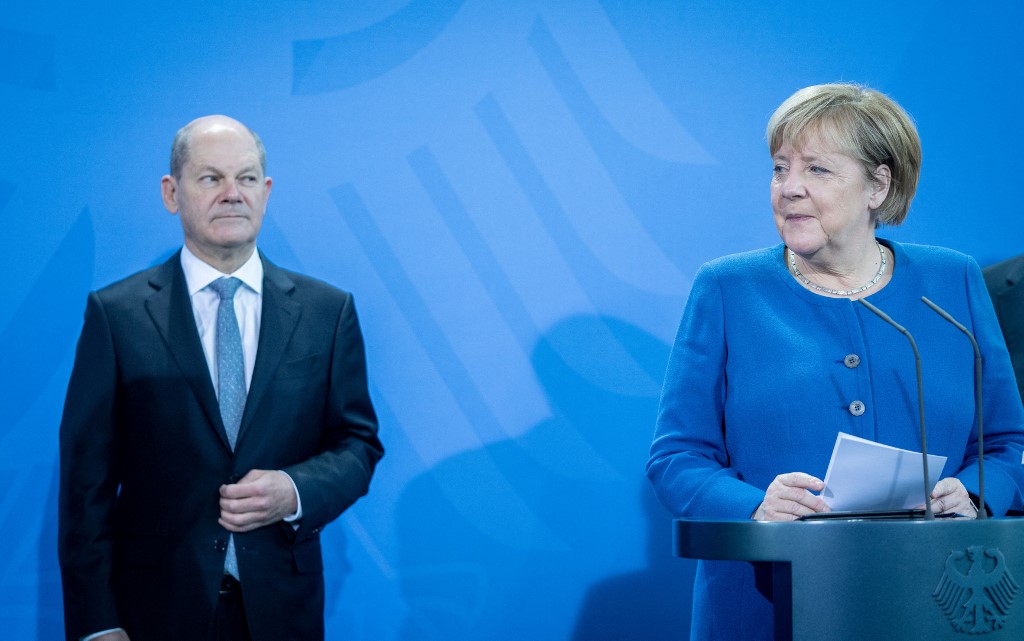 In this file photo taken on November 10, 2021 then outgoing German Chancellor Angela Merkel and then German Finance Minister and Vice-Chancellor Olaf Scholz attend a press conference to present the annual report of the German Council of Economic Experts (Wirtschaftsweise) in Berlin. (Photo by Kay Nietfeld / POOL / AFP)
Richter said Merkel had "great achievements" including allowing in more  than one million asylum seekers and standing as a beacon of "decency" and  "democratic duty" when strongmen like Putin and Donald Trump were on the march.
But she said two key miscalculations would cast a long shadow.
"Firstly, the inability of the (German) republic to defend itself. And because this is closely linked to the fossil-fuel dependence on Russia, it threw a spotlight on destruction of the planet," she said.
"The Merkel governments horribly neglected both these issues."
Merkel, 68, has mounted a tentative counter-offensive, arguing that she acted in good conscience given the facts on the ground at the time.
She said she tried to use Nord Stream 2 as a bargaining chip to ensure Putin respected the 2015 Minsk accords aimed at stopping the fighting in Ukraine.
Merkel told Fried she pledged to US President Joe Biden last year that if Russia invaded Ukraine, the pipeline deal would be scrapped — a threat her successor Olaf Scholz made good on days before the war began.
Osang noted the irony that "Putin of all people, whom she has known so well and long, with all his tricks, lies, bragging" had muddied her reputation.
One of Merkel's lessons from the fall of the Berlin Wall in 1989 that it was "economic, more than democratic, deprivation" that led to the communist system's collapse.
Osang said this had coloured her approach to trade with China and energy deals with Russia.
She said Scholz's billions in spending to help Germans facing high gas prices were now justified.
"Not everyone is in a position to freeze for Ukraine," she said.
Madonna lashes out against criticism: 'Once again I am caught in the glare of ageism and misogyny' | Culture
No matter how many years go by, Madonna, 64, continues to be the subject of conversation. Whether it's her music, her concerts or her constant physical changes, the queen of pop is still making headlines. But the artist has had enough and publicly burst out through her social media accounts. Her reaction came after her appearance at the Grammy Awards gala on Sunday became the object of controversy, criticism and even ridicule.
Madonna had been tasked with introducing the performance of the award-winning Sam Smith and Kim Petras, the first trans woman to win and perform at the awards. Madonna had described it as a "history-making moment," but she ended up attracting all the attention to herself due to her looks.
"Instead of focusing on what I said in my speech which was about giving thanks for the fearlessness of artists like Sam and Kim – many people chose to only talk about close-up photos of me taken with a long lens camera by a press photographer that would distort anyone's face!" she wrote in an Instagram post.
For the event, Madonna was wearing a black skirt and jacket, a white shirt, gloves and a tie, and her hair was made up into pigtails and braids. Many people commented on her surprising and sudden physical change, while others noted that in her Instagram Stories – short-lived posts that have already expired and cannot be seen again – the artist used photographic filters to refine and stylize her face.
"Once again I am caught in the glare of ageism and misogyny that permeates the world we live in. A world that refuses to celebrate women past the age of 45. And feels the need to punish her if she continues to be strongwilled, hardworking and adventurous," Madonna wrote on her Instagram account, where she has almost 19 million followers.
Thirty years ago, when Madonna was 33, she published S.E.X, an erotic book with explicit images of her naked, kissing men and women, in which she wrote about her sexual fantasies and shared her point of view on sexuality. "They called me a whore, a witch, a heretic and even a demon," the artist recalled just a few weeks ago, when the 30th anniversary of the book's release was observed.
During her speech at the Grammy Awards, even before the criticism began on social media, Madonna already anticipated what was going to happen: "This is what I learned after four decades in music: if they call you shocking, scandalous, troublesome, provocative, or dangerous, you are definitely on to something."
In 2023 the artist is embarking on several musical projects, including a world tour that will take a look back at four decades in the music business and feature some of her greatest hits such as Like a Prayer or Material Girl. The project is taking up so much of her time that he has decided to cancel the biopic she was preparing about her life, which already had an actress to play the lead, Julia Garner.
Sign up for our weekly newsletter to get more English-language news coverage from EL PAÍS USA Edition