Cuban Revolution: Cuba's Hotel Nacional: the iconic site that hosted Jean-Paul Sartre, Muhammad Ali and Yuri Gagarin | USA
By January 1, 1959, the Havana Hilton, Riviera and Capri hotels had all been built, but the Hotel Nacional de Cuba was still considered the national hotel of the country. Within hours of the Cuban Revolution, the US crime figure Meyer Lansky, known as the "mob's accountant," telephoned one of his closest confidants in Cuba, Jaime Casielles, and asked him to hasten to the Nacional. "Lansky knew that [former Cuban president Fulgencio] Batista and his family had fled the country. He said to me: 'Jaimito, we need to go around all the casinos and collect the money before the hordes are out on the street." Everything on the island had changed.
For over a year the Nacional remained in the hands of its American owners but it wasn't long before conflicts with the new government arose and the aristocrats and Hollywood stars started to disappear, although a new clientele would arrive to bear witness to a new era. On February 20, 1960, French writers Jean-Paul Sartre and Simone de Beauvoir checked into the Nacional, having been invited to Cuba by the editor of Revolución magazine, Carlos Franqui. Their objective was to see first-hand the political process that was unfolding.
"We lived in one of the best neighborhoods, in the Hotel Nacional, a luxury fortress, flanked by two crenelated square towers. Of its guests, who came from the United States, only two qualities were required: wealth and taste. As these are rarely reconcilable, if they possessed the first it was assumed, with few inquiries, they had the second," Sartre would write on his return to France. "I turn the air conditioning up all the way to enjoy the cold of the rich. With 30 degrees in the shade, I go to the windows and watch with sumptuous shudders how those that are passing by perspire. It has not taken me long to find the reasons behind the still indisputable supremacy of the Nacional. It was enough to open the curtains when I arrived: I saw long, graceful ghosts stretching toward the sky."
The palm trees. The same ones that had dazzled Lucky Luciano and other famous guests. But Sartre and Simone de Beauvoir had not come to Cuba for the trees. The following day, the couple left for Santiago and from there they went to Holguín, where Cuban revolutionary Fidel Castro was inaugurating a school in what had once been a military barracks. There they met the Cuban leader and Argentinian guerilla Che Guevara.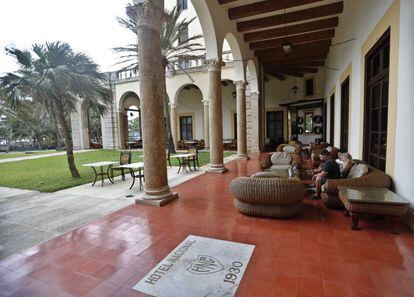 Once back at the Nacional, they were told that Guevara would grant them an audience in his office at the National Bank, the institution he headed, at midnight. "I was still lucky," recalled Sartre. "Journalists and foreign visitors are received warmly and at length, but at two or three in the morning." That meeting was immortalized by the photographer Alberto Korda and later described by Sartre in one of the articles he published over the following months in France Soir, and later compiled in the book Hurricane Over Sugar.
"The night did not enter that office. In those men in full wakefulness, the best of them, sleep did not seem to be a natural necessity but rather a routine that they had more or less freed themselves from. I don't know when Guevara and his colleagues sleep. I suppose it depends: performance decides; if it dips, they stop." Sartre was also surprised and moved by the youth of the revolutionaries – Castro was 33 and Guevara, 31. "The biggest scandal of the Cuban Revolution is not expropriating farms and lands, but to have brought boys to power," he said. "Given that a revolution was necessary, circumstances dictated that youth should carry it out. Only youth had experienced sufficient anger and angst to undertake it, and had sufficient purity to carry it out."
Guevara told them that night that Cuba's was a "contrecoup revolution," and Sartre came to the conclusion that it was a process with an ideology "free from elaboration," perhaps "the most original revolution in the world," based on "a direct democracy." When he was asked in an interview what that meant, the author of Being and Nothingness replied: "This Fidel Castro who is continuously on the move in a helicopter or automobile; who often speaks three times a week on the television for hours on end; who explains everything his government does; who discusses every realization; who listens to the peasants and takes note of their complaints; who opens schools in forgotten corners and who argues passionately with his ministers: this is direct democracy."
Sartre and Beauvoir traveled all over the island, often accompanied by Castro, and on one of those journeys, one of the great anecdotes of their trip took place. Arriving at a popular tourist spot they asked for a lemonade. It was lukewarm and Fidel complained, asking why Cubans should be subjected to such poor service. The woman replied that her refrigerator was broken and the person who was supposed to fix it had not turned up. As Fidel continued to ask questions, the woman cut the conversation short with a phrase that augured what was to come: "You know how it is."
On March 4, the explosion of La Coubre in the port of Havana was clearly audible from the Hotel Nacional. The French steamer was anchored there with a cargo of 76 tons of weapons and ammunition for the revolution: 136 people were killed and the following day, during the memorial, Castro gave a famous speech during which for the first time he used his slogan "Homeland or death." In the stand that day were Sartre, Beauvoir and the main leaders of the revolution, and it was there that Korda took his signature photograph of Guevara, with his beret and defiant gaze, which turned the guerrilla into a global revolutionary icon.
The French intellectuals remained in Havana until March 15, 1960, and a week after they departed the Nacional was expropriated. When Sartre and Beauvoir returned, in October of the same year, the hotel had started to fill with literacy teachers, frontline revolutionary workers and rural villagers from the mountains who had come to Havana to study. The guests at the Nacional were no longer America's rich and famous.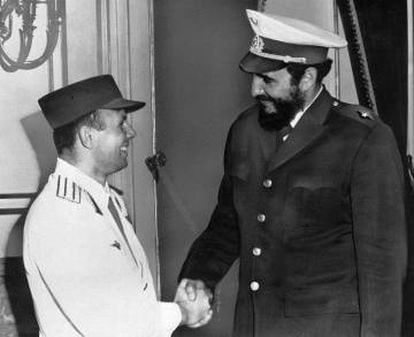 In July 1961, three months after his trip into space, Soviet astronaut Yuri Gagarin arrived in Cuba and met several times with Castro, exchanging caps and participating in the events to mark the anniversary of the 1953 assault on the Moncada barracks. Before delivering his welcome speech, Castro asked Gagarin: "How long did it take you to go around the earth?" The cosmonaut replied: "An hour and a half, comandante." Fidel smiled and said: "Then start counting." Today, a bust of Gagarin adorns one of the bars in the hotel, in front of portraits of Venezuelan leaders Hugo Chávez and Nicolás Maduro and the former president of Brazil, Luiz Inácio da Silva, who have all been guests.
The same gardens at the Nacional where Gagarin had strolled were filled with anti-aircraft batteries and trenches a year later, during the Cuban Missile Crisis of 1962. The location of the hotel, on Taganana Hill, made it a key strategic point for the defense of Havana if the situation had escalated, something which did not occur due to the removal of Soviet warheads from the island by Soviet leader Nikita Khrushchev, without consulting Fidel. This did not go down well with the Cuban leader and soon crowds of protestors thronged the seaside promenade on Havana's shoreline, chanting: "Nikita, sissy, you don't take away what you've given."
As the revolution became more radicalized and the US imposed its embargo, the Cuban economy was Sovietized and tourism became viewed as an evil, while culture on the island entered its gray quinquennium. The jailing of the poet Heberto Padilla in 1971 on charges of "subversive activities" provoked the rupture of a section of the Latin American and European intelligentsia with the revolution. Among the first signatures on a letter of protest over the Padilla case were those of Sartre and Simone de Beauvoir.
By the mid-1980s Cuba was welcoming only 150,000 tourists per year, half of them from Socialist countries, and the hotels were falling into disrepair. A story did the rounds: a hotel guest was showering when he felt the bath move beneath his feet. Fearing an embarrassing episode, he wrapped himself in a towel and went downstairs to complain. "Look, knowing how things are here, you're lucky you didn't end up in the lobby," the receptionist told him.
A lack of maintenance also started to tell on the Nacional and it was forced to close its doors from 1990-92 to carry out a vast remodeling. When it was reopened, Cuba was in the midst of an economic crisis due to the dissolution of the Soviet Union, which was known as the "Special Period." Attracting tourists and foreign currency had become a national priority. Cubans were prohibited from staying in hotels so that rooms could be reserved for dollar-paying guests. The crisis hit Cubans hard, with power outages lasting 12 to 14 hours a day and a scarcity of food, medicine and public transportation exacerbated by the toughening of the US embargo. Some American humanitarian organizations started to send aid to the island and one of these missions, in 1996, was headed by US boxing legend Muhammad Ali. Half a million dollars' worth of medical supplies were distributed and among the party was the US journalist Gay Talese, who had been commissioned to produce a report. In Ali in Havana, Talese recounted the difficulties encountered on that five-day trip, where the former heavyweight champion was feted as a hero wherever he went.
Ali's hands shook and he could hardly speak due to the effects of Parkinson's disease, but he was friendly toward his admirers, who stopped him in the great lobby of the Nacional to ask for his autograph. "It took him 30 seconds to write his name on whatever card or piece of paper," Talese said. "But he wrote it in full, 'Muhammad Ali.' He didn't just write 'Ali' to save some time. He has never short-changed his fans."
The night before they were due to return to the US, Castro invited the group to the Palace of the Revolution. Ali and Fidel mocked up a few punches for the cameras and, as they were leaving, Ali's wife Yolanda Williams told the Cuban president he would be welcome in their home if he ever visited the US. Castro said that he had been to the US before, to participate in a United Nations General Assembly, but he had not been allowed to leave his hotel room. "But things change," he added.
However, Fidel Castro was mistaken. Things did not change, tensions mounted and a year later a bomb went off in the Hotel Nacional.
English version by Rob Train.
6 Amusing Historic Stereotypes of Major Russian Cities
About the author: For lovers of Russian culture, folklore, and history, Kotar's work is a treasure. The grandson of White Russian immigrants, the 34-year-old is an author of epic fantasy novels inspired by Russian fairy tales. You can see his four books here on Amazon.
He is also a deacon of the Russian Orthodox Church, a professional translator, and choir director at the Holy Trinity Monastery in Jordanville, NY, where he lives. Here is his bio from his blog, where he writes about many aspects of Russia. We highly recommend following it and subscribing to his email list to get exclusive material.
He has an excellent Pinterest page, and you can follow him on Facebook. Here is an archive of his work published on Russia Insider.
He is currently running a remarkably successful crowdfunding on Kickstarter to be able to publish his upcoming novels. Please support him if you can!
---
Stereotypes are a funny thing. On the one hand, they're often no more than caricatures. On the other hand, there's a surprising amount of bitter truth to some of them. Like the Russians say with their morbid humor, "In every joke, there's a bit of a joke."
This is especially interesting when we consider old Rus. We don't have much to go on, historically speaking, other than chronicles, treaties, and a few bits of birch bark.
However, Russians have preserved some interesting stereotypes about the inhabitants of old Russian cities. Whether there's any truth to them or not is almost beside the point. They're fascinating, revealing a window to a world long gone, yet still persisting in the habits and personalities of today's Russians. (Here's the original Russian article that I translated)
EVERYONE IN GREAT NOVGOROD IS A REBEL
Novgorod's rebelliousness is legendary. The image of a brawling Novgorodian is almost a calling card of the city. The reason this stereotype came about has to do with the old chronicles. They were filled with illustrations of the constant arguments at the Novgorodian Veche, a kind of popular assembly that met in the central square. (See my translation of "Martha the Mayoress" for a vivid fictionalized example).
Of course, there were arguments and even fights during the Veche. However, they did not constantly devolve into fist-fights, as the legends suggest. Naturally, the chroniclers would choose the most vivid and bloody examples from history to illustrate their point. After all, Novgorod was often an opponent of Kiev and, later, Moscow. But in actual fact, the inhabitants of Great Novgorod were fiercely loyal to their government and loved their city. Compromise was the order of the day, not broken heads. Plus, they were more than usually literate.
EVERYONE IN PSKOV IS A THIEF OR A MORON
Even in modern times, Pskovians have had to endure countless jokes about their crudeness, stupidity, and their lack of good manners. This may or may not be true. As for their lack of manners, that is entirely a matter of hats. The inhabitants of Pskov, no matter what their social standing, hardly ever doffed their cap before anyone (which is extremely bad form in old Rus). However, this wasn't crudity or bad breeding.
It used to be that a hat symbolized one's personal dignity. In Pskov in particular, to actually take off your hat meant to be shamed. It may be a bastardization of the more generally accepted rule that if someone else took your hat off your head, that was a terrible insult.
EVERYONE IN NIZHNI NOVGOROD IS A DRUNKARD
The painful topic of Russian alcoholism became especially relevant in Nizhni Novgorod at the end of the 17th century. A kind of epidemic of alcoholism rose up, and it was normal to see women as well as men lying in the streets in a drunken stupor. Foreign travelers recounted after their visits to Nizhni Novgorod that "Russians don't do anything but feast."
Of course, they did more than feast. But on holidays, Russians have always allowed themselves some excesses. It's not entirely fair to single out Nizhni Novgorod, when alcoholism still is the gravest problem facing Russia today, as in olden times.
EVERYONE IN VLADIMIR IS A CRIMINAL
This stereotype appeared very early. It's easy to understand. Vladimir itself had five prisons, including the famous "Vladimir Central Prison." From the beginning, Vladimirians have been considered con artists who like a dangerous life. It didn't help that the path to Siberia for exiled convicts went through Vladimir. It was even called the "Vladimirka."
Exiled convicts stopped in Vladimir to have half their heads shaved (a scene vividly recounted in the excellent Russian film The Siberian Barber). Then they'd be branded as exiles or thieves, clapped in irons, and set upon the road to Siberia. In old times, the path could take as long as two years, and those two years were not counted as part of their allotted time.
Vladimir itself, for all that, was a typical enough provincial town.
EVERYONE IN ROSTOV IS AN ARTISAN
When a Russian hears the word "finift'" (enameling), he immediately thinks of Rostov. Nothing could change the old stereotype that every inhabitant of ancient Rostov worked in the enameling guild. That's complete nonsense, of course. First of all, the best enamellists in old Rus were as a rule in Kiev, the capital city. There were also some famous artisans in Pskov, Yaroslavl, Kostroma, and Great Novgorod.
The only difference is that Rostov alone has preserved the traditional techniques of enameling since ancient times. Even today, there is a factory producing enameled work. Perhaps for this reason alone, tourists still visit Rostov exclusively to see enameled boxes.
THE INDUSTRIOUS YARSOLAVIAN
The industrious muzhik from Yaroslavl is an image that we even find in Gogol. From the times of Rus, Yaroslavians were known as people who were never apathetic, lazy, or prone to tiredness. Instead, they're known to be active to a manic degree. This may have something to do with the odd tradition that Yaroslav is a city of buried treasure.
Apparently, wherever you turn, you see someone uncovering a jewelry box or trying to break into an ancient chest of drawers. Perhaps a little more seriously, Yaroslavians have long been known as "chicks of the cuckoo." In other words, they're more than usually capable of leaving their homeland without much regret. This quality has a clear historical origin.
Yaroslav was built on the crossroads of ancient roads—a path used by merchants from Scandinavia all the way to the Arab lands. From the middle of the 16th century, Yarsolavl became the most important center for trade in all of Rus. This constant movement often inspired young Yaroslavians to try out their luck in foreign lands.
True or not, such stereotypes make for fascinating stories. For myself, the "myth" of the boisterous Novgorodian comes to life in my third novel, The Heart of the World, in a semi-fictionalized setting of the Veche that goes fabulously wrong for all concerned.
---
Source: Nicholas Kotar
Health officials warn of strain on hospitals but Covid-19 admissions remain low
Health officials have warned of mounting strain on hospitals as coronavirus infections increase, although the absolute number of admissions remains below previous surges of the disease.
Prof Philip Nolan, chairman of the National Public Health Emergency Team's (Nphet) epidemiological modelling group, reported rising intensive care admissions but said the rise in hospital and ICU admissions was "far less" than "if we didn't have so much of the population protected through vaccination".
Dr Nolan said the expected pattern of infection in coming weeks was "really quite uncertain". The background of exponential virus growth earlier in July "may or may not be stabilising" but the increase in hospital and intensive care admissions tracked the rising rate of infection.
While there was one intensive care admission every two days toward the end of June, Dr Nolan said the ICU admission rate in the past week was approaching three per day.
There were 152 people in hospital yesterday. The figure contrasts 1,949 during the January peak. There were 333 inpatients at the start of November 2020 and 862 in April 2020 during the first wave of the pandemic.
But admissions are again rising fast.
"We're seeing on average 26 per day admitted to hospital in the last seven days and 30 today. You can see that that's very significantly up, pretty much double what it was two weeks ago," Dr Nolan told reporters at the Department of Health.
In a sign of pressure on the system, nurses in Limerick's main hospital complained yesterday that overcrowding there is worsening despite the provision of more than 100 additional beds.
The Irish Nurses and Midwives Organisation said called on Minister for Health Stephen Donnelly to intervene directly to "look under the bonnet" and see why additional beds at University Hospital Limerick had not made a substantial impact.
More trolleys had been placed on wards and corridors in University Hospital Limerick in recent days as overcrowding continued, the union said.
Uneven pressure
Chief medical officer Tony Holohan said the uneven spread of coronavirus infections throughout the State meant some hospitals might be under more pressure than suggested by overall admissions data.
"It can happen that individual hospitals can be under quite a degree of pressure when the overall situation in the country might not suggest that's the case. So we do know that maybe some hospitals in the west have already had a challenge with much more infections based on the most recent wave than other hospitals."
He acknowledged reported pressure on hospitals in Limerick and in Letterkenny, Co Donegal, and cited pressure also on hospitals in Co Mayo.
"We have seen quite a wide variation in case numbers in individual hospitals," Dr Holohan said. "We have 150 give or take hospitalisations. That's not spread evenly spread across the 30 or 40 hospitals that might be admitting patients with this infection.
Deputy chief medical officer Dr Ronan Glynn said hospitals would be under pressure if there were no coronavirus admissions.
"The point that obviously the absolute numbers are much less than previous waves is very welcome," he said.
"The reality is that if we had no cases of Covid in hospital tomorrow morning our hospitals would be under extreme pressure. Unfortunately that's what we're dealing with, both pre-Covid and now but particularly as a result of Covid in the last number of months
"Our healthcare workers are exhausted frankly. They're facing into enormous backlogs in elective care, non-Covid care, non-Covid health plans, social care: both in acute settings and in community," he confirmed.
"So while the absolute numbers are less than previously we're very conscious that any increase in those number … has potential to be very significant to the health service that we're trying to get back up to full function."
How is Germany using Covid health passes compared to other European countries?
France
In France the health passport is already in use for venues including cinemas, tourist sites and nightclubs and from the beginning of August will be extended to bars, restaurants, cafés, some shopping malls and long distance train or bus services. Find the full list of venues where it is necessary HERE.
The health passport can show proof of either; fully vaccinated status, recent recovery from Covid or a negative Covid test taken within the previous 48 hours.
It is required for everyone at the listed venues – visitors and staff – but staff have until August 30th to get vaccinated. The passport is required for all over 12s, but children aged between 12 and 17 do not have to start showing their passports until August 30th.
There is no fine for members of the public who do not have a health passport, but you can expect to be barred from any of the listed venues if you cannot show your passport to staff. Venues found not enforcing the health passport face being closed down.
The passport can be shown either on the French TousAntiCovid app – find out how that works here – or on paper. The app is compatible with vaccine certificates issued in EU or Schengen zone countries, and the NHS app is also compatible. The situation for those vaccinated in the USA is a little more complicated, but they should be able to swap their US certificate for a French one that is compatible with the app.
Italy
Italy's green pass, 'certificazione verde', will soon be required to access more leisure and cultural venues, including indoor restaurants, gyms, swimming pools, museums, cinemas, theatres, sports stadiums and other public venues.
Although it's been in use since June, the Italian government announced on July 22nd that it would be extending its health pass scheme from August 6th.
From next month, people in Italy wanting to access most venues in Italy will need to show proof of being vaccinated – including those who have only had the first of two doses – having tested negative for coronavirus within the previous 48 hours or having recovered from Covid-19 within the last six months.
At the moment Italy's digital health certificate is available to people over 12 years old who were vaccinated, tested or recovered in Italy.
The Italian version of the green pass is only for people who were vaccinated, recovered or tested in Italy. If that's you, find out exactly how to claim it here. If you don't fall into that category, here's what you need to know about accessing Italy's extended green pass.
If you're from outside the EU, the rules are complicated or still being negotiated. At the border, Italy accepts vaccination certificates, tests results and medical certificates of recovery from the United States, Canada or Japan. However, there is currently no news on how travellers can access the green pass once they're in Italy.
As for the United Kingdom, Italy does not currently have an agreement to recognise vaccinations performed in England, Scotland, Wales or Northern Ireland.
Spain 
Covid 'health passes' haven't been imposed at a national level by the Spanish government, but two regions – Galicia and the Canary Islands – have opted to require proof of vaccination, testing or recovery for people to go inside bars, cafés and restaurants.
In both regions the scheme is only being applied in municipalities with particularly high infection rates, and although it seemed that it would initially only apply to the interior of hospitality establishments, the Canary government has extended the requirement to gyms and cultural events held indoors. 
Other regional governments in Spain such as Valencia's have shown interest in implementing a 'health pass' requirement, but this has been met with opposition from the hospitality industry for the economic losses and holdups all the checking could potentially cause. 
The EU-approved Digital Covid Certificate issued mainly for the purpose of travel by Spain's regions is the preferred means of proving Covid health status, although in practice bar and restaurant owners can accept other proof, paper or digital.
Neither the Galician nor the Canary government have announced what foreign tourists should show to access the interior of bars and restaurants in their territories. 
Spain's Digital Covid Certificate is only available to residents in the country but as the system is standardised across the EU, European tourists will likely be able to use their country's Covid Certificates with a scannable QR Code to go inside hospitality establishments (not needed for terraces).
READ MORE:
Sweden
Sweden is part of the EU-wide vaccine pass scheme which means the Covid-19 pass can be used as an alternative to showing a negative test result in order to enter the country.
But aside from travel into the country, the pass is not used at all for access to things like events, museums, restaurants or bars. The government hasn't ruled it out entirely, but has said the Swedish preference is to open up for everyone at the same time instead.
To access the Swedish version of the EU vaccine pass, you need to have either had both doses of your Covid-19 vaccine in Sweden, or at least the second dose, so it is not currently possible for people vaccinated elsewhere to receive it. Another group excluded from the pass is those without a Swedish personnummer or social security number; although the eHealth Agency has told The Local they are working on making it available to the thousands of people in Sweden who were vaccinated without this number, this is not expected to happen until September at the earliest.
Denmark
Denmark controls access to certain activities and facilities – from indoor dining to cultural attractions like museums and sports games – using the scannable coronapas application, which tracks vaccination status, recent recoveries and test results.
The system is currently only available to Danish residents enrolled in the public health system, but it's compatible with the vaccine certificates from other EU and Schengen area countries. People from outside the EU/Schengen area who received full courses of Pfizer, Moderna, Johnson & Johnson or AstraZeneca can also use proof of vaccination in place of a coronapas. That documentation needs to meet a handful of requirements to be legally valid: the documentation must be in English or German and contain your name, date of birth, the vaccine you received and the dates for your first and second doses. 
The coronapas scheme is set to twilight on October 1st, when Denmark is scheduled to fully reopen. 
Norway
Norway's domestic Covid pass is used to access large events such as concerts, festivals and football matches in addition to domestic cruises and tours. 
To enter venues and events using the pass, you will need a valid certificate. 
Certificates will be valid if three weeks have passed since your last jab, you are fully vaccinated, have had covid in the past six months and can prove so via the health pass, or have received a negative test result in the previous 24 hours. 
The certificate is presented as a QR code and will scan green if valid and red if not. 
It's worth noting that a valid domestic covid certificate is not valid for travel as part of the EU's health pass travel scheme. You can read more about how the Norwegian Covid certificate is used for travel here. 
A paper version of the certificate can be ordered here. 
Covid certificates in Norway require a national identification number and level four security electronic ID. Unfortunately, this means that it's practically impossible for tourists and non-residents to access the Norwegian certificate and attend events that require a health pass. 
Furthermore, as the Norwegian certificate's domestic version is different from the version used for travel, it also means that EU health passes can't be used as a substitute for domestic vaccine passports. 
Austria
Austria was one of the first European countries to introduce a Covid-19 health pass system, having done so on May 19th as the 3G Rule. 
The 3G Rule refers to 'Getestet, Geimpft, Genesen' (Tested, Vaccinated, Recovered) and describes the three ways someone can provide evidence they are immune to the virus.
As a result, the framework is relatively well established in Austria. 
Austria's Covid-19 health pass, known as the "green pass", is needed to access bars, restaurants, hotels, hairdressers, gyms, events and a range of other venues. 
For entering nightclubs, you need to be either vaccinated or have received a negative PCR test in the past 72 hours. This information will also be included in your green pass. 
As of July 1st, masks are not required anywhere that the green pass is required.
In effect, this means masks are required in public transport, supermarkets and museums. 
EXPLAINED: What is Austria's Covid-19 immunity card and how do I get it?
Austria is a part of the European Covid-19 pass network since July 1st.
This means that if you are visiting Austria and you have the pass from your EU country, you can use it in Austria. 
Unfortunately, people with Covid-19 passes from outside the EU cannot yet use it in Austria, however they can use paper documentation. 
Also, as an Austrian phone number is needed to get the green pass (other than in Vienna), foreigners with documentation of a vaccination, recovery or a test cannot download it and use it when they are in Austria. 
Please read the following link for more information. 
EXPLAINED: Can tourists use Austria's Covid-19 green pass to visit bars and events?
Switzerland
Switzerland also has a Covid-19 health pass, known domestically as a Covid-19 immunity certificate. 
However, this is only needed at large events (more than 1,000 people), nightclubs or discos. 
Some bars and restaurants can choose to ask for the Covid certificate, upon which they are allowed to dispense with other rules such as mask rules and social distancing requirements. 
READ MORE: How to get Switzerland's Covid-19 health pass
In mid-July, Switzerland became a part of the EU's Covid-19 pass framework, meaning that you can show your EU country pass in order to enter Switzerland. 
Switzerland as yet does not accept other Covid passes, but this has been flagged as a possibility in future. 
If you arrive in Switzerland, you can show the evidence of your vaccination to the authorities in your Swiss canton and you will be issued a Covid certificate. 
Unfortunately, this only includes Swiss-approved Covid vaccines. According to the Swiss government, this is only Pfizer/Biontech, Moderna and Johnson and Johnson, i.e. AstraZeneca is not accepted. 
More information about getting the pass if you are visiting Switzerland is available at the following link. 
EXPLAINED: How do tourists get Switzerland's Covid certificate to access events, clubs and restaurants?
Elsewhere around Europe 
In Hungary immunity certificates delivered from the time of the first vaccine shot are required in health establishments and to attend sports and music events, as well as gatherings of more than 500 people.
 In Luxembourg a pass is asked for in shops.
In Azerbaijan a health pass has been mandatory since the beginning of June to enter sports centres or attend weddings.
In Portugal such a certificate is required to stay in a hotel or play sport. It is also required to eat inside restaurants, but only at weekends in the most hard-hit regions.
In Ireland the health pass is for the time being only needed for indoor eating and drinking in restaurants and pubs.
In Russia the Moscow region in June imposed a health pass for restaurants but this was so unpopular it was scrapped three weeks later.
The British government is planning to introduce in September a health pass in England to enter nightclubs and other places admitting large groups of people. Professional football matches could be included, reports say.
The UK's other nations — Scotland, Wales and Northern Ireland — set their own health policies.
Georgia is also planning a health pass.