Crime in the Philippines: Death of Spain's Diego Bello in the Philippines: How the police version was debunked | Spain
On January 8, 2020, when Diego Bello's family and friends were told that the 32-year-old had died in a police shootout in the Philippines, nobody believed it. It was as if they were being told about a stranger. The surfer from Spain's Galicia region had been living in Siargao since 2017, and had started several businesses on the island. But according to police, he was a drug lord – an accusation that rang false with all who knew him. Now a new investigation, triggered by the family's protests and diplomatic pressure, has reached the same conclusion, and the three police officers who shot Bello have been charged with murder, perjury and falsifying evidence.
According to Human Rights Watch, Diego Bello is one of the 12,000 people who have died in the Philippines at the hands of the police in alleged drug operations since 2016, when President Rodrigo Duterte began his violent war against trafficking. Bello's case is also one of 52 that have been reviewed by the country's Department of Justice (DOJ), following years of protests from human rights organizations. In all 52 cases, investigators found signs that the deaths were extrajudicial killings. The Duterte administration, which faces elections soon, has promised to analyze another 6,000 homicides. The official report from the DOJ, which is the equivalent of Spain's public prosecutor, debunks the police version of Bello's death thanks to witness statements, an analysis of police archives and a review of the crime scene.
Bello was shot to death outside his home. It was 1.35am and he had just gotten back from working in the restaurant that he managed. Both his neighbors and his girlfriend, who was inside his house at the time, heard the shots. The shots were fired by captain Wise Vicente Panuelos, the police chief who is one of the three officers now charged with murder, perjury and falsifying evidence. Panuelos maintained that Bello was killed in a drug operation. According to this version of events, Panuelos was leading a team to arrest the businessman from Galicia by setting a trap. The story went that one of his men, sergeant Ronel Pazo, who is also being investigated, had arranged to meet Bello outside his home to buy drugs. Once the deal was done, the third accused officer, sergeant Nido Boy, was meant to arrest the 32-year-old. But the three said that they were "forced to defend themselves," after Bello, realizing he had been set up, shot first and tried to escape.
The new investigation, however, concludes that the shootout never happened, but was rather an "invented scenario." Bello never took a pistol from a belt bag, as alleged by the three police officers, nor did he fire twice as he tried to flee. At the scene of the crime, bullet casings from two different calibers were found: one belonged to the guns used by the officers, and the other allegedly to the weapon wielded by Bello. But according to the investigation, the position of the casings indicates that the shooters were standing so close to one another that it would have been impossible for Bello to have been the only victim.
That is not all: there is a large amount of evidence that disproves the first official version of the murder. The trajectory of the bullets allegedly fired by Bello does not match with the officers' description of how he fled. Blood stains and the damage at the crime scene also contradict the officers' version of events. The last shot, for example, did not come from the gun supposedly used by Bello, but rather the police chief. And it is believed it was fired when the surfer had nearly fallen to the floor.
According to the DOJ, it is "evident" that accusing Bello of carrying a weapon was "part of a big plan to justify the illegal homicide." The investigators discovered that the gun alleged to have belonged to Bello was in the name of a business based in Manilla, which denied that it stocked the weapon. It was impossible, the investigators said, to establish a link between this company and Bello, given that the Spaniard had only been living in the Philippines for three years, while the gun had been registered by the firm more than two decades ago.
Bello's name was also not on the official list of drug traffickers, which has been kept since 2016. Panuelos also insisted that the 32-year-old was a regional trafficker despite the fact that there was no reference to him in the Philippine Drug Control Agency. This body also confirmed that it had not been involved in the operation led by Panuelos. The autopsy carried out in Madrid concluded that Bello had not taken any kind of drug in the six months prior to his death.
At the scene of the crime, which investigators believed was staged, 15 grams of cocaine was found as well as a belt bag, which Bello allegedly used to carry his gun. But he was not wearing this item when he left his restaurant to go home, as is clear from security camera footage recorded at the establishment. The investigation accuses the officers of shooting a defenseless person, when they themselves were armed and had support from other police officers working in the area. The autopsy carried out in the Philippines showed that Bello had been shot six times, with the last bullet hitting his right ear. The DOJ report concludes that the three officers shared a "common goal, a unity of action and a common interest: to kill Diego."
Unanswered questions
This twist in the case has surprised the relatives of Diego Bello, who have been fighting for nearly two years from A Coruña in Galicia to get justice in the Philippines. They have faced enormous difficulties, but were finally able to find a law firm in the country that has appeared on their behalf in the suit. The family, however, have said they will take their case to Spain's High Court, the Audiencia Nacional, or the International Criminal Court (ICC), if the process is not carried out with the proper legal guarantees. Now they are also calling on Spain's Foreign Affairs Ministry to help them cover their legal fees. "We were not expecting anything [in the Philippines], and now, suddenly we see the light," said Guillermo Mosquera, who has been working on the case with Manuel Ollé Sesé, an expert in international law.
The Foreign Affairs Ministry says that it has been "closely following" Bello's killing and has promised to "continue giving special attention" to the case against the three police officers. One of the officers, Captain Panuelos, met with the Spanish consul days after Bello's murder to say that there was "solid evidence" against the Spaniard, according to local press. Later, representatives from Spain held meetings with the justice and interior ministries of the Philippines to urge the country to review Bello's case.
This review has debunked the first official version of the murder, but has not reached a conclusion on the motivation for the crime. "My opinion is that the narco campaign was used to settle something personal against him and that's why they put the drugs and the weapon there. But the only person who can tell us what that 'something personal' is is Diego," said Mosquera. "I don't know what happened, nor if we will find out some day. What we are looking to do is to clear his name and show that it was all a set-up to kill him."
The Commission of Human Rights in the Philippines, which was the first organization to call into doubt the police version, has found a connection between Bello and one of his accused killers. Panuelos comes from Camarines del Sur province, where the governor is Migz Villafuerte, a member of a powerful political family. According to the commission's report, which was published before Panuelos was accused, five months before the murder, Villafuerte went to one of Bello's businesses to complain about the noise and threatened Bello's partner: "Don't you know who I am? I could shoot you and make you disappear by throwing you in the swamp."
Lives lost at Europe's borders and Afghan MPs in exile: human rights this fortnight – in pictures
A roundup of the struggle for human rights and freedoms, from Mexico to Manila
Belgium tightens Covid rules as health system 'is cracking'
Belgium has introduced new measures to curb the surge of Covid-19 infections in the country, following the third emergency meeting of federal and regional governments in three weeks.
"The autumn wave is much heavier than was estimated," Belgian prime minister Alexander De Croo said on Friday (3 December).
"The infection rates are among the highest in Europe and the pressure in healthcare has become unsustainable," he also said, arguing that new measures are necessary because "the system is cracking".
One item on the agenda that proved to be divisive was the closure of schools – a move supported by experts and the federal government but opposed by regional governments.
Belgium's so-called concertation committee of federal and regional governments finally decided to keep schools open, but it impose a longer, three-week, Christmas holiday for primary and pre-primary education. The holiday will now run from 20 December to 10 January.
According to Flemish prime minister Jan Jambon, this extra week will be used to administer the booster shot to the teachers.
And until the school holiday, a class will go until quarantine after two cases of Covid-19 are detected (previously three cases). Additionally, all extracurricular activities will be barred.
Children from the age of six upwards will also have to wear a face mask at school and all other places where its use is compulsory. And parents have been advised to test their children regularly.
For this coming weekend, indoor events with more than 4,000 attendees will be cancelled. From Monday, this will apply to all with more than 200 attendees.
Events with fewer than 200 people inside will still be allowed under the current criteria – that everyone needs to have a corona pass, be seated and wear a face mask.
Museums and cinemas would remain open, but with a capacity limit of 200 people per room.
The committee also decided that restaurants and bars can continue to remain open until 11PM, as it is currently the case – although experts had asked to close them at 8PM.
This new package of measures has already been criticised by representatives of the cultural sector, who argued that the restrictions do not target the source of the problem.
"Instead of fighting the virus, we are fighting culture. Bars open, but culture [events] only 200 people. Who are we fooling?," said Michael De Cock, director of the Koninklijke Vlaamse Schouwburg [Royal Flemish Theatre].
There is also no restrictions for private social life in the so-called "contact bubbles" – despite this also being recommended it by experts. Nevertheless, there is a recommendation to limit contacts as much as possible.
At work, there are no new measures, as the committee previously announced that teleworking is mandatory at least four days a week.
Intensive-care cases expected to peak next week
An average of 318 Covid-19 patients were hospitalised each day in Belgium this week – which represents an increase of four percent compared with the previous week.
There are currently 3,707 people hospitalised in the country, of which 821 are in intensive care.
"Although the number of infections is very high, the number of deaths in our country is lower than in comparable countries, and that is due to the high vaccination coverage," said de Croo.
"Getting vaccinated is an act of solidarity," he added.
More than 75 percent of the Belgian population is fully-vaccinated, and over a million people have received a booster shot.
For his part, Belgian virologist Steven Van Gucht said on Friday that the number of Covid-19 patients on the intensive care units of the country's hospitals are expected to peak next week.
"It is unclear whether we can then expect a rapid fall or whether the figures will remain at that high level," he also said, according to VRT news.
The highest number of new Covid-19 infections (25,574) during this fourth wave was recorded on Monday 22 November.
But new measures will make coronavirus figures fall more quickly, relieving the pressure on the health care sector, Van Gucht said.
India's 'pencil village' counts the cost of Covid school closures | Global development
School closures in India during the pandemic have left their mark on more than the children who have seen delays to their learning. In one Kashmiri village the impact has been catastrophic on employment.
Pick up a pencil anywhere across India and it is likely to come from the poplar trees of Ukhoo.
This village, with an abundance of trees, about 10 miles south of Srinagar city in Kashmir's Pulwama district, supplies more than 90% of the wood used by India's pencil manufacturers, which export to more than 150 countries.
Before Covid, more than 2,500 people worked in the village's 17 pencil factories and the industry supported about 250 families.
But, after nearly two years of school closures and a dramatic drop in demand for the village's products, factory owners reduced their workforce by more than half.
Workers were dismissed without pay, while many of those who kept their jobs had migrated from other parts of India, and were cheaper to employ. Now the village and its workforce are waiting eagerly for the market to revive.
Rajesh Kumar, 26, from Bihar, has worked in Ukhoo for seven years. Like other migrant workers, he lives in a room on the factory premises and works 10- to 12-hour shifts. During lockdown last year, the factory owner provided food and accommodation when production shutdown for about three months. He is one of the luckier ones to be back working now.
"I hope the pencil demand increases and these factories are full of workers again, as many of our friends and people from our villages find work [here] and are able to make a living," says Kumar.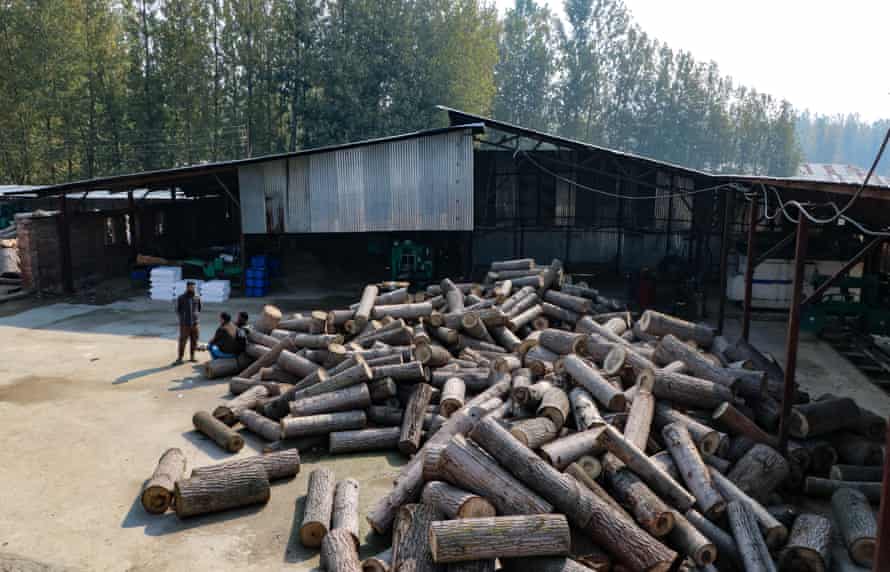 Farooq Ahmed Wani, 27, from the city of Jammu, has worked as a machine operator in Ukhoo for the past five years.
"We are hoping that schools reopen throughout the country so that there is more demand for pencils in the market," he says in an optimistic tone. "Then these factories can employ more young people and more migrants can also get some work here."
Pencil wala Gaon, or "pencil village", attracted the attention of India's prime minister, Narendra Modi. In his monthly radio programme, Mann Ki Baat, last year he said the district was an example of how to reduce the country's dependency on imports. "Once upon a time we used to import wood for pencils from abroad but now our Pulwama is making the country self-sufficient in the field of pencil making," Modi said.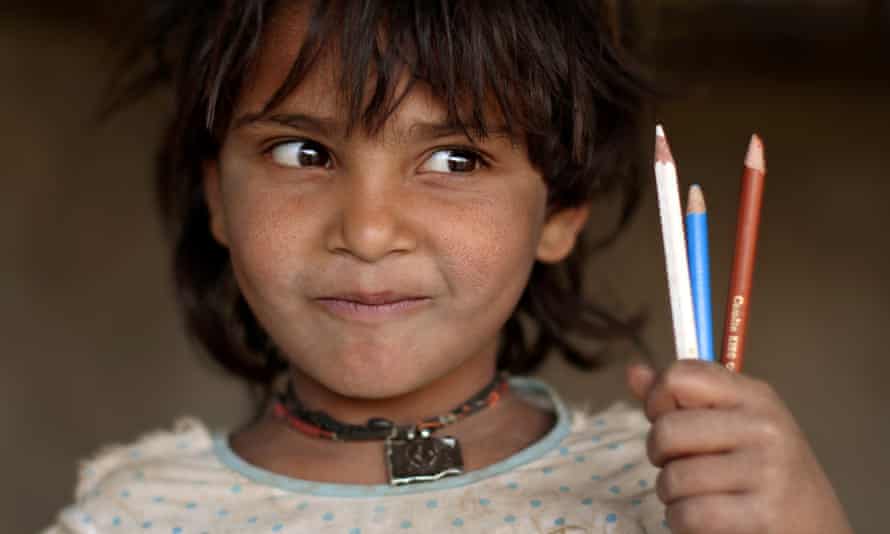 A recent ministry of home affairs report said that the village would be developed as a "special zone" for manufacturing. "Now the whole country would be supplied finished pencils, manufactured completely in Pulwama," the report noted. But the pandemic has shown how overreliance on one product in a region brings its own problems.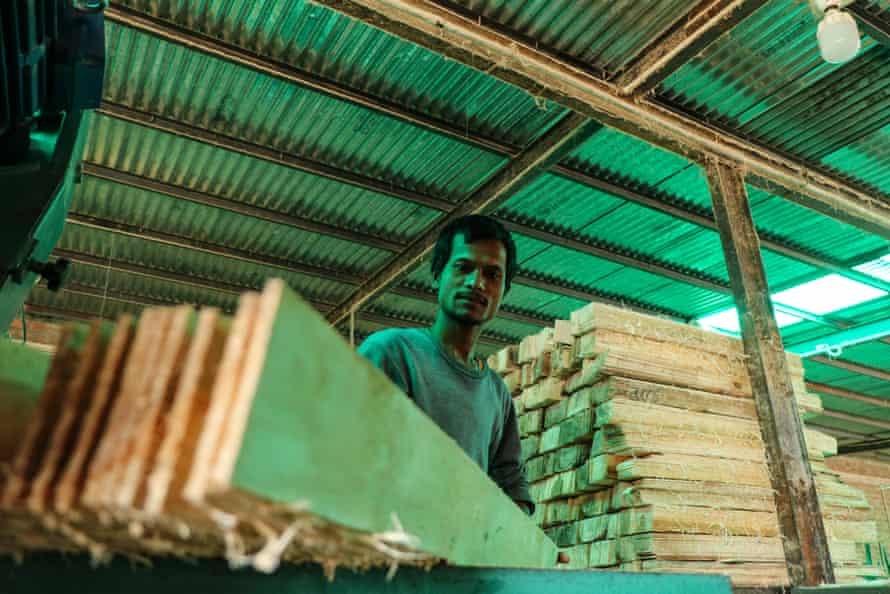 Abrar Ahmed, a unit supervisor at one of Ukhoo's factories, says everyone has suffered. "Even the sawdust from woodcutting machines is usually taken by the local villagers who then sell it to poultry farms and for other purposes in the village."
Manzoor Ahmad Allaie owns one of the biggest factories in Ukhoo.
"We are only doing about 30% to 40% [of normal levels of] business now because of the Covid lockdown impact from last year, which means we produce about only 80 bags of pencil slats a day," says Allaie. "Earlier we could produce about 300 pencil slat bags [a day] in the factory, which were transported out of Kashmir."
He is eagerly looking forward to India's schools fully reopening. It has been a hard two years for the pencil villagers, he says.
Sign up for a different view with our Global Dispatch newsletter – a roundup of our top stories from around the world, recommended reads, and thoughts from our team on key development and human rights issues, delivered to your inbox every two weeks: