'Countdown to catastrophe': half of Afghans face hunger this winter – UN | Hunger
More than half of Afghanistan's population is facing acute hunger as the country has been thrown into one of the world's largest food crises.
Almost 23 million Afghans will be hungry due to conflict, drought and an economic downturn that is severely affecting livelihoods and people's access to food as a harsh winter looms, the UN has warned; an increase of nearly 35% compared with last year.
"Afghanistan is now among the world's worst humanitarian crises – if not the worst – and food security has all but collapsed. This winter, millions of Afghans will be forced to choose between migration and starvation," the World Food Programme's executive director David Beasley said, adding that "we are on a countdown to catastrophe".
The Taliban takeover in August has contributed to the economic upheaval as billions of dollars in foreign aid payments – 40% of the country's gross domestic product – have ceased and almost $10bn (£7.3bn) of Afghan central bank assets have been frozen.
Half of all Afghans will be facing crisis or emergency levels of acute food insecurity between this November and March next year, the UN report said.
As desperation grows, the number of beggars throughout Afghanistan's major cities – including children – has risen as urban residents, for the first time, suffer similar rates of food insecurity to rural communities; a shifting pattern of hunger in the country.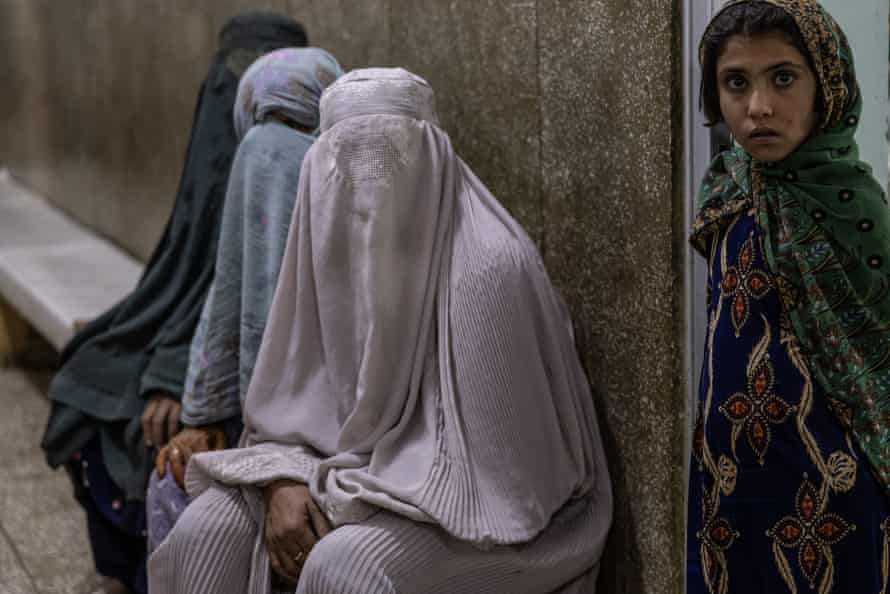 In the southern city of Kandahar, a traditional Taliban heartland, the malnutrition ward at Mirwais hospital was packed with women and children, most of them sharing beds with several others. The ward was stuffy and crammed. Mothers sat with their children while fathers or other male relatives – usually not allowed to enter – waited outside. Although the hospital is the biggest health facility in southern Afghanistan, it is poorly equipped.
"We have more than 70 children here and numbers are increasing," said paediatrician Zainullah Zermal, adding that although malnutrition cases usually rise with the approach of winter, this year's cases were alarming and the hospital was struggling to cope.
Many families had travelled significant distances to reach Kandahar, unable to access adequate healthcare nearer home. More than 2,000 clinics across the country have closed due to lack of funds.
Eighteen-month-old Memala shared her bed with another patient at Mirwais hospital, her body thin and frail, her gaze absent.
"We have travelled from Kandahar's Zhari district," her mother, who didn't want to give her name, said; about an hour's drive away. Zermal explained that, so far, most children had a good chance of survival, but he was worried about the coming weeks.
"We're now seeing more families arriving from far away. Some of them travel for days to seek medical care as there are no hospitals near them. Winter is coming and that's when malnutrition usually spikes."
In Kabul's Indira Gandhi children's hospital, the biggest paediatric clinic in the country, doctors said about a dozen children were arriving each day, even though the city's markets were still stocked with food.
"We don't have money to afford it," said Fereshta, a 30-year-old mother. Her six-month-old daughter Zahaba was underweight. Fereshta, who has five children, said that between worrying about money and not having enough to eat, she hadn't been able to breastfeed her daughter properly.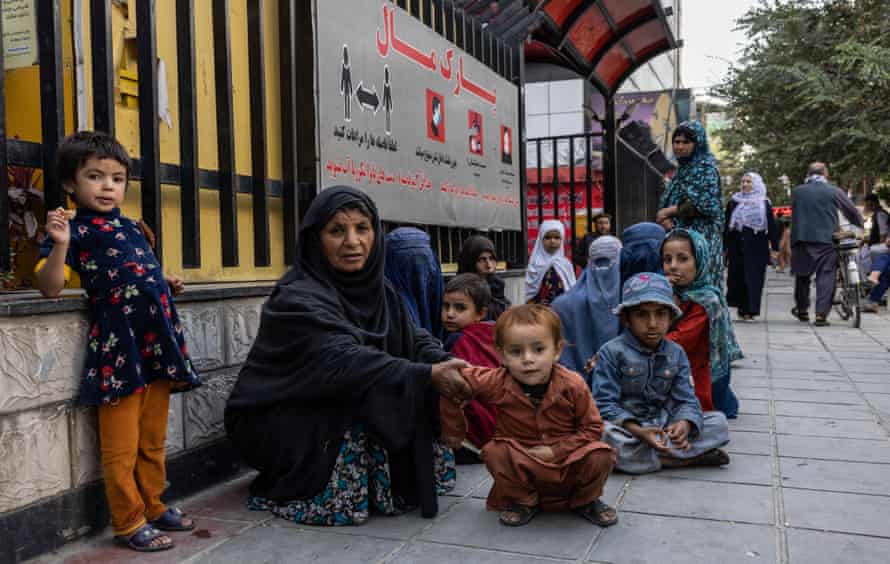 Only 5% of households have enough to eat every day, the UN said. Many families who fled fighting before the Taliban takeover can't afford to go back home, instead remaining in makeshift camps with no source of income. About 3.5 million people remain displaced within the country.
During the Taliban regime between 1996 and 2001, millions of Afghans lived in poverty and on the brink of starvation, and fears are mounting that a similar situation could arise.
The "Islamic Emirate" on Sunday launched a wheat-for-work scheme, saying it would employ 40,000 casual labourers in Kabul who would be paid in wheat instead of cash. During the initiative, set to last for two months, the Taliban pledged to distribute 11,600 tonnes of wheat in the capital.
Cash is largely unavailable, and many government employees are waiting for unpaid salaries.
In Kabul, beggars are visible on almost every street corner. In the city centre, small children chase after shoppers, hoping for a piece of bread.
Setara Amiri, 43, has been begging for the past month. Her husband, who worked as a driver for the previous government, is unemployed. "My children are begging too," she said, sitting on a busy Kabul pavement. The family used to get by, she said, but not now.
"Each morning I wake up, I worry that we won't have food at night. I'm begging so my children won't starve."
Poland plans to set up register of pregnancies to report miscarriages | Poland
Poland is planning to introduce a centralised register of pregnancies that would oblige doctors to report all pregnancies and miscarriages to the government.
The proposed register would come into effect in January 2022, a year after Poland introduced a near-total ban on abortion.
This has raised serious concerns among women's rights activists, who believe that in light of the abortion ban, the register could be used to cause legal difficulties for women who have self-administered abortions.
The draft legislation is part of a wide-ranging project to update the medical information system in Poland.
"It's about control, it's about making sure that pregnancies end with birth," Natalia Broniarczyk, an activist from Aborcyjny Dream Team told the Polish weekly Gazeta Wyborcza.
The plan prompted online protests. A social media initiative titled "I'd like to politely report that I am not pregnant" encouraged Polish women to email photos of their used sanitary pads, tampons and underwear to the Polish ministry of health.
The ministry has strongly denied the project amounts to a centralised pregnancy register, with a spokesperson saying the changes are simply part of wide-ranging digitalisation project that will update the way data about a multitude of conditions, including allergies, is stored.
The spokesperson said doctors always had information on pregnancies, but before it was stored on paper by hospitals, rather than centrally by the government.
The concerns of activists about the register grew considerably after a bill proposed by the government that would establish an "institute of family and demographics" passed first reading in the Polish parliament by one vote on Thursday.
The institute would aim to monitor family policy, pass opinion on legislation and educate citizens on the "vital role of family to the social order" and the importance of "cultural-social reproduction" in the context of marriage. The institute would have access to citizens' personal data and prosecutorial powers in the realm of family law, prompting worries it could be used to enforce the country's strict abortion law.
The project has drawn widespread criticism from Polish academics and civil rights advocates.
"Maybe just call it the 'Red Center of Rachel and Leah'," a feminist organisation from Łódź said in an Instagram post, referencing Margaret Atwood's dystopian novel The Handmaid's Tale. In the novel the Rachel and Leah Center is a training facility for women designated to be "breeders" by the authoritarian regime.
The committee of demographic researchers at the Polish Academy of Sciences has issued a statement expressing concerns that the "pro-natalist propaganda" would take precedent over scientific research at the institute.
"The project aims exclusively to promote traditional model of family," Adam Bodnar, Poland's former ombudsman for citizen rights, told the Polish news website Oko.press. "It could also become a tool against those who fall outside this model, for example those who do not conform to heteronormative norms."
[Ticker] EU consumers can sue Facebook, judge advised
European consumer groups can sue US tech-giant Facebook for privacy violations, an advisor to the EU court in Luxembourg said Thursday. "Member states may allow consumer protection associations to bring representative actions against infringements of the protection of personal data," he said in a non-binding opinion, which judges follow in most cases. The legal action arose from a German online gaming dispute, with a final verdict to follow shortly.

Source link
Lives lost at Europe's borders and Afghan MPs in exile: human rights this fortnight – in pictures
A roundup of the struggle for human rights and freedoms, from Mexico to Manila