Colombia street protests: Iván Duque: 'I'm not going to allow anyone to bleed Colombia' | USA
Iván Duque presides over a country in flames. Ever since protests began on April 28, not a single day has gone by without violence in Colombia. The trigger was tax reform, the signature issue of the Duque administration. The proposed legislation was meant to increase taxes, reduce the debt created by the pandemic and send a message of rigor to the markets. But the result was considerably different.
The measure touched a raw nerve in the South American nation, unleashing the most extensive unrest in seven decades. It was of little use that the government pulled the proposal. By then, the fire was unstoppable. In less than a month, three leading officials have resigned: the finance minister, the foreign minister and the peace commissioner; Colombia will no longer co-host the Copa América soccer tournament, and the ratings agency Standard and Poor's has cut the country's sovereign rating. And that's the least of it. The human toll is upwards of 50 dead and 2,000 injured. Blockades on roads and major cities are stifling the economy, while cases of police brutality and lynchings are rife.
Overnight, a country that was trying to emerge from a long and painful armed conflict has found itself back in the tunnel. The reasons are still a matter of debate, but there is agreement that the effects of the pandemic, which has made poverty surge to levels not seen for a decade (42% of the population), has exacerbated old grievances, and a weary, indignant Colombia has risen up as a result.
Overnight, a country that was trying to emerge from a long and painful armed conflict has found itself back in the tunnel
Nobody will venture to suggest an end date to the crisis. Not even the president, who finds himself besieged from all sides. The international community has upbraided him for the police excesses. His political mentor, the mercurial former president Álvaro Uribe, has accused him of being weak. And the left-wing opposition says he is incapable of starting a real dialogue and ending the conflict.
Caught in the crossfire, Duque has tried to take back the initiative. After taking a few blows, he launched a diplomatic attack and began visiting conflict zones. On Friday he went to Cali, home to the country's third-largest population (2,245,000) and ordered the deployment of military forces in the city. Just a few hours earlier, an investigator from the Prosecutor's Office had been lynched by a mob in the middle of the street after he shot dead two protesters at a roadblock. Duque later traveled to Popayán (population 320,000), where a student had died in a day of attacks against government buildings and clashes with the police. From there he returned to his official residence in Bogotá, the Casa de Nariño. The interview with EL PAÍS took place inside the Salón Amarillo, a spacious room decorated in a neoclassical style.
It's Sunday morning and Duque, 44, arrives a bit late. His aides are with him. Before beginning the interview, he makes the sign of the cross and kisses a medallion depicting the Virgin Mary and the Sacred Heart of Jesus.
Question. Is Colombia out of control?
Answer. No. What we're seeing is a situation with multiple dimensions. There are peaceful protests and a citizen cry that we are listening to and which we respect. But there are also serious cases of vandalism and low-intensity urban terrorism, as well as blockades that are violating fundamental rights.
Q. There have been over 2,000 recorded cases of injuries and more than 50 deaths during the protests. Don't these figures evidence that the police have been handling the crisis badly?
A. When you analyze the data carefully, the number of deaths associated with clashes during protests is substantially reduced. This does not mean they should be minimized, not at all, because every life counts. We need to reject violence against public law enforcement, because we have seen police officers get killed and hundreds more injured. But if some members of law enforcement act in ways that violate the law, we not only condemn it but also investigate and impose sanctions. Every time I am asked about police brutality, I always say 'let's not generalize or stigmatize, let's sift through.' There are 30 million police proceedings opened every year in Colombia. Could there be situations of abuse? Of course. But is it systematic? No, because they represent a minority of cases. Even so, not one of them will go uninvestigated; this is a country with independent institutions.
Q. So you admit to cases of police abuse and you condemn them, but you feel that these are isolated, not generalized cases.
A. I'm saying three things. One, that there will be zero tolerance when a member of law enforcement behaves in a way that violates the Constitution or the law or human rights. Two, that we need to have swift, internal investigations, also of the monitoring agencies. Three, I've never had a problem acting resolutely when such events have taken place.
Q. So you acknowledge these abuses?
A. I'm not just saying that they've been acknowledged, but also that they've been investigated and sanctioned. The Colombian police are constantly weeding out members who fail to comply with the law. The honor code is very deeply felt, it is an institution with a 128-year history. My attitude has always been very supportive but also very demanding.
Q. You are being accused, as the head of state, of being less forceful in your condemnation of police abuse than you are of street violence.
A. Whoever says that is being untruthful. I recognize peaceful protest as a legitimate, constitutionally protected principle. And I condemn all violence in general: vandalism and low-intensity urban terrorism as well as any illegal or unconstitutional acts by a member of law enforcement. This has been my guideline as the head of government. But I also very clearly defend the institutions that safeguard the rights of all Colombians. I value their daily efforts to protect their lives, honor, property and freedoms.
I am governing with the platform I was elected on, and I am thinking about all Colombians
Q. Former president Álvaro Uribe has encouraged the police to use firearms at protests. Don't you think this is excessive?
A. Nobody can use firearms to confront peaceful protests. And during acts of violence, their use must adhere to the principle of proportionality. We have seen situations where police officers have been assaulted with firearms or shot point-blank, and for those cases the law in Colombia is very precise, stating that [firearms] must be used without putting third parties at risk or shooting indiscriminately.
Q. Uribe is being very critical of you. Do you feel abandoned by the leader of your own party?
A. I do not feel abandoned. And let me be clear: as a government, our main interest, rather than thinking in electoral terms, is to respond to the needs of the entire country. I am governing with the platform I was elected on, and I am thinking about all Colombians.
Q. Aren't you hurt by the criticism from your political mentor?
A. In life, I have learned to look at things with optimism and not allow myself to get distracted. When I get criticism or praise from people who are close to me, I value both with the same kind of humility.
Q. Have you not considered apologizing for the things that have been done badly?
A. Fifteen days ago I had a big meeting with youngsters and they were making demands about policies that they were unfamiliar with. I told them that if I had to apologize, I apologized for not conveying the messages in the desired way. There are young people who have been hard hit by the pandemic, who have lost loved ones and jobs, who have felt isolated, who cannot find employment… There are historical debts that have been exacerbated by the pandemic, and our goal is to start settling them.
Q. And if a youth who's been the victim of police brutality were standing here right now, what would you say?
A. What we've always told every victim of violence. If a person has been the target of illegal conduct by a member of law enforcement, we guarantee an investigation and sanctions. We said the same thing to the mother of a police officer who was cruelly killed a few days ago after being stabbed 17 times. All forms of violence must be rejected.
The country has been hit with a pandemic, with the world's biggest migration crisis, by a Category 5 hurricane…yet it has shown its resilience
Q. You recently accused – although you did not mention him by name – the leftist opposition leader Gustavo Petro of not letting you run the country. Do you blame him for the unrest?
A. There are people who want to make the most of this situation politically with a view to 2022 [when a presidential election will be held], who seek to agitate the population, who want class warfare, stigmatization, who use inflammatory language to talk about law enforcement…
Q. Are you talking about Petro?
A. I have not used names. The day I won the election, the defeated candidate [Petro] said he would be out on the streets throughout my term in office agitating protests. It is a notorious fact that there are individuals who wish to capitalize on the protests with a view to 2022. Who doesn't benefit from Colombia experiencing economic growth of over 5% this year, from job creation and mass vaccination? The country has been hit with a pandemic, with the world's biggest migration crisis, by a Category 5 hurricane…yet it has shown its resilience, and in the first quarter the economy grew against all expectations, and we emerged from recession…
Q. Just to make things clear, when you talk about capitalizing on chaos, are you alluding to Petro? Yes or no?
A. I am not going to answer as though I were being interrogated. This is an interview…
Q. I'm just asking because I want to know.
A. Let's not reduce it to just one individual, there are several who want to capitalize on this. People know them from their Twitter accounts, their interviews and their statements.
Q. Why won't you give out the names of the people you are pointing out?
A. I have never indulged in politics that use personal attacks and references, but everyone knows who they are. And let me tell you something that is quite the paradox: when we had to decree preventive mandatory isolation last year, these people were the first to come out in favor of the measure. Many people told me at the time: "Oh, what a gesture of greatness." And my answer was: "Careful, because what they're banking on is destruction, and later, when reactivation follows, they will be the first to oppose it."
Q. What was the role of the pandemic in this crisis?
A. The pandemic has exacerbated already-high youth unemployment. At the same time, for over a year it prevented them from interacting in their natural, academic and social spaces. The result has been a clamor. And this kind of eruption is going to take place in many parts of the world.
Q. And you were not aware of the discontent that existed before the protests erupted?
A. My biggest concern when the pandemic began is that it might cause great social distress. That is why, when we decreed isolation, we launched social tools against hunger. At the beginning of 2021 we were hoping to restore employment levels. And then came the protests. Although there are well-founded reasons to demand historical rights exacerbated by the pandemic, there has also been a use of disinformation to enrage the Colombian population.
Q. But there is a consensus that the tax reform you launched in April was the catalyst for the early protests. Was it a mistake to introduce it?
A. The reform was used to exacerbate feelings of hate and violent reactions. There was also a lot of disinformation. That is why, when I saw that it was being used to unleash citizen rage, I opted to withdraw it and seek a new consensus with political forces. But that reform aimed to bring income to the 50% of Colombia's most vulnerable population, to eliminate extreme poverty in three years and introduce an agenda of unique social transformation.
The blockades are not a form of peaceful protest. Even if no weapons or aggression are used, they are in themselves a form of violence against other people's rights
Q. If you could go back, what would you have done differently?
A. There is no doubt that I would seek much broader consensus and more of an explanatory effort.
Q. When did you realize the true magnitude of the protest?
A. Colombia has a long history of protests and civic stoppages. So this was not the first time. The question is, why did the blockades continue once the reform had been withdrawn? In four weeks they have caused more damage to the economy, to employment and to the productivity of this country than the first few months of the pandemic. And the loser here is Colombia. There is no justification for the fact that people are losing their jobs and being prevented from moving around, getting vaccinated or receiving oxygen, The blockades are not a form of peaceful protest. Even if no weapons or aggression are used, they are in themselves a form of violence against other people's rights. Bleeding the country, blocking its arteries to collapse its productive heart is an irrational move and we cannot accept it. That is why law enforcement has to act against the blockades. I am certain that Spain would not allow anyone to block the supply of food, medicines and vaccines to Madrid, Barcelona or Seville, that would violate everyone's rights.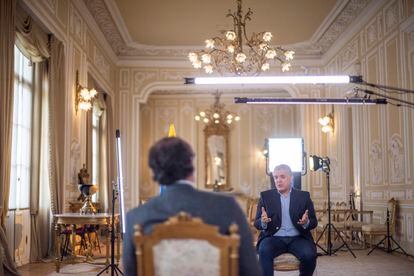 Q. But isn't the depth of the protest due to the fact that Colombian society has reached its limit in terms of poverty and exasperation?
A. Yes, but then you need to ask how we emerge from that effect of the pandemic. And the answer is by growing, vaccinating and creating jobs. We need to reactivate the economy and we need an agenda for youth that is absolutely transformational. I cannot understand how one can support those blockades when all they do is destroy jobs, opportunities, logistical and productive capacity…
Q. Don't you think that behind the protest and its various manifestations, there is a loss of prestige of politics, a loss of faith in the government?
A. It's possible. That is also a global trend. That is why we've seen extremist, populist and demagogue movements in so many countries. There is always someone who wants to capitalize politically on those situations. How? By discrediting the institutions and creating anarchical sentiment. The post-pandemic explosion is going to reach the entire world. Today it's us, but we will see it elsewhere in the coming years. That's why it is very important to understand what could have been done better, but it doesn't mean that we should stop acting responsibly: that would be tantamount to incubating a bomb.
Q. The exacerbated level of violence seen in Colombia is striking. What is the reason for it?
A. The acts of violence we have seen are not a spontaneous reaction by citizens. Colombian citizens do not make calls for violence. The acts of vandalism and low-intensity urban terrorism are linked to common crime or to organized armed groups with ties to the ELN [National Liberation Army] or to FARC dissident groups.
Q. Is the situation with the blockades different?
A. The blockades are illegal. In Colombia, they are sanctioned by the Criminal Code. To think that they are justified as the backbone of the strike is very dangerous. We have been seeing strikes for 40 or 50 years, but never with the levels of obstruction to employment and the production network as we are seeing now. And so I will not be making any deals over the fundamental rights of Colombians. We need to be clear on this, because at many of the blockades we have seen criminal incidents or groups that seek to intimidate the population. And there we need to act decisively with the law in our hand.
Q. How far along are the negotiations with the National Unemployment Committee?
A. Colombia needs to reject the tactic of facts on the ground. In order to build agreements there needs to be not just a categorical rejection of the blockades, but also instructions to lift them. If that doesn't happen, a negotiation will be very difficult: the country cannot be feeling strangled or held for ransom. There is leeway to understand their proposals, to discuss them, but not with the violence and the blockades standing in the way. We have provided all guarantees in the exercise of peaceful protests, and the only way to build a viable agreement is by lifting the blockades, because they are a dangerous form of violence.
Q. And if the blockades persist, what measures are you ready to take?
A. The blockades are illegal and they are being lifted with a proportional use of the public force. It is our responsibility.
Q. There are voices asking for the complete mobilization of the army and the declaration of a state of exception. Are you considering that?
A. The Constitution contemplates it, not me. The Constitution clearly defines the types of states of exception in our country. As a president, one can never renounce the use of any of them.
I always try to find support in my faith. Every day I reserve a personal space to connect spiritually
Q. And you are not prepared to allow humanitarian corridors to relieve the effects of the blockades?
A. To accept humanitarian corridors is to accept the blockades as a mechanism to pressure citizens. There are children who have died inside an ambulance due to a blockade, there are populations who lack access to food due to a blockade… In this situation, creating a corridor where a man shows up who represents nobody, whom nobody elected, who has no political administrative or judicial authority, determining what may go in or not, what may pass through or not… sorry but no. Those islands of anarchy are not in our Constitution and they are not in our laws. Order is not negotiable, because without it there would not be full freedoms for everyone.
Q. Are you losing sleep over the crisis?
A. A Colombian president was once asked if he slept well or had nightmares. He replied 'I sleep well because the nightmares begin when I wake up.' No, that's not my case. I always try to find support in my faith. Every day I reserve a personal space to connect spiritually. I always want to have the clarity in my soul that even the most difficult moments need to be turned into opportunities. This situation of tension we are experiencing must be transformed into an agreement on fundamental things in our country.
Q. But the possibility of a broad political agreement seems very difficult right now, doesn't it?
A. It is complex because of the election year, but there are Colombians who see very clearly that this country needs to reactivate, vaccinate and create opportunities. On those basic issues there can be no room for division, and I am not running for re-election. What I need to do is to carry this country forward.
English version by Susana Urra.
WHO concerned about first cases of monkeypox in children | Science & Tech
Reports of young children infected by monkeypox in Europe – there were at least four in recent days, with a fifth one recorded a few weeks ago – have raised concern about the progress of an outbreak now affecting more than 5,500 people in 51 countries.
The health organization's Europe chief, Hans Kluge, also warned on Friday that overall cases in the region have tripled in the last two weeks. "Urgent and coordinated action is imperative if we are to turn a corner in the race to reverse the ongoing spread of this disease," said Kluge.
The WHO has not yet declared the outbreak a global health emergency, however. At a meeting last Saturday, the agency ruled it out but said it could change its views if certain scenarios come to pass, such as a spike in cases among vulnerable groups like children, pregnant women and immunocompromised people. Available data shows that children, especially younger ones, are at higher risk of serious illness if they become infected.
The last known case of a child contracting monkeypox was reported on Tuesday in Spain, where a three-year-old was confirmed to have the disease. Cases in Spain are now in excess of 1,500 according to health reports filed by regional governments.
Also on Tuesday, Dutch authorities reported that a primary school student had become infected and that contact tracing had been initiated to rule out more cases within the child's close circle of contacts. On Saturday, France reported one confirmed case and one suspected case among elementary school students.
The UK has so far recorded at least two infections in minors. The first case, reported in May, involved a baby who had to be taken to intensive care for treatment with the antiviral Tecovirimat, of which few doses are available but which has already begun to be distributed in several countries. British authorities this week reported a second case of a child with monkeypox. The UK currently has the biggest monkeypox outbreak beyond Africa.
The main vaccine being used against monkeypox was originally developed for smallpox. The European Medicines Agency said earlier this week it was beginning to evaluate whether the shot should be authorized for monkeypox. The WHO has said supplies of the vaccine, made by Bavarian Nordic, are extremely limited.
Until May, monkeypox had never been known to cause large outbreaks beyond Africa, where the disease is endemic in several countries and mostly causes limited outbreaks when it jumps to people from infected wild animals.
Jury calls for sweeping reforms to Canada's approach to femicide | Canada
A community in rural Canada has made a series of transformative recommendations at a coroner's inquest that – if adopted – could position the country's most populous province as a leader in preventing femicides, particularly those carried out by an intimate partner.
The jury in Renfrew County, Ontario, just west of Canada's capital, delivered 86 recommendations this week in a unanimous verdict on the deaths of three local women, who were killed by the same man on a single morning nearly seven years ago.
The boldest was to have the Ontario government "formally declare intimate partner violence as an epidemic" that requires "significant financial investment" and deep systemic change to remedy.
Since the triple homicide on 22 September 2015, 111 women in Ontario have been murdered by their current or former partner, the inquest heard. Every six days in Canada, a woman is killed by her intimate partner, according to Statistics Canada.
The jury also recommended official prominence be given to the word "femicide" – to have it be listed as a manner of death by coroners in the province and added to the criminal code of Canada to underscore the misogyny beneath the killings of women and girls because of their gender.
"A lot of the recommendations are groundbreaking," said Pamela Cross, a lawyer and expert on intimate partner violence in Ontario who testified at the inquest.
The inquest, which heard from nearly 30 witnesses over three weeks, was meant to examine the systems that broke down in the weeks, months and years leading up to the day Basil Borutski got in a borrowed car, drove to Carol Culleton's cottage and strangled her with a coaxial cable, then moved on to Anastasia Kuzyk's house where he shot her to death and then to Nathalie Warmerdam's farm where he shot her too.
All three women had previously been in an intimate relationship with Borutski. He had been in and out of jail for assaulting Kuzyk and Warmerdam and was on probation at the time of the murders and subject to a weapons ban.
Borutski had been flagged as "high risk" two years before the triple homicide, the inquest heard, and exhibited 30 out of 41 risk factors identified by Ontario's domestic violence death review committee – including a deep sense of victimhood and the ability to convince new partners he was innocent and unfairly targeted by police in his prior convictions.
Police witnesses told the jury Borutski was very good at "manipulation" and constantly flouted court orders, including never showing up to a mandated partner assault response program.
The jury heard from family members, including Valerie Warmerdam, Nathalie's daughter, who painted a nuanced and empathetic picture of Borutski as a troubled stepfather. It heard from a frontline worker who described Warmerdam and Kuzyk's constant terror that Borutski would kill them or harm their family.
The inquest jury demanded decision-makers make "significant financial investments" in ending violence, have police all use the same records management system and create clear guidelines for flagging high-risk abusers. It urged the study of disclosure protocols like Clare's Law, which is used in the United Kingdom and in parts of Canada to allow a concerned person to check if their partner has a police record of intimate partner violence.
Valerie Warmerdam welcomed the verdict, but underscored the need for action on the part of governments who will receive these recommendations in the wake of the inquest. "I want change," she said. "These recommendations are a good start, if they are actioned. That's a big if."
Kirsten Mercer, counsel to End Violence Against Women Renfrew County (EVA), noted that it was the jury themselves who added the epidemic recommendation among 13 others, including creating a registry of high-risk offenders akin to the sex offenders registry, and exploring electronic monitoring of those charged or found guilty of an IPV-related offence.
"The jury has asked that we tell the truth about intimate partner violence," Mercer told the media after the verdict. "The jury has asked that we put our money where our mouth is."
The idea to add femicide to the coroner's list of manners of death and to the Criminal Code of Canada came from the joint submission. Countries in Latin America have already added this as a criminal offence, she said, and should be looked to as a model for how to do it here.
Accountability was a priority for this jury, Mercer said. The verdict called for the creation of an accountability body akin to the United Kingdom's domestic abuse commissioner and a specific committee to make sure this verdict does not just languish in decision-makers' inboxes.
"We are not going to wait forever any more."
Apollo Go: The Beijing neighborhood with robotaxis and driverless delivery service | International
Book a robotaxi on a mobile app and it will pick you up in less than 10 minutes. It's 2:00pm on a Thursday in Beijing and our ride is going smoothly with no human intervention so far. "Sometimes we have to speed up manually to avoid causing traffic jams. Bicycles and motorcycles often cause traffic congestion because they ignore traffic signals," says the driver supervising our trip, as the steering wheel magically moves by itself.
The 37-square-mile (60 square kilometers) Beijing High-level Automated Driving Demonstration Area (BJHAD) is where the country's first pilot project to use autonomous vehicles on public roads is happening. Located in a secluded district in the southeastern part of the city, BJHAD is the test site for a futuristic plan that envisions turning Beijing into the standard-bearer for artificial intelligence (AI). The Apollo robotaxis manufactured by Baidu and the autonomous delivery vehicles manufactured by JD.com (aka Jingdong) zip around a tranquil utopia that stands in stark contrast to the hectic jungle of downtown traffic.
"[A robotaxi] can handle an average of 15 daily bookings, most of which are trips between a subway stop and an office," said the cab driver. In November 2021, Baidu and Pony.ai became the first companies authorized to operate a fleet of 100 robotaxis in BJHAD. As of April 2022, humans are no longer required to sit in the driver's seat of the robotaxi, which is allowed to travel at a maximum speed of 37 miles per hour (60 kph). The service is free for now, although the two companies are commercially licensed.
Baidu, China's leading search engine, is diversifying its business by commercializing its AI and intelligent transportation technology. Its Apollo Go program is currently operating in seven cities, and the company plans to expand to 65 cities by 2025, and 100 cities by 2030. Unlike the Waymo robotaxis that Google began operating in 2020 in the US, Baidu's vehicles circulate during the day, enabling them to collect more data.
Although Baidu has topped the list of Chinese companies with the most patents for AI applications over the last four years, e-commerce giant JD.com is the leader in the autonomous delivery vehicle space. In 2016, Jingdong established its headquarters in BJHAD, and its delivery robots now dominate the streets. These vehicles mainly transport orders from the 7FRESH smart supermarket chain operated by JD that combines e-commerce and traditional commerce. "Instead of people going out to buy products, we deliver them," said Yang Han. Who works in Jingdong's communications department.
JD's applies big data analytical methods to the information collected from more than 400 million annual users, and utilizes it to tailor inventories to the specific needs of each 7FRESH physical stores location. The entire 7FRESH inventory is available in the app. The delivery robots, which travel at nine miles per hour (15 kph) and can carry 220-440 pounds (100-200 kilos), deliver orders in less than an hour within a three-mile (five kilometer) range.
JD employees rely on smaller robots to send documents and other items between offices in 10 minutes or less. "They speed up the work and saves us from having to run around from one place to another," said Yang Han. The robots are able to operate elevators and open doors by themselves as they follow their delivery routes.
The robots can recognize their surroundings and avoid obstacles with a 98% accuracy rate for small objects. Information streams in through cameras and other sensors, while the navigation algorithm pinpoints their location and plans routes. JD's cloud-based simulation platform accumulates data from every trip to continuously improve the robots' capabilities.
The Covid pandemic spurred JD to accelerate its autonomous delivery program, enabling it to deploy small and large delivery vehicles to the Chinese cities most affected by the pandemic over the last two and a half years. In early 2020, during the peak of the pandemic in Wuhan, these delivery vehicles traveled a total of 4,225 miles (6,800 kilometers) and delivered more than 13,000 packages.
In a country where low unemployment is one of the main pillars of its social stability goals, the move to autonomous vehicles may prove to be risky in the long run. However, Yang Han insists that the objective is to "achieve a synergy between humans and machines… The goal is to take the pressure off delivery drivers and allow them to focus on customer service and vehicle maintenance. The couriers don't need to transport the goods. Instead, they wait by the curb for the robots to arrive, and then walk the goods to the customer's door. "
BJHAD is part of the Beijing Economic and Technological Development Area, the first place in China specifically geared to AI research. The country aspires to become the world leader in AI by 2030 and to leave the "factory for the world" image behind for good.