Christian Morals and Values Shaping the Future of the Russian World
This article originally appeared at The Carnegie Council
Nicolai N. Petro is professor of politics at the University of Rhode Island. This paper was presented at the Interallied Confederation of Reserve Officers (CIOR) seminar on Russia in Koenigswinter, Germany, February 15-18, 2015. CIOR is one of the "independent" advisory bodies to the Military Committee of NATO.
---
Abstract
For many analysts the term Russky mir, or Russian World, epitomizes an expansionist and messianic Russian foreign policy, the perverse intersection of the interests of the Russian state and the Russian Orthodox Church.
Little noted is that the term actually means something quite different for each party. For the state it is a tool for expanding Russia's cultural and political influence, while for the Russian Orthodox Church it is a spiritual concept, a reminder that through the baptism of Rus, God consecrated these people to the task of building a Holy Rus.
The close symphonic relationship between the Orthodox Church and state in Russia thus provides Russian foreign policy with a definable moral framework, one that, given its popularity, is likely to continue to shape the country's policies well into the future.
---
"For us the rebirth of Russia is inextricably tied, first of all, with spiritual rebirth . . .and if Russia is the largest Orthodox power [pravoslavnaya dershava], then Greece and Athos are its source." —Vladimir Putin during a state visit to Mount Athos, September 2005.
Foreign policy is about interests and values. But while Russia's interests are widely debated, her values are often overlooked, or treated simplistically as the antithesis of Western values.
But, as Professor Andrei Tsygankov points out in his book Russia and the West from Alexander to Putin, Russia's relations with the West go through cycles that reflect its notion of honor. By honor he means the basic moral principles that are popularly cited within a culture as the reason for its existence, and that inform its purpose when interacting with other nations.
Over the past two centuries, in pursuit of its honor, Russia has cooperated with its European neighbors, when they have acknowledged it as part of the West; responded defensively, when they have excluded Russia; and assertively, when they have been overtly hostile to Russia's sense of honor.
Sometimes a nation's sense of its honor overlaps with present-day interests; but it cannot be reduced to the national interest alone, because political leaders must respond to existential ideals and aspirations that are culturally embedded. A nation's sense of honor, therefore, serves as a baseline for what might be called the long-term national interest.
According to Tsygankov, in Russia's case the long-term national interest revolves around three constants: First, sovereignty or "spiritual freedom;" second, a strong and socially protective state that is capable of defending that sovereignty; and third, cultural loyalty to those who share Russia's sense of honor, wherever they may be. All three of these involve, to a greater or lesser extent, the defense of Orthodox Christianity, of the Russian Orthodox Church, and of Orthodox Christians around the world.
Russian President Vladimir Putin succinctly encapsulated Russia's sense of honor during his state visit to Mount Athos in 2005, when he referred to Russia as a pravoslavnaya derzhava, or simply, an Orthodox power.
Putin on the Moral Crisis of the West
Little noted at the time, in retrospect, the phrase seems to presage the turn toward Russian foreign policy assertiveness that Western analysts first noticed in his February 2007 remarks at the Munich Security Conference.
Since then, Putin has often returned to the dangers posed by American unilateralism, and even challenged the cherished notion of American exceptionalism. But, until his speech at the 2013 Valdai Club meeting, he did not explicitly say what values Russia stood for, what its sense of honor demanded. It was at this meeting that Putin first laid out his vision of Russia's mission as an Orthodox power in the 21st century.
Putin began his speech by noting that the world has become a place where decency is in increasingly short supply. Countries must therefore do everything in their power to preserve their own identities and values, for "without spiritual, cultural and national self-definition . . . . one cannot succeed globally."
Without a doubt, he said, the most important component of a country's success is the intellectual, spiritual, and moral quality of its people. Economic growth and geopolitical influence depend increasingly on whether a country's citizens feel they are one people sharing a common history, common values, and common traditions. All of these, said Putin, contribute to a nation's self-image, to its national ideal. Russia needs to cultivate the best examples from the past and filter them through its rich diversity of cultural, spiritual, and political perspectives. Diversity of perspectives is crucial for Russia because it was born a multinational and multiconfessional state, and remains so today.
Indeed, pluriculturalism is potentially one of Russia's main contributions to global development. "We have amassed a unique experience of interacting with, mutually enriching, and mutually respecting diverse cultures," he told his audience. "Polyculturalism and polyethnicity are in our consciousness, our spirit, our historical DNA."
Polyculturalism is also one of the driving factors behind the Eurasian Union, a project initiated by the president of Kazakstan, Nursultan Nazarbayev, that Putin has wholeheartedly embraced.
Designed to move Eurasia from the periphery of global development to its center, it can only be successful, Putin says, if each nation retains its historical identity and develops it alongside the identity of the Eurasian region as a whole. Creating a culture of unity in diversity within this region, says Putin, would contribute greatly to both pluralism and stability in world affairs.
But, in a jab at the West, Putin notes that some aspects of pluriculturalism are no longer well received in the West. The values of traditional Christianity that once formed the very basis of Western civilization have come under fire there, and in their place Western leaders are promoting a unipolar and monolithic worldview. This, he says, is "a rejection . . . of the natural diversity of the world granted by God. . . . Without the values of Christianity and other world religions, without the norms of morality and ethics formed over the course of thousands of years, people inevitably lose their human dignity."
The abandonment of traditional Christian values has led to a moral crisis in the West. Russia, Putin says, intends to counter this trend by defending Christian moral principles both at home and abroad.
---
Putin's call for greater respect for traditional cultural and religious identities was either missed or ignored in the West. One reason, I suspect, is that it was couched in a language that Western elites no longer use.
For most of the 20th century, Western social science has insisted that modernization would render traditional cultural and religious values irrelevant. The modern alternative, which pioneer political scientists Gabriel Almond and Sidney Verba labelled "civic culture," gravitates toward cultural homogeneity and secularism. These qualities lead to political stability and economic progress. The pattern is exemplified by Anglo-American societies which, they conclude, form the optimal model for a modern society.
Half a century later, with the rise of China and the collapse of the Soviet Union, it no longer seems so obvious that secularism and homogeneity are the only paths to national success. Scholars increasingly speak of multiple paths to modernity, and even a resurgence of religion.
Another reason why Putin's message was overlooked is that he is calling upon the West to re-connect with its Byzantine heritage, a heritage that it has often dismissed as non-Western. In Putin's mind, reincorporating Eastern Christianity into Western civilization reveals Russia as a vital part of Western civilization, and requires that Russia be part of any discussion of Western values.
Putin's speech in 2013 was an assertive and optimistic statement of Russian values, and the cultural and spiritual reasons why he felt that Russian influence in the world was bound to grow. By 2014, however, the world had changed. A major reason is the conflict within Ukraine, which many in the West define as a conflict over world order stemming from a profound values gap between Russia and the West.
Russia, by contrast, sees itself as defending not only vital strategic interests in Ukraine, but also its core values of honor, such as spiritual freedom, cultural loyalty, and pluralism. It may seem strange to many in the West, but Russia's attitude on the Ukrainian crisis is inflexible precisely because it sees itself as occupying the moral high ground in this dispute.
A key reason why Western moral criticisms of Russian actions have so little traction among Russians is that the Russia Orthodox Church has regained its traditional pre-eminence as the institution that defines the nation's moral vision and sense of honor. Looking beyond Russia's borders, that vision has come to be known as the Russky mir or Russian World.
Russian World or the Communities of Historical Rus?
It is important to distinguish how this term is used by the Russian state from how it is used by the Russian Orthodox Church.
The use of this term as a "community of Orthodox Christians living in unity of faith, traditions and customs," goes back to at least the beginning of the 19th century, but it was re-purposed as a political concept in the early 1990s by Pyotr Shedrovitsky, an influential political consultant interested in the role that cultural symbols could play in politics. He believed that creating a network of mutually reinforcing social structures in the former Soviet states among people who continue to think and speak in Russian—the "Russky mir"—could be politically advantageous to Russia. Its practical foreign policy appeal stemmed from the fact that, by claiming to speak on behalf of nearly 300 million Russian speakers, a weakened Russia would instantly become a key regional player, as well as an influential political force within the countries of the former Soviet Union.
This notion resonated within the Yeltsin administration which, in the mid-1990s was already searching for a "Russian Idea" around which to consolidate the nation and promote a new democratic consensus. Members of the Institute of Philosophy at the Russian Academy of Sciences were tasked to research this concept, but although it influenced sections of Russia's first foreign policy doctrine in 1996, it ultimately ran out of steam. As those involved in this project later explained to me, there were simply too many disparate "Russian Ideas" to choose from, and no consensus within the presidential administration or the Institute of Philosophy on which version to support.
More than a decade would pass before the term was used by the head of the Russian Orthodox Church, Patriarch Kirill. This occurred in 2009 at the Third Assembly of the Russian World, when Patriarch Kirill spoke of how the Russky mir, or Holy Rus as he also called it, should respond to the challenges of globalization.
The Church, he said, emphasizes the importance of spiritual bonds over the divisions of national borders. It therefore uses the term russky not as a geographical, or ethnic concept, but as a spiritual identity that refers to the cradle civilization of the Eastern Slavs—Kievan Rus.
This common identity was forged when Kievan Rus adopted Christianity from Constantinople in 988. At that moment the Eastern Slavs were consecrated into a single civilization and given the task of constructing Holy Rus. That mission persisted through the Muscovite and Imperial eras. It survived the persecutions of the Soviet era, and continues today in democratic Russia. The core of this community today resides in Russia, Ukraine, and Belarus (at other times, Kirill has added Moldova and Kazakhstan), but can refer to anyone who shares the Orthodox faith, a reliance on Russian language, a common historical memory, and a common view of social development.
In June 2007, President Putin established the Russky mir Fund, tasked with support of the Russian language and cultural inheritance throughout the world. Much of this effort was clearly aimed at preserving the use of the Russian language in the former Soviet Union, and with it the popularization of Russia's image. But while there is clearly a great deal of overlap between the religious and political uses of this term, let me highlight several important differences.
As used by the state, Russky mir is typically a political or a cultural concept. In both senses it is used by groups working for the Russian government to strengthen the country's domestic stability, restore Russia's status as a world power, and increase her influence in neighboring states. From the state's perspective, the Russian Orthodox Church can be a useful tool for these purposes.
As used by the Church, Russky mir is a religious concept. It is essential for reversing the secularization of society throughout the former Soviet Union, a task Patriarch Kirill has termed the "second Christianization" of Rus. The Russian Orthodox Church sees the Russian government, or for that matter, any government within its canonical territory, as tools for this purpose.
Reaction to the patriarch's use of the phrase Russky mir, which was familiar mainly in its Yeltsin-era political context, was mixed, both inside and outside of Russia. It aroused considerable controversy in Ukraine, where the Greek-Catholic church and the Ukrainian Orthodox Church of the Kievan Patriarchate dismissed it outright. On the other hand, the autonomous Ukrainian Orthodox Church of the Moscow Patriarchate, which serves approximately half of all Christians in Ukraine, has been cautiously receptive.
In light of this controversy, Kirill returned to the topic in 2010, to clarify his views of what the Russky mir meant specifically for Ukraine. He reiterated that the baptism of Kievan Rus was an instance of Divine Providence. The Russian Orthodox Church has defended the religious and cultural bonds established by this miraculous event for more than a thousand years, and will always continue to do so.
Belarus, Russia, and Ukraine are all equal successors to the inheritance of Kievan Rus, therefore all three should be coordinating centers in the development of the Russian World. To this end, Patriarch Kirill introduced the idea of "synodal capitals"—historical centers of Russian Orthodoxy which would regularly host meetings of the Holy Synod, the Church's chief decision-making body. One of these capitals is Kiev. It is interesting to note that archpriest Evgeny (Maksimenko), a cleric of the Ukrainian Orthodox Church of the Moscow Patriarchate, has called upon the patriarch to take the next logical step and move the seat of the Patriarchate of Rus from Moscow back to Kiev.
Christianity, says the patriarch, does not seeks to destroy that which is unique in each nation, but rather to motivate local cultures toward greater appreciation of Christianity's transcendent meaning. Long ago, the ideal Orthodox society was the Byzantine Empire. Today, in the context of national sovereignty, however, Orthodoxy proposes itself as a spiritual complement to national sovereignty, and a harmonizing resource in a globalizing world. Kirill has said that this same principle can be found in the European Union and the Commonwealth of Independent States. But while the Church respects state sovereignty, it takes no position on its merits. Nation-states are neither good nor bad, but merely the current framework within which God intends the Church to accomplish the restoration of Holy Rus. It is therefore the Church's duty to make each nation, at least in part, "a carrier of Orthodox civilization."
Over the course of the past decade, the purely pragmatic, secular version of the Russky mir has slowly yielded to the growing influence of the Church in Russia's political life. Among the many examples, let me highlight just one—President Putin's address in Kiev on the occasion of the 1025th baptism of Rus in 2013. This was also Putin's most recent visit to Ukraine.
His remarks at the time reflected every one of the motifs of the Russky mir in its religious context, including: the decisive spiritual and cultural significance of the baptism of Rus; the uniqueness of Orthodox values in the modern world; deference to Kiev's historical significance (before the revolution, he says, it was known as "the second cultural and intellectual capital after St. Petersburg," even ahead of Moscow[!]); and public recognition of Ukraine's right to make any political choice it wishes which, however, "in no way erases our common historical past."
Conclusions and Prognosis
Having drawn a distinction between the objectives of the Russian state and the Russian Orthodox Church in promoting the Russky mir, it is important to stress that these two institutions are not in conflict, at least not in the near future. The classical formulation for Church-State relations in Eastern Orthodox Christianity was and remains symphonia, or harmony between Church and State, not the Protestant Western ideal of separation. The establishment of broadly harmonious and mutually supportive relations between Church and State in Russia, for the first time in more than a century, therefore has significant implications for Russian politics.
The first is that Vladimir Putin's high popularity ratings are neither transient nor personal. They reflect the popularity of his social and political agenda, which are popular precisely because they have the blessing of the Russian Orthodox Church. A few years ago, then president Medvedev referred to the Church as "the largest and most authoritative social institution in contemporary Russia," an assessment reinforced by more recent surveys showing that Patriarch Kirill is more often identified as the "spiritual leader [and] moral mentor" of the entire Russian nation, than he is as the head of a single religious confession.
The success of the Putin Plan, the Putin Model, or Putinism, is thus simple to explain. This Russian government understands that it derives enormous social capital from its public embrace of the Russian Orthodox Church. So long as Russia remains a broadly representative (not to be confused with liberal) democracy, there is little reason to expect this to change.
Some analysts, however, suggest that this embrace may lead to conflict between the state and other confessions. The potential for such conflict is widely recognized, especially by religious leaders, and led to the creation in 1998 of the Interreligious Council of Russia. Its purpose is two-fold: First, to defuse conflicts among the various religious communities. Second, to present a united religious agenda to politicians. It has been quite successful on both fronts, and its activities now cover not just Russia, but the entire CIS (Commonwealth of Independent States). If my assessment of the importance of the religious underpinnings for the current regime's popularity is correct, then it follows that attempts to undermine the unity of the Russky mir will be widely viewed as an attack on core values, not just in Russia but throughout the Russian World. Economic, political, cultural, and other sanctions will intensify this effect and sharply undermine intellectual and emotional sympathies for the West within this community. While this may not be permanent, I suspect that few in the current generation of Russian leaders retain much hope for the possibility of building a lasting partnership with the West.
Moreover, the Russian Orthodox Church will continue to shape Russia's foreign policy agenda in several ways.
First, it will use the influence of the state to advocate for the concerns of Orthodox Christians throughout the world, even if they are not Russian citizens. This is in keeping with the transnational character of the Russian Orthodox Church.
Second, it will promote Christian moral and social values in international fora, either by itself or in conjunction with other religions. Indeed, close ties on these issues have been forged with the Roman Catholic Church, and with Islamic clerics in Egypt and Iran. Where it does not have direct access to these, it will turn to the Russian media, and to popular international outlets like RT and Sputnik to promote this agenda.
Third, wherever Russian state and civic organizations promote Russian culture and language abroad, the Church will also seek to tack on its religious agenda. While the state promotes the national interests of the Russian Federation, the Russian Orthodox Church will promote the larger cultural identity it sees itself as having inherited from Kievan Rus.
For example, the Church sees the conflict in Ukraine as a civil war within the Russian World. From this perspective, it cannot be resolved by splitting up this community, thereby isolating Ukraine from Russia and destroying the unity of the Russky mir, or by permitting the forcible Ukrainianization of the predominantly Orthodox and Russian-speaking regions of Ukraine, which would result in the destruction of the Russky mir within Ukraine. The only permanent solution is for the Ukrainian government to admit the pluricultural nature of Ukrainian society and, in effect, recognize Ukraine as part of the Russky mir. From the Church's perspective, this is the only way to achieve reconciliation among the Ukrainian people and harmony within the Russky mir.
Oddly enough, many moderate Ukrainian nationalists also ascribe to the notion that some sort of symbiotic cultural connection exists between Russia and Ukraine. The typical pro-Maidan Ukrainian intellectual believes that Putin is out to undermine Ukrainian democracy first and foremost because he fears it spreading to Russia. But they predict the inevitable resumption of fraternal ties with Russia, after the freedom-loving, pro-European values of the Maidan succeed in overturning Putin's authoritarian regime in Russia. It is hard not to see the similarity between their aspirations for close ties with Russia and those of Patriarch Kirill, only under a completely different set of cultural assumptions.
In conclusion, what impact will the rise of the Russky mir have on Russia's relations with other nations? I anticipate three responses.
In countries where the concept of Holy Rus has no historical context, there will be a tendency to fall back on the Cold War context they are most familiar with, as U.S. Secretary of State Hillary Clinton did when she warned of efforts to "re-Sovietize the region." "It's going to be called customs union, it will be called Eurasian Union and all of that," she said, "but let's make no mistake about it. We know what the goal is and we are trying to figure out effective ways to slow down or prevent it."
Among Russia's immediate neighbors, the response will be mixed. While there are still many who view the Soviet era with nostalgia, and regard the breakup of the USSR as more harmful than beneficial (by 2:1 margins in Armenia, Kyrgyzstan, Ukraine, and Russia), it is not at all clear that the Orthodox Church's conservative social vision has a similarly broad appeal. In Ukraine the term Russky mir has become a rallying cry for both sides during this civil war, and is now so hopelessly politicized that its religious and spiritual content have all but disappeared. The unhappy result, as Nicholas E. Denysenko puts it, is "a religious narrative becoming altered against the will of its authors."
Even further from Russia, the popularity of the Russky mir will likely depend on whether Russia emerges as a global defender of traditional Christian and conservative values. The values gap that some in the West cite as justification for punishing and containing Russia does exist, but it is not the whole picture. The same values gap exists within the West itself. Only recently Russia has realized that, while its conservative agenda distances itself from some Europeans, it brings it closer to others. The list of Putinversteher probably now contains more politicians and opinion leaders on the right end of the European political spectrum, than it does on the left.
In the United States, Evangelical Christian social activists, and even a few noted political commentators, have begun to take note of these shared values. Two years ago, former Nixon aide and Republican presidential candidate, Patrick Buchanan, told fellow political conservatives that there is much in Putin's rhetoric that makes him "one of us."
"While much of American and Western media dismiss him as an authoritarian and reactionary, a throwback, Putin may be seeing the future with more clarity than Americans still caught up in a Cold War paradigm. As the decisive struggle in the second half of the 20th century was vertical, East vs. West, the 21st century struggle may be horizontal, with conservatives and traditionalists in every country arrayed against the militant secularism of a multicultural and transnational elite."
The role of the Russian Orthodox Church in this struggle is crucial, because it calls for the creation of a common framework of Christian European values, in effect a new, pan-European civil religion. The Russian state, meanwhile, is only too happy to support these calls because it is only within the context of a common cultural and religious identity ("shared values") that Russia can become a full-fledged political part of the West. Intentionally or not, therefore, the Russian Orthodox Church and its Russky mir have emerged as the missing spiritual and intellectual component of Russia's soft power.
Someday it may even become like U.S. human rights policy, an awkward, but nevertheless defining aspect of national identity, that the government will apply selectively, but never be able to get rid of entirely.
Time is running out for Holocaust survivors | Society
Shimon Redlich, an 87-year-old Holocaust survivor and author of the book Together and Apart in Brzezany, said: "As long as the survivors are alive and can remember, their testimonies must be recorded. Every story is unique."
Edith Bruck is a 90-year-old Auschwitz survivor. Hungarian-born, she writes in Italian, and is the author of classics such as Who Loves You Like This? In a recent interview, she said: "Our lives do not belong to us. They belong to history."
The survivors of the Shoah have allowed us to look into the abyss of the incomprehensible. They have brought generations of readers closer to an experience that can be transmitted, but not shared. However, as the years go by, the era of the witnesses is coming to an end. With their passing, something irreplaceable will disappear.
Boris Pahor passed away last May at the age of 108. A Slovenian born in Trieste, Italy, Pahor was deported as an anti-fascist resistance fighter during World War II. He is the author of one of the most prominent books on the Nazi camps, Necropolis. "My every word [was] driven by the fear of slipping into banality," he writes.
The fear of banality and the impossibility of transmitting what was suffered has been a constant in Holocaust literature since the publication of the first great literary testimony of the camps, If This Is a Man by Primo Levi.
Another fear that many witnesses have conveyed is the empty space they will leave behind when the last of them disappears… the incommunicable experience they will take with them.
In an interview with EL PAÍS in 2000, the now-deceased Buchenwald survivor, Spanish writer and politician Jorge Semprún, reflected on the disappearance of those who witnessed the Holocaust: "Do you know what is the most important thing that happened in a concentration camp? Do you know the most terrible thing, the only thing that cannot be explained? The smell of burning meat. What do you do with the memory of the smell of burning meat? For those circumstances, there is, precisely, literature. But how do you talk about it? Do you compare? And what about the obscenity of the comparison? Do you say, for example, that it smells like burnt chicken? Or do you try to reconstruct the general circumstances of the memory, going around the smell, round and round, without facing it? I have inside my head, alive, the most important smell of a concentration camp. And I can't explain it. And that smell is going to go away with me, as it has already gone with others."
"We have been talking about the end of the survivors for almost three decades," says Alejandro Baer, professor of sociology and director of the Center for Holocaust and Genocide Studies at the University of Minnesota. "That concern has spurred memory in the form of the creation of archives of oral and audiovisual history of survivors, documentaries, even virtual reality projects. But whoever has had the opportunity to meet the witnesses knows that nothing will make up for their absence. Because it is not just about the information they provide, but about the nature of the encounter and the transformation it produces: becoming a witness of the witness. If we look for something that approaches that experience, we will not find it in technology, but in testimonial literature."
If This Is a Man was published in 1947. Levi himself explained that the publisher went bankrupt and that the book remained forgotten for more than a decade: the first printing of 2,500 copies went unnoticed. Society was not yet ready to read about those horrors, not only because the stories about the extermination confront us with the idea that anyone can be a victim, but because they force us to consider that we too could have been executioners. That same year, 75 years ago, The Diary of Anne Frank was published in the Netherlands under the title The secret annex. Its translation was rejected by various American publishers until Judith Jones of Knopf insisted on publishing it. The diary became an international success in the 1950s.
In the Federal Republic of Germany, Auschwitz did not become a household name for most of the population until the late-1970s, when the series Holocaust was released. That five-episode telefilm sparked a heated debate between those who saw it as a product of popular culture that trivialized the Holocaust by turning it into a family melodrama, and those who thought it did more than any eyewitness account to make Germans stand up to their dark past.
"It is an insult to those who survived. What appears on the screen has nothing to do with what happened," wrote Nobel Peace Prize winner and Auschwitz survivor Elie Wiesel, the author of Night. However, a survey published after its broadcast revealed that 70% of German young people between the ages of 14 and 19 said that they had learned more about Nazism from the series than at school.
This debate revealed another dimension to the horror of the camps: Is it legitimate to put yourself in the shoes of someone who has suffered something that cannot be explained? Is it possible to use the Holocaust to write fiction?
John Hersey wrote the first American Holocaust novel, The wall, between the 1940s and 1950s. It took place in the Warsaw ghetto; Hersey had met with survivors and visited the ruins of the Polish capital. However, his biographer, Jeremy Treglown, wrote that Hersey was faced with similar questions about authenticity: "Who owns the narrative? Can a young privileged white Anglo-Saxon from New England put himself in the shoes of the suffering of European Jewry under Nazism?"
Since the success of The boy in the striped pajamas, this debate has only grown. Novels with "Auschwitz" in the title have multiplied. The latest one is titled The dressmakers of Auschwitz. Some, such as The librarian of Auschwitz, by Antonio Iturbe, have sold hundreds of thousands of copies and received critical praise. Others, like The tattooist of Auschwitz, have been scrutinized by experts. The Auschwitz Memorial made a resounding statement about this best-seller by Heather Morris: "Because of the number of factual errors, it cannot be recommended as a valuable work for those who wish to understand the history of the camps."
"This popular literature, which is so successful, simplifies the history and reality that is so difficult for us to understand," says Yessica San Román, director of the Education and Holocaust department at Madrid's Centro Sefarad-Israel. "The result is a trivialization of the facts. What should concern us when we read books like these about the Holocaust is that they resort too much to stereotypes, both for the Jews and for the perpetrators. The perpetrators were not all monsters or psychopaths. They were much more normal than we like to admit. The Holocaust was committed by men and women."
"I haven't read The Tattooist of Auschwitz," explains Shimon Redlich. "I don't like kitsch books about the Holocaust. However, I believe that films like Claude Lanzmann's Shoah or Steven Spielberg's Schindler's List have had a significant effect on the dissemination and understanding of the Holocaust." Asked by email about the books he considers essential, the survivor and author cites four: the works of historian and survivor Saul Friedländer, The years of persecution (1933 -1939) and The years of the extermination (1939-1945); An interrupted life, the diaries of Etty Hillesum, who was murdered at Auschwitz; and Anatomy of a genocide: the life and death of a town called Buczacz, by Israeli historian Omer Bartov.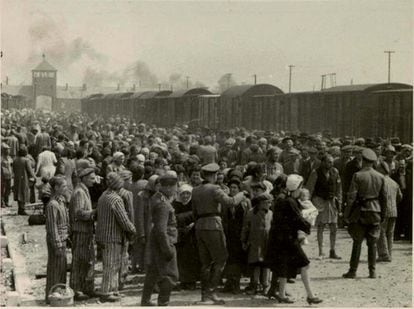 Bartov's book is part of a series of recent essays that are helping to deepen knowledge of the genocide. They mix detective-like investigations with the handling of thousands of documents. In the face of all-encompassing books like Raul Hilberg's The destruction of the European Jews, a new generation of authors is focusing on smaller-scale stories.
"Most of the witnesses have disappeared and the investigators must become indirect witnesses, with the material they handle," Dr. Wendy Lower, Director of the Mgrublian Center for Human Rights in Claremont, California, explains by phone. "We work with the material we have access to… [over] the last decades, we have been compiling documents, testimonies…. such massive archives have been amassed and so many testimonies have been recorded that no historian would be able to listen to them all. When there are no more witnesses, there will be a lot of material to work on: archaeology, forensics, documents, recordings…"
Eyewitness testimonies were not always considered such important material. "In the beginning, when researchers strove to establish the history of the Nazi genocide, they did not always welcome the voices of the survivors," says Dr. Sara R. Horowitz, a professor of literature at York University in Toronto and the author and editor of numerous books on the memory of the Holocaust, including Voicing the void: muteness and memory in Holocaust fiction and Shadows in the city of light. "Historians preferred to rely on documentary evidence and were reluctant to base historical accounts on memory: they saw it as unreliable, fallible, and limited in scope. But relying on documents also has its limitations. In the decades immediately following the war, many survivors expressed frustration that they had not been heard. And the historical record was impoverished by this exclusion."
"More than ever, it will be the power of literature– novels, poems, memoirs– that will preserve and continue to shape the memory of the Holocaust, in the different languages and the memory of each country. Writers like Aharon Appelfeld, Ida Fink, Elie Wiesel, Charlotte Delbo, Jorge Semprún, Sarah Kofman, Imre Kertesz and others," Horowitz notes.
"Literature is essential," advocates Marina Sanfilippo, a professor at Spain's National University of Distance Education. She specializes in female testimonies of the Shoah. "It has never been possible to understand the reason for the Holocaust, as Primo Levi narrated in that famous phrase in which a German guard at Auschwitz blurts out: here there is no why. It is something that only literature can answer."
Sanfilippo maintains that she has studied the literature written by surviving women "because the canon of the Shoah is above all masculine"– Primo Levi, Paul Celan, Kertesz, Elie Wiesel, Victor Klemperer, Viktor Frankl, and so on. She cites authors and works such as Liana Millu's Smoke over Birkenau, Ruth Klüger's Still alive, Charlotte Delbo's None of us will return, or Daniela Padoan's Like a frog in winter.
Padoan's book is a journalistic investigation that collects the testimony of three women – Liliana Segre, Goti Bauer and Giuliana Tedeschi – who survived Auschwitz-Birkenau. "The experience was very different for men and women, because in the camps, people suffered from the body and bodies are different. What did it mean to have your period in the camp? Or to stop having it, or to think that you would never be able to have children? What did it mean to be the subject of medical experiments? The survival strategies were also different," says Sanfilippo.
The survivors' voices are also kept alive through the stories of their relatives. The most famous of these cases remains the comic book Maus, now a classic, in which Art Spiegelman tells the story of his father, an Auschwitz survivor, and at the same time describes the relationship – not always an easy one – between the two. The librarian and author Javier Fernández Aparicio maintained a Holocaust literature reading club in Madrid for eight years with fellow librarian Javier Quevedo Arcos, from which the book The culture of the abyss arose. They assure their readers that no book was as interesting as Maus, perhaps because of its dialogue between the past and the present.
In the house where Primo Levi died in 1987 on a wide avenue in Turin – it will never be known whether he committed suicide or fell down the stairs – no plaque remembers the writer. However, his last name still appears on the intercom, as if he could be called and his voice could emerge from the past to remind us of some of the many lessons contained in his books.
Levi deeply mistrusted charismatic leaders– those who ask us to renounce reason: "Since it is difficult to distinguish true prophets from false, it is as well to regard all prophets with suspicion. It is better to renounce revealed truths, even if they exalt us by their splendor."
The voices of those survivors that are slowly dying out remain essential to understanding what happened… but also to warn us about what may happen.
The Rise and Fall of Victoria's Secret: A dictatorship of perfection and misogyny: a look into Victoria's Secret's angels and demons | Society
For the lingerie brand Victoria's Secret, once the head of an empire, the past decade has been turbulent. Gone are the golden days when the world stood still to watch the brand's annual show. Its carefully chosen models, the so-called angels, represented a beauty standard unattainable to most women, and they paraded the runway in glittering wings and minuscule diamond-cut lingerie.
The shows, which lasted for 23 years, were considered the Super Bowl of fashion. They featured performances by pop singers including Lady Gaga, Bruno Mars, The Weeknd, Taylor Swift and Beyoncé. Until its last edition, held in Paris in 2018, the event represented the fantasy that Victoria's Secret marketed. It launched the careers of models Gisele Bündchen, Adriana Lima, Heidi Klum and Alessandra Ambrossio, among others.
The women showed off almost superhuman physiques, sculpted through rigorous training and starved in the days leading up to the parade. But the brand's image no longer has a place in a #MeToo-era society, now more willing to champion body positive, diversity and inclusivity and to denounce sexual harassment and the hypersexualization of women's bodies.
The new three-part documentary series The Rise and Fall of Victoria's Secret explores the brand's shadows. The production, which premiered on June 18 at the Tribeca Film Festival, combines first-hand accounts with deep investigation to reveal the brand's inner workings. "Truth is not what it seems, as the underworld of fashion, the billionaire class, and Jeffrey Epstein are revealed to all be inextricably intertwined with the fall of this legendary brand," reads the summary of the miniseries, directed by Peter Berg and Matt Tyrnauer. It will be available to stream on Hulu starting July 14.
A culture of misogyny and the descent to hell
The film promises to uncover the lingerie empire's links with sexual predator Jeffrey Epstein. A 2019 New York Times investigation revealed that in the 1990s, a financial adviser close to Leslie H. Wexner, executive director of the company L Brands—Victoria's Secret parent company—worked as a model recruiter for the brand in exchange for sexual favors. This adviser would later be found to be Epstein, a millionaire accused of sex trafficking who later commited suicide in jail while awaiting trial. Subsequently, Wexner has repeatedly claimed to feel "ashamed" by his friendly relationship with the pedophile.
But Victoria's Secret's fall in popularity came before this scandal. In 2018, the company lost almost 50% of its value. That same year, which marked the last parade, the show reached the lowest audience in its history since its start in 1995: 3.3 million viewers compared to the usual 10 million.
That year, the company's marketing director, Ed Razek, made clear his opposition to gender diversity in an interview with Vogue. "Shouldn't you have transsexuals in the show? No, I don't think we should. Well, why not? Because the show is a fantasy. It's a 42-minute entertainment special. That's what it is. It is the only one of its kind in the world," said the 71-year-old manager, who resigned from his position in 2019.
The rampant misogyny and harassment from company higher-ups was the final straw for the brand. In 2021, the New York Times published an extensive investigation entitled "'Angels' in Hell: The Culture of Misogyny Inside Victoria's Secret," in which more than 30 executives, employees, contractors and models denounced the company's practices.
Rebel Angels and a change of direction
The Victoria's Secret bubble ended up bursting with the resignation of several of its most iconic figures: Adriana Lima hung up her wings in 2018, claiming to be fed up with the dictatorship of perfection and the pressures on her physique. "I will not take of [sic] my clothes again for an empty cause," she wrote in an Instagram post.
Gisele Bündchen, who signed her contract with the brand at the age of 19, confessed in her autobiography that after years parading in her underwear, she began to feel uncomfortable. She wrote that she felt "less and less relaxed" when photographed on the catwalk in just a bikini or a thong. In the same book, she wrote of suffering from panic attacks and suicidal thoughts during one of the most successful periods of her career.
Victoria's Secret changed directions in 2020, when L Brands sold the company to the Sycamore Partners fund for just over $1 billion (€953 million), in a last-ditch effort to save the brand.
After Raezk resigned, in a last attempt to save its reputation, the company hired the transgender model Valentina Sampaio. It also included Winnie Harlow, a Canadian model with vitiligo, as an angel, and Lorena Durán became the brand's first plus-size model.
Seeking to adapt to changing social norms, in 2021, the company announced partnerships with influential figures in culture and sports: American soccer player Megan Rapinoe, Indian actress Priyanka Chopra, Chinese skier Eileen Gu and plus-size model Paloma Elsesser. It also announced that it would no longer refer to its models as "angels." With that once-unthinkable gesture, Victoria's Secret finally returned to earth.
Sex education: The creator of CLIMAX: 'Good sex is like cooking, but there aren't recipes for female pleasure on the internet' | Society
Our ways of watching television have changed. No longer do we sit down to see what's on TV, instead subscribing to platforms where we can watch our favorite content. But can that formula translate to content beside series, documentaries and movies? Can it be used to change the way we experience sex education? CLIMAX, a platform of sex education videos, is trying it out.
The platform started as an explicit educational series dedicated to female pleasure. Far from pornography, it was particularly directed towards women and sought to give advice and ideas for greater self-knowledge and sexual enjoyment. But that was just the beginning. As Camille Mariau, CLIMAX's director of projects, explains, they are currently working on "a monthly membership platform dedicated to sexual wellbeing. The users will ahve access to periodic new content, ordered by topic (pleasrue for people with vulvas, for those with penises, tantric sex, oral sex, post-partum sex, etc.). We really want to create the perfect guide to help our users deconstruct their ideas about sexuality." Currently, the platform has partnerships with educational and healthcare institutions, in order to bring education about female sexuality to all parts of society.
Laurène Dorléac is an expert in the technology market and co-creator of CLIMAX. "Not only is female pleasure little understood, but I also realized that taboos around the subject are still very present." That's why, despite her lack of experience in the area, she decided to venture into the topic. "Good sex is like cooking: it's a creative process that requires practice, experimentation and care to have a good flavor. There are plenty of recipes and cooking classes, but we can't find anything satisfactory about female pleasure on the Internet! That's what led me to create the platform, so that we can all have access to better sexual education."
The project brought together international studies, advice from psychologists and sexologists and over 100,000 testimonies. "Pleasure is a very serious thing, and it deserves a very rigorous approach," she says.
CLIMAX comes to Spain
While the project was founded in France, currently, 40 percent of its subscribers are outside of the country, largely in the United States and United Kingdom. The team is optimistic about the Spanish market. "The market seems to be ready for a project like this. More than talking about pleasure, we really want people to have easy access to safe information about sexual education," says Camille Mariau. Since the project launched in Spain just a few months ago, most of its users are between 28 and 45 years old, and, surprisingly, they are divided 50/50 between men and women.
To spread the news about the project, they have the help of Teresa Riott, known for her role as Nerea in the Netflix series Valeria, who narrates the videos. "It seems to me like a new idea in education, and it's very necessary in order to better understand all the possibilities of our pleasure. CLIMAX has also had success in other countries. I've learned a lot about female sexuality in the process," the actress explains.
She emphasizes that "they are videos that you can watch alone, in private, and you can experiment," which "gives people confidence to explore their bodies without concerns."
The platform's content is explicit, but tasteful; obvious, but well-presented. It repeats explanations we have read in plenty of books, but which acquire a new dimension when we can see them on a screen: without drawings, diagrams or taboos, simply showing how to stimulate a vulva. The videos are meant to educate, not to excite, and they have no resemblance to porn. The images are accompanied by Riott's voice, which explains each step in a clear and simple way, adding touches of scientific information. It explains not only how to stimulate the vulva, but also how and why the stimulation works.
We've learned that it's much easier to exercise at home, or even to do home improvement projects, with the help of a Youtube tutorial video that shows us each step. So it makes all the sense in the world that we can use tutorials to learn how to excite our bodies, moving step-by-step over each part of our anatomy.
The platform is also notable for its diversity, not only in the appearances of the vulvas on screen, but also in the techniques proposed. It includes videos of 19 different masturbation techniques. In Spain, female masturbation has experienced a revolution in recent years. The brand Lelo, specialized in clitoral suction toys, increased its sales by 440% in 2019. The Satisfyer toy was even more popular: it registered an increase in sales of 1,300% in 2020, to the point that it had to resort to European countries to restock the toys during one of the busiest months of the year. Those toys finally normalized female masturbation. Vibrators themselves have also experienced their own revolution. Their technology and shapes have become more sophisticated, and they have become more effective and discreet. And Gwyneth Paltrow's website Goop now features Viva la Vulva, an "extra-silent" vibrator model that can be used at any time without making any noise. Such devices are proof that manufacturers have taken pains to innovate their products for female pleasure, until recently a forgotten sector. Gone are the old dildos and penis replicas.
Beyond masturbation, with or without the help of toys, the content of CLIMAX "is like an encyclopedia of ideas that you can choose and use to enrich your sexual life. It can help you be more creative, learn moves that women with vulvas might like, etc. It can also be used as a basis to start a conversation with your partner about what you like, what you want to try or not. We want to give people the opportunity to get to know their own body or the body of their partner better," explains Mariau.
To that end, the first two seasons are entirely scientifically based. To develop the content, 74 international scientific studies, widely referenced and accepted by the scientific community, were consulted. "There is one study that I find special: Shere Hite's 'The New Hite Report,' a bestseller that has sold tens of millions of copies, which describes how women feel during different sexual activities and when they orgasm with greater frequency," Mariau says.
In addition to a surge in vibrator sales, women have been consuming more porn than ever in recent years. According to a study by Pornhub on porn consumption in the pandemic, women increased the amount of porn they consumed by 17.5%. Audio porn, one of the latest developments in the industry, is particularly popular among women. And websites for pornographic content aimed at women, taking into account the tastes and aesthetics that female arousal requires, have proliferated in recent years.
Mission: equality in pleasure
The work of Shere Hite is one of the great sources of inspiration for CLIMAX. The late writer and sexologist was especially interested in the female orgasm. She interviewed some 3,500 American women, from prostitutes to former nuns, to create 'The Hite Report: A Nationwide Study of Female Sexuality' in 1976. Among her conclusions stood out two ideas: first, that few women reached orgasm through intercourse (only 30%), although they did through masturbation. Secondly, the clitoris was the key to climax.
CLIMAX is organized into several themes, which are available in different subscription packs: external pleasure (10 episodes), internal pleasure (11 episodes) and tantra exercises (7 episodes).
"Our mission is to equalize pleasure in a world where women report being less satisfied than men in their sexual activities, feeling less pleasure and having fewer orgasms. Education will make it possible," the expert concludes.