Chinchón: Wes Anderson to shoot his new movie on the fringes of Madrid | Culture
US film director Wes Anderson, 52, is to shoot his next film in Chinchón in southeast Madrid during July, August and September. Although scarcely a single detail of the all-American production has been leaked, the sets simulating a Western-style desert are clearly visible on the edge of the town despite the fact that the movie does not reportedly belong to this genre.
For a major US production to be here for several months means an injection of life, prestige and publicity

Francisco Javier Martínez, mayor of Chinchón
Over 20 people are busy getting everything ready to shoot by mid-July, by which time Anderson will have premiered his last movie The French Dispatch at the 2021 Cannes Film Festival. Anderson has reportedly chosen Spain as the backdrop for his latest endeavor on account of its landscape and also the quality of its service companies and local production companies that take care of the paperwork, set construction, accommodation, transport and other related matters. Production, meanwhile, has been put in the hands of Indian Paintbrush, a company Anderson regularly works with.
Born in Houston, Anderson is famous for his distinctive visual and narrative style. Possessing a fascinating sense of aesthetics, he homes in on the minute detail of all the components that appear on camera, conjuring up extraordinary worlds using wardrobe and sets. His passion for visual symmetry and nostalgic humor is an integral part of his scripts and has turned him into a genre in his own right.
Having settled in France, the director has spent the last 10 years making films in Europe. Since shooting Moonrise Kingdom in 2012 in Rhode Island, he has not returned to his home country to film a movie. The Italian village for his Prada-produced shot film Castello Cavalcanti (2013) was built at Cinecittà Studios in Rome; he created his universe full of references to Austrian novelist Stefan Zweig and Europe's interwar years in The Grand Budapest Hotel (2014) at the German Babelsberg Studios outside Berlin; and Isle of Dogs (2018), a stop-motion animated comedy, was shot in British studios. Meanwhile, the yet-to-be-released The French Dispatch about life in a French city during the 20th century according to reports published in a fictitious local English-language newspaper, was made in an immense industrial warehouse on the outskirts of Angoulême in the Nouvelle-Aquitaine region of southwestern France. This is the film that would have opened the 2020 Cannes Film Festival last year if the event hadn't been canceled due to the coronavirus pandemic.
A mocked-up desert
Last week, several dozen workers were busy erecting immense classic Western sets in Chinchón. Beyond the scaffolding for the mocked-up desert that can be seen by the casual observer, a train station and train track are being recreated within a vast private estate. Anderson has not yet visited the location: before Cannes, he will be at the Tribeca Film Festival in New York where the 20th anniversary of the premiere of The Royal Tenenbaums will be celebrated in mid-June with a screening and a live-streamed conversation between Anderson and his artistic team.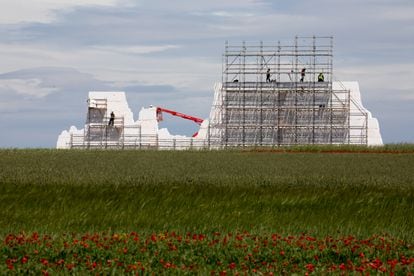 In Chinchón, a town of 5,000 that lies 46 kilometers outside the Spanish capital, there is still no news of who will be in Anderson's latest project, but the town's mayor, Francisco Javier Martínez, is brimming with excitement nevertheless. "It is very important for the city," he says. "It is true that we have been a regular location for numerous shoots, but that a major US production should be here for several months means an injection of life, prestige and publicity."
From Chinchón's famous Plaza Mayor square, Martínez adds that they have collaborated in the search for facilities for the film crew. "We have mediated in the negotiations with the Parador," he says, referring to the former Augustinian monastery turned luxury hotel. "And also with other hotels and rural lodges. They [the film crew] are going to take over everything. The theater will be their center of operations and they will even be able to shoot there."
There's not much more Martínez can reveal: anything related to the film is strictly confidential. On the bulletin board inside city hall, a public notice signed by the local authorities and Film Madrid, the organization in charge of promoting the region as a film destination, states the project has "the support of City Hall" and requests the collaboration of the city's inhabitants. According to Profilm, the Spanish association for international audiovisual production companies, 73% fewer foreign projects were developed in Spain in 2020. Direct investment went from €132 million in 2019 to €36 million last year.
Director of movies such as Rushmore Academy and The Life Aquatic with Steve Zissou, Anderson is known for his meticulous attention to detail, his passion for diorama sets, his love of pastel colors and his penchant for coordinating tones according to the project. He is also famous for working with a recurring group of actors. With a budget of €35 million, the Chinchón movie will undoubtedly star some of his favorites – a cohort that includes Tilda Swinton, Owen Wilson, Saoirse Ronan, Bill Murray, Willem Dafoe, Jason Schwartzman, who regularly collaborates with him on his scripts, and Bob Balaban. "I call them, but I never tell them the size of the role, which would be rude," Anderson told EL PAÍS in 2014 at the premiere of The Grand Budapest Hotel. "I ask them for help to make the film, and they sign up."
One of his actors described him as "Saint-Exupéry's Little Prince all grown up." Anderson responded to the description, saying, "I don't know what that means, really. Maybe he had a lot of fun on set." Speaking about his childhood, he added, "I spent a lot of time drawing houses and elements of architecture, because that's what I wanted to work in as an adult." This helped creates his unique aesthetic, one that has greatly influenced contemporary interior design and Instagram. Regarding the off-set dynamics in Chinchón, he offered an insight when premiering The Isle of Dogs in Madrid. "The way I like to make films has a family feel," he said at the time. "If I can, I try to have the whole crew live in the same hotel. I like to have lunch and dinner all together; so no one goes home."
English version by Heather Galloway.
Lewis Hamilton wins chaotic Saudi GP to draw level with Max Verstappen
After chaos, needle, misunderstanding and some absolutely uncompromising racing, it took a cool head to prevail and Lewis Hamilton duly delivered, his win at the Saudi Arabian Grand Prix ensuring there is now nothing in it going into the Formula One season finale.
Beating title rival Max Verstappen into second, the pair are now level on points after a race of complexity and confusion fitting perhaps in a season that has been impossible to predict. The two protagonists endured an ill-tempered race and both left with differing views, Hamilton accusing his rival of being dangerous and Verstappen aggrieved. What it made clear is that neither will leave anything on the table next week in Abu Dhabi.
The investigations and debriefs will go on long into the night after this staccato affair interrupted by red flags, safety cars and the two leaders clashing repeatedly on track but ultimately and crucially for his title hopes it was an exhausted Hamilton who came out on top.
Hamilton had gone into the race trailing Verstappen by eight points, they are now level. The lead has changed hands five times during this enthralling season, which has ebbed and flowed between them but of course Hamilton has experience in tense showdowns, pipped to his first title in the last race of 2007 and then sealing it in a nail-biting showdown in Brazil a year later.
Verstappen is in his first title fight but has shown no indication of being intimidated, instead eagerly grasping his chance to finally compete and he still has it all to play for despite his clear disappointment at the result at the Jeddah circuit.
Hamilton admitted how hard the race been. "I've been racing a long time and that was incredibly tough," he said. "I tried to be as sensible and tough as I could be and with all my experience just keeping the car on the track and staying clean. It was difficult. We had all sorts of things thrown at us."
Hamilton's race engineer Peter Bonnington credited his man with how he had handled it, noting: "It was the cool head that won out". It was a necessary skill beyond that of wrestling with this tricky, high speed circuit, given the incidents that defined the race as it swung between the two rivals.
Hamilton held his lead from pole but an early red flag due to a crash left Verstappen out front when Red Bull had opted not to pit under a safety car. Thus far at least it was fairly straightforward.
When racing resumed from a standing start Hamilton, off like a bullet, had the lead into turn one but Verstappen went wide and cut the corner of two to emerge in front. Esteban Ocon took advantage to sneak into second only for the race to be stopped again immediately after several cars crashed in the midfield.
With the race stopped, the FIA race director, Michael Masi, offered Red Bull the chance for Verstappen to be dropped to third behind Hamilton because of the incident, rather than involving the stewards. In unprecedented scenes of negotiations with Masi, Red Bull accepted the offer, conceding Verstappen had to give up the place, with the order now Ocon, Hamilton.
Verstappen launched brilliantly at the restart, dove up the inside to take the lead, while Hamilton swiftly passed Ocon a lap later to move to second.
The front two immediately pulled away with Hamilton sticking to Verstappen's tail, ferociously quick as they matched one another's times. Repeated periods of the virtual safety car ensued to deal with debris littering the track and when racing began again on lap 37, Hamilton attempted to pass and was marginally ahead through turn one as both went off but Verstappen held the lead, lighting the touchpaper for the flashpoint.
Verstappen was told by his team to give the place back to Hamilton but when Verstappen slowed apparently looking to do so, Hamilton hit the rear of the Red Bull, damaging his front wing. Mercedes said they were unaware Verstappen was going to slow and the team had not informed Hamilton, who did not know what Verstappen was doing. Hamilton was furious, accusing Verstappen of brake-testing him. Both drivers are under investigation by the stewards for the incident and penalties may yet be applied.
Verstappen then did let Hamilton through but immediately shot back up to retake the lead but in doing so went off the track. He was then given a five-second penalty for leaving the track and gaining an advantage and a lap later Verstappen once more let his rival through, concerned he had not done so sufficiently on the previous lap. After all the chaos, Hamilton finally led and Verstappen's tyres were wearing, unable to catch the leader who went on to secure a remarkable victory.
It was all too much for Verstappen who left the podium ceremony immediately the anthems concluded. "This sport is more about penalties than racing and for me this is not Formula One," he said "A lot of things happened, which I don't fully agree with."
Both teams had diverging viewpoints on the incidents but both must now look forward. After 21 highly competitive races, the last a febrile, unpredictable drama, the season will be decided in a one-off shootout where both drivers have without doubt earned their place but just when the respect between them appears at its lowest ebb. – Guardian
Covid testing rules for all arrivals into State come into force
New Covid testing rules for travellers arriving into the State have come into force today.
At the start of the week the Government announced that all incoming travellers except those travelling from Northern Ireland will have to present a negative test result in order to enter the country irrespective of the vaccination status.
The move came in response to concerns about the spread of the Omicron variant of Covid-19.
The test requirements were due to be introduced from midnight on Thursday. However the system was postponed at the last minute to midnight on Sunday in order to allow airlines prepare for checks.
For those with proof of vaccination they can show a negative professionally administered antigen test carried out no more than 48 hours before arrrival or a PCR test taken within 72 hours before arrival. Those who are unvaccinated must show a negative PCR test result.
Ryanair's Michael O'Leary had described the move as "nonsense" and "gobbledygook".
Meanwhile more than 150 passengers have departed Morocco for Ireland on a repatriation flight organised by the Government.
The 156 passengers on the flight from Marrakech to Dublin included Irish citizens as well as citizens of several other EU countries and the UK.
The journey was organised after flights to and from Morocco were suspended earlier this week until at least December 13th, amid fears over the spread of the new Omicron Covid-19 variant.
The repatriation flight on Saturday was operated on behalf of the Government by Ryanair.
Responding to news of the flight's departure, Minister for Foreign Affairs Simon Coveney hailed the efforts of the Irish Embassy in Rabat in the operation, tweeting: "Well done and thank you!".
On Saturday the number of Covid patients in hospital has fallen to 487, the lowest level in almost four weeks, the latest official figures show. The number of Covid patients in hospital fell by 41 between Friday and Saturday. There were 5,622 further cases of Covid-19 reported on Saturday.
Tweeting about the latest hospital figures on Saturday, Tánaiste Leo Varadkar said the "plan is working – 3rd doses, masks, test & isolate, physical distancing. Thank you for what you are doing. Please don't lose heart. Let's all have a safe Christmas."
The figures come as the Government on Friday announced its most wide-ranging introduction of new restrictions this year after "stark" warnings from the National Public Health Emergency Team (Nphet) to take immediate action in the face of the threat from the Omicron variant.
From Tuesday until at least January 9th, indoor hospitality will be limited to parties of up to six adults per table, while nightclubs will be closed and indoor events limited to half a venue's capacity. Advice has been issued that households should not host more than three other households in their home, while the use of the vaccine pass is to be extended to gyms and hotel bars and restaurants.
Trinity College immunologist Prof Luke O'Neill said the main reason for the new restrictions was the new Omicron variant, and he thought they were needed as the "next three to four weeks are going to be tough". Speaking to Brendan O'Connor on RTÉ radio, he said it was "strange" that restrictions were being introduced when things are stabilising, with the lowest hospital numbers since November 6th.
Prof O'Neill said he was "hopeful" at news that the Omicron variant may have a piece of the common cold virus in it which could make it more like the common cold.
Divock Origi delivers late delight as Liverpool see off Wolves
Wolves 0 Liverpool 1
Divock Origi's last-gasp strike sent Liverpool top of the Premier League with a dramatic 1-0 win at Wolves.
The substitute fired in from close range in stoppage time just as it looked like the Reds would fail to score for the first time in eight months.
He spared Diogo Jota's blushes after the forward hit Conor Coady on the line following Jose Sa's second-half mistake.
Chelsea's 3-2 defeat at West Ham gave the Reds a path to the summit and they went top thanks to Origi's late show. Resilient Wolves were left with nothing despite another battling display and sit eighth.
Liverpool had blown away the majority of their rivals this season, having scored four in each of their last three Premier League games before arriving at Molineux.
They had, simply, been too good but found Wolves at their resolute best until the death.
Only Chelsea and Manchester City have conceded fewer goals than Bruno Lage's side prior to the game and there was strong resistance to Liverpool's threat.
The visitors failed to find any early rhythm, thanks largely to the hosts' determination. Aside from Leander Dendoncker slicing a clearance from Jota's header the Reds made few first-half inroads.
Three straight clean sheets had given Wolves' defence renewed confidence and they continued to keep it tight as Liverpool slowly began to turn the screw.
Trent Alexander-Arnold volleyed over after 28 minutes and then turned provider for Jota, who headed his far post cross wide.
Liverpool had control but only managed to open their hosts up once and, even then, Romain Saiss's presence ensured Mohamed Salah just failed to make contact with Andrew Robertson's low centre.
As an attacking force Wolves were non-existent. Having scored just five league goals at Molineux that was no surprise but Adama Traore, Raul Jimenez and Hwang Hee-chan carried little threat.
Joel Matip and Virgil Van Dijk were on cruise control and apart from Rayan Ait-Nouri's sharp run – before he wasted his cross – there was little for Liverpool to fear.
Yet, they were still searching for a goal. Having scored in every Premier League game since a 1-0 defeat to Fulham in March more was expected after the break.
Salah's knockdown caused some penalty box pinball which saw Thiago Alcantara twice denied but Jürgen Klopp's men lacked the fluidity and precision to break Wolves down.
They needed a mistake from Sa to create their best opening on the hour and even then Jota missed it.
The goalkeeper raced out to the left after Jordan Henderson's searching pass for Jota but collided with Saiss to give the forward a clear run to goal.
He advanced but from just six yards belted the ball at the covering Coady on the line.
Alexander-Arnold drove over as Liverpool's frustrations grew and Sa denied Sadio Mane late on.
But Origi had the final say deep into added time when he collected Salah's pass, turned and fired in from four yards.