Chariots of steel: Barcelona's hidden army of scrap recyclers | Global development
They are everywhere and yet they are almost invisible, living below the social radar as they crisscross the city pushing supermarket trolleys piled with metal tubing, old microwaves and empty beer cans.
The chatarreros are Barcelona's itinerant scrap-metal collectors, and there are thousands of them. Most are undocumented migrants and so there is no official census, but Federico Demaria, a social scientist at the University of Barcelona who is conducting a study of the informal recyclers in Catalonia, believes there are between 50,000 and 100,000 in the region. About half are from sub-Saharan Africa; the rest are from eastern Europe, elsewhere in Africa and Spain.
They may be under the radar but they play a vital role in recycling, collecting an estimated 100,000 tonnes of metal a year in Catalonia alone, in a business that the Spanish recycling federation estimates is worth €10bn (£8.6bn) annually.
"What I've collected today is only worth about €3," says Suleiman, resting on a bench en route to the scrapyard. A bed frame and bits of twisted metal are crammed into his shopping trolley. "Steel is worth less than 10 cents a kilo."
Suleiman arrived from Guinea in 2005 and, although he has his residency papers, says it's impossible to land a proper job. "Next month I'm going to Lleida [a city 100 miles west of Barcelona] to dig potatoes and pick cherries," he says.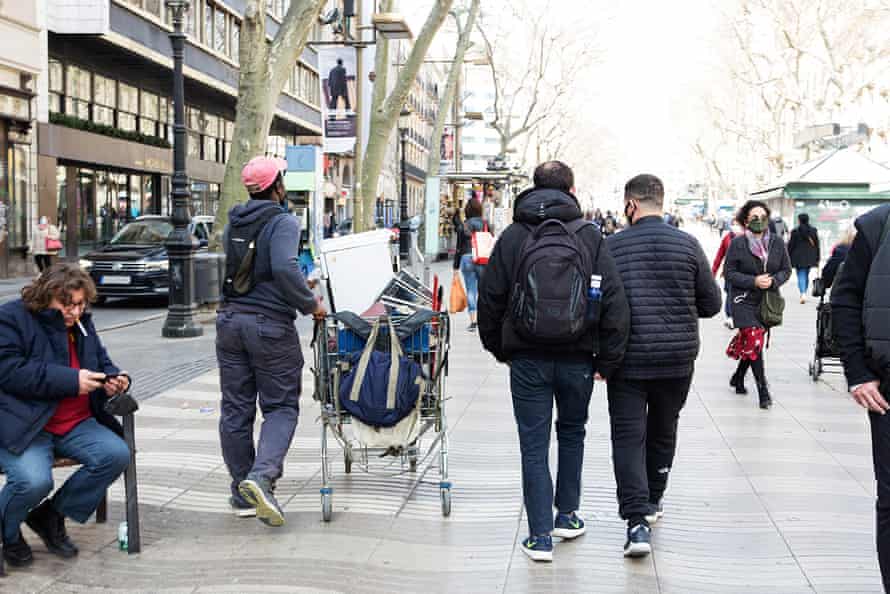 Víctor Mitjans, a recycling expert employed by the Barcelona Metropolitan Area, says: "The informal collectors are exploited by scrap merchants who, knowing these people are 'illegal', offer a price and it's a case of take it or leave it."
The waste belongs to the city, so collecting it is technically theft. "The city isn't going to prosecute these people and most are prepared to turn a blind eye to their activities," he says.
While the city pays private companies to collect and separate waste, the informal collectors are not rewarded for their work beyond what they receive for scrap. Recycling metal isn't part of the formal system of collecting glass, paper and plastic.
"If you recognise their environmental service then they should be compensated for it," says Demaria. Contracts for waste collection in Barcelona city are worth €2.3bn. The problem is that the migrants are trapped in a catch-22 due to Spanish immigration law: they cannot get a job because they are undocumented but they cannot get legal status without a job.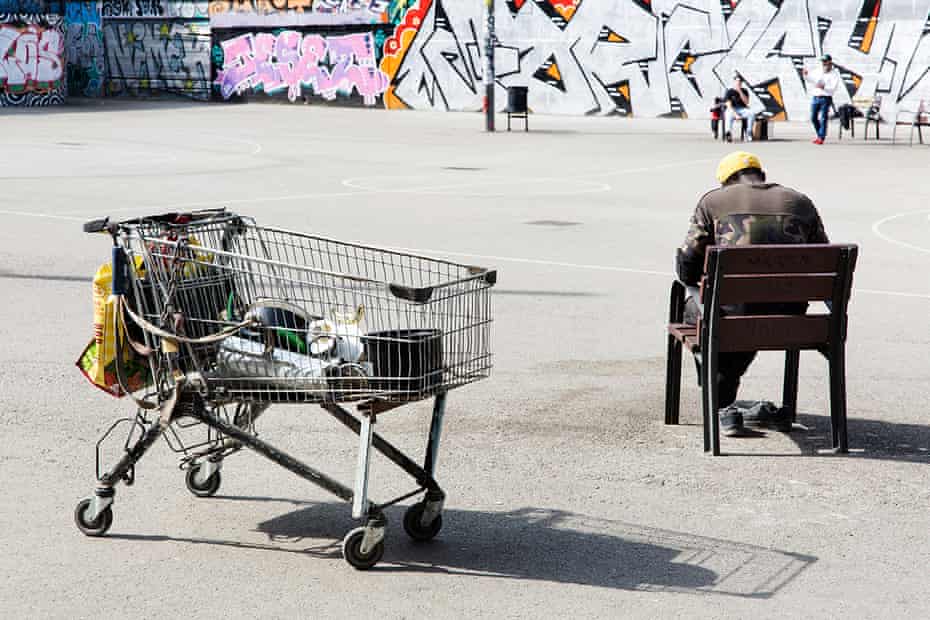 To get legal residency you have to live in the country for three years, prove that you have had a fixed address for at least a year, show that you are learning the language and have a work contract for a minimum of one year. For many, it is impossible to fulfil these conditions, and even if they get legal status, they have to register as self-employed and pay a statutory monthly "quota" of €300, regardless of income, which they do not earn enough to pay.
The self-employed quota forces tens of thousands of people in the lowest-paid jobs, such as domestic workers and carers, into the informal market. They are among the hardest hit by the pandemic, because they have no way of claiming compensation for lost earnings from the state.
"What can you do? Steal? Sell drugs?" asks Ababacar Thiakh Sylla, who came to Spain from Senegal 23 years ago. "If you don't want to do that the only option is collecting scrap or being a street vendor. It's social exclusion, nothing more nor less."
Sylla arrived from Dakar, Senegal, with a university degree that was not recognised in Spain, and so spent the next six years working illegally as a street vendor before obtaining a history degree from the University of Barcelona. He now works for a city-funded cooperative that helps undocumented workers find jobs.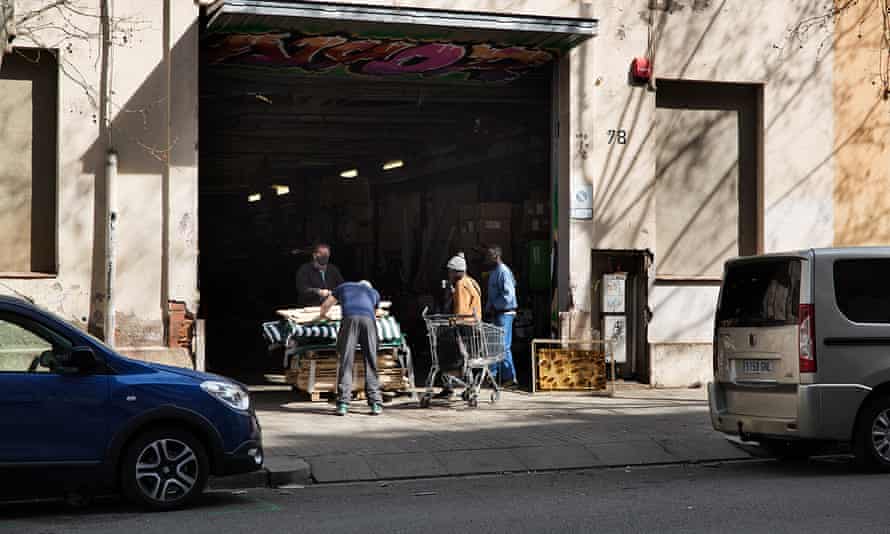 A 2013 report by the International Labour Office estimated that only about a fifth of the 24 million people worldwide working in waste management are formally employed. The remainder are the 19-million-strong global army of informal waste pickers.
"These people provide this recycling service and they invest their whole life in it because it's the only way they can survive," says Lucía Fernández, who helped to establish the Global Alliance of Waste Pickers, speaking from her office in Montevideo, Uruguay.
"The chatarreros of Barcelona are at the bottom of a pyramid, with multinational capital at the top," she says – something that has long been the case in the global south but is a new phenomenon in the north.
Demaria agrees. "It's got a lot to do with inequality and we're seeing a convergence between the north and the south because now in the global north we have a lot of people who live in extreme poverty," he says.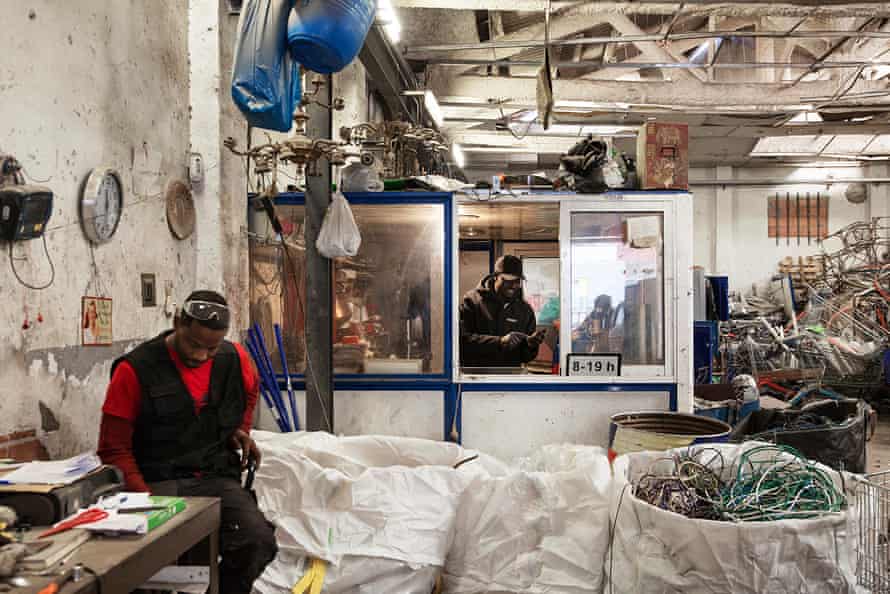 Fernández says that, while governments spend millions on sophisticated waste collection services, in parts of Brazil waste pickers gather as much as 60% of what is collected for recycling.
"We need to see these people's work not as a problem but as a solution, but to do that we need to change the system," Fernández says.
More and more Africans are making the perilous journey to Spain, where a tough and precarious existence awaits. "When people who have worked here, even as a waiter, go back to Senegal, what people see is someone who has made a success of life in paradise," says Mamadou Saliou Diallo. "They've got their lives sorted. People sell their homes so that their children can cross the sea in a canoe."
Diallo arrived 11 years ago, alone, aged 16 and determined to be a professional footballer. He did play for Sant Andreu when it was in the second division, but was dropped when new management took over.
As well as working for a bicycle hire firm, he has set up the NGO Diandé frica, which helps fund the education of 500 children in his home town of Ziguinchor, south Senegal, while also running a day nursery and a jam-making project in the Raval district of Barcelona.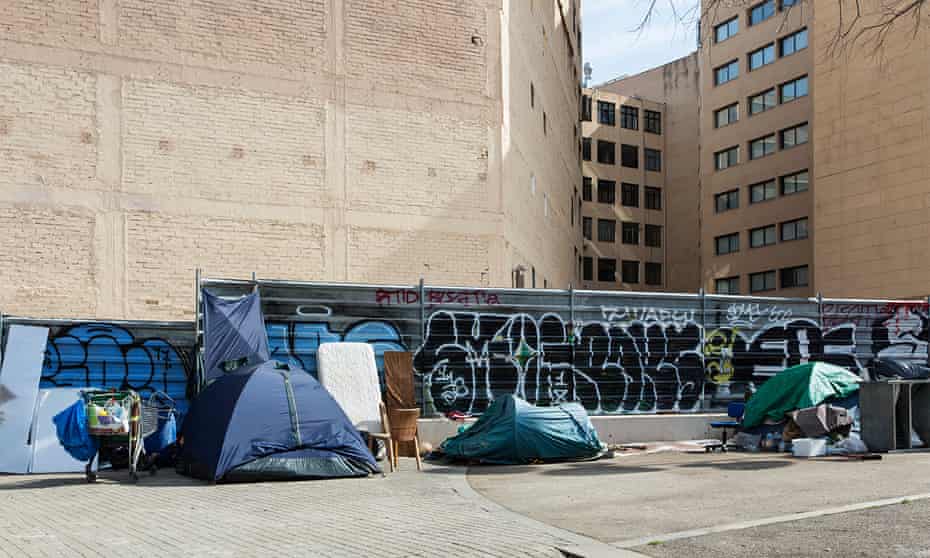 For Karim, who in 2006 was among 30 people who set off from home in a small boat for a new life, Senegal had little to offer. After 15 days at sea they arrived in the Canary Islands, the longest and most dangerous of the African migrant routes to Europe.
In one week last October, nearly 500 migrants drowned attempting this crossing. Karim says he was never afraid, however. "Yes, it's dangerous, but if things are bad in your country and your family is suffering, if your life is already a living death, at least you tried. Maybe you'll drown but you can feel proud that you tried."
Apollo Go: The Beijing neighborhood with robotaxis and driverless delivery service | International
Book a robotaxi on a mobile app and it will pick you up in less than 10 minutes. It's 2:00pm on a Thursday in Beijing and our ride is going smoothly with no human intervention so far. "Sometimes we have to speed up manually to avoid causing traffic jams. Bicycles and motorcycles often cause traffic congestion because they ignore traffic signals," says the driver supervising our trip, as the steering wheel magically moves by itself.
The 37-square-mile (60 square kilometers) Beijing High-level Automated Driving Demonstration Area (BJHAD) is where the country's first pilot project to use autonomous vehicles on public roads is happening. Located in a secluded district in the southeastern part of the city, BJHAD is the test site for a futuristic plan that envisions turning Beijing into the standard-bearer for artificial intelligence (AI). The Apollo robotaxis manufactured by Baidu and the autonomous delivery vehicles manufactured by JD.com (aka Jingdong) zip around a tranquil utopia that stands in stark contrast to the hectic jungle of downtown traffic.
"[A robotaxi] can handle an average of 15 daily bookings, most of which are trips between a subway stop and an office," said the cab driver. In November 2021, Baidu and Pony.ai became the first companies authorized to operate a fleet of 100 robotaxis in BJHAD. As of April 2022, humans are no longer required to sit in the driver's seat of the robotaxi, which is allowed to travel at a maximum speed of 37 miles per hour (60 kph). The service is free for now, although the two companies are commercially licensed.
Baidu, China's leading search engine, is diversifying its business by commercializing its AI and intelligent transportation technology. Its Apollo Go program is currently operating in seven cities, and the company plans to expand to 65 cities by 2025, and 100 cities by 2030. Unlike the Waymo robotaxis that Google began operating in 2020 in the US, Baidu's vehicles circulate during the day, enabling them to collect more data.
Although Baidu has topped the list of Chinese companies with the most patents for AI applications over the last four years, e-commerce giant JD.com is the leader in the autonomous delivery vehicle space. In 2016, Jingdong established its headquarters in BJHAD, and its delivery robots now dominate the streets. These vehicles mainly transport orders from the 7FRESH smart supermarket chain operated by JD that combines e-commerce and traditional commerce. "Instead of people going out to buy products, we deliver them," said Yang Han. Who works in Jingdong's communications department.
JD's applies big data analytical methods to the information collected from more than 400 million annual users, and utilizes it to tailor inventories to the specific needs of each 7FRESH physical stores location. The entire 7FRESH inventory is available in the app. The delivery robots, which travel at nine miles per hour (15 kph) and can carry 220-440 pounds (100-200 kilos), deliver orders in less than an hour within a three-mile (five kilometer) range.
JD employees rely on smaller robots to send documents and other items between offices in 10 minutes or less. "They speed up the work and saves us from having to run around from one place to another," said Yang Han. The robots are able to operate elevators and open doors by themselves as they follow their delivery routes.
The robots can recognize their surroundings and avoid obstacles with a 98% accuracy rate for small objects. Information streams in through cameras and other sensors, while the navigation algorithm pinpoints their location and plans routes. JD's cloud-based simulation platform accumulates data from every trip to continuously improve the robots' capabilities.
The Covid pandemic spurred JD to accelerate its autonomous delivery program, enabling it to deploy small and large delivery vehicles to the Chinese cities most affected by the pandemic over the last two and a half years. In early 2020, during the peak of the pandemic in Wuhan, these delivery vehicles traveled a total of 4,225 miles (6,800 kilometers) and delivered more than 13,000 packages.
In a country where low unemployment is one of the main pillars of its social stability goals, the move to autonomous vehicles may prove to be risky in the long run. However, Yang Han insists that the objective is to "achieve a synergy between humans and machines… The goal is to take the pressure off delivery drivers and allow them to focus on customer service and vehicle maintenance. The couriers don't need to transport the goods. Instead, they wait by the curb for the robots to arrive, and then walk the goods to the customer's door. "
BJHAD is part of the Beijing Economic and Technological Development Area, the first place in China specifically geared to AI research. The country aspires to become the world leader in AI by 2030 and to leave the "factory for the world" image behind for good.
Afghan embassy staff remain in hiding despite being eligible for UK relocation | Global development
More than 170 people who worked for the British embassy in Kabul remain in hiding in Afghanistan in fear for their lives, almost a year after the Taliban retook the country.
A list of Afghans currently in hiding, seen by the Guardian, shows almost 200 former interpreters, security guards and local staff waiting for a response from the Ministry of Defence and the Home Office, the departments responsible for relocating people at risk. All of those on the list are eligible for transfer to the UK under the Afghan relocations and assistance policy (Arap), intended to bring those formerly employed by the UK government, and their family members, to safety in Britain.
Aarash* was employed by GardaWorld, a security subcontractor for the MoD, and worked at the British embassy for more than 10 years. He and his children have fled their home and live hidden in a basement in a village outside the city, surviving on one meal of boiled rice a day.
"The Taliban, they have access to the details of all the guards and their ID cards," Aarash said, speaking by secure connection. "Two times, they came to search our house, so we had to escape. They say that we are criminals, that we are not true Muslims, that we worked for foreigners. If they find us, they will kill us – this is for sure."
In August 2021, as the Taliban took Kabul, Aarash was on a coach with his family, due to be evacuated. A suicide bomb inside the airport forced the bus to turn back. He has been in hiding since.
"Every time we receive a message from the MoD, they say to wait. More than 10 months we are waiting. We hoped the British government would help us but they have done nothing – they have left us alone here to die."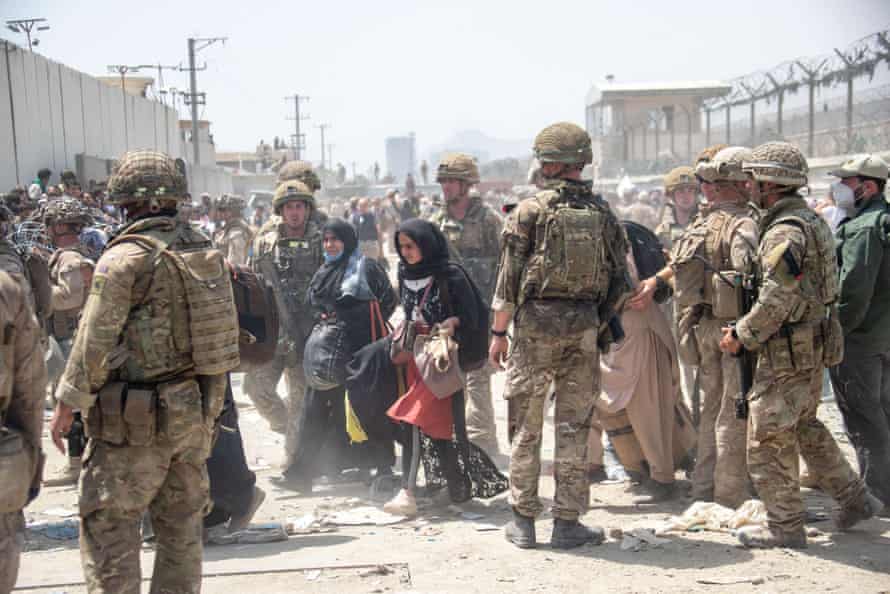 Another man, speaking through a translator, said: "The Taliban came to our house, they broke everything and we had to leave very quickly. Now we are in very bad conditions. Our children cannot go to school, we cannot walk in the streets or go to the market [for food]. Every day, we are at risk. They will come for us and they will kill all of us, including the children. We are in a humanitarian crisis."
He added: "The British government, they know everything about us. They know we are eligible [to come to the UK] because we worked for them for many years. We did good work for them. We respectfully ask the British government to help us and begin our transfer as soon as possible."
Sarah Magill, a director of the charity Azadi, said eligible Afghans were in their tens of thousands. "They are scattered in Afghanistan, Iran, Pakistan, Turkey, in hiding and terrified. We would like more diplomatic energy and investment going into establishing pathways for them, including through Tajikistan and Uzbekistan. Relying solely on Pakistan, a country in political turmoil, has caused a bottleneck."
Sara de Jong, co-founder of the Sulha Alliance, which supports Afghans who worked for the British government to resettle in the UK, said: "The Arap team's slowness and unresponsiveness leaves applicants in limbo, while fearing for their lives. The processing of applications needs to be expedited, and applicants should be given clear timelines, which will also help reduce duplicate applications from Afghans simply desperate to get a response."
It is the latest criticism of the government's handling of the crisis, with a damning report from the foreign affairs committee in May saying there has been a "total absence of plans to evacuate Afghans who supported the UK mission without being directly employed, which has put lives at risk".
In response to a written question last week, armed forces minister James Heappey said one Arap case dating from when the scheme opened remains unresolved. He added that it "relates to an individual we have contacted three times, requesting further information relating to their eligibility".
However, earlier this month, in response to a parliamentary question, Heappey said decisions on only two of the 3,226 Arap applications received since April 2022 had been processed. Heappey told MPs that 9,500 Afghans have been relocated to the UK under Arap but added: "We think we've got about the same to go in terms of the number of people who are eligible."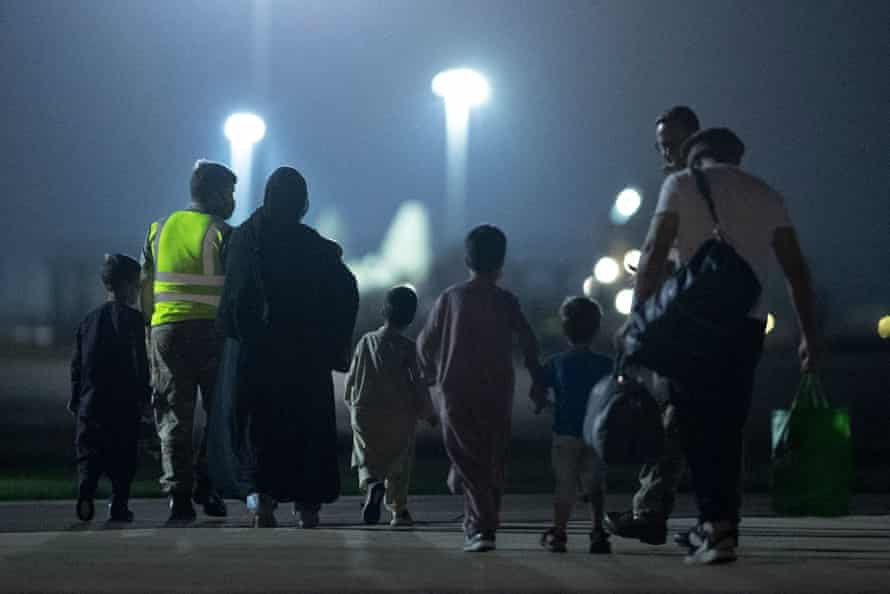 The Foreign, Commonwealth and Development Office this month launched an online system, where those eligible can send an "expression of interest" in being transferred to the UK as part of its Afghan citizens resettlement scheme (ACRS), which is separate to Arap. The ACRS is designed to support those who assisted UK efforts in Afghanistan and members of minority groups based, for example, on ethnicity, religion or sexuality. Former GardaWorld and British Council employees will be considered, but it is not possible to apply for the scheme.
An MoD spokesperson said: "Between April and the beginning of June, 683 eligible Afghan civilians along with their families and dependants were relocated to the UK under Arap.
"In total, the Ministry of Defence has relocated over 9,500 Arap principals and their families since the beginning of the scheme. We know there is still a way to go to bring all those who are eligible to safety in the UK; the government is continuing to work with third countries to facilitate the relocation of those who are eligible under Arap.
"We continue to process applications in the order in which they are received, which has meant that some of the newer applications are still being worked through. We recognise there are too many individuals waiting for an answer, and this is not acceptable. This is why we are putting more resource into a dedicated team for processing Arap applications."
*Names have been changed to protect identities
Ukraine war: Biden pledges more aid for Ukraine at close of 'transformative' NATO summit | Spain
At the close of a NATO summit in Madrid that world leaders have described as "transformative," US President Joe Biden announced a new $800 million package of military aid for Ukraine, including air defense systems, artillery, ammunition and counter-battery radar.
The announcement came a day after the US leader pledged to boost America's defense and deterrence capabilities on the European continent. "The US is doing exactly what I said we would do if Putin invaded, enhance our force posture in Europe," said Biden. "Putin thought he could break the transatlantic alliance […] but he's getting exactly what he did not want."
At the two-day gathering, which brought together around 40 heads of state and government, leaders agreed on long-term support for Ukraine and on a new Strategic Concept, a document that describes how the Alliance will address threats and challenges in its security environment in the coming years.
Both Biden and NATO Secretary General Jens Stoltenberg underscored one of the main achievements of the two-day gathering, getting Turkey to lift its opposition to Sweden and Finland's request to join the alliance following decades of non-alignment.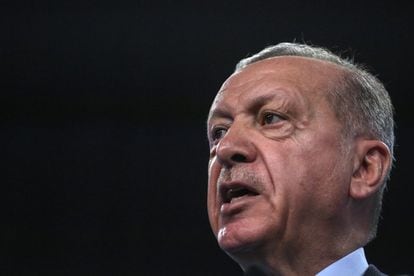 Formal invitations are being extended, but the process is not over and Turkish President Recep Tayyip Erdogan cautioned on Thursday that both Nordic countries will have to keep their promises in connection with their stance on Kurdish groups that Turkey considers terrorists. This includes a pledge by Sweden to extradite 73 individuals.
On Tuesday, Stoltenberg had said the goal of the summit was to chart a blueprint for NATO "in a more dangerous and unpredictable world" marked by the Russian invasion of Ukraine, which has sparked a "fundamental shift" in NATO's approach to defense.