Catching the bug: are farmed insects about to take off in Africa? | Global development
The boarding of Uganda Airlines flight 446 from Entebbe to Dubai was momentarily disrupted at the end of last year when two of the passengers started hawking bush crickets in the aisles.
Their fellow travellers couldn't believe their luck: nsenene are a prized delicacy in Uganda, but despite November usually being peak season for the insects, there had been hardly any around.
The video from the plane went viral; there were grumblings about security breaches, but Uganda Airlines seemed sympathetic and spotted an opportunity to turn the crisis into an opportunity. "We understand that [nsenene] was not in plenty this season, hence the excitement. We are considering adding nsenene to our menu for regional and international flights on request," it said in a statement.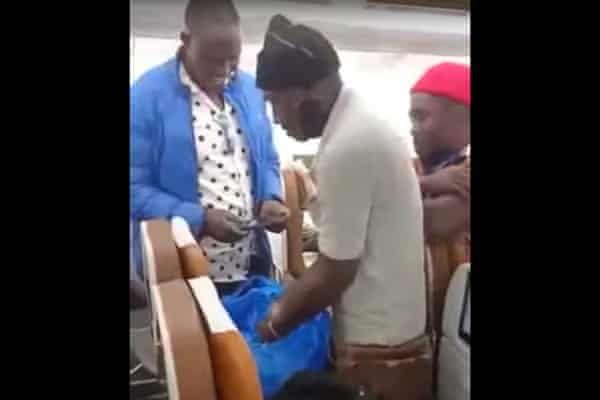 Nsenene are just one of 2,100 known edible insect species, a quarter of which are consumed in Africa. Most are highly prized – often costing more than beef or chicken by weight – and most are harvested from the wild.
Catching them is often difficult, they are seasonal and can be unavailable when most needed, said Dorte Verner, lead agriculture economist at the World Bank's food and agriculture global practice. They can also be over-harvested or contaminated with pesticides.
However, with rising food insecurity, safeguarding this nutritious source of protein has become critical. "In 2021, 21% of people in countries affected by fragility, conflict and violence did not have access to nutritious food," said Verner. "Also, food production per capita has been falling since 2014."
Farming the insects is one solution. A recent report, published by Verner and World Bank colleagues, on the potential of hydroponics and insect farming in Africa, found 849 farms in 10 of the 13 countries they surveyed. While still in its infancy – most farms were set up in the last decade – the industry has clear potential: not only would insects be available all year, it would create jobs, help manage food waste, which is used as feed, and insect manure, or frass, could create fertilisers.
The World Bank has estimated that within a year, black soldier fly (BSF) farming could generate crude protein worth up to $2.6bn (£1.9bn) and biofertilisers worth up to $19.4bn. The process would recycle 200m tonnes of crop waste.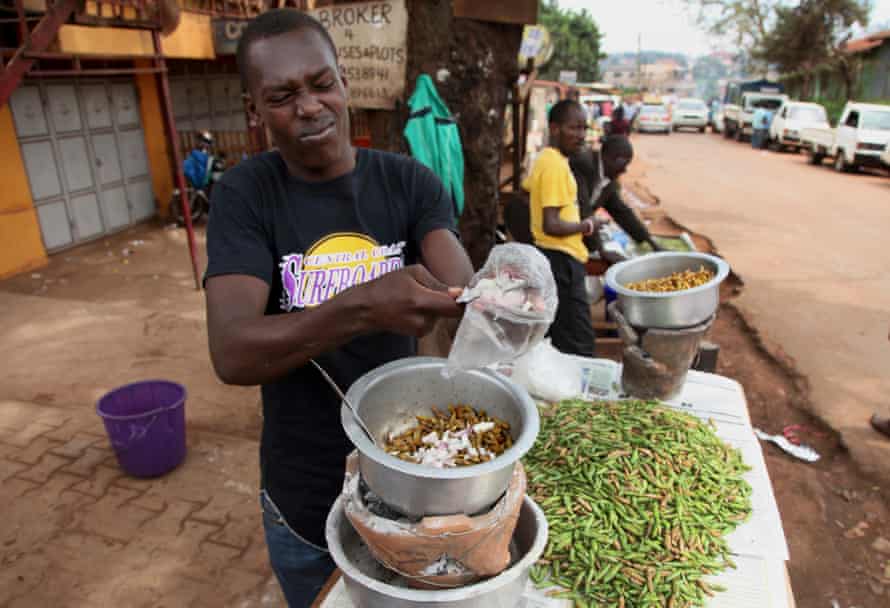 Although the bulk of existing farms produce insects for human consumption, there has been growing interest in insects as animal feed. Demand has trebled in the last decade in Kenya alone, and feed manufacturers have been increasingly looking for alternatives to soya and fishmeal, which are plagued by volatile prices, variable quality and poor environmental records.
Research suggests that animals fed insect protein, notably BSF, achieved faster growth rates and better-quality meat than with soya or fishmeal. Production costs are relatively stable, and will go down as operations are scaled up, said Talash Huijbers, founder of InsectiPro, one of the largest BSF farms in Kenya. "With the pandemic, people are starting to appreciate the value of local protein production," she said.
Shobhita Soor, head of Legendary Foods, a palm weevil farm in Ghana, has seen similar trends. Many of her customers want to eat "made in Ghana" products.
Soor's ambition is to "deliver the nutrition of meat at the price point and sustainability of plant", a mission that has led to a relentless search for efficiency gains. "Last year, we managed to reduce our costs of production by 40%. If we want to be as ubiquitous as chicken, it's incumbent on us to do the R&D to continue to optimise our production."
She is looking to raise $5m this year to build her first large-scale plant, while InsectiPro is planning an $11m expansion: it has already opened two more BSF facilities in Kenya and wants to expand in Uganda and Rwanda.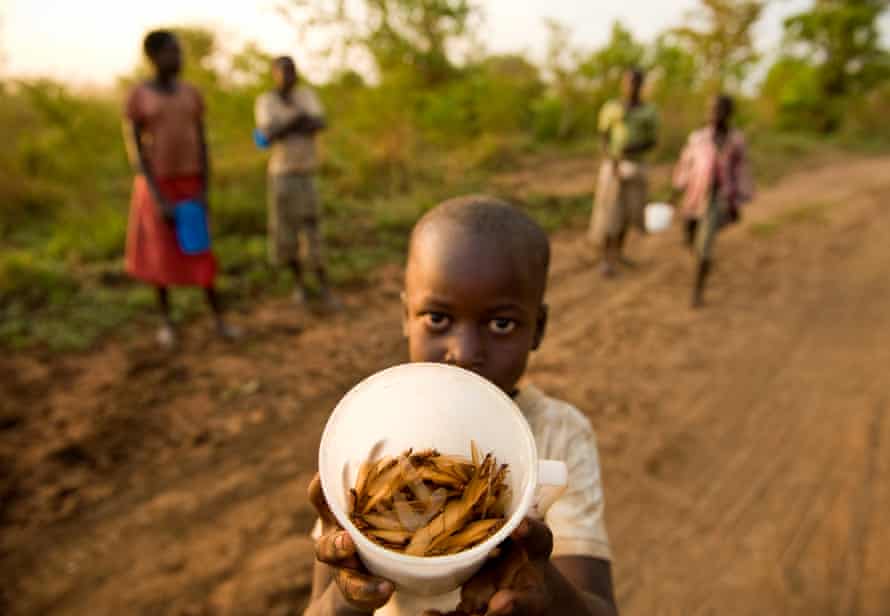 Only 16 species are farmed in Africa, but the International Centre of Insect Physiology and Ecology in Kenya has been looking at how to raise various insect species since 2014 and has trained thousands of would-be "entopreneurs".
Publications such as the World Bank report are vital to put insect protein on the radar of governments – insects do not appear in any national food strategy. Other large development finance institutions, such as the International Finance Corporation and the US Agency for International Development, are also looking into insect farming. Meanwhile, the World Bank is planning pilot investments in South Sudan, Malawi, Kenya and Zimbabwe.
"From the number of meeting requests I have received since the publication of the report, I can tell you that [people] are really interested," said Verner.
Women's voices and votes loom large as pope is set to open a Vatican meeting on church's future | International
A few years ago, Pope Francis told the head of the main Vatican-backed Catholic women's organization to be "brave" in pushing for change for women in the Catholic Church.
Maria Lia Zervino took his advice and in 2021 wrote Francis a letter, then made it public, saying flat out that the Catholic Church owed a big debt to half of humanity and that women deserved to be at the table where church decisions are made, not as mere "ornaments" but as protagonists.
Francis appears to have taken note, and this week opens a global gathering of Catholic bishops and laypeople discussing the future of the church, where women — their voices and their votes — are taking center stage for the first time.
For Zervino, who worked alongside the former Cardinal Jorge Mario Bergoglio when both held positions in the Argentine bishops' conference, the gathering is a watershed moment for the church and quite possibly the most consequential thing Francis will have undertaken as pope.
"Not only because of these events in October in Rome, but because the church has found a different way of being church," Zervino said in a recent interview in her Vatican offices. "And for women, this is an extraordinary step forward."
Women have long complained they are treated as second-class citizens in the church, barred from the priesthood and highest ranks of power yet responsible for the lion's share of church work — teaching in Catholic schools, running Catholic hospitals and passing the faith down to next generations.
They have long demanded a greater say in church governance, at the very least with voting rights at the periodic synods at the Vatican but also the right to preach at Mass and be ordained as priests. While they have secured some high-profile positions in the Vatican and local churches around the globe, the male hierarchy still runs the show.
This 3-week synod, which begins Wednesday, is putting them more or less on an equal playing field to debate agenda items, including such hot-button issues as women in governance, LGBTQ+ Catholics and priestly celibacy. It's the culmination of an unprecedented two-year canvasing of rank-and-file Catholics about their hopes for the future of the institution.
The potential that this synod, and a second session next year, could lead to real change on previously taboo topics has given hope to many women and progressive Catholics. At the same time, it has sparked alarm from conservatives, some of whom have warned that the process risks opening a "Pandora's Box" that will split the church.
American Cardinal Raymond Burke, a frequent Francis critic, recently wrote that the synod and its new vision for the church "have become slogans behind which a revolution is at work to change radically the church's self-understanding in accord with a contemporary ideology which denies much of what the church has always taught and practiced."
The Vatican has hosted synods for decades to discuss particular issues such as the church in Africa or the Amazon, with bishops voting on proposals at the end for the pope to consider in a future document.
This edition is historic because its theme is so broad — it's essentially how to be a more inclusive and missionary church in the 21st century — and because Francis has allowed women and other laypeople to vote alongside bishops for the first time.
Of the 464 participants, 365 are voting members, and of them only 54 are women. While organizers insist the aim is to reach consensus, not tally votes like a parliament, the voting reform is nevertheless significant, tangible evidence of Francis' vision of the Catholic Church as being more about its flock than its shepherds.
"I think the church has just come to a point of realization that the church belongs to all of us, to all the baptized," said Sheila Pires, who works for the South African bishops' conference and is a member of the synod's communications team.
Women, she said, are leading the charge calling for change.
"I don't want to use the word revolution," Pires said in an interview in Johannesburg. But women "want their voices to be heard, not just towards decision-making, but also during decision-making. Women want to be part of that."
Francis took a first step in responding to those demands in 2021 when he appointed French Sister Nathalie Becquart as undersecretary of the synod's organizing secretariat, a job which by its office entitled her to a vote but which had previously only been held by a man.
Becquart has in many ways become the face of the synod, traveling the globe during its preparatory phases to try to explain Francis' idea of a church that welcomes everyone and accompanies them.
"It's about how could we be men and women together in this society, in this church, with this vision of equality, of dignity, reciprocity, collaboration, partnership," Becquart said in a June interview.
At previous synods, women were only allowed more marginal roles of observers or experts, literally seated in the last row of the audience hall while the bishops and cardinals took the front rows and voted. This time around, all participants will be seated together at hierarchically neutral round tables to facilitate discussion.
Outside the synod hall, groups advocating for even more women's representation in the church are hosting a series of events, prayer vigils and marches to have their voices heard.
Discerning Deacons, a group pressing for the pope to approve female deacons, as there were in the early church, sent a small delegation and the issue of female deacons is formally on the synod agenda. Other groups pressing for women's ordination to the priesthood are also in Rome, even though the pope has taken the subject of women priests off the table.
"I'm hopeful that there is room in that space for these bold conversations, courageous conversations, and particularly that the voices and experiences of women called to the priesthood are brought to the synod," said Kate McElwee, director of the Women's Ordination Conference.
Zervino's group, the World Union of Catholic Women's Organizations, a Vatican-based umbrella organization of 100 Catholic associations, conducted a survey earlier this year of Catholics who participated in the synod consultations. While a few women in North America and Europe called for female priests, there was a broader demand for female deacons and the call is featured in the synod's working document.
Francis listens to Zervino, an Argentine consecrated woman. He recently named her as one of three women to sit on the membership board of the Dicastery for Bishops, the first time in history that women have had a say in vetting the successors of Christ's Apostles.
Zervino says such small steps like her nomination are crucial and offer the correct way of envisioning the changes that are under way for women in the church, especially given all the expectations that have been placed on the synod.
"For those who think that there's going to be a 'before the synod and after,' I bet they'll be disillusioned," she says. "But if women are smart enough to realize that we're headed in the right direction, and that these steps are fundamental for the next ones, then I bet we won't be disillusioned."
Sign up for our weekly newsletter to get more English-language news coverage from EL PAÍS USA Edition
Assessing The Potential of The India-Middle East-Europe Economic Corridor (IMEC) Against China's Belt And Road Initiative (BRI)
(THE VOICE OF EU) – In a recent address, Indian Prime Minister Narendra Modi hailed the newly unveiled India-Middle East-Europe Economic Corridor (IMEC) as a transformative force poised to shape global trade for centuries. While the IMEC undoubtedly presents a significant development, it's vital to scrutinize its potential impact compared to China's ambitious Belt and Road Initiative (BRI).
The IMEC was jointly announced by US President Joe Biden and Saudi Crown Prince Mohammed bin Salman at the G20 summit in Delhi. Designed to fortify transportation and communication networks between Europe and Asia via rail and shipping routes, the project not only holds regional promise but also reflects a strategic move by the US in its geopolitical interests, particularly concerning China.
However, the IMEC faces a formidable contender in the form of China's BRI, which celebrated its tenth anniversary this year.
Despite facing some headwinds, including a slowdown in lending due to China's economic deceleration and concerns raised by nations like Italy, Sri Lanka, and Zambia regarding debt sustainability, the BRI remains a monumental global undertaking.
With investments surpassing a staggering $1 trillion and over 150 partner countries, the BRI has transformed from a regional initiative to a near-global endeavor.
Comparatively, the IMEC may not immediately match the scale or ambition of the BRI. While the US, Japan, and the G7 nations have introduced similar initiatives like the Global Gateway and Partnership for Global Infrastructure and Investment, none have achieved the expansive reach or influence of the BRI.
The emergence of these projects over the past five years, however, demonstrates the BRI's pivotal role as a catalyst for global economic growth.
Viewing the IMEC solely through the lens of opposition to the BRI may not provide a comprehensive understanding of its potential.
Instead, the IMEC contributes to a broader trend of transactional partnerships, where countries engage with multiple collaborators simultaneously, underscoring the complex and interconnected nature of global trade relations.
Yet, realizing the IMEC's aspirations demands meticulous planning and execution. A comprehensive action plan is expected within the next 60 days, outlining key governmental agencies responsible for investments, allocated capital, and implementation timelines.
Establishing a streamlined customs and trade infrastructure is equally critical to facilitate seamless transit, a challenge highlighted by the Trans-Eurasian railway's 30-country passage through Kazakhstan.
Navigating geopolitical complexities between partner countries, particularly the US, Israel, and Saudi Arabia, poses another potential hurdle.
Ensuring these nations maintain a unified strategic vision amid differing priorities and interests requires careful diplomatic coordination.
Furthermore, the IMEC will compete directly with the Suez Canal, a well-established and cost-effective maritime route.
While the IMEC may enhance relations with the UAE and Saudi Arabia, it could potentially strain ties with Egypt, prompting critical assessments of the project's economic viability.
Beyond trade and economics, the IMEC ambitiously aims to incorporate diverse sectors, from electricity grids to cybersecurity.
This multi-dimensional approach aligns with discussions held in security forums like the Quad and, if realized, could significantly contribute to a safer, more sustainable global landscape.
As we contemplate the potential of the IMEC, it is with hope that the lofty ambitions outlined in New Delhi will culminate in a tangible and positive transformation for the world.
---
Safe Mobility Initiative Faces Challenges In Delivering On Its Promises For Latin American Migrants
In June, the United States introduced the Movibilidad Segura, or Safe Mobility, program, a new immigration initiative aimed at expanding legal routes for refugees and migrants from South and Central America.
The program's objective is to reduce irregular migration and strengthen transportation and communication links between the Americas. While the intentions behind Safe Mobility are commendable, its execution has faced several challenges, leaving thousands of applicants in limbo.
For many hopeful migrants like Eliezer Briceño, a 40-year-old Venezuelan residing in Ciudad Bolívar, Colombia, the application process has proven to be a complex and tedious endeavor.
Briceño's experience highlights the technological barriers that applicants face, emphasizing the need for reliable internet access and suitable devices for successful registration.
Unfortunately, these prerequisites pose significant challenges for those without adequate resources.
The overwhelming response to the program has led to the temporary closure of the website in Colombia, further complicating the application process. With quotas quickly filled during the limited application periods, the backlog of hopeful migrants has grown, exacerbating the frustration and uncertainty surrounding Safe Mobility.
Of the nearly 29,000 applicants from Colombia, less than 1% have progressed through the U.S. Refugee Admissions Program (USRAP) as of August 28. This statistic underscores the significant delays and challenges faced by applicants. Eliezer Briceño, like many others, anxiously awaits news about his application status, armed only with a receipt indicating a forthcoming call.
Safe Mobility, while a response to the migration crisis in Latin America, is one of several initiatives addressing the challenges faced by millions of displaced individuals.
Its collaboration with the International Organization for Migration (IOM) and the United Nations High Commissioner for Refugees (UNHCR) demonstrates a multi-lateral effort to find solutions to the region's complex humanitarian, political, and economic issues.
However, the program's operational secrecy, with undisclosed office locations, underscores the challenges faced by its administrators.
The need to protect both applicants and program staff from potential overcrowding and disruptions mirrors the situation in Tapachula, Mexico, where large groups of migrants have sought assistance, albeit without violent incidents.
The interview process for Safe Mobility applicants introduces another layer of complexity, marked by confidentiality agreements.
While applicants are required to sign agreements consenting to share personal data with program partners, the imposition of non-disclosure clauses appears unusual and unprecedented.
The UNHCR argues that confidentiality is crucial for the protection of individuals in need of international refuge.
The uncertainty persists even after interviews, as those rejected receive prompt notifications while others remain in a state of perpetual waiting. The apparent randomness of selections and the lack of clear communication only heighten the frustrations of applicants.
As Safe Mobility nears the midpoint of its announced six-month pilot period, questions about its effectiveness and future persist.
While the initiative addresses a critical need, its slow start and operational challenges highlight the complexity of addressing the migration crisis in the Americas.
Cooperation from multiple nations, alongside initiatives like Safe Mobility, will be essential in finding lasting solutions to this pressing global issue.
---